Enjoy cycling
along Nagaragawa River inside the wildness of Gujo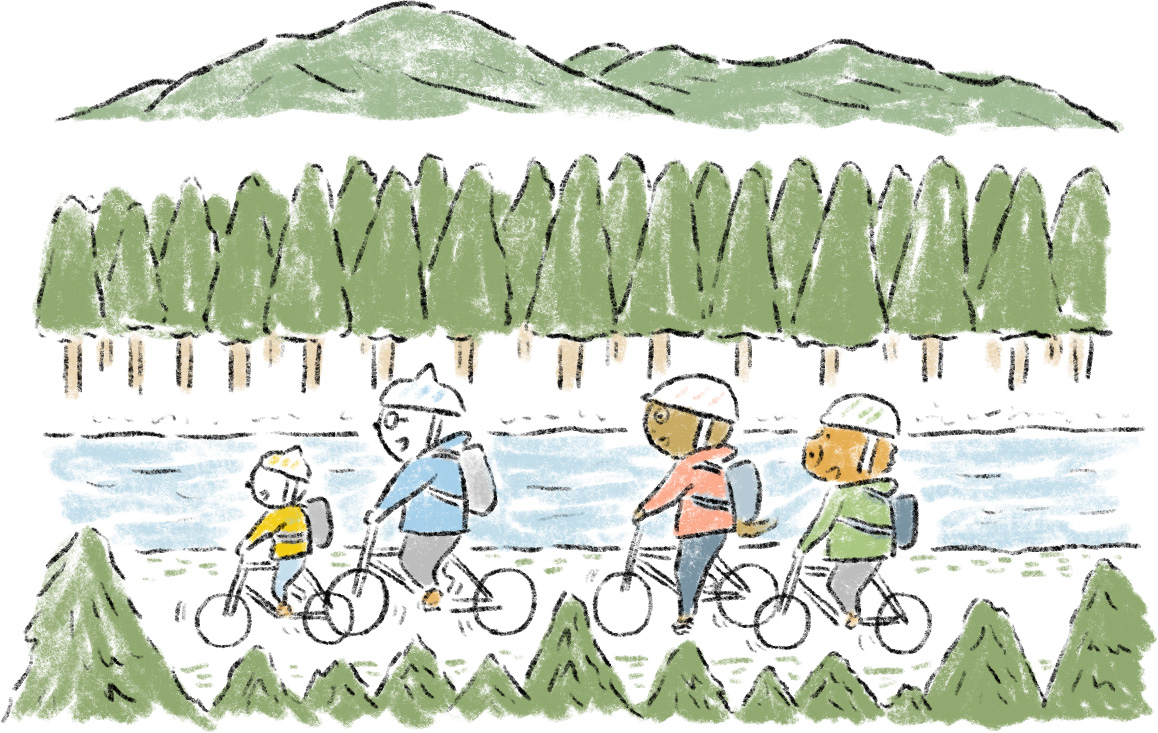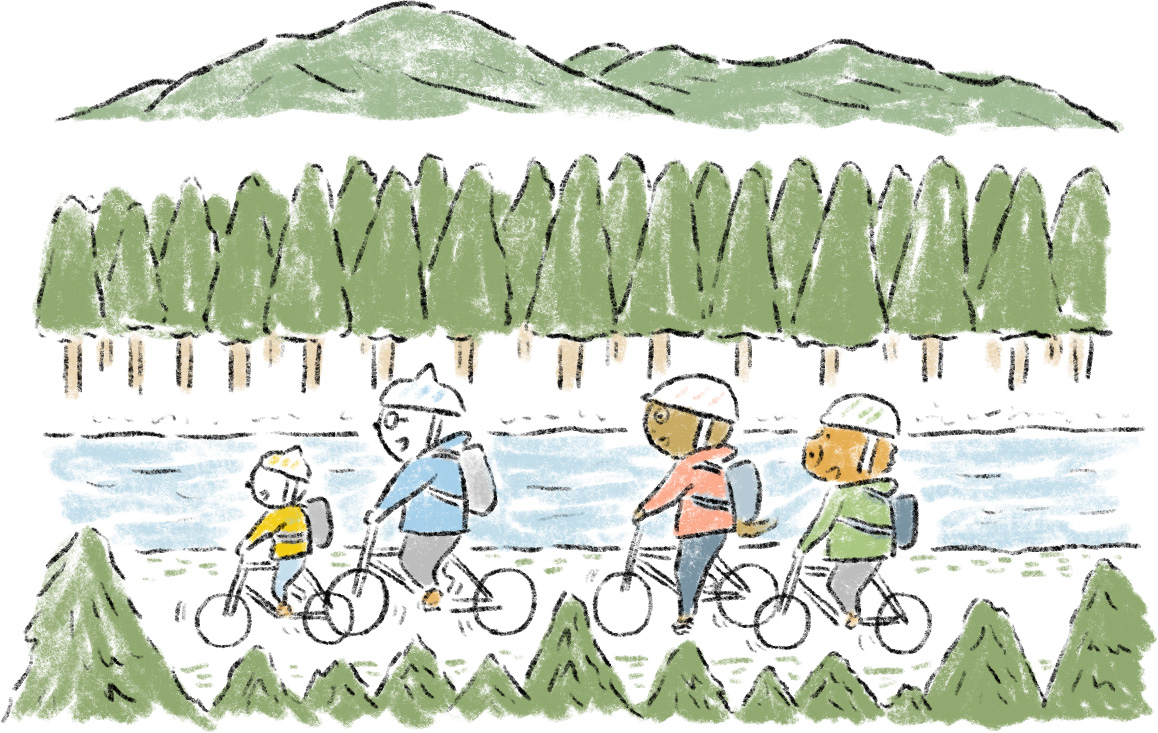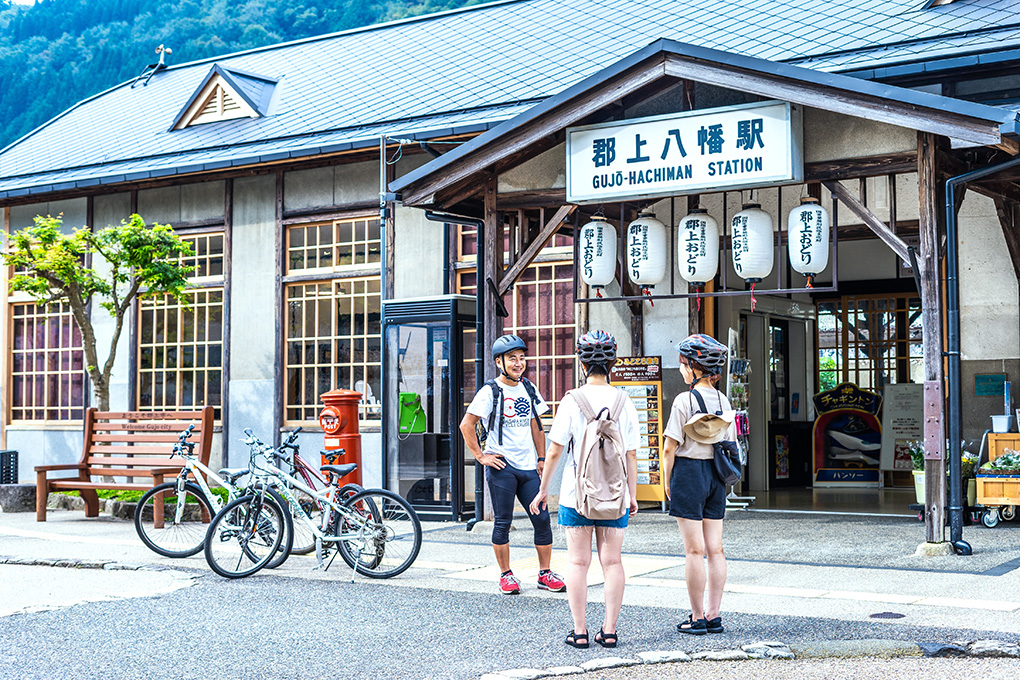 Gujo-shi is located on the upstream of Nagaragawa River, whichi is one of Japan's three major clear streams. "Nagaragawa River Cycling Cruise" is a popular program where you can enjoy cycling with a tour guide while seeing the magnificent Nagaragawa River and the nature of Gujo.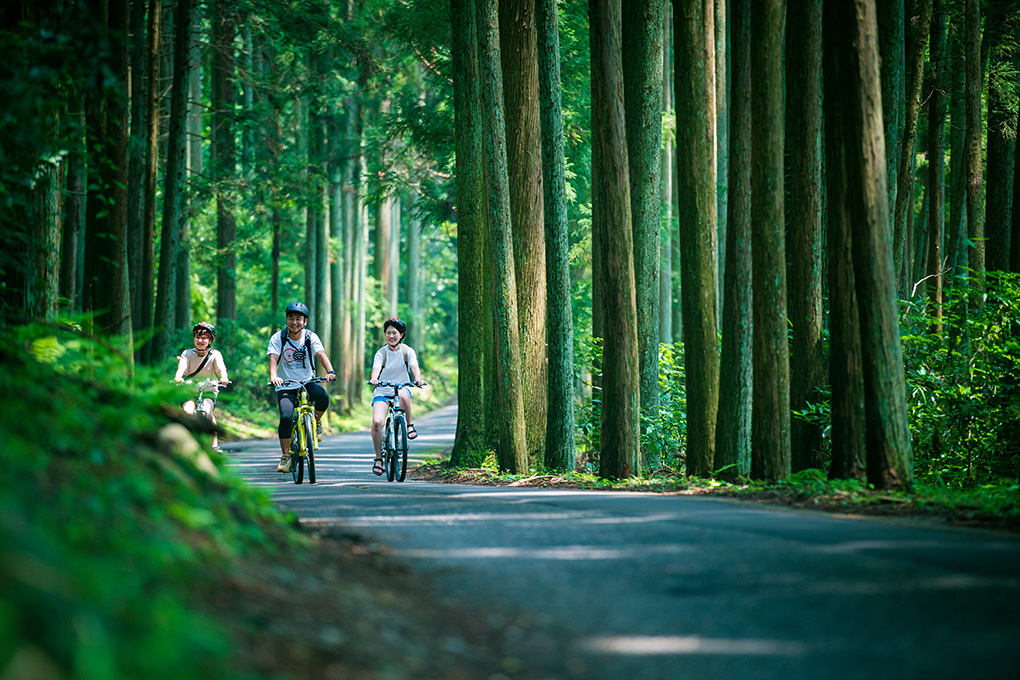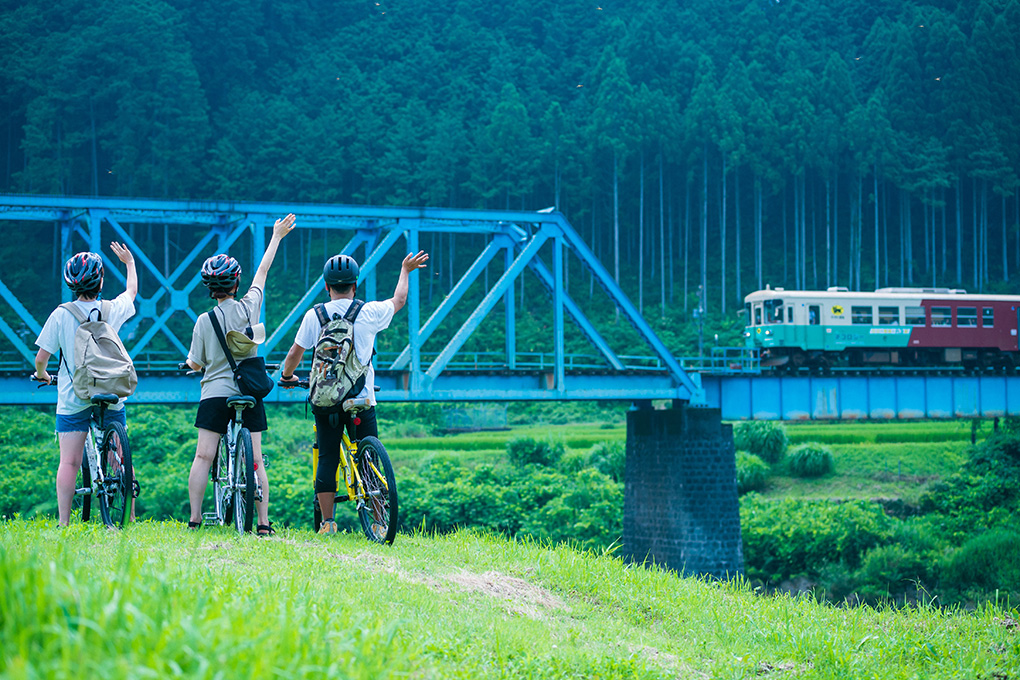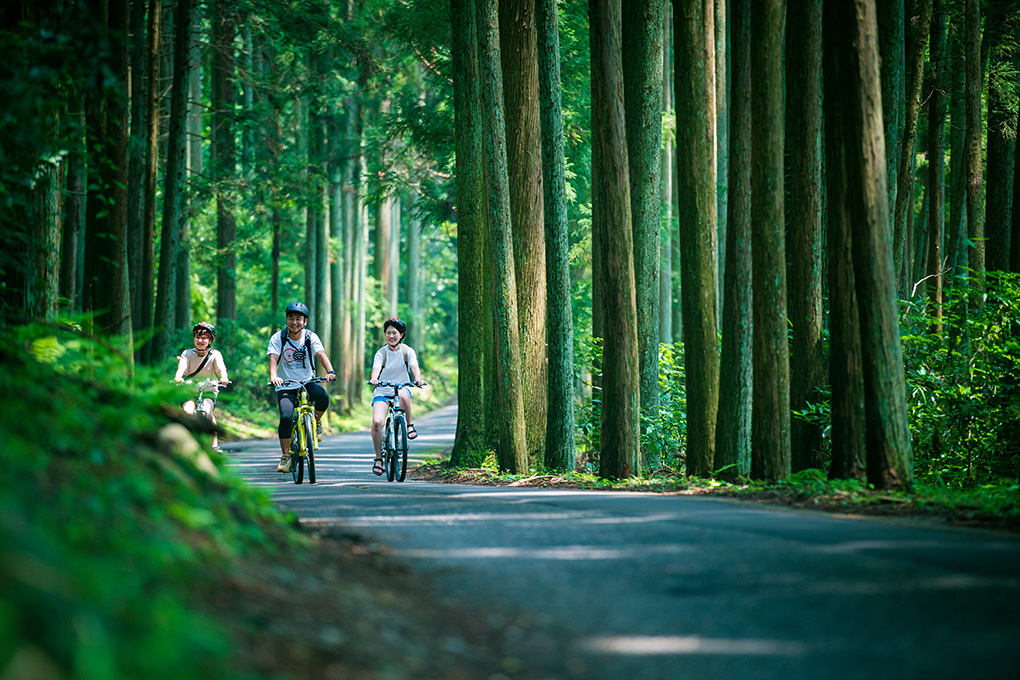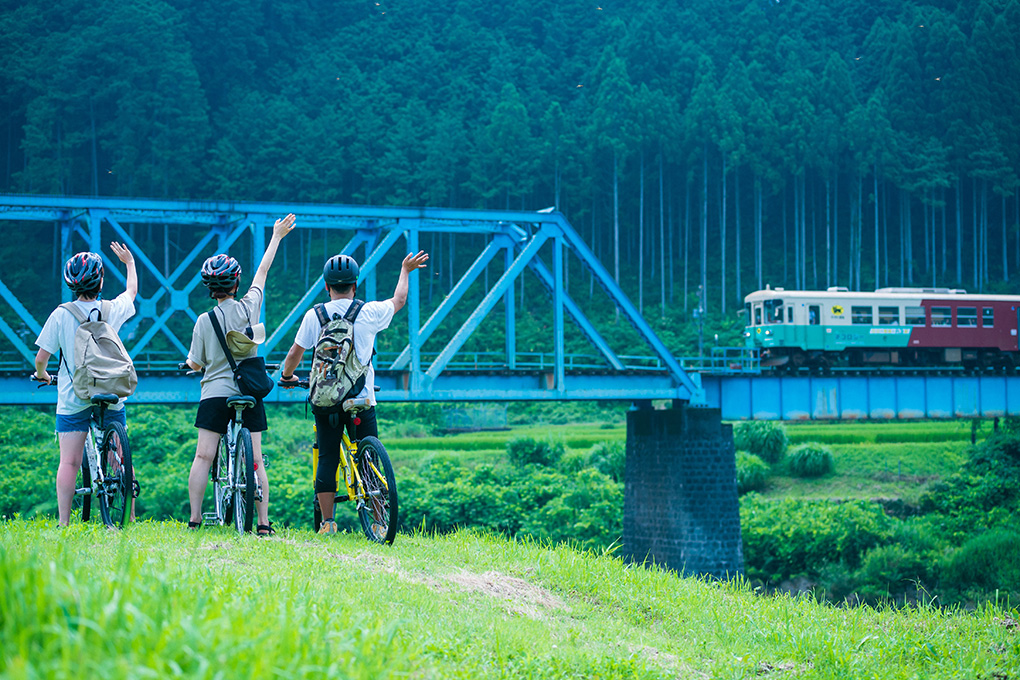 0/0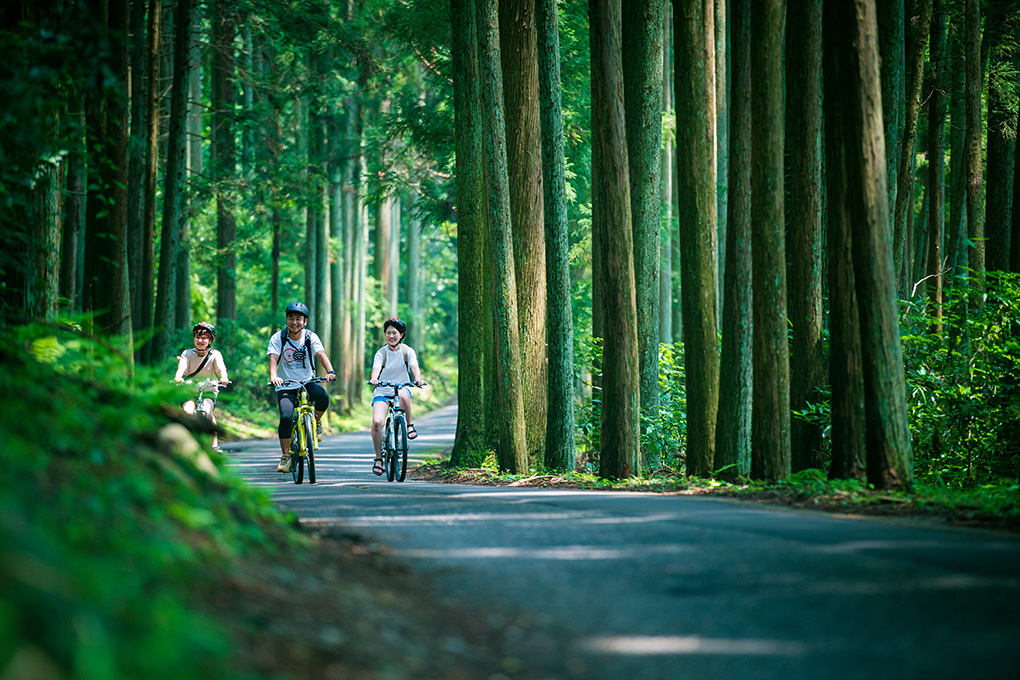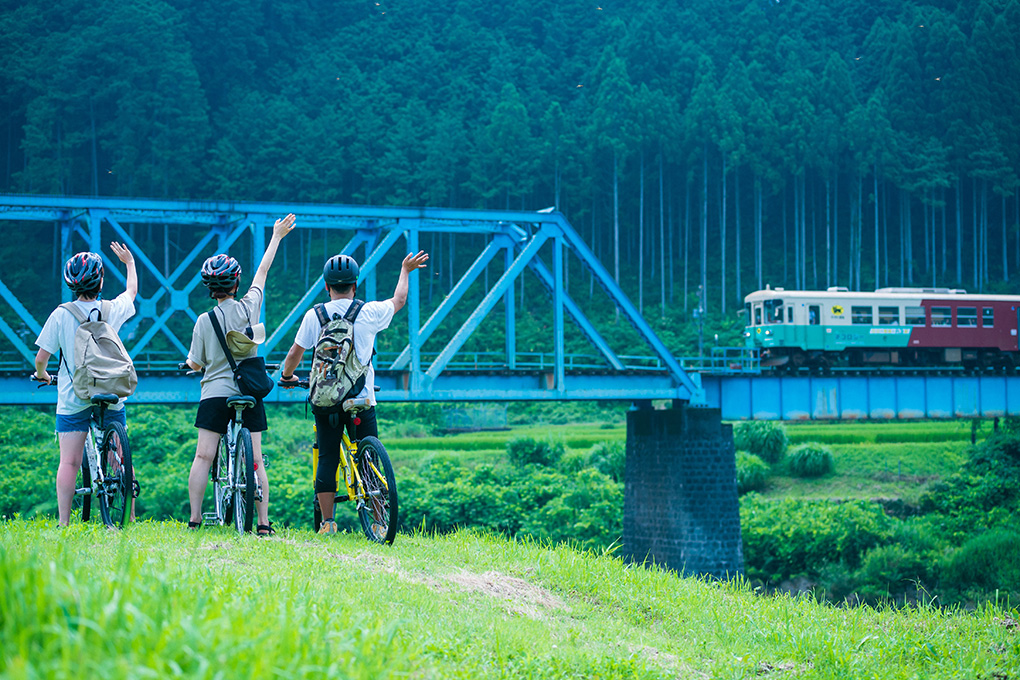 Mr Daisuke Segi from Gujo, who loves fishing and is familiar with roads along Nagaragawa River started this cycling tour in 2016. He said "I hope you can know more about the wonderful nature of Gujo, but not only Gujo Odori Dance Festival and castle town." We are going to introduce three courses with all the attractive points of Gujo. First of all, "Nature Route" of about 22km in length from Nagaragawa Railway Gujo-Hachiman Station to Minamikodakara Onsen Station, is cycling in the countryside and through the forest along Nagaragawa River. Participants ride a mountain bike lightly on a country road with few traffic and pass through a tunnel of trees while enjoying the scenery of nature alongside the clear stream of the Nagara River. As there are many downhill slopes, even beginners can try it. There is also a break time to visit a shrine, to see the moment when Nagaragawa Railway crosses the iron bridge, and to have a snack with Nagara River cider in the second half of the cycling route. The last destination is hot spring Minamikodakara Onsen located inside the station building. Bathing at an open-air bath after sweating is the best! We are going to take Nagaragawa Railway and return to Gujo-Hachiman Station on our way back. Please also enjoy this train journey of about 30 minutes while seeing Nagaragawa River through the train window and looking at the road you have ran by your bicycle.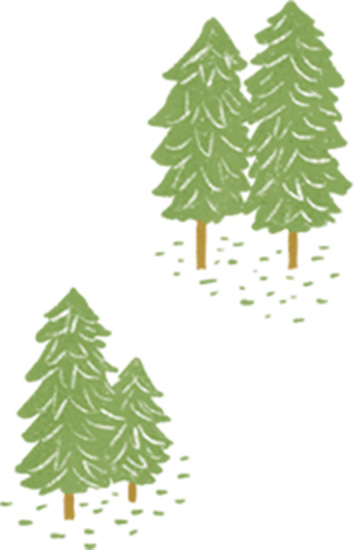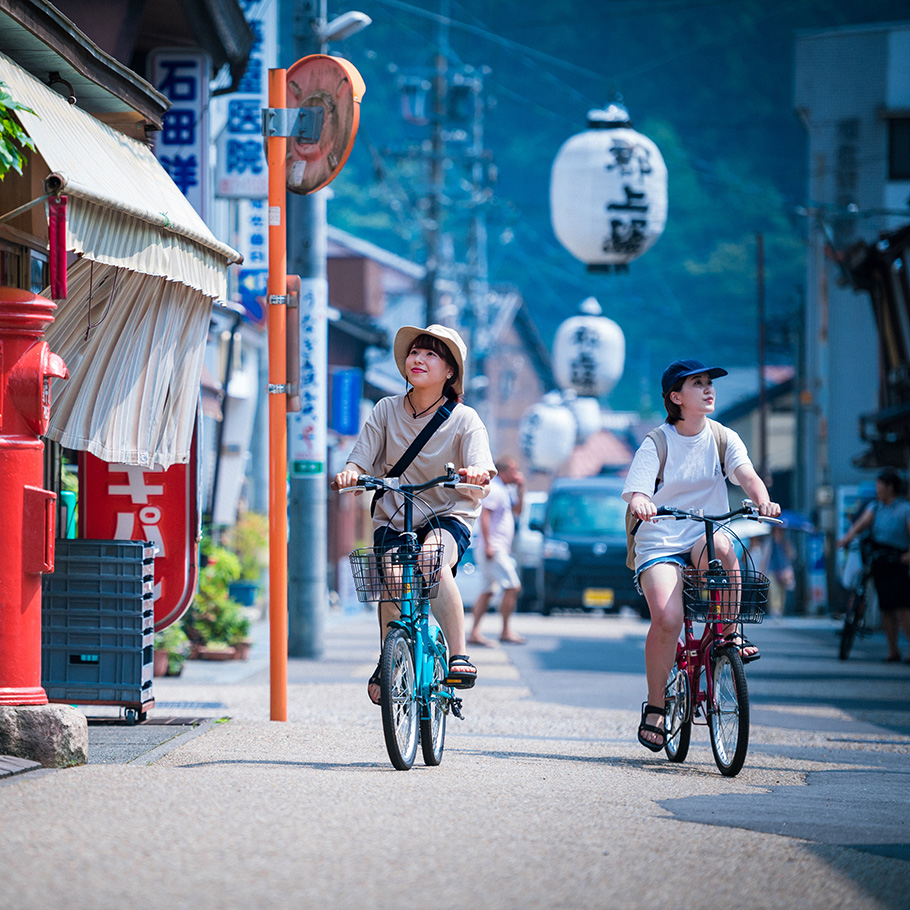 Sensing the life of the locals
at the castle town and discovering unexpected
attractiveness of Gujo!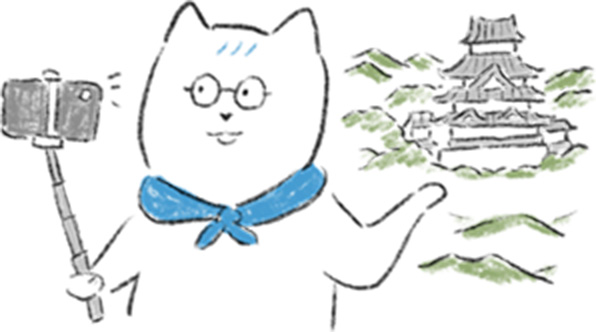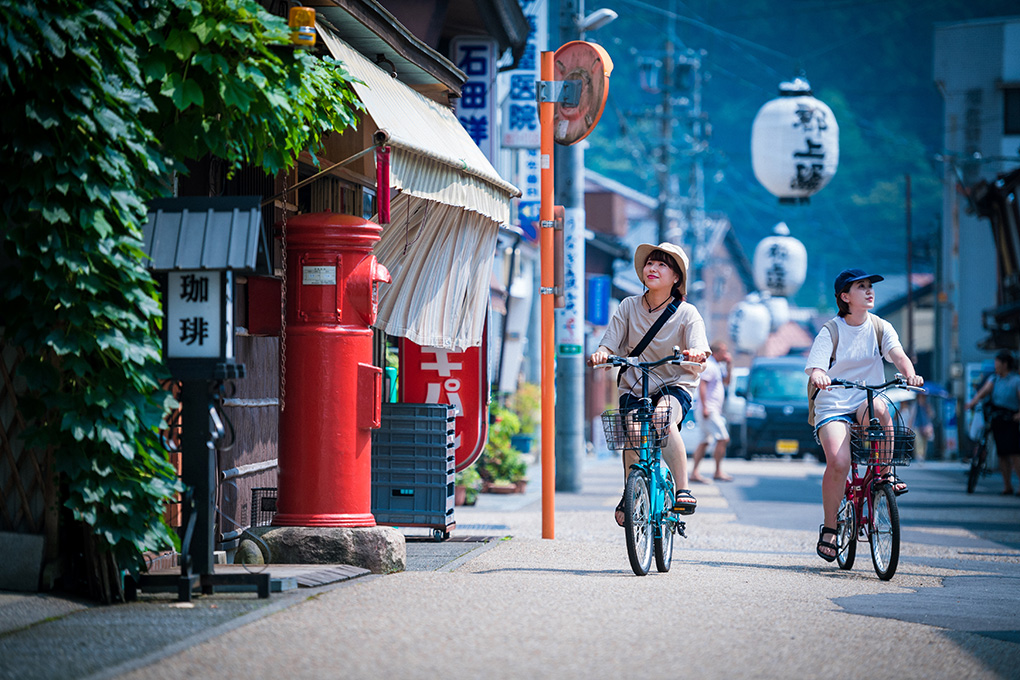 5km Castle Town Route, where you can ride a fashionable bicycle with a tour guide around the historic townscape of Gujo Hachiman, is also popular.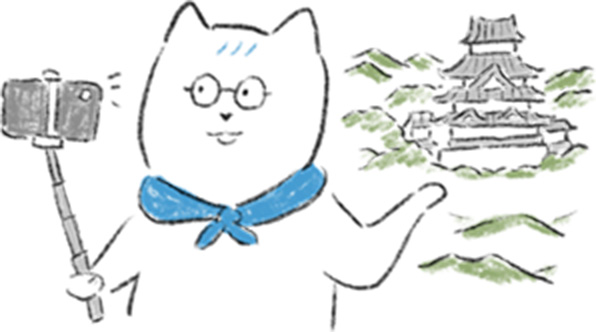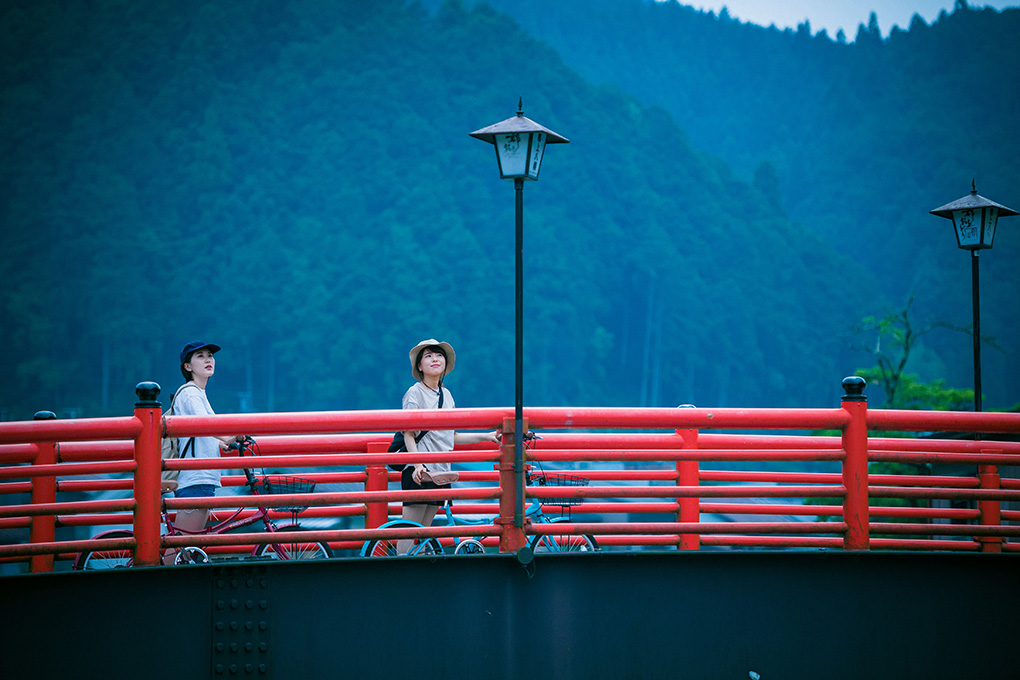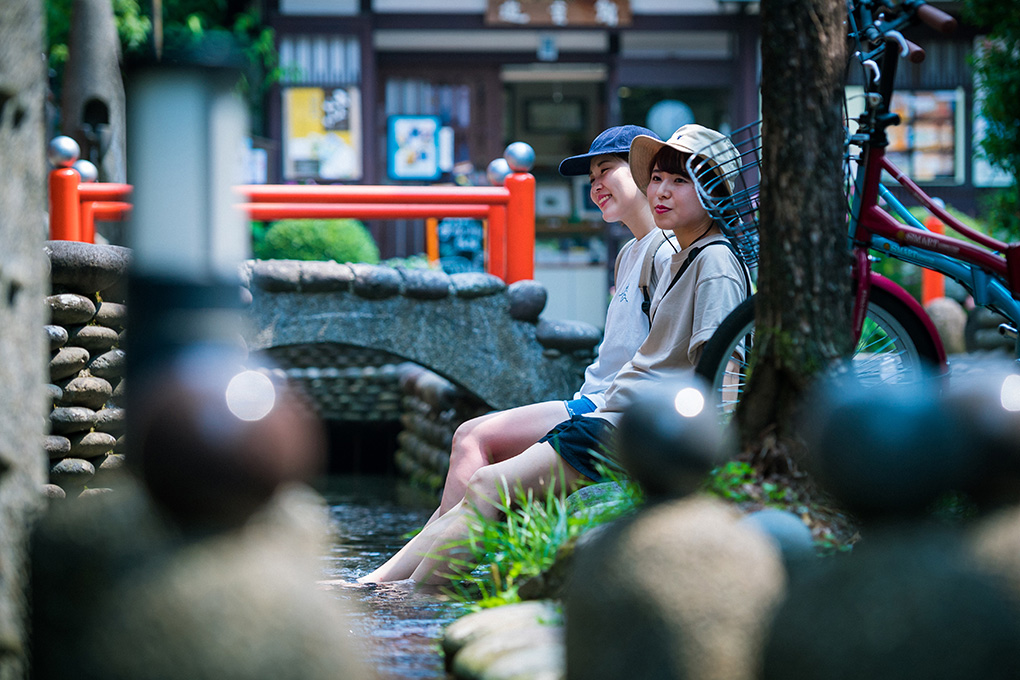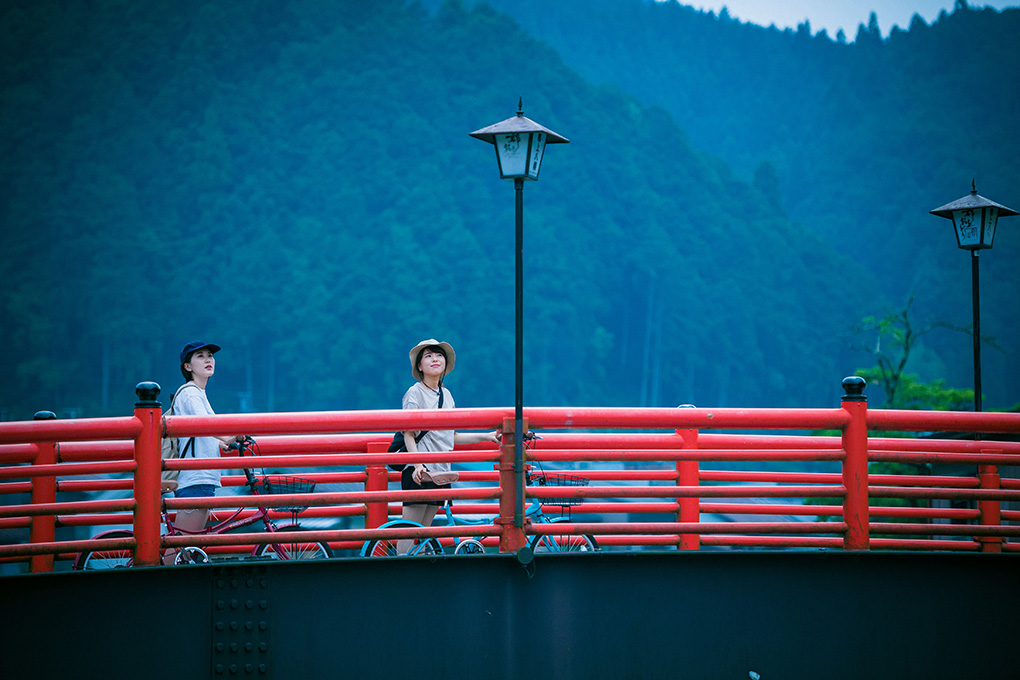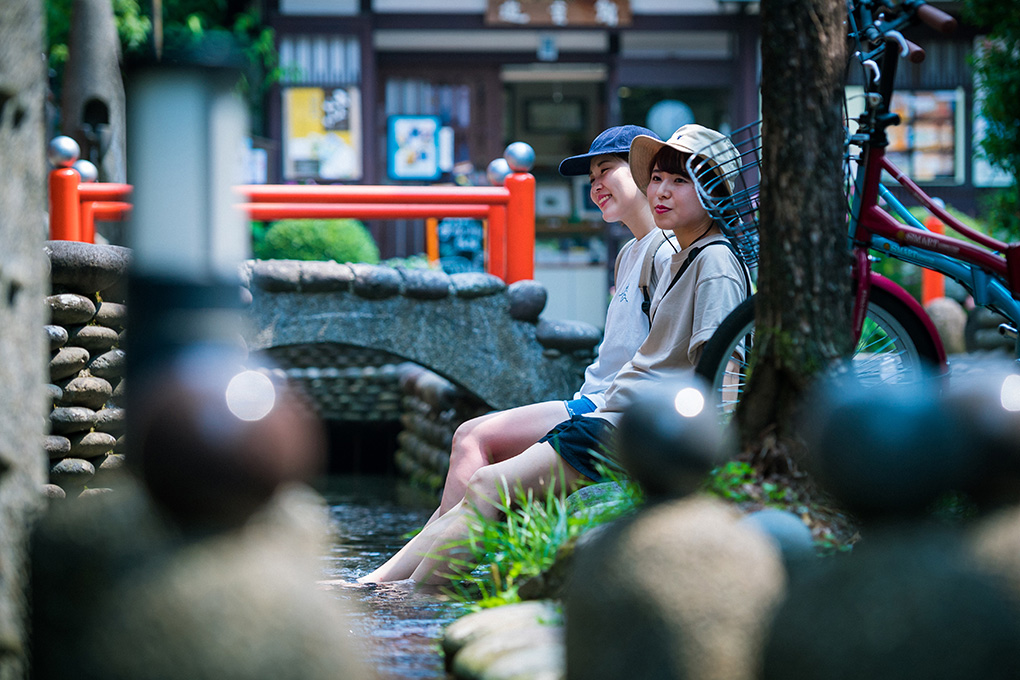 0/0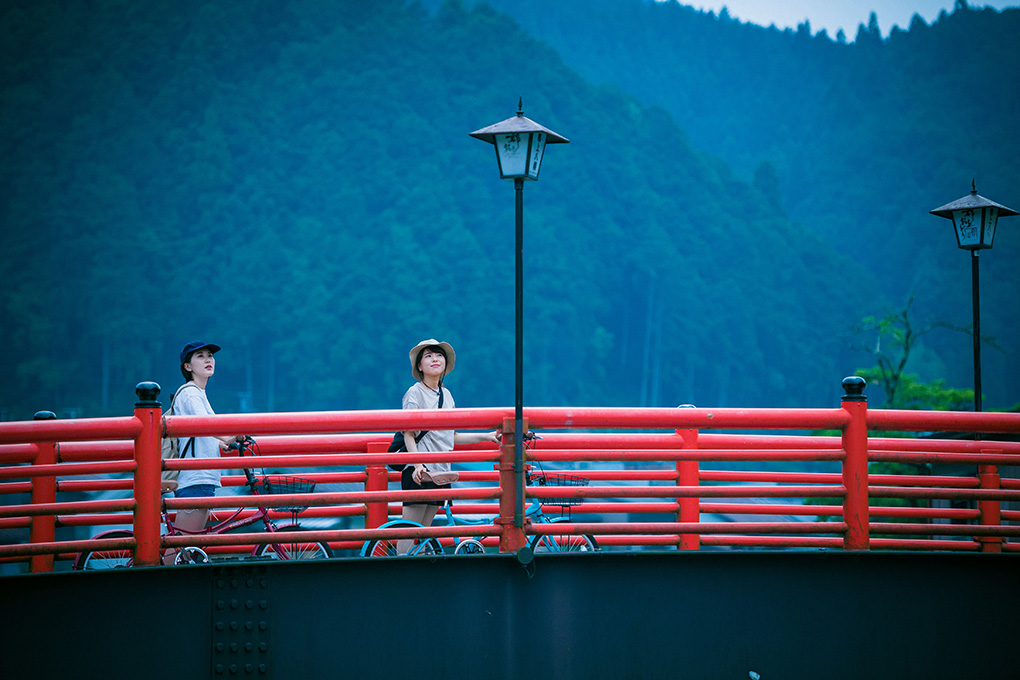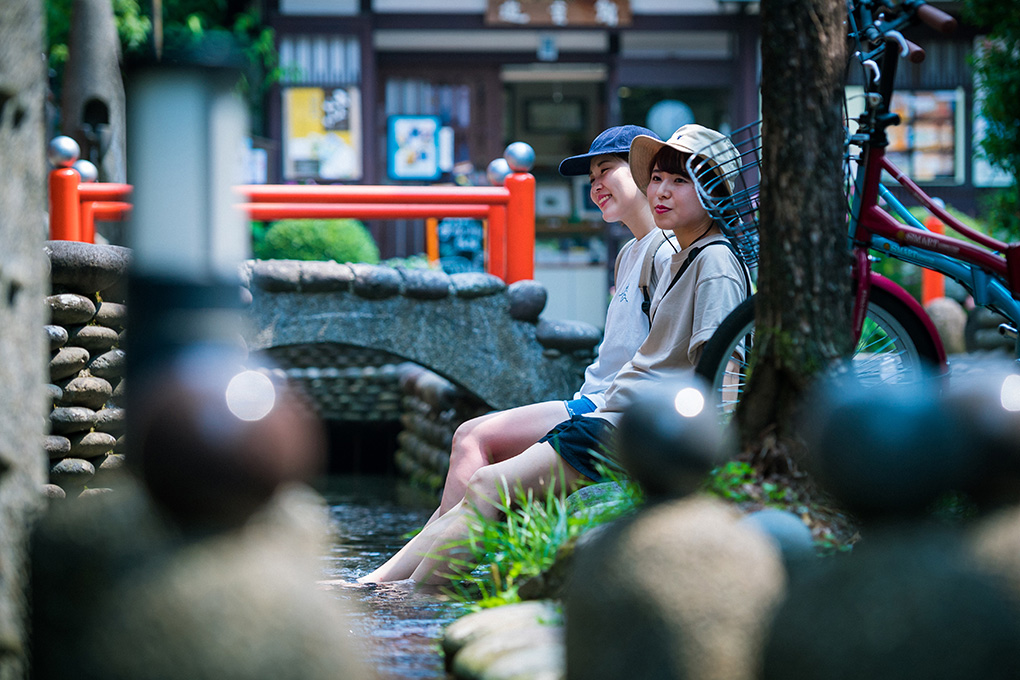 Other than old townscapes, temples and shrines, and famous water spots, we also guide you to some narrow alleys with beautiful scenery known to those in the know, and recommended shops. This course can let you feel the lifestyle of the locals. If you want to enjoy both Gujo's nature and castle town, we recommend the "Nature & Castle Town Route". It takes a day to ride a bicycle along Nagaragawa River for about 25km from Shiratori Station on Nagaragawa Railway to Gujo Hachiman. The content can be arranged according to your wishes, so we recommend you share your idea and consult in advance.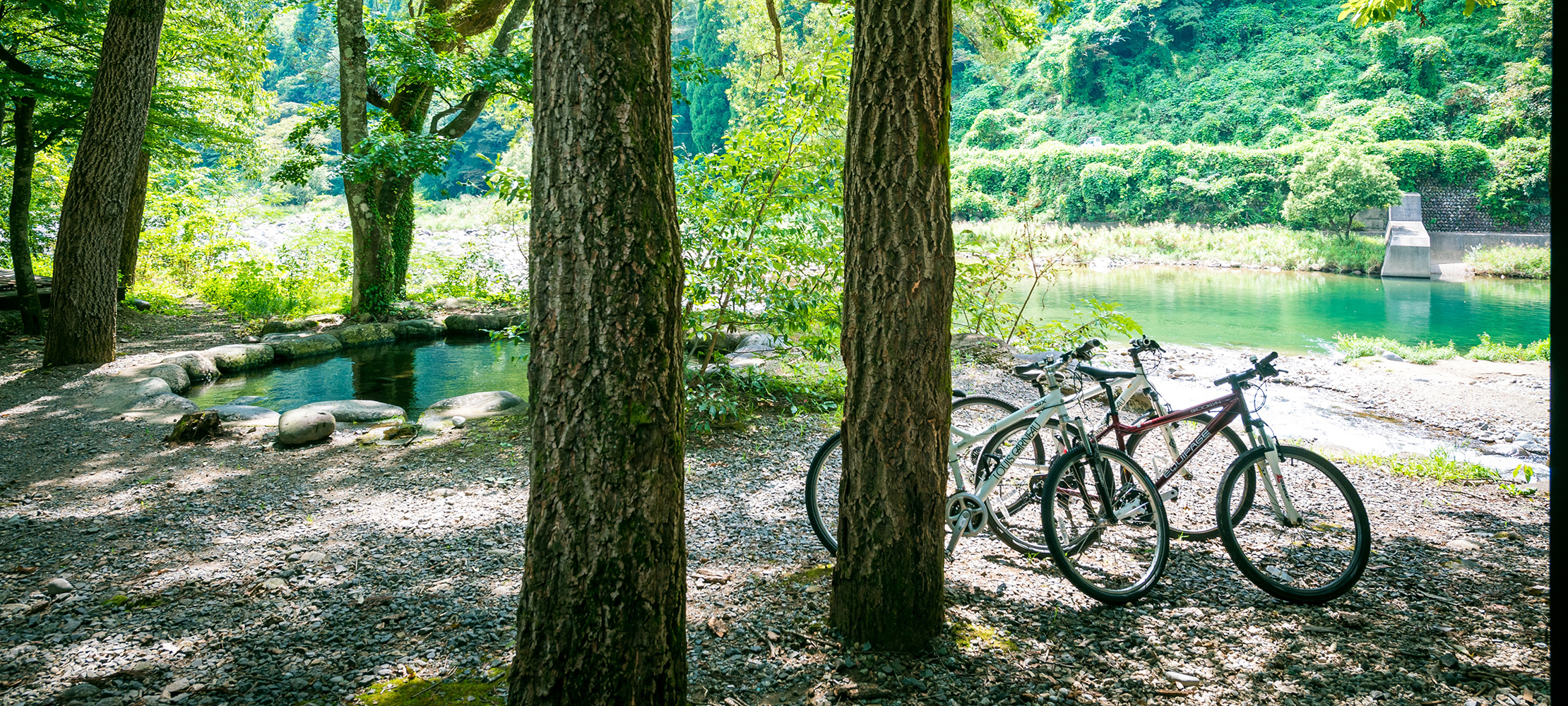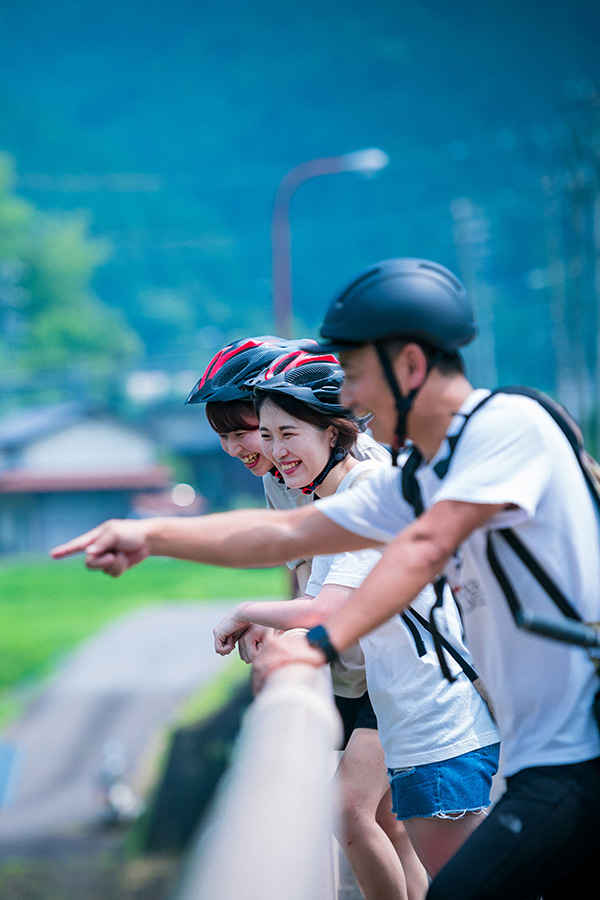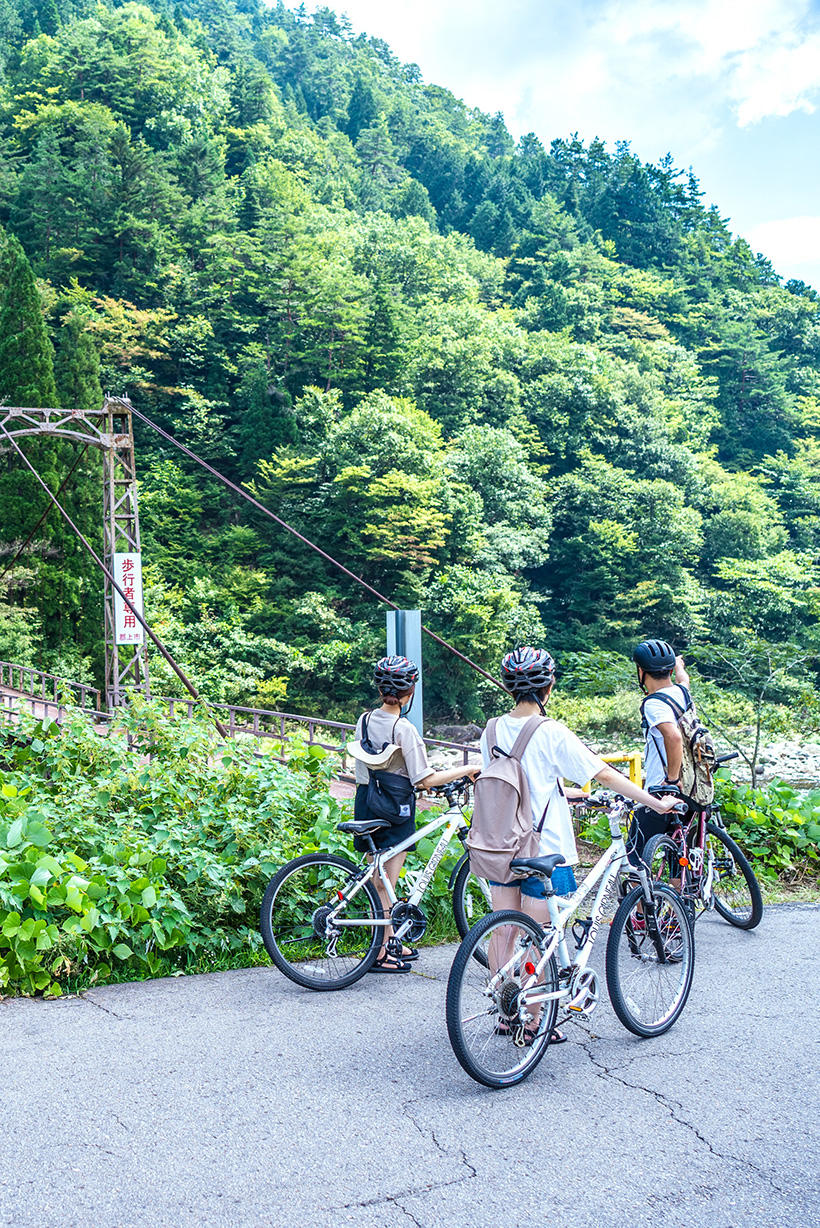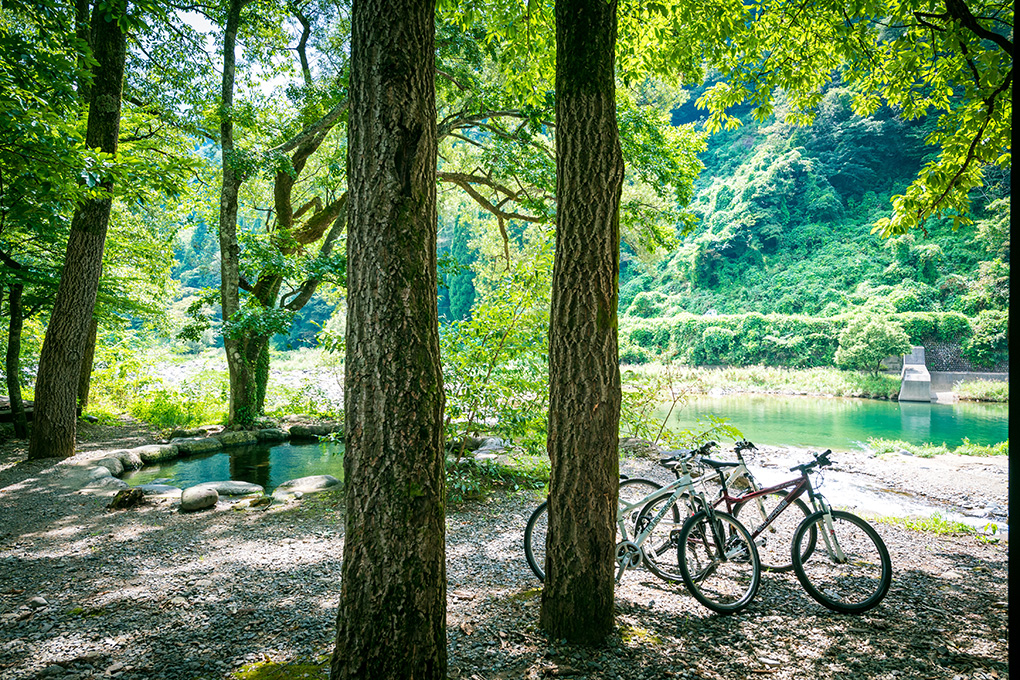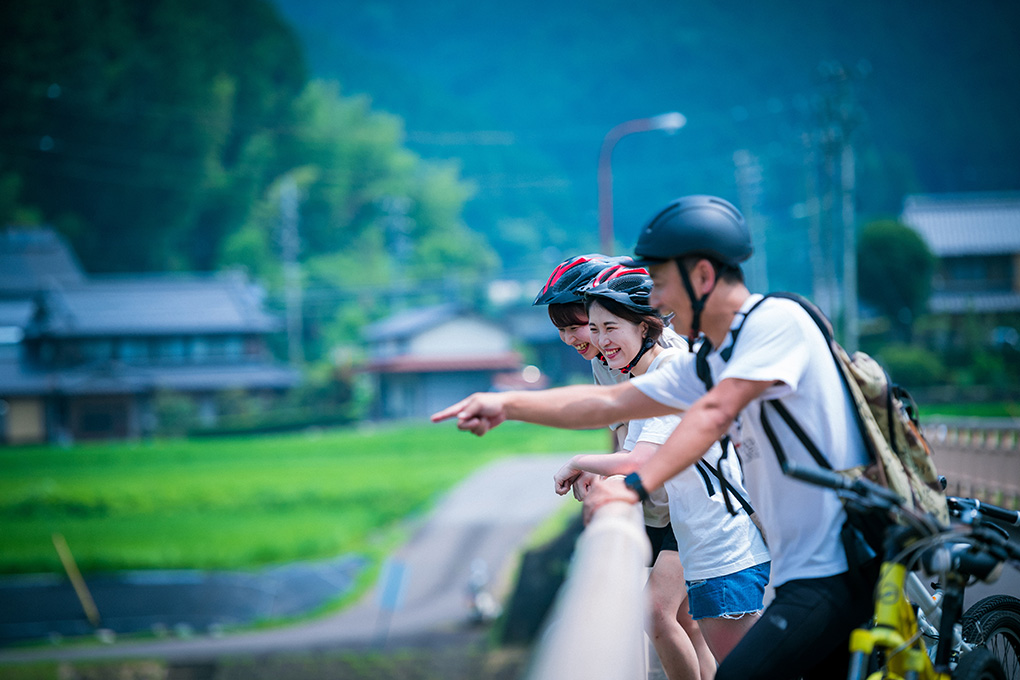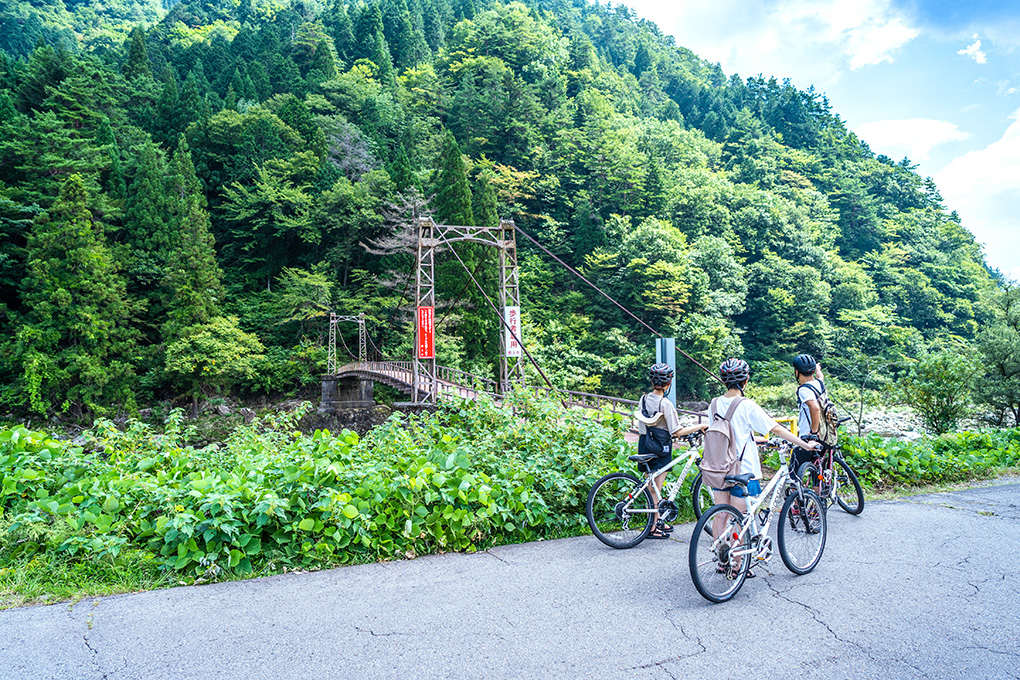 0/0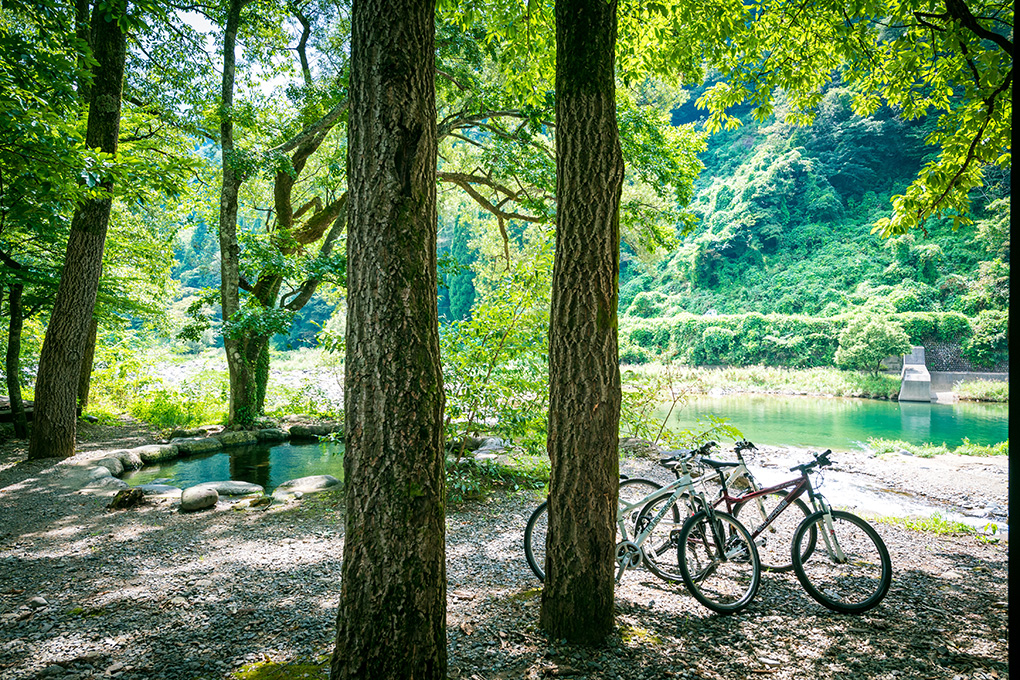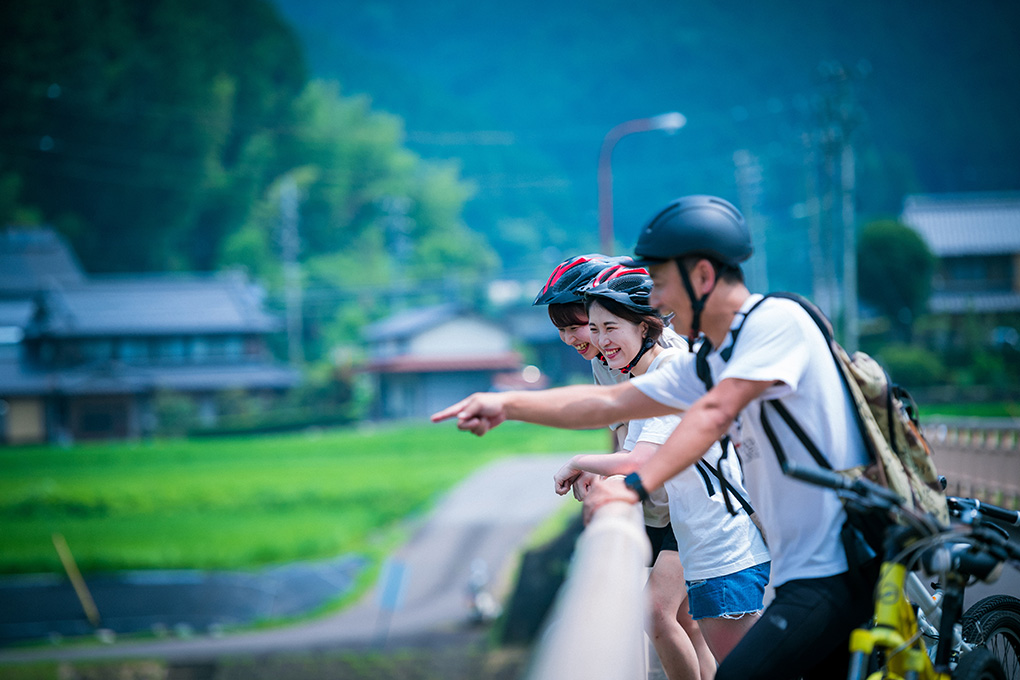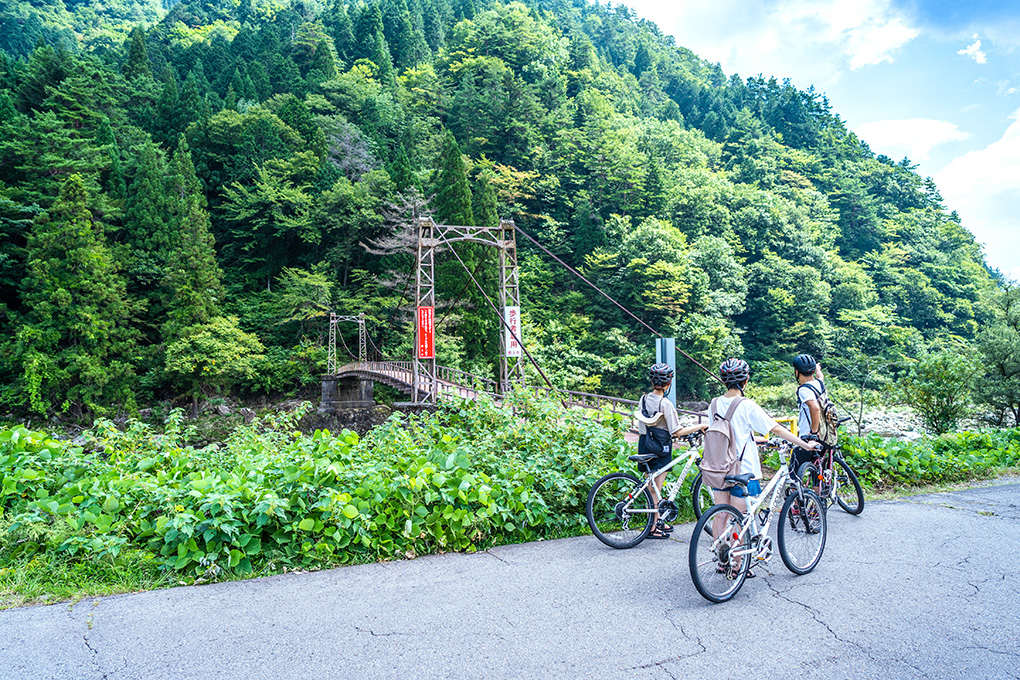 Each route is scheduled so that you can ride with enough time. You can enjoy playing in the river, eating local snacks, listening to story from tour guide. You can feel the tour guide want you to "Spend your time leisurely during your stay at Gujo." This special cycling tour is all filled with love of the city. If you join this cycling route, you can find many different faces of Gujo what you have never known before.
Come and join us cycling on Nagaragawa River Cycling Cruise! Experienced tour guide from Gujo guides you deeply to the attractive spots from a local perspective.
"Castle Town Route" passes through the alleys where you can feel the lifestyle of the people in 2.5 hours. "Natural Route" rides along Nagaragawa River from Gujo-Hachiman Station to Minamikodakara Onsen Station of Nagaragawa Railway in approximately 3 hours, and the magnificent flow of the Nagara River up close. There is a "Nature + Castle Town Route" combining the good points of these two.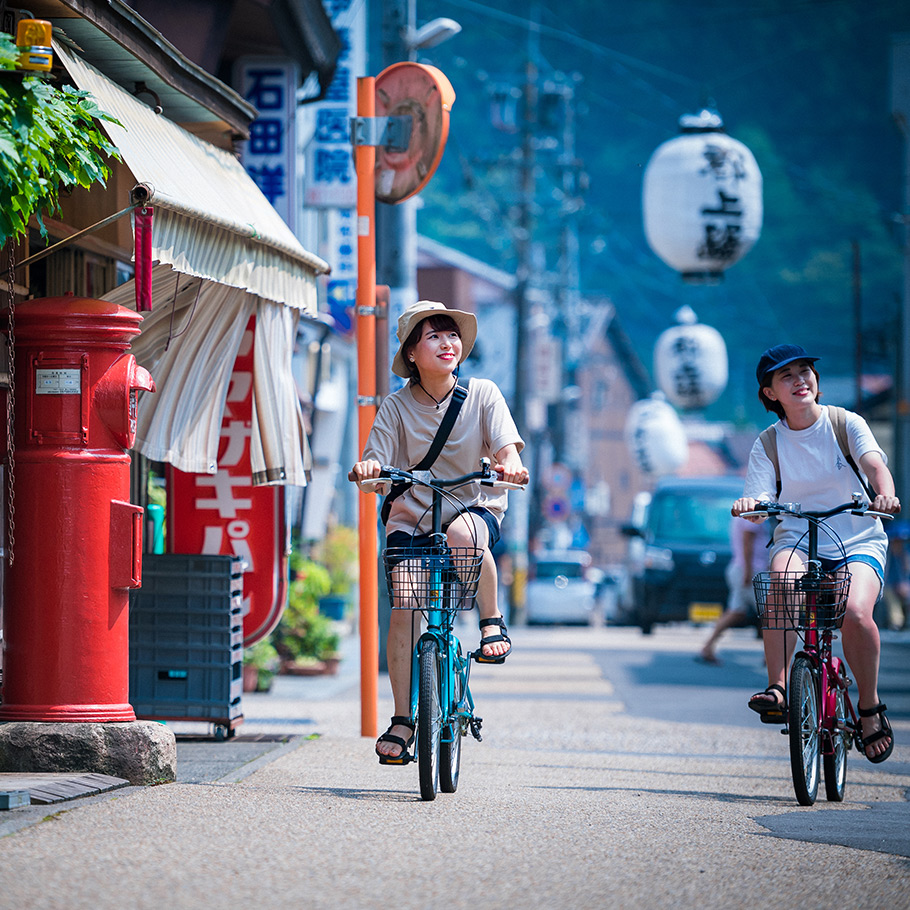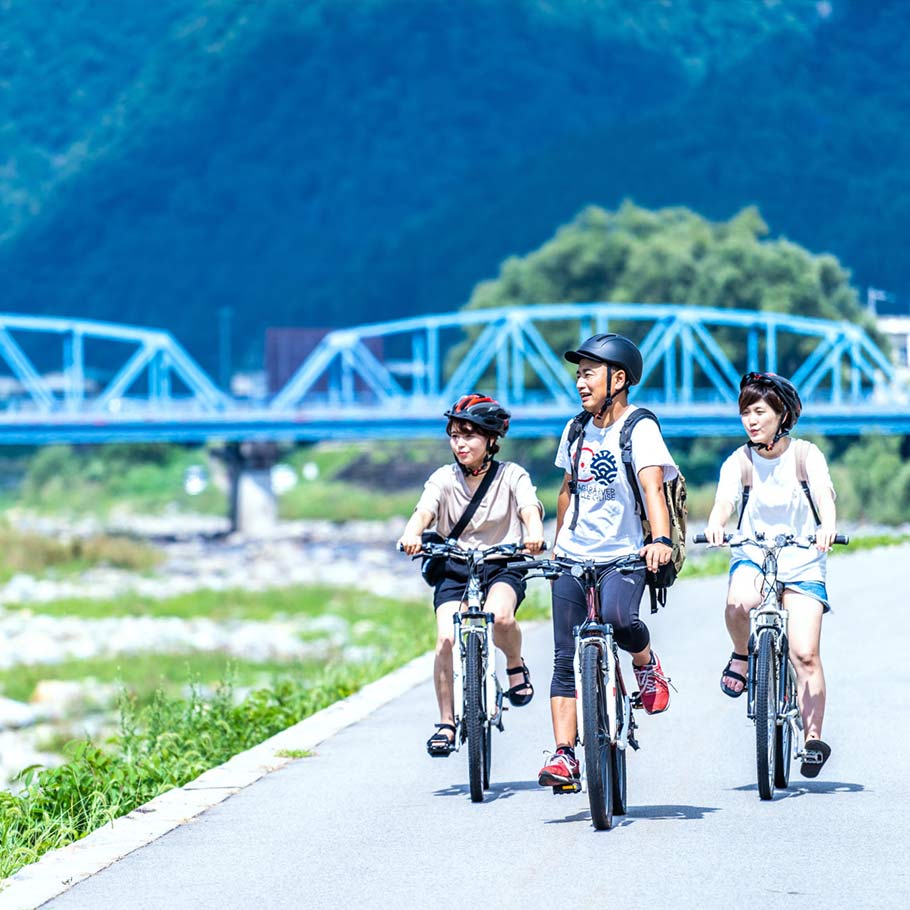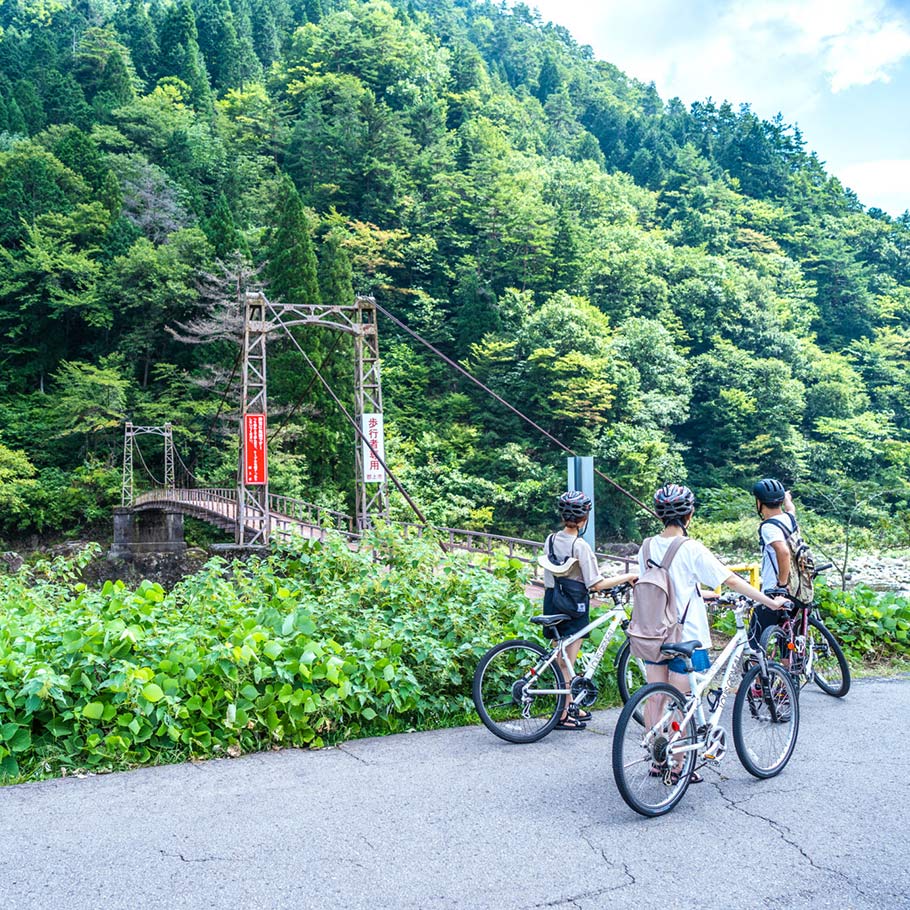 0/0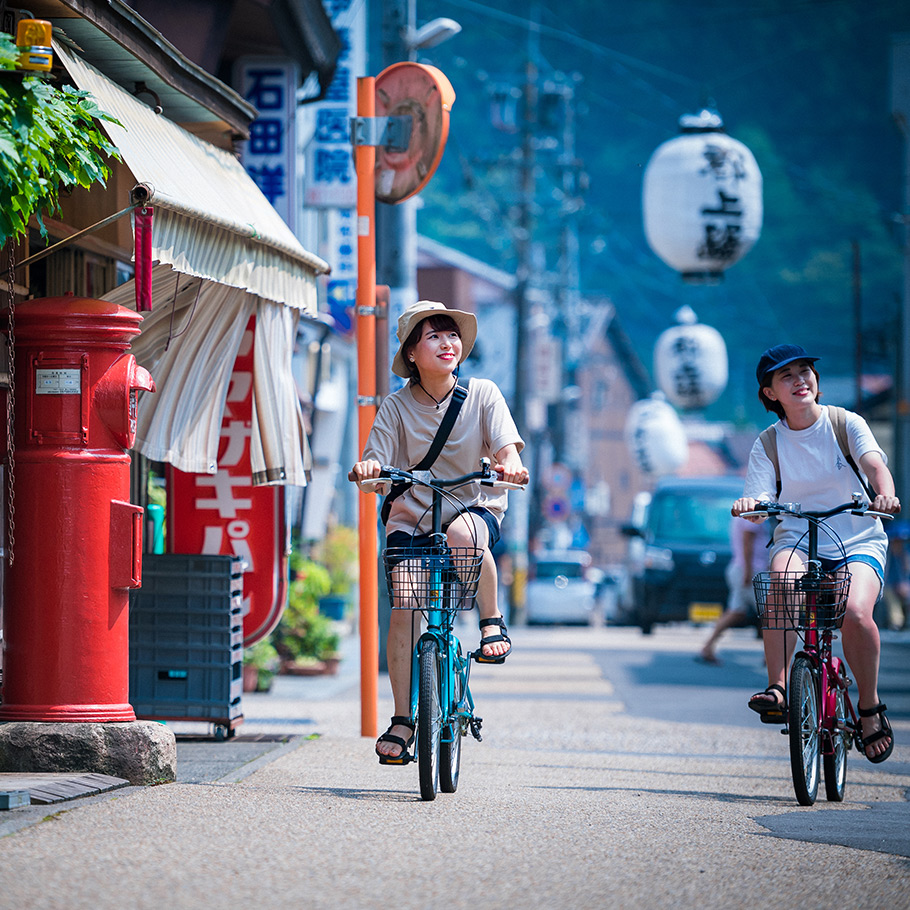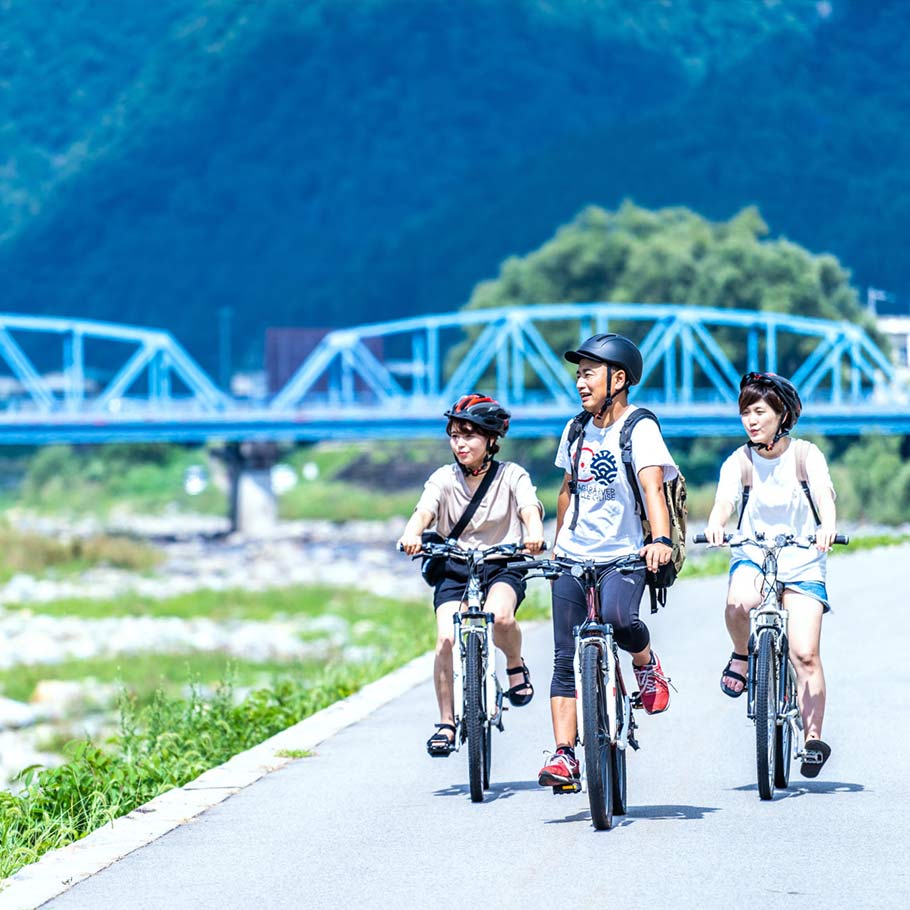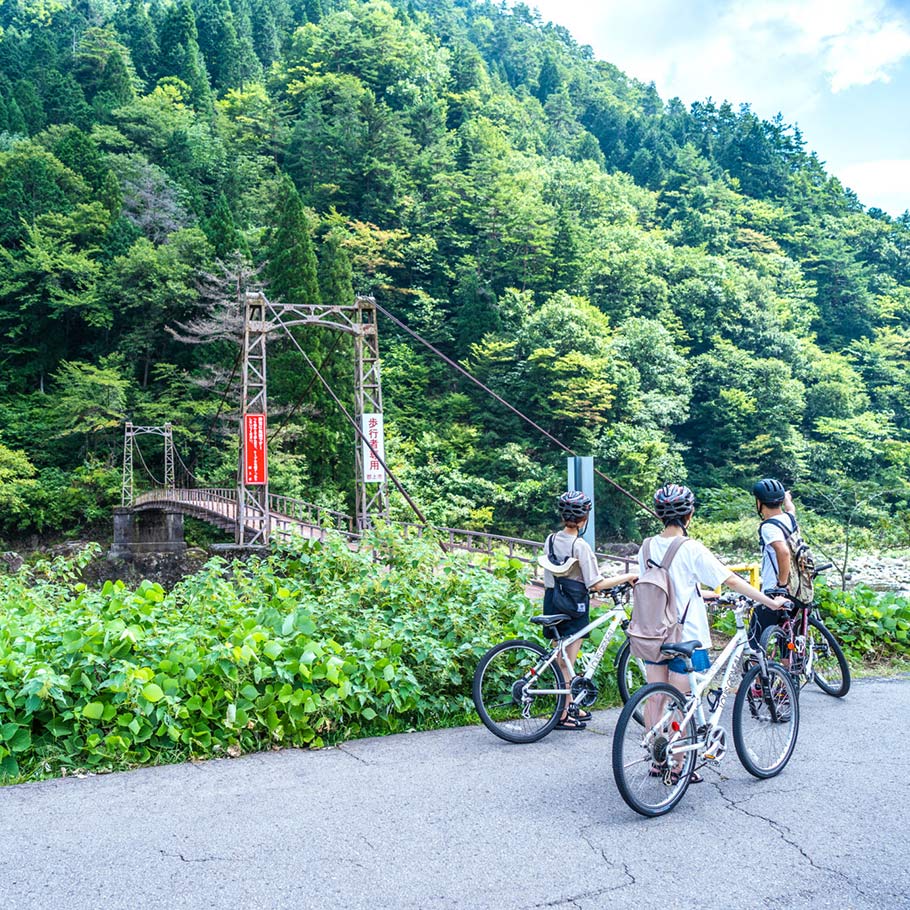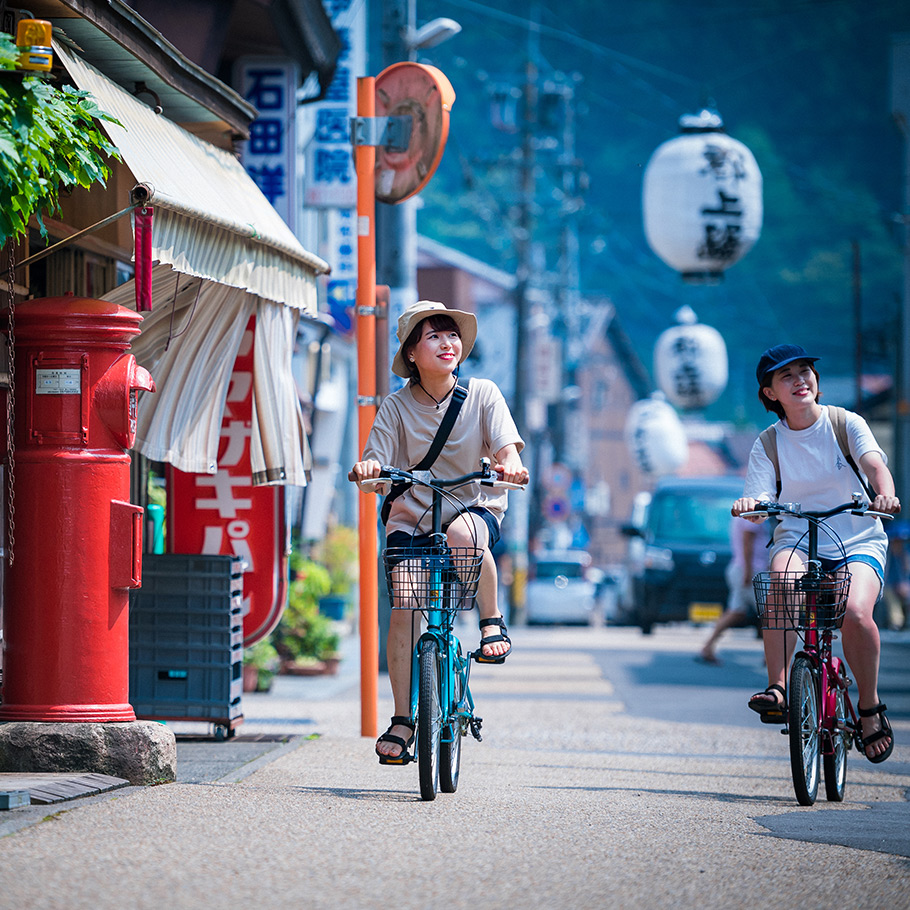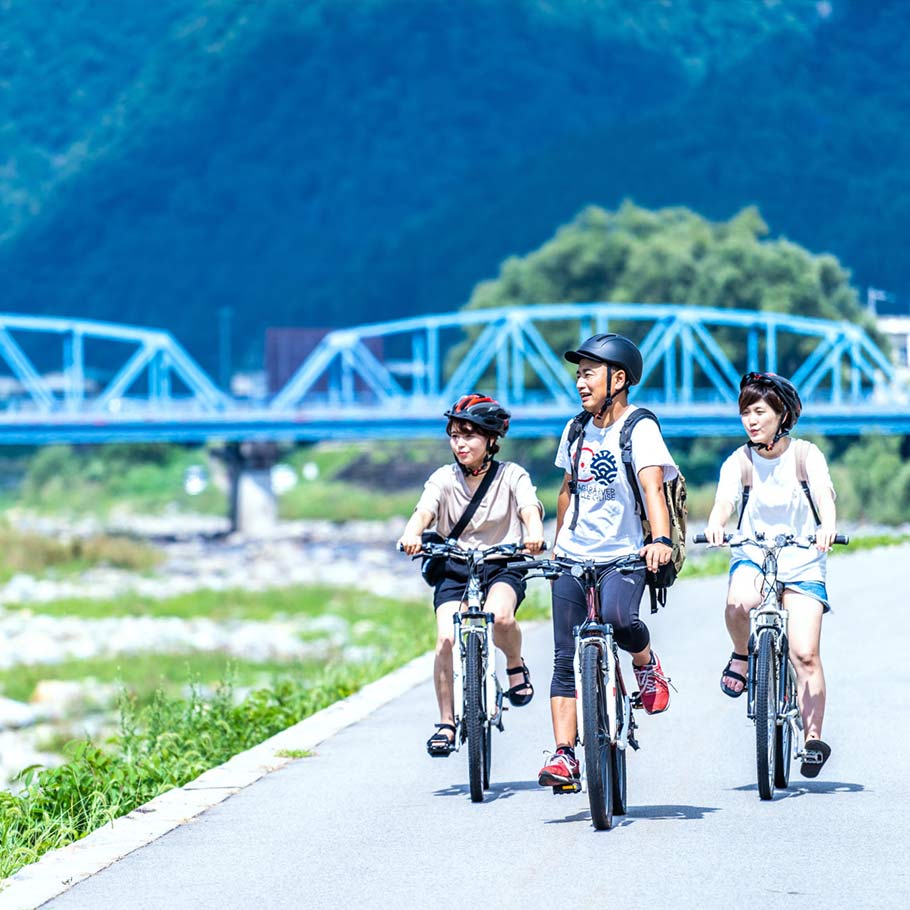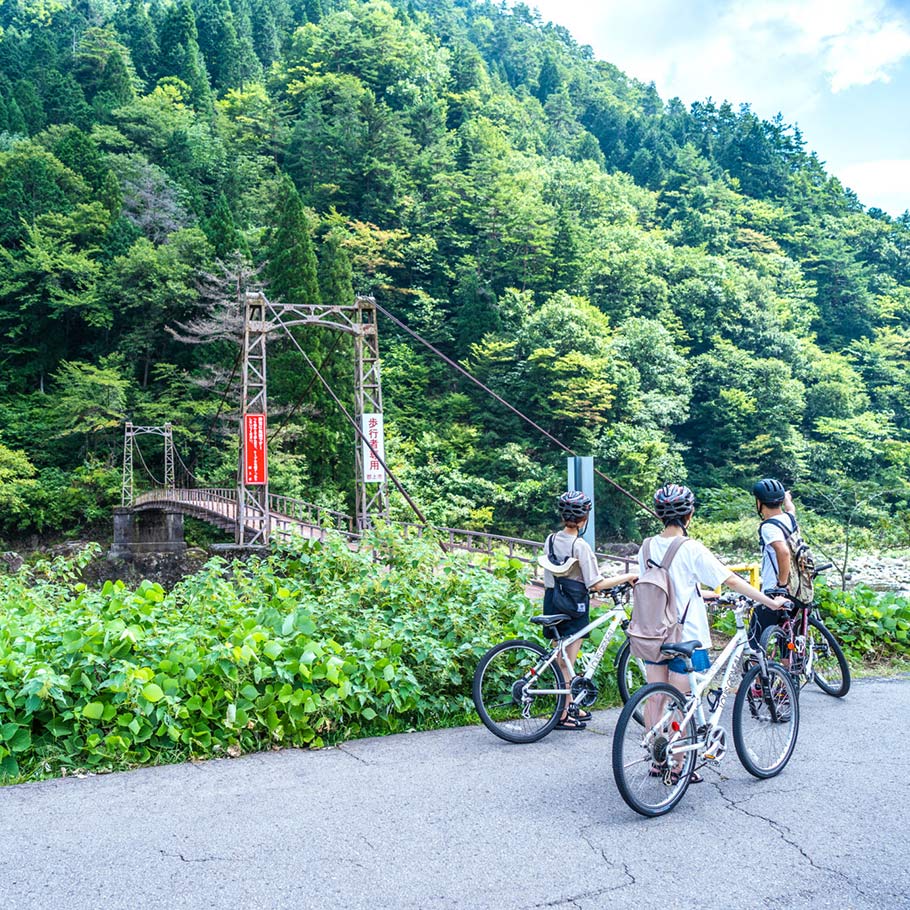 Nagaragawa Cycling Cruise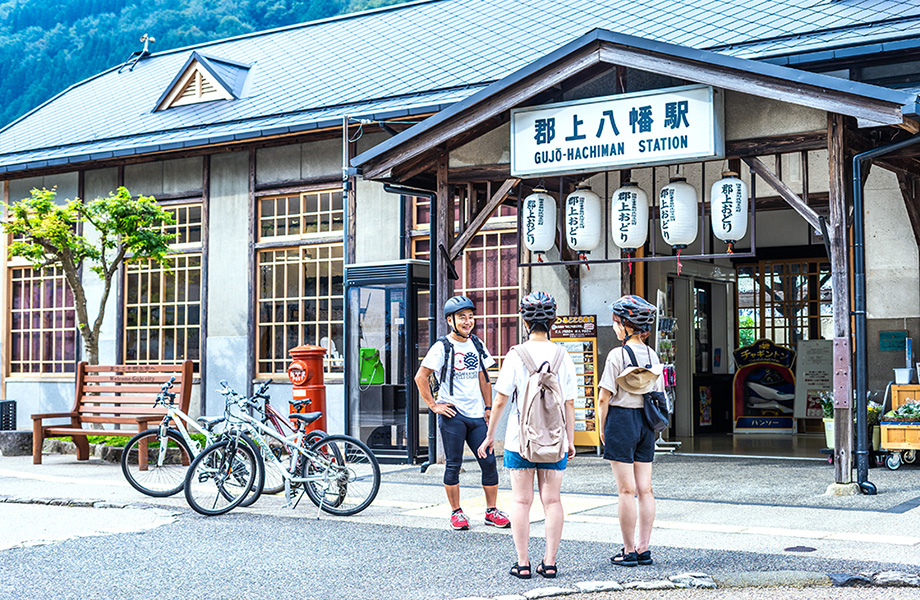 Address
470-28, Hachiman-cho Shimadani, Gujo-shi, Gifu-ken, 501-4222
Telephone number
0575-67-9366
Opening hours
Check in : 09:00 – 17:30 Natural Route : from 09:00 or from 13:00 (March to November) approximately 3 hours
Castle Town Route : from 10:00 or from from 13:00 or from 15:00, approximately 2 hours and 30 minutes
Nature + Castle Town Route : from 08:45, approximately 7 hours * Please reserved by phone or website at least 3 days before.
Holidays
December to February
Nature Route do not operate on Tuesday
Fee
Nature Route : 6,800JPY / person
Castle Town Route : 4,000JPY / person
Nature + Castle Town Route : 10,000JPY / person
Official Website
http://www.cycle-cruise.com/index.html
Nagaragawa Cycling Cruise