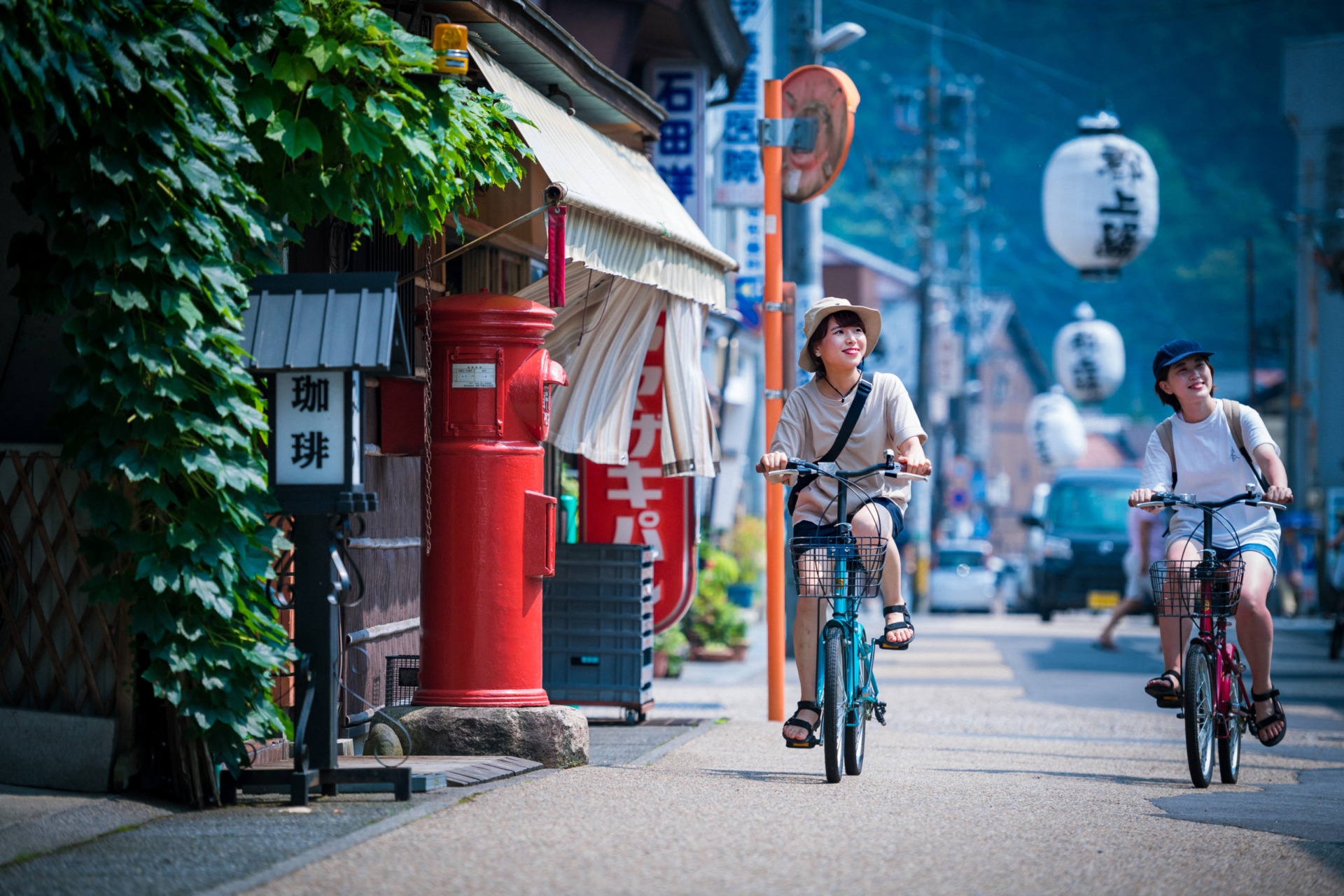 Nagaragawa Cycling Cruise, riding across the town and along Nagaragawa River
Unlike riding in a car and passing so fast, and not as slow as walking, when you first come to a town, cycling is the best way to know this place at the most appropriate speed.

Nagaragawa Cycling Cruise is an outdoor activity company introducing visitors to ride on a bicycle and guiding them to see the town and also along Nagaragawa River. This time, my friend and I are going to join their "Nature & Castle Town Route"!
Our cycling guide Mr Segi is a fishing lover!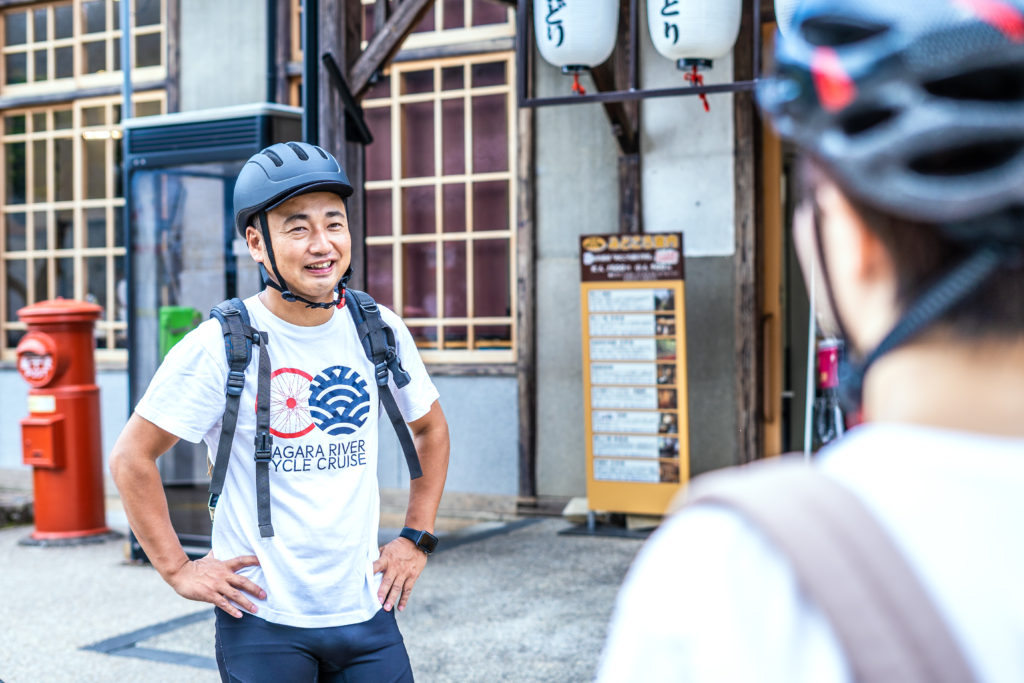 Our cycling tour guide, Mr Daisuke Segi, is from Shirotori-cho of Gujo. He has worked as an SE in Nagoya until his early twenties. After he left his hometown, he recalled "There is a river near my house, and I can fish there. The air is good, and the birds are singing in the morning. What a luxurious life it was!" he noticed the goodness of his hometown and returned.
His parent is running a fishing tackle shop and they went fishing everywhere in Gujo from early morning by car.
One day, when he went fishing by bicycle instead of a car, he realized there is beautiful scenery which you cannot see by riding a car, and wanted to convey the goodness of Gujo, so he started a cycling business.
Depart from Gujo Hachiman Station and start our 25km bicycle tour!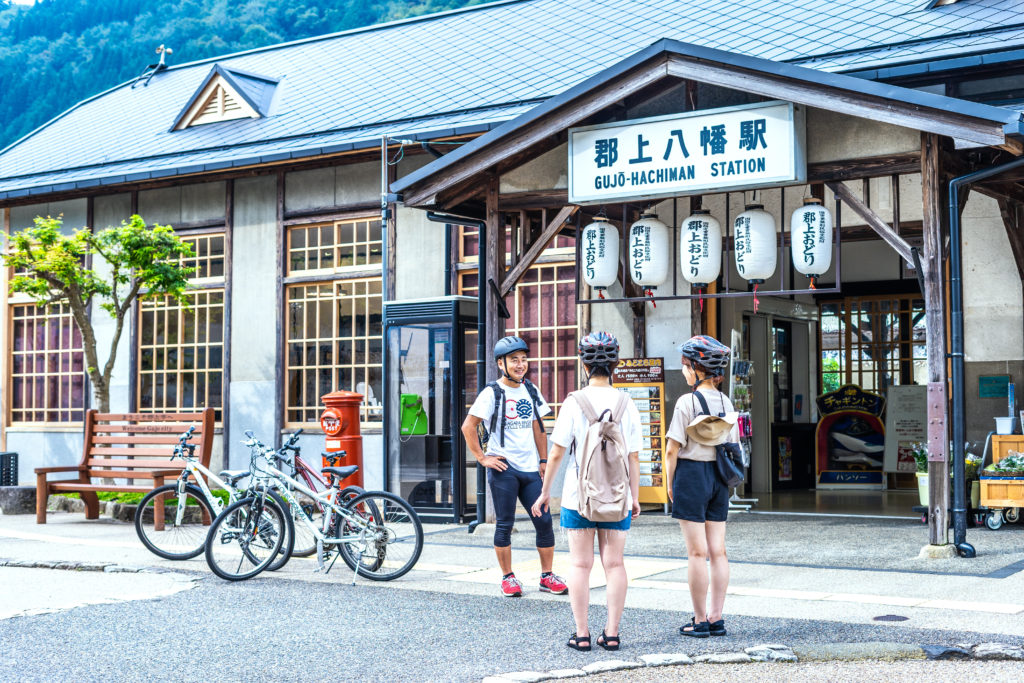 This time, we experienced the "Nature & Castle Town Course" where you can enjoy all the nature along Nagaragawa River and the town of Gujo Hachiman. It is about 25km from Hokunou Station of Nagaragawa Railway to Gujo-Hachiman Station. As it is quite a long distance, may be a bit difficult for girls who do not usually exercise.
I was wondering how far I can ride. At 9 am, I arrived at the meeting place, Gujo-Hachiman Station, with my friend Yuka. This retro station building is cute and is loved by the locals.
When we arrived, we saw tour guide Mr Daisuke had already brought his bicycle, prepared and waited for us.
Take a train with our bicycle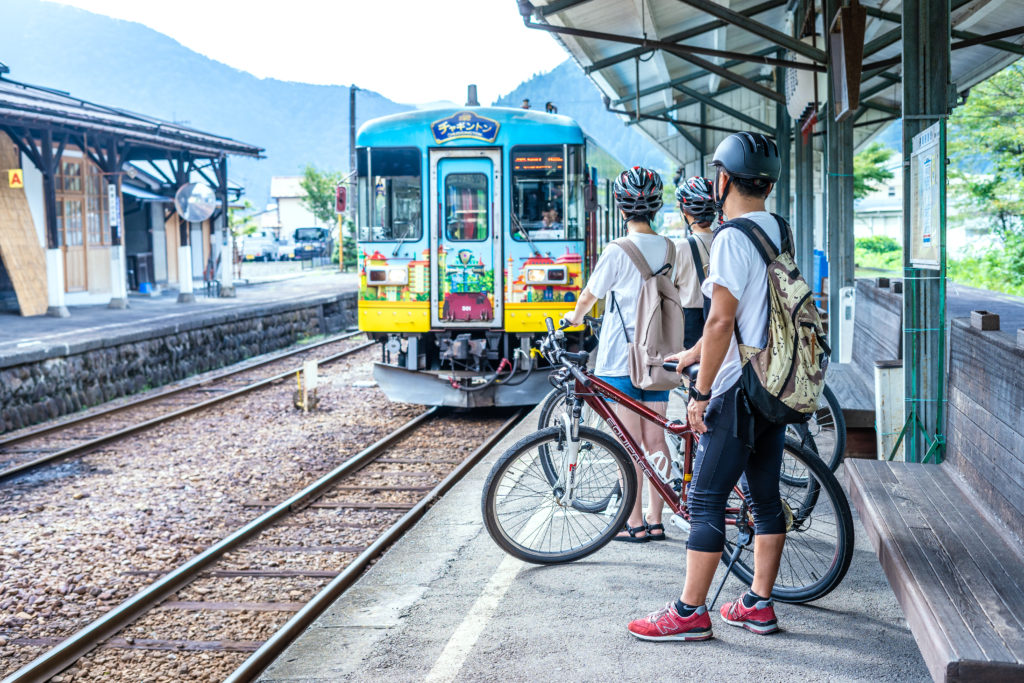 We thought we are going to ride our bicycles, but we headed to the train station.
After long discussions, they allowed passengers to bring their bicycles between Gujo-Hachiman Station and Hokunou Station in September 201 only for Nagaragawa River Cycling Cruise.
Mr Daisuke thought it would be better to extend the route because he did not want to repeat the same route for repeaters. As you can get on and off the train freely in this section, you do not worry if you are not strong enough to ride the whole route.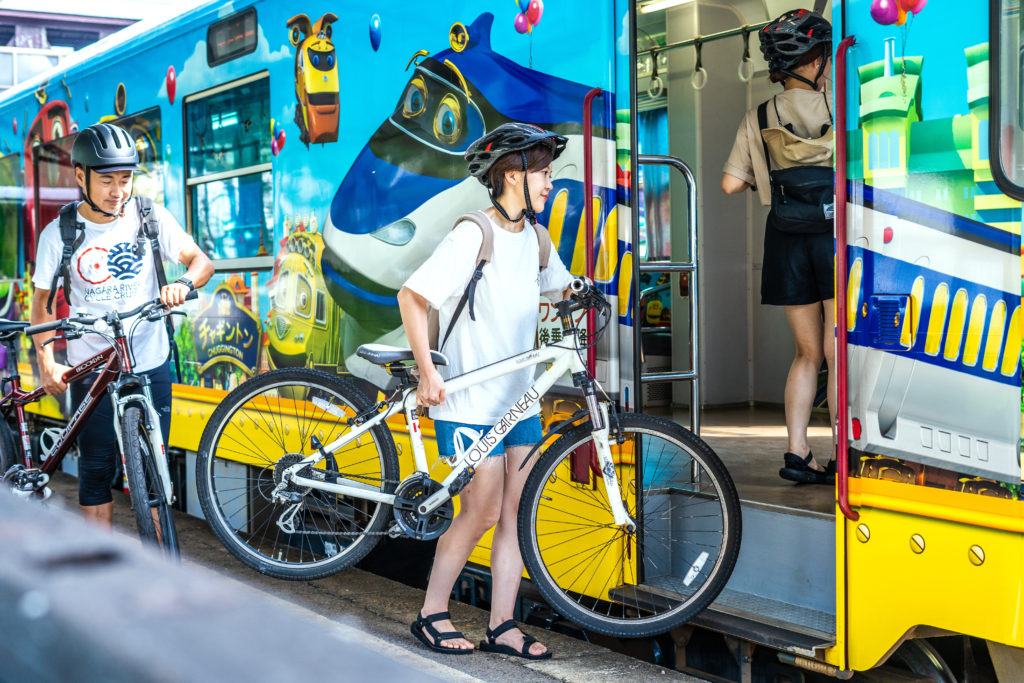 My first time on Nagaragawa Railywa and my first ride with my bicycle.
I needed to lift it and get on the train. It is a new experience for me!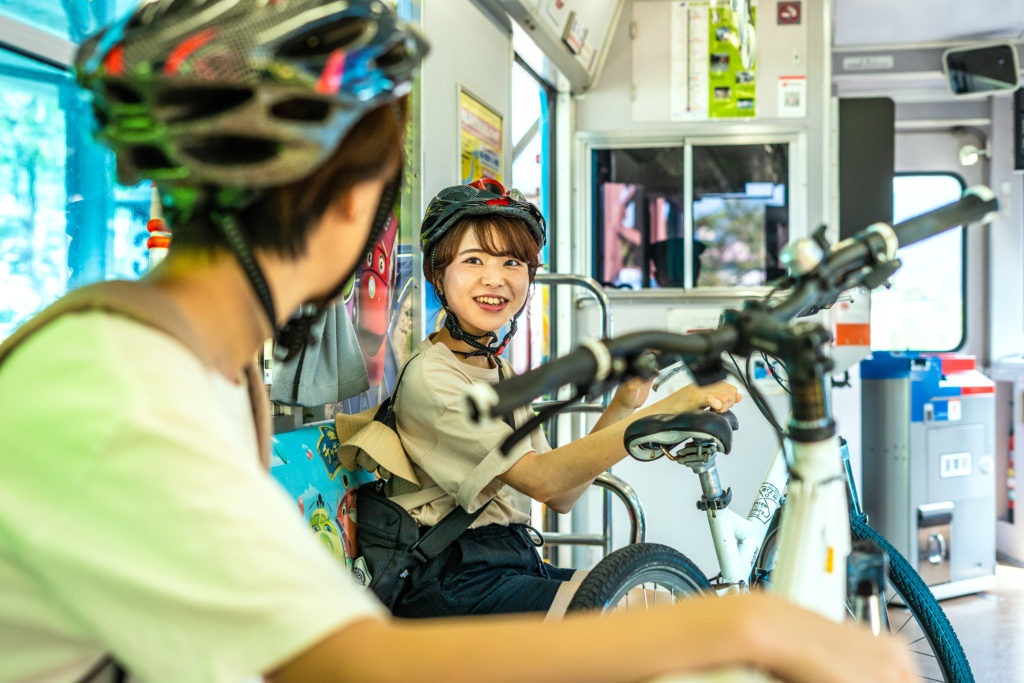 "What kind of place is Hokunou Station we are going to?"
While supporting the bicycle and looking at the scenery outside, we chatted a lot on the train.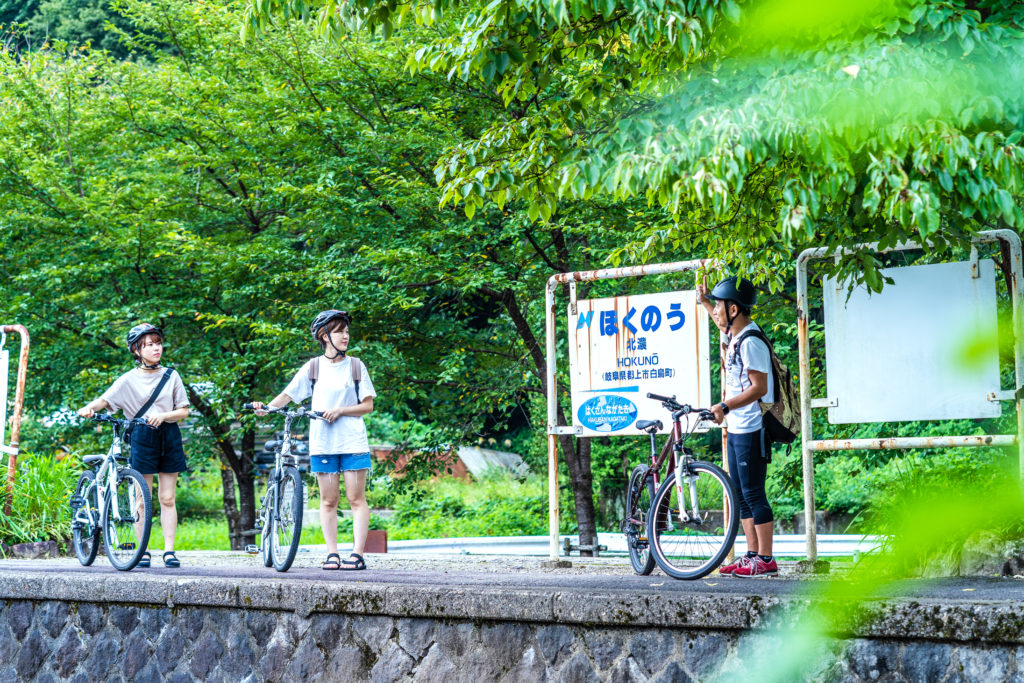 We were heading north from Gujo Hachiman Station and finally arrived at Hokunou Station after around 40 minutes.
From here, we started riding on bicycles!
Let's get started!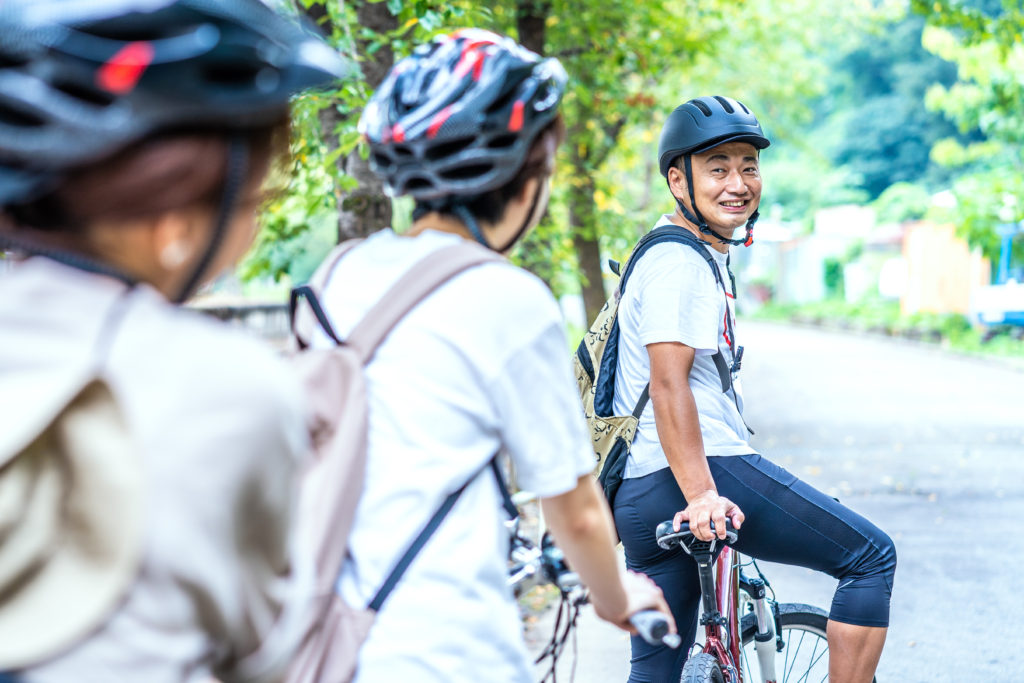 "Let us go Nagataki Hakusan-jinja Shrine first!"
Our energetic tour guide Mr Segi led us and arrived at our destination 1 to 2 minutes from the station.
Visit Nagataki Hakusan-jinja Shrine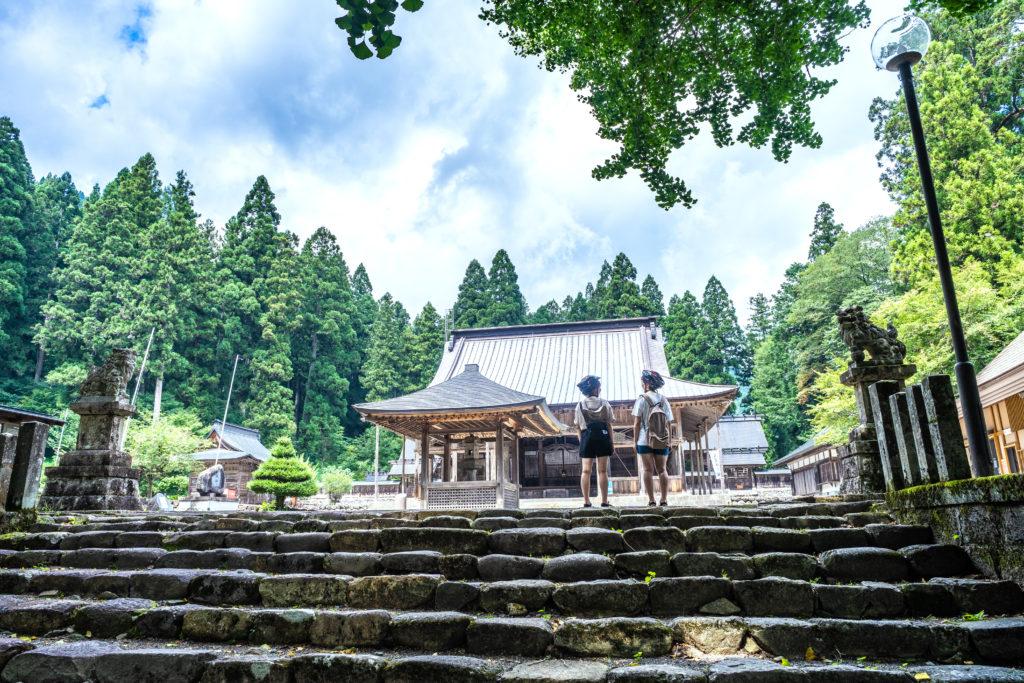 Nagataki Hakusan-jinja Shrine was once enshrined as the center of Hakusan Faith in Mino Province.
It is a famous shrine where Muika Matsuri is held with a history of about 1,000 years.
The precinct is surrounded by huge cedar trees, and I was overwhelmed by the sacred atmosphere and the splendid building of the shrine.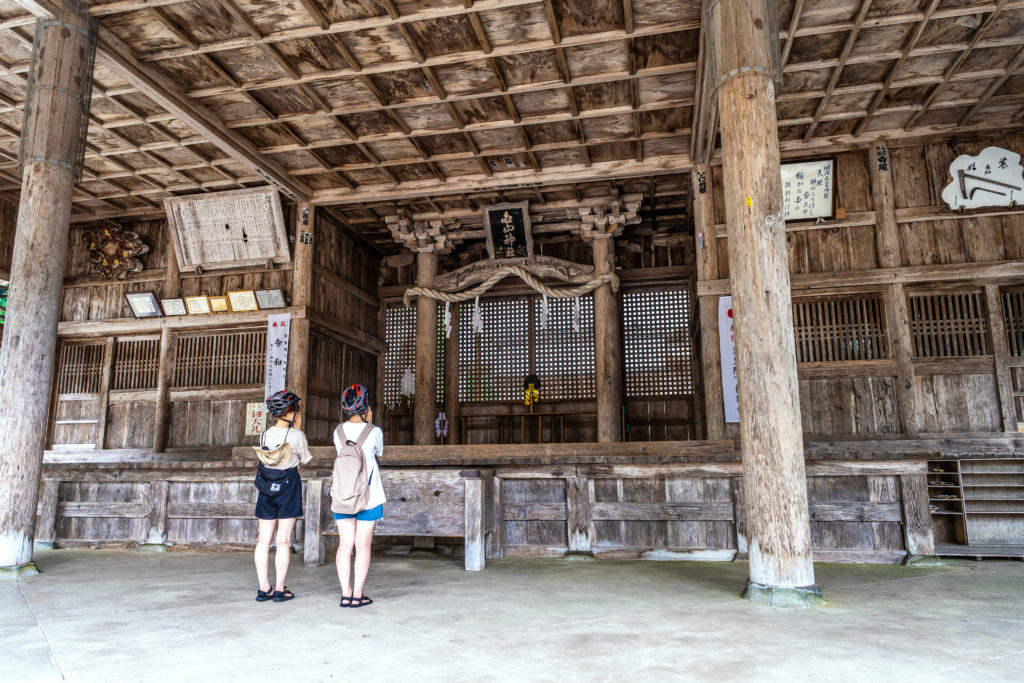 Pray by "Bow twice, clap twice, and bow once" together
I wished for our happy and safe cycling trip.
Passing nature by cycling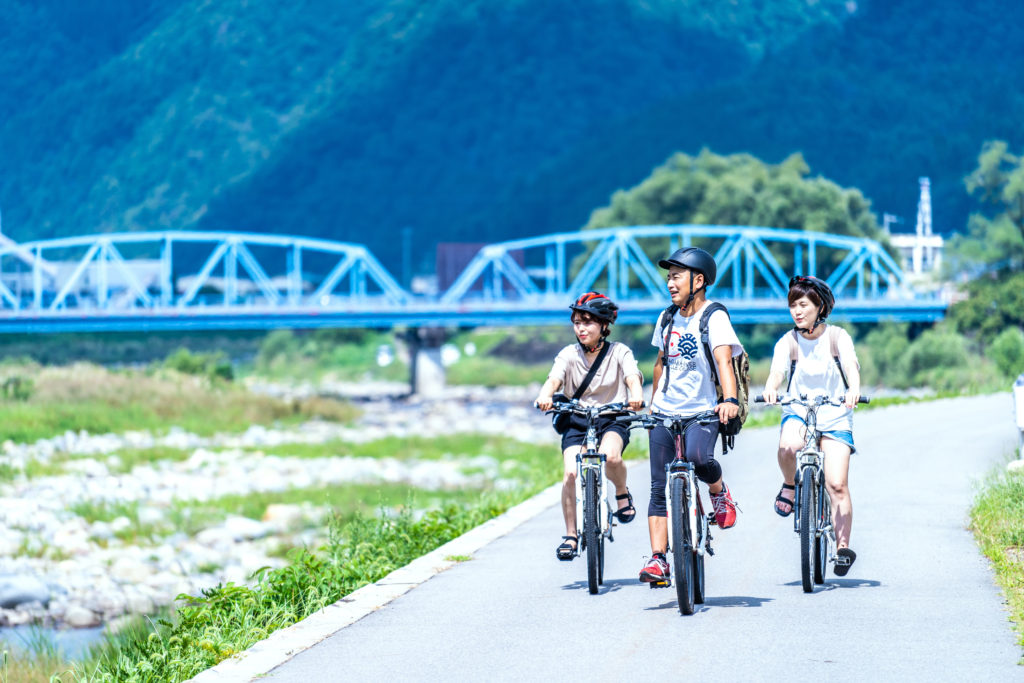 After visiting the shrine, we headed for Yamato-cho along Nagaragawa River.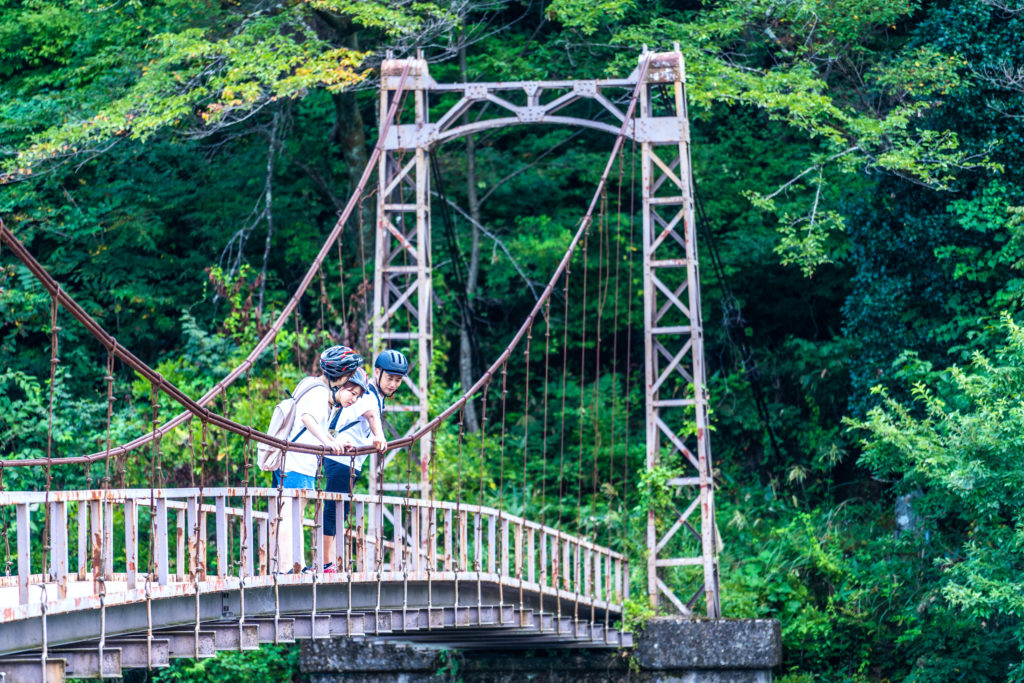 On the way, we saw a very familiar old bridge at Shirotori-cho.
It is fun that we can stop by while cycling along with the city.
After getting off the bicycle and looking down on Nagaragawa River from the top of the bridge, I saw something like a wooden box.
When I asked Mr Segi, "What is that?". He said, "It is a trap for catching small fish." Many fish live in Nagaragawa River. Among them, Gujo Ayu (Sweetfish) is famous. Many tourists from all over the country come to eat natural Ayu.
I found a fisherman using an angler with a rod about 9m long. I asked why it was so long, he said, "Fisherman hooks a decoy of Ayu and put it into the territory of the targeted wild Ayu. Wild Ayu attacks the intruder with its body and gets caught. This fishing method is called Ayu-no-Tomo fishing."

Lunch at Nagomiya Seseragi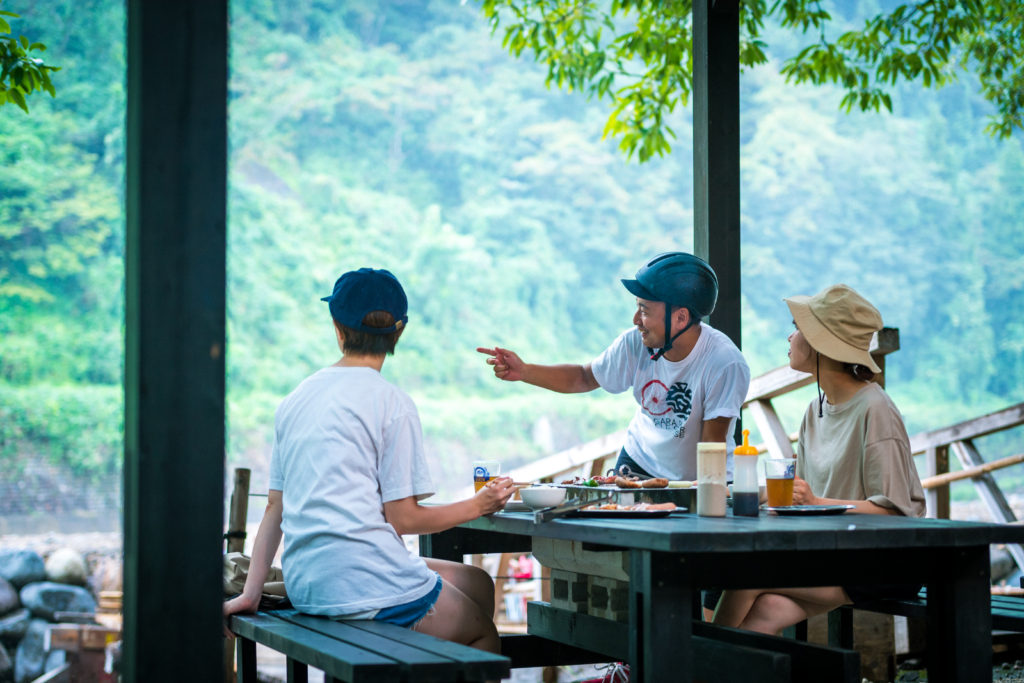 At around 11:00, when I felt hungry, Mr Segi brought us to a beautiful restaurant for lunch.
At Nature & Castle Town Route, you can try a lunch of BBQ Hida beef, local Gujo chicken, local dish Kei-chan and grilled offal at Nagomiya Seseragi at the best location facing the beautiful Nagaragawa River.
From August to October every year, traditional fishing, Yana fishery is held and you can try fresh Ayu.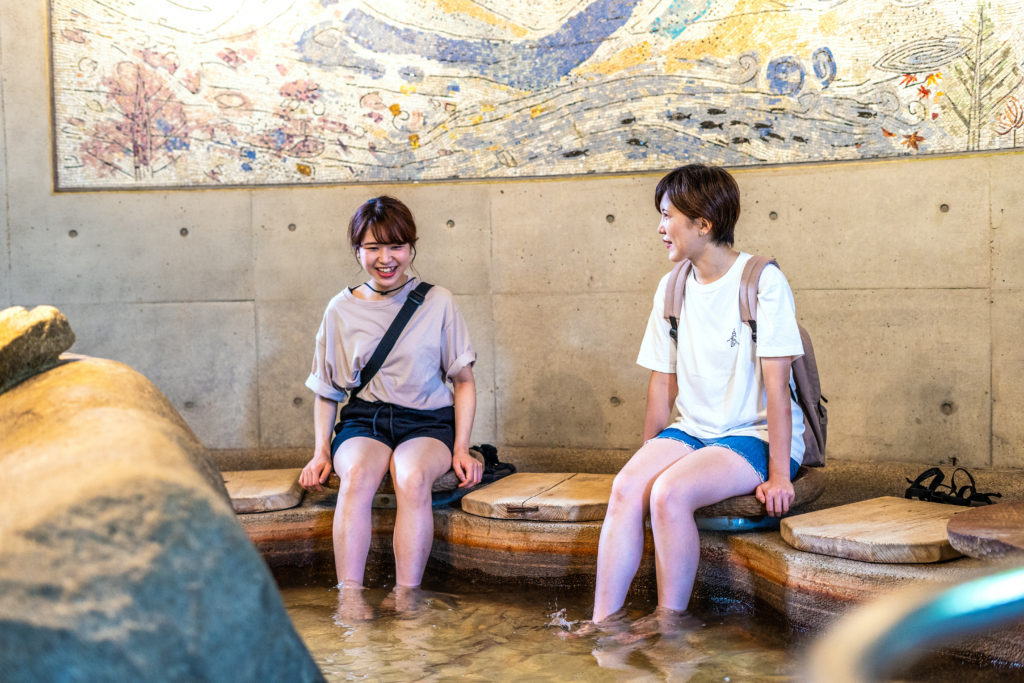 When we arrived at Roadside Station Kokindenju-no-sato Yamato, we took a short break at the foot bathing corner. All the tiredness after cycling is gone after the foot bathing.
Local specialty store is also available in the facility. I felt so satisfied!
Walking around Gujo Hachiman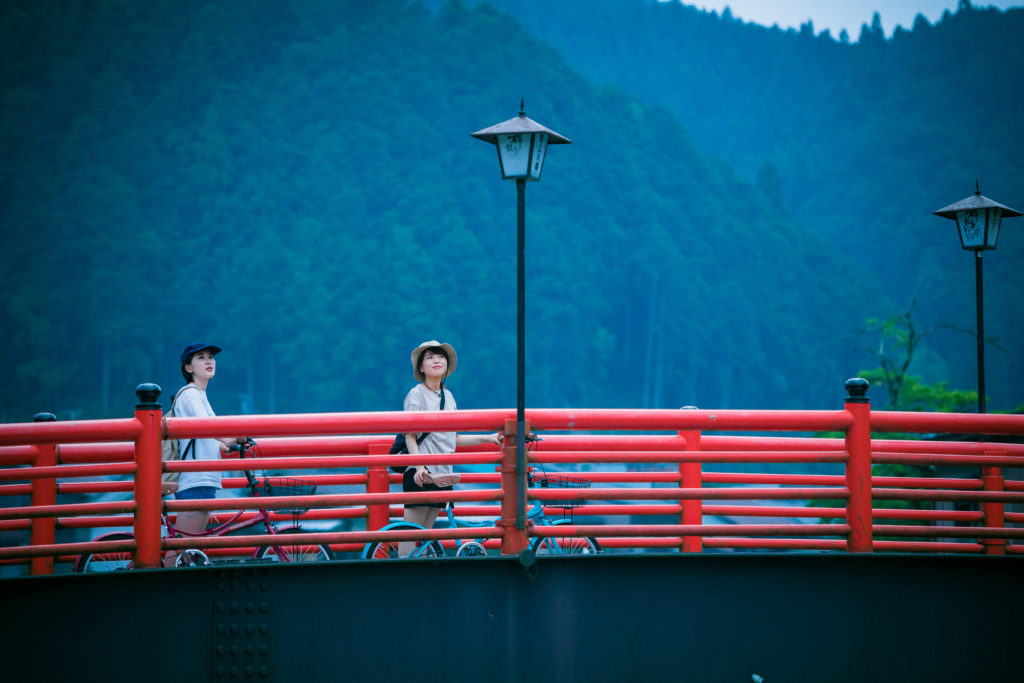 After riding for about 11km from Kokinden-no-sato Yamato, we headed to our last destination Gujo Hachiman. I can feel the time flow by seeing the river passing through the city, the old townscape with history. On the way, we took a break at Jionzenji Temple, which has a scenic garden, Tessouen.
Temple visit is also included in the tour, and you can enjoy different sceneries of each season. It was a very fulfilling tour, as I could see how the local people are living in the town and places that only the locals know.
After arriving at Gujo-Hachiman Station, which was the starting point, we returned our bicycles and came to the end of our tour.
We started at 08:45 and disbanded at 16:30. Although it is a long route for a whole day, we enjoyed it a lot!
Other than Nature & Castle Town Route we joined this time, there is also Nature Route where you can ride a bicycle for about 22km from Gujo Hachiman Station of Nagaragawa Railway to Minami Kodakaraonsen Station, and Castle Town Route where you can enjoy riding at Gujo Hachiman. Mr Segi also arranges according to the needs of regular customers, making you want to participate again and again.
The best part of cycling is encountering scenery that you could not feel by riding a car.
How about going cycling with a wonderful tour guide leading you to enjoy secret spots that even the locals do not know?
---
Recommended sightseeing spot after the tour
From Gujo Hachiman IC of Tokai Hokuriku Road, about 10 minutes via National Highway 156, you can find Gujo Onsen Hosen. It is a hot spring using hot water that sprang up in 1994 and is a bathing facility of "Hotel Gujo Hachiman" with a nostalgic Showa atmosphere.
There are 7 types of baths for men and women, and an open-air bath overlooking Nagaragawa River, one of Japan's three major clear streams.
Please fully enjoy the seasonal sceneries seen from the large public bath of this natural hot spring.
Listening to the singing of birds and the sound of the clear stream and having a bath in the hot water to heal your tiredness after your cycling tour is very relaxing.