New plans for non-skiers at a ski resort! What is a "Non-skiing winter activity" in Gujo?
When speaking of a ski resort, do you think only skiing and snowboarding can only be enjoyed? At ski resorts in Gujo, many new sightseeing spots and new activities are coming up in recent years. We are introducing what you can try other than skiing or snowboarding in winter!

"TAKASU TERRACE", a café up on altitude 1,500m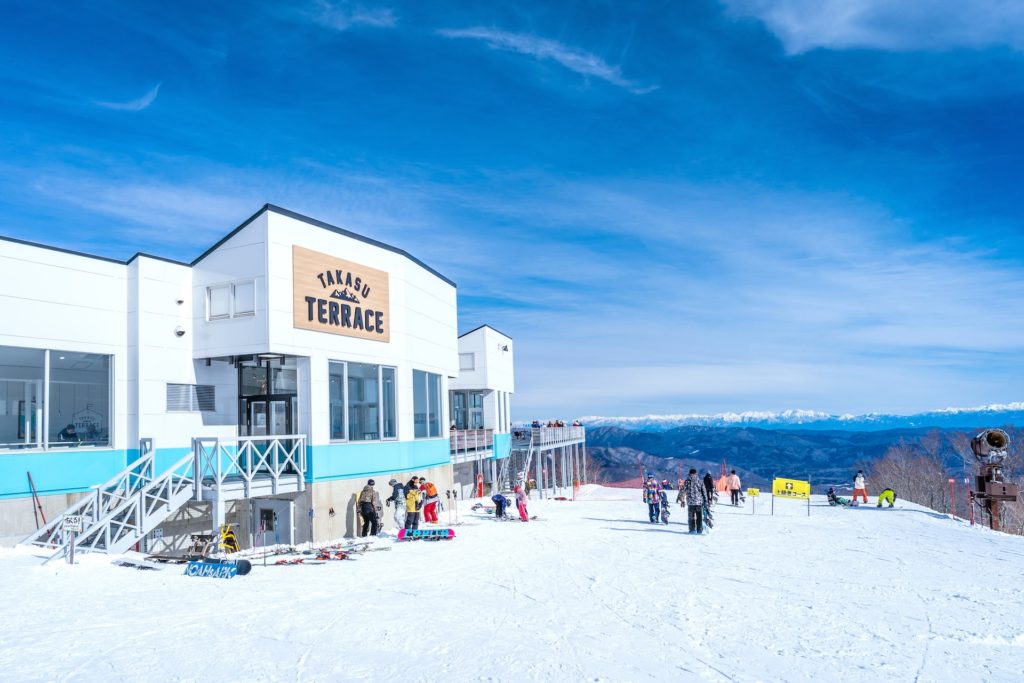 First, we are introducing TAKASU TERRACE located on the mountaintop of Takasu Snow Park which is a popular ski resort among young people. After taking a gondola, you can reach the café on the cloud with an excellent view.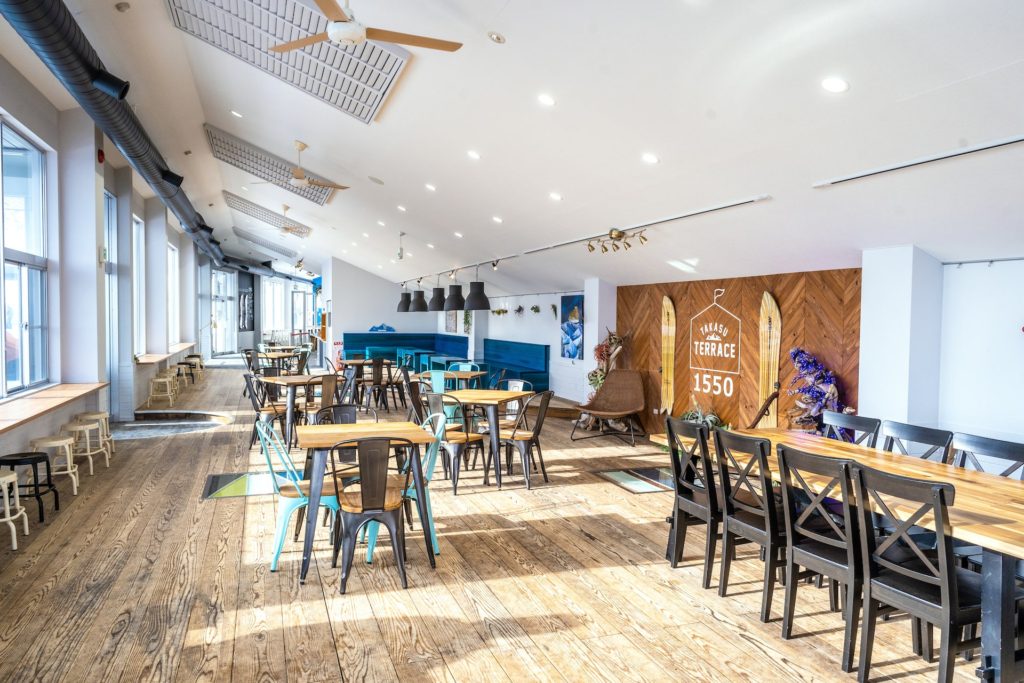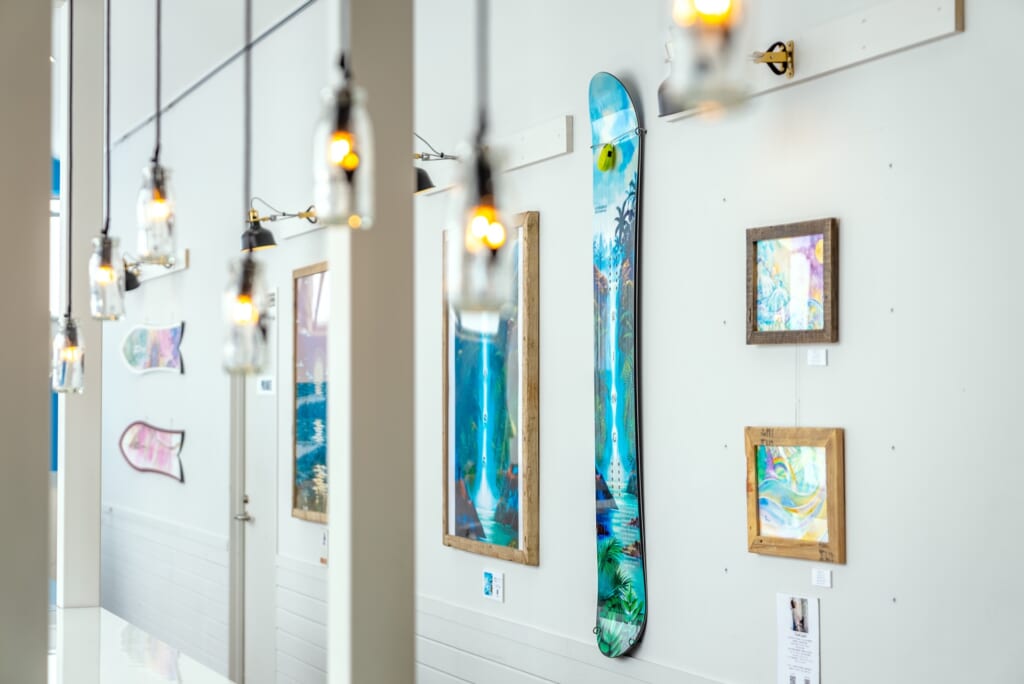 There is a relaxing space inside the café making you feel like a beach resort.
Limited model snowboards and their original graphic picture from collaboration with a long-established snow surf brand [PIONEER MOSS] are displayed at a corner.
TAKASU TERRACE's number one recommended menu this season is BEACH Burger.
Soft buns and large and thick bacon are both handmade in Hirugano! Its look and taste are extremely excellent!
For drinks, "HIRUGANO MILK" series using rich Hirugano Kogen milk, is popular. There are many kinds of flavors, such as strawberry, caramel, mango, chocolate banana. They also have original non-alcoholic cocktails inspired by BEACH from all over the world. You can enjoy a stylish relaxing time while looking at the snow.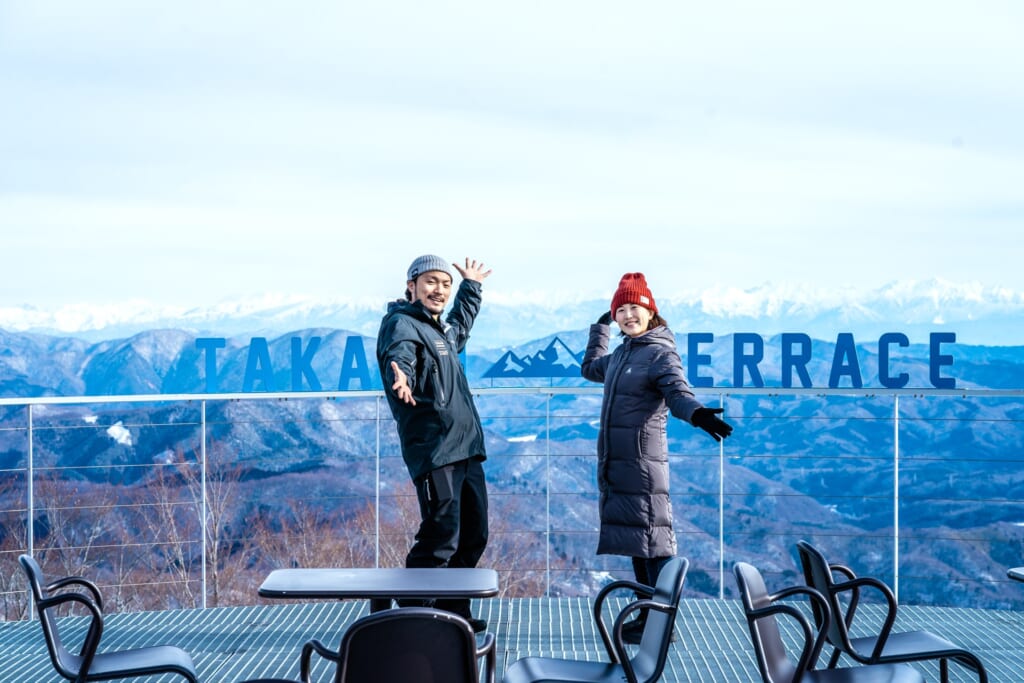 You can see Hirugano Kogen Ski Resort, hotel street of Nishibora area, Washigatake Ski Resort of Takasu area at the foot of the mountain from this terrance. Other than these, you can also see Mt Ontakesan, Mt Norikuradake, and the mountains of the Northern Alps. After the snow, you can see the whole place in white in front of you. If you are lucky enough, you can see the sea of clouds!
Many visitors coming from overseas where snow does not fall are enjoying this wonderful scenery so much by only looking at it.
"Although it is a ski resort, it is welcome to use only our café! We are happy to welcome customers who have never been to a ski resort to visit us." Said Mr Yoshiaki Inamiya from Takasu Snow Park.
TAKASU TERRACE is such a café making you want to go, not only a drop-in but also as a destination.
◎TAKASU TERRACE

Please take a gondola from Takasu Snow Park to the mountaintop café.
★Purchase an online ticket for a discount before you come! (In preparation)

Weekdays 10:00 – 15:30 Weekends and public holidays 09:30 – 15:30
* Last order 15:00


Enjoy snow activities to feel winter with your body!
◎Try snowshoes & observation platform tour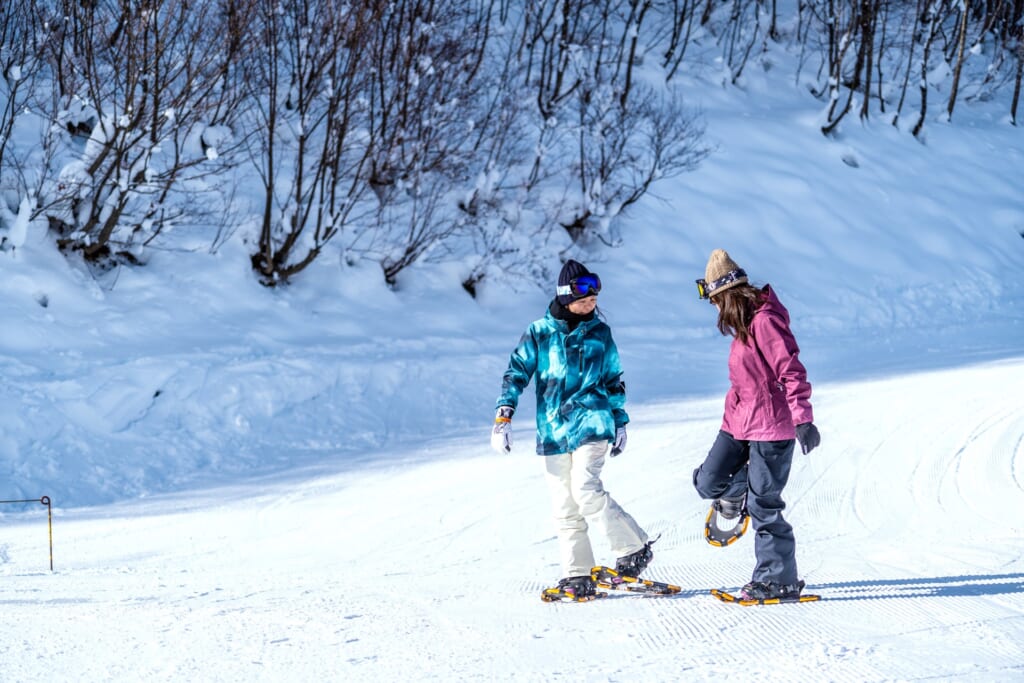 Snowshoes experience at WhitePia Takasu is where you can enjoy the spectacular view of snow mountains without skiing or snowboarding.
Your round-trip lift ticket to the observation platform includes a pair of rental snowshoes! You can join easily.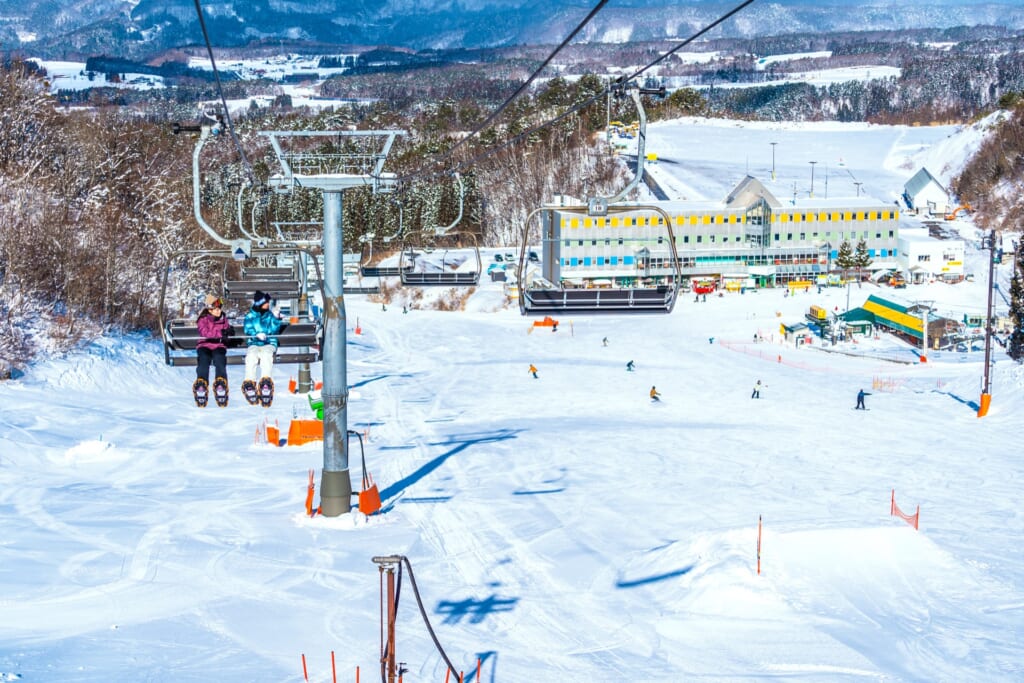 After purchasing your lift ticket, you can pick up your snowshoes from the staff at the lift station and head for the mountaintop!
After you get off the lift, you can walk to the observation platform while enjoying the beautiful scenery.
You can walk through the deep snow comfortably with your snowshoes.
You may try to walk on fluffy fresh snow if the timing is right.
This walking route to the observatory is a moderate slope and can be enjoyed by those who are not good at exercising. You can climb slowly and arrive in about 10 minutes.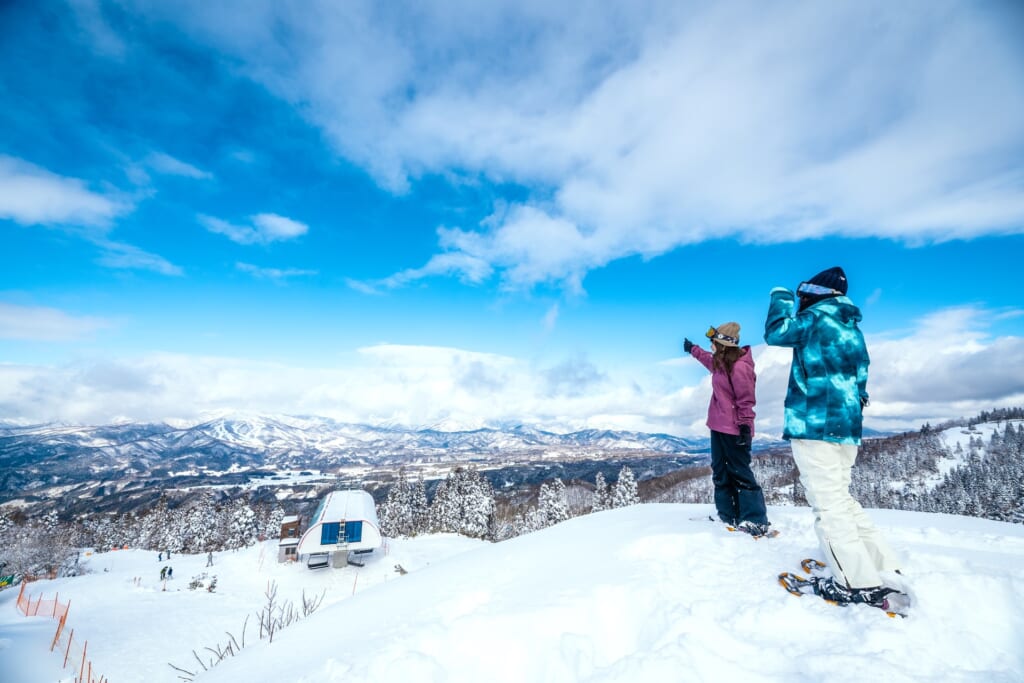 When you arrive at the observation platform, you can see a magnificent view in front of you!
If the weather is good enough, you can see the Hakusan mountain range and take wonderful pictures on the mountaintop.
Please enjoy taking a photo with your friends and family.
You can take the lift to go down the mountain on your way back. Lift going down, which you do not usually ride, is quite exciting!
Going down the mountain while enjoying the excellent view.
After getting off the lift, please remember to return your snowshoes to the staff.
◎Observation platform trekking

A new snow activity started from the 2021-22 season, taking a lift and walking on snowshoes to the observation platform.


See details of WhitePia Takasu
◎New snow activity by riding a car!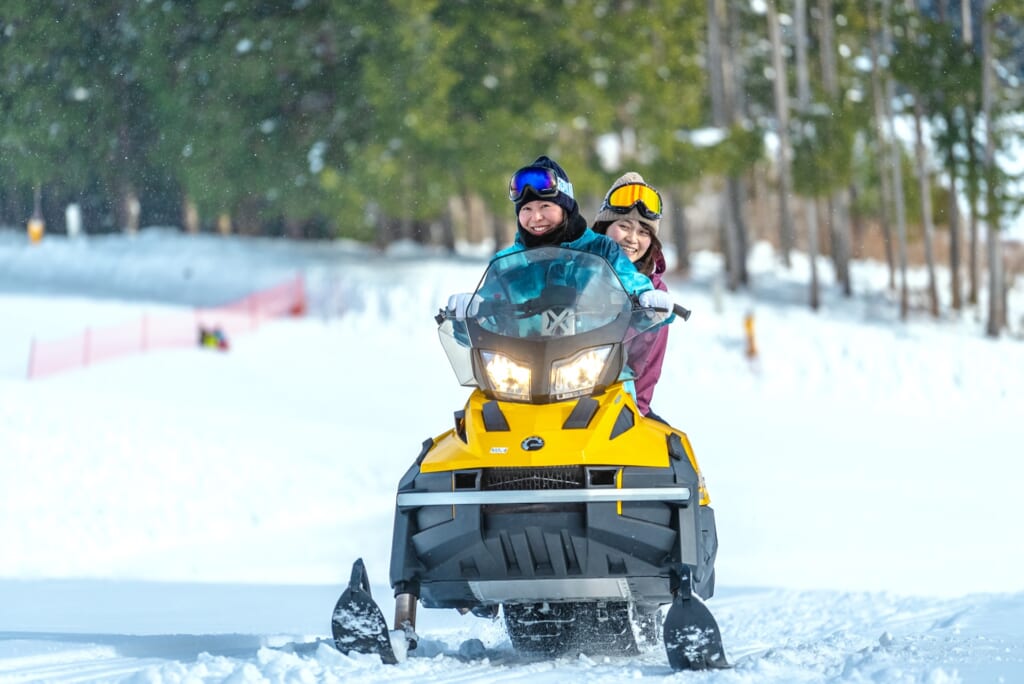 At Takasu Snow Park, "Snowmobile Land" is opened at the end of January in the Kids Park!
You can drive your snowmobile, which you often see on the ski slopes!
A stylish body like a large motorcycle looks great in photos!
The route for this activity takes about 15 minutes. As there is a driving operation lecture by the staff at the beginning, so even beginners can drive safely!
Each snowmobile can carry up to 2 people, so you can enjoy it with your friends, parents, children, or couples.
There is also a small snowmobile, even children can drive it if they can ride a bicycle.
◎Snowmobile Land (2021-22 In preparation)

For those who use Kids Park at Takasu Snow Park.
[Opening on Saturdays, Sundays, and public holidays only] Opened in late January.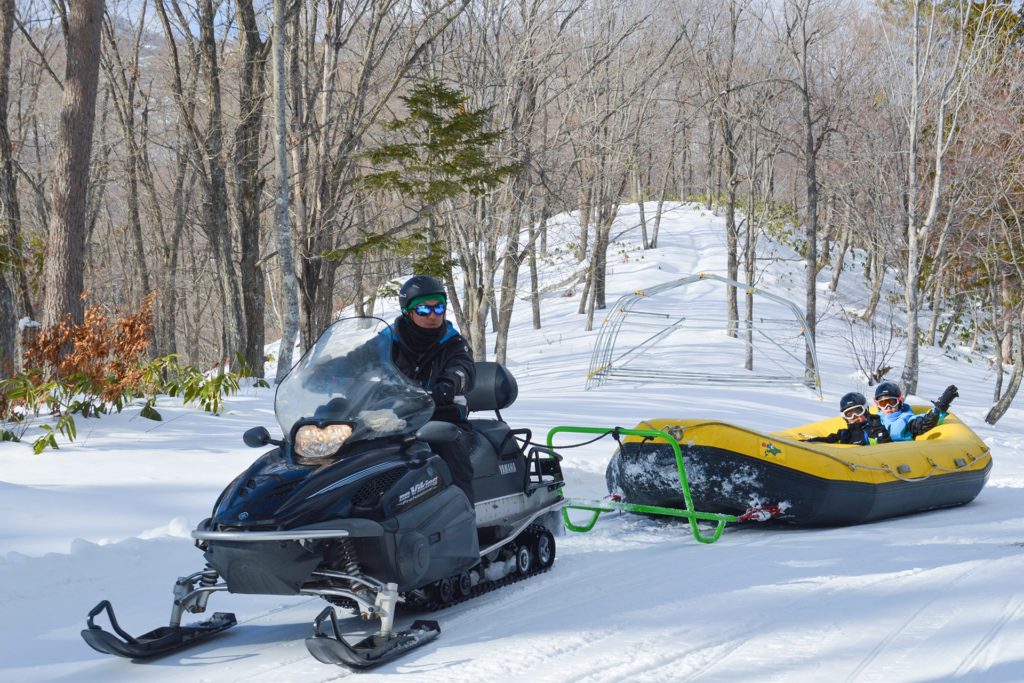 You can enjoy snow rafting at Hirugano Kogen Ski Resort on Saturdays, Sundays, and public holidays. Ride on a rafting boat and ride down the ski slope on a specific route in around 5 minutes.
◎Snow Rafting

It is a popular activity among the family at Hirugano Kogen Ski Resort.
You can ride on a rafting boat and go down the ski slope on a particular route. It can be enjoyed by children to adults. You are welcome to come in groups.

500JPY / times / person (Same price for children and adults)

Contact Hirugano Kogen Ski Resort
A classic snow activity for the family! Family Park is also popular among foreign visitors!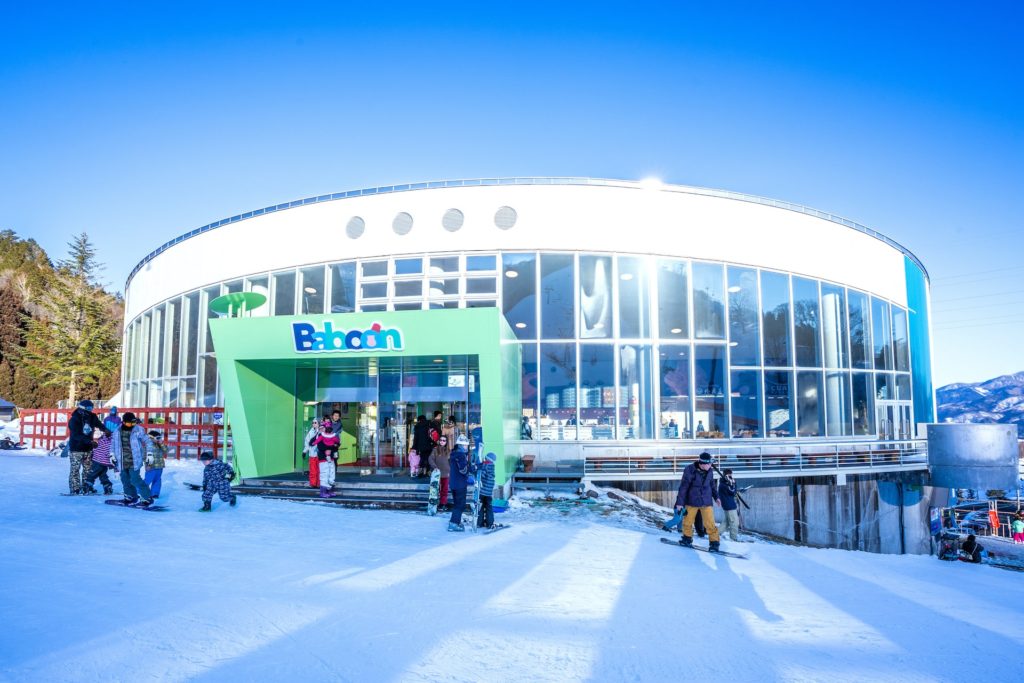 At TAKASU MOUNTAINS, you can find many family parks or kids land for families to enjoy snow activities.
A snow area Baboon in DYNALAND has a moving belt for going up and down the sledding area Snow Baboon. You can choose your own sled from all 7 types of sleds from classic one, or with handles or kick scooters. You can choose according to your preference.
◎Baboon

A snow area for parents and children to enjoy at DYNALAND. As it has an indoor playground and restaurant, you can enjoy it even when the weather is bad.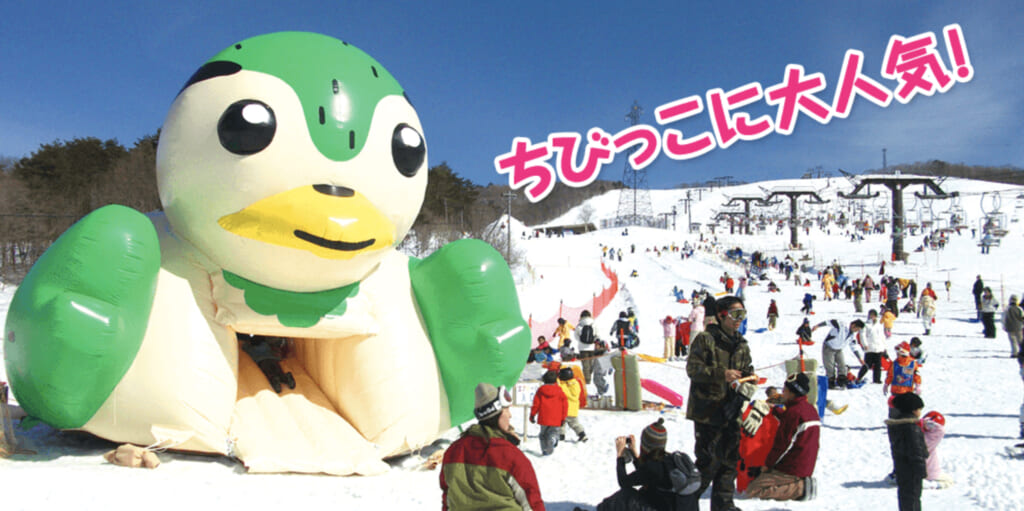 ◎Hirugamo Kidsland

A kid's area with a long sledding route and snow mountain activities. A snow escalator is available. Family game competition for kids is held on every Saturday and Sunday.

Contact Hirugano Kogen Ski Resort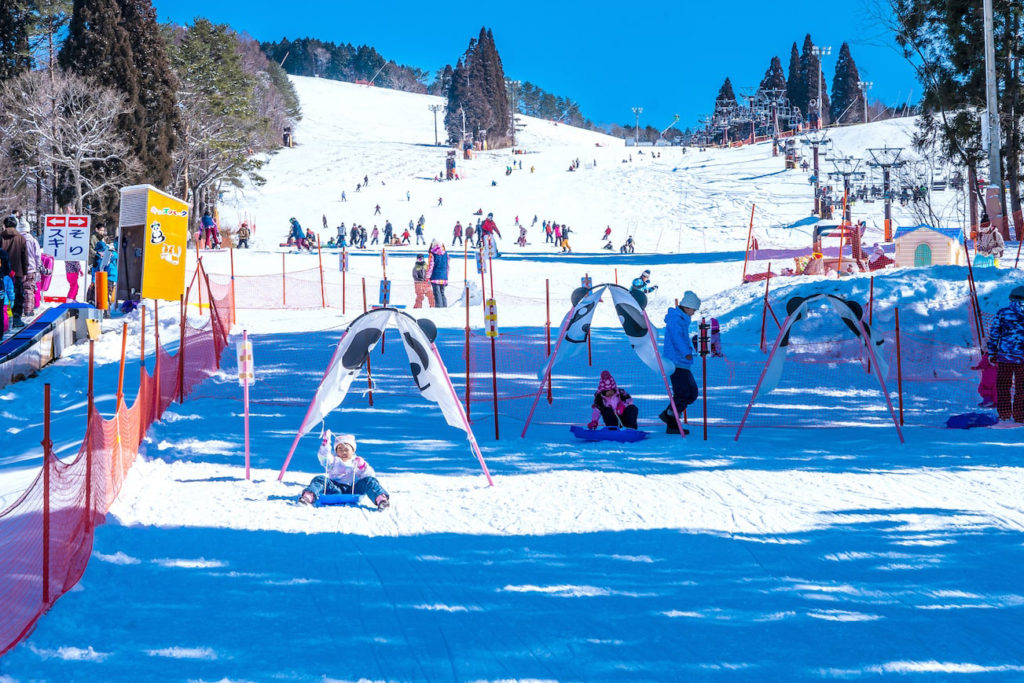 "PANDARUMAN Adventure Square" is a kid's park at Washigatake Ski Resort. You can try the 30 m sledding route which is very popular among children. A moving belt is also available inside the park.
◎Kids Park "PANDARUMAN Adventure Square" 

A tubing route "White Adventure" is held from 2021. Free admission for women (Mothers and grandmas) every Tuesday during Ladies' Day. There is also a "Crayon Shin-chan Kids School" for children who want to learn skiing.

Contact Washigatake Ski Resort
Please refer to the official websites of each ski resort for the opening period.
You can enjoy snow activity without skiing at a snow resort!
Snow is very common in Japan but is rare in other parts of the world. Other than Japan, only a small part of Northern Europe and North America snow.
In recent years, the number of visitors from overseas has been increasing, and snow activity is gradually changing.
Enjoy a cup of hot chocolate and enjoy various activities while gazing at the pure white snow mountains, which is just like having a cocktail at a beach resort.
We are looking forward to more ways of enjoying snow activities at our snow resorts.
If you think skiing or snowboarding is difficult that you may not be able to handle, there are so many other ways to enjoy the snow season!
Please come and try our new type of snow activities!
---
We, GOE are going to introduce more and more Non-skiing winter activities from now on. Please check it out!
Official Instagram account @gujo.outdoor.exp