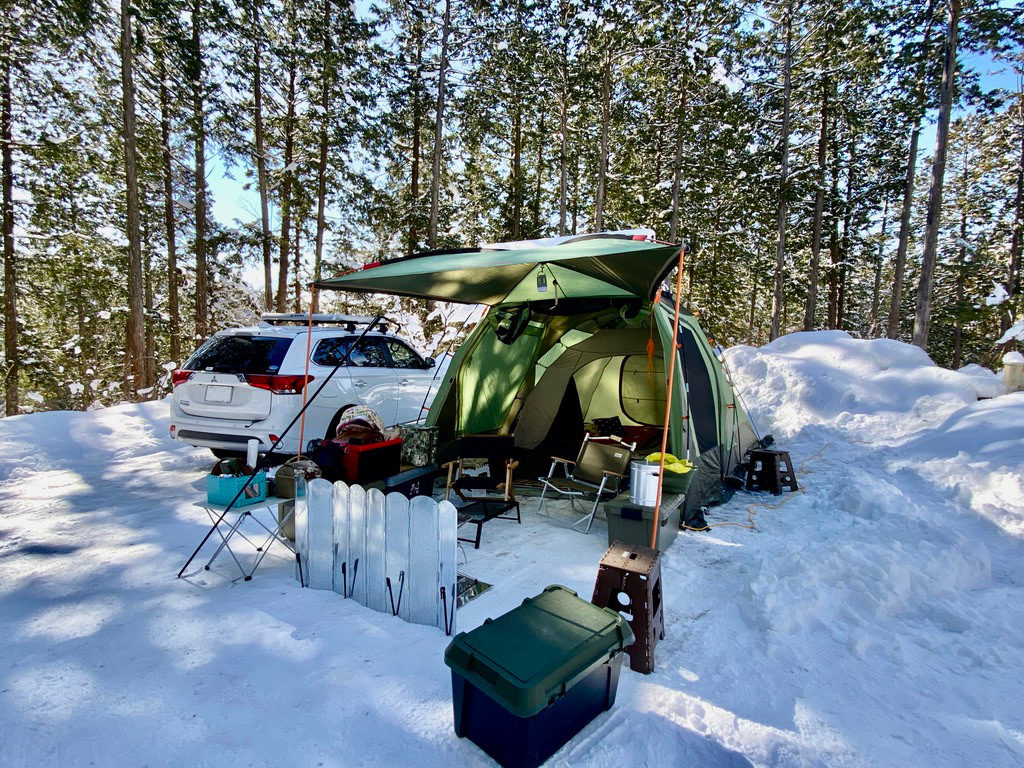 Want to go camping even in winter?! How we go winter camping in GOE way!
Due to COVID-19, activities avoiding meeting with people are booming currently.
Many people started camping last year or planned to try this year.
Most of them may think camping is an activity during the green season, but actually, you can go camping throughout the year.
Camping in winter or the snow is also fun!
Want to try but it seems a little bit difficult? How is camping in winter?
This time, we are going to answer all your questions from a GOE (Gujo Outdoor Experience) perspective.

We are going to visit N.A.O. Akeno Kogen Campsite this time.
"Camping on snow" was carried out on the day we visited. Around 15 groups of guests were enjoying camping.
Let us interview experienced campers and hear their actual voice!
What is the attractiveness of winter camping?
Enjoyable bonfire!
The main reason for making a bonfire is to keep warm. But starting from making a fire and gradually growing into a big fire, all are parts of the experience.
Not only warm your frozen body, but you can also roast sweet potatoes, bake marshmallows to make s'mores, and make hot coffee. There are so many ways to enjoy a fire.
No matter talking with friends and family or spending time alone, I feel like I can relax with myself in front of the fire.
The time spent staring at the flames is indescribable healing.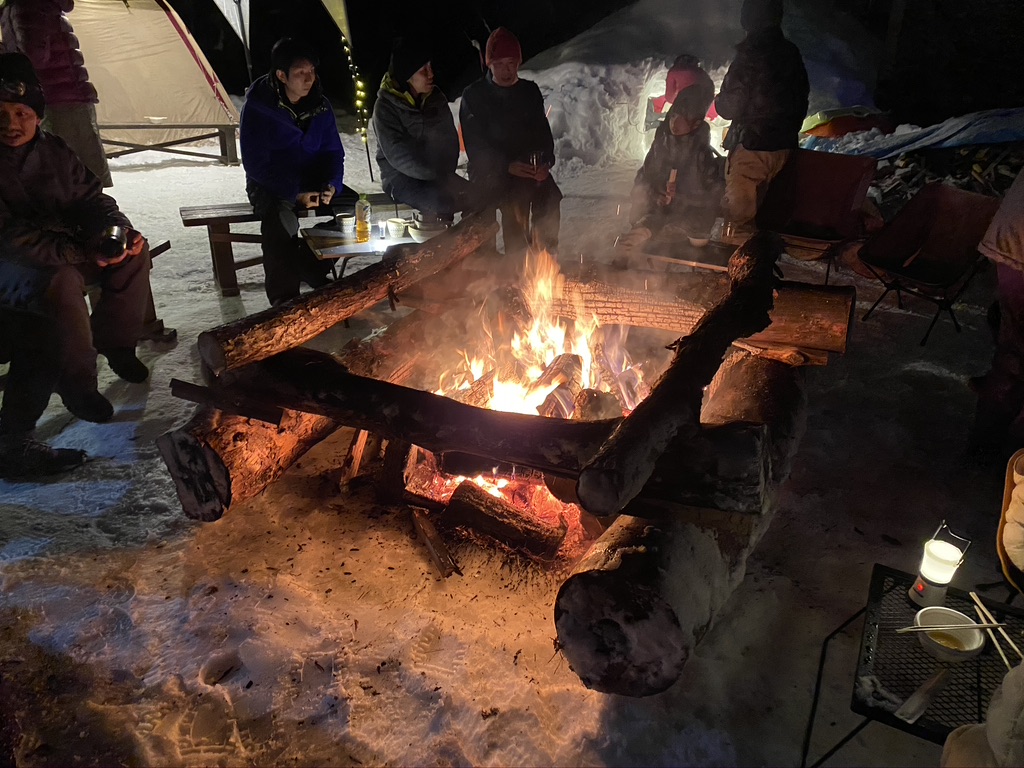 This calm and gentle view is beautiful.
As snow absorbs noises, it is very calm around.
It is completely white snow scenery.
Camping is for you to enjoy your life unusually. Camping in the snow makes you feel even more extraordinary.
Campsite in Gujo is located at a high altitude, so you may be able to see the Milky Way in winter if the condition is good enough.
Lanterns and bonfires reflect off the snow, creating a fantastic atmosphere.
Decorating illumination makes here the most luxurious space.
You can enjoy this only in the snow.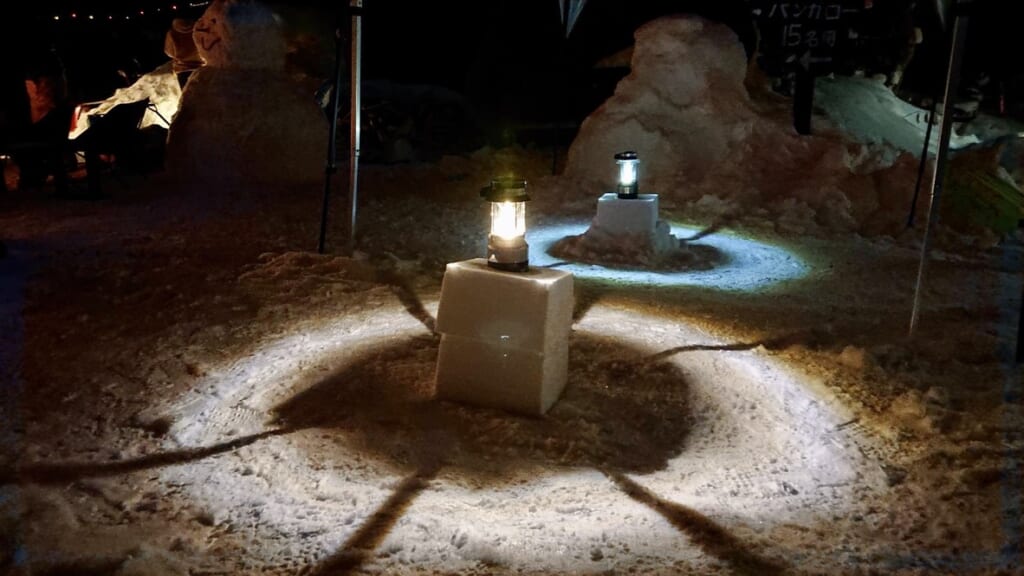 No bugs
The most surprising merit we heard during the interviews is, there are no bugs in winter! Mosquitos and horseflies are active during the green season. As bugs gather around lanterns and lights, people who dislike bugs may be concerned about this.
Maybe no need to worry about bugs is also one of the attractive points of camping winter.
Playing with snow
You can try sledding, making snow huts, or making snowmen in winter. Not only popular with kids, but adults also enjoy a lot making snow huts and playing sledding. Isn't it the magic of snow?
How about cold weather protection measures?
After knowing all the attractive points of winter camping,
We would like to know more about cold weather protection measures!
We asked some experienced campers about all our concerns.
What kind of sleeping bag do you recommend?
Of course, is down or feather sleeping bags for winter!
As it is cold at night in spring and autumn, you can use it for a longer time if you purchase a winter sleeping bag. You may not need to use it only in summer.
Can I use my summer tent in winter?
You do not have to use a winter tent in winter camping.
You can use your tent used in the green season and add a heater for winter camping.
Tent manufacturers are producing tents with different materials and shapes for different purposes, like for winter or all seasons. If you are going to buy one, please choose according to your needs and styles after considering all advantages and disadvantages.
How about a heating system?
In terms of warmth and convenience, "woodstove" is the best.
Some people even say they go camping in winter because they want to use a "woodstove".
"Wood-burning stove" warms the surrounding air with the heat generated by burning firewood, so heating inside the tent is very efficient!
I actually entered a tent, and found the warmth was amazing!
Even if I took off my jacket, I could noy cold at all. It was rather comfortable.
You can use the heat to boil hot water or cook, so you can drink hot coffee at any time you want, or you can cook stews easily by putting it in a pot.
You may say "Attractive points of winter camping = attractive points of the woodstove".

If you think the wood stove is a little difficult to handle, you can use an oil stove or electric stove at a campsite with a power supply.
Although warmth is inferior to woodstove, the heating equipment you use at home can also keep you warm.
When you go to sleep with an electric blanket, you can sleep very comfortably.
Caution!
Things to need to pay attention to in winter camping.
The most important thing to pay attention to in winter camps is "carbon monoxide poisoning" caused by the stove.
Heating inside the tent is essential for comfortable winter camping, but poor ventilation can lead to a serious accident, "carbon monoxide poisoning".
If your tent has a ventilating hole, please make sure to use it to ventilate, turn off the heating at bedtime, put a "carbon monoxide checker" to prevent carbon monoxide concentration in the tent, etc. It is necessary to take proper measures.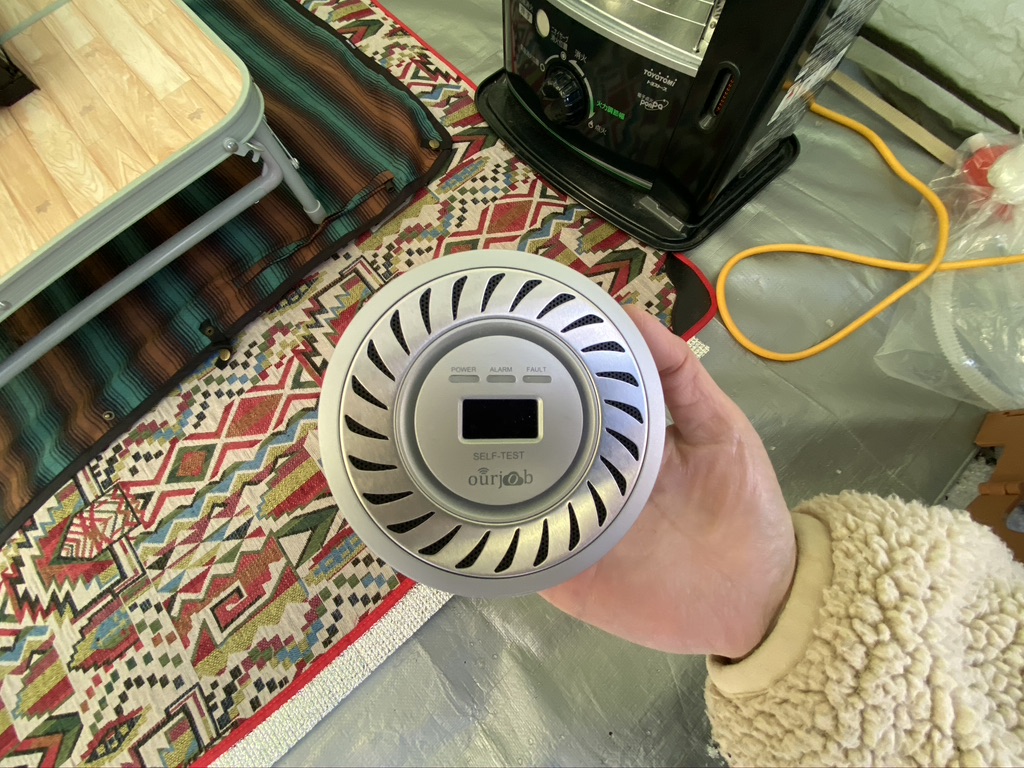 Synthetic fiber tents are sensitive to heat, and the stove may get burnt too close to the tent, so measures such as keeping distance from the tent and protecting it with heat-insulating material are required.
Another thing you need to pay attention to is "condensation."
"Condensation" occurs due to the temperature difference inside and outside the tent. It occurs by heating the inside of the tent with heating equipment during winter camping.
If condensation happens, all your luggage and beddings become wet…
Experienced campers usually take measures such as putting up one more tent inside the tent or separating the tent for heating and tent for sleeping in order to prevent the luggage from getting wet.
You can also prevent it by ventilating and air circulating.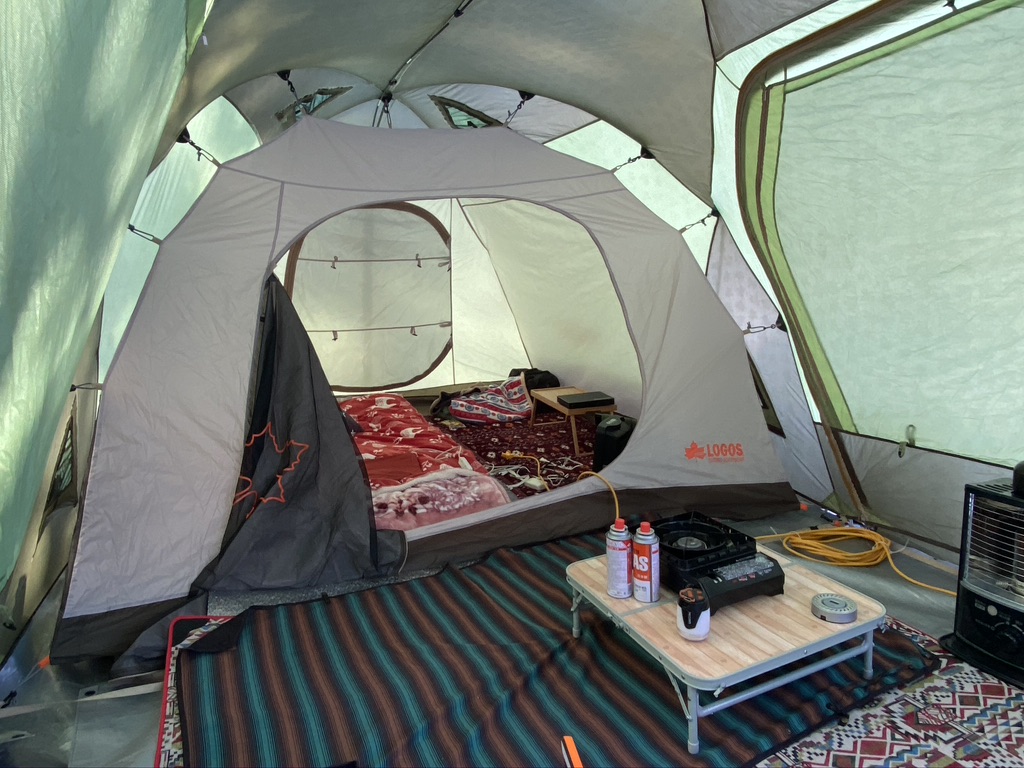 After hearing all the above, winter camping is quite different from green season camping.
However, if you arrange how to use your equipment in winter, you can continue using them. If you bring along all cold weather protection equipment and take safety measures, even those who are new to winter camp can enjoy it!
When you are choosing a campsite, please remember to check "whether there is a power supply facility", "whether staff will help remove snow", "whether there is a hot spring nearby", and so on.

Please do all research and preparation and enjoy winter camping!
N.A.O. Akeno Kogen Campsite

An old campsite operating throughout the year with a history of over 10 years.
It is very convenient with a power supply in winter. It is also a nice campsite for beginners as they help remove snow after you decide where you want to stay.
If you are a little worried, we recommend staying at a bungalow.
The entire building is equipped with a heater, so you do not have to worry about temperature
You can easily enjoy ma winter camp.