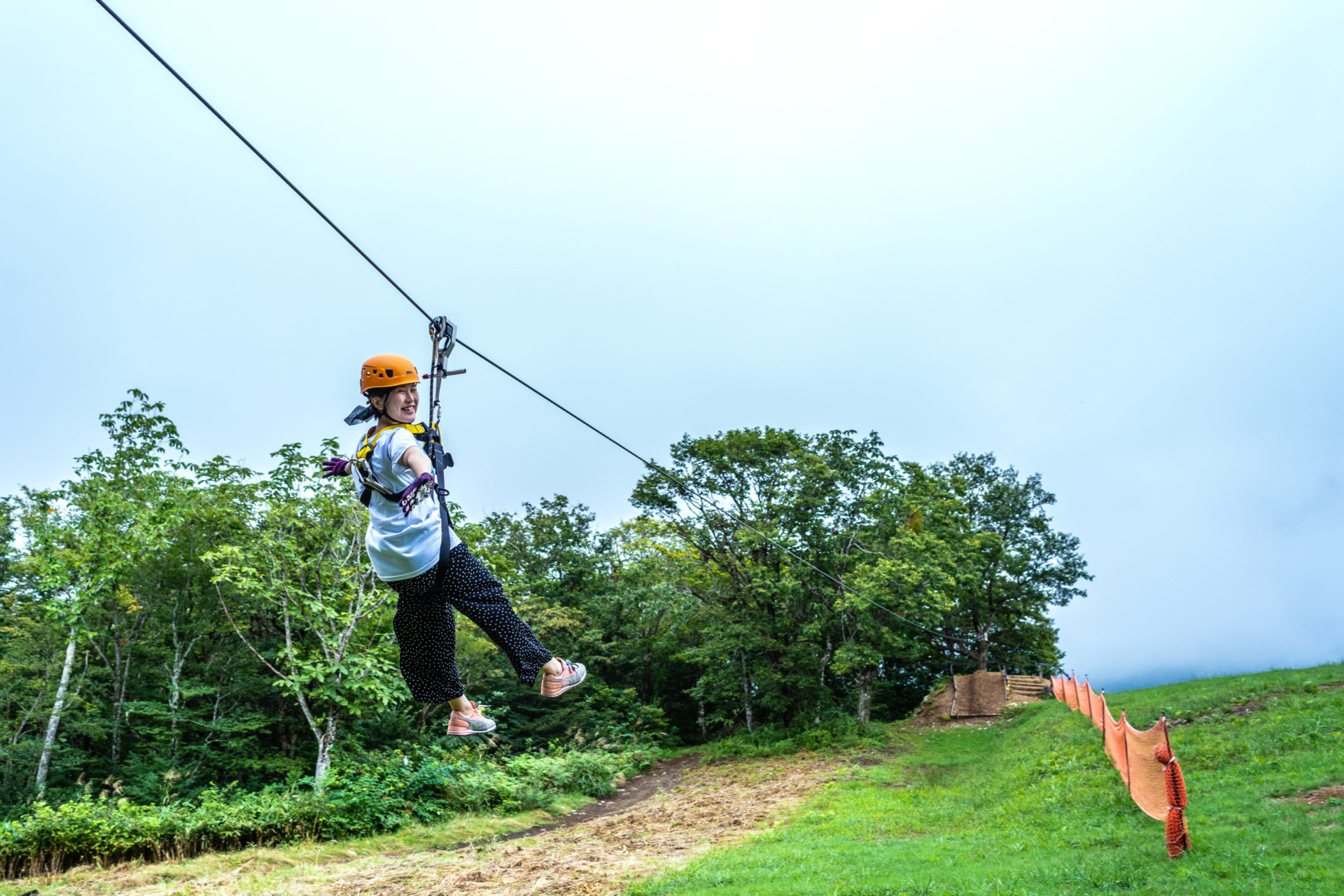 Wanna become a bird?! Try Zipline at Hirugano Kogen Ski Resort in summer!
Hirugano of Takasu-cho, located about 50 minutes by car from Gujo Hachiman, is having the most snowfall in Gujo. Hirugano Kogen Ski Resort, loved by locals, was opened in such a snowy area more than 60 years ago.

During the green season from April to October, it opens with the name of Hirugano Picnic Garden as a plateau resort. You can relax at Momoiro Terrace & Café where you can see 40,000 petunias, and try disc golf, mountaintop buggy, and other outdoor activities.

This time we are introducing one of the activities during the period, "Zipline Adventure" where you can try flying in the sky using a pulley. Mr Hiroki Wada, our instructor, showed us what kind of experience we are going to have!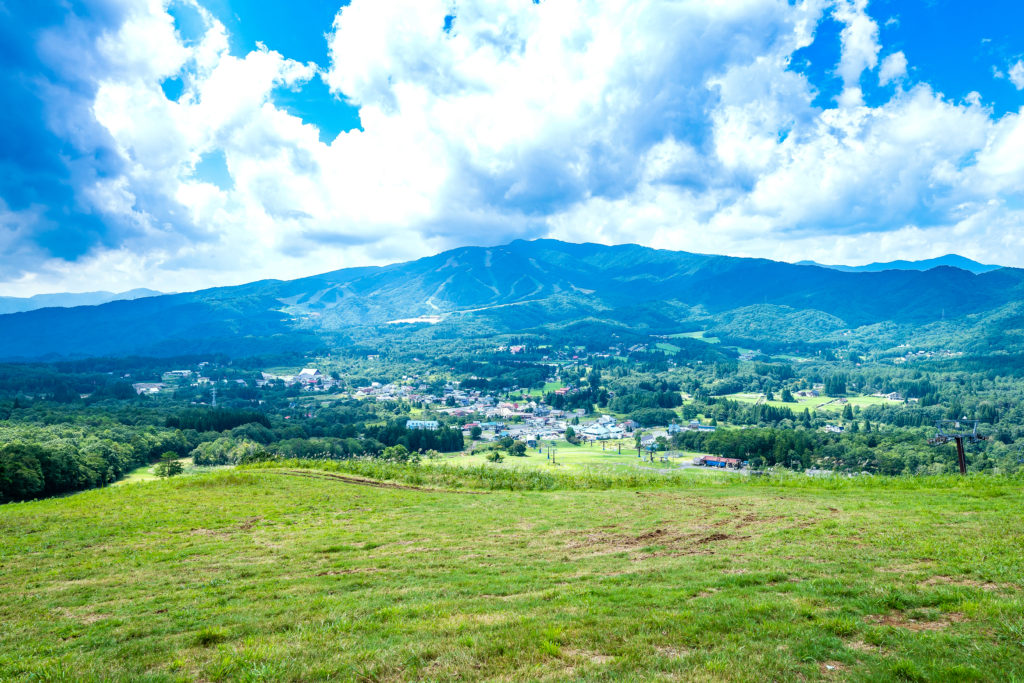 At "Zipline Adventure Hirugano", you can enjoy a 2-hour "Forest Adventure Tour" where you can ride a zipline with a tour guide.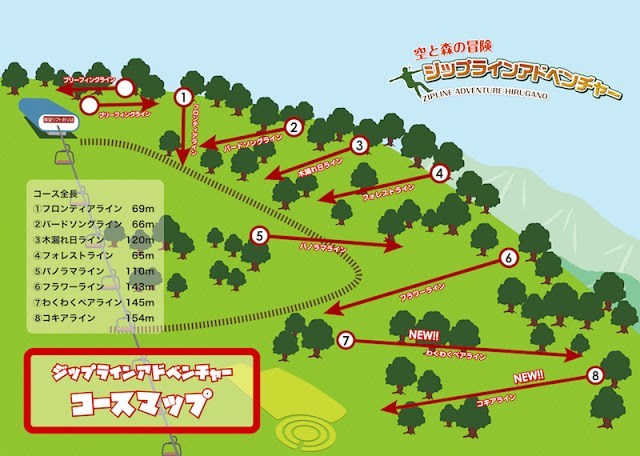 The whole course is around 550m. You can enjoy ride 6 of the 8 courses (types) of zip lines along the way on the side of the slopes or in the woods.
This time, we had a special private guide. They usually offer tours twice a day (five times a day on peak seasons) with about 10 participants going together.
The content changes every year. You can touch the trees, hear the sounds of animals and birds while going on an adventure in the forest.
Let us go with our instructor!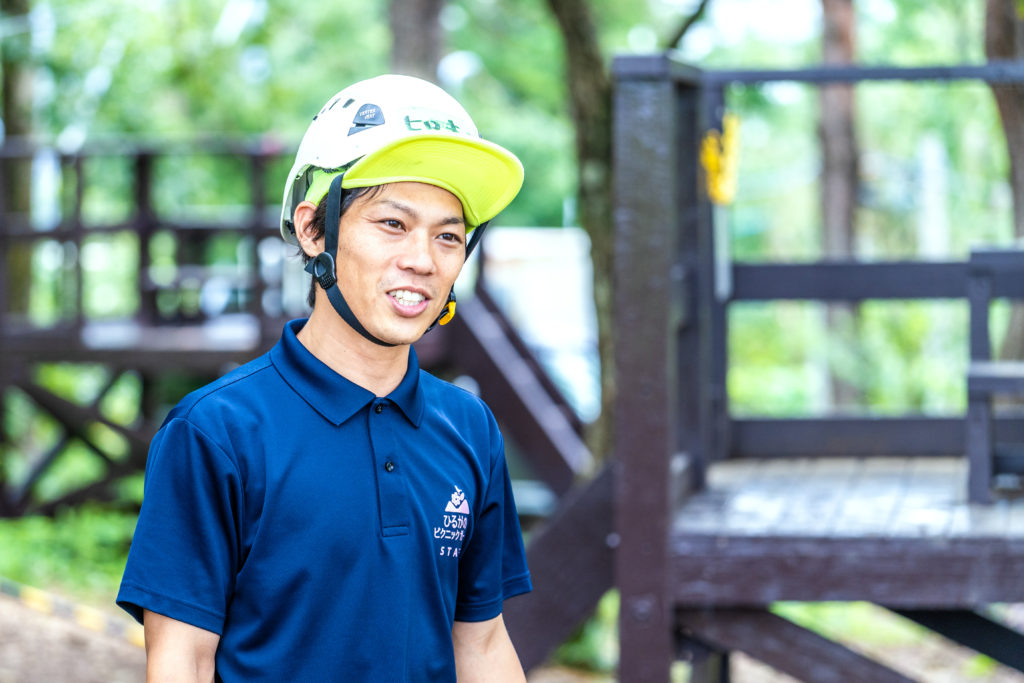 Our guide was Mr Hiroki Wada, who has joined since the launch of Zipline in 2011. In winter, he is also working as a snowboard instructor. He loves snowboarding so much and he decided to move from Osaka eight years ago.
"I will lead you carefully and safely. If you like, please call me Hirokichi!" He looked so reliable.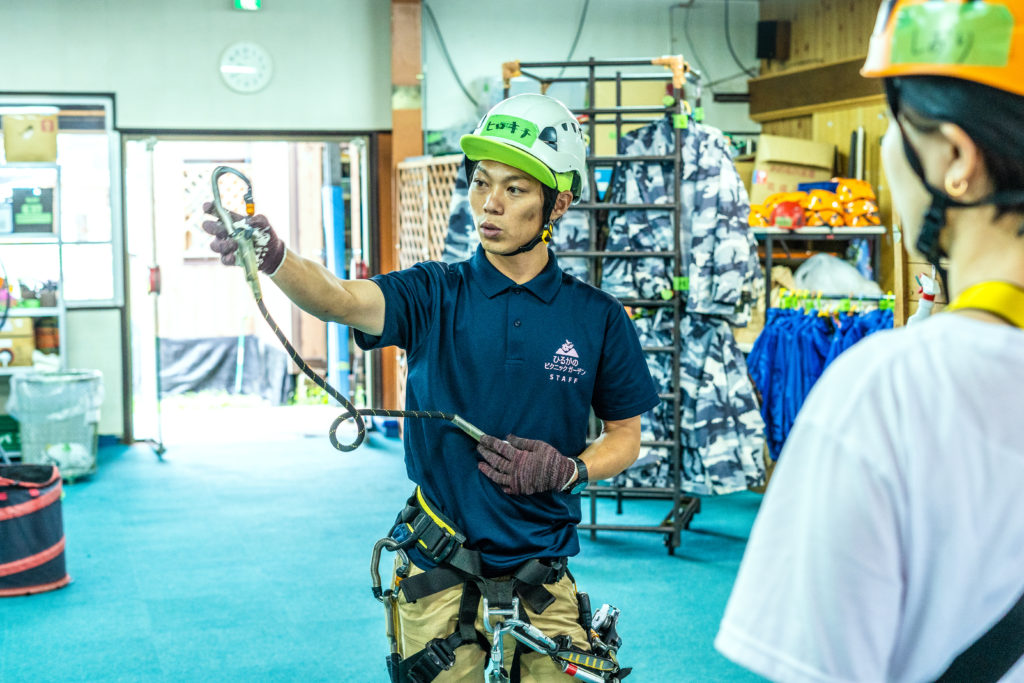 Before the tour starts, we put on our harnesses, gloves, and helmets at the management office. All the equipment was around 1kg. They are not heavy at all.
It is recommended that you wear clothes which are easy to move and is okay to get dirty, but if you forget them, you can rent trousers and sneakers, so don't worry!
As the tour will be held regardless of bad weather, you can rent a camouflage raincoat.
After putting on all equipment, Mr Hirokichi explained the usage of the equipment. After that, we were ready to depart!
Take a lift and reach the sky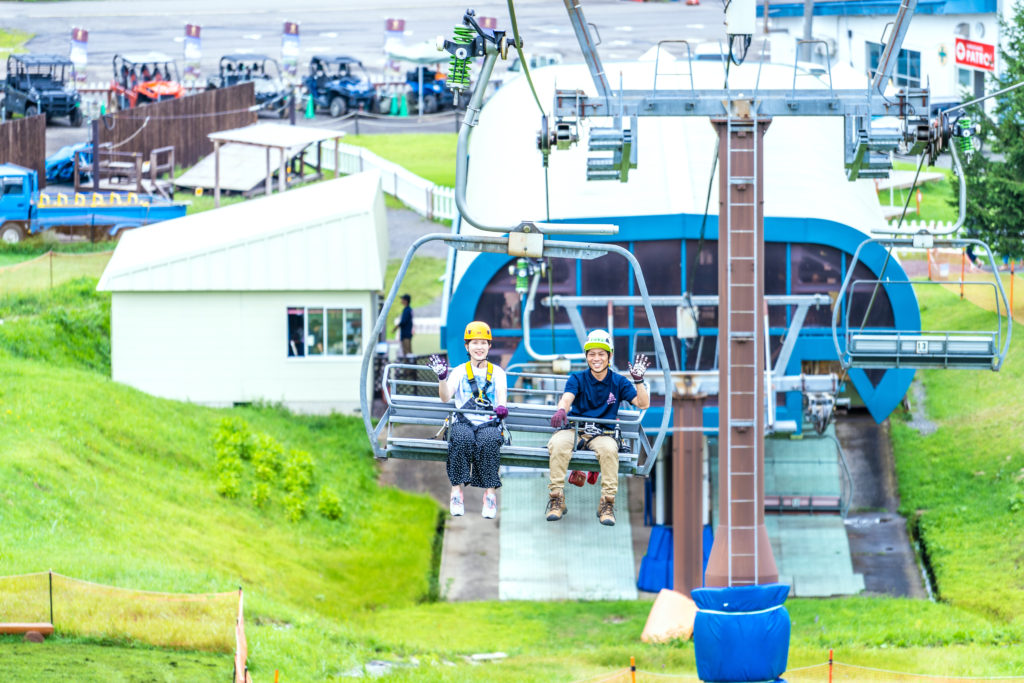 We took a lift to get to the mountaintop at an altitude of 1,000m.
If you look back, you can see the statue of Dainichi Nyorai enshrined at Mt Dainichigatake at an altitude of 1,709m.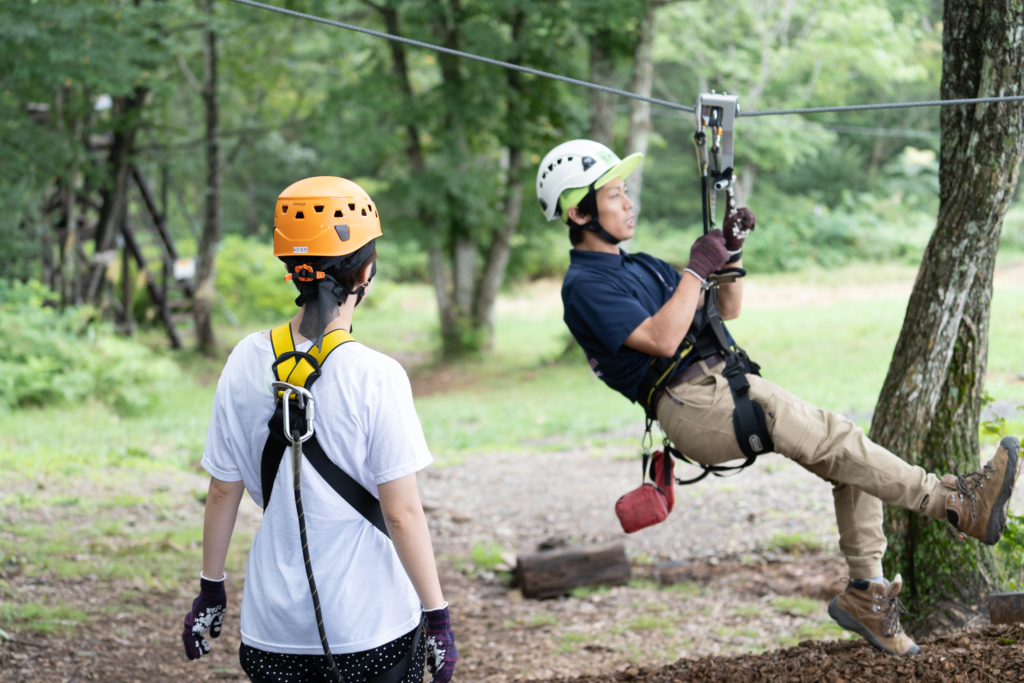 When we reached the mountaintop, Mr Hirokichi first lecture us on how to fly.
We learned about how to attach our hook to the pulley and how to land safely.
Let fly from the height of 3m!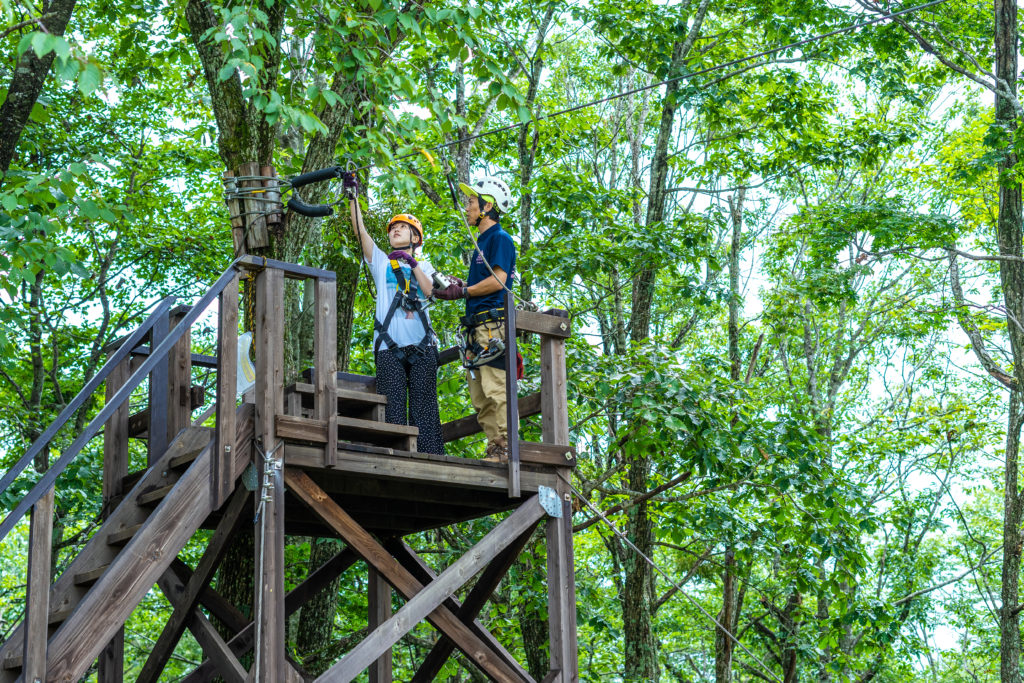 After the lecture, we went to the first zipline "Frontier Line". The height of the starting point was about 3m, but if you included your height, it exceeded 4m, I felt a little excited.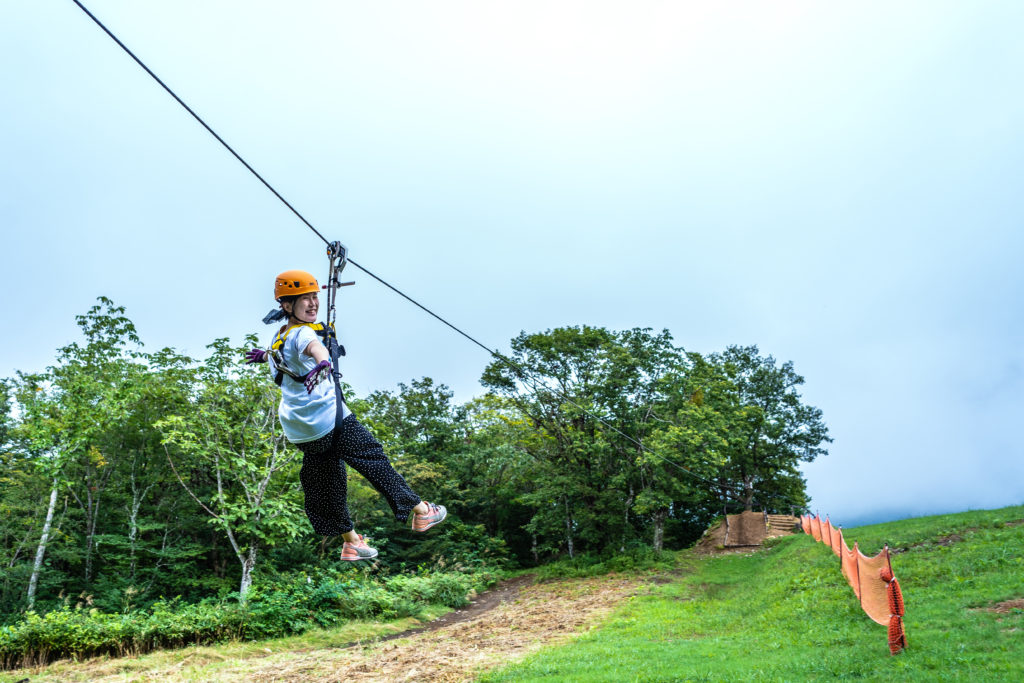 Mr Hirokichi watched us flying.
When I stepped out, I enjoyed feeling the wind rather than being "frightened" as I saw the ground was not that far, and the feeling of flying in the sky.
After flying, Mr Hirokichi slid down.
He slid so smoothly!
The secret was to open your body wide and receive the air resistance firmly with your whole body and land with your face facing the front so that the speed does not increase too much.
Take a walk in the forest.
A forest suddenly appeared next to the slopes.
As Zipline Adventure Hirugano also wanted their participants to enjoy nature, they arranged walking in the forest during the course.
You needed to walk carefully step by step, your five senses could gradually sharpen.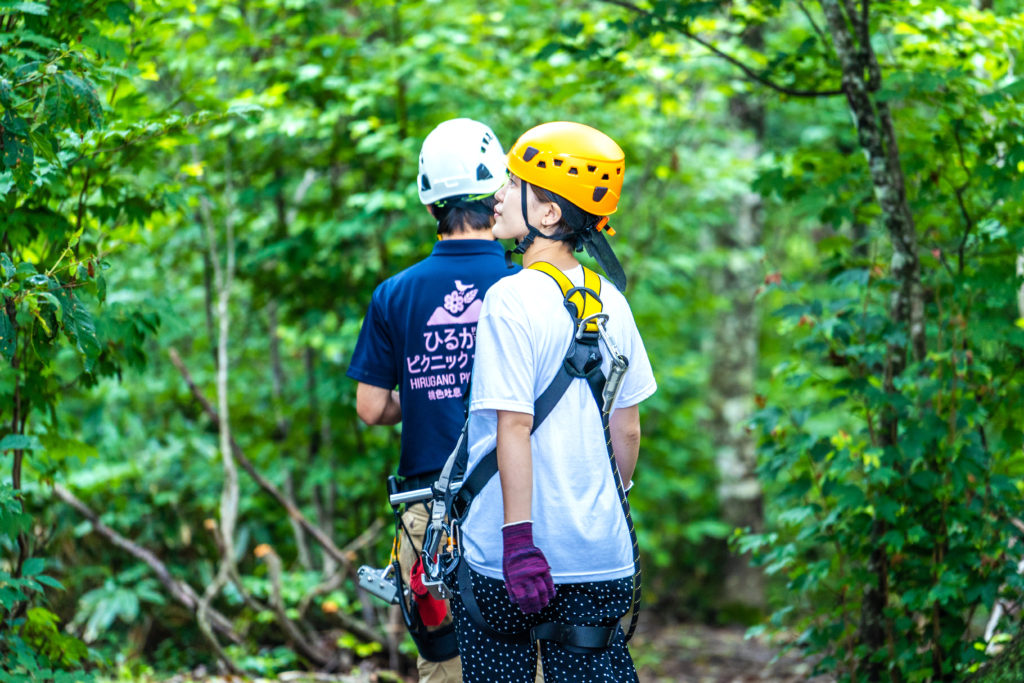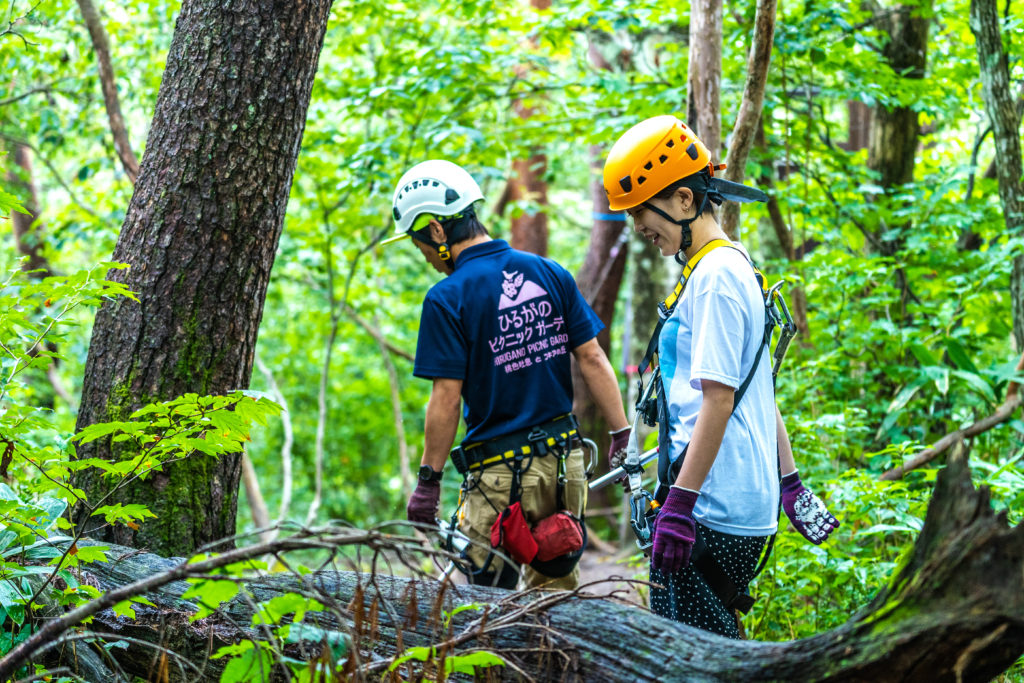 Zipline Adventure Hirugano does not only provide zip line experience, but they also have quizzes and psychological tests for participants to get closer together.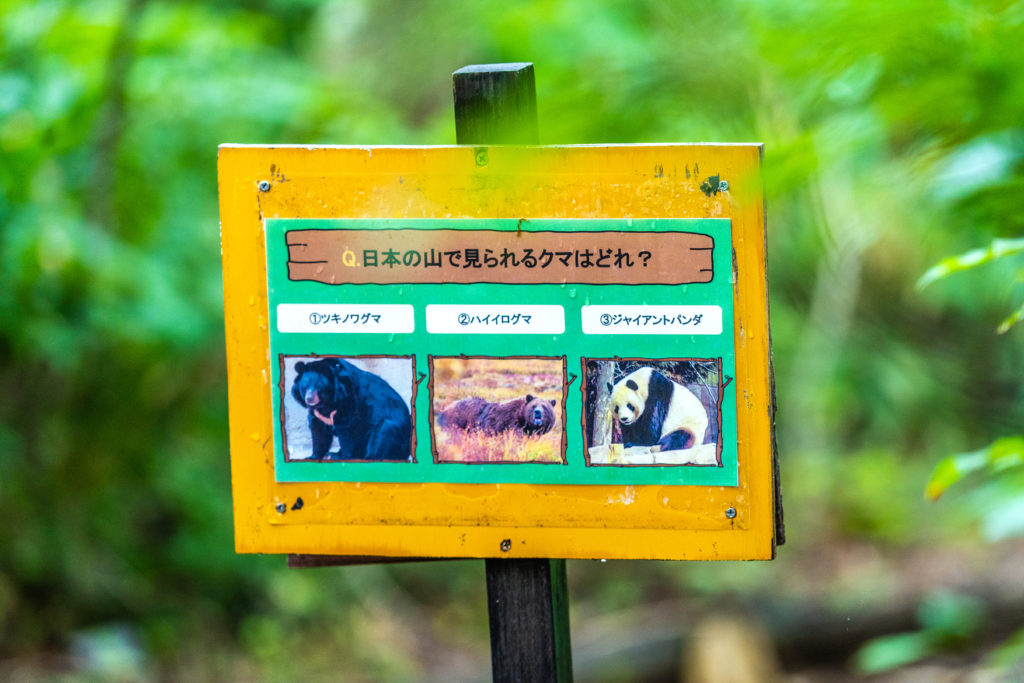 Very adorable dwarves showed up along the way. I thought they were placed along the road where we could find them easily, but some of them were hidden secretly. "Why they are here?!"
Along the way, we asked Mr Hirokichi about trivia about Hirugano area. "Hirugano was originally a wetland with many leeches, so the place was named Hirugano. A long time ago, when Mt Dainichigatake and Mt Washigatake were volcanoes, volcanic ash piled up making the soil reddish." As we heard this interesting story while walking in the forest, we enjoyed it so much.
Try flying in different ways
Flying like Tarzan in the forest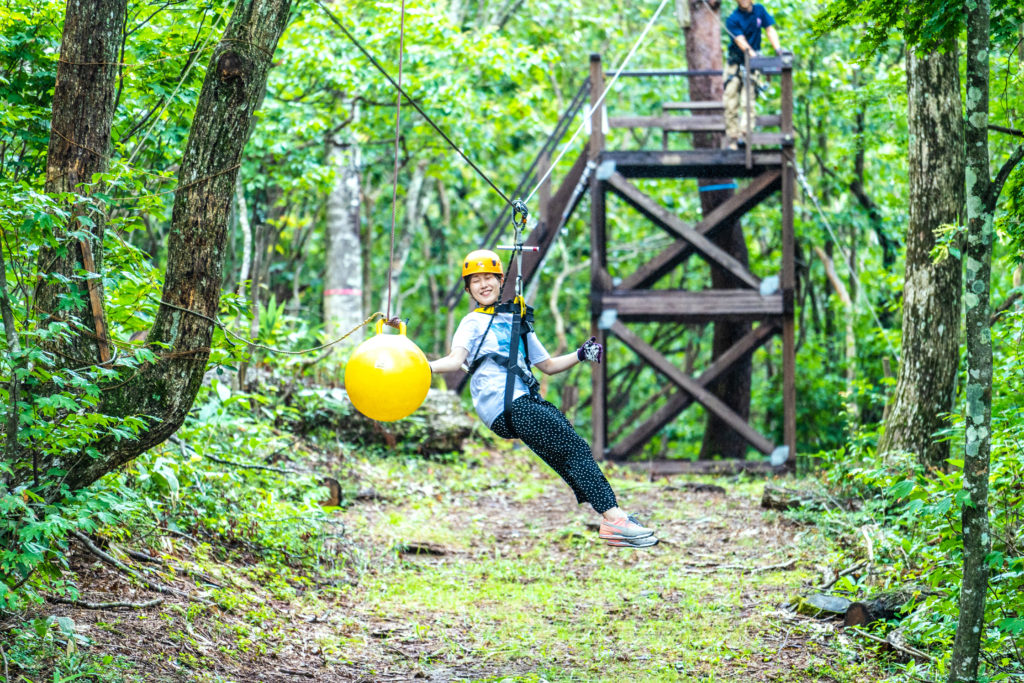 When we flew "Bird song Line" where we could hear the sound of the birds in the forest, we could catch and hit the balls hung along the way with our hands.
You can fly together with your friends too!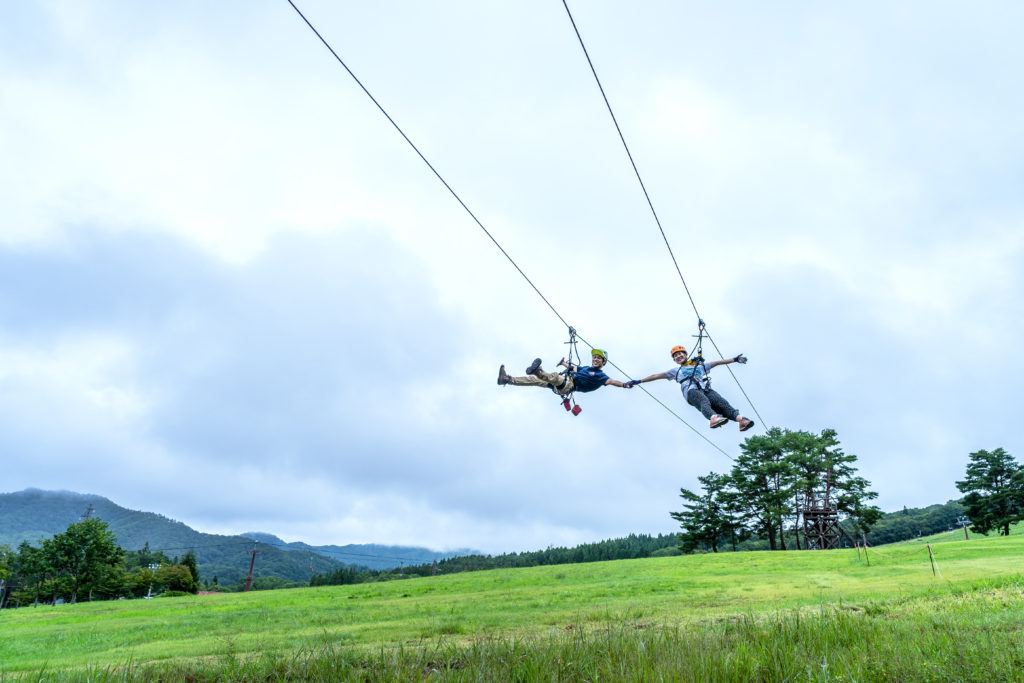 This time we tried Waku Waku Pair Line.
I flew with Mr Hirokichi together. I thought we would fly slowly but it was the opposite! It speeded up so fast. It was fun making me a good memory but a little bit frightening!
The longest flight on our route!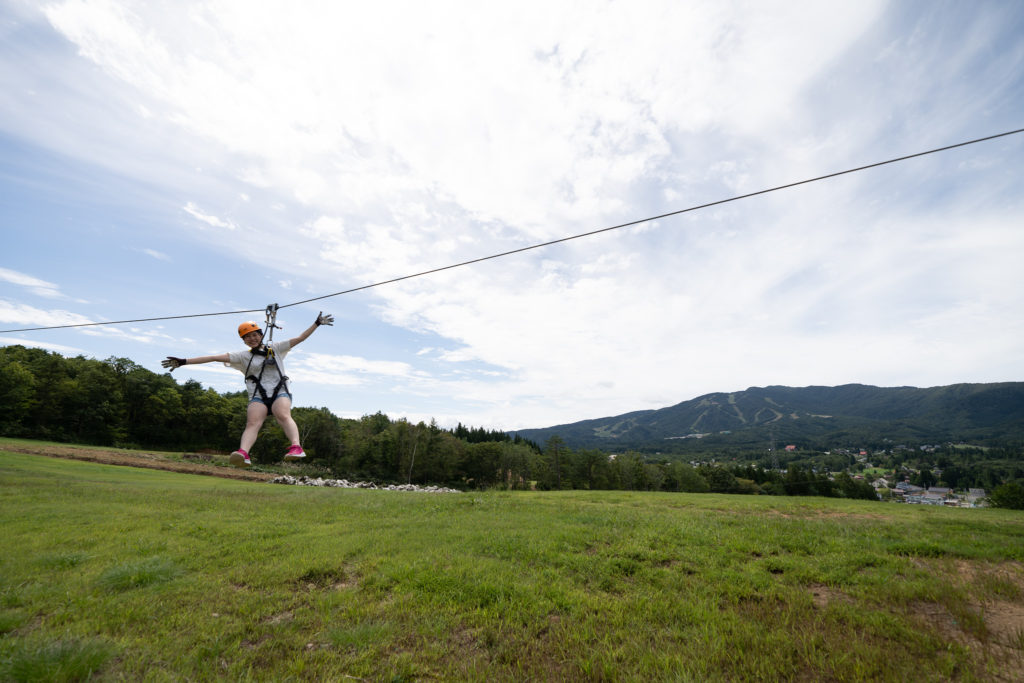 Our last flight was the longest route of around 150m, Kochia Line.
"It feels so good~!!"
As it was much longer than the lines I have experienced so far, I arrived at the landing point too fast as if I was really flying in the sky. I failed to land because the speed was too fast.
Flying with a zip line made me feel like flying like a bird.
The number of repeaters is increasing. As the content in the forest is changing from time to time, participants can enjoy as many times as they want. No matter how many times you visit, you will never get tired of it.
This time I have tried only 4 routes, but there are other unique routes like flying like a witch with a broom or flying while hanging in the air.
Moreover, as you can only experience 6 out of 8 routes at a time, maybe it is one of the reasons why you want to go again.
---
Nearby sightseeing spot
There are many other activities in Hirugano Picnic Garden. You can experience mountaintop buggy and disc golf, and there is a "Momoiro Terrace & Cafe" where you can overlook Mt Dainichigatake and Hakusan mountains range.
If you want to stay overnight, you can go to Hirugano Kogen Campsite. You can also play in the river surrounded by nature.
In addition, there is a ranch Bokka-no-sato, about 10 minutes by car from Hirugano Picnic Garden. You can meet a very cute alpaca and see a flower field where precious roses and herbs are in Japan. Souvenirs made from fresh milk from dairy cows raised here are available. Please feel free to stop by on your way home.