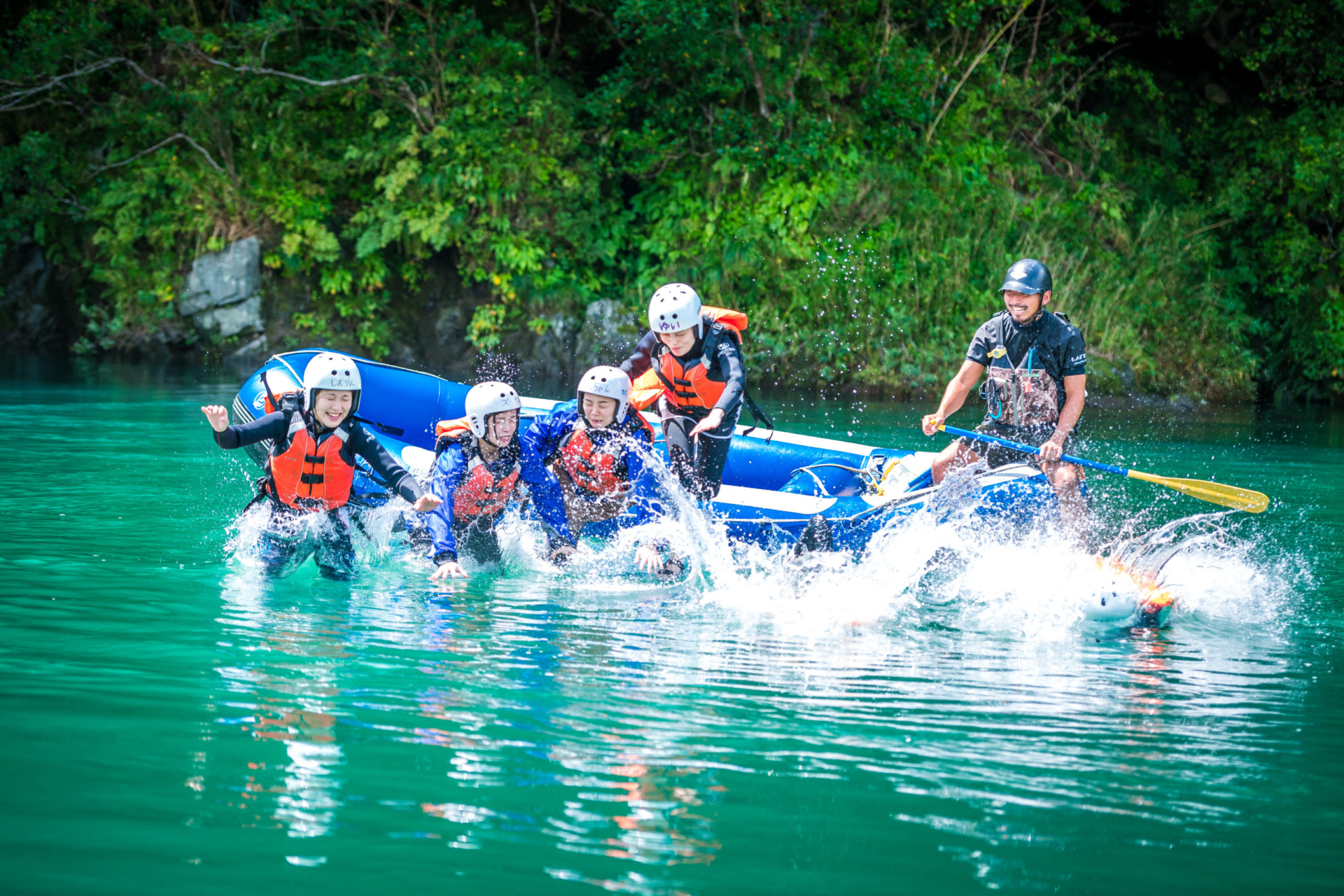 Try rafting at FIELD DAY and enjoy river activities!
This time, I went on a rafting tour at "FIELD DAY", which is located just off Minami Interchange of Tokai Hokuriku Expressway. Among 15 rafting companies in Gujo, it mainly focuses on rafting on Nagaragawa River. Even during the peak season, they only accept the small number of people as much as possible and have a good reputation for high satisfaction. I enjoyed getting wet so much with other customers whom I met for the first time during this tour!

Mr Harada, a tour guide fascinated by rafting in Gujo.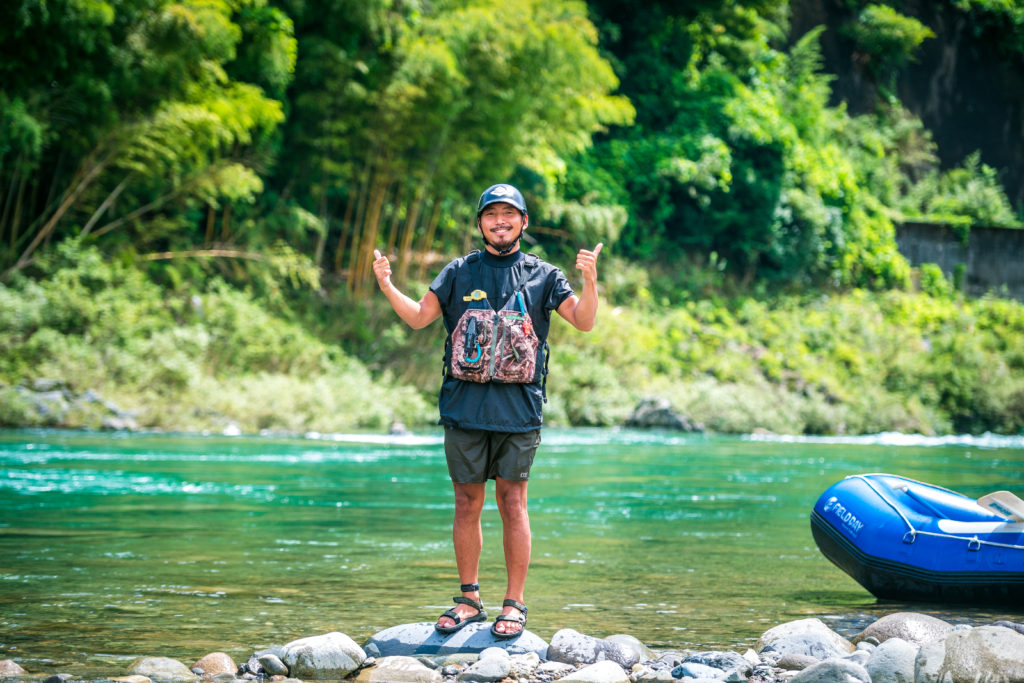 Mr Yuki Harada was our tour guide this time. Although he is the president of "FIELD DAY", he goes out to the field and works as a tour guide himself. He was born in Nagoya and was surprised that he was a nursery school teacher before moving to Gujo!

As he likes skiing, he often visits Gujo in winter. When he was driving along Nagaragawa River in summer, he saw a group of people doing rafting on a rubber boat happily.
He was interested in that and talked to a tour guide and heard many things about rafting. This is how Mr Harada met rafting.
After someday, he tried himself for the first time. He was fascinated with rafting. He decided to quit his job and moved to Gujo.

He has been working as a rafting tour guide for over 16 years and is now an experienced guide knowing everything about Nagaragawa River.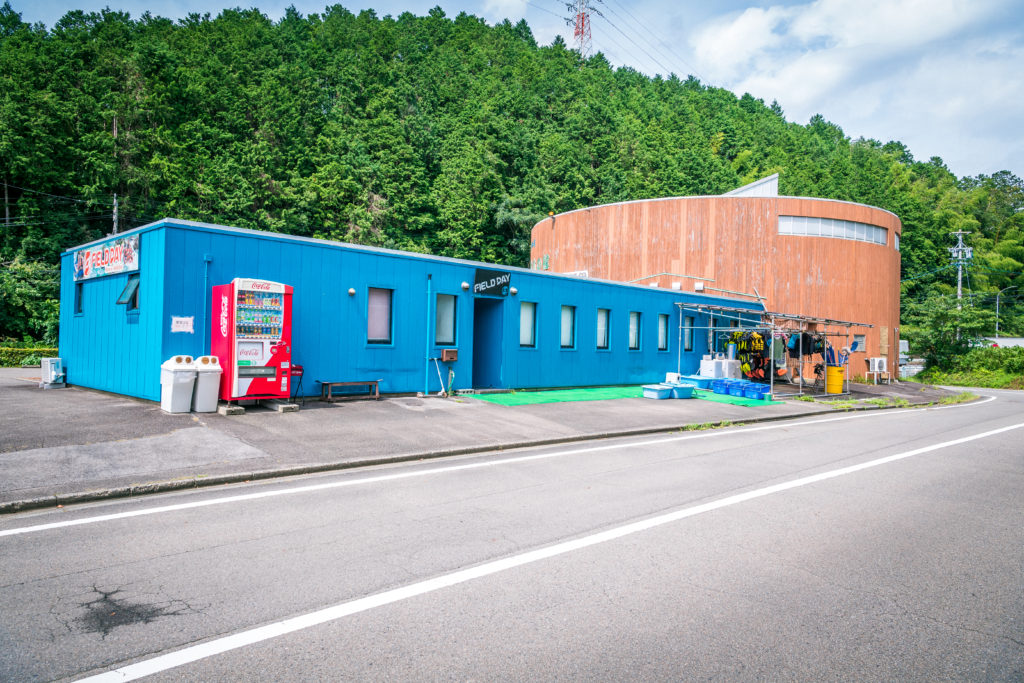 This is the base of FILED DAY.
First, we gather and check in here.
It takes around 1 hour from Nagoya by car. It is only 20 seconds by walk from the Highway Gujo Minami bus stop. If you come by railway, staff can pick you up at the station. (Please inform your arrival station and time in advance)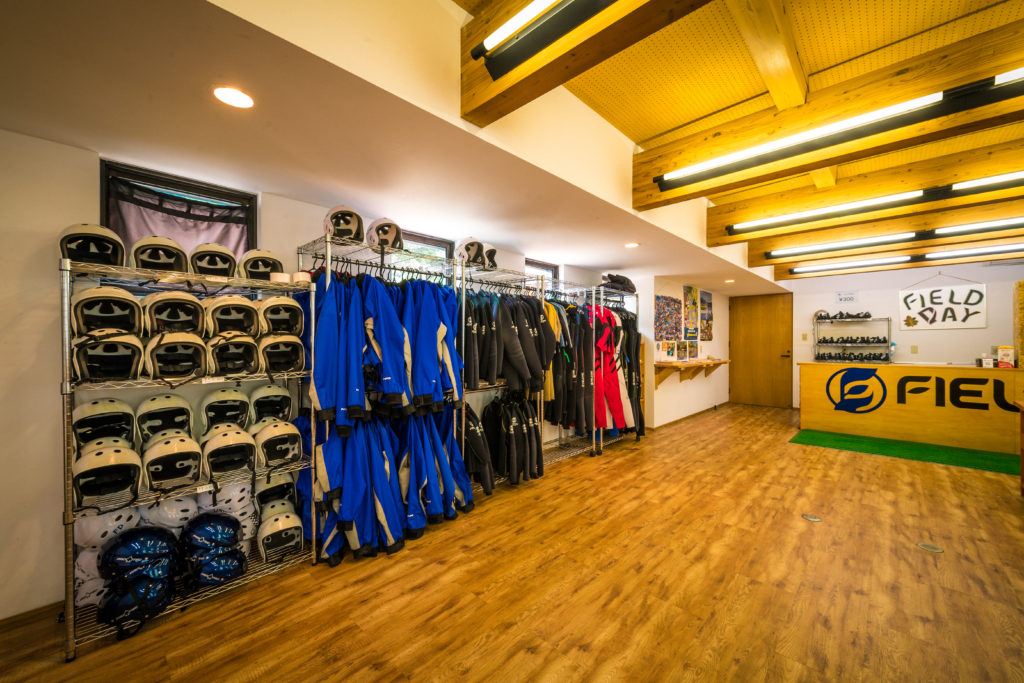 Friendly staff is welcoming us at the entrance.
After checking in, you can choose your wet suit which fits your size.
It is unisex with sizes 130cm to 160cm for junior and S to 4XL for adults. It can fit all kinds of body shapes, so please do not worry!

Not only a simple wet suit, but they also have a suit that can let you transform into anime characters! Please ask them if you are interested!
After changing and finishing preparation, let's go to the clear stream Nagaragawa River!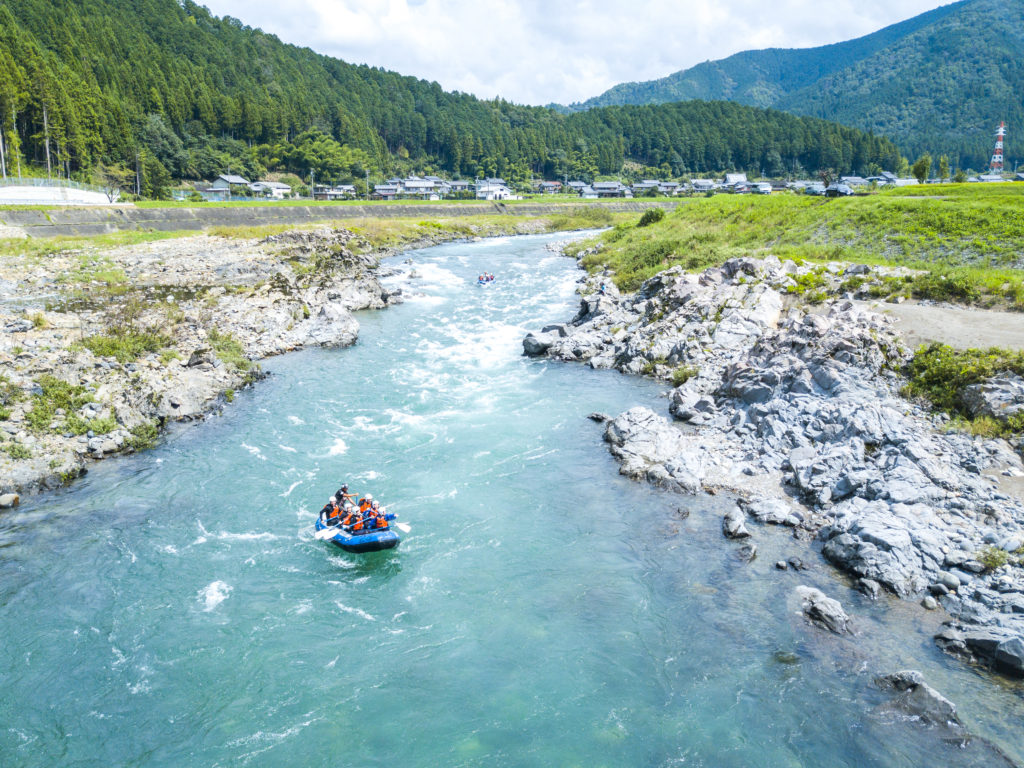 It takes around 5 minutes to reach the river by car.
It is located at the middle reach of Nagaragawa River. You can see countryside scenery with mountains and fields from the starting point.
This time, I joined the morning tour (afternoon tour also available). I joined with other customers I first met.
First, we all practice using our paddle in a calm pool under instruction from our guide. Everyone is rowing together.

When we got used to it, we suddenly enter a spot with fast rapid! Mr Harada said it is known as a 4 stars rapid zone in the country, called Three Steps Rapid.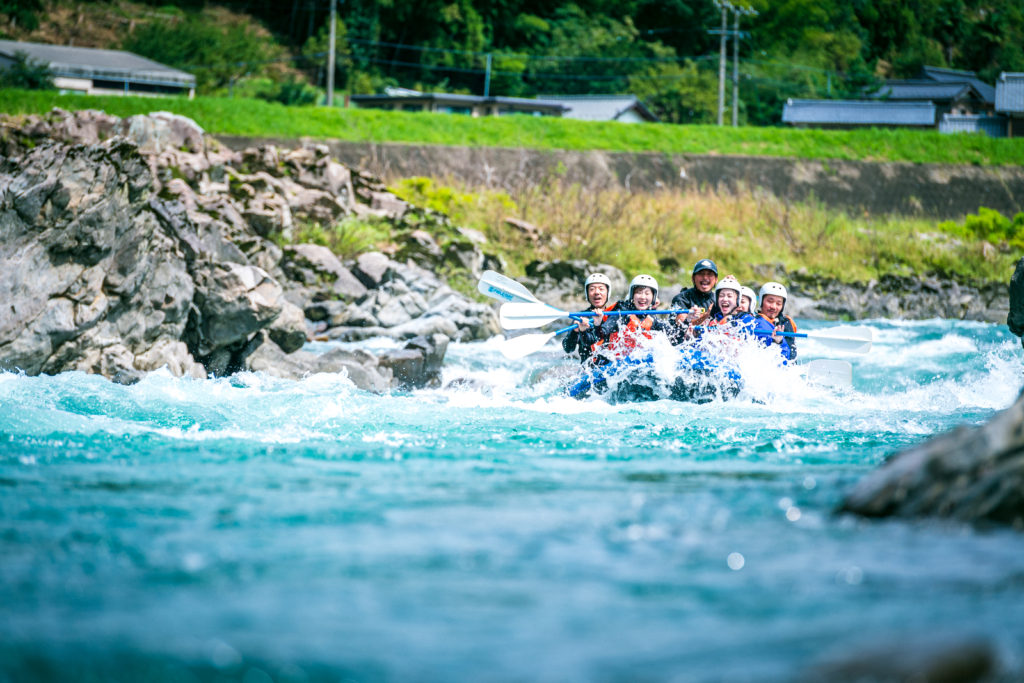 After coming over that rapid, we entered a pool without water flow.
We are working very well together and are going happily.
It is time to put our courage to the test! Jumping into the river from a cliff!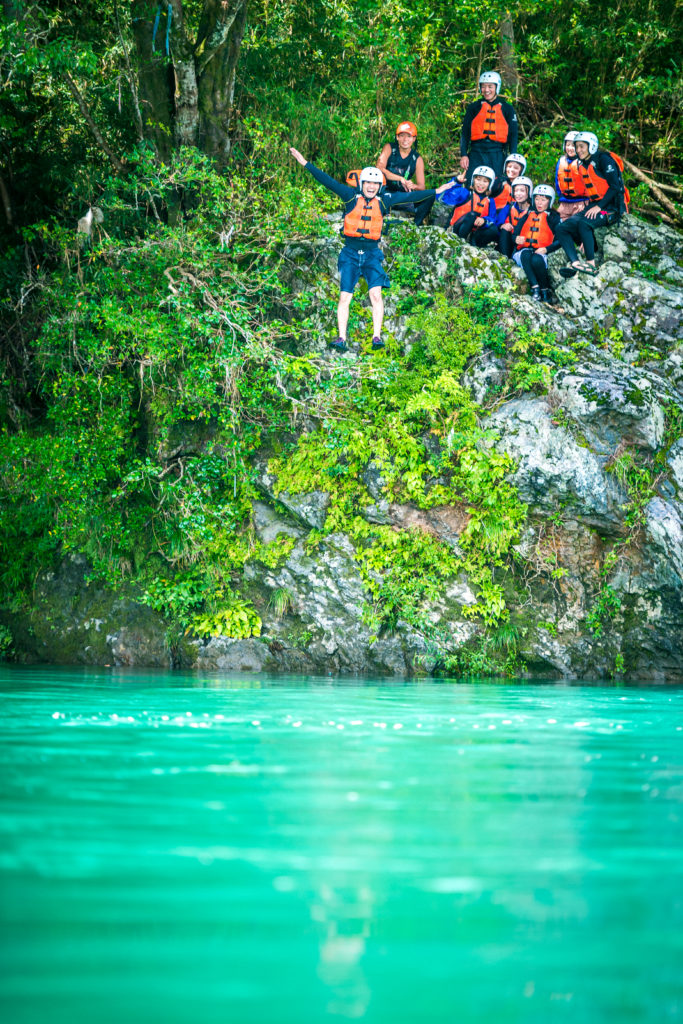 "How about jumping down from here?"

What? From where? When I was still confused, Mr Harada pointed at the cliff.

"No, I really can't!"
All ladies screamed.
"It's okay, don't be afraid." Mr Harada said with a smile.
We got off the boat and climbed up the cliff.

It was 3 meters above the water from the cliff. It is quite scary.
Although we are a bit frightened, "Let's go!" and jumped.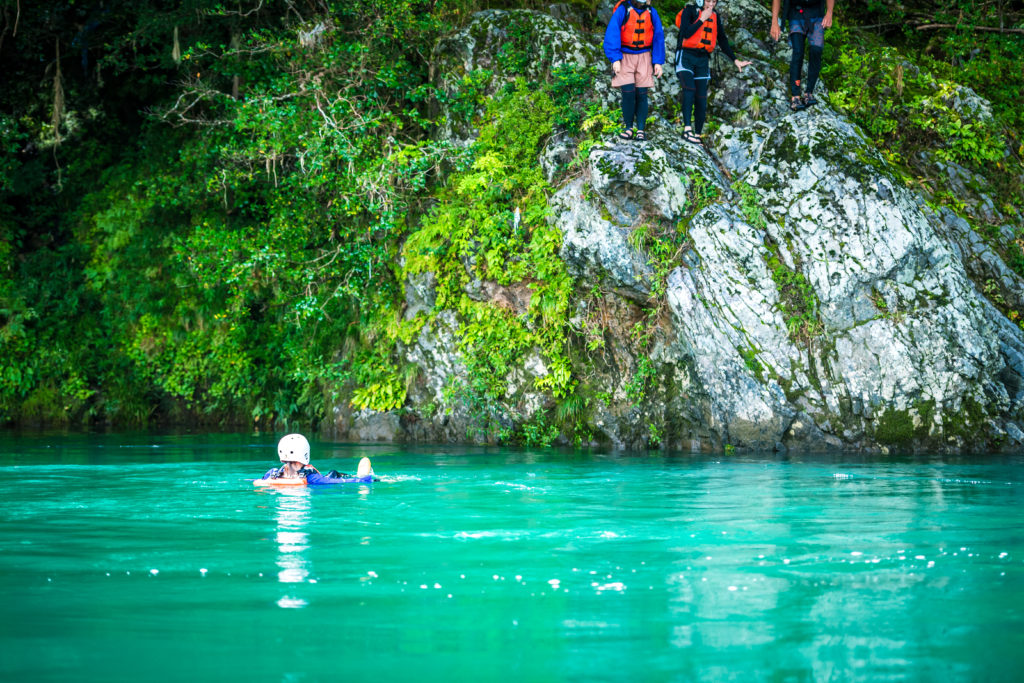 It took a longer time than I expected!
I felt I can see the world differently.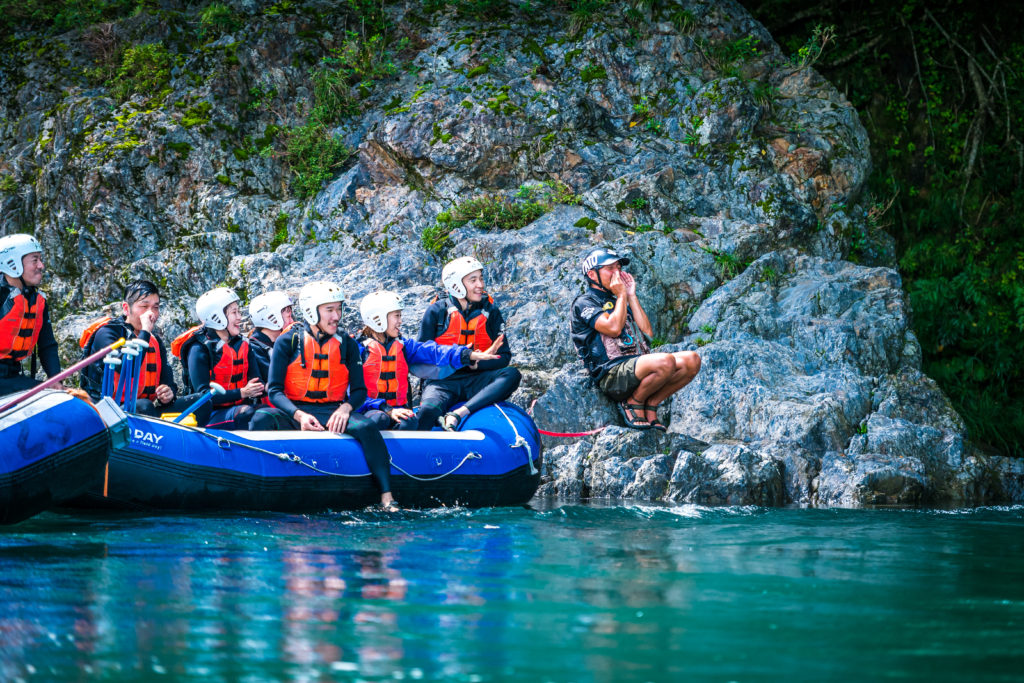 Once one of us jumped, others followed with courage!
We jumped one after another.
We encouraged each other by saying "Ganbare! (Means "Good luck!") (It was fun booing each other!)
Flown into the water by our playful tour guide!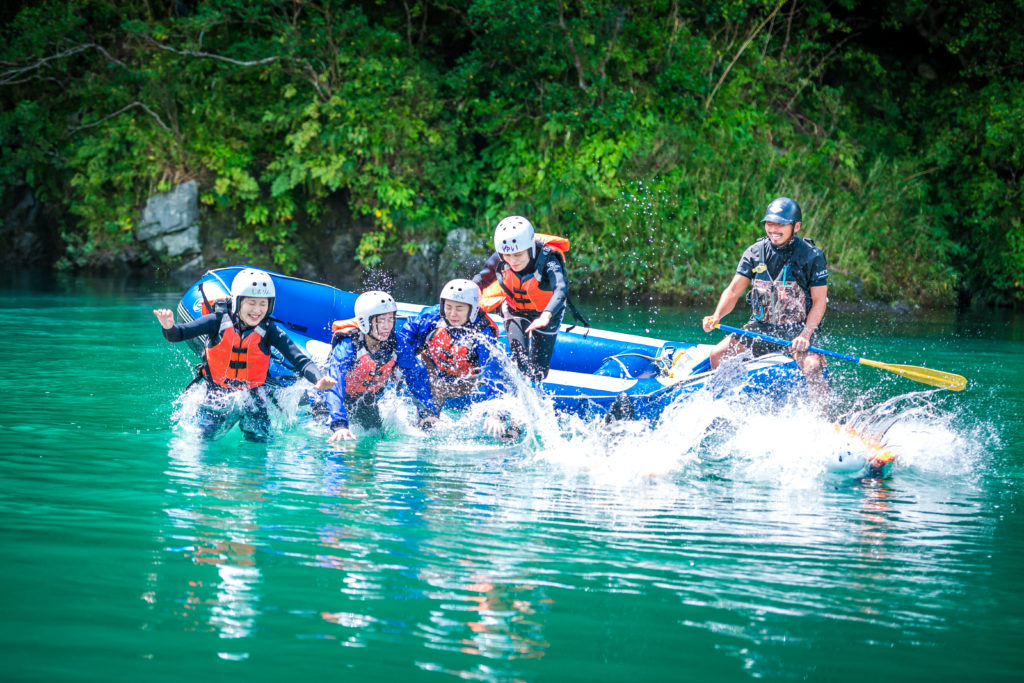 When we returned to the boat,
"Oh there is something inside the boat!" screamed Mr Harada.

We got all flown into the water once we turned in the same direction together, the whole boat turned over!

It is a surprise from our playful guide.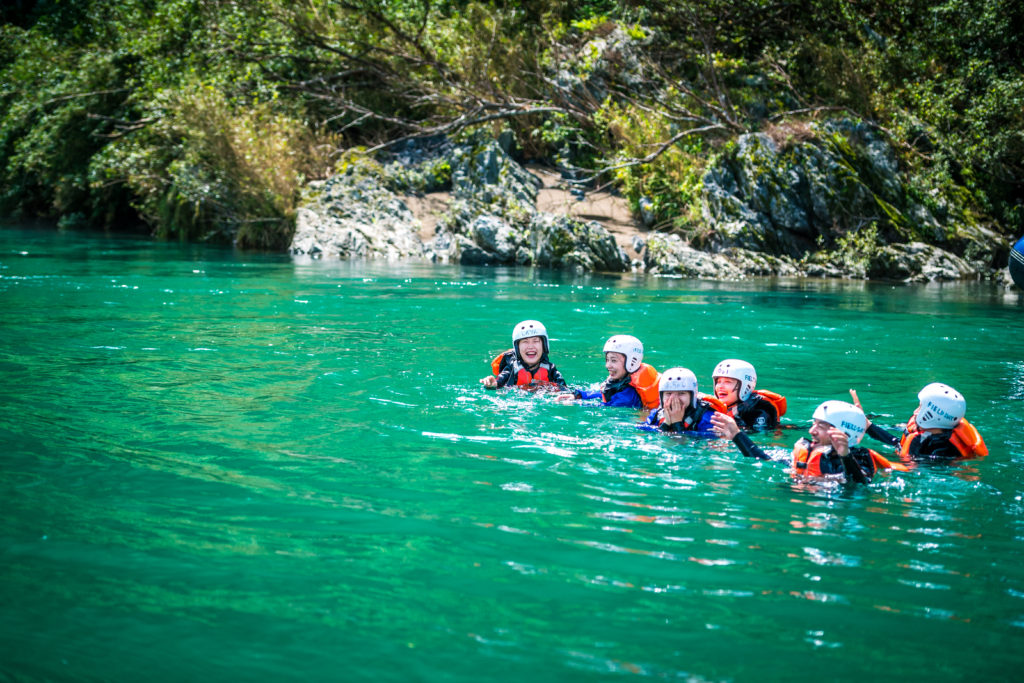 We were all quite shocked, could not realize what happened for a moment. But we all laughed.
When we again returned to the boat, we headed to "Ryuduki Rapid".
The river changed from a calm flow into a rapid current. The speed is so fast that my body could hardly follow.
Although we were tossed by the river, we all paddled together and finally overcame the rapid.
After passing Ryuduki Raid, the goal was just in front of us.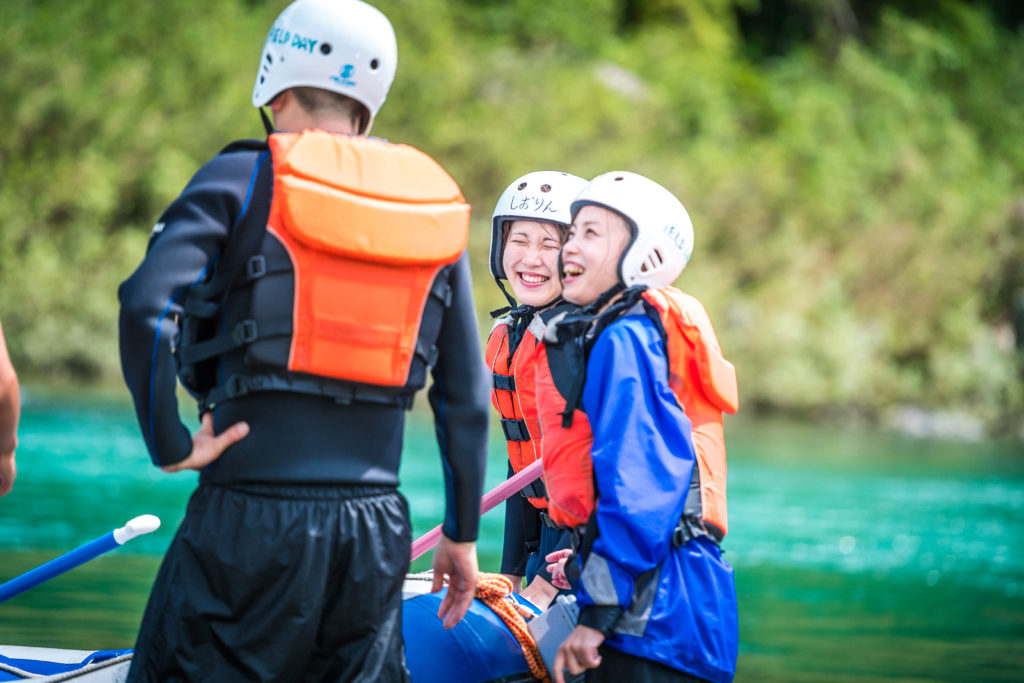 We reached our goal Yuyu Fureai Square and finished our rafting tour!
We were all smiling from the start to the end with our full power!
Unfortunately, the volume of water was not high enough to play other games on our boat, or play "Flower" holding heads together, or "Seesaw" by sitting on the edge of the boat.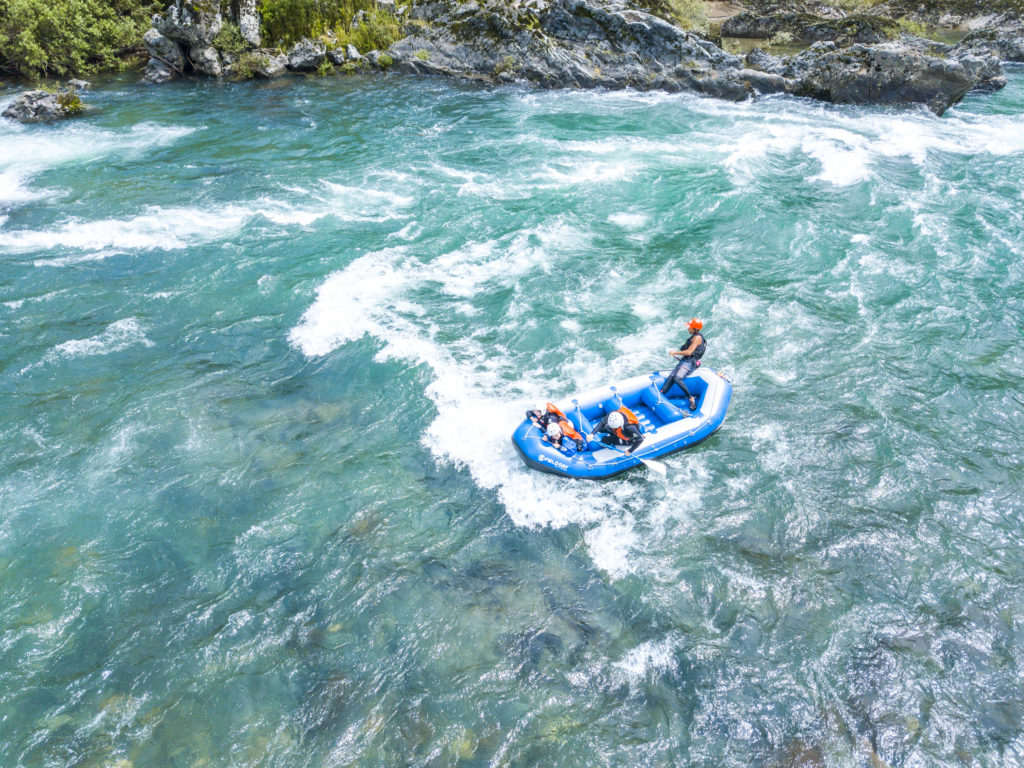 When the volume of water returns to normal, you can try "Surfing" on a reserve flow.
As all programs are decided according to customers' needs, the tour menu is not fixed. If you love the river, you can choose more exciting tours. If you do not want to go into the water or are not good at high places, tour guides can arrange for you. That is why many repeaters are coming to FIELD DAY as they aim to satisfy all their customers.
Once you join them, you will definitely want to experience more and more.
---
Nearby sightseeing spot
You can find Gujo Onsen Hosen Hot Spring located 15 minutes by car from the base of FIELD DAY. It is a nostalgic hot spring facility with water that has been springing since 1994 inside a hotel.
There are 7 kinds of hot springs for male and female guests separately. You can overlook the beautiful view of the clear stream Nagaragawa River from the open-aired bath. Please also enjoy the seasonal sceneries from the natural communal bath.
It is nice to hear the singing of birds, the sound of the river while bathing leisurely.