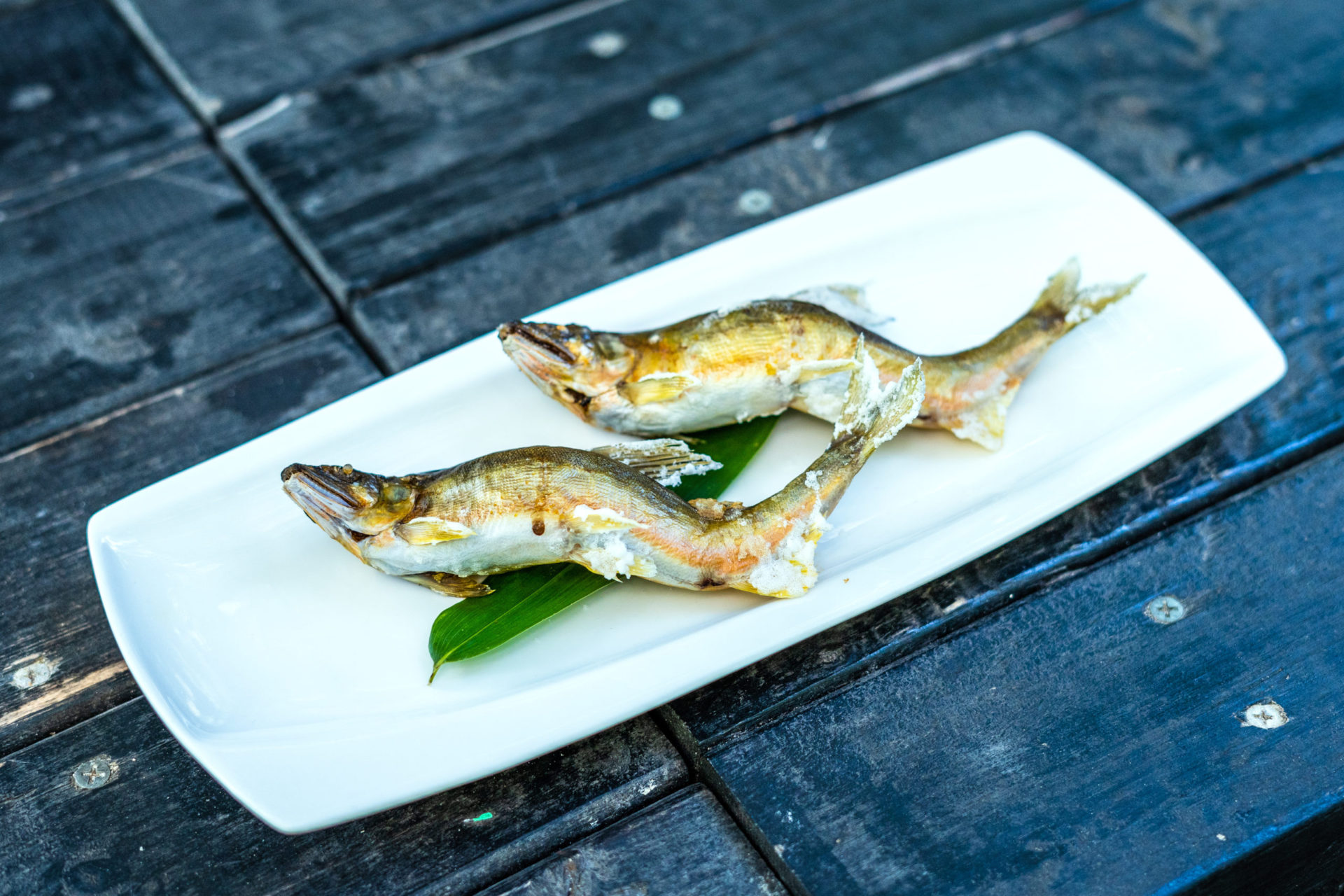 Speaking of Ayu, salt grilled Ayu is the best!!

Interview with a salt grilled Ayu master in Gujo!

Ayu fish caught in Gujo area of Nagaragawa River system is called "Gujo Ayu".
This is a first-class product that won the Grand Prix in 2008 at Seiryu-Meguri Kikiayu-kai (Ayu Tournament), competing in five items: appearance, shape, scent, innards, and tightness. When you come to Gujo, you definitely need to try it!
We interviewed the local salt grilled Ayu master to find the most delicious way to eat such luxurious Gujo Ayu!
We visited Mr Kentaro Hayashi, the manager of Yana fishery at Nagomiya Seseragi, located at the most upstream of Nagaragawa River.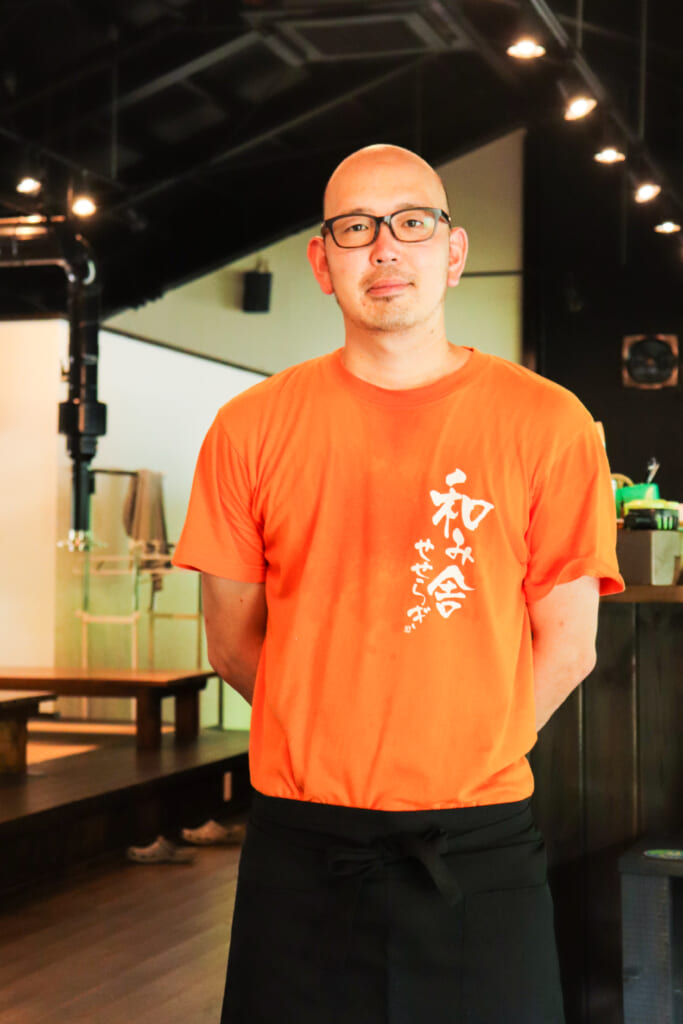 Mr Kentaro Hayashi
Manager of Nagomiya Seseragi

Born in Aichi-ken. He moved to Gujo after meeting Mr Tokuo Deguchi, the representative of SLOW DESIGN Co., Ltd., operating Nagomiya Seseragi. Since then, he has been managing Nagomiya Seseragi.
How many Ayu fish do you grill every day?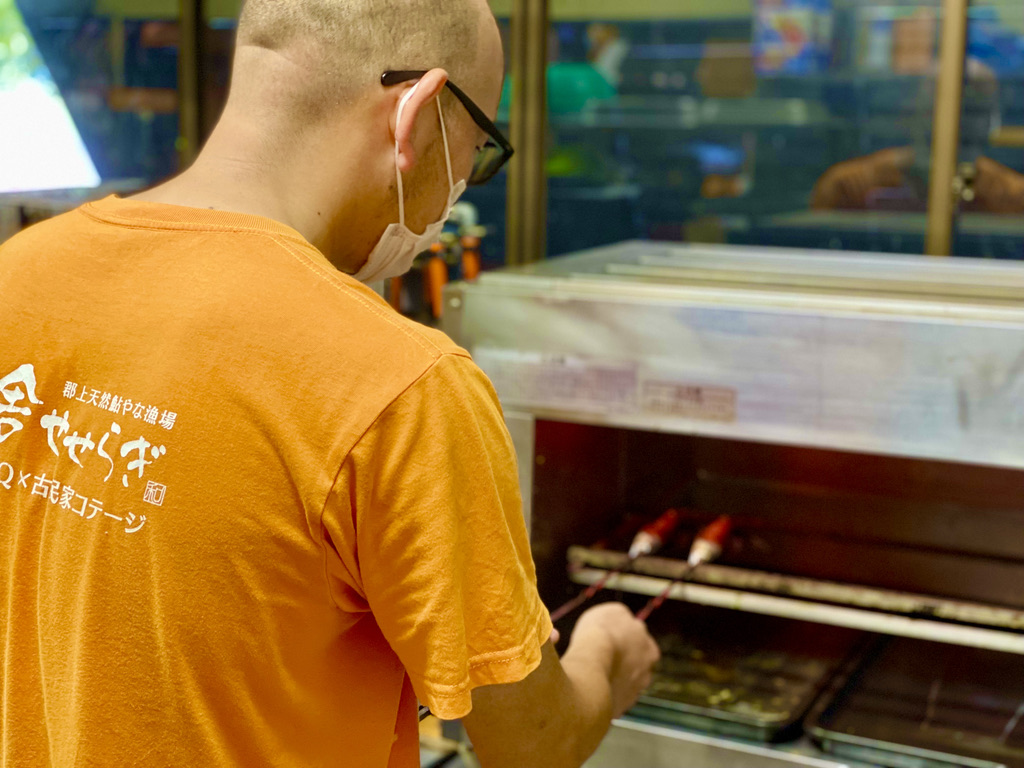 At Nagomiya Seseragi, around 100 Ayu are grilled every day during peak season.
As he needs to stand in front of the barbeque stand, he sweats and loses 4 to 5 kg of his weight in summer.
Gujo Ayu is the best Ayu in Japan among all kinds of Ayu fish.
He aims to serve the most delicious grilled natural Gujo Ayu to his customers.
All staff of Nagomiya Seseragi is working together skewering Ayu and grilling Ayu with their heart.
When is the best time to catch Ayu?
The best time to catch it is in September.
After heavy rains and typhoons, the river is flooded with water, and Ayu are driven into the Yana fishery grounds.
You can also catch Ayu with eggs in autumn.
What is the most delicious way to eat Ayu?
Salt-grilled Ayu is the most recommended. Please eat the whole internal organs together.
Ayu is also known as "Scented fish" with a slightly sweet scent. Some people say that is the scent of watermelon.
Ayu eats moss. As high-quality moss only grows in rivers with good water quality, Gujo Ayu in the upper stream of Nagaragawa River eats beautiful moss grown in clear streams, so even the flavor of innards is good for eating.
Are there any tips for grilling delicious Ayu?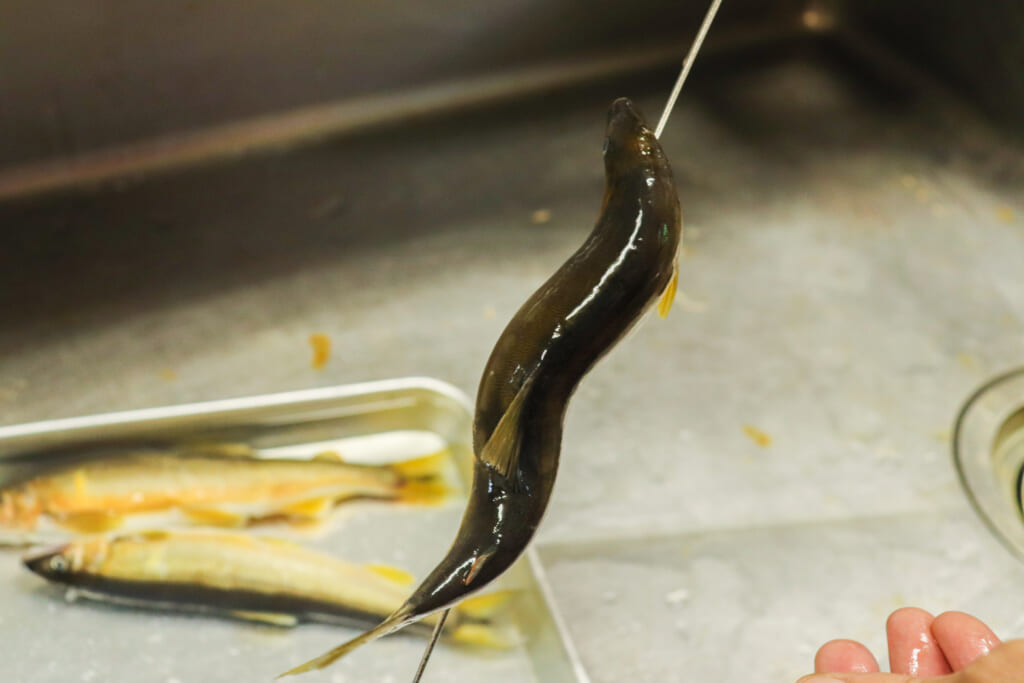 First, you need to wash it, remove the slime, and skewer it.
Hold Ayu with your left hand, put a skewer through the eyes, bend the body and skewer the tip below the middle bone.
Change the direction of the skewer to prevent it from coming out of the fish and proceed from the bottom of the middle bone to the top until you reach the opposite dorsal fin side. Pull out the skewer tip near the bottom of the tail fin.
It should be in the shape of W when viewed from above.
It may be a little difficult.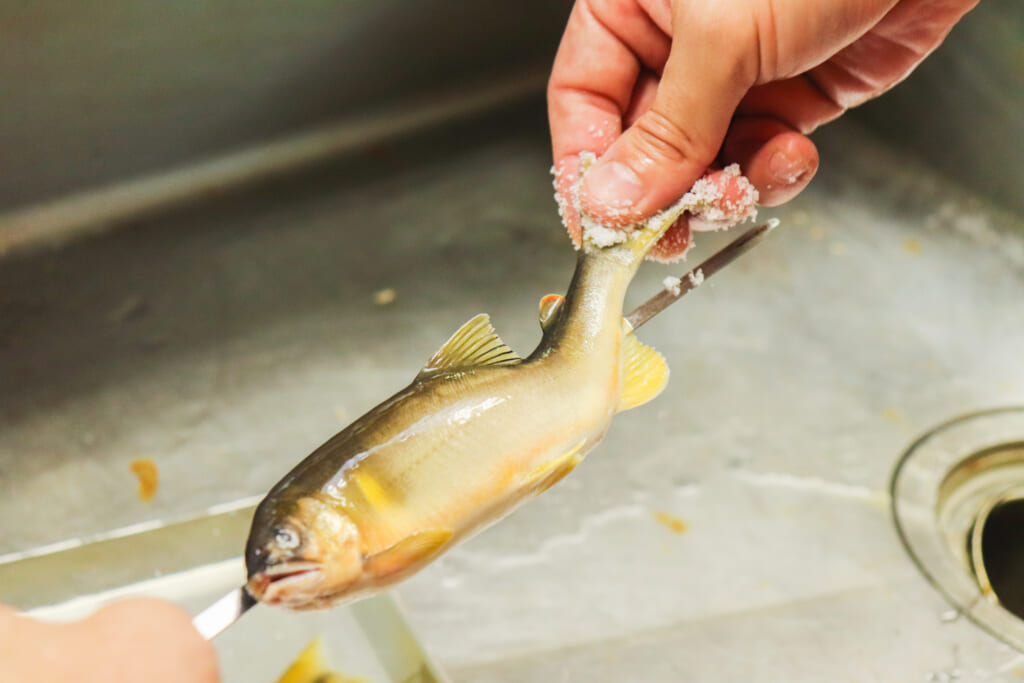 Add some salt to its fins to prevent burning and sprinkle a little salt on its body.
When you eat it, you can take a little salt from the fins.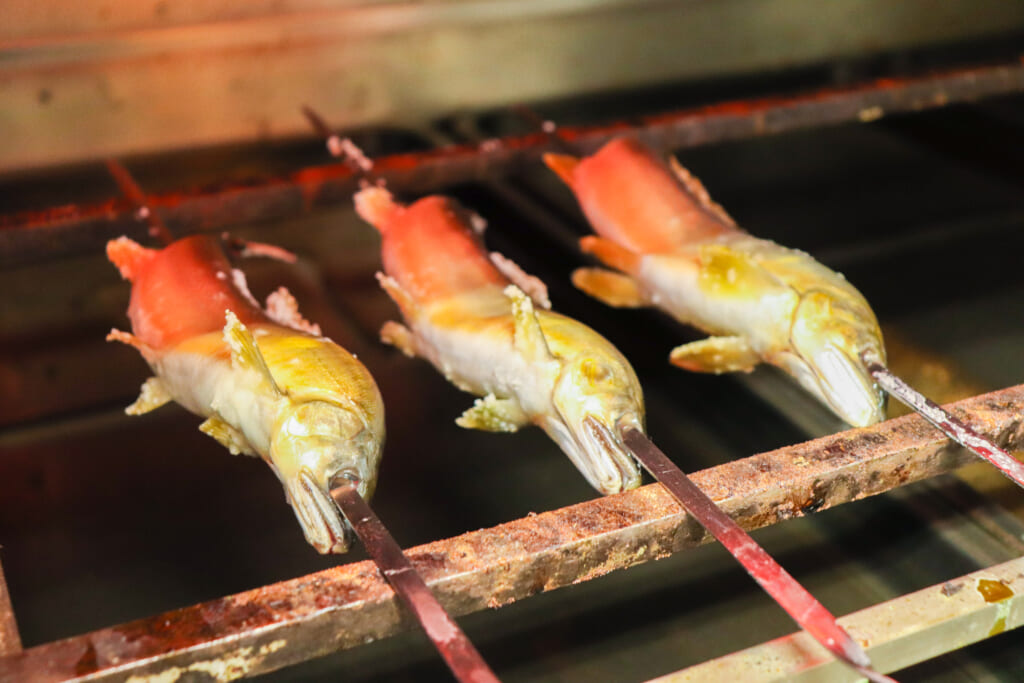 When you start grilling, grill it slowly for 20 to 30 minutes with a distant fire so that the innards are well cooked.
In order to keep the appearance beautiful, grill it 30% of the time on the front and 70% on the back.
If you bake on your stove at home, you probably don't skewer. Make sure to add some salt to the fins to prevent burning.
What is Nagomiya Seseragi?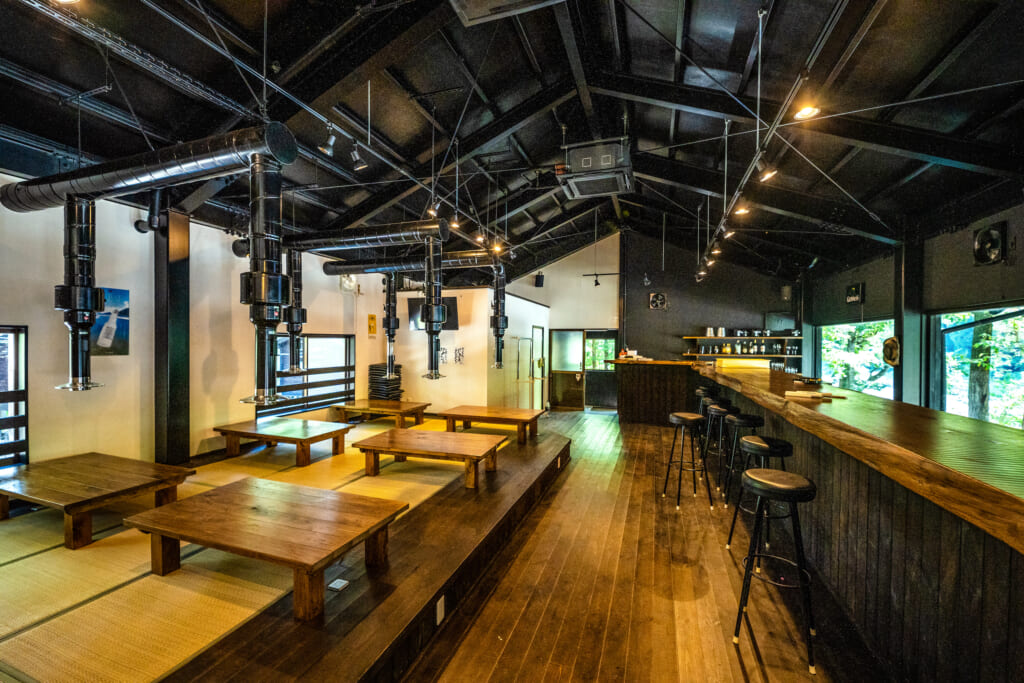 We have a Yana fishery ground, an indoor restaurant, and an outdoor BBQ space. As we also cottages for staying, it is popular as a glamping spot.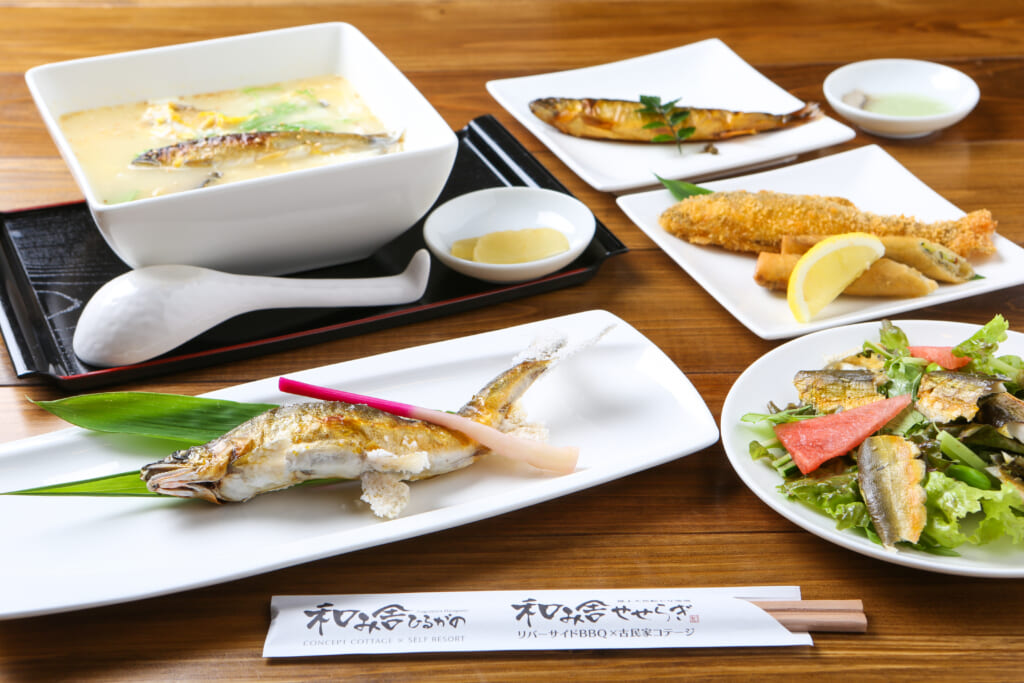 Natural Ayu full course menu is recommended in this restaurant. You can enjoy salad, Kanroni (Stewed food in soy sauce and sugar), fried Ayu, salt grilled Ayu, and Ayu porridge or Ayu pasta.
BBQ menus for walk-in customers are available at the outdoor BBQ space. Making handmade pizza using a pizza oven and smoked food is also fun!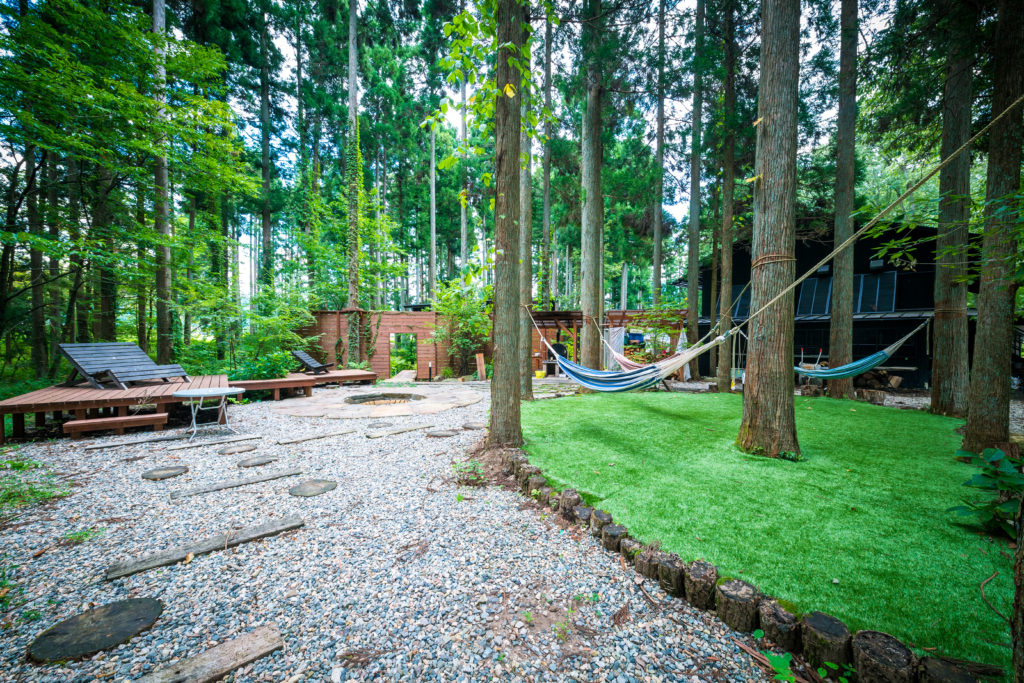 You can enjoy lightning bugs in June and catch stag beetles and beetles which the children love. It is located 90 minutes by car from Nagoya and is a quiet place to spend your holiday.
Could you please leave us a message!
It is a facility surrounded by a calm nature. Please come and experience nature with your whole body by resting on a hammock or watching the flow of the river during your holiday. I hope it can be a secret place for everyone.