Good morning! Amazing Morning Market at Gujo Yamato!
Tag:
/*php var_dump($paged); */ ?>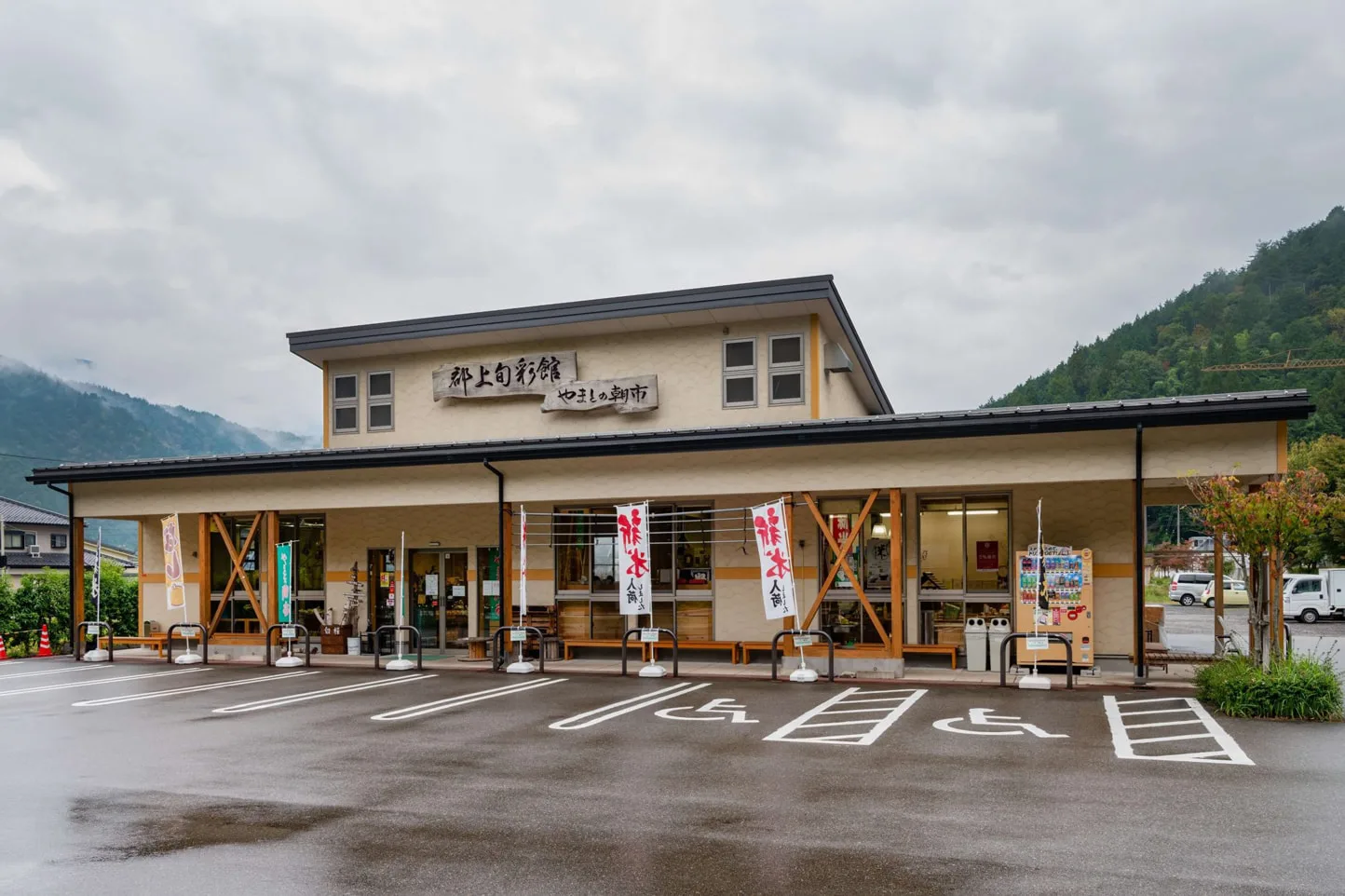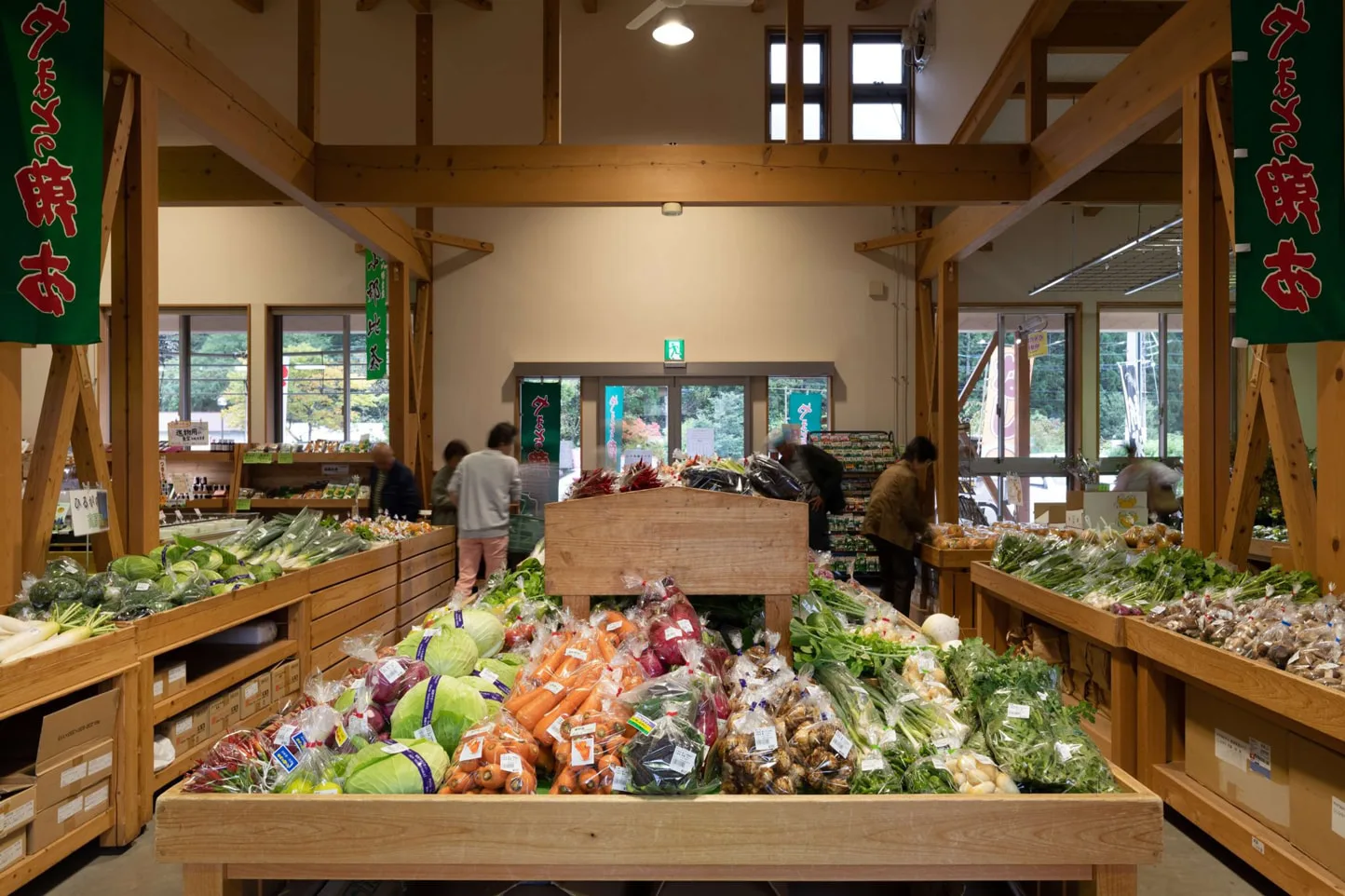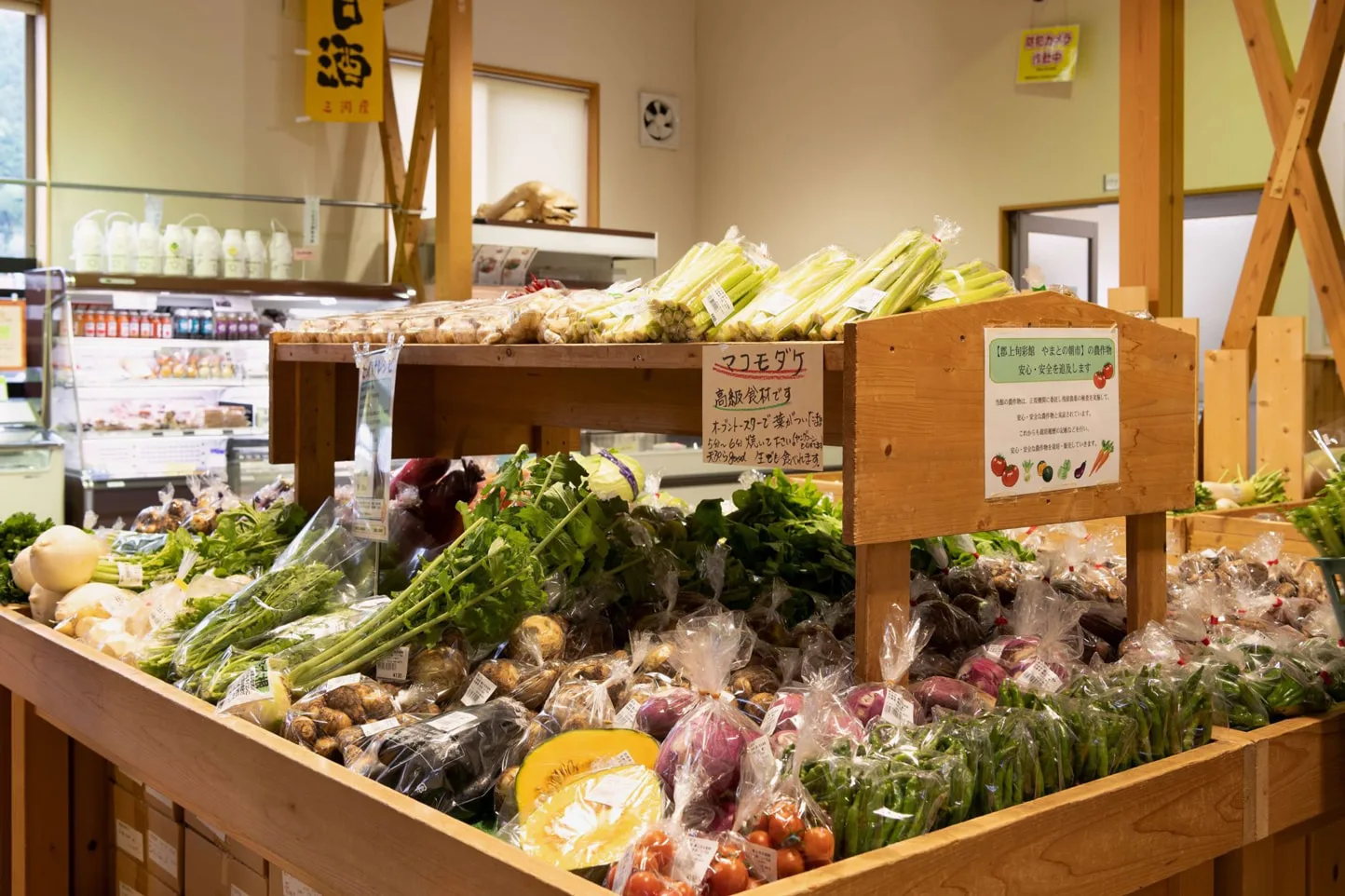 When leaves are turning red at the end of October, we visit the "Gujo Shunsai-kan Yamato-no-asaichi (Gujo Yamato Morning Market)" next to the roadside station of Gujo-shi Yamato-cho. The main target of this trip is buying fresh local vegetable! All vegetables from local Gujo available at this morning market make me feel excited!
Find and enjoy your favorite fresh local grocery
"Gujo Shunsai-kan Yamato-no-asaichi"
This morning market is located west from "Roadside Station Kokindenju-no-sato Yamato". We arrive at around 8:15. Although it is a weekday, there are already a few people lining up outside. While we are waiting and watching the mountains turning red, farmers carrying vegetable with them arrived.
The opening hour is 8:30. We are so excited and eager to see what are available! Pick a shopping basket and let us go!
A large pear attracts me right after I enter the market. I heard that pear is one of the specialties of Yamato. Every year during the Obon (Festival of the Dead), many people make a long queue to buy the most popular pear, Kosui. You can find Akebi, Japanese chestnuts and Japanese persimmons and other fresh autumn vegetables in this morning market.
As all vegetables are brought by every farmer every morning, product line up may vary from time to time. We have corn in summer and wild vegetable in spring. People would like to visit again seasons by seasons.
You can find a local Gifu's food called "Hebo-meshi" next to rice with chestnuts. "Hebo" means bee larva. It is like a field trip by studying the food culture at the market.
The owner recommend is "Yamato-mai (Yamato rice)", a kind of Koshihikari rice produced in Gujo. Other products like soybean, honey, fresh Mochi (Japanese rice cake), cosmetic soap, Amazake (Sweet drink made form fermented rice) and herb drinks are all made in Gujo.
If you do not know how to cook the stalk of sweet potato and taro or other ingredients you do not know, please feel free to ask the locals. You are welcome to read from handwritten recipes beside the cashier too.
Stocks usually sold out in the morning. We recommend you visit earlier. After eating and looking around the market, our shopping basket is full of groceries.
They provide courier service so you can send all stuffs back home if you do not wish to carry them.
Gujo Shunsai-kan Yamato-no-asaichi
See More
Take a short break and relax at the footbath
If you come to this morning market, you absolutely need to visit the footbath at Roadside Station Kokindenju-no-sato Yamato. There are plenty of outdoor footbath in the city, but this footbath is inside a concrete building. You can enjoy even if it is raining or snowing.
After passing the curtain printed "Ashiyu" means footbath, you can find a calm and comfortable area with the good smell of hot spring. Although the water of this footbath comes directly from the hot spring source, it is free of charge! Everyone can enjoy it!
The spring quality of this footbath is sodium, which is good for neuralgia, muscle ache and disease of digestive organs. After driving for a whole day, resting in a footbath is really nice! Having a footbath for about 10 minutes makes me feel warmer and skin is smoother too.
Although towel is on sale at the shop, we recommend you bring your own towel (Towel in the picture is our own towel). Other than this footbath, there is one more hot spring "Yamato Onsen Yasuragikan" at Roadside Station Kokindenju-no-sato Yamato. You can try a full hot spring bath if you have time!
Roadside Station Kokindenju-no-sato Yamato
See More
Gujo Shunsai-kan Yamato-no-asaichi is a place you can find fresh groceries and taste something new to you! Communicating with local people is also so much fun. Hot spring and shops next to Roadside Station Kokindeju-no-sato Yamato are also excellent! I would really love to visit again in other seasons.
About TABITABI Gujo

TABITABI Gujo editorial
TABITABI Gujo is a general media site for sightseeing in Gujo introducing attractive tourist spots in Gujo with a slogan of "Gujo, a place you want to visit many many times." While knowing more about Gujo, we continue providing information on travel suggestions during each season in different areas, as well as the latest information of Gujo-shi.
Photographs by TABITABI Gujo Editor Team