What is Seseragi Kaido?
Seseragi Kaido is a driving route with a total length of about 65km connecting Gujo-shi and Takayama-shi. It takes about 90 minutes while enjoy the scenery from the window. Starting from Gujo Hachiman, head north along Yoshidagawa River, Mazegawa River, and Kawakamigawa River to Hida Kiyomi. As the road surface is well maintained, there are few sharp hairpin curves and traffic lights, and even beginner drivers can drive without worry. Starting from the castle town of Gujo Hachiman, pass through the plateau area of Meiho with magnificent nature, and head to Nishiuretoge surrounded by birch and larch forests. You can see the scenery changing through the car window depending on the season and entertaining both driver and passengers. Although Seseragi Kaido is a popular spot for autumn leaves, there are still many other attractivenesses all year round. Let us introduce the charms of each season in spring, summer, autumn, and winter.
Recommended sightseeing spots &
attractiveness of four seasons
Spring
Flowers welcoming the arrival of spring
A fleeting spring in Gujo comes after a long winter. The balmy climate is perfect for having a drive. Gujo Hachiman Castle which was built in 1595, is the starting point of the highway. It is one of the famous cherry blossom spots in Gujo Hachiman. From the end of March to the beginning of April, the pale-colored cherry blossoms complement the towering castle tower. When the cherry blossom season is over, Kunita Family Shiba-zakura in Meiho will be in full bloom from late April to around Golden Week (Early May). It is a magnificent view as if you spread a pink carpet with a sweet scent.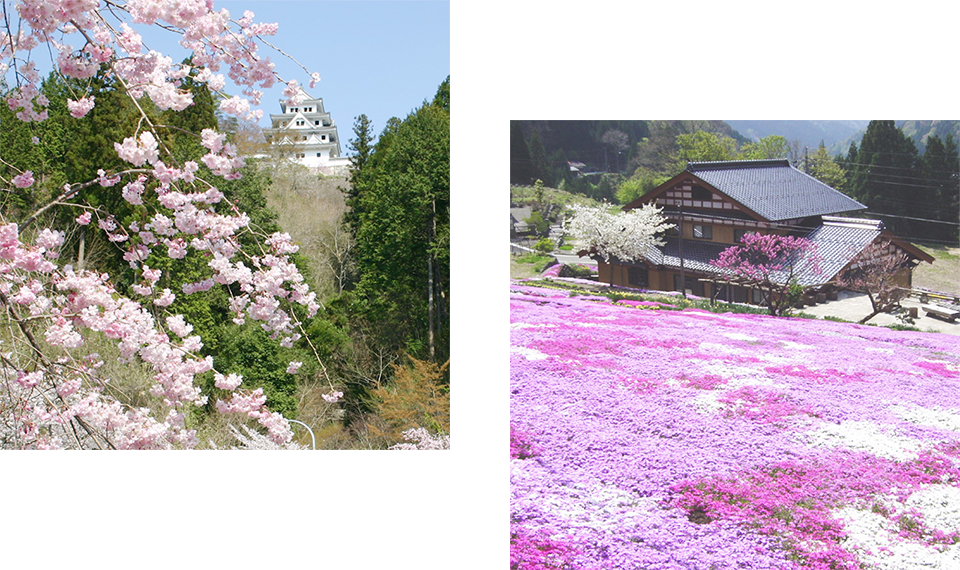 Summer
Taking a deep breathe in the fresh air
at the plateau in summer
In summer, Meiho area is surrounded by the refreshing breeze, and the scent of greenery is full of charm. Meiho Kogen is used as a campsite in summer. You can fully enjoy outdoor activities here. In addition, Roadside Station Meiho Surusumi-no-sato Park is a popular spot for drivers to relax and enjoy local food. At Meiho Gelato opposite the roadside station, get a cool and sweet gelato that can get rid of your tiredness during driving. If you go further toward Hida Kiyomi, the lavender and herb fields of Hida Kiyomi Lavender Park are in full bloom.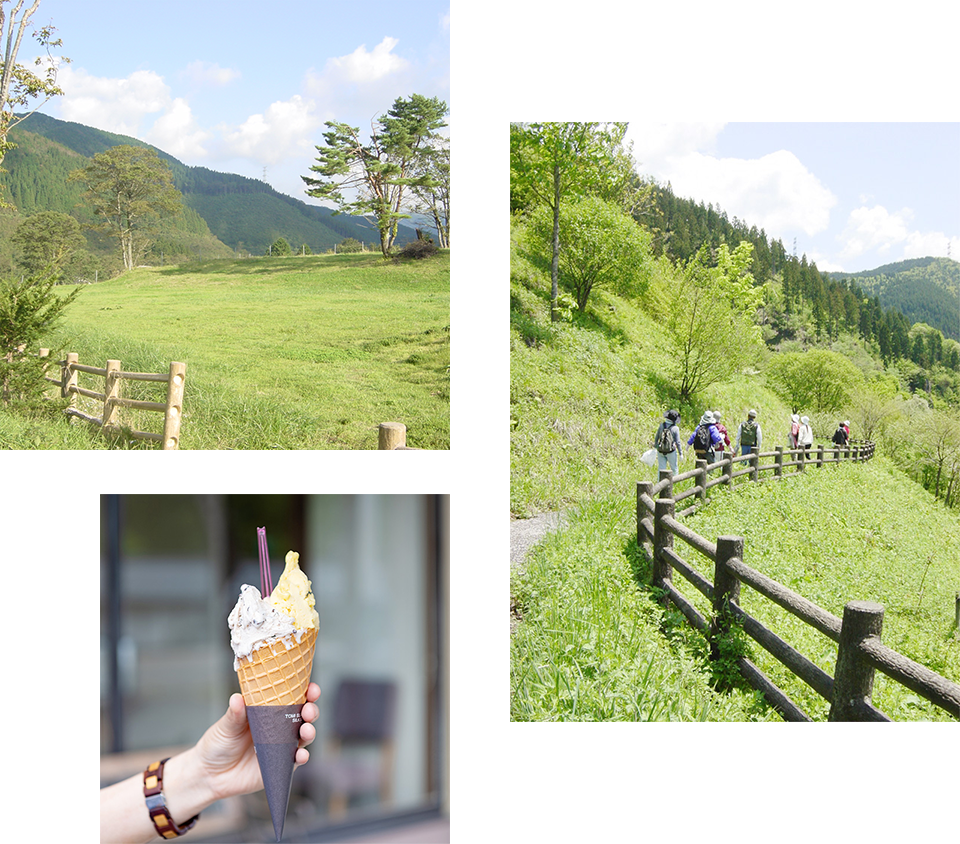 Autumn
Autumn leaves turning the mountains in all red are breathtaking
From mid-October to early November, autumn leaves are vividly dying the mountains along the highway. As there is an altitude difference of 700m from Gujo Hachiman, the starting point of the highway, to Hida Kiyomi, the gradation of autumn leaves for a long time from the highest altitude, Nishiuretoge, is very attractive for a long period. You may want to make a stop for the magnificent scenery near Meiho Ski Resort too. Jionzenji Temple in Gujo Hachiman is also known as a famous place for autumn leaves, and its elegant scenery attracts many people every year.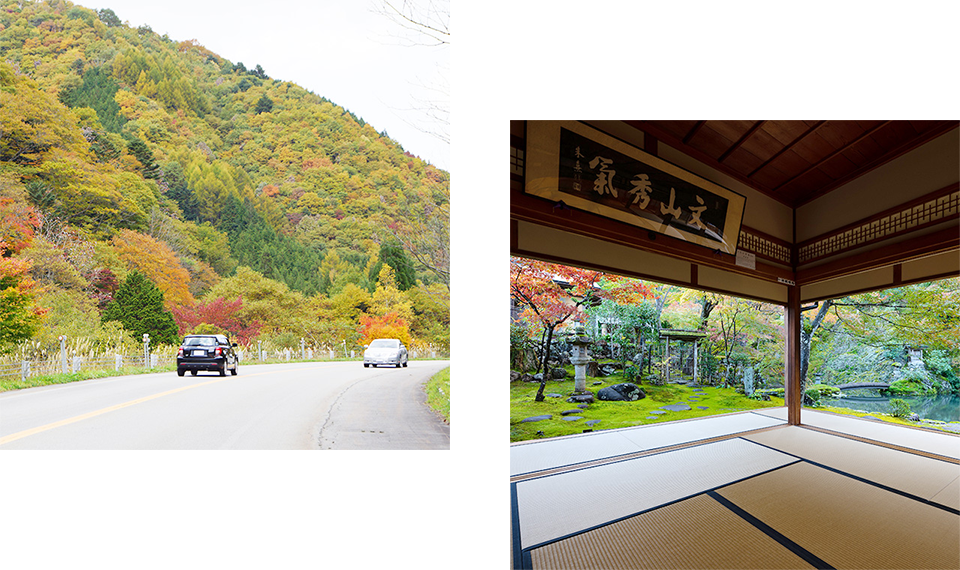 Winter
Enjoy skiing, hot springs,
and leisure activities which are all winter only!
Seseragi Kaido is well known for its attractions from spring to autumn, but in winter, there are many spots such as ski resorts and hot springs that can only be found in cold regions. At Meiho Spa Yuseikan, which is the only natural hot spring day trip facility on the highway, you can relax and enjoy various hot springs, like open-air baths, large baths, and bedrock baths. Some locations along the way are all covered with snow, creating a world of silvery white. You can feel the power of nature which cannot be found in other seasons.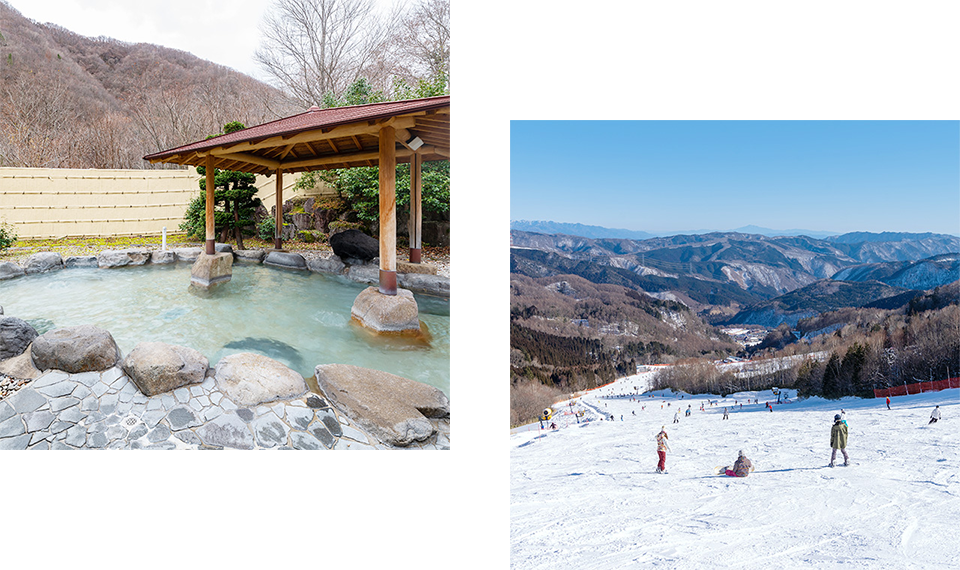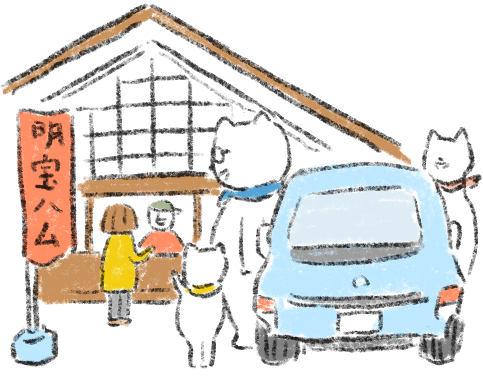 Local dishes along the highway
Not only the scenery of the four seasons but also the many local dishes you want to stop by while driving along Seseragi Kaido. Especially in Meiho area in the middle of the highway, there are plenty of restaurants and shops where you can enjoy local specialties and local dishes. Roadside Meiho is also loved as a resting spot for drivers. You can try Kei-chan (Stir-fried chicken with miso sauce) and Tsugijiru (Clear soup) at Meiho Meat, a direct sales shop for Meiho Ham, and you can also enjoy Gujo's local cuisine at Okami-san. After a break from driving, you can spend your time leisurely, buy souvenirs and snacks to fill your stomach, and help you drive further. Please remember to add delicious Gujo food to your memories of your driving trip.