A Trip to See Cherry Blossom and Meiho History & Folk Museum

Time Travel to the Past at an Old-style Wooden School

Cherry Blossom Viewing in Spring & Meiho Hot Spring


A slope of Shiba-zakura is stunning!


Enjoy seasonal flavor of soft-served ice cream.


Enjoy smooth Italian gelato!
Let us go for a trip at Meiho area to sense the beautiful spring in Japan! At Meiho History & Folk Museum, which was a wooden school, you can relax yourself in this nostalgic scenery.
1
Zenbee-zakura Cherry Blossom
3 min.
2
Kunitake-no-shibazakura Moss Phlox
15 min.
3
Roadside Station Meiho Surusumi-no-sato Park
1 min.
5 min.
5
Meiho History & Folk Museum
20 min.
6
Meiho-onsen Yuseikan Hot Spring
1
Zenbee-zakura Cherry Blossom
Flowering period : mid-April
The first destination of our trip is this weeping cherry, designated as a Natural Monument of Gujo-shi.
Zenbee-zakura is located at Meiho Ohtani of Gujo-shi. Its trunk's width is around 3m and age around 300 years old. It is an old tree of weeping cherry. It was planted as a grave maker. The name Zenbee was the name of the owner of this piece of land. It is the largest single Sakura without support in Japan and was designated as Natural Monument in Gujo-shi in 2006. Its branches spread widely and beautifully. When it is in full bloom in mid-April, it lights up at night by a voluntary group. It becomes very mysterious with the background of woodland. If you travel by car, you can enter National Route 472 "Seseragi Kaido" into Meiho area and go by foot from Roadside Station Meiho Surusumi-no-sato Park for 5 minutes (around 200m). Sakura along the river is also very lovely.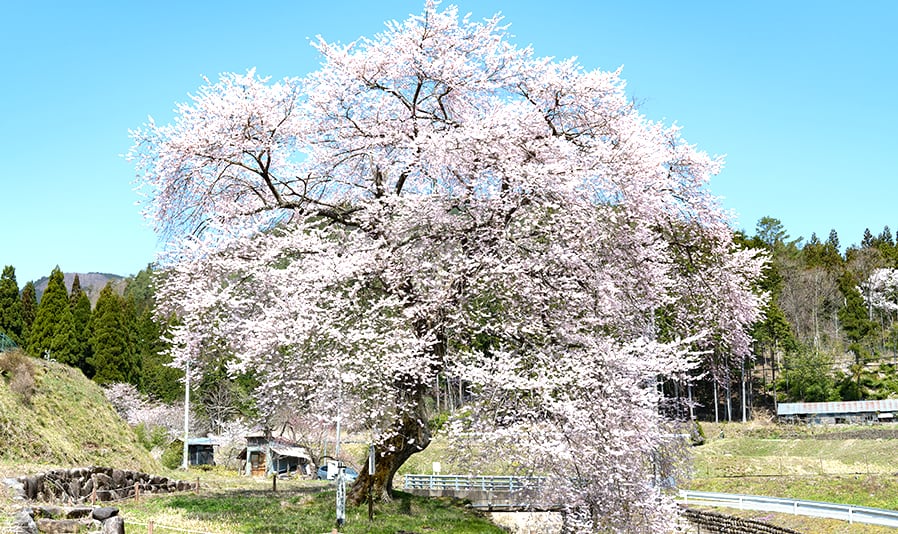 Branches spread and reach over 24m. Many people come to see it when it is in full bloom.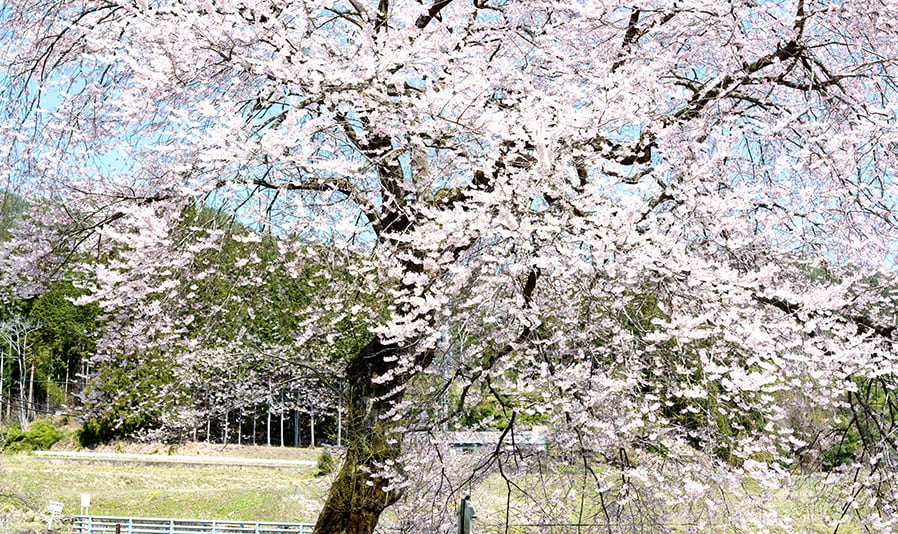 It is so healing with the scenery of woodland and old cherry tree.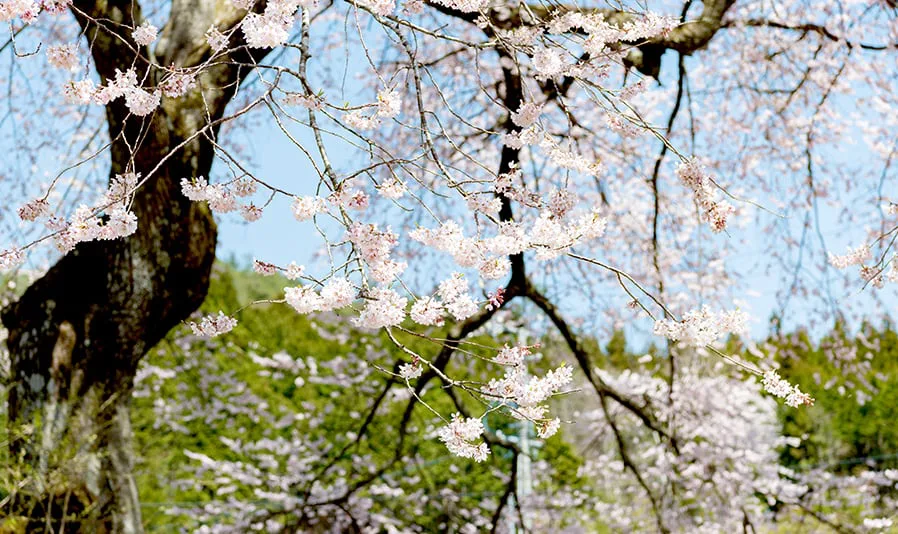 Petals fall when wind blows. It is so graceful.
2
Kunitake-no-shibazakura
Flowering period : late April to early May
Spreads like a pink carpet!
Enjoying sweet smell and beautiful scenery
Kunitake-no-shibazakura is in full bloom from late April to early May during Golden Week, a long public holiday in Japan. Flowers in pink, white and light purple are all over the slope. Ms Kanae Kunita started planting untiringly from 1961. When you enter this area, you are surrounded by sweet smell in this fantasy scenery. It is a marvelous view, isn't it? Now this area is under the supervision of voluntary group. This flower garden received Minister of Agriculture, Forestry & Fisheries Award in 1992 and Prime Minister's Award in 1996. Please come to see it in spring.
* Only standard size car is allowed to pass and park. (Medium size car and heavy vehicle are not allowed)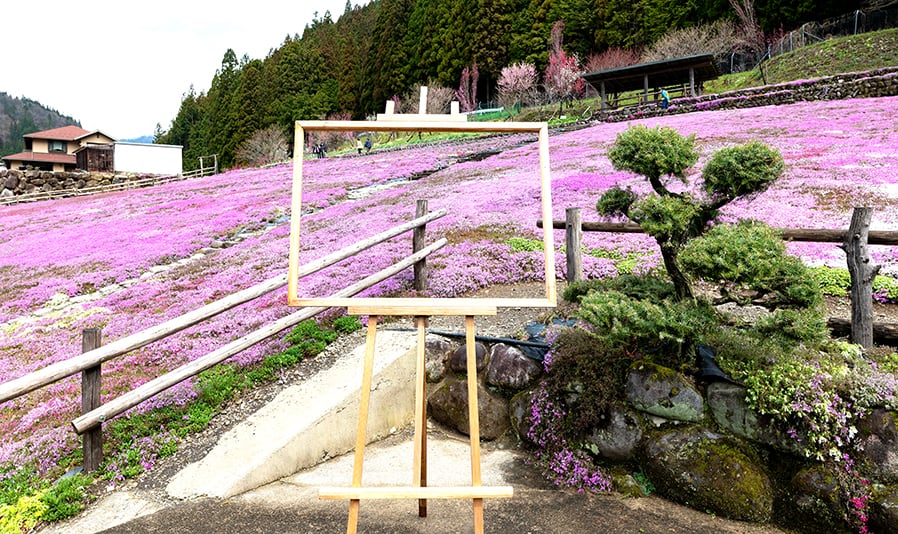 A photo frame for taking pictures. The view through this frame is as beautiful as a painting.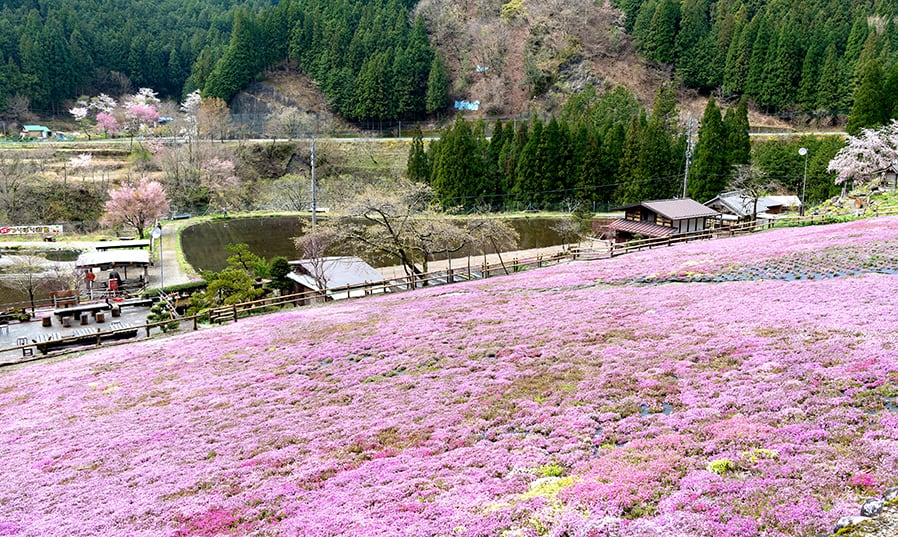 A colorful carpet is spreading through the whole garden. A sweet smell of flower is also very outstanding.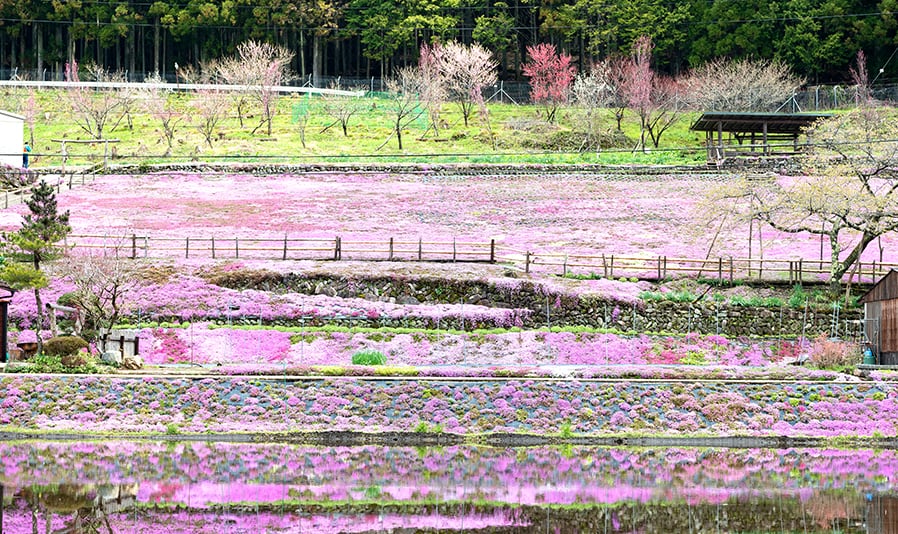 Area of Shiba-zakura around 3500 sq meter is protected by the locals.
3
Roadside Station Surusumi-no-sato Park
The best spot of Seseragi Kaido with all local food!
This roadside station is located along Seseragi Kaido, a driving route linking Gujo Hachiman and Hida Takayama. The statue of horse Surusumi at the center of the parking area is a landmark. The mountains at the back have different looks in different seasons. Fresh green in spring, deep green in summer, red in autumn and white snow in winter. You can see all these views here. Local specialties like Meiho Ham and Meiho tomato ketchup are for sale in the souvenir shop. Fresh vegetables are also popular in the morning market. Restaurants are selling local cuisine. You can try salt grilled fish at rest place with hearth.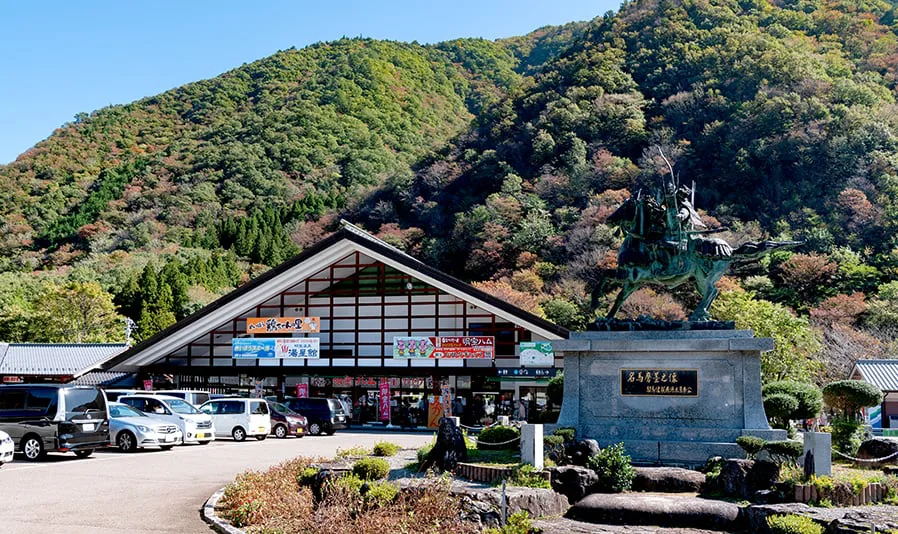 Mountains turn red gradually from late October. There is a large parking area for resting.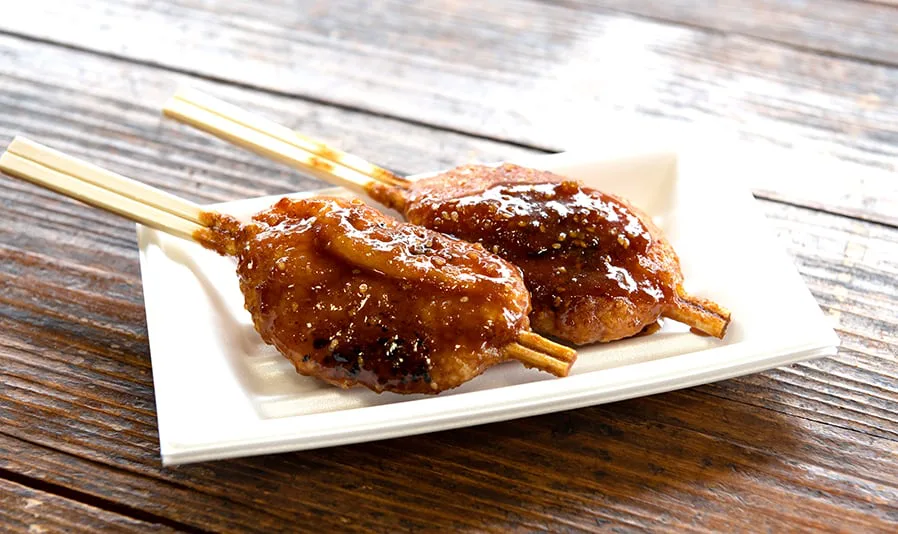 Gohei-mochi (Rice cake with soy sauce and miso paste) is all handmade. Homemade walnut paste is very sweet. Normal Gohei-mochi is using stick to hold it. But here, disposable chopsticks are used. The owner said because it is hard to eat in sticks.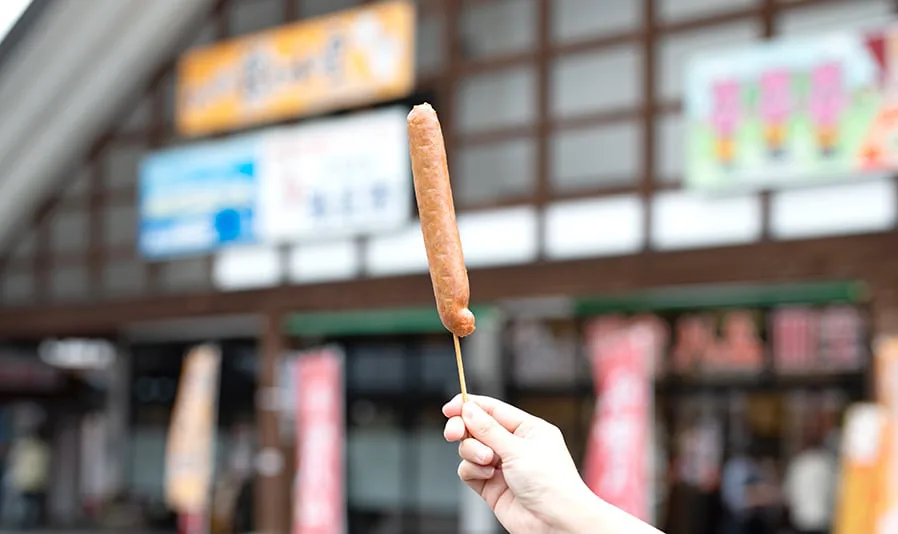 You can taste Meiho frankfurter, fried Meiho ham and others at Meiho Meat.
4
Meiho Gelato
It is hard to decide which to choose!
Italian gelato using delicious water of Gujo
Speaking of sweets in Meiho area, you must try Meiho gelato! The main store of Meiho Gelato is located opposite to Roadside Station Meiho Surusumi-no-sato Park. Milk flavors using milk from Hida, sherbets using water from Gujo and seasonal flavors are available. They are using the best ingredients to make this gelato making the texture so smooth and the taste not too rich.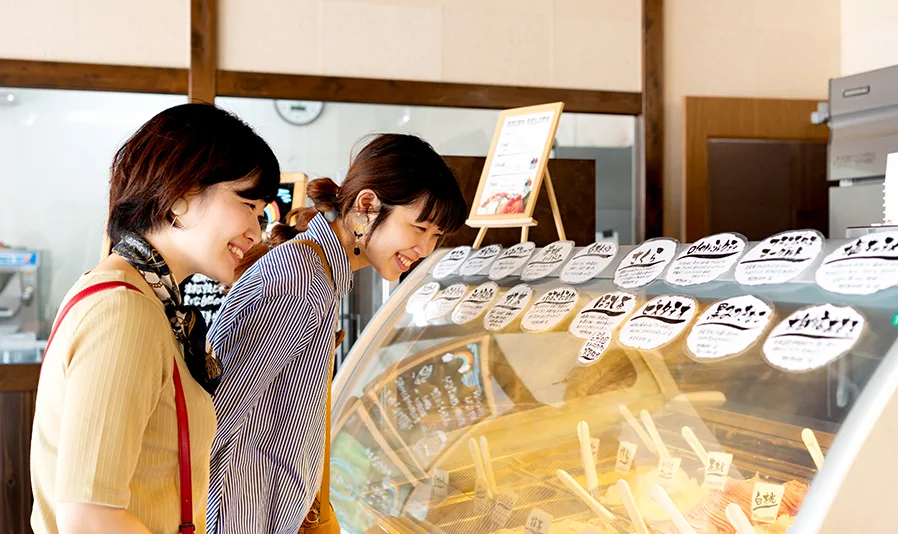 Colorful gelato is filling the showcase. We would like to try all the seasonal flavors.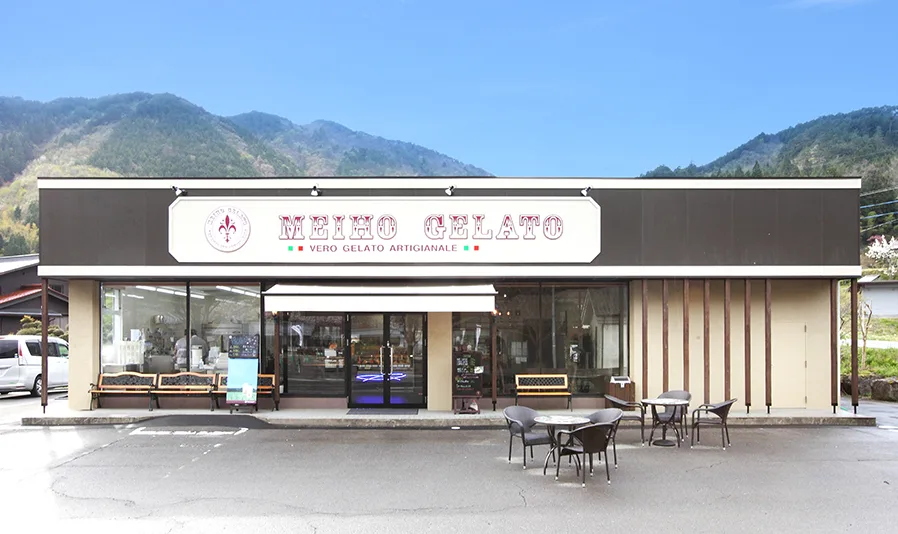 Although Meiho Gelato also has shops all over the country, like Tokyo Skytree, it is much more delicious to taste it inside this woodland.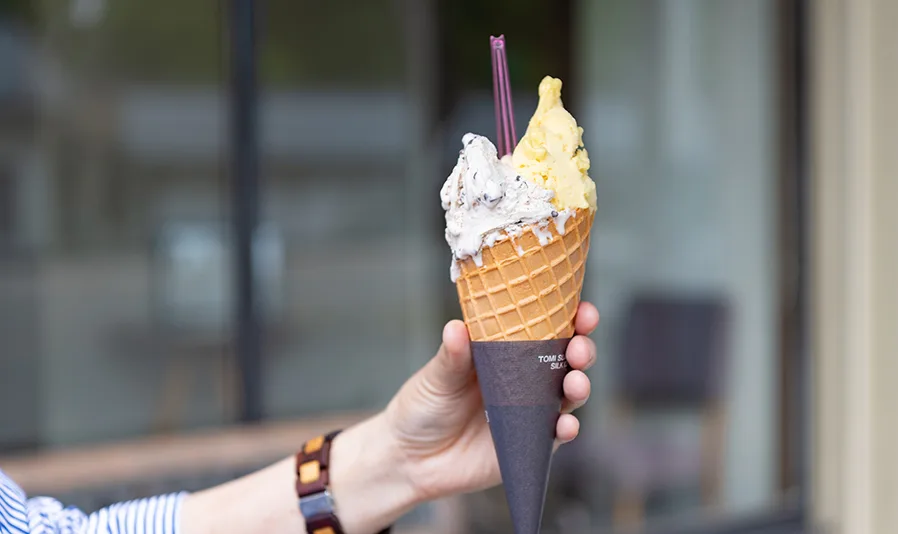 Delicious smooth Italian gelato with rich but fresh taste.
5
Meiho History & Folk Museum
Understanding the life and knowledge of the predecessors in this nostalgic wooden building
This museum was reconstructed from a closed wooden school (Former Meiho Elementary School). 47000 items of old tools, books, toys and dolls are displayed in this museum. Charcoal making, sericulture, snow control measure, food and clothes are designated as Important Tangible Cultural Properties. You can see how the ancient people lived in this region. There is local tour guide introducing all the displays. Some scenes of drama "Mittsu-no-tsuki" was shot in the hall on the east side of the building. You can find the white windows in the drama.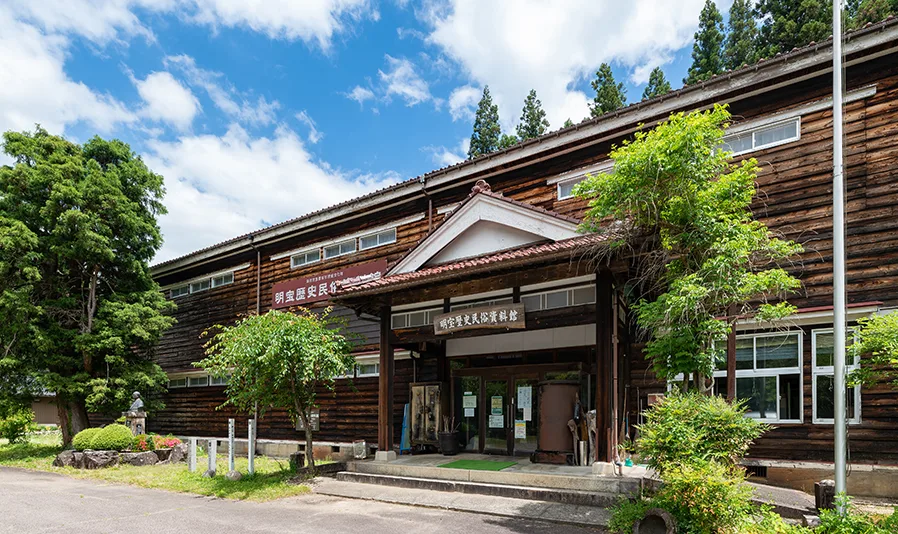 This museum was reconstructed from an old wooden elementary school which was built in 1937.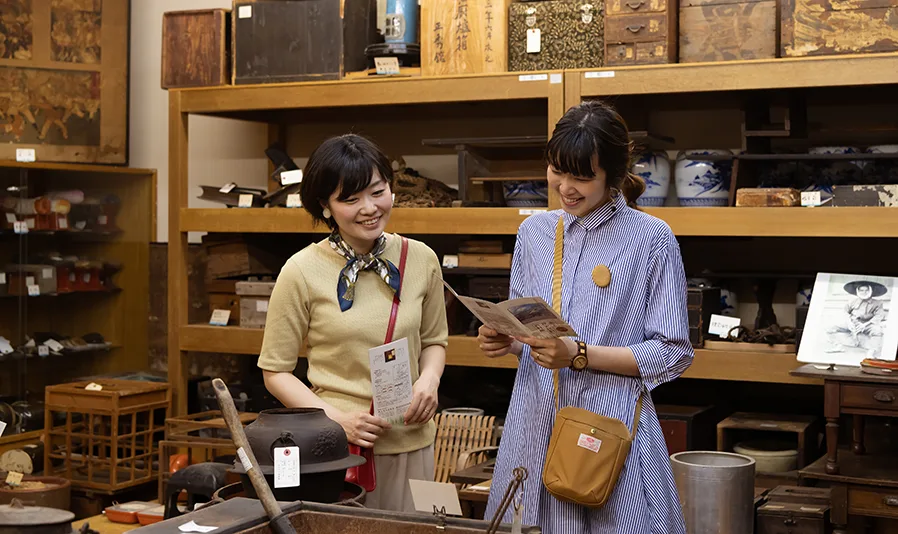 There are many Important Tangible Cultural Properties displayed inside the museum! You can touch and pick up almost all displays.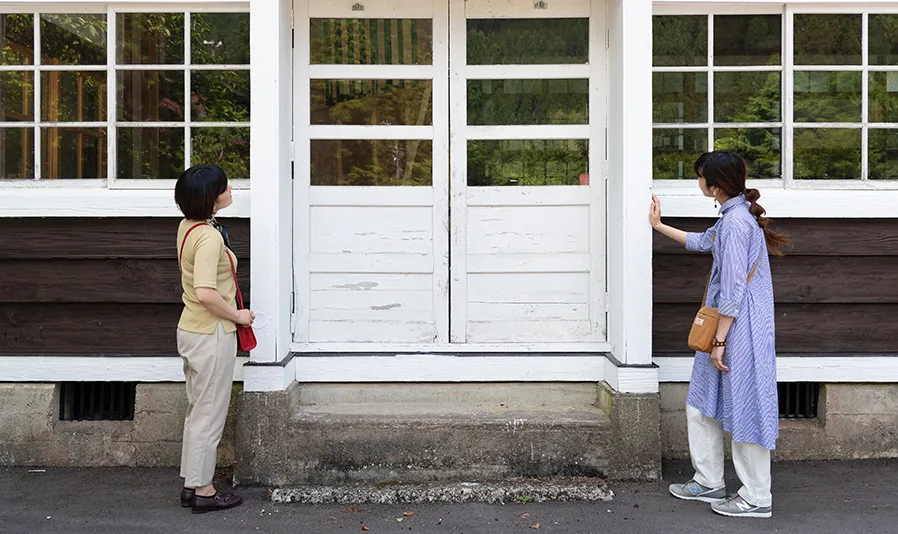 Lecture Hall used for TV drama "Mittsu-no-tsuki".
6
Meiho Spa Yuseikan
A skin smoothing high-quality hot spring and a relaxing bedrock bath
Meiho-onsen Yuseikan is a day-use natural hot spring facility at Meiho Plateau area. Feeling the natural breeze in daytime, seeing the starry night in nighttime and bathing in this spacious open aired bath is very refreshing! As it is an alkaline simple radioactive hot spring, it is good for relaxing even if you only take a day bath. Bedrock bath is using Tenshoseki and Myorekiseki, rock releasing far infrared ray and negative ion which can cure mentally and physically. There is restaurant providing taste of home cooking in the facility too.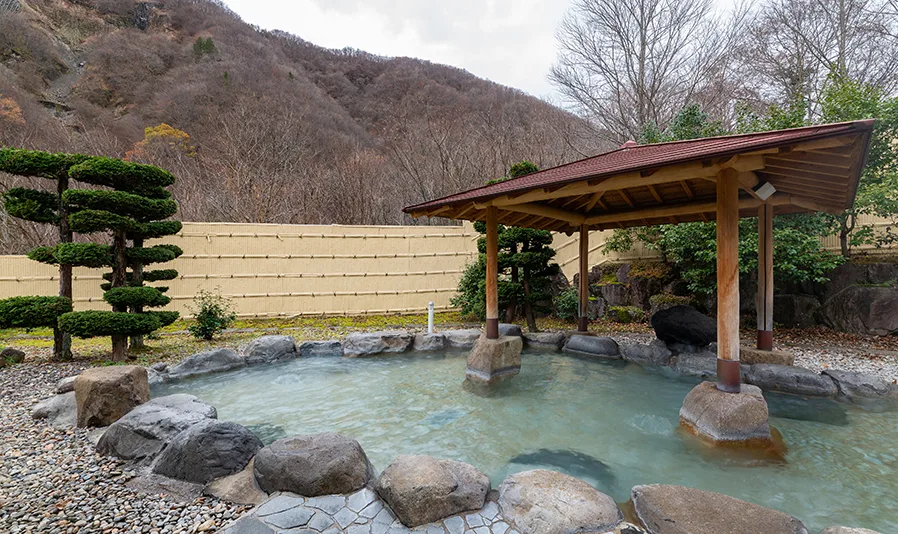 You can feel the nature of Meiho in this open aired bath. Seeing the stars while bathing is relaxing.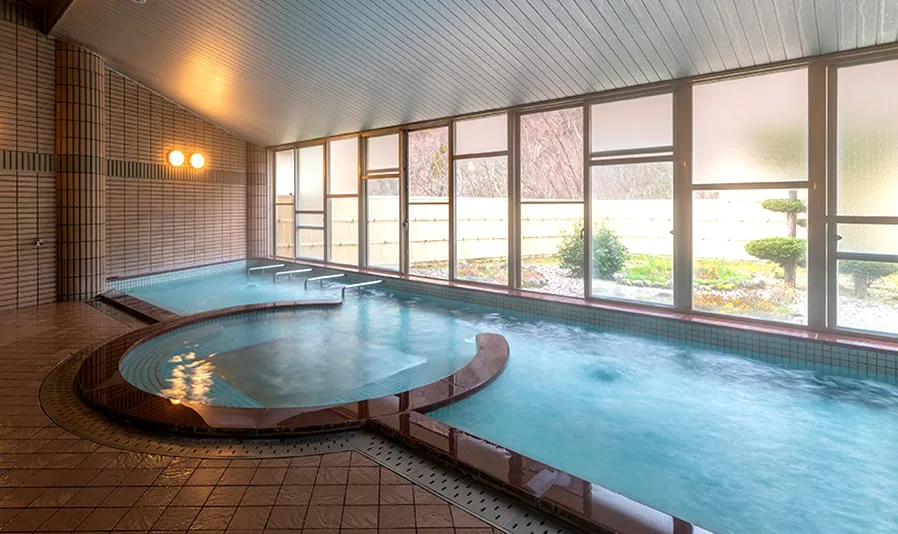 A large communal bath for enjoying hot spring. Jet bath and bubble bath are so healing.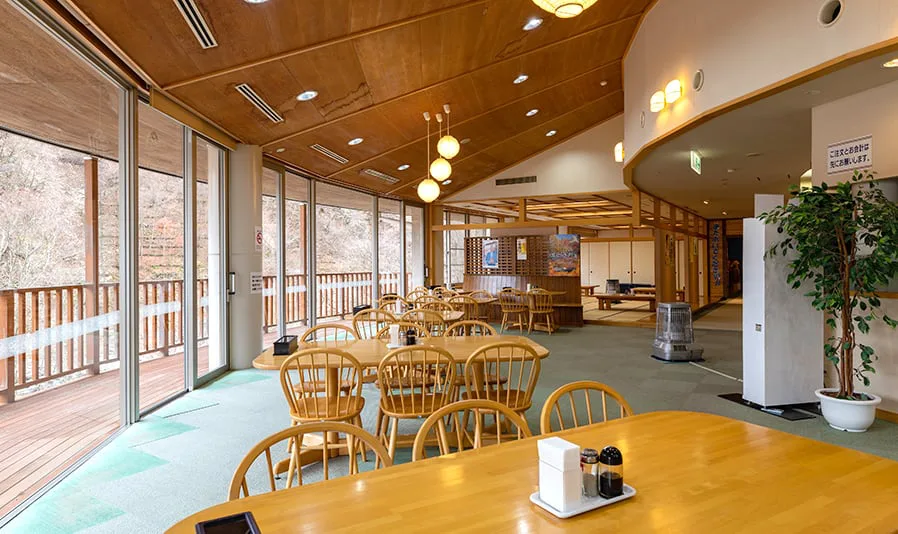 Restaurant Yuyu is providing grilled Hida beef in rank A5, Kei-chan (Stir fried chicken in miso sauce) and Meiho ham set meal.