Making My Own Sacred Treasures!
Geta, Tenugui and Yukata for Gujo Odori Dance Festival!
Tag:
/*php var_dump($paged); */ ?>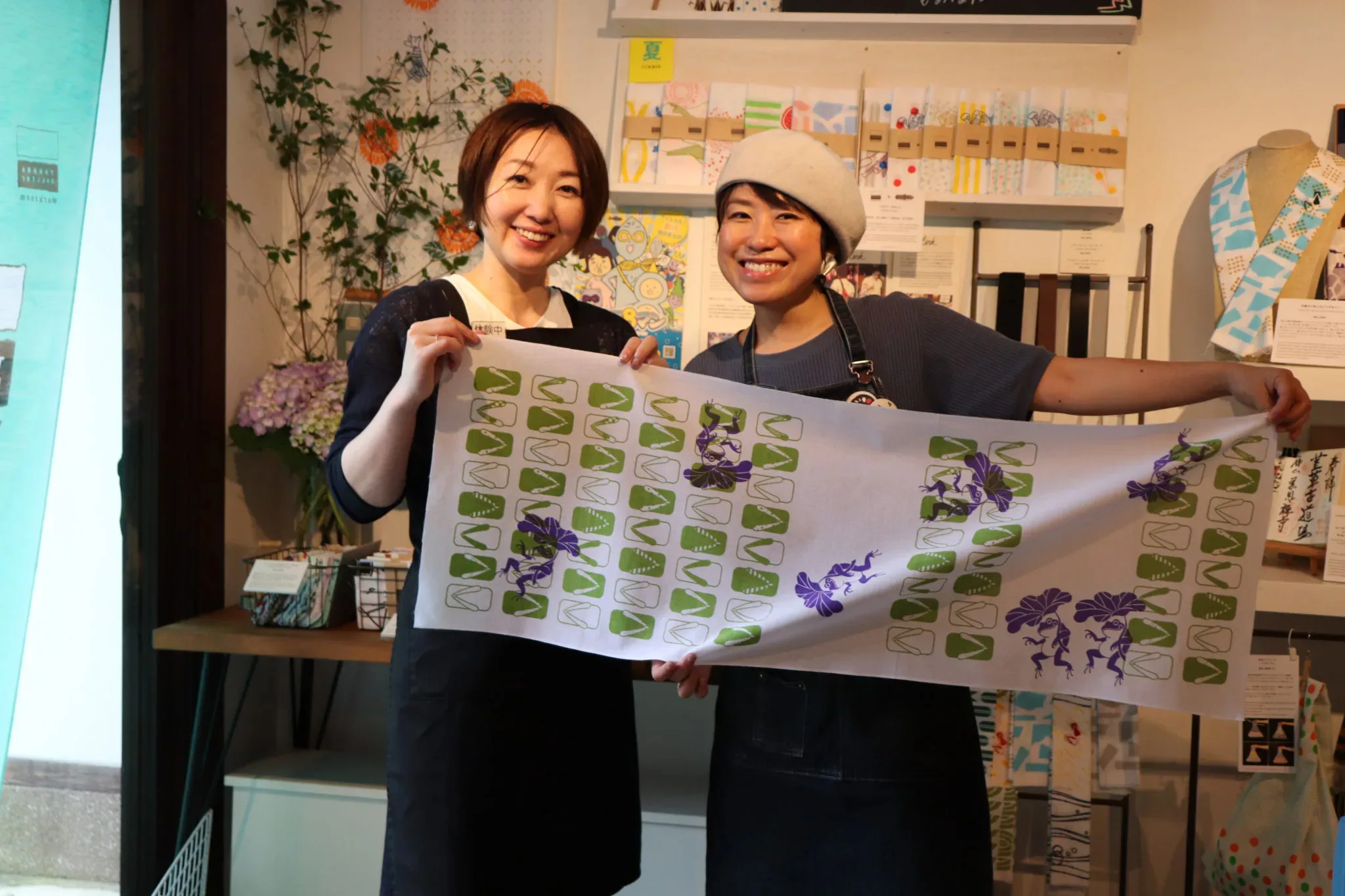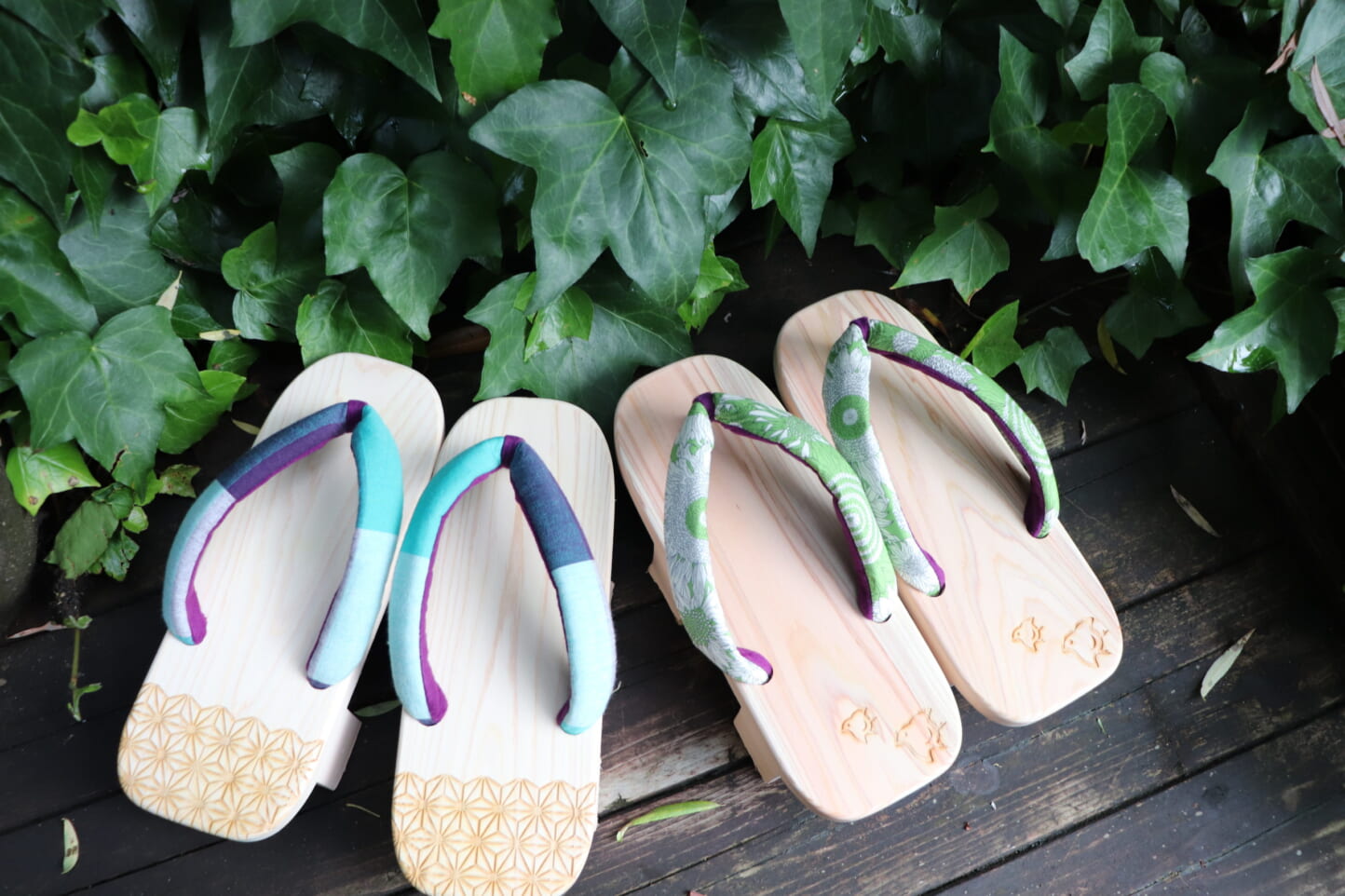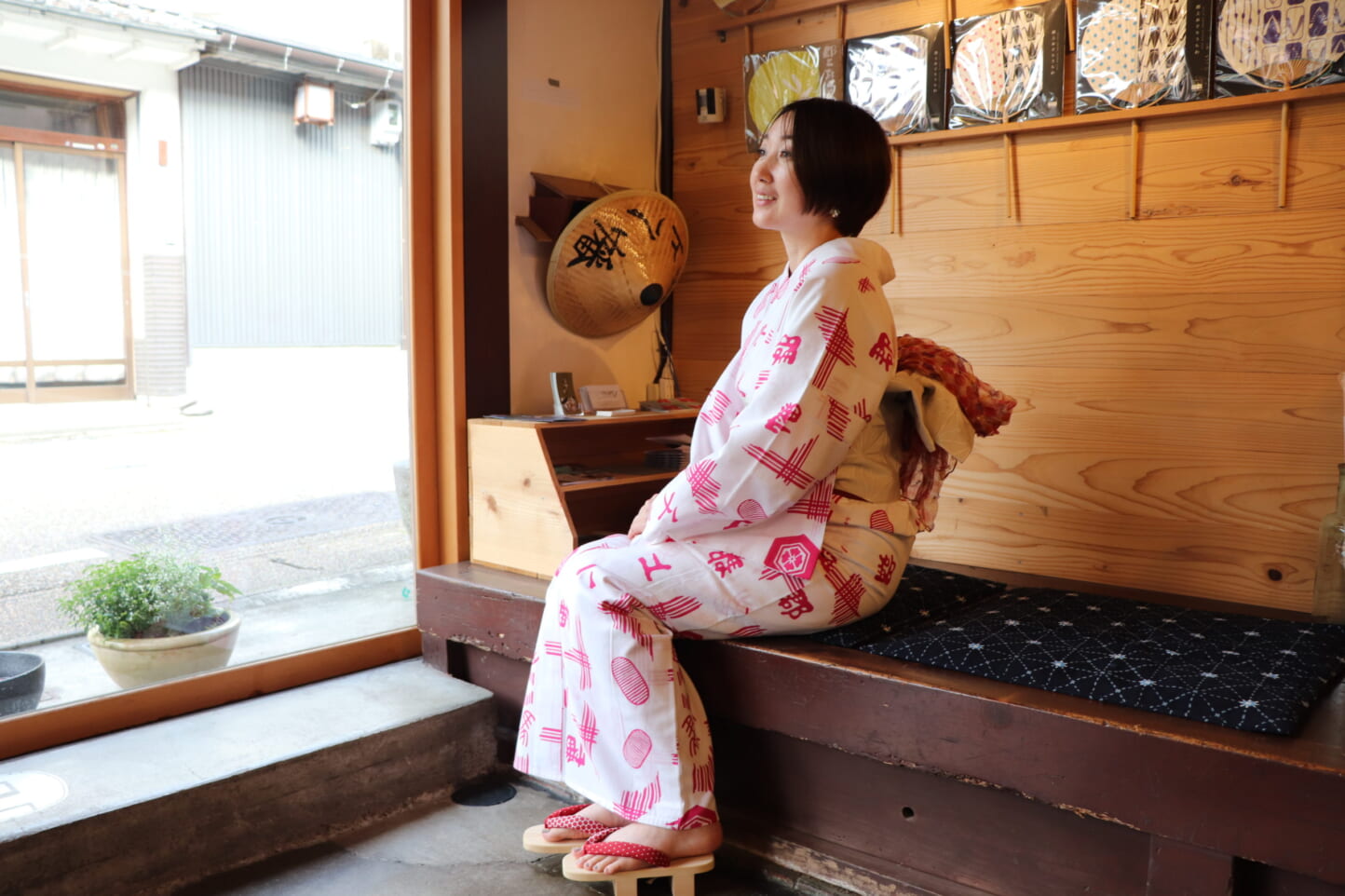 Summer in Gujo means dancing throughout the summer! Come and join the festival is fun, but bringing your own Tenugui (Japanese towel), Geta (Wooden clogs) and Yukata (A causal & informal cotton Kimono) will be much more fun!
Wearing a Yukata, making sound with Geta and using Tenugui to absorb sweat around the collar, are the three sacred treasures of Guju Odori Dance Festival. We are going to make our own treasures this time.
Using silk screen originally from Gujo to make my own Tenugui!
Silk screen printing can be printed on everything except water and air. You can print on cloths, paper, watches, remote control or everything. This silk screen printing technology is original from Gujo Hachiman. However, places for experiencing are very few. We are going to make our Tenugui at "Takara Gallery Workroom".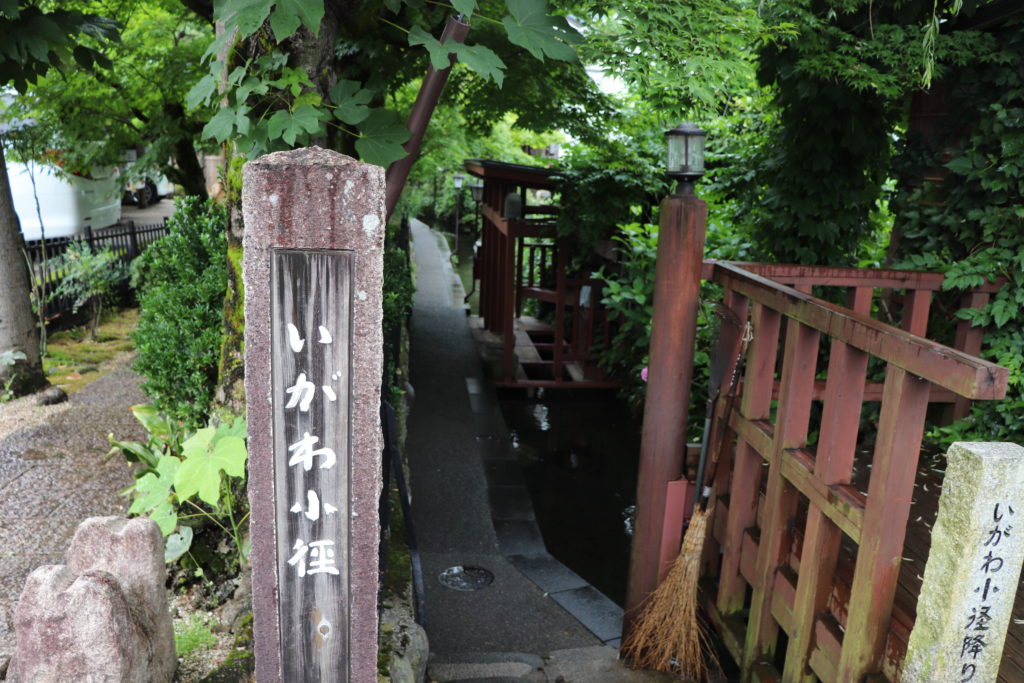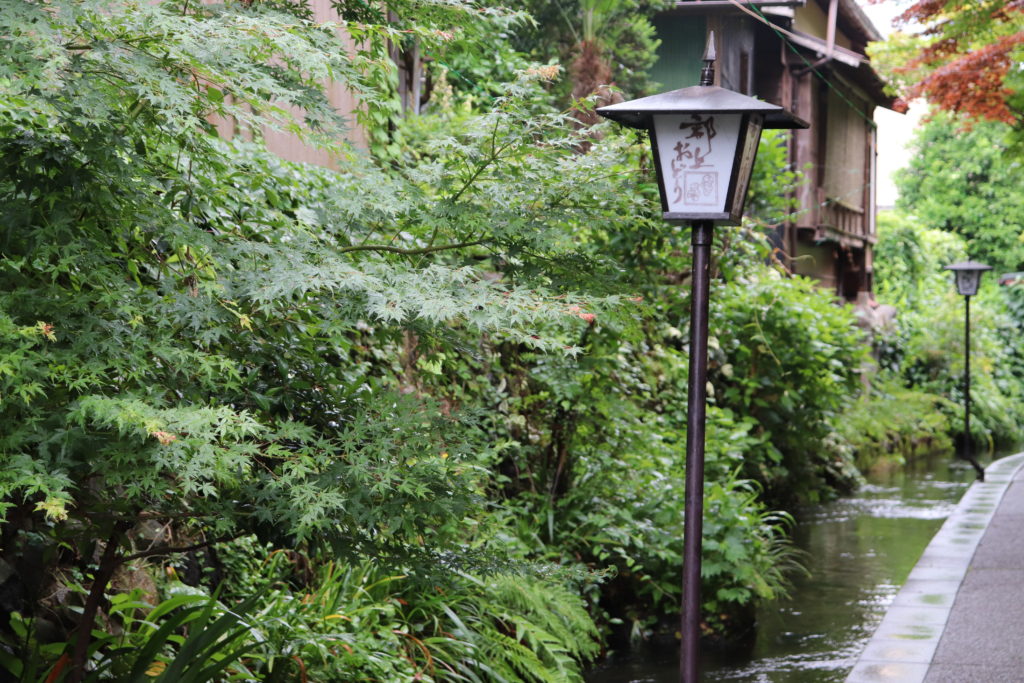 Parking our car at the back of Former Hachiman Government Building Memorial Hall (Toll parking lot), we walk through the Igawa-komichi Water Lane seeing the carps in the stream and walking into the trees. It is just like entering a mysterious world. After walking for around 4 minutes, we see a green sunshade.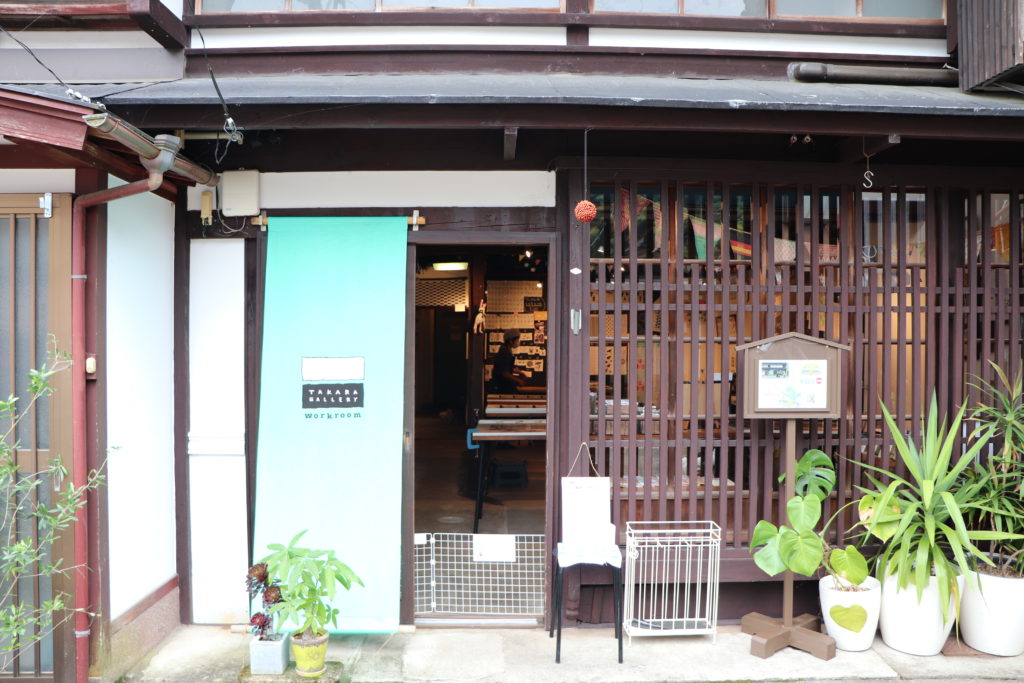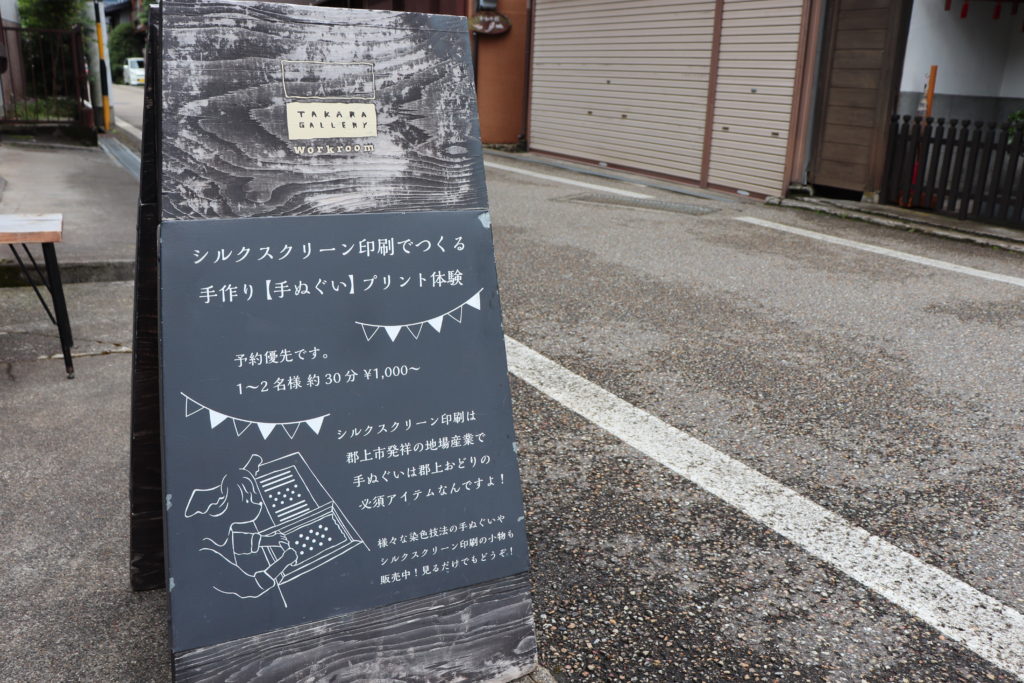 Mrs Maho Uemura comes and start the workshop. She lectures us very carefully.
First, Mrs Uemura explains to us briefly.
Size of a Tenugui is normally 90cm, or size for Gujo Odori is 100cm. Totebags and kid's apron can also be printed. We choose Gujo Odori size without hesitation. The price is Tenugui for 1000JPY up, totebag for 1300JPY up.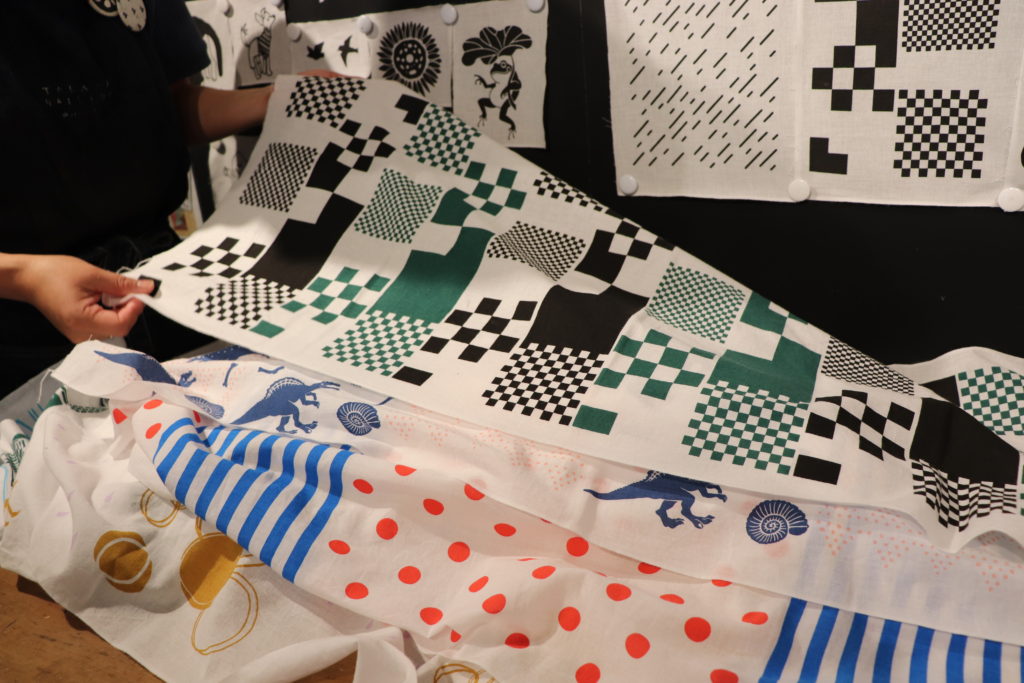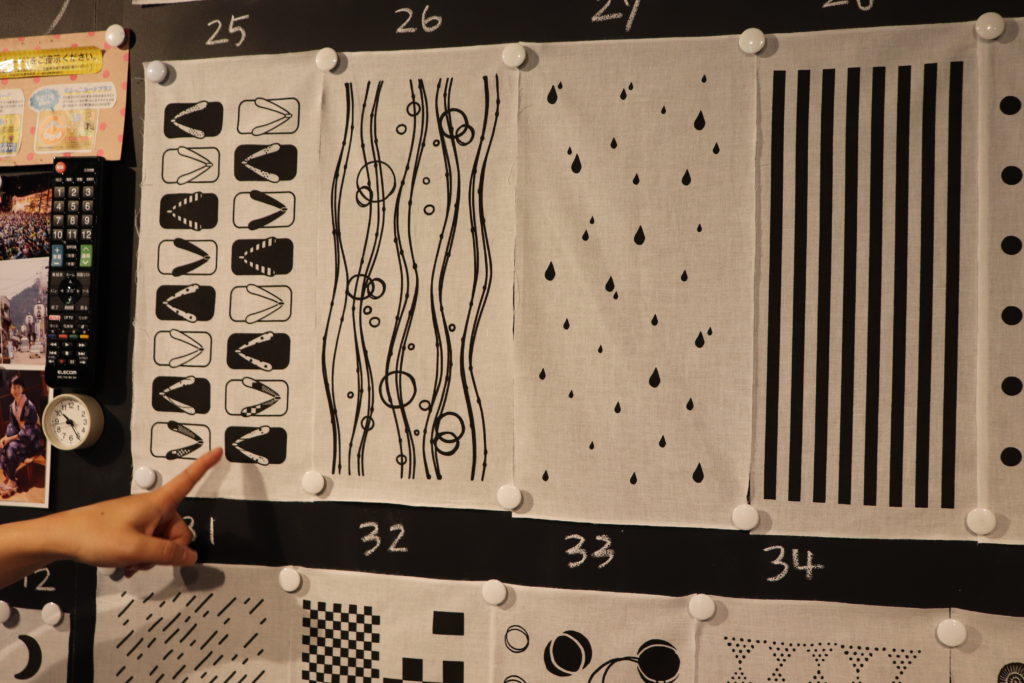 Next, is choosing the main pattern.
All 30 patterns are created by Mr and Mrs Uemura. Some designs change from seasons to seasons. Gujo Odori and castle are regular patterns throughout the whole year. Other seasonal patterns change every year. "Many visitors come to us many times in different seasons, but some only come in summer. We want everyone, no matter who comes for the first time or repeater, to enjoy printing silk screen, so we change the design from time to time. Changing season designs can remind people their memories in Gujo." Said Mrs Uemura. We are so happy to hear about their consideration. I choose "The Gujo Odori" pattern and my friend choose the most popular "Geta" pattern.
If you want to add one more pattern, plus 500JPY for any size.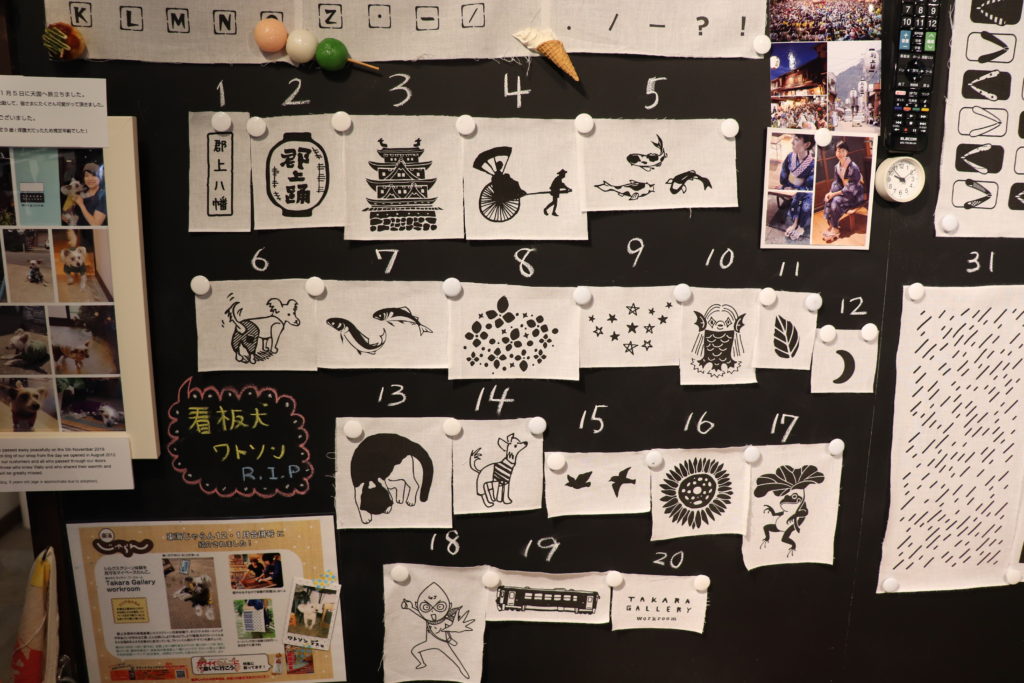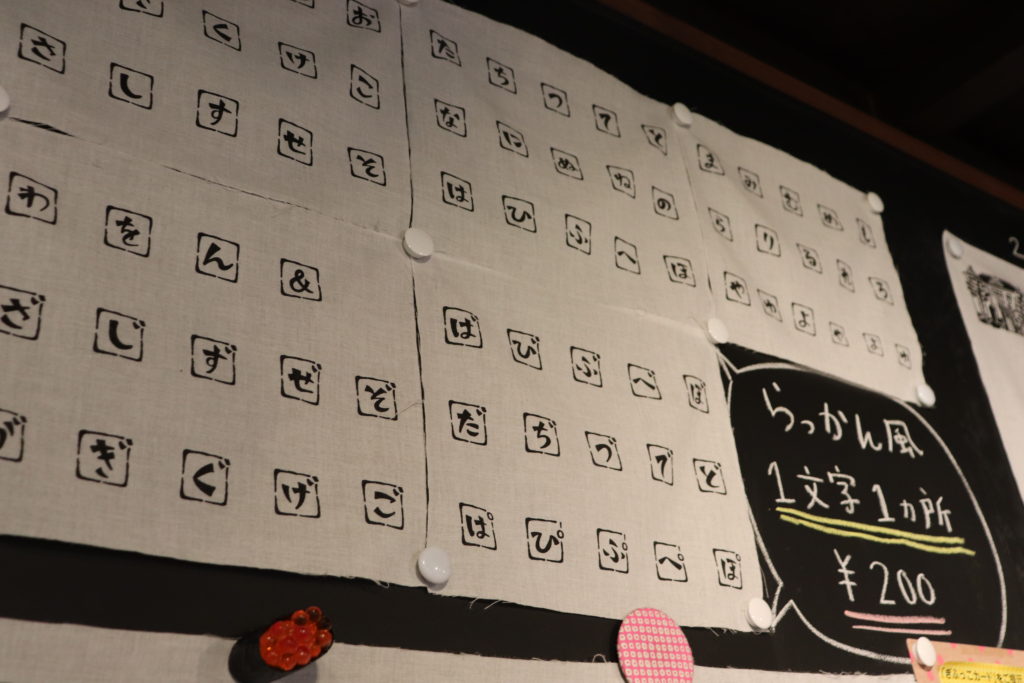 Smaller pattern is just like a stamp. You can print 8 times for 1 pattern.
"You can put it on anywhere you like." Although Mrs Uemura tells me that, I am confused!
Because you can add a signature or initial of your name, it represents yourself as an original goods.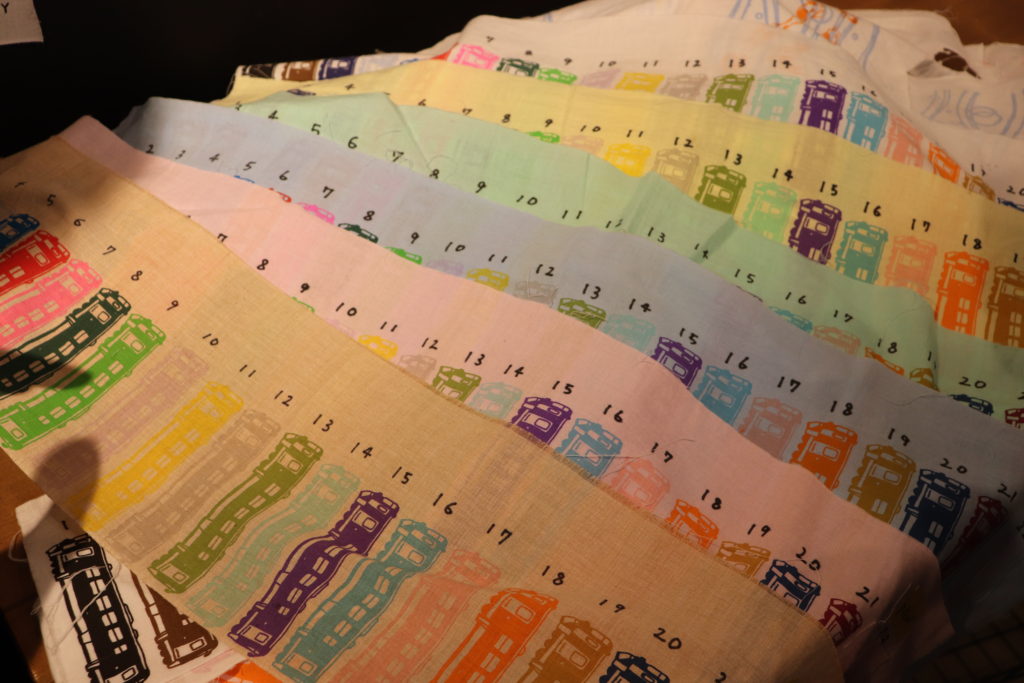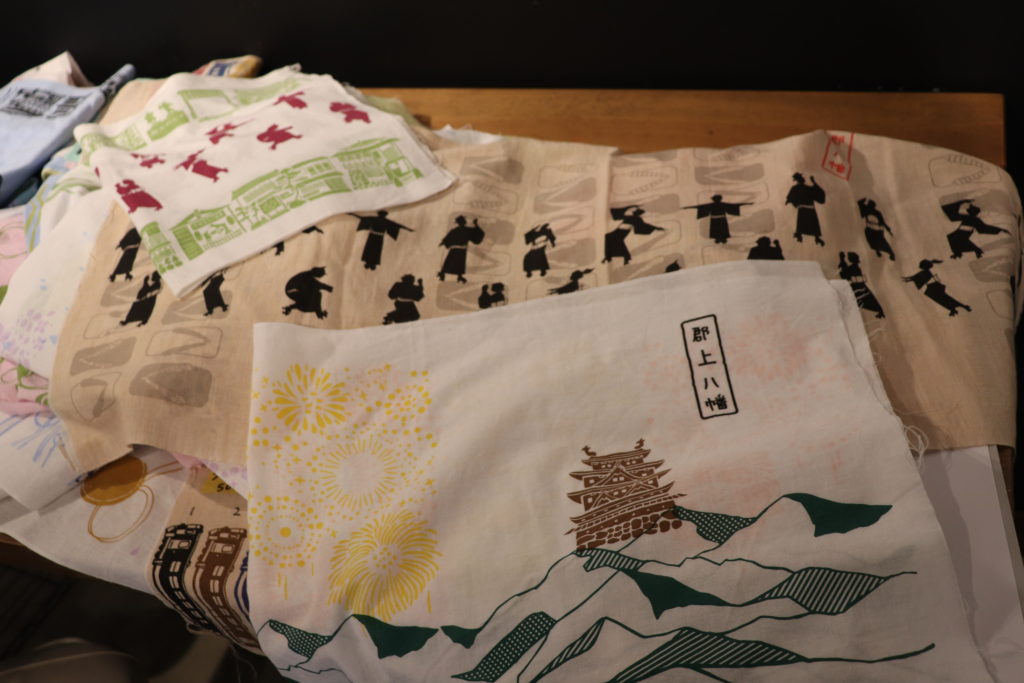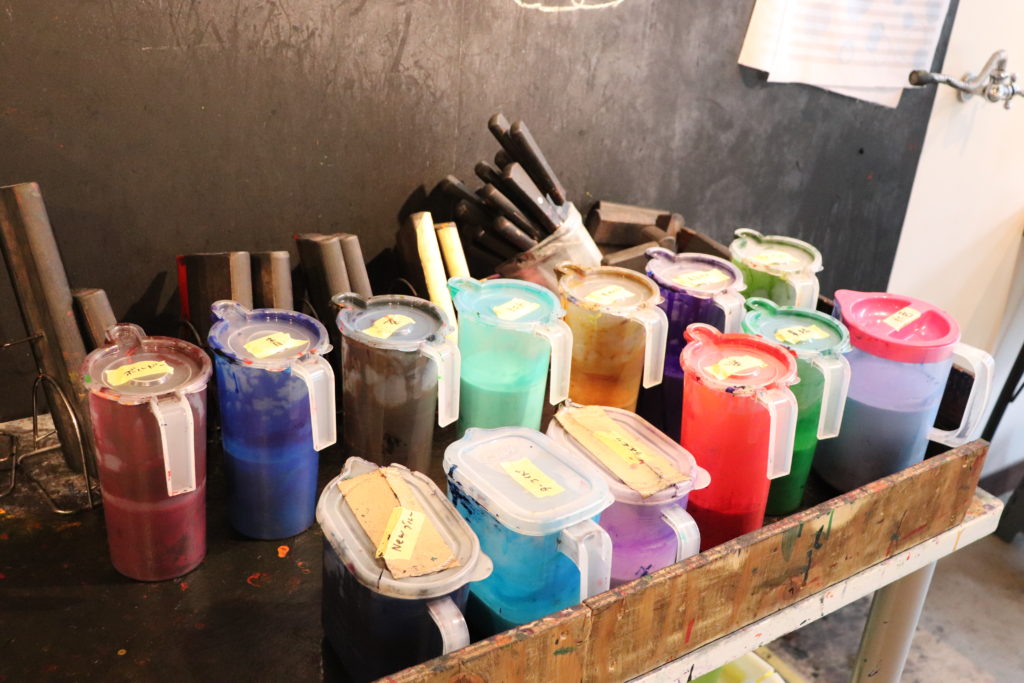 You can choose the color of the cloths from white, pink, light blue, mint green, yellow or brown and the color of ink from 20 different colors.
Brown cloths is made Yamagata-shi, Gifu-ken. It is made of antibacterial deodorization material. It looks cool so it is highly recommended! (Brown color +500JPY)
Color of cloths + color of pattern + color of ink
There are so many combinations that make me feel confused! "It is difficult to choose, right? Many visitors do the same. Children choose very quickly with their instincts. When family comes, children and father usually finish fast, leaving mother behind." Mrs Uemura laughed.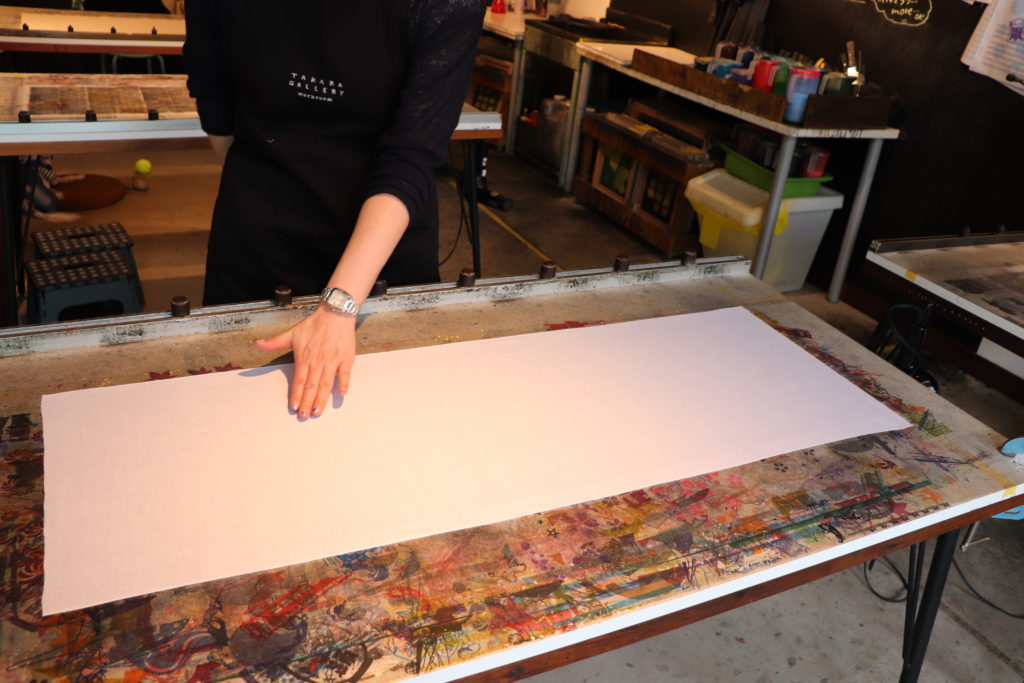 Samples of Tenugui are displayed around the workshop. You can think carefully. Mrs Uemura helps me set up the cloths with pins and pattern chosen on the board. "Smaller pattern can be added later. You choose the main pattern first. It will help you imagine." With the advice from Mrs Uemura, I start trying.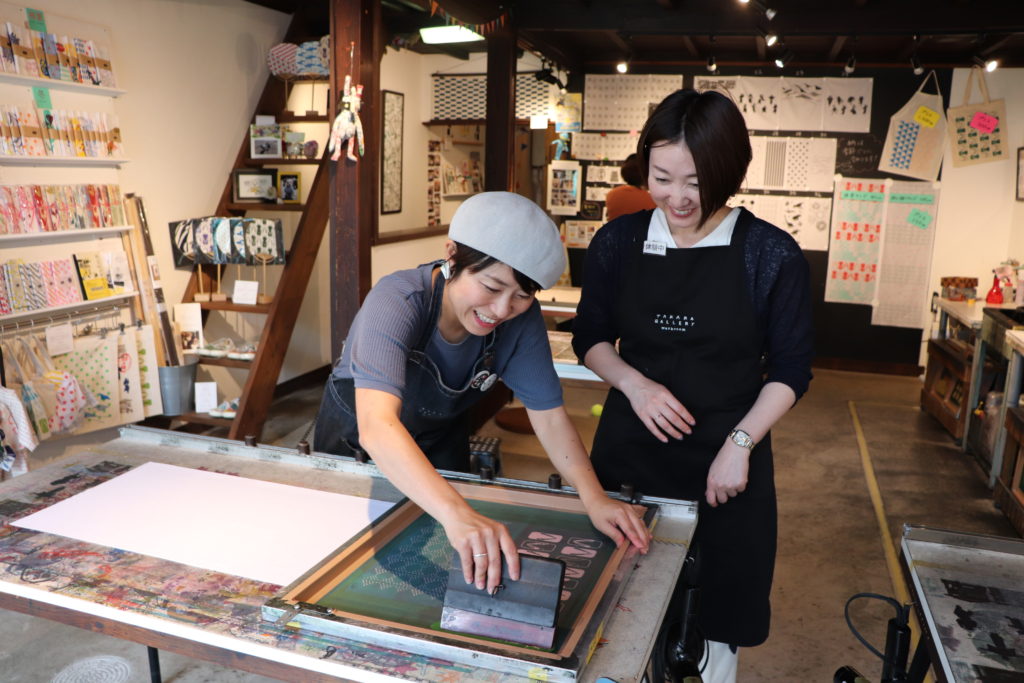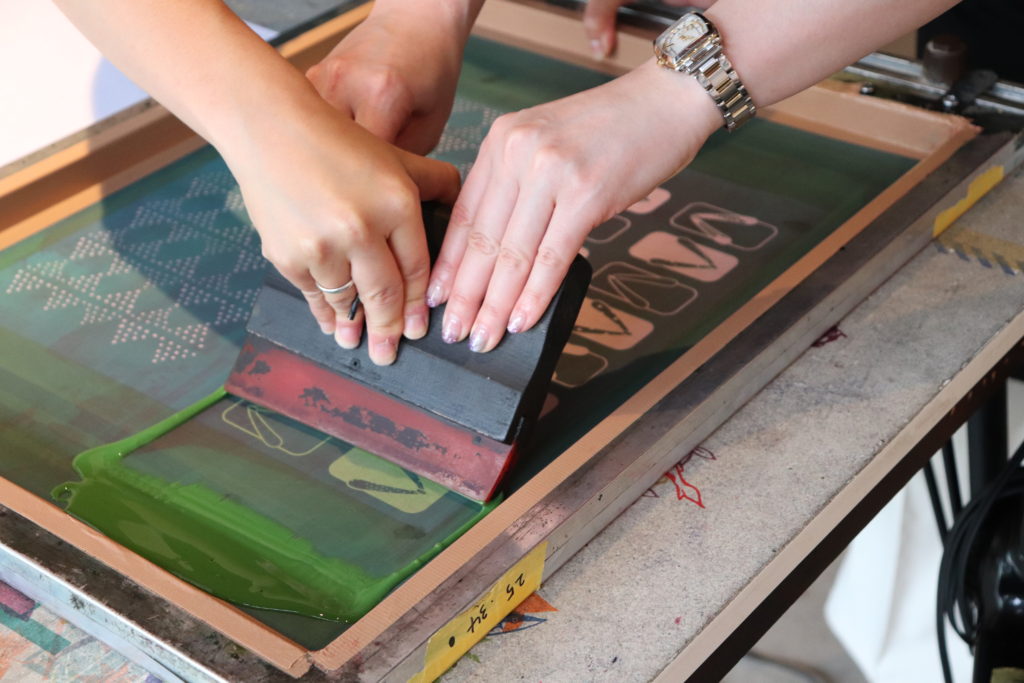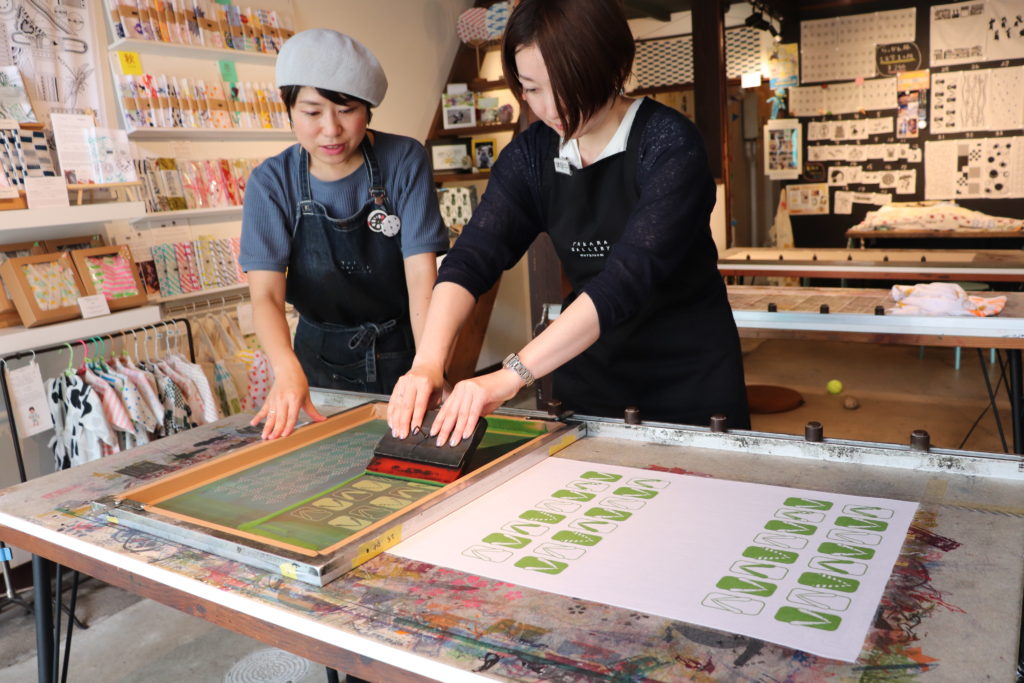 Put on the apron and start printing!
Fill in ink on the board with tiny holes and use a tool called squeegee to slide on top of the board to let the ink goes through the holes.
First we practice without using ink with Mrs Uemura. Keep the angle at 45 degrees and slide the squeegee. When we are ready, we can start printing.
"Slide it, let extra ink comes out and slide again to finish." I am so concentrated to slide it while Mrs Uemura helps me to control the angle and power. You can see a beautiful print when the board is removed. Even it is still not finished, I feel so satisfied!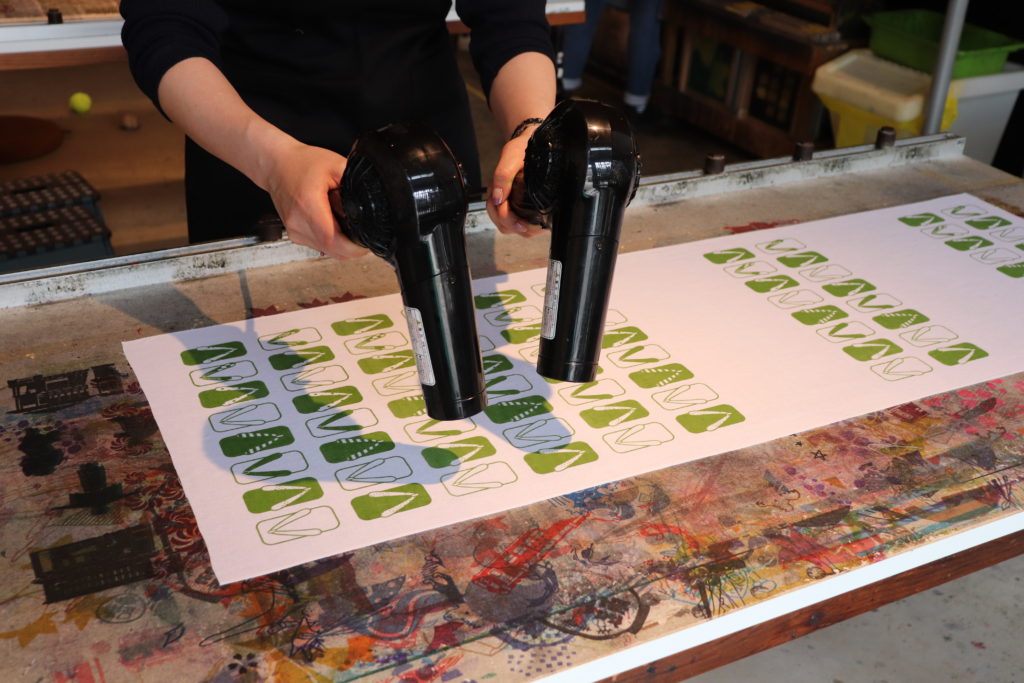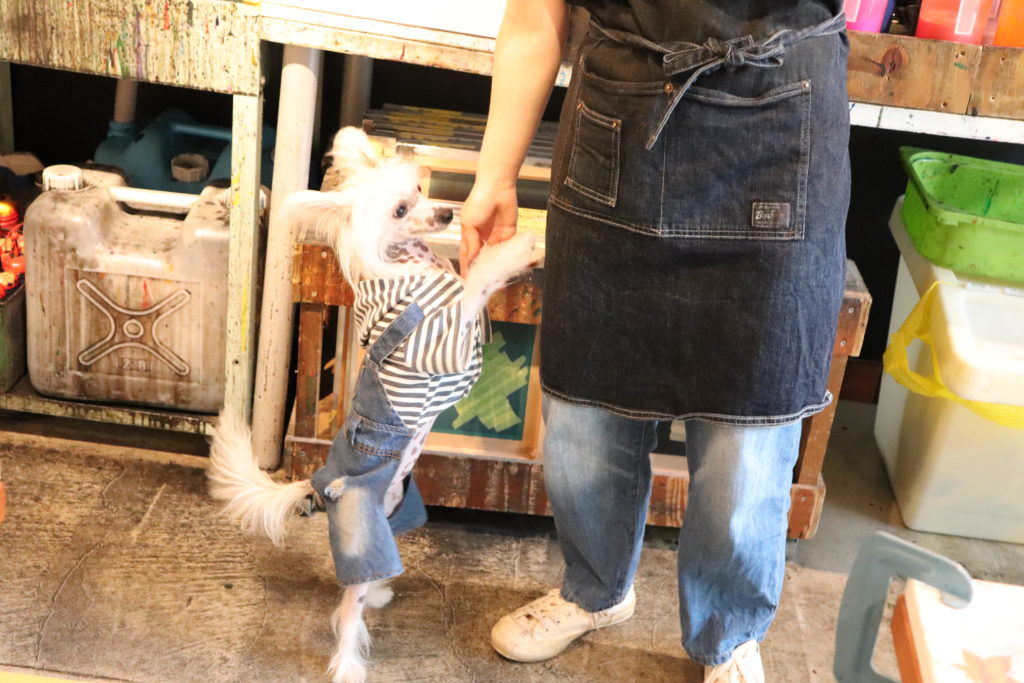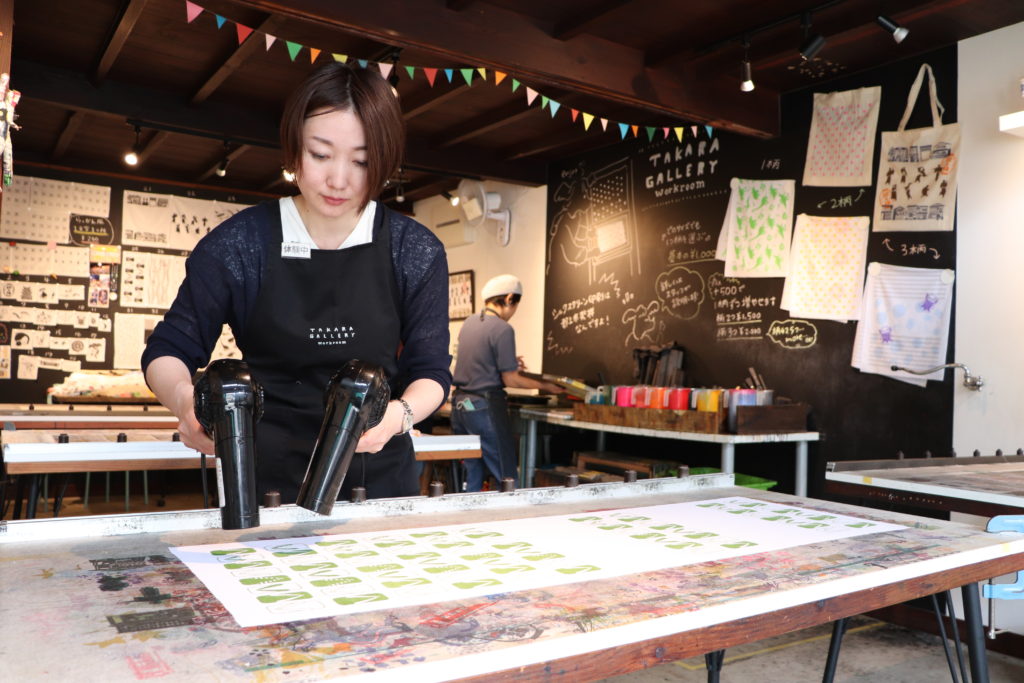 After printing the main pattern, I use the dryer to dry it. When the color turns darker, it means it is drying. The 2nd generation of mascot puppy Kohaku, who came to the Uemura family a few months ago, comes to us and cheers us up.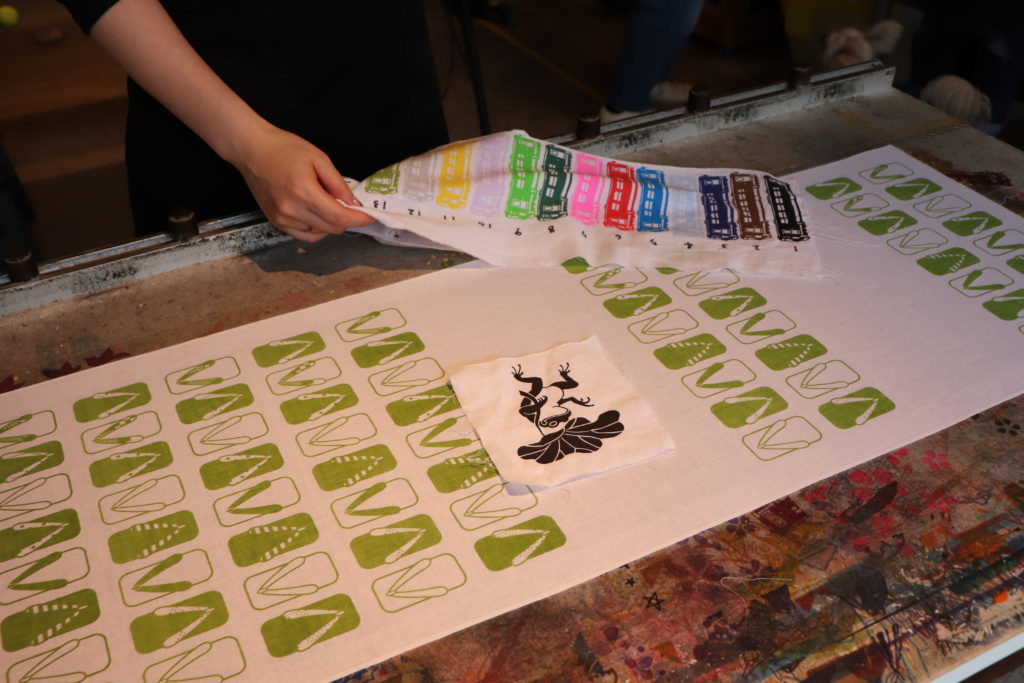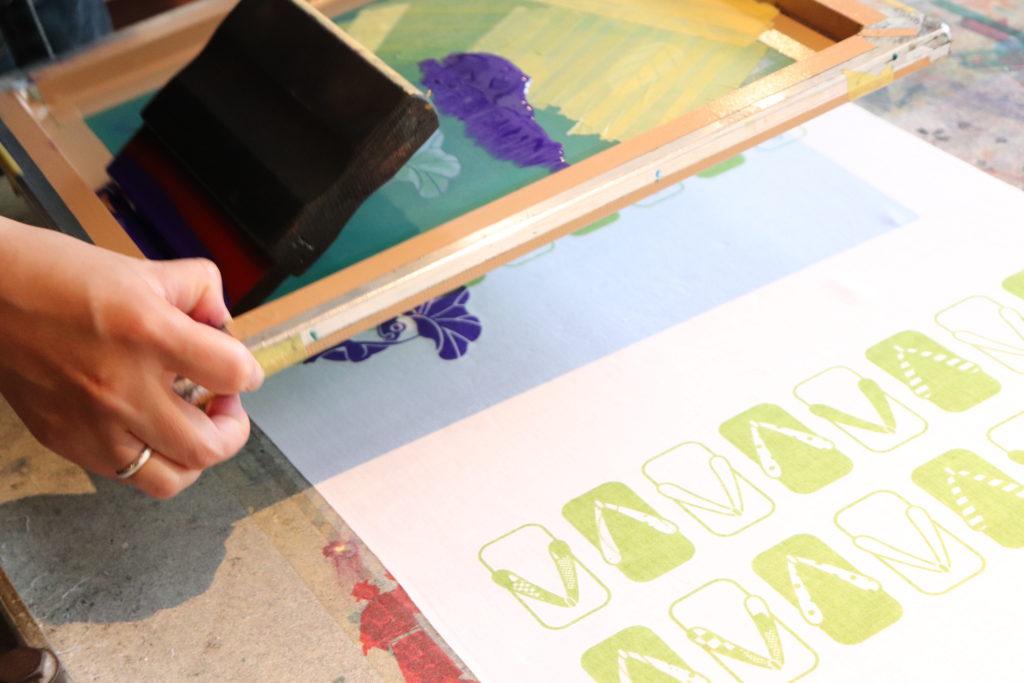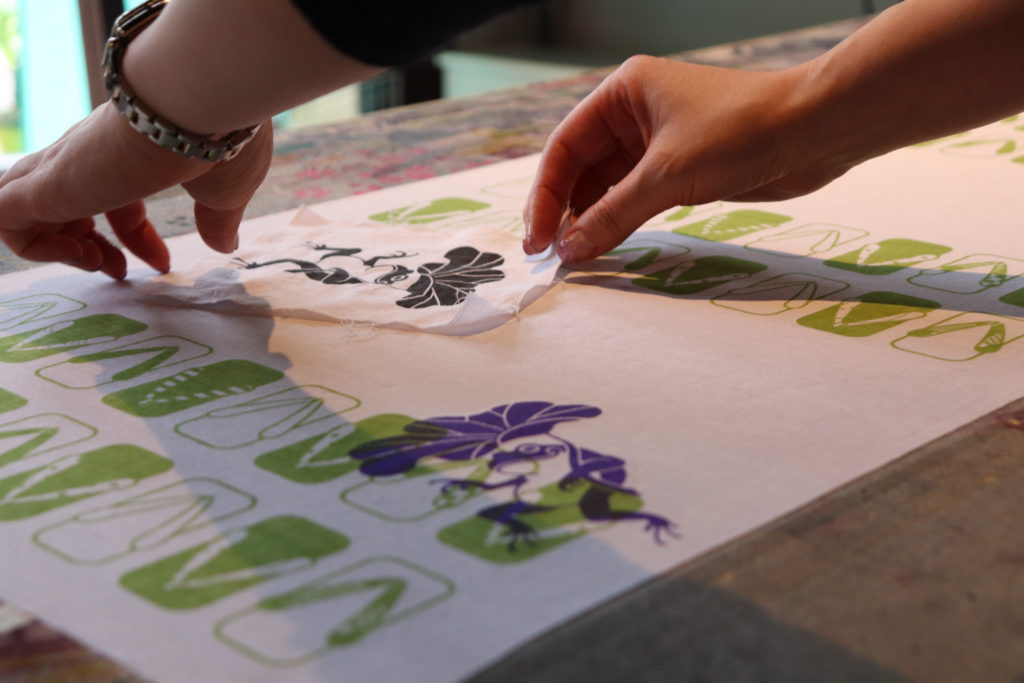 Next is the smaller pattern (or we call it chibi pattern). After printing the main pattern, more and more ideas come out. I use small cloths with prints to decide where to put the chibi pattern. Put it over the main pattern or out the two of them side by side, thinking is so much fun!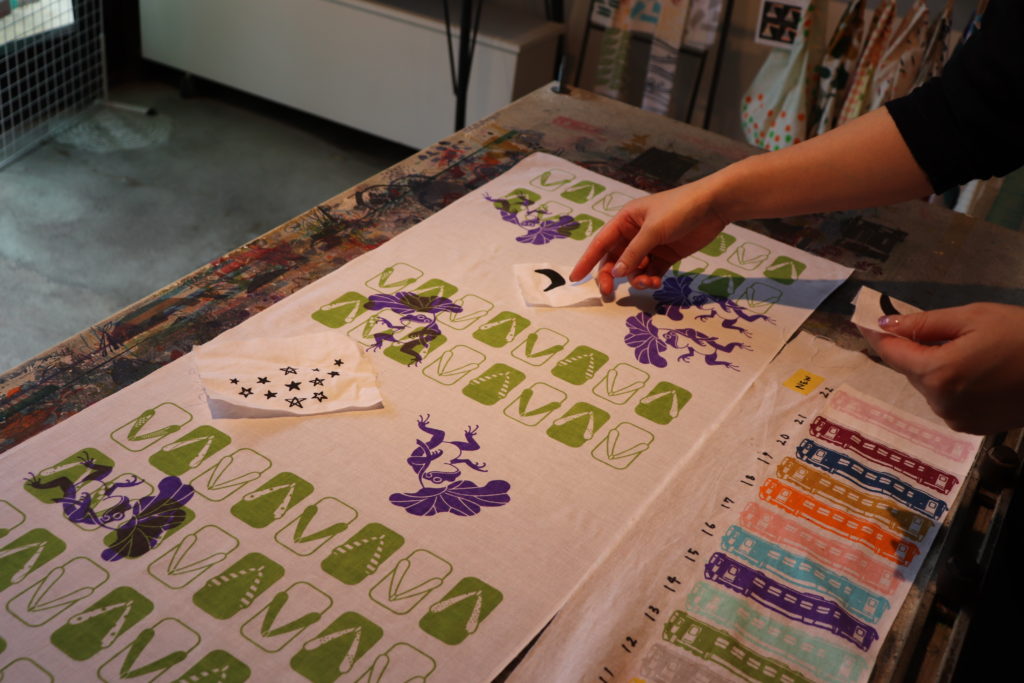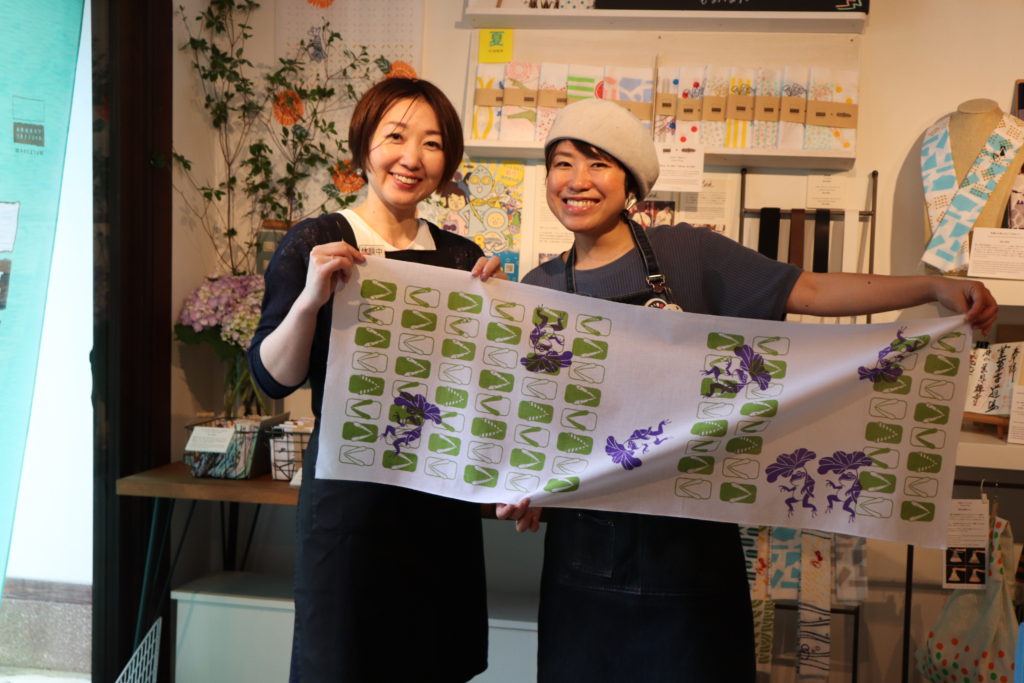 After I decide to print 7 chibi patterns, I still think something missing. Maybe add something yellow? More and more ideas come out and try putting all of them together. Mrs Uemura said if you cannot decide, it means you do not need it. Women tend to fill all the gaps and men tend to leave spaces. I totally agree with her! My friend just finished making her Tenugui.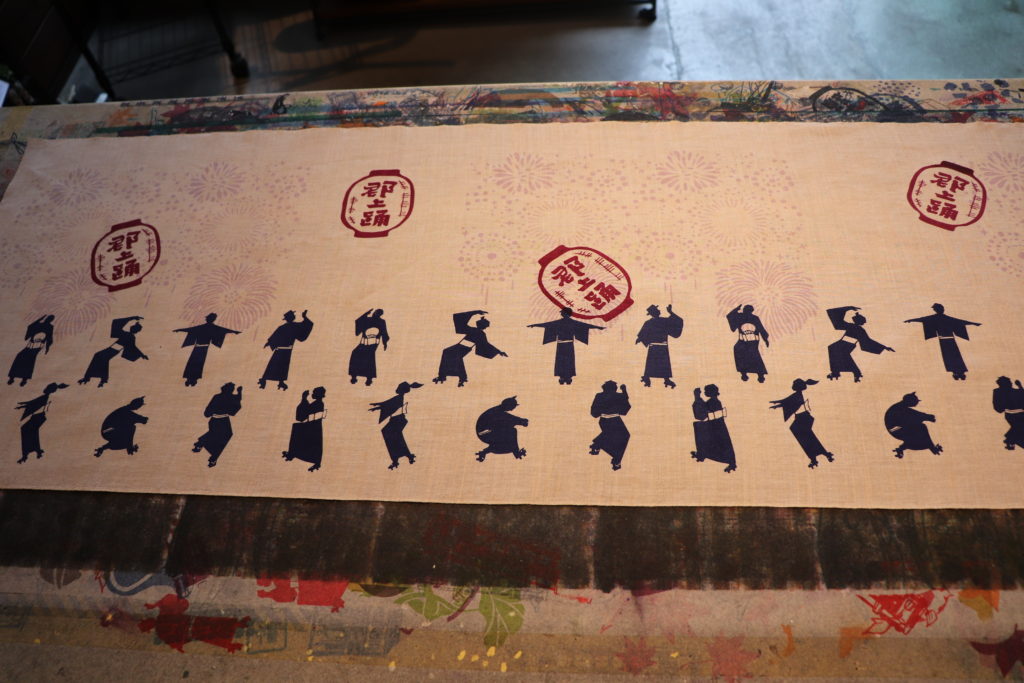 I print people dancing Gujo Odori on top of the firework and lanterns. Mrs Uemura said my choice of colors is so cool. I want to use that next time! Many ideas come up while I am making. I need to come again soon! I realize why there are so many repeaters here!
We finish printing our Tenuguis with so much fun! (Time needed may varies according to number of visitors) Prevent the colors from fading, please do not wash in 2 to 3 days. After that, you can wash and use it as usual. You can use it not only during the Gujo Odori Dance Festival, but also when going to hot spring or at home.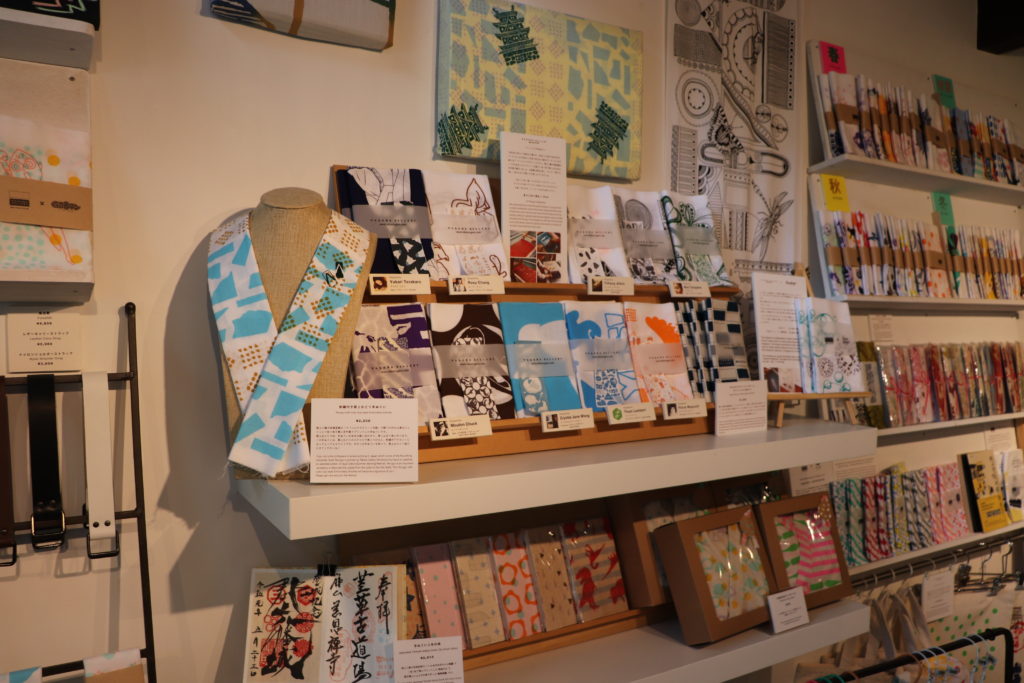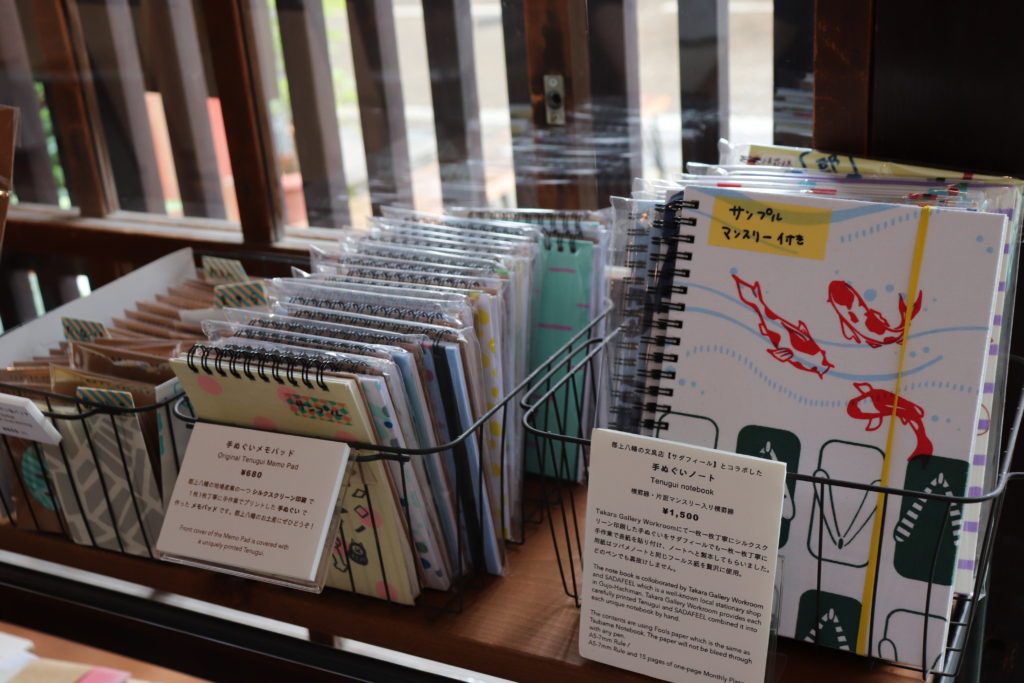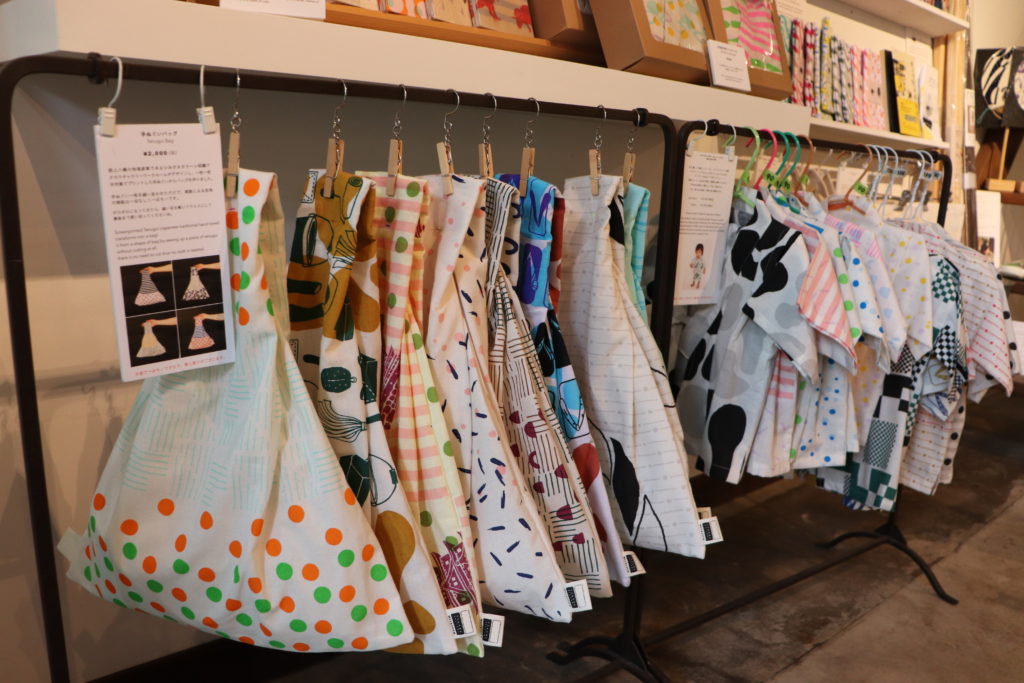 Original Tenugui, ecobag and Jinbeie for kids (A kind of informal clothes for men) are available for sale at the shop.
Mrs Uemura sees us off with a big smile and says "Itterasshai! (Meaning see you and have a nice day.)" You can know the personality of Mrs Uemura with this warm greeting. We replied "See you later! We will enjoy our trip at Gujo!" and left the workshop.
About TABITABI Gujo

TABITABI Gujo editorial
TABITABI Gujo is a general media site for sightseeing in Gujo introducing attractive tourist spots in Gujo with a slogan of "Gujo, a place you want to visit many many times." While knowing more about Gujo, we continue providing information on travel suggestions during each season in different areas, as well as the latest information of Gujo-shi.
Photographs by TABITABI Gujo Editor Team