Go on
a mysterious tour
at Jomon CaveOtaki Limestone Cave and
Jomon Cave
Largest cave at Tokai area
A limestone cave with total length of over 2km
"Otaki Limestone Cave"
History of Otaki Limestone Cave started from more than 200 million years ago. This large limestone cave was discovered more than 40 years ago. Only 700m of the cave is currently open to the public. Some stalactites turned red due to the dissolution of metal ions, which are rarely seen in other places. Highly transparent stalactites are academically valuable, and research is still ongoing. The main highlight in the cave is the open space named "Tenjokai (Heaven)". If you stop and look up at the ceiling, a fantastic world spreads.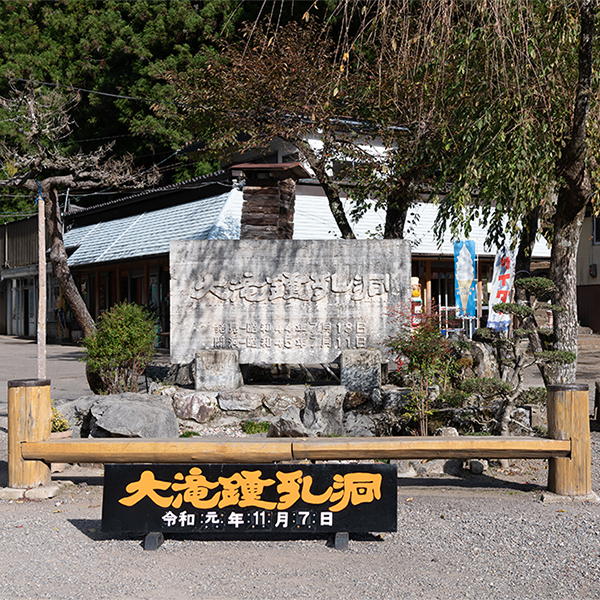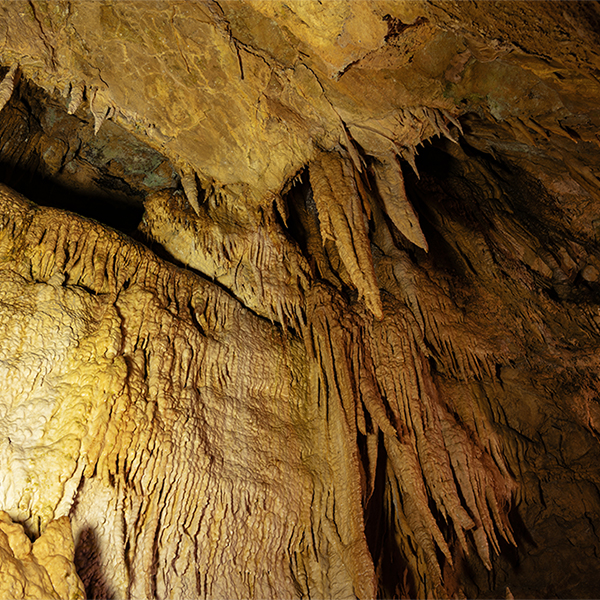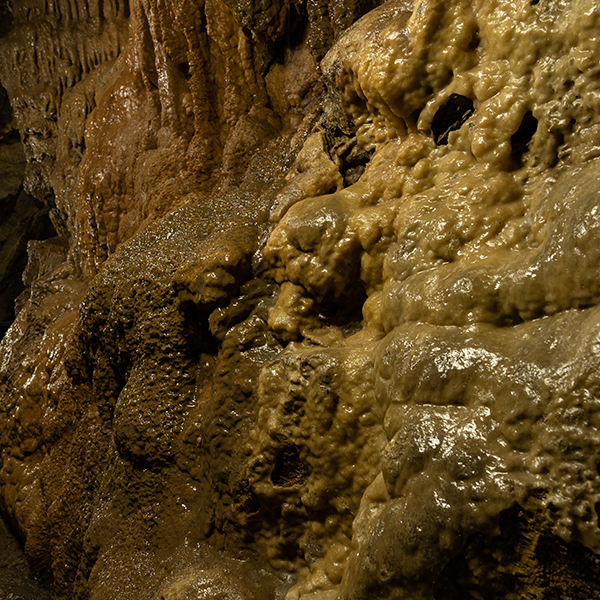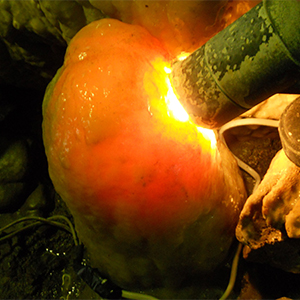 0/0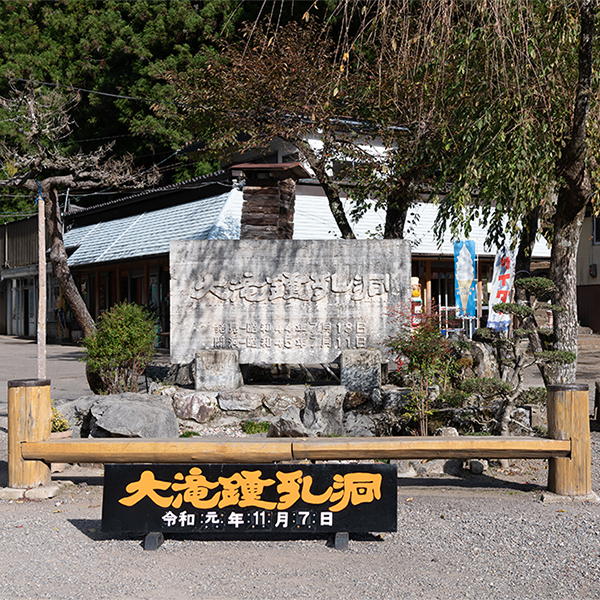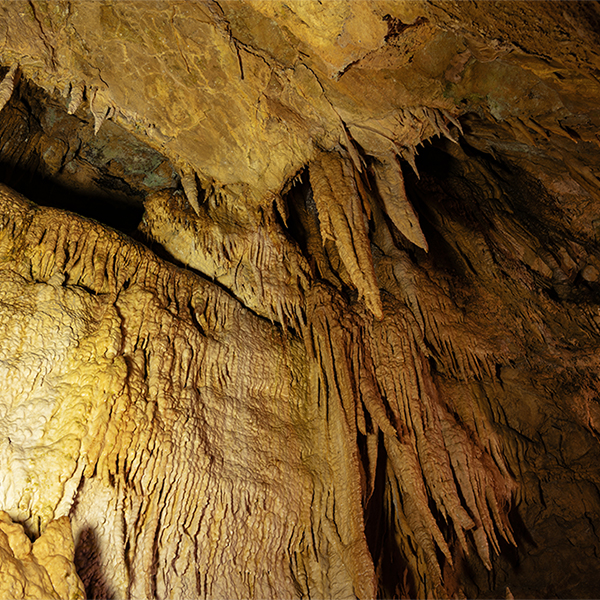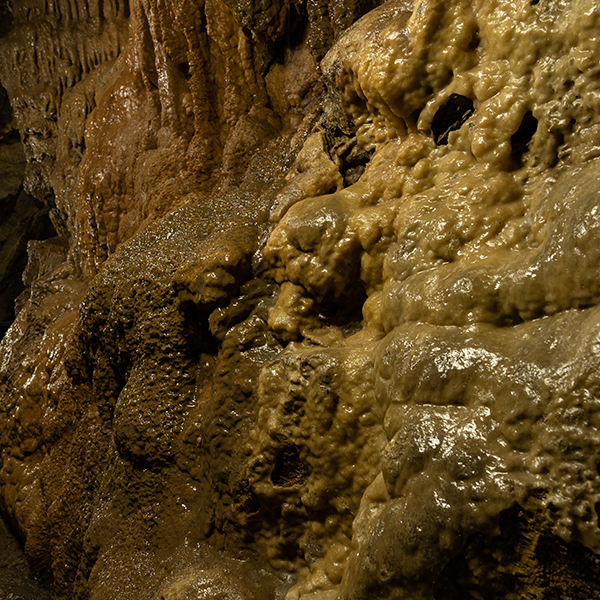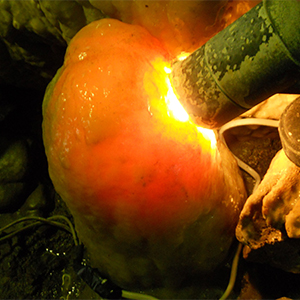 The symbol of Otaki Limestone Cave is of course a large waterfall. It is the largest underground waterfall in Japan which is about 60m below the surface of the earth with a head of 30m. The amount of water is so abundant that your clothes will get wet when you stand nearby. Loud sound of water echoes around you. All are giving you a refreshing experience. Especially on the day after a rainy day, the amount of water increases, and this large waterfall becomes more powerful!
As it is more watery and slippery than other limestone caves, please be careful while walking inside the limestone cave. Water springs with an excellent balance of minerals near the waterfall is said to be water for immortality and longevity. There is also a waterfall which is unfortunately not open for public, falling in four layers at a height of 40m, and also various stalactites created by the abundant groundwater.
Riding a wooden cable car
to Otaki Limestone cave
Take the cable car (with 24 seats) to the entrance of the limestone cave. Wooden cabin, which is rare in Japan, using cable cars in Interlaken, Switzerland as its model. Cable car with the scent of chestnut trees slowly is travelling down the steep slopes of the cedar grove and carrying you to the entrance of the limestone cave, just like an attraction in amusement park! Please enjoy the excitement of starting a journey of expedition.
Otaki Limestone Cave is located near to Jomon Cave. Remains of a residential area during Jomon era (14000 BC to 10th century BC) residence were discovered. In addition to the remains, it is a stalactite cave where you can see high-purity stalactites, worm-eaten ceilings, and stalagmites. We are holding a Jomon Limestone Cave Mystery Tour making good advantage of the mazed liked structure. It is easy to walk because there are relatively few ups and downs in the cave. To enter Jomon Cave, you need to make an entry at Otaki Limestone Cave. Even though it is a tour, there is no tour guide. Borrowing a helmet and flashlight, children as well as adults can enjoy exploring the dark cave with only the flashlight. Paths are well maintained, so small children can join without worries. But the limestone cave is quite slippery, so please wear comfortable shoes. Why don't you come and enjoy an extraordinary adventure at Gujo?