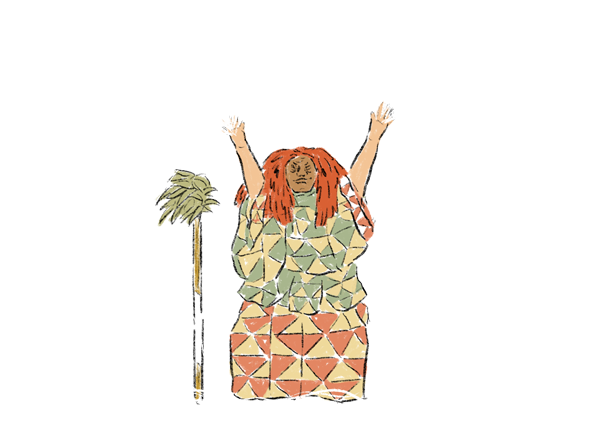 Performance of Night Noh
at Kokindenju-no-sato, Hall of workship at Gujo Yamato,
Kurusu Sakura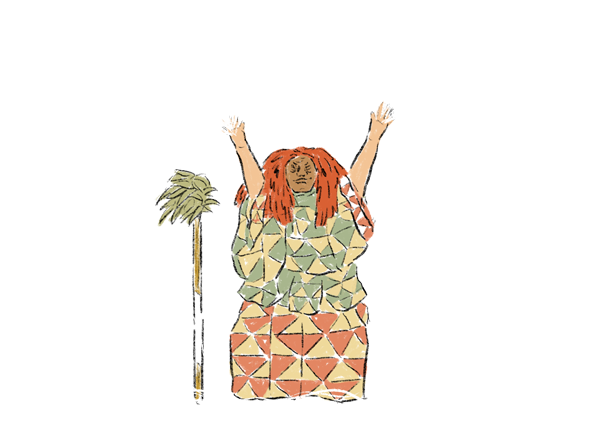 At Myoken-jinja Shrine in Yamato-cho, Gujo-shi, after the annual "Nanukabi Matsuri" on August 7th, Kurusu Sakura is performed. This Kurusu Sakura is a Noh performance which was modeled from the 9th generation of the To Family, To Tsuneyori, who was the lord of this area during Muromachi era (1336 – 1573). Surrounded by hundreds of years old cedar trees, this Noh performance in a splendid hall of worship is like watching a story. You can sense the strong feeling of local people about the culture and Waka (Japanese poem) through this Noh performance "Kurusu Sakura" started in 1988 at Kokindenju-no-sato of Gujo Yamato-cho.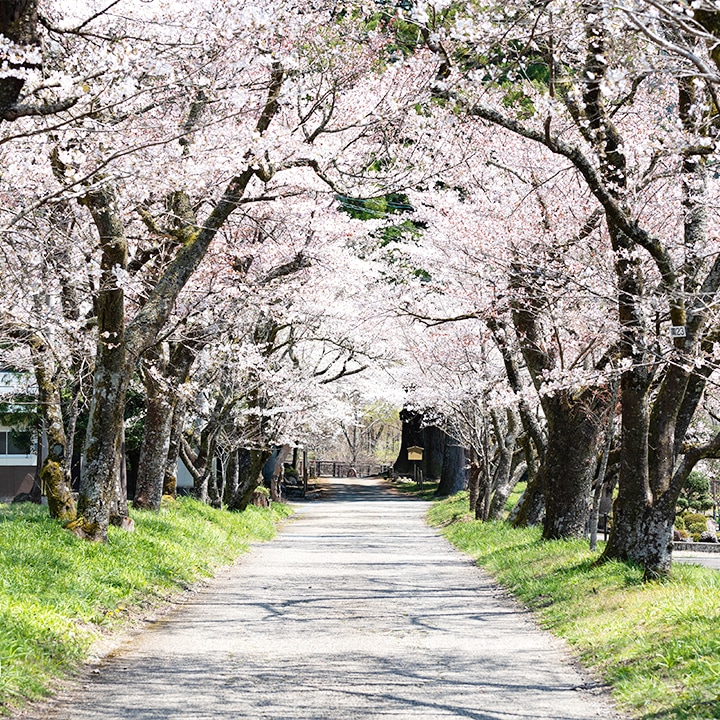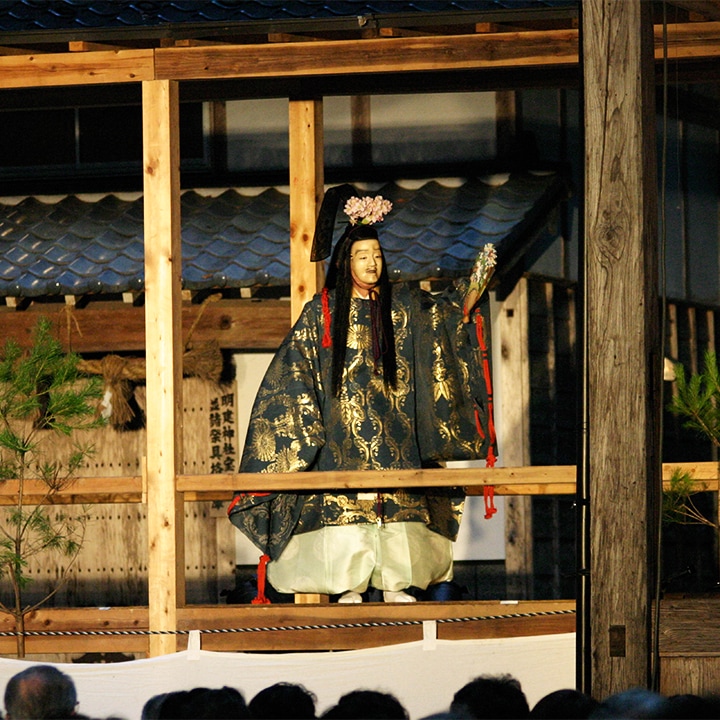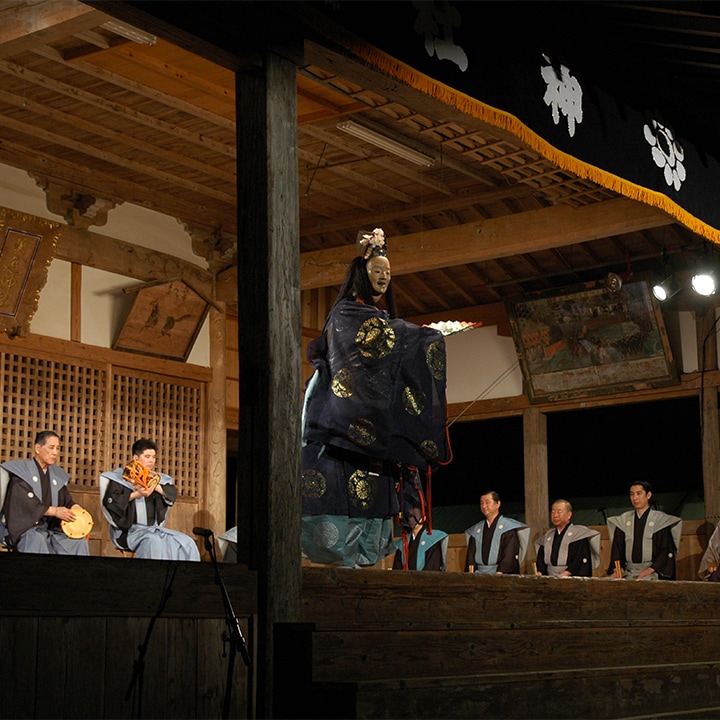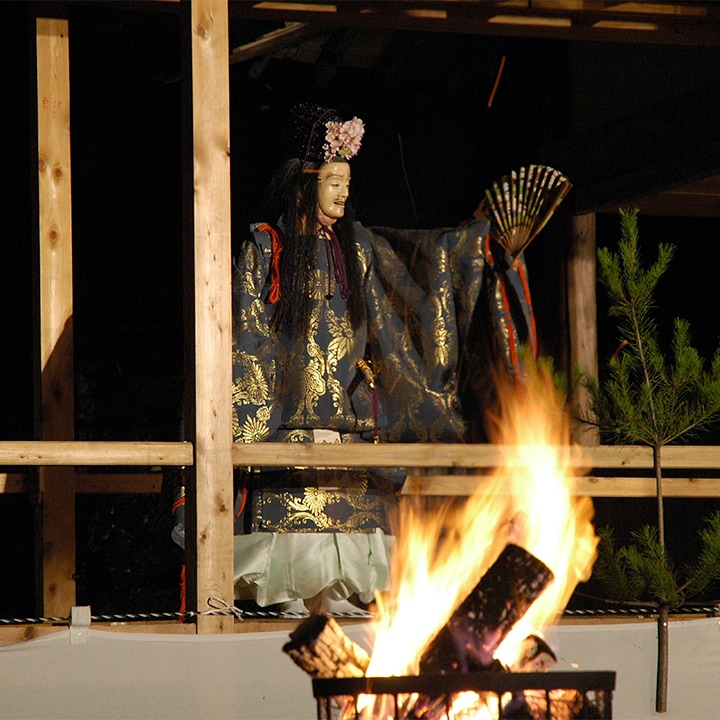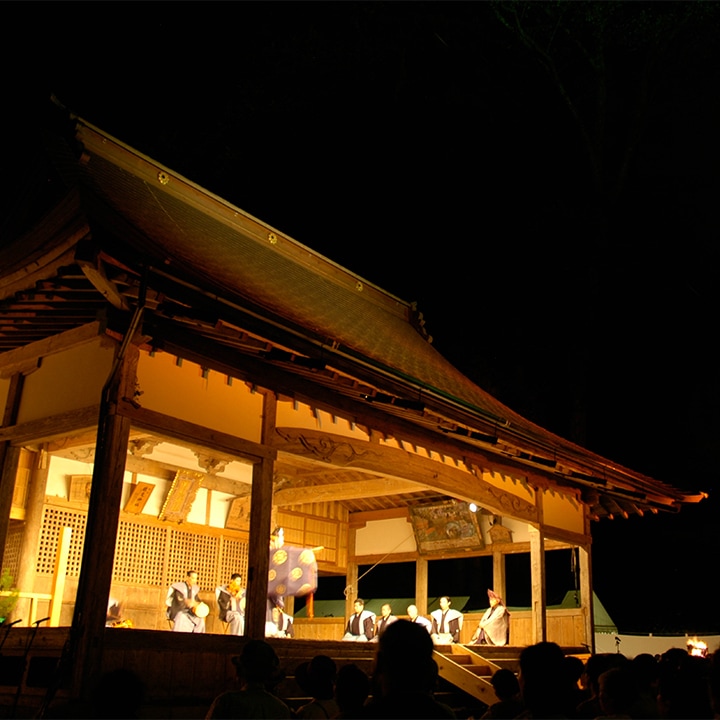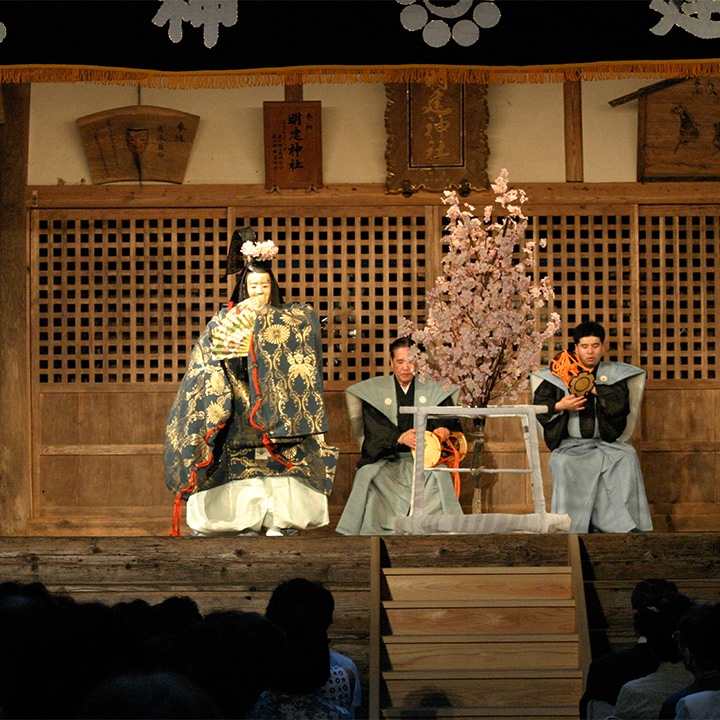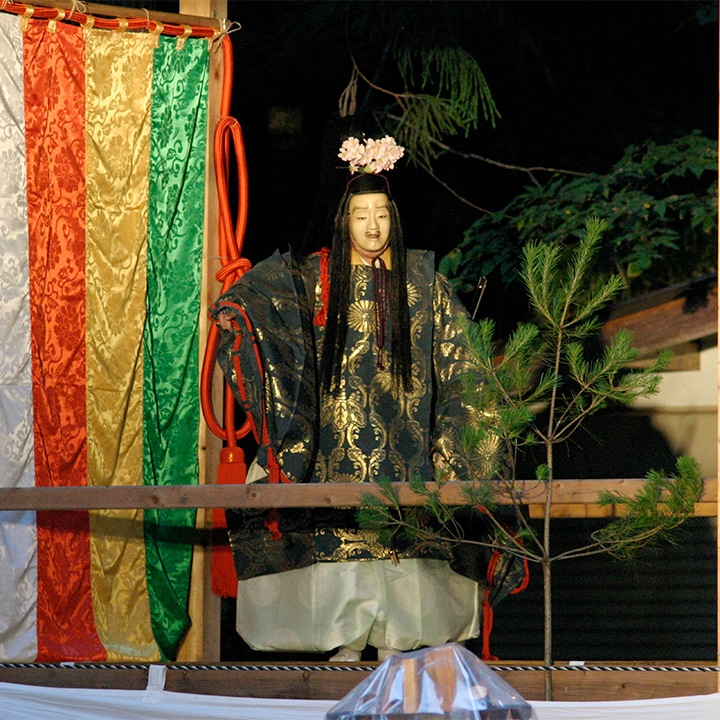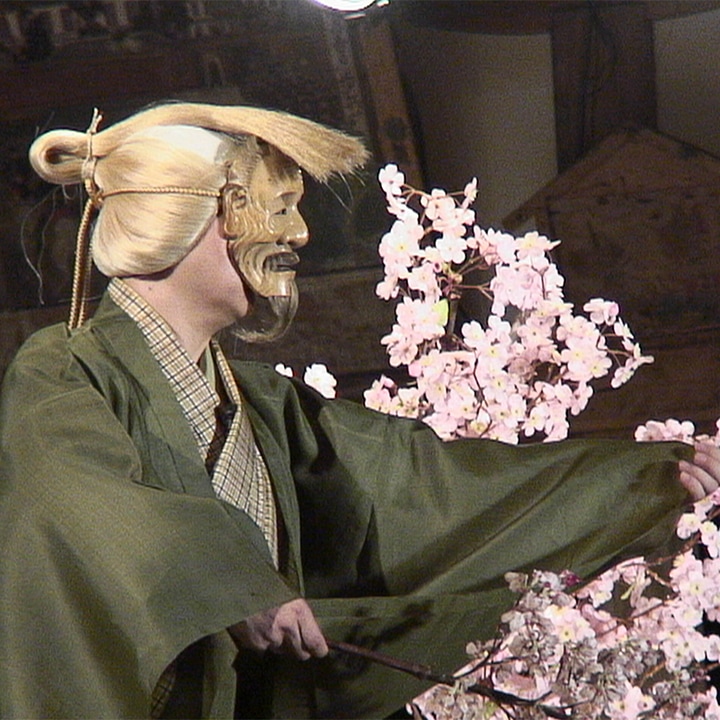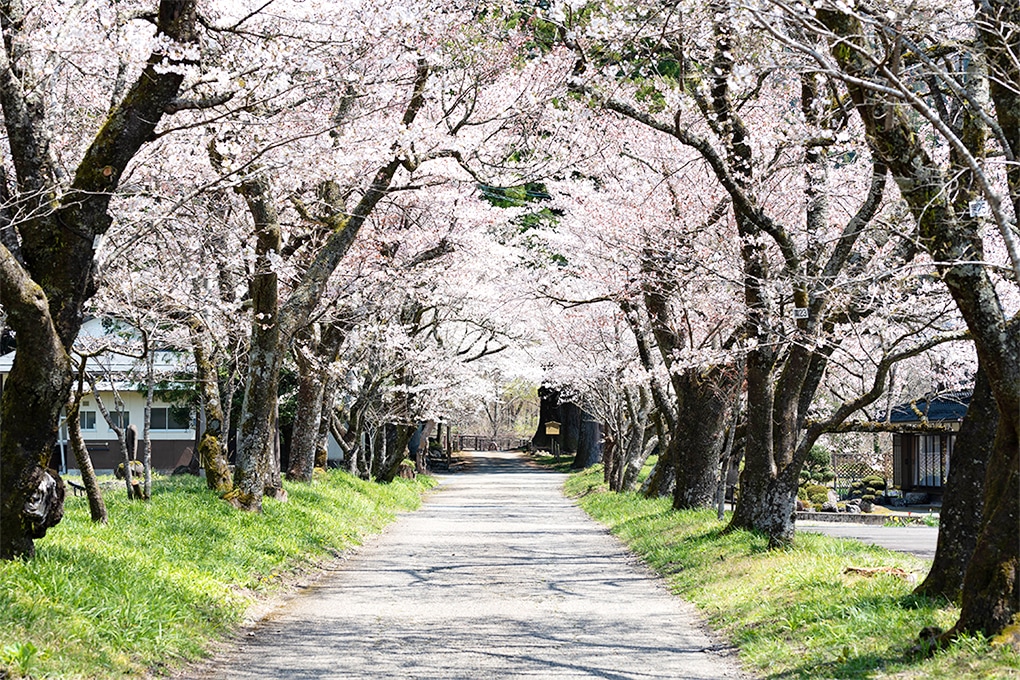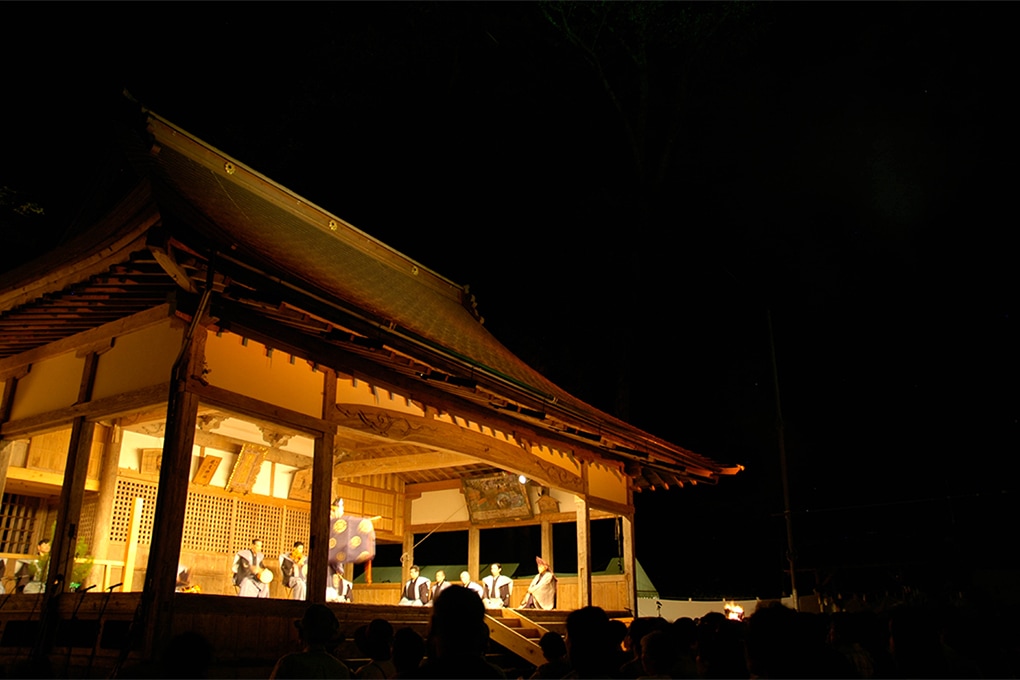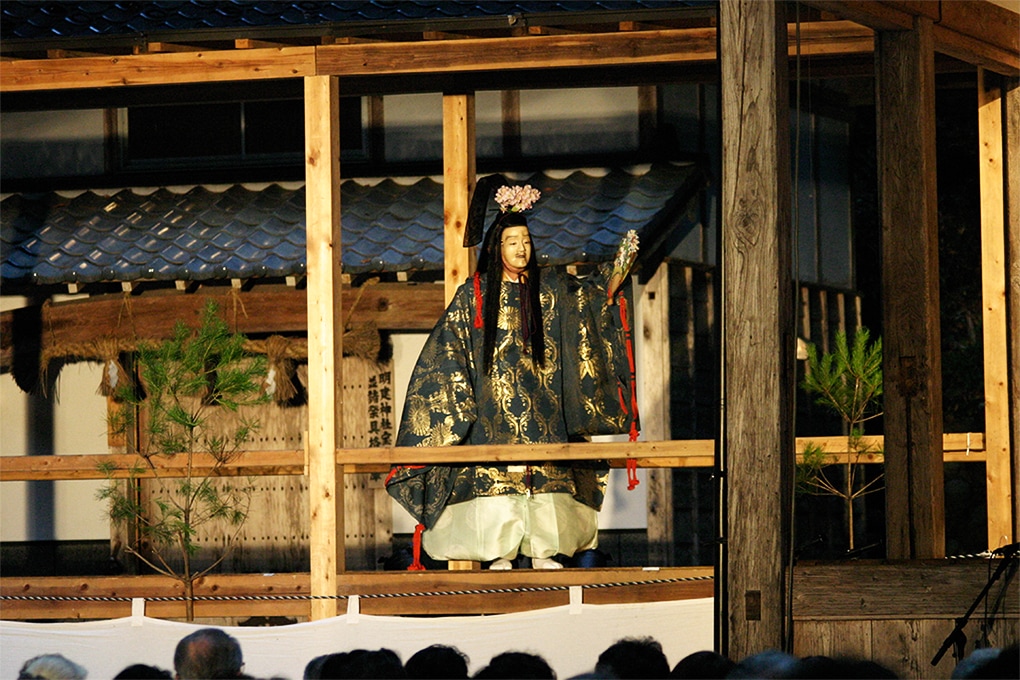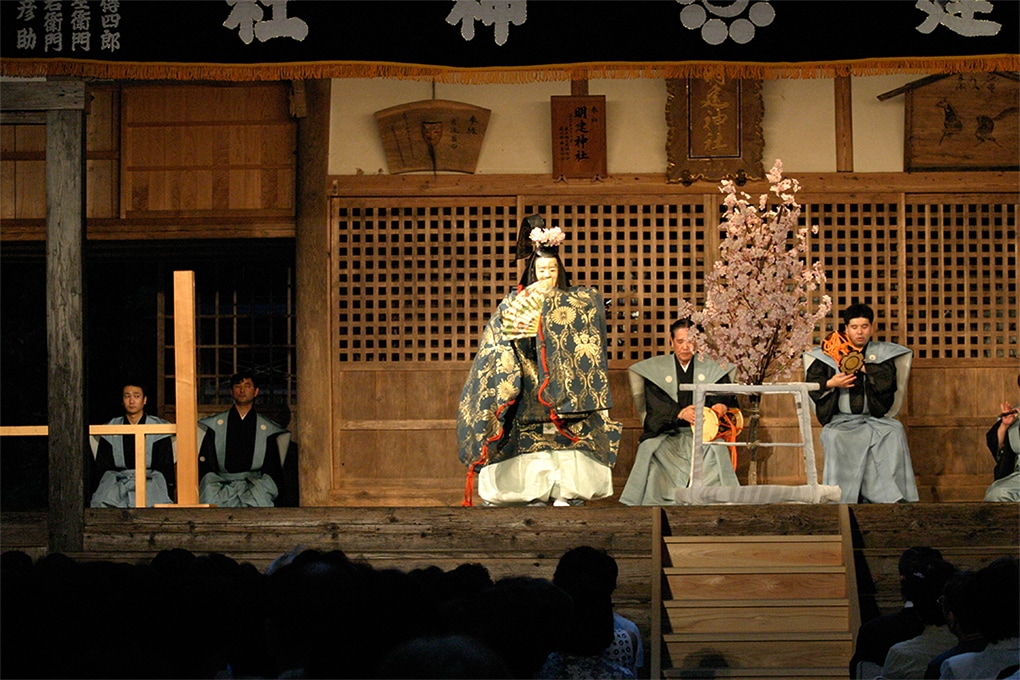 0/0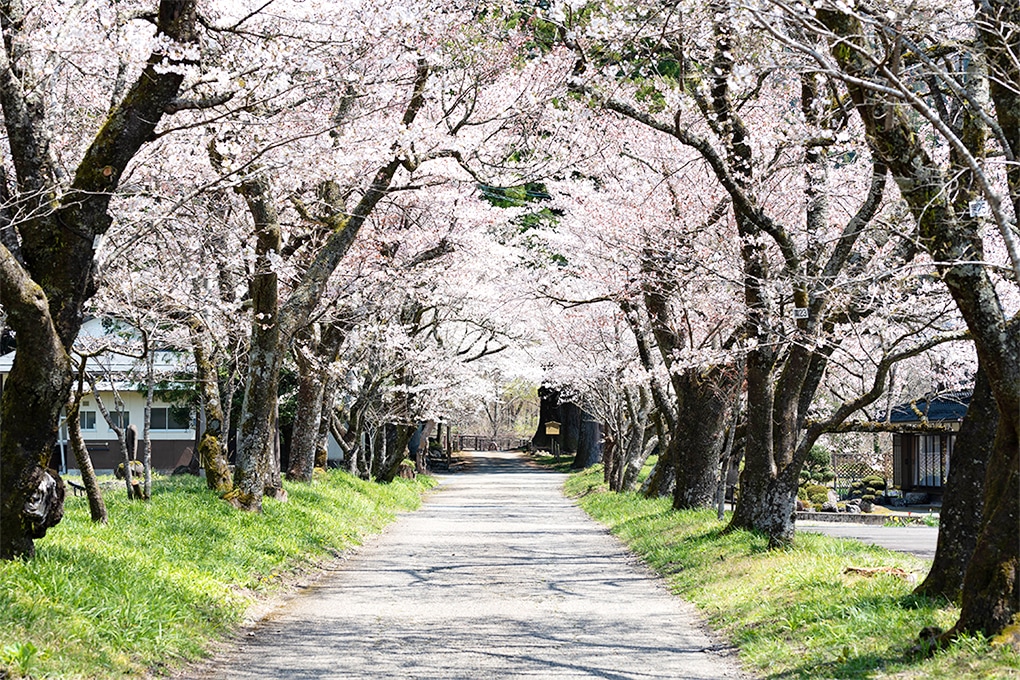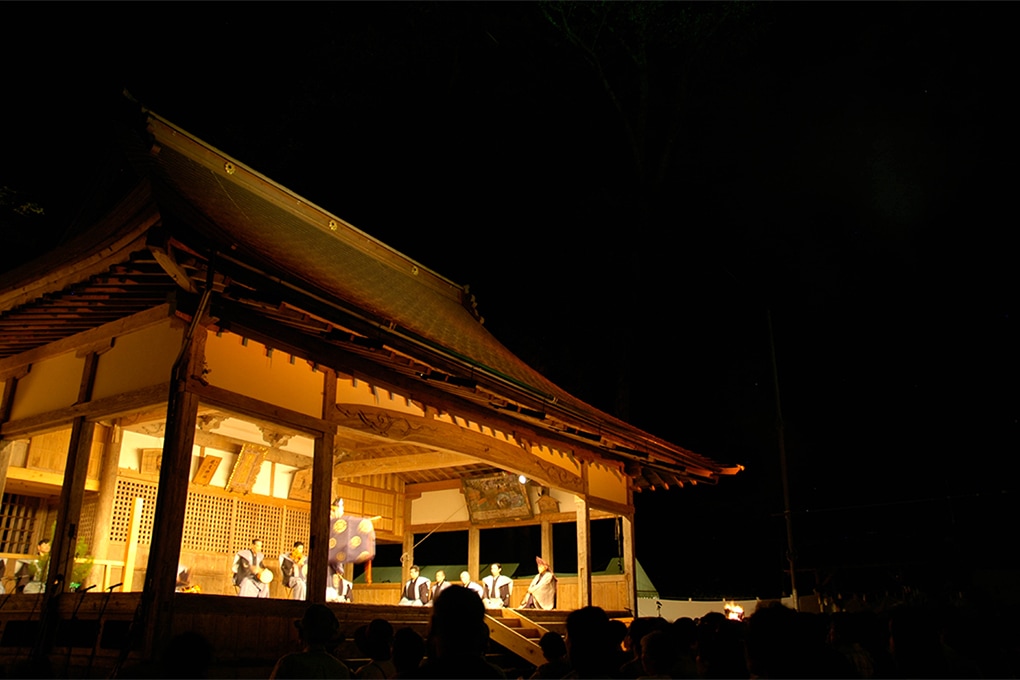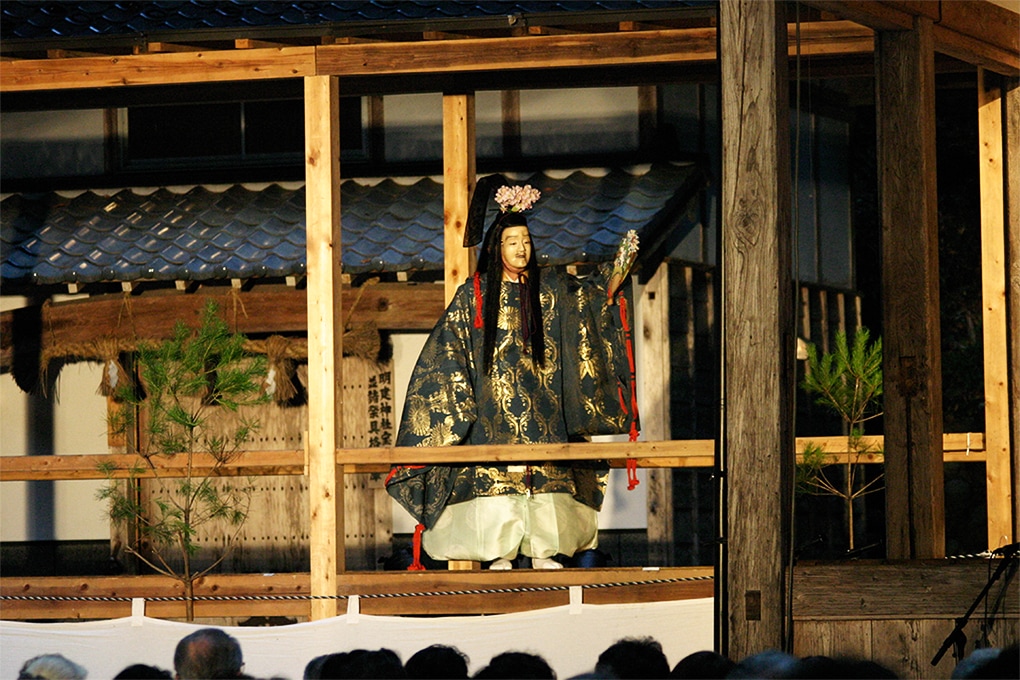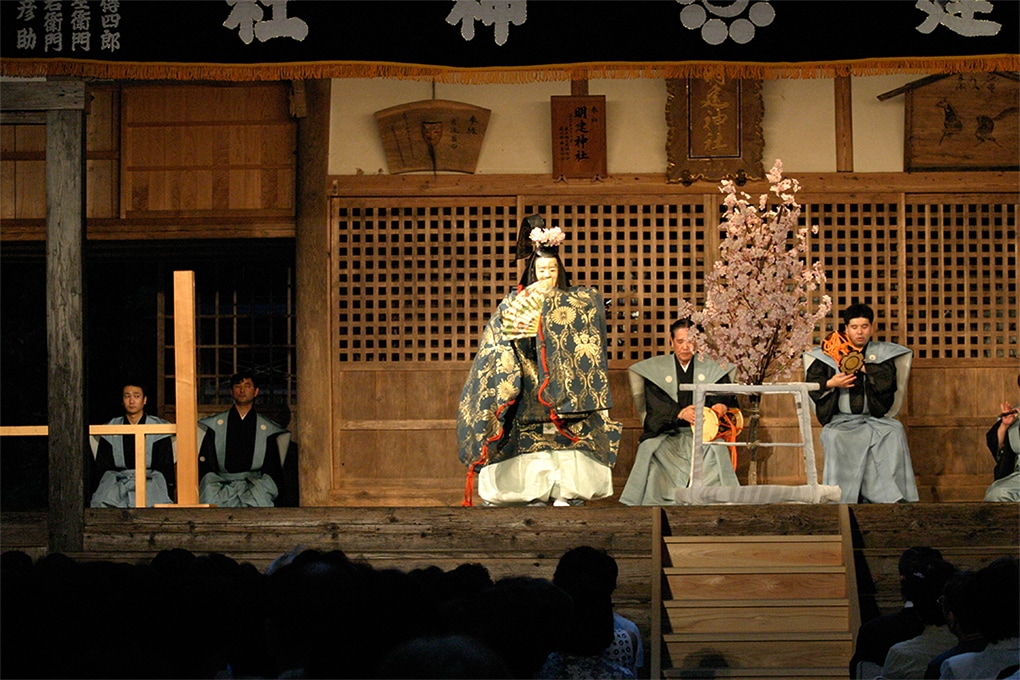 In 1979, the remains of To Family's residence were discovered at the foot of Mt Shinowaki. Excavation revealed the remains of a splendid garden. In 1987, when it was designated as a national scenic spot, more than 200 members gathered to launch Toshi Culture Honoring Association, and Tanka competitions and study sessions began to be held. In 1988, a Noh performer in Kyoto Mr Ken Mikata created a play of Noh based on the song book Kurusu Harusakura owned by the Murase family in Hachiman-cho, Gujo-shi. Furthermore, in Yamato-cho, the Chamber of Commerce and Industry Youth Division played a central role in recruiting volunteers to form Takigi Noh Kurusu Sakura Executive Committee. Finally, on the night of August 7th in the same year, the first Takigi Noh Kurusu Sakura was performed at the hall of worship of Myoken-jinja Shrine. Over 1,200 visitors visited the shrine and the play ended with great success.
Miakashi-utsushi (Lamp Transfering)
– Three kinds of fire lamp on the Noh stage –
One week before Kurusu Sakura is held, there is a ceremony Miakashi-utsushi to carry the fire of Takigi Noh. Three fires are used: Chiba's fire and Hakusan's fire as traditional flames, and Shinowaki's fire as future flames.
Chiba's fire
The Chiba family, who accompanied Lord To to the county, settled in the present Meiho Kera. They have continued to protect the fire which broke out at that time until now, for more than 800 years. This fire is still being protected by volunteers from Meiho area. Fire is split and carried to Myoken-jinja Shrine.
Hakusan's fire
The original of "Kurusu Sakura" is closely related to the monks at Hakusan Choryuji Temple. It is lit from sunlight at the top of Hakusan mountain range and carried to Myoken-jinja Shrine.
Shinowaki's fire
Local children ignite the fire from the sunlight at the national scenic spot, Toshi-yakataato-teien and carry it to Myoken-jinja Shrine.
Synopsis of Kurusu Sakura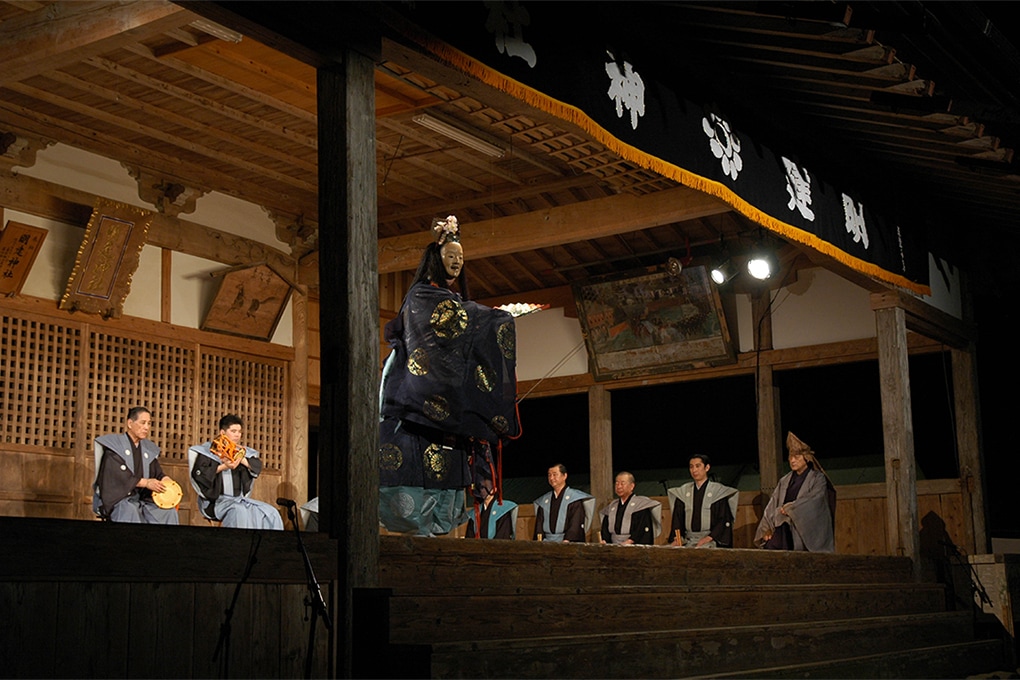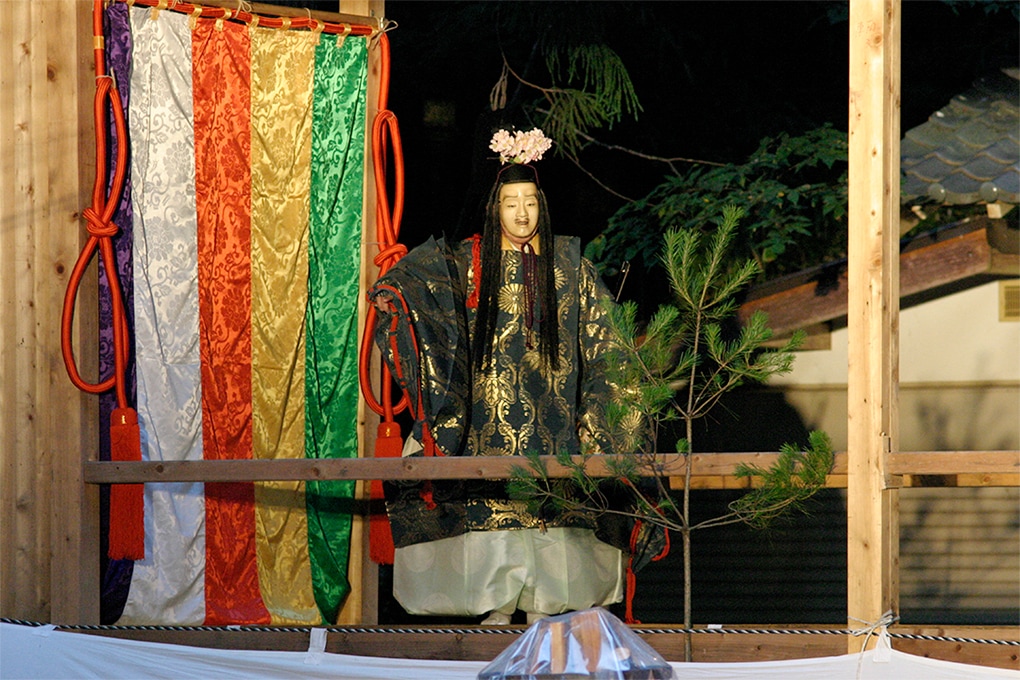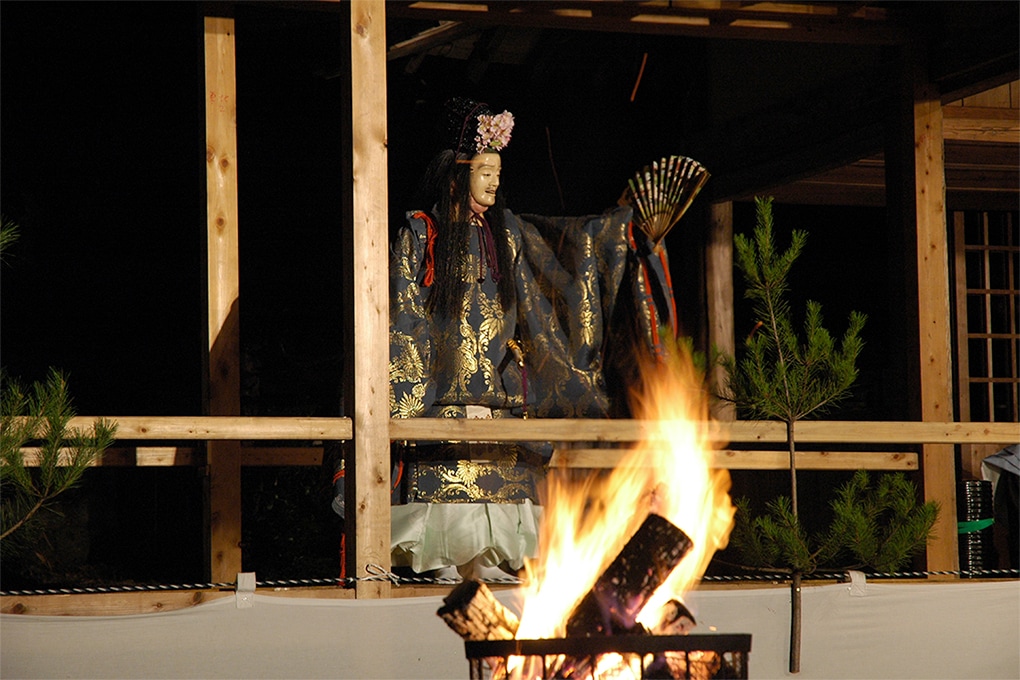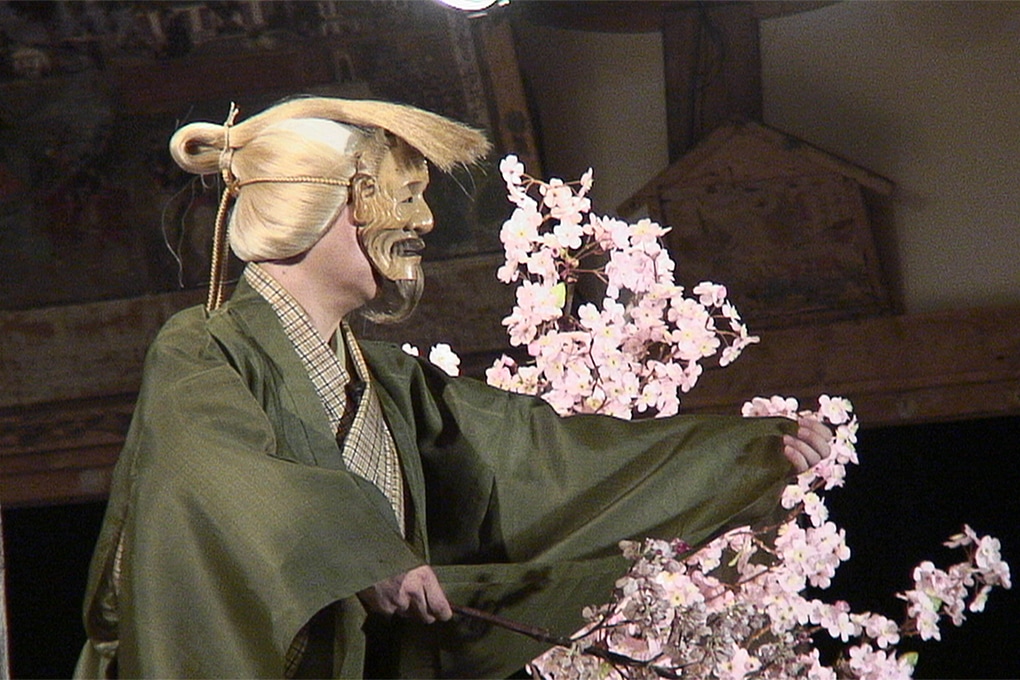 0/0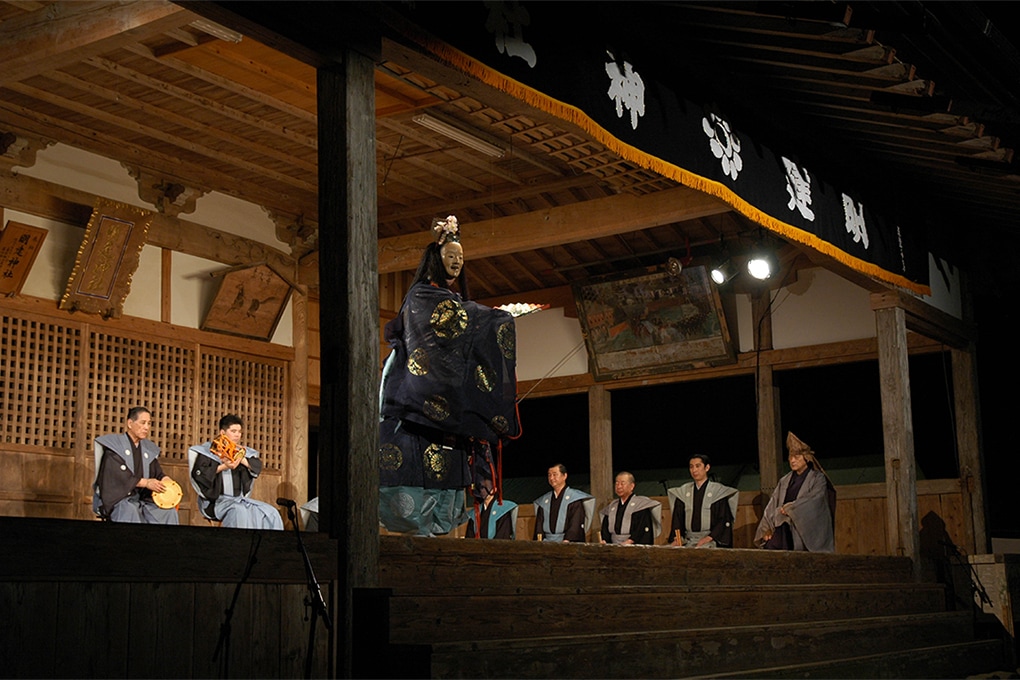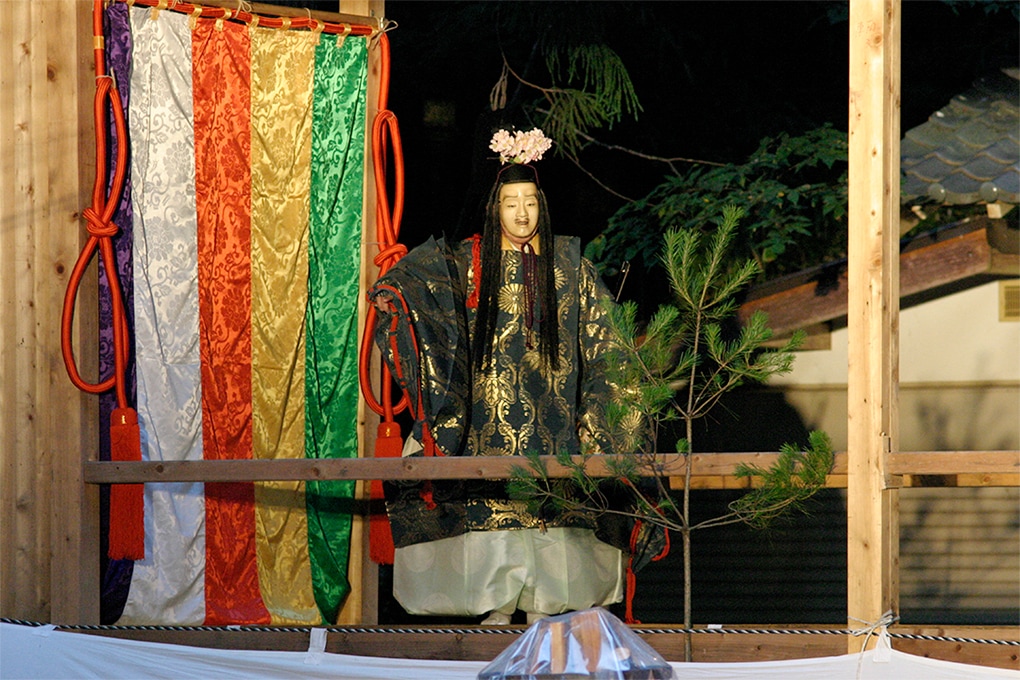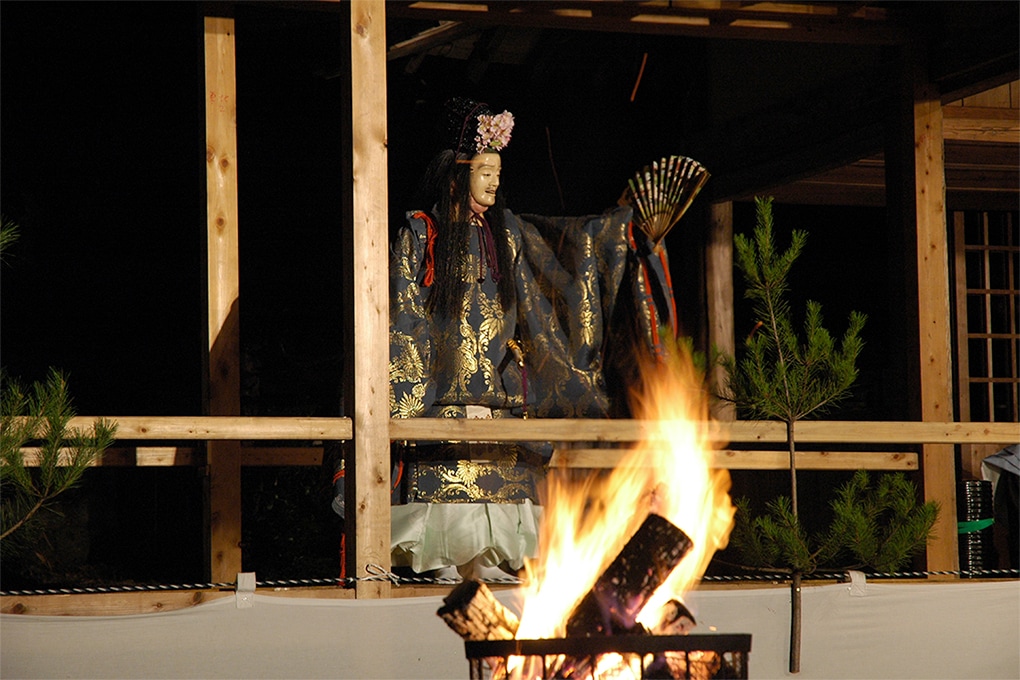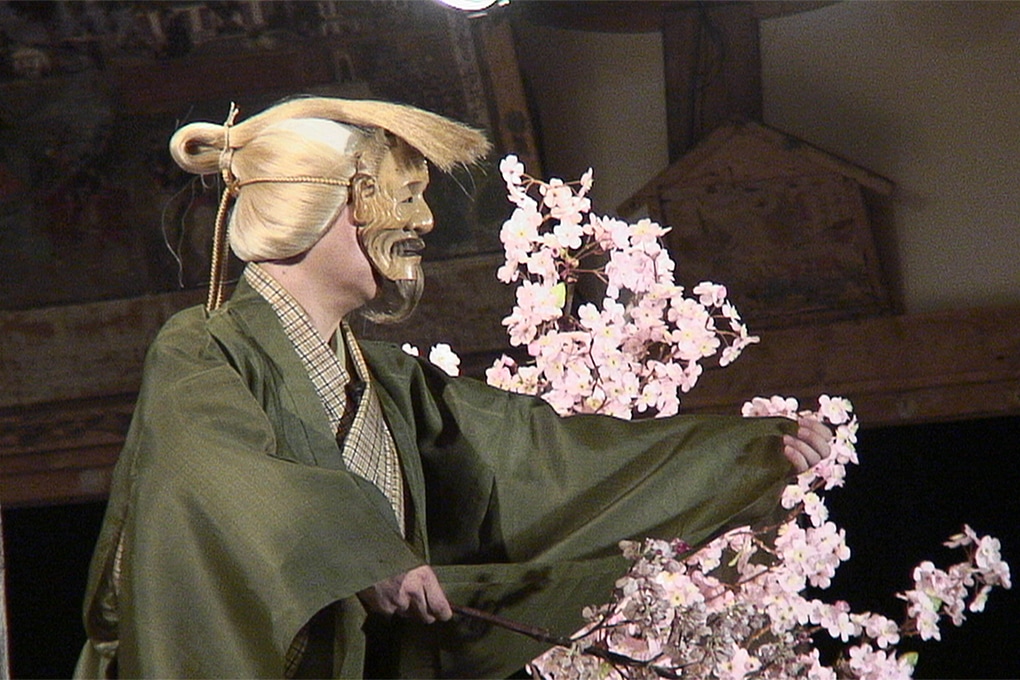 On the way to the capital, a Hakusan monk made a stop at Myoken-gu. An old man appeared and heard him say about the story of this land and Kurusu Sakura trees in the cedar grove. That night, in the dream of the traveling monk when he took a nap under the cherry blossom tree, the old man reappeared in a nice outfit, revealing that he was To Tsuneyori, telling the truth of Waka, and graceful ancient times. He dances Yamato Mai (Yamato Dance) and disappeared. When the monk woke up, he saw a white sky in the east. The cherry blossoms just scattered like snow. However, the words that Tsuneyori said repeatedly about flowers and minds, remained in the ears of the monk.

Returning to the origin of Noh,
Performaing Kurusu Sakura dance in front of God
Noh performer, Mr Madoka Mikata
The second son of Mr Ken Mikata, a Noh performer who wrote the script for Noh Kurusu Sakura based on a Noh song, he has been on the stage of Noh Kurusu Sakura since its first performance in 1988. We have talked to Noh performer Mr Ken Mikata.
I first took the stage at Myoken-jinja Shrine when I was 18 years old. I just got a driving license, I took a Shinkansen to leave Kyoto, got off at Gifu Hashima. I traveled with my father and mother in a car from there, but Gujo Yamato was farther than I expected. I remember I realized Japan is big when I drove. When I first stood on the stage of Myoken-jinja Shrine, I felt like I had returned to the "origin". The air and smell are different from those performed indoors or in Noh theaters. In the old days, Noh wished for world peace and a good harvest, and I realized that it was performed in such places as a Shinto ritual. Standing in an outdoor hall of worship, I felt so honored for being able to perform Noh in front of God.
Noh is determined in detail, from the behavior and manners to how to walk and stop. It requires great concentration. However, as Zeami's words include "Seeing in different ways", which means that it is important for the performer to have a calm and objective eye. You shouldn't get too enthusiastic and lose your composure or complacency. When I stood on the stage of Kurusu Sakura, I felt very comfortable with the sound of Tanna japonensis and the wind blowing through the hall of worship. Nature suddenly helped increase the level of acting. Furthermore, from the hall of worship, you can really see Mt Shinowaki. That is why I can convey more strongly to everyone the message that the culture of Japanese poetry should be spread from this area, which is included in the saying by Tsuneyori. As you can take advantage of such nature, I think the location of that Myoken-jinja Shrine is really wonderful.
Now, other than coming for performance, I visit Gujo Yamato at least three times a year to teach the 5th and 6th grades of Gujo City Yamato Minami Elementary School. At first, I used to show the actual Noh masks and talk about Noh in the classroom and show the songs and dances. But the children were very honest and cute. They absorbed quickly. When I repeated singing together, they could easily remember Kurusu Sakura. So, I taught songs and dances other than Kurusu Sakura and decided to welcome the children to stand together on the stage. The teachers also helped us, and the locals cooperated to make the children wear Yukata (Casual & informal cotton kimono) on the day so that the thoughts about Takigi Noh Kurusu Sakura of various people accumulate.
I was born and raised in Kyoto, so I didn't see the countryside at all. When I was a kid, I was wondering what life in the countryside would be like. But when I came to visit Gujo Yamato every year because of Kurusu Sakura, sometimes I was making stage props and props with carpenters and locals. Recently I want to bring my child to Gujo Yamato to eat Ayu (Sweetfish). For me, Gujo Yamato, where the stage of Kurusu Sakura is, maybe my countryside and my hometown.
Noh performance Kurusu Sakura
Venue
Myoken-jinja Shrine * Due to rain condition, venue may change and new venue will be announced at noon.
Address
Yamatocho Maki, Gujo Shi, Gifu Ken, 501-4608
Telephone number
0575-88-2211 (Gujo City Hall Yamato Promotion Division)
0575-88-3244 (Kokindenju-no-sato Field Museum)
Starting hour
Open 16:30 Start 17:00 * Subject to change
Ticket
Free seat 3000JPY
Reserved seat 4000JPY
Free seat on the day 3500JPY
Remark
Number of parking lots around the venue is limited. On the day of the event, the parking area on the south side of Gujo City Hall Yamato Government Building will be a temporary parking area. Free shuttle bus to the venue will operate from noon.