Temple One Day Trip at Gujo Hachiman

Gujo Hachiman Castle Town

You can enjoy seeing a quiet garden in a calm and cool atmosphere. (Jion-zenji Temple)


After walking straight till the end of the old town, you can find a temple related to people of the Meiji Restoration. (Chokyoji Temple)


Joint performance in front of the former town office is designated as an Intangible Important Folk Cultural Property. (Hiyoshi-jinja Shrine)
If you like history or architecture of temples, you would definitely like to go visiting all the temples in Gujo Hachiman, where many different denominations can be found. All temples have their own characteristic and history to form their traditions. You do not need to travel by car, you are welcomed to join this trip if you are interested!
1
Former Hachiman Government Building Memorial Hall
10 min.
5 min.
5 min.
3 min.
5
Ryukyo-no-sato (Lunch & shopping)
8 min.
6
Kishitsurugi-jinja Shrine
3 min.
2 min.
6 min.
7 min.
3 min.
1
Former Hachiman Government Building Memorial Hall
A base of our trip at the center of the city
Former Hachiman Government Building Memorial Hall is located at the center of Gujo Hachiman. This two-storied wooden western style building was used as Hachiman town office till 1994 and was designated as a Registered Important Cultural Property in 1998. It is now used as a tourist information center and a base for tourist. Entry fee is free of charge. Souvenir & specialty corner, restaurant and rest place are inside this information center. If you are going to take a walk around Gujo Hachiman, here will be your starting point of your trip!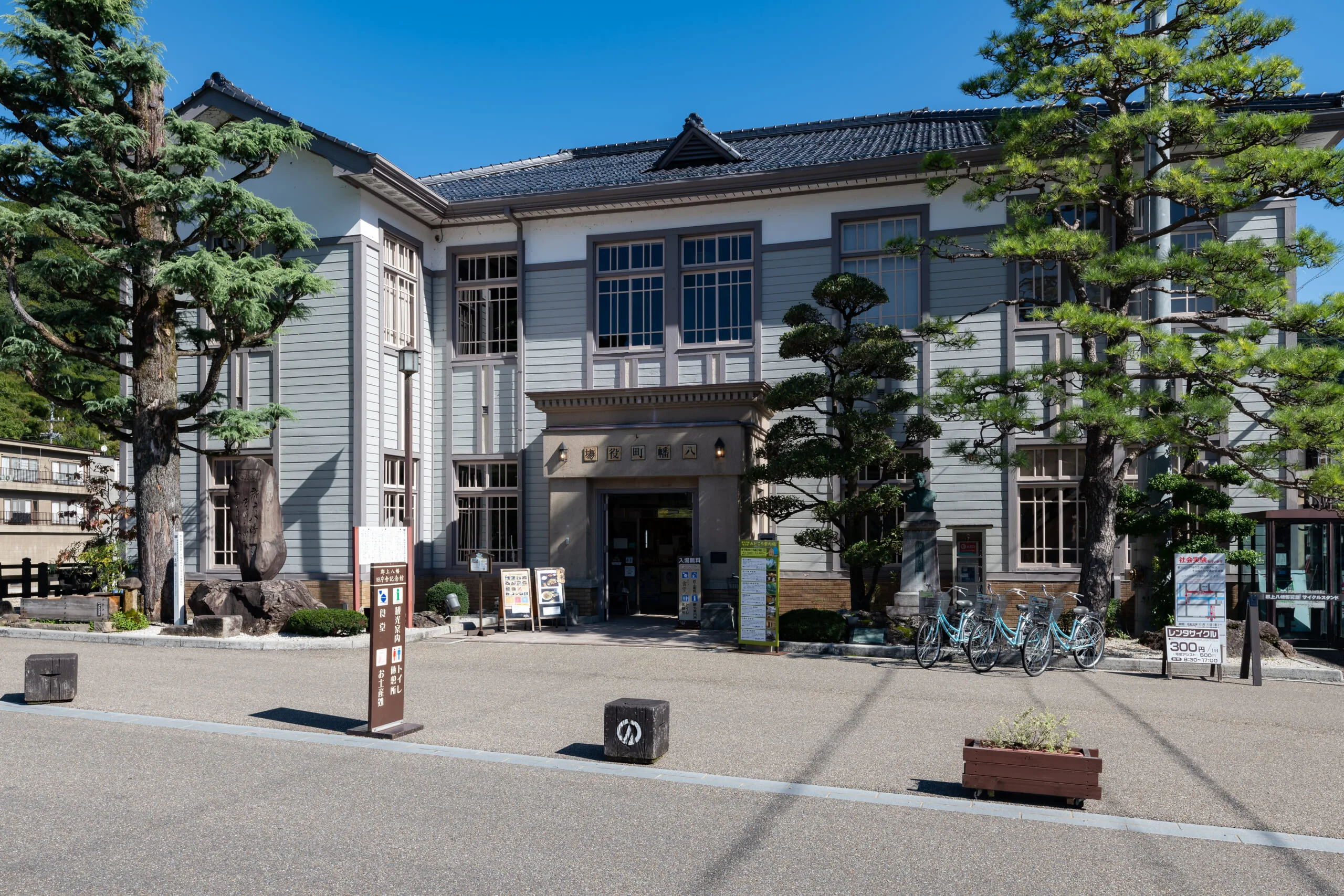 This nostalgic building renewed from the town office is good for taking photos.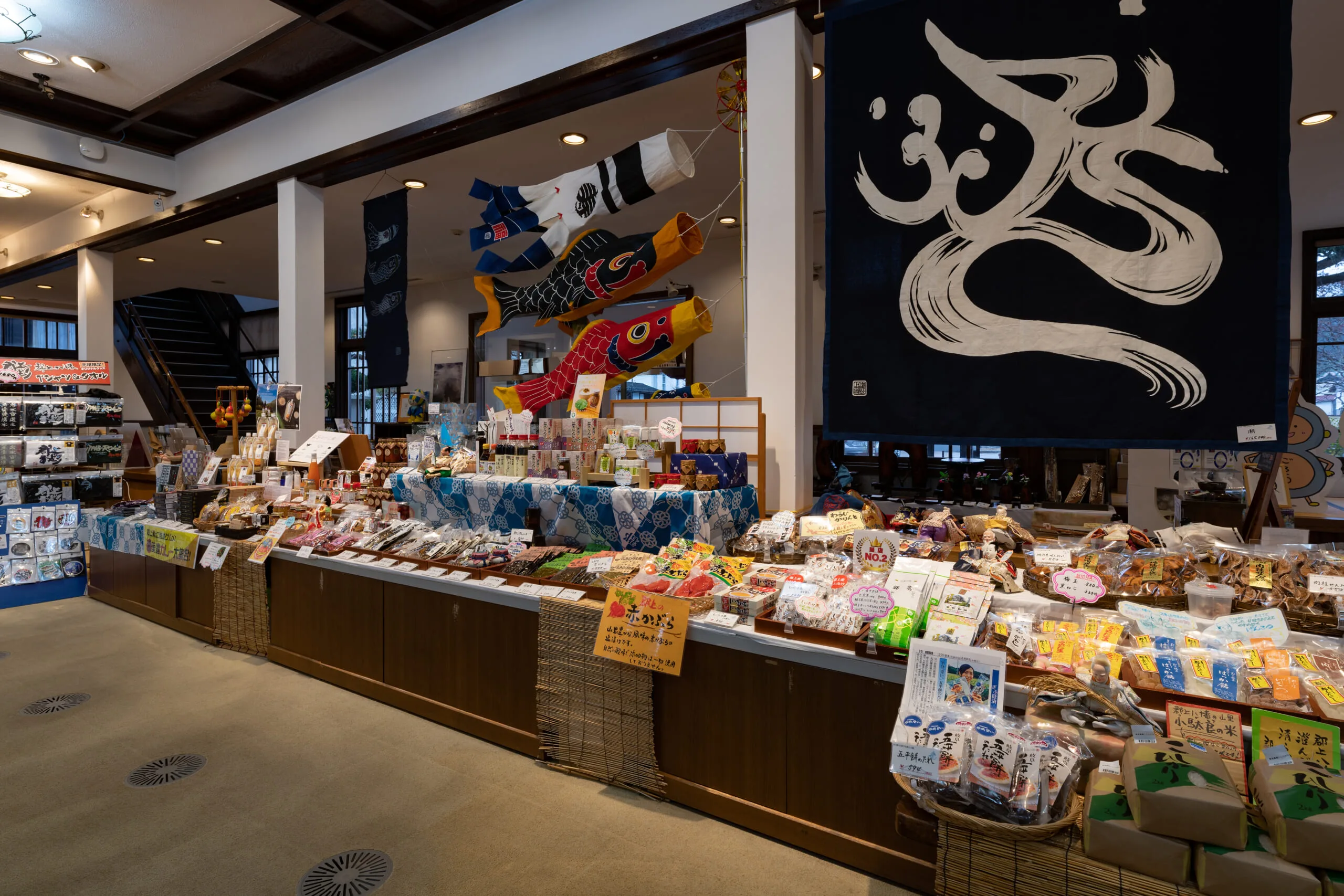 Visitors can buy local Gujo specialties at the souvenir corner.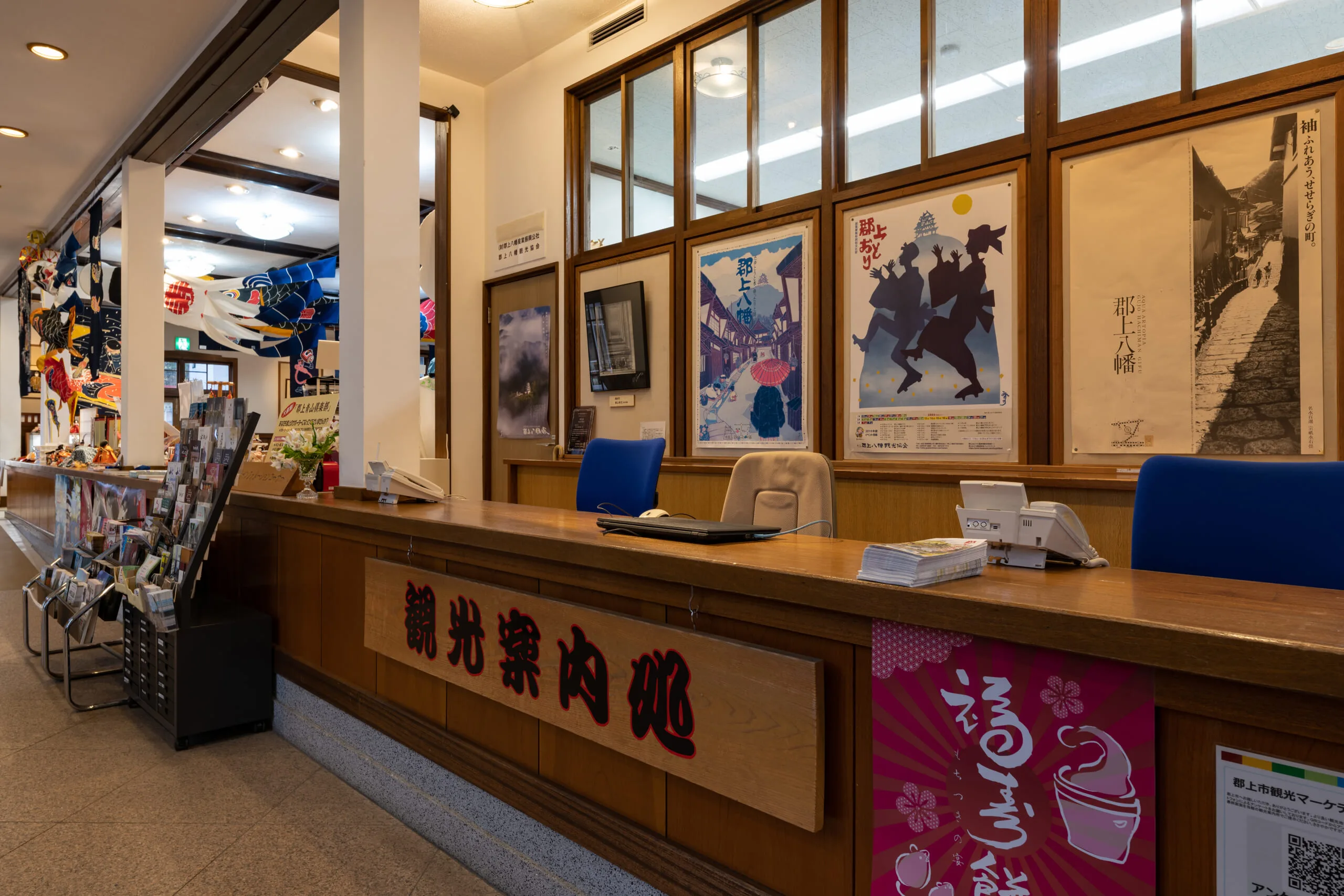 You can check the schedule of events and fairs at the information counter.
10 min.

Car 5 minutes Park our car at nearby parking area
2
Jion-zenji Temple Tessouen
A famous garden in Gujo Hachiman
having all different looks in different seasons
Jion-zenji Temple was established by Endo Yoshitaka, the lord of Hachiman Castle, in 1606 as a temple of Linji School Myoshinji. At the pond-viewing garden "Tessouen" in the back of the temple, you can feel the "Japanese" spirit of Japanese people whenever you come. Waterfall flowing from the rocky mountain reflects at the pond making a modest atmosphere. Autumn leaves turn all red every early November making a contrast with green moss. It is one of the most beautiful gardens in Gujo Hachiman.
Admission fee Adult : 500JPY (Special Admission Fee at 7/30 : 800JPY)
Child : 300JPY (Special Admission Fee at 7/30 : 500JPY)
Price at May 2021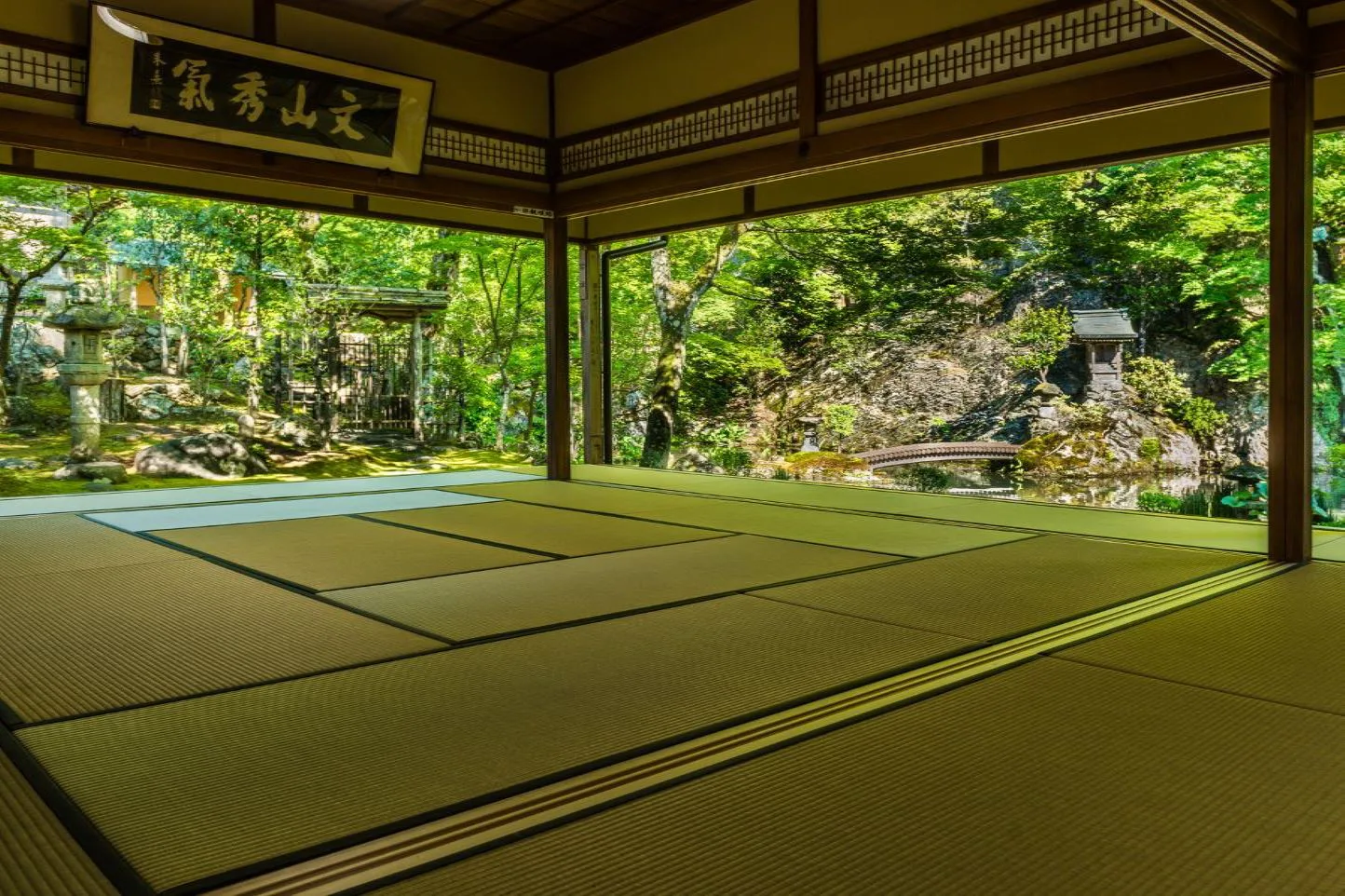 The fresh greenery in spring and summer, red leaves in autumn and snowscape in winter can be seen in different seasons.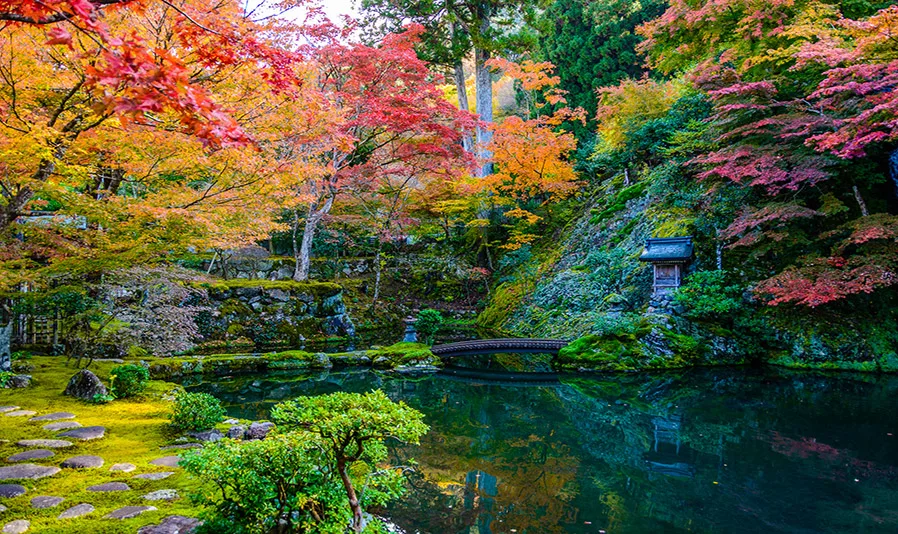 The sound of waterfall coming from the rocky mountain makes you feel the tradition of Japan.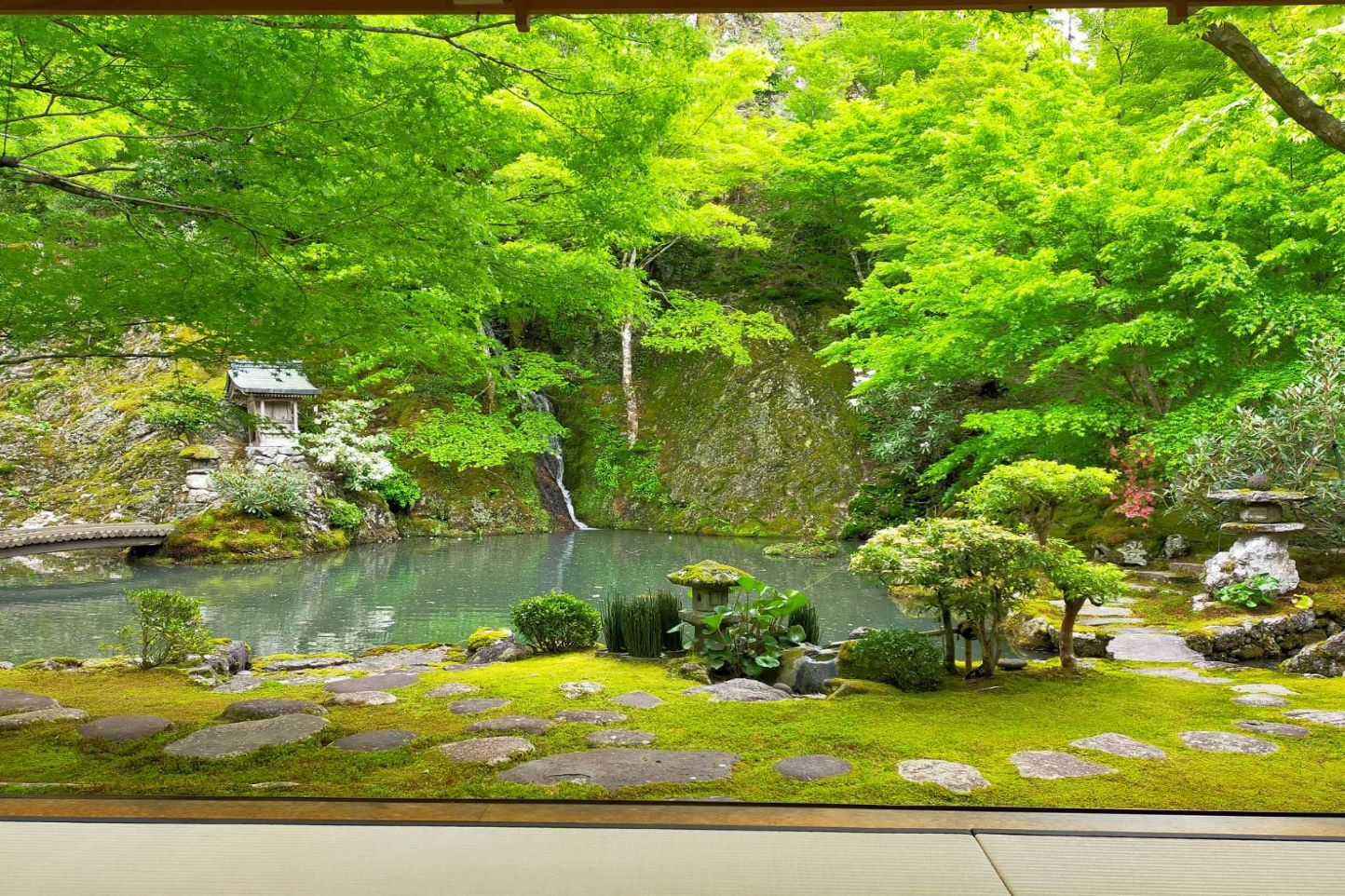 The panorama view from the study hall is as beautiful as a painting.
3
Hiyoshi-jinja Shrine
Lion dance and music performance
(Ohyamakuinokami)
Hiyoshi-jinja was a small shrine during Azuchimomoyama era (1568 – 1600). It was enlarged by the lord of Gujo Hachiman Castle, Endo. It was under the protection from lords of Gujo Hachiman Castle from that time. Spring Festival is held every April. Lion dance and music performance are performed for exorcizing and hoping for huge harvest. This performance is designated as an Intangible Important Folk Cultural Property. Hiyoshi-jinja Shrine, Kishitsurugi-jinja Shrine and Hachiman-jinja Shrine all join altogether and perform once a year at the second day of Spring Festival.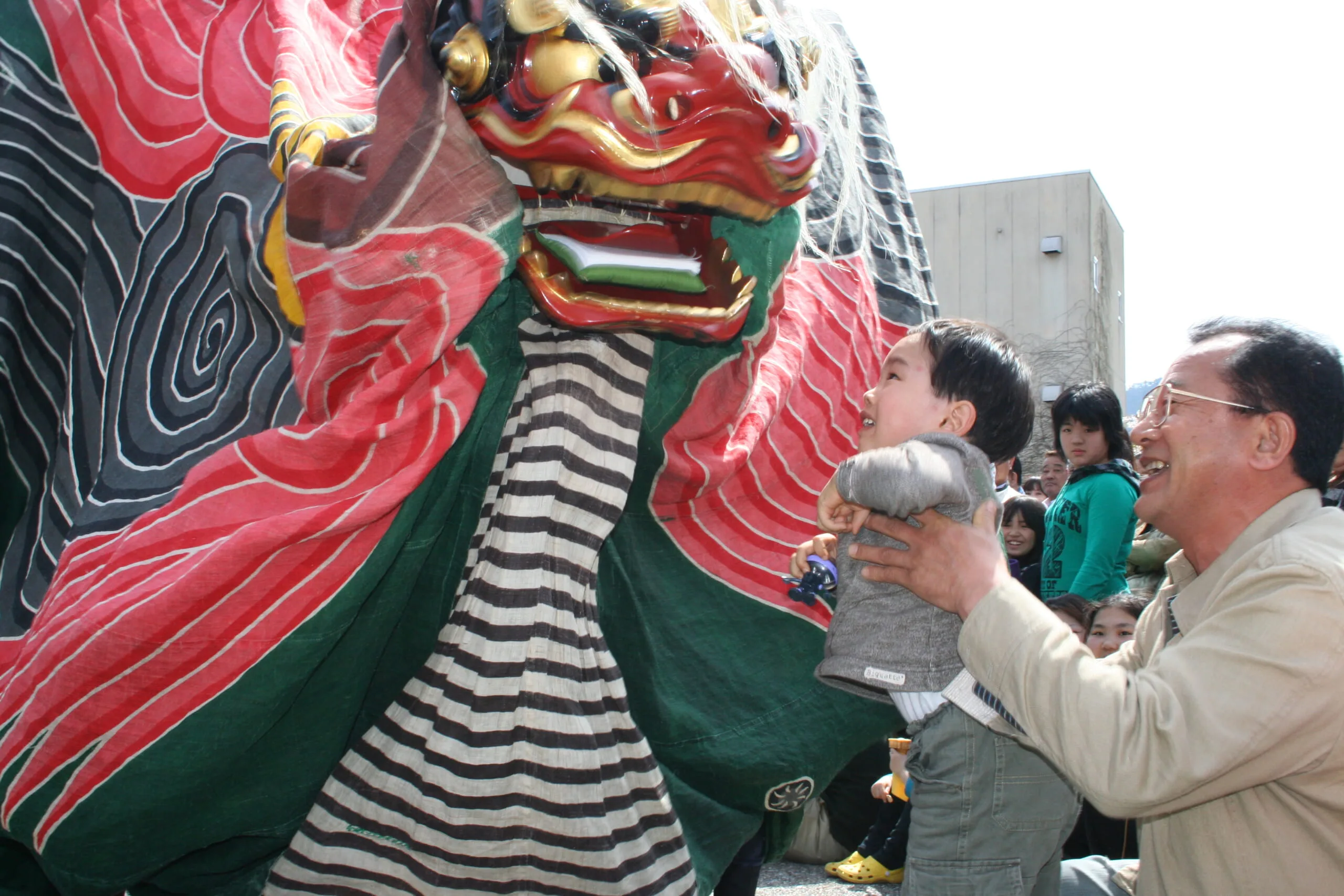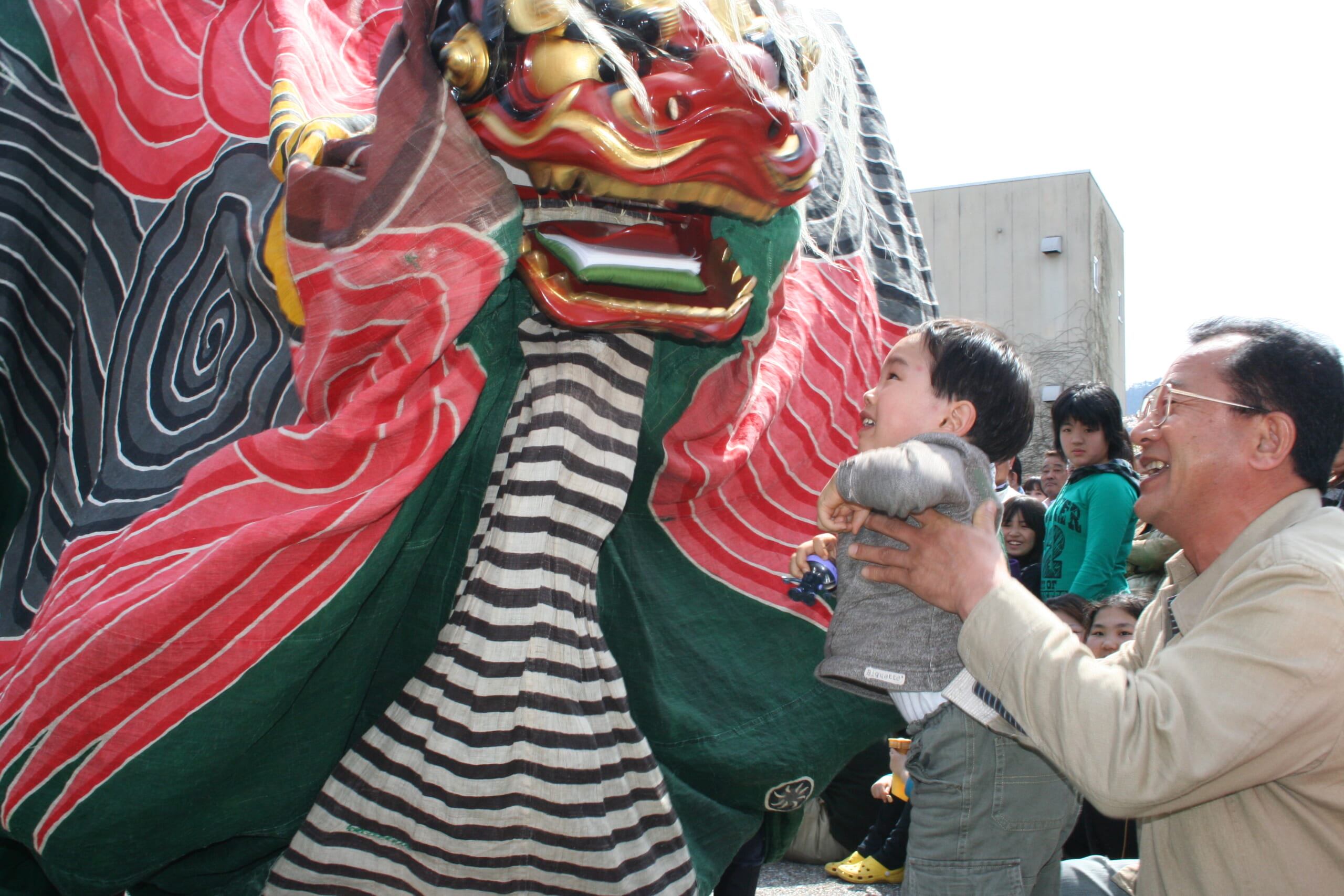 It is said that child would become cleverer after bitten by the lion.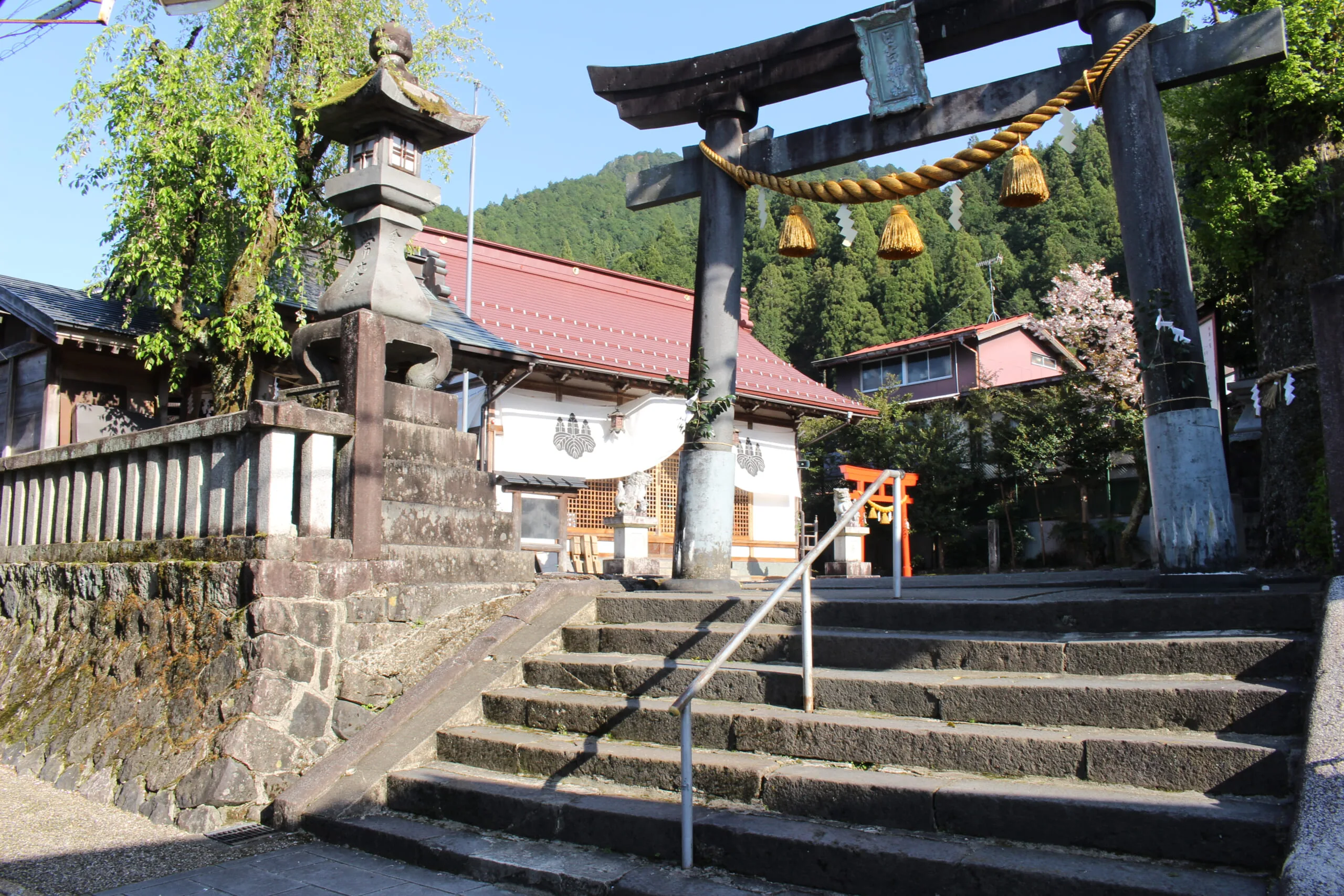 After passing the approach, you can see the stone Torii (Gateway at the entrance to a Shinto shrine) in front of you.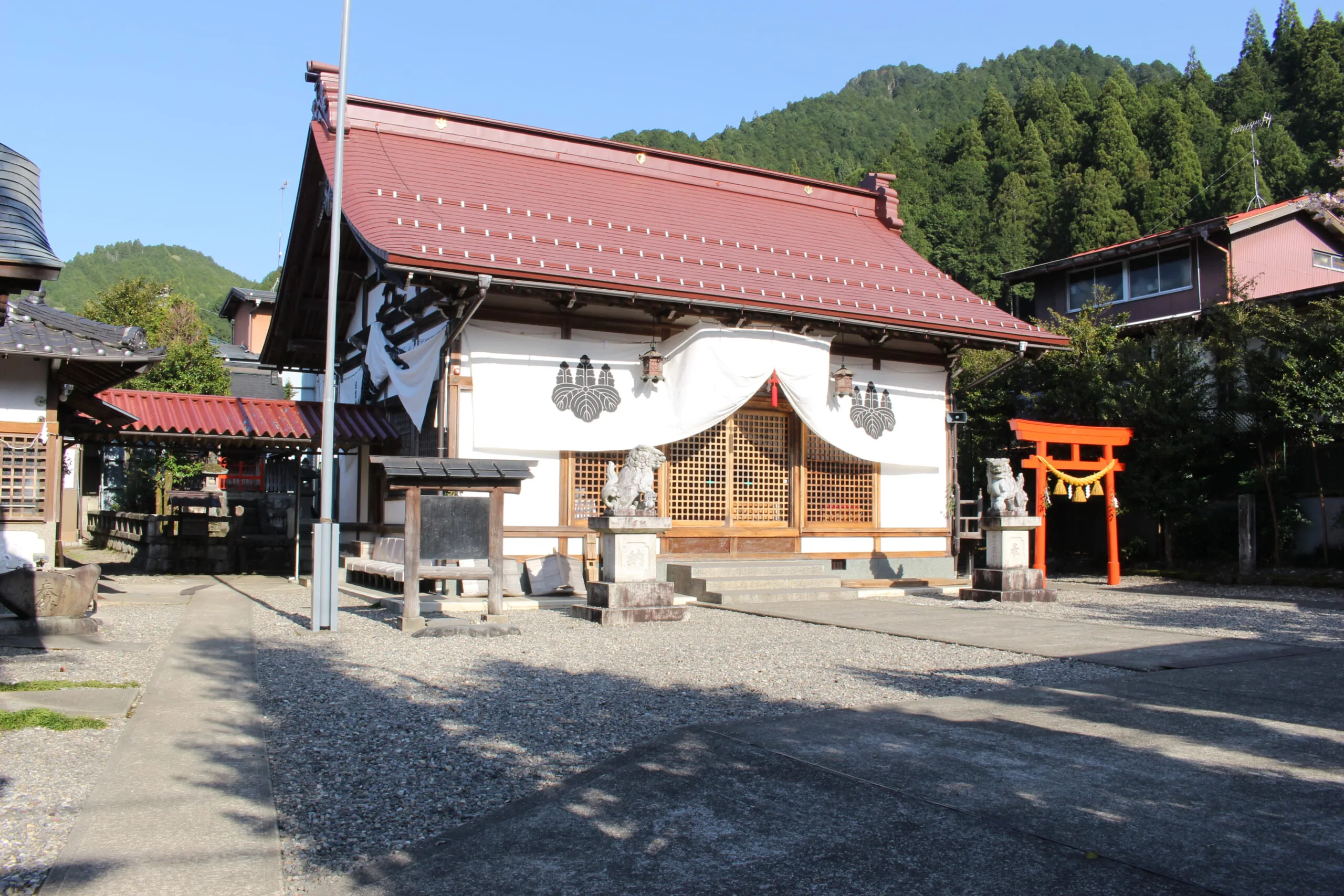 Visitors can worship inside the main shrine, which you can see after climbing the stairs. Inari-jinja is next to it.
4
Ganrenji Temple
Become famous because of its saying "You will die too Buddha"
(Shinshu Otani-ha)
Ganrenji is a temple of Shinshu Otani-ha in Gujo Hachiman. It was established by the retainer of Lord To in 1494. It was transferred to this place by Lord Endo. The chief priest wrote "You will die too Buddha" on the temple's notice board in July 2017 made a huge noise on social media. It was selected the best Temple's notice board of the year. This phrase means things and lives change every moment.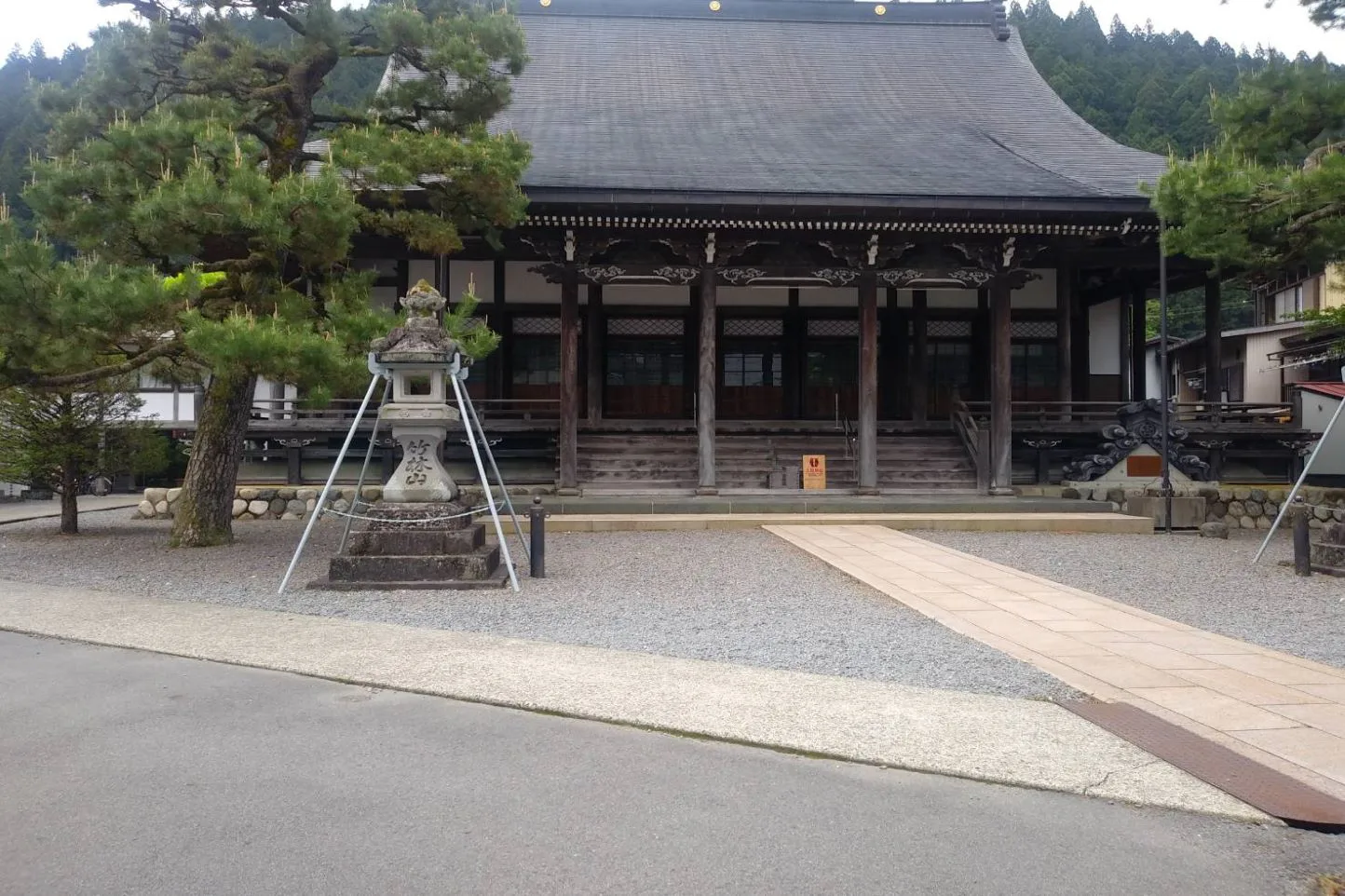 Passing through the gate and seeing the main shrine in front of you.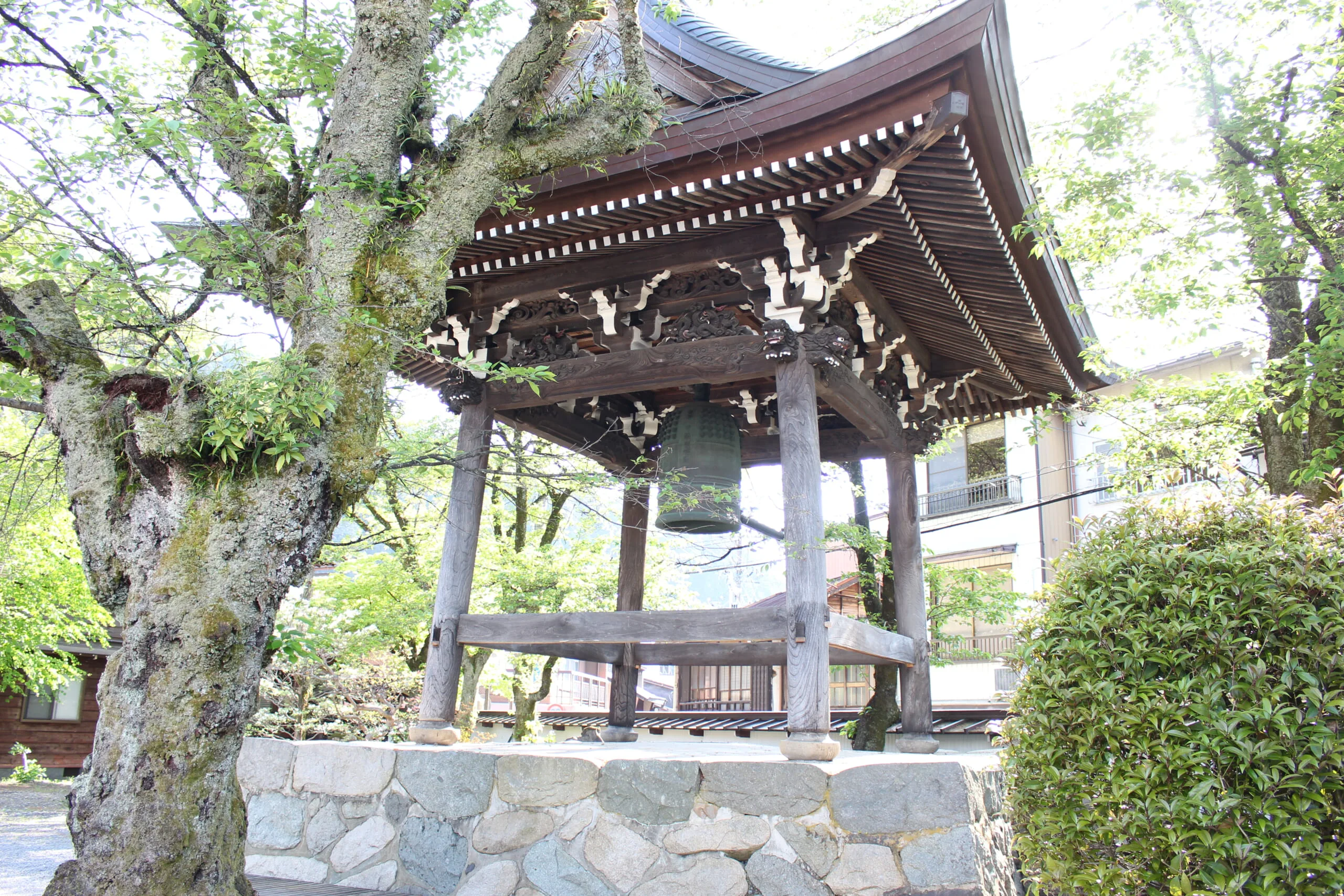 Many people come for hitting the bell every New year eve.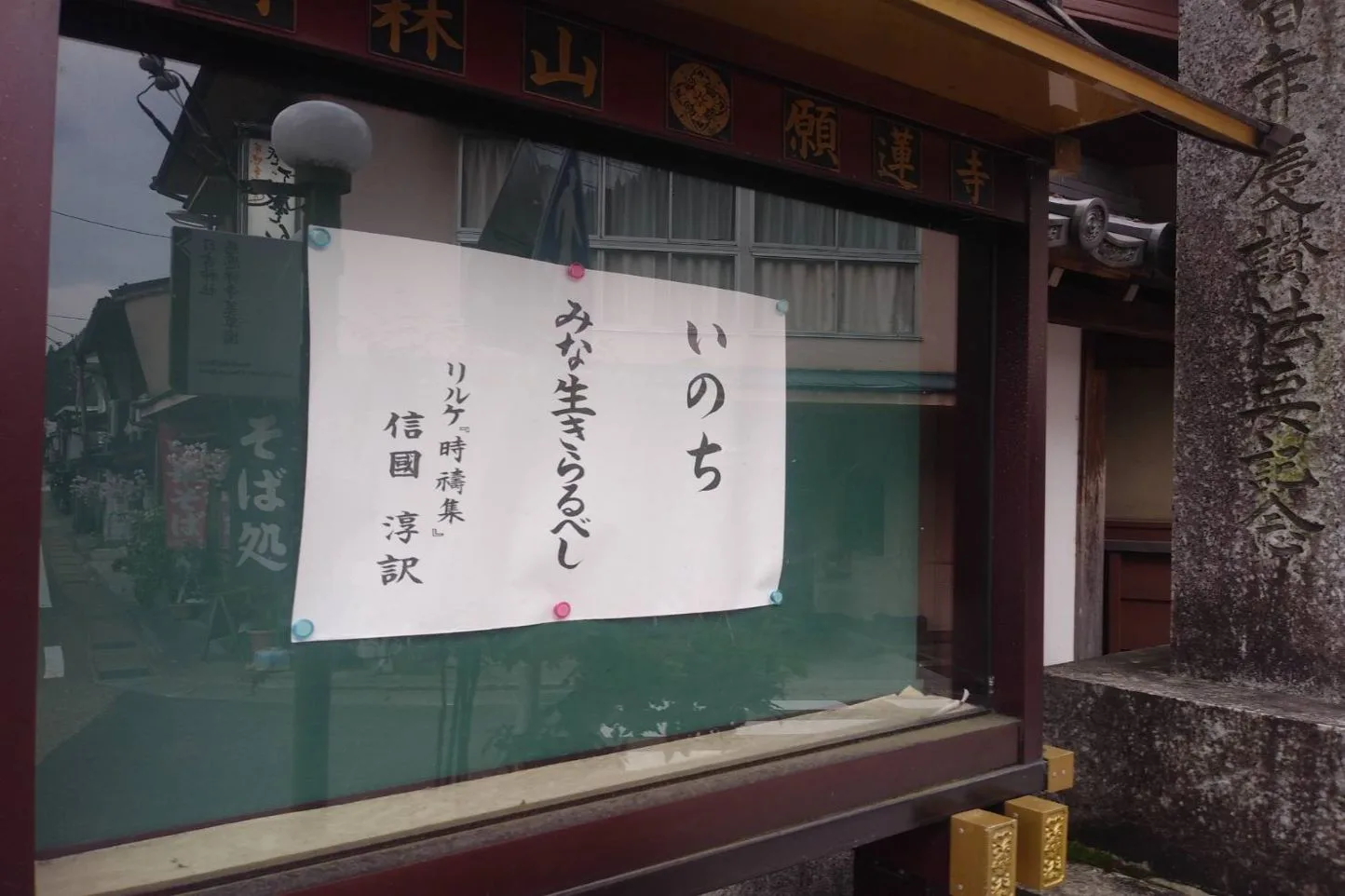 Phrase of teaching written in front of the temple changes regularly. Don't forget to check it before you go.
5
Ryukyo-no-sato (Lunch & shopping)
All local Gujo cuisine and souvenirs can be found here!
Restaurant inside Ryukyo-no-sato is providing menu using Hida beef, Okumino chicken, Mino pork and other local ingredients.
The most significant souvenirs in Gujo like Meiho Ham, Kei-chan (Stir fried chicken with miso sauce), and also Tochinomi-senbei (Rice crackers with chestnuts), Kurogoma-mochi (Black sesame rice cake) are all available here! You can find what you want.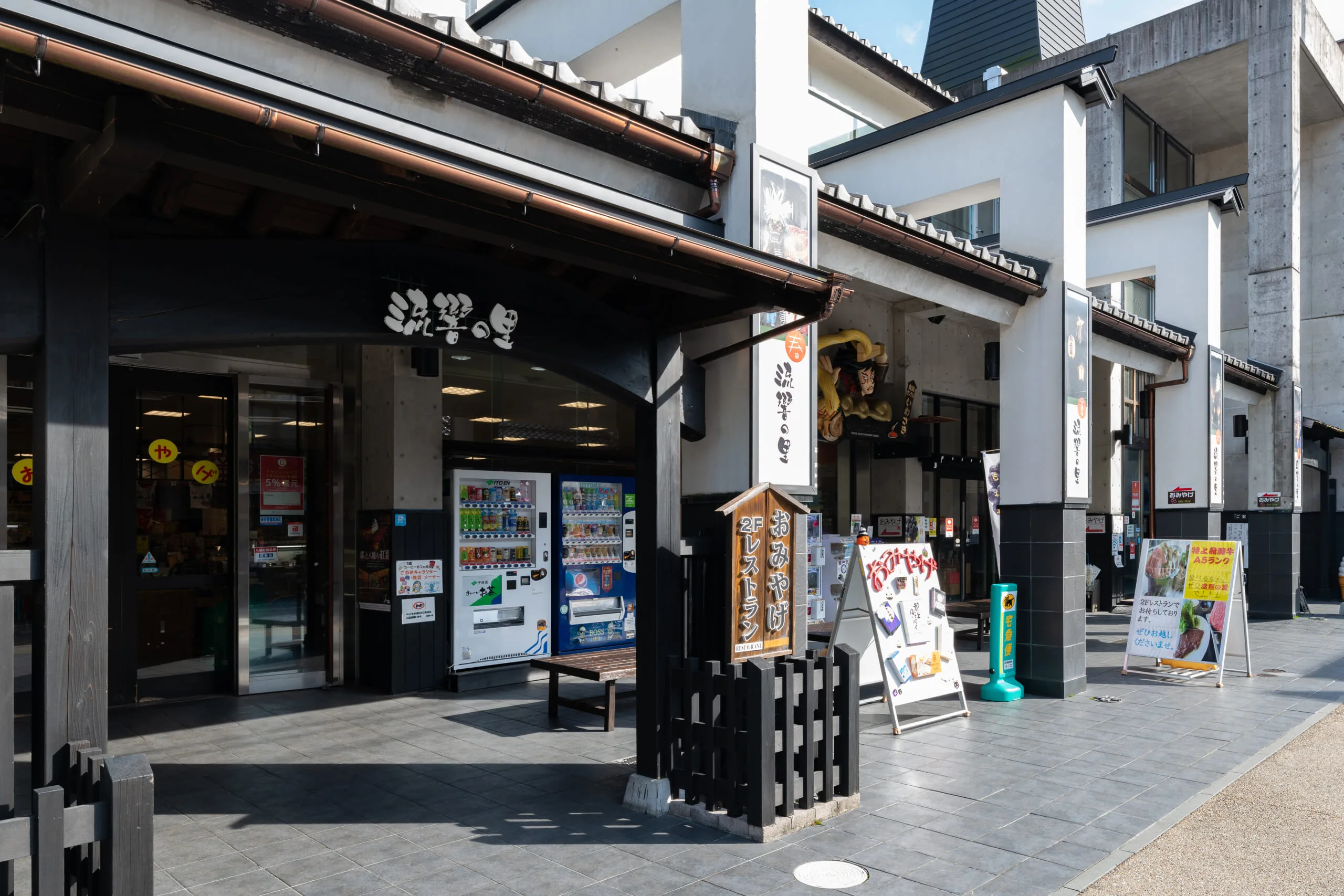 Local people and visitors use the rest place outside the facility.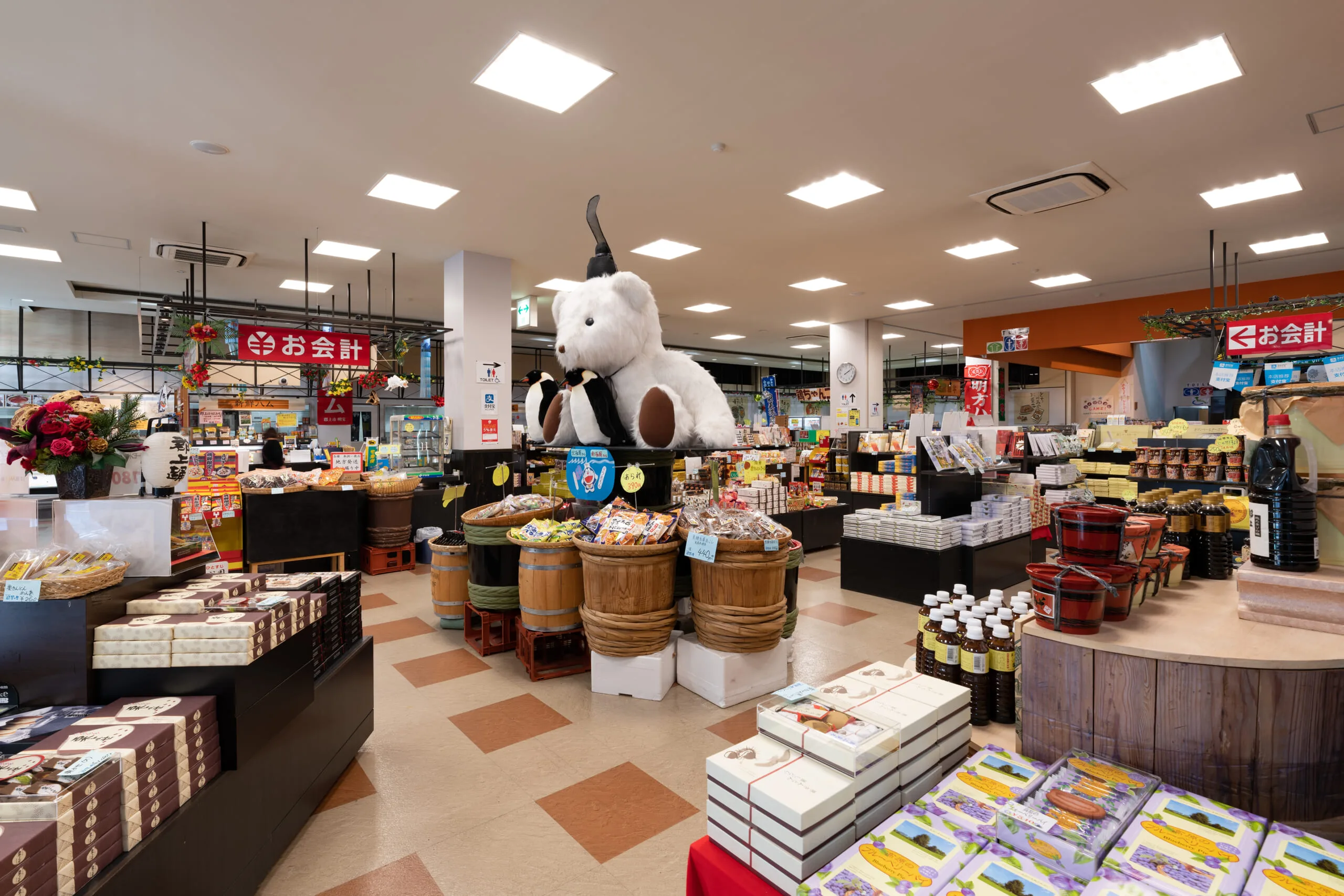 Various kinds of souvenirs and specialties can be found. You can definitely find your favorite one here.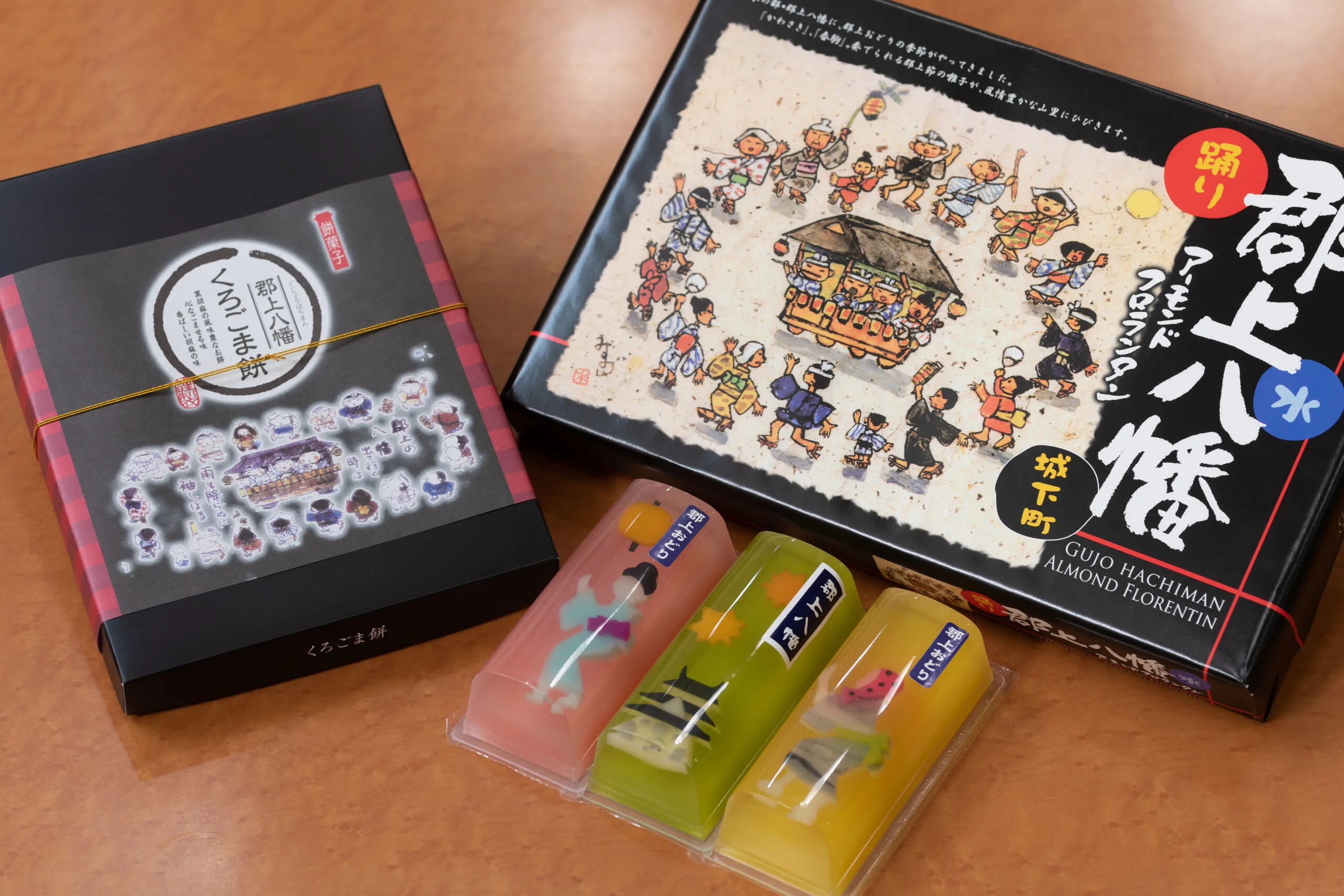 Original souvenir of Ryukyo-no-sato is also for sale.
6
Kishitsurugi-jinja Shrine
A shrine locating in the remain of the center of Hachiman Castle
(Susanoo)
The name of Kishitsurugi-jinja comes from the sword enshrined. Severe drought occurs at Gujo Meiho area in 1614. People used a sword to beg for rain at Keragara River. Rain fell too heavy that the treasured sword was flooded away. It was finally found at the lower stream of Yoshidagawa River. The Lord of Gujo Hachiman Castle, Endo Yoshitaka enshrined it and established this shrine. As the sword was found on the shore, so this shrine was named Kishitsurugi means sword on the shore. This shrine was located originally near to the river, but it was relocated to the remain of Hachiman Castle in 1942.
Music performance is also carrying out during Spring Festival at this shrine. It is designated as an Intangible Important Folk Cultural Property of Gifu-ken, like Hiyoshi-jinja Shrine.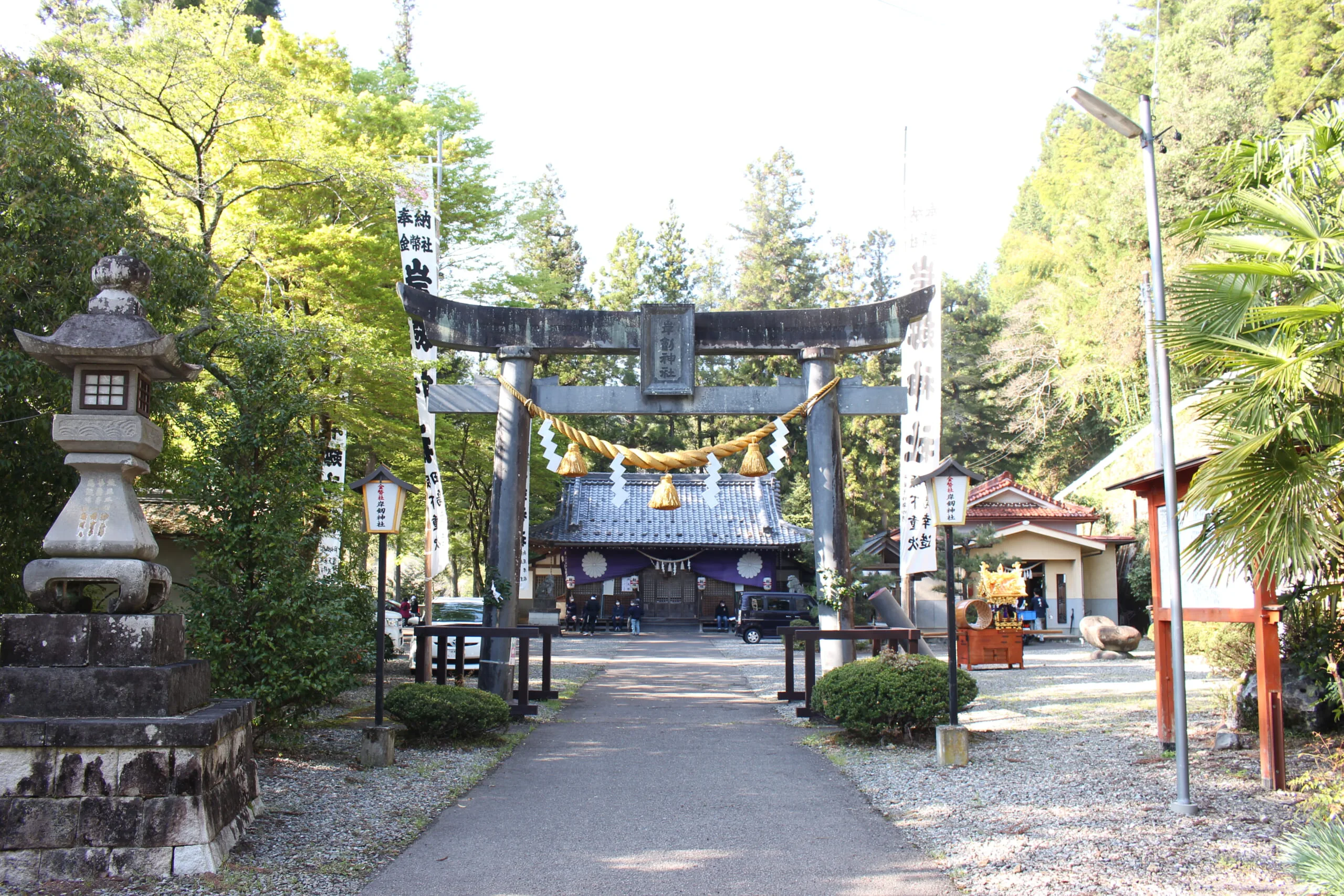 You will see the approach to Kishitsurugi-jinja on the left-hand side when you are taking the stairs. Kishitsurugi-jinja is right in front of you.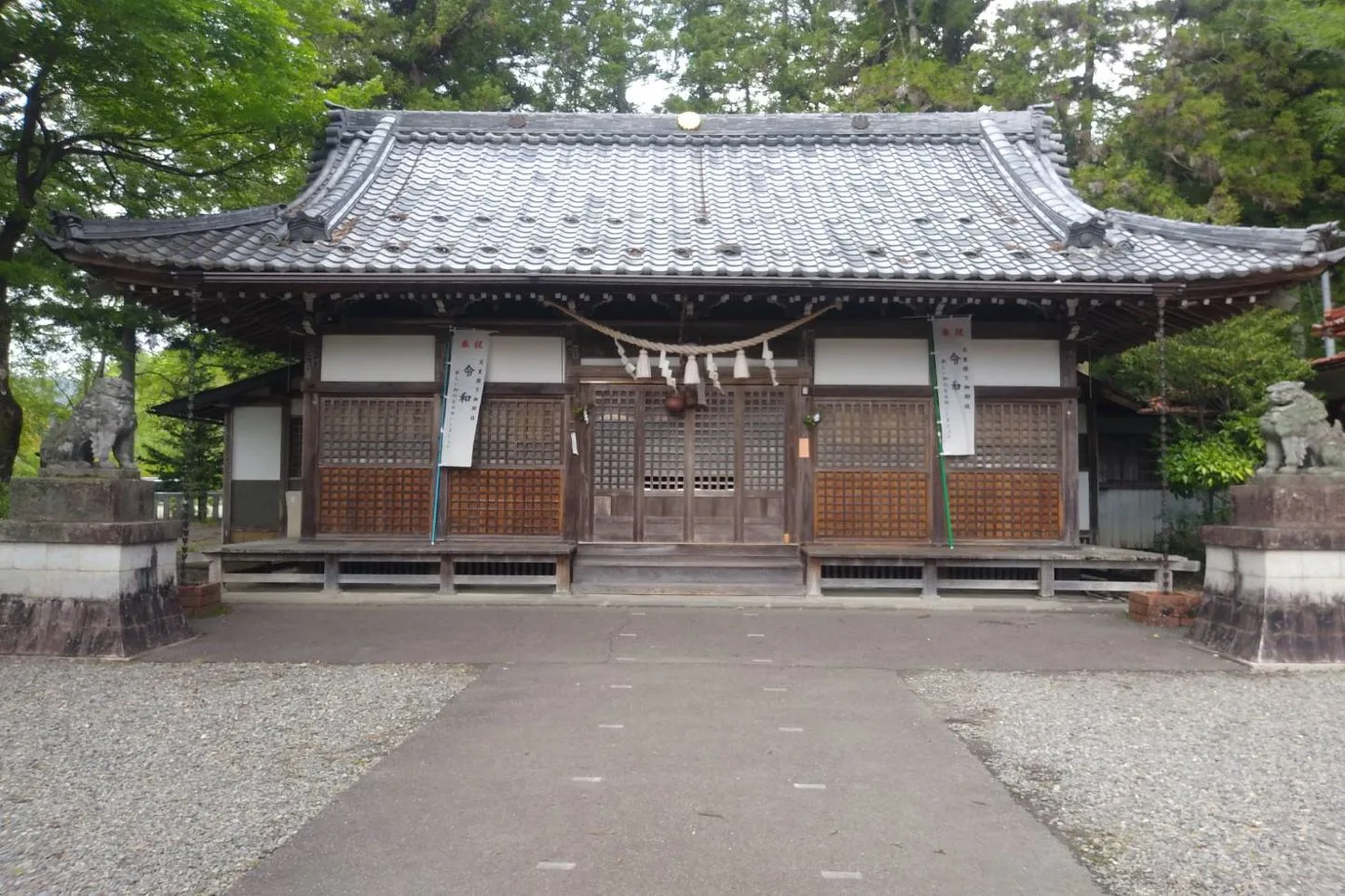 Shrine with this treasured sword making the atmosphere solemner.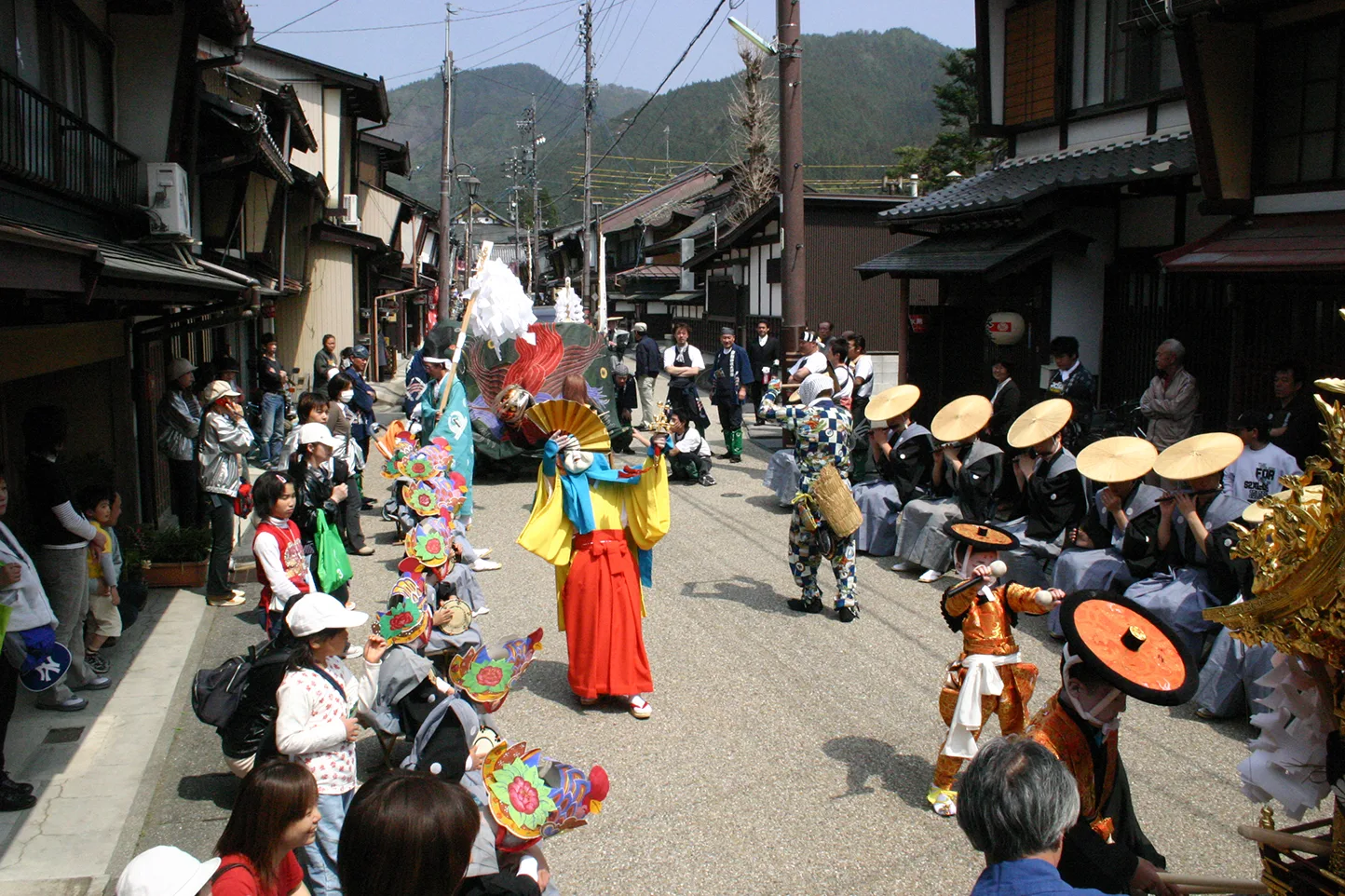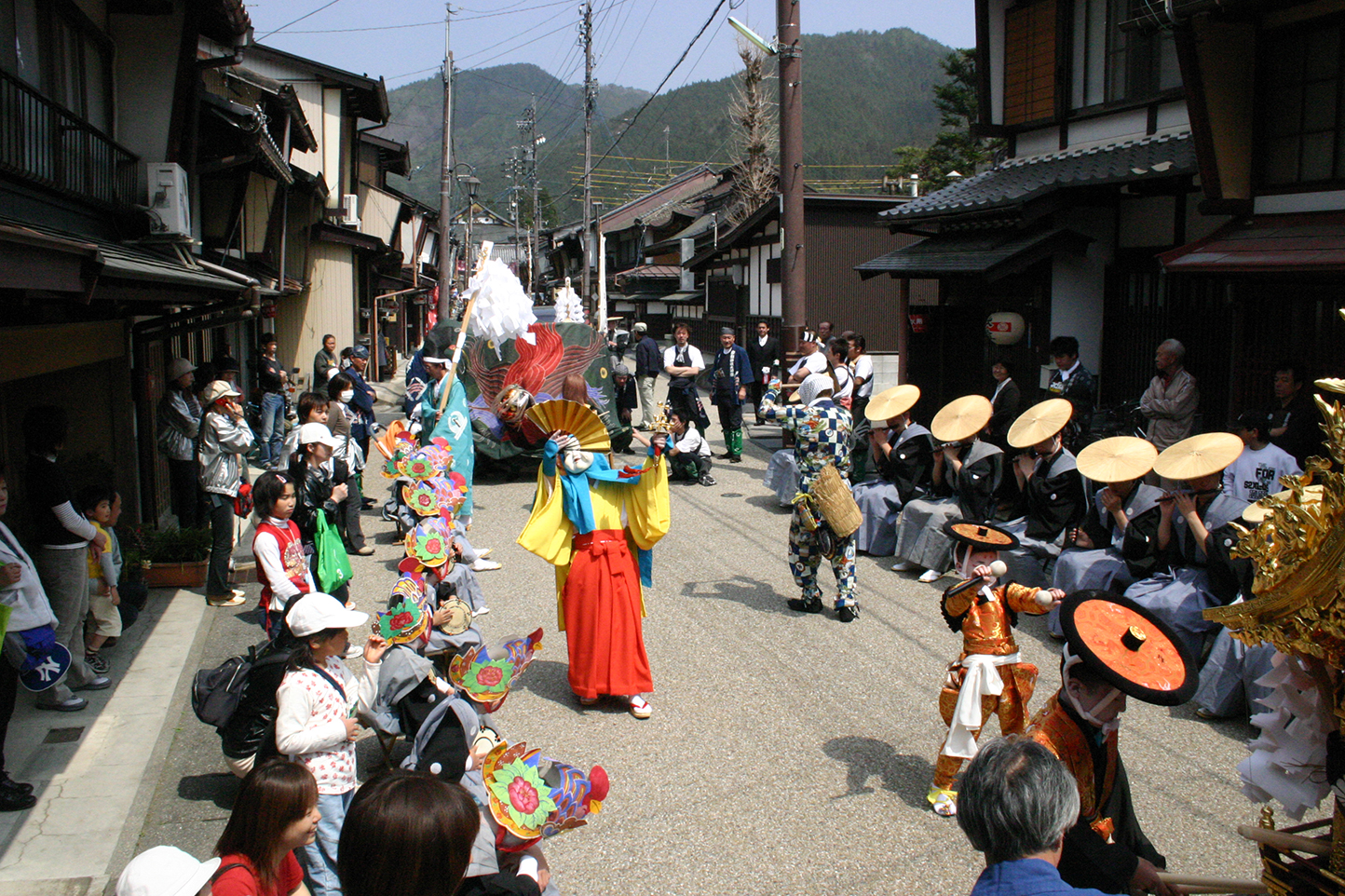 Dance performance of Spring Festival is carrying out throughout 2 whole days from the shrine to the town.
7
Zenkoji Temple
A shrine operating a guest house
(Tiantai)
Zenkoji is located under Kishitsurugi-jinja Shrine. It, was originally located at Nagataki of Shirotori-cho, is one of the branches of Kuramadera Temple in Kyoto. It was nearly abandoned during the revolution in early Meiji era (1868 – 1912). Two monks at that time, moved this shrine to the current location in 1897. Oyoshi Kannodo enshrined a female name Oyoshi who was scarified during the construction of Hachiman Castle. This quiet place with a great view makes people feel emotional.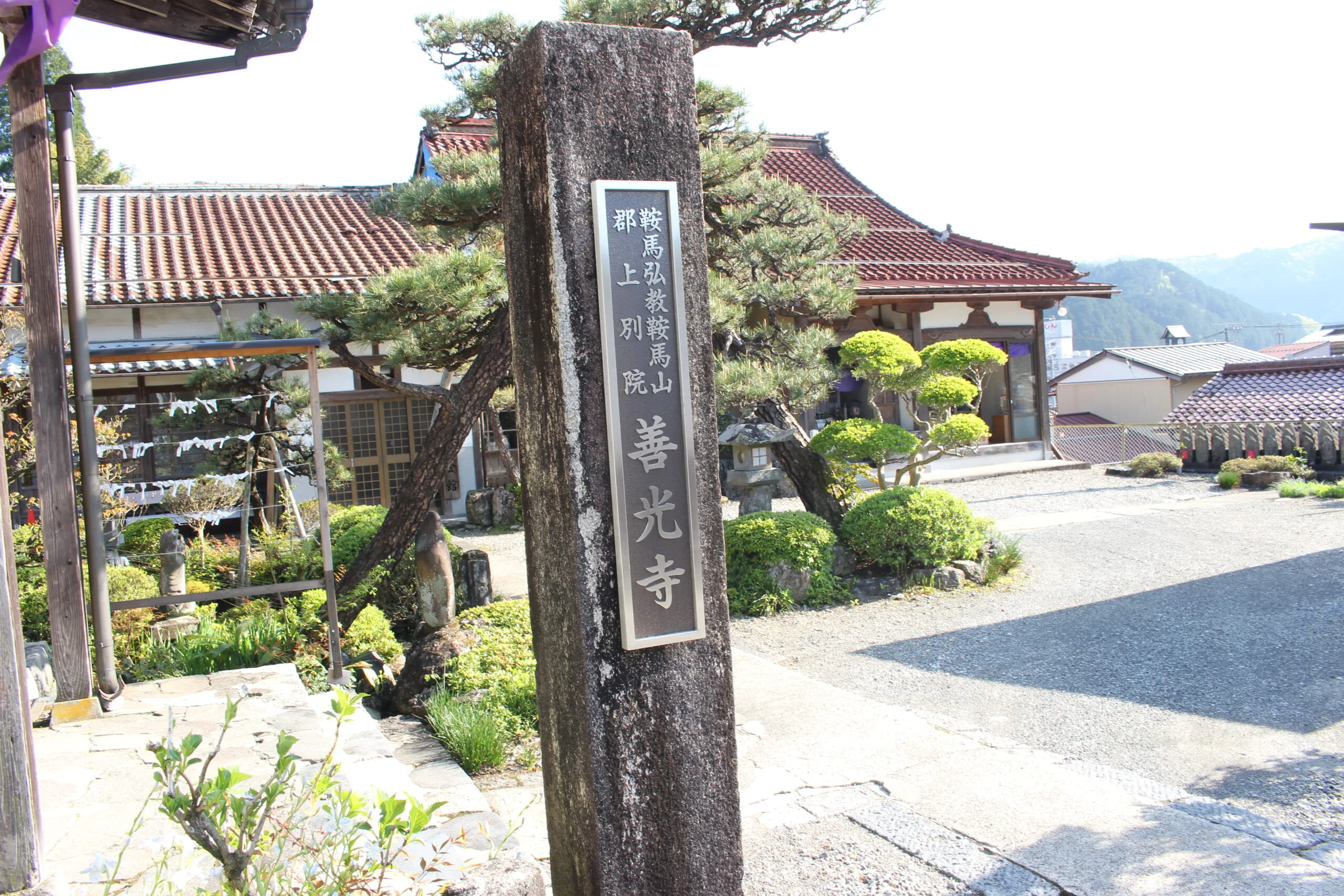 You can find the entrance of Zenkoji Temple when you go down from Kishitsurugi-jinja Shrine. People stayed at the guest house praised it is a good place to feel refreshed.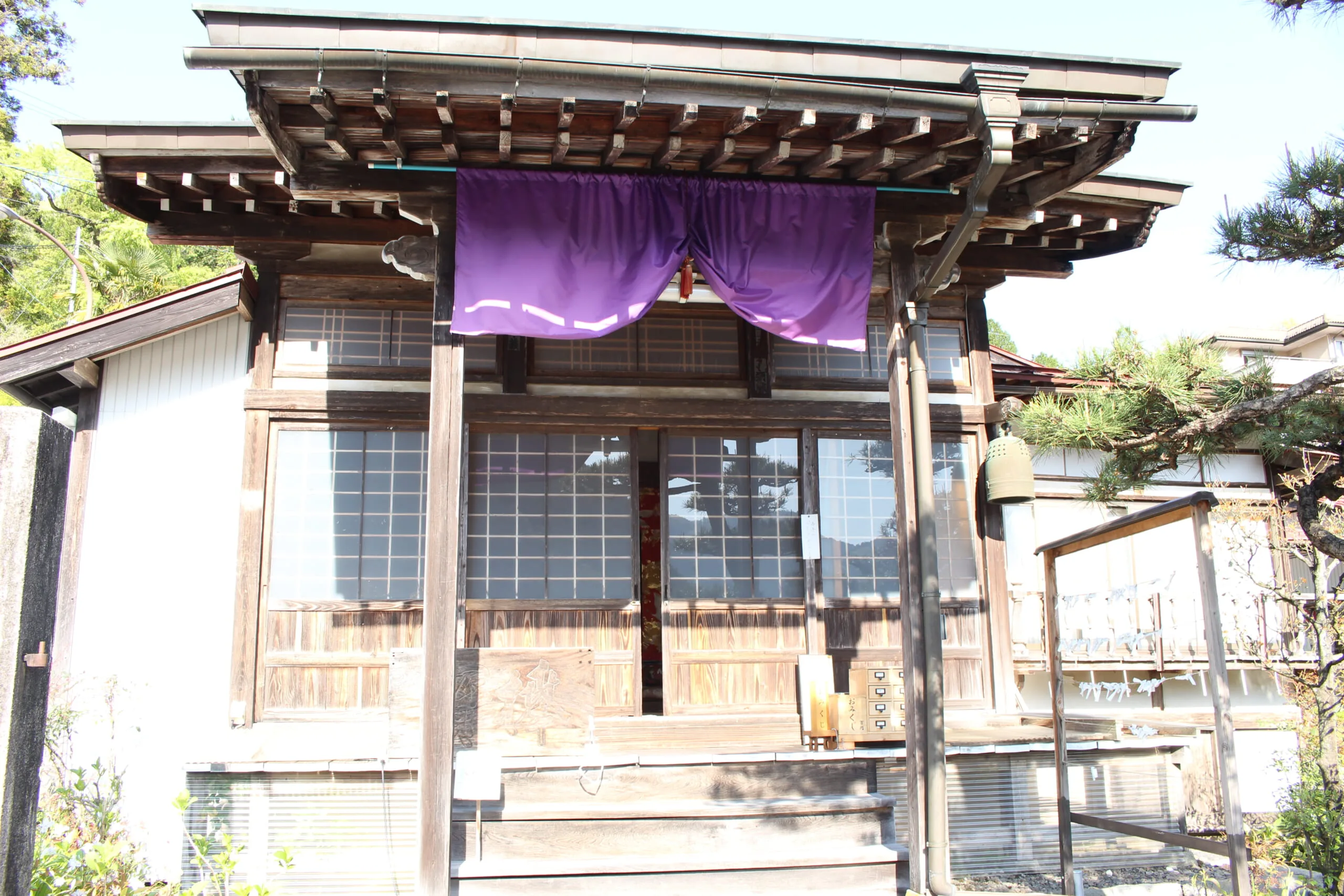 The head of a golden Buddha statue is displayed in the main shrine.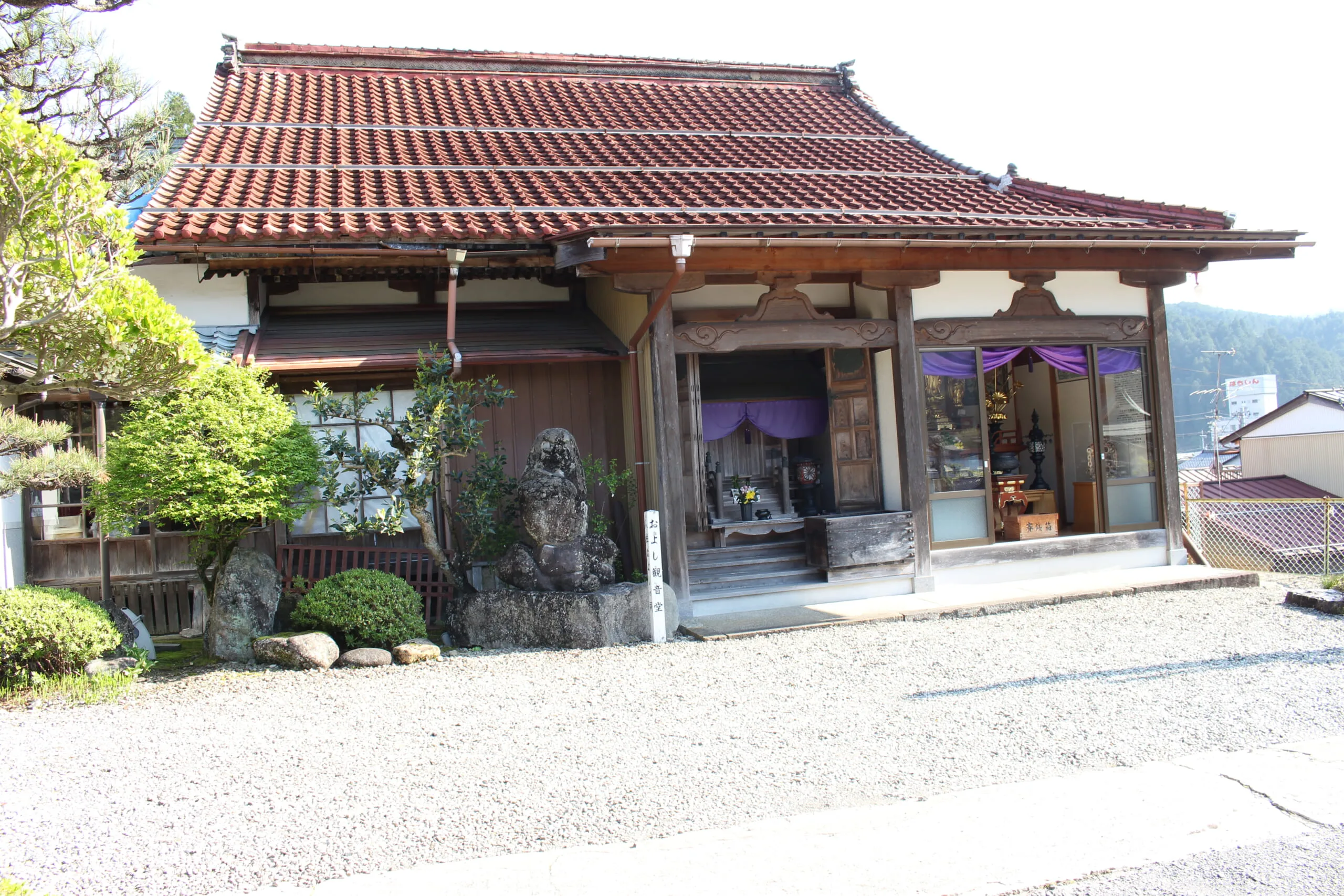 Shakasanzon (Right) and Oyoshi Kannodo (Left) are next to the main shrine.
8
Annyoji Temple
The main temple of Shinshu Otani-ha having the largest main shrine in Gifu-ken
Annyoji is a large temple of Shinshu Otani-ha with the main shrine of depth over 29m. It was established by Suzuki Takashige in 1256 as AnYOji (Different character in Japanese) at Shiga-ken. It moved to Ohno-shi, Fukui-ken and to Shirotori-cho. Finally, it was transferred here in 1588. This temple joined a war during Sengoku era (1467 – 1590). Document written by Ashikagashi, Takedashi and Asakurashi is remained. It is a Designated Cultural Property of Gifu-ken. It was displayed together with Tathagata statue and incense burner stand inside the treasure hall.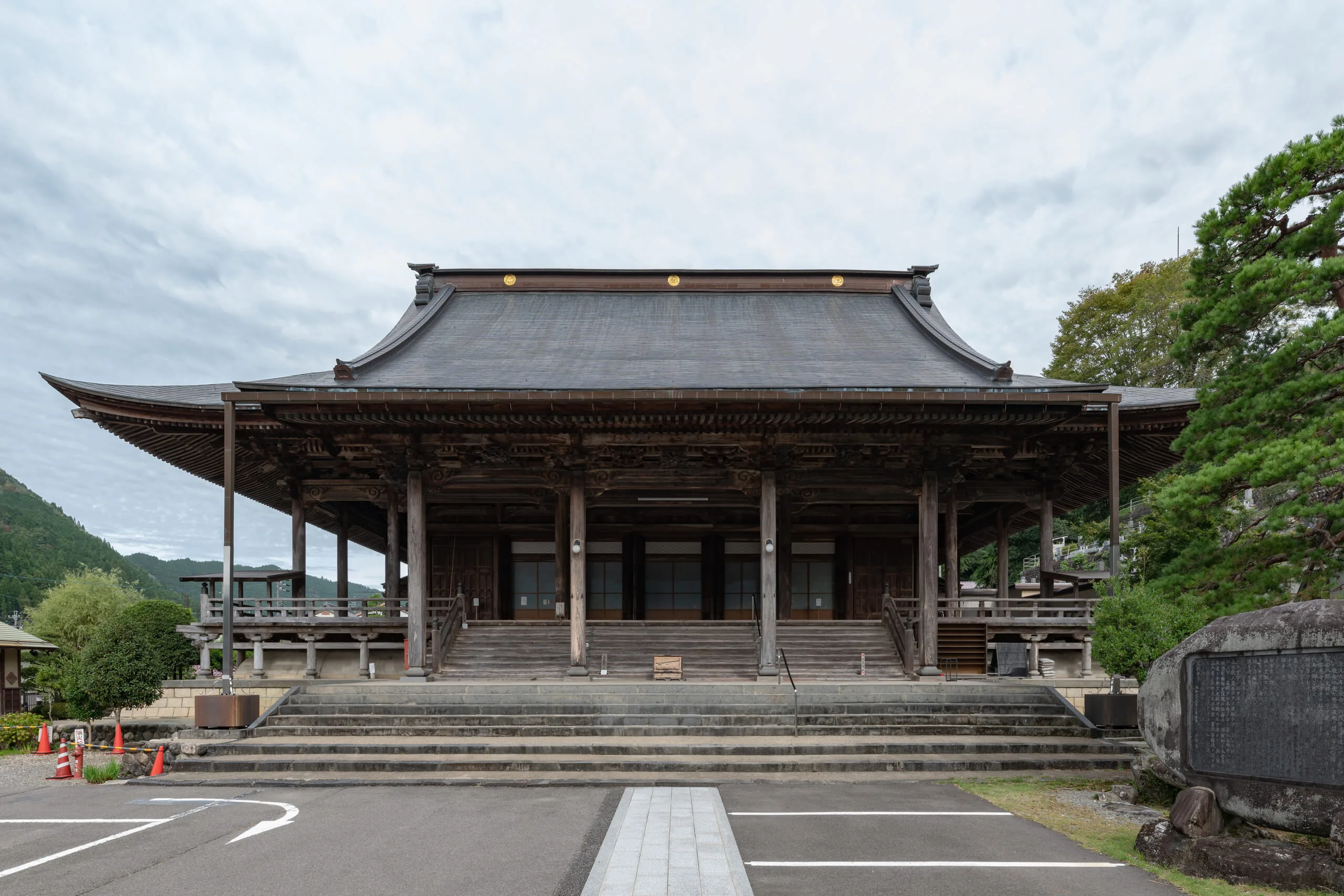 After passing the gate, you will see a large and spectacular main shrine.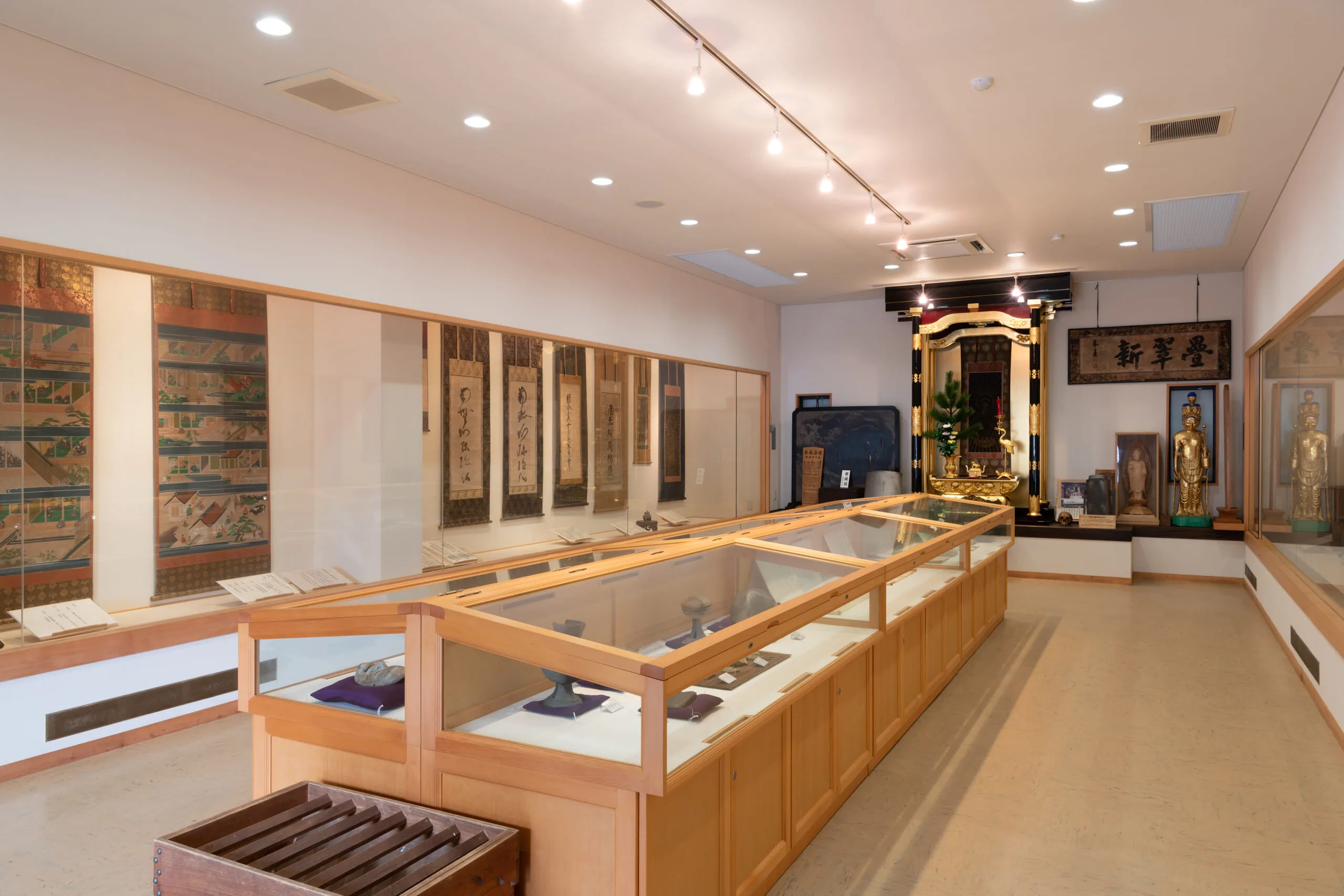 Document written by Ashikagashi and Takedashi and other Designated Cultural Properties are displayed.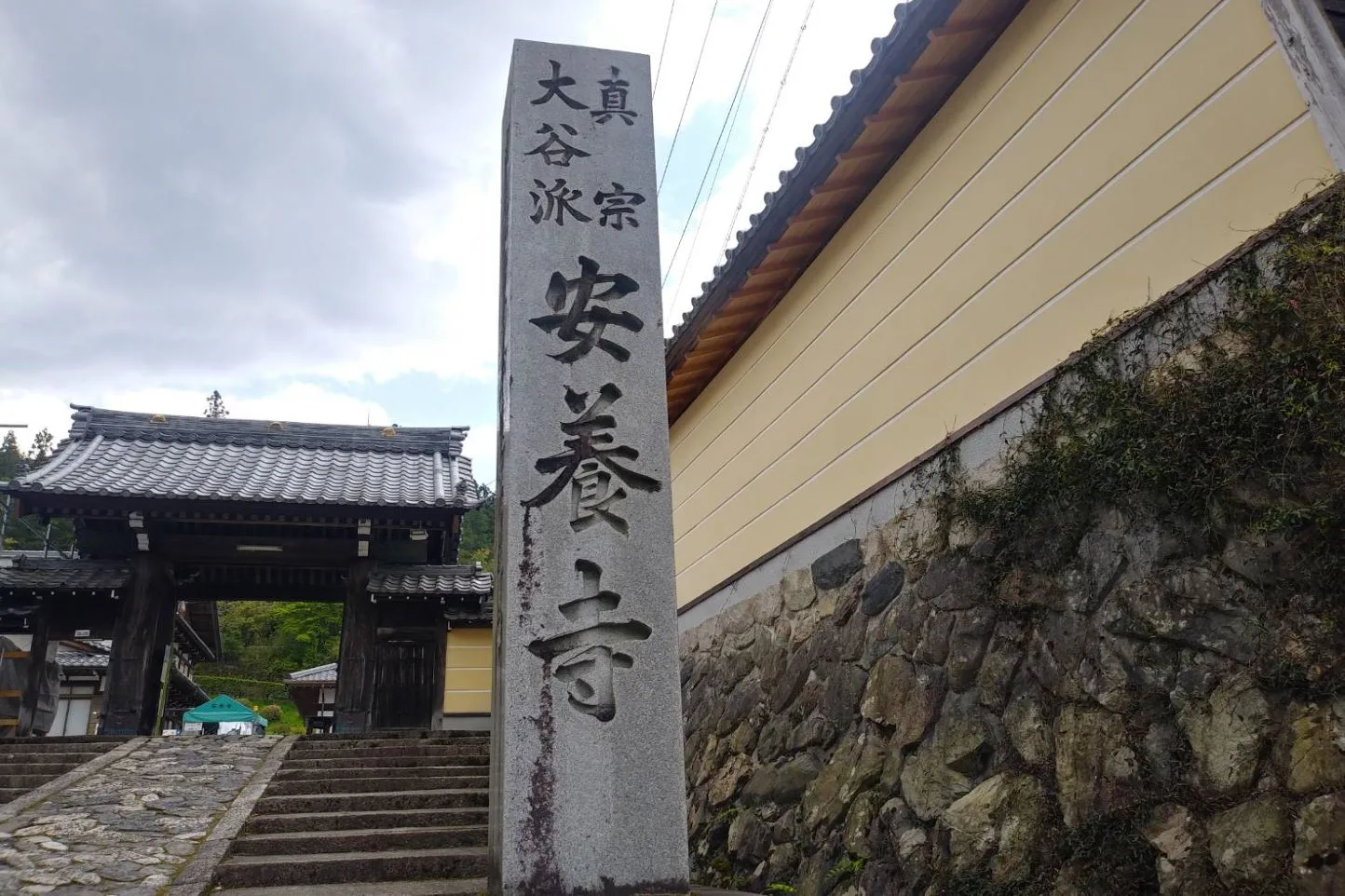 Many people call it "AnYOji", but the correct pronounciation is "AnNYOji".
9
Sougian Matcha (Take a break!)
A healing space for you to relax and enjoy the clear stream
Sougian Matcha is located next to Sogisui which is selected to be the top of Best 100 Waters. It is a Japanese café in a traditional Japanese house. Sougian Parfait changes every season using ingredients of the season. Sitting at the edge of veranda to see the clear stream while having delicious sweets is very relaxing. If you are tired during your trip how about take a break and have some matcha sweets?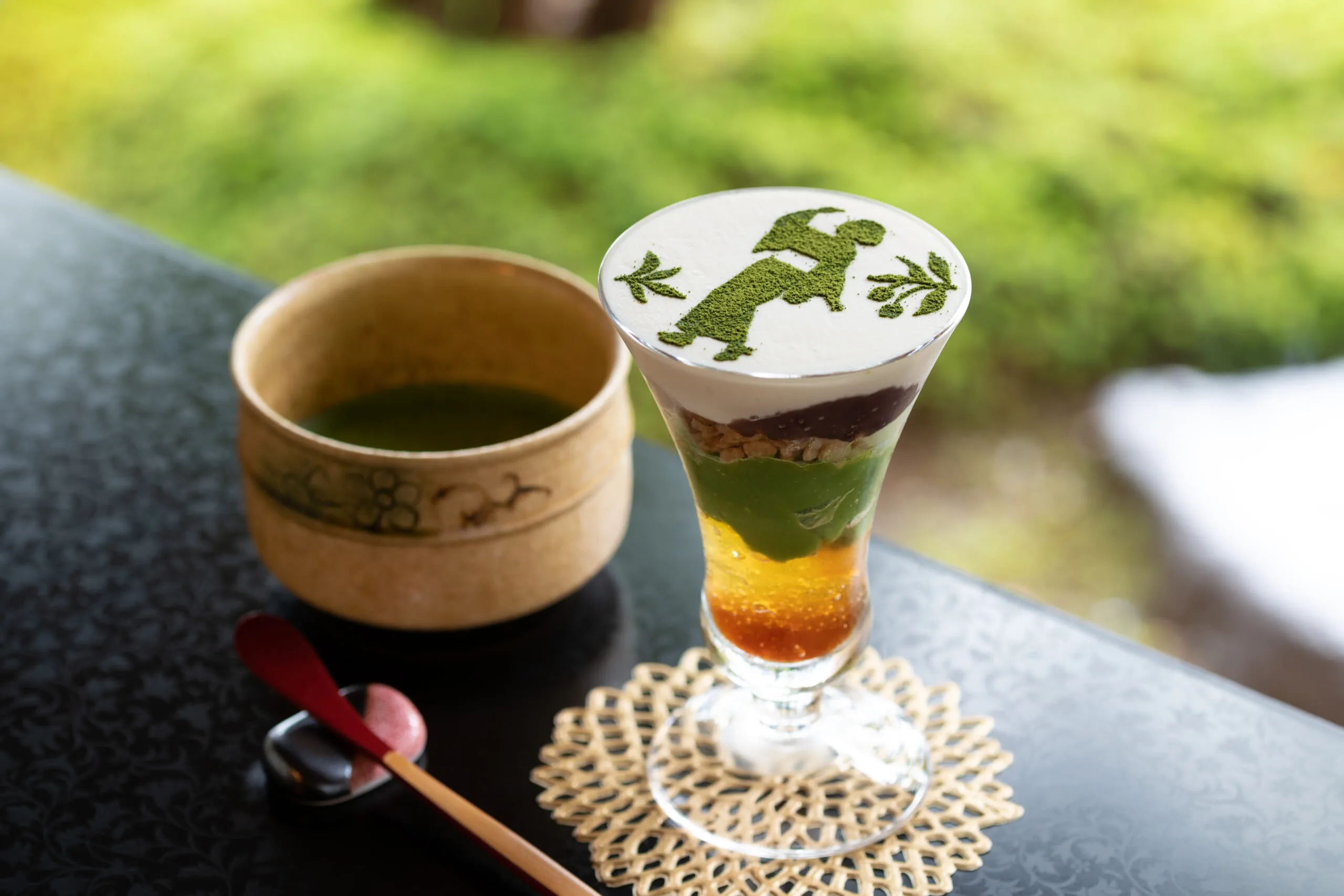 A Gujo Odori dancer is decorated on top of this parfait which goes well with matcha drink!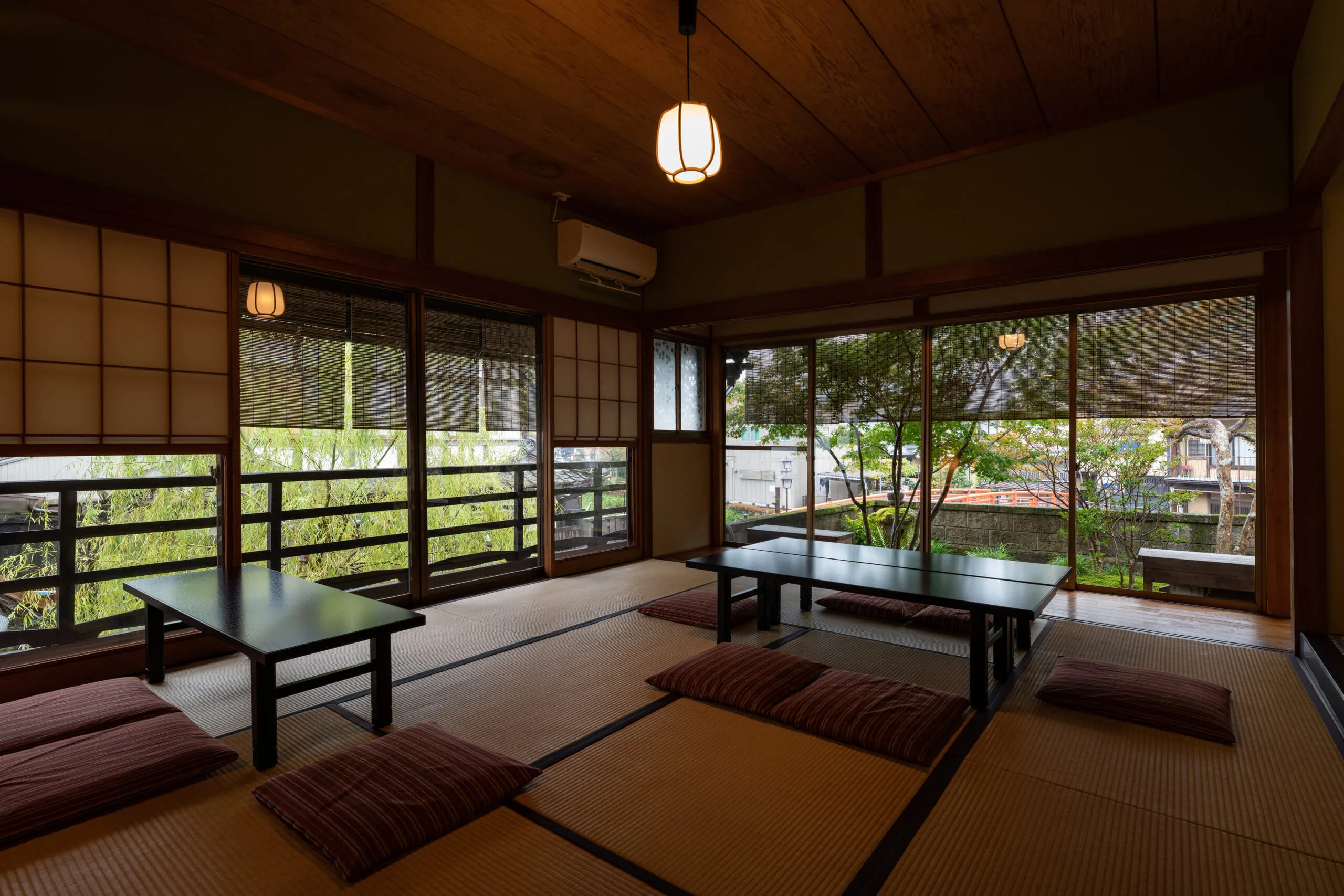 A quiet café for you to relax and take a break.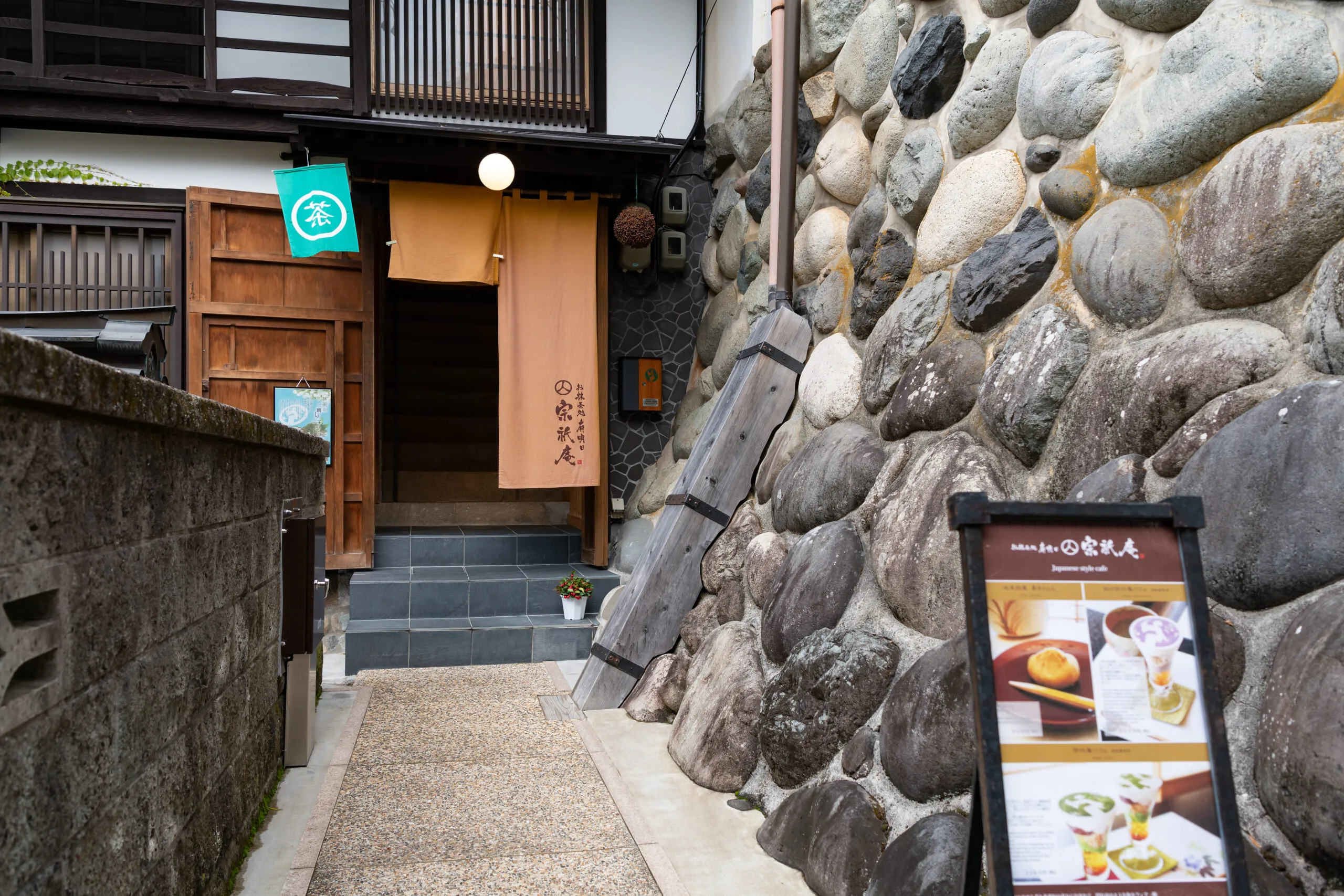 This café, with a short curtain at the entrance, is located next to Sogisui
10
Daijyoji Temple
A famous autumn leaves spot along Kodaragawa River
(Nichirenshu)
Daijyoji Temple was found by the retainer of Asakurashi at Gujo Hachiman in 1500s and was moved to this place by Lord Endo Yoshitaka in 1603. It was burnt in huge fire for several times. The entrance of Daijyoji nowadays was rebuilt in 1804 and it is designated as an Important Cultural Property in Gujo-shi. "Kishimojin Hall" enshrining Kishimojin which does not have the first stroke of "Oni (Demon)". It means demon was penitent or devoted to Buddha or helped people. A missing first stroke means its horn was taken away. As demons became friends now, the slogan here is different from that outside during Setsubun in February.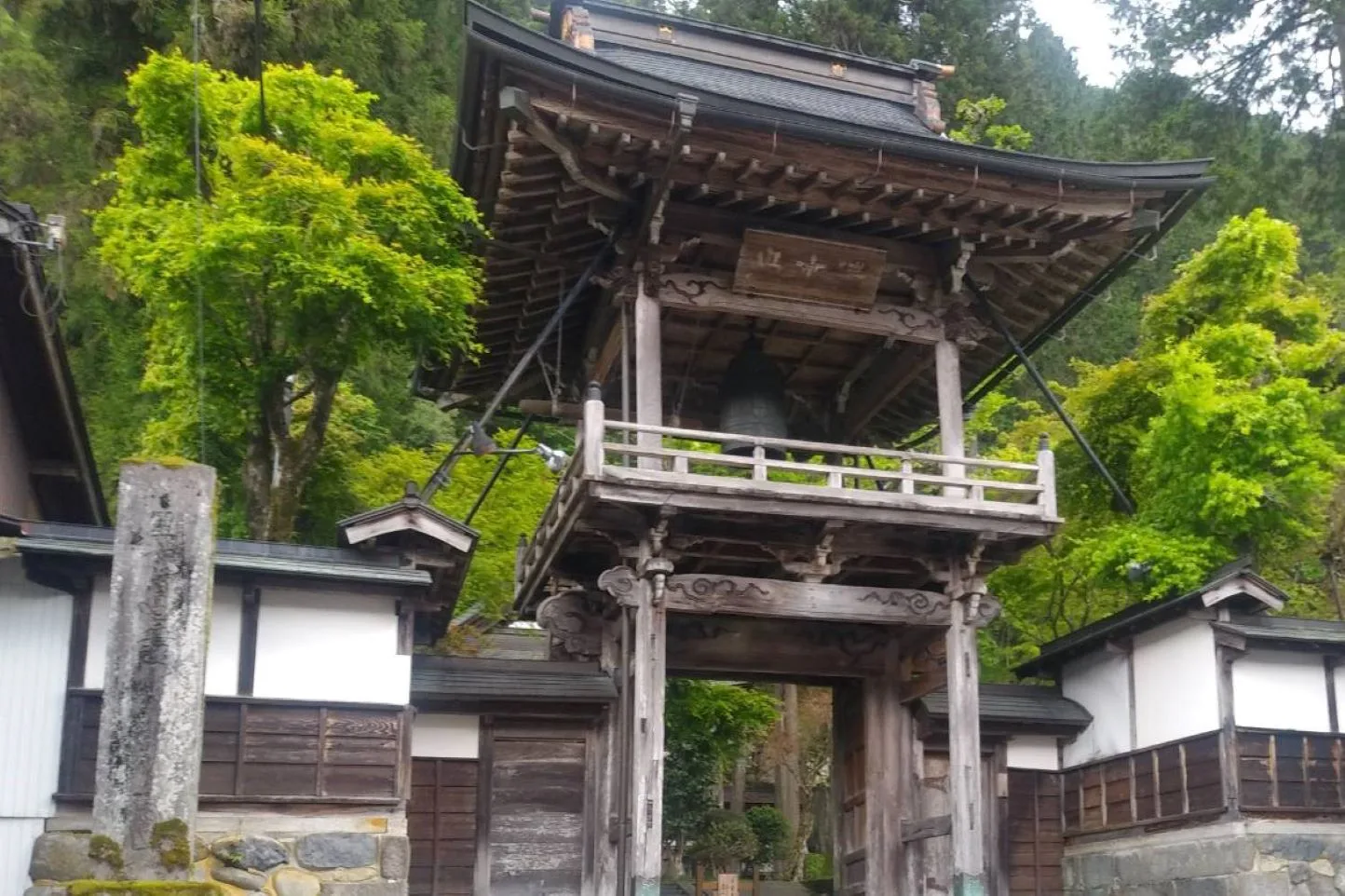 A gate with tower stands at the entrance.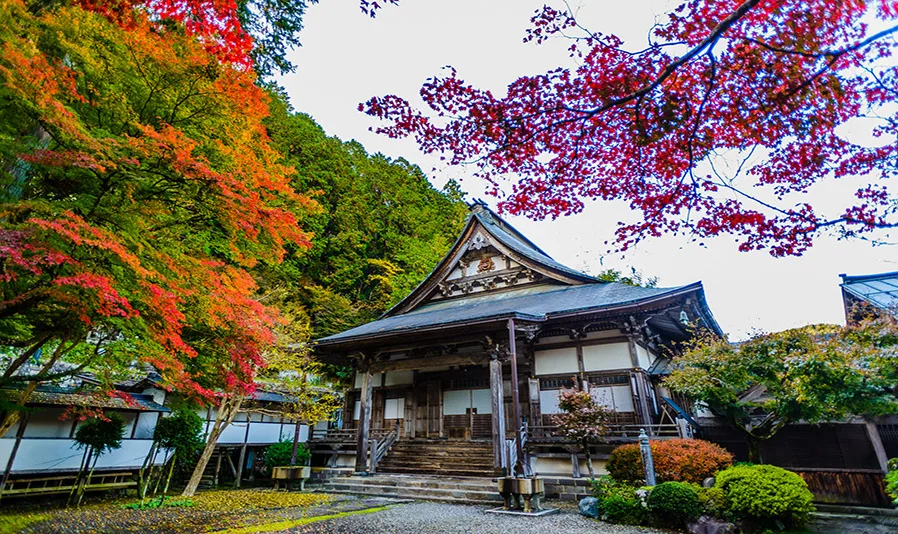 Main shrine surrounded by red leaves in autumn.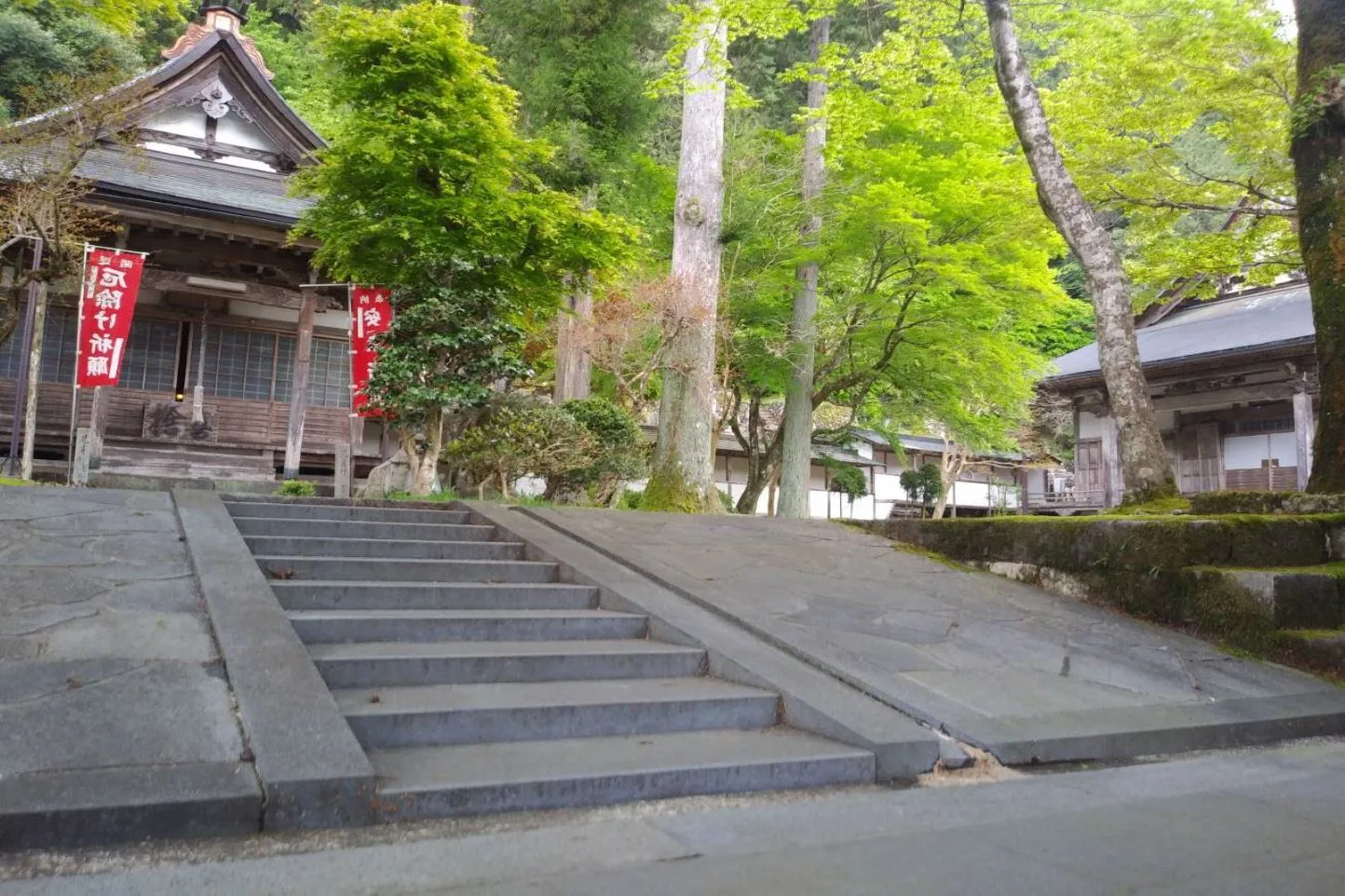 A temple located far away from the city.
11
Chokyoji Temple
A temple related to people of the Meiji Restoration(Shinshu Otani-ha)
Chokyoji was established by Endo Yoshitaka as his own family temple in 1601. It is also known as a temple related to Ryosotai who fought against the new government during Meiji Restoration. It is a temple with all the stories of people who were at the mercy of change. Do not forget to see the old townscape looking from the gate before you leave!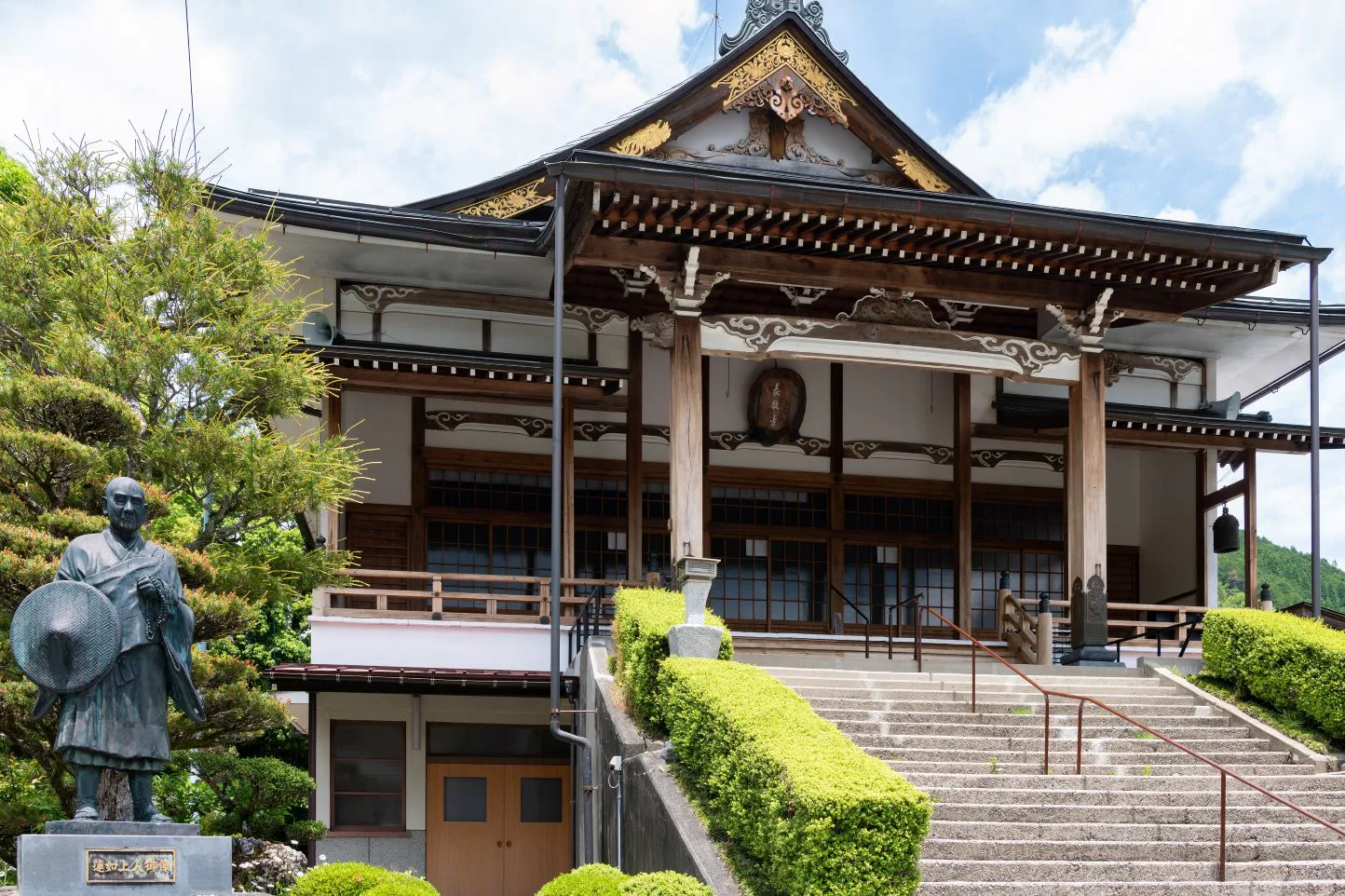 Chokyoji is located at the end of the old townscape of Gujo Hachiman.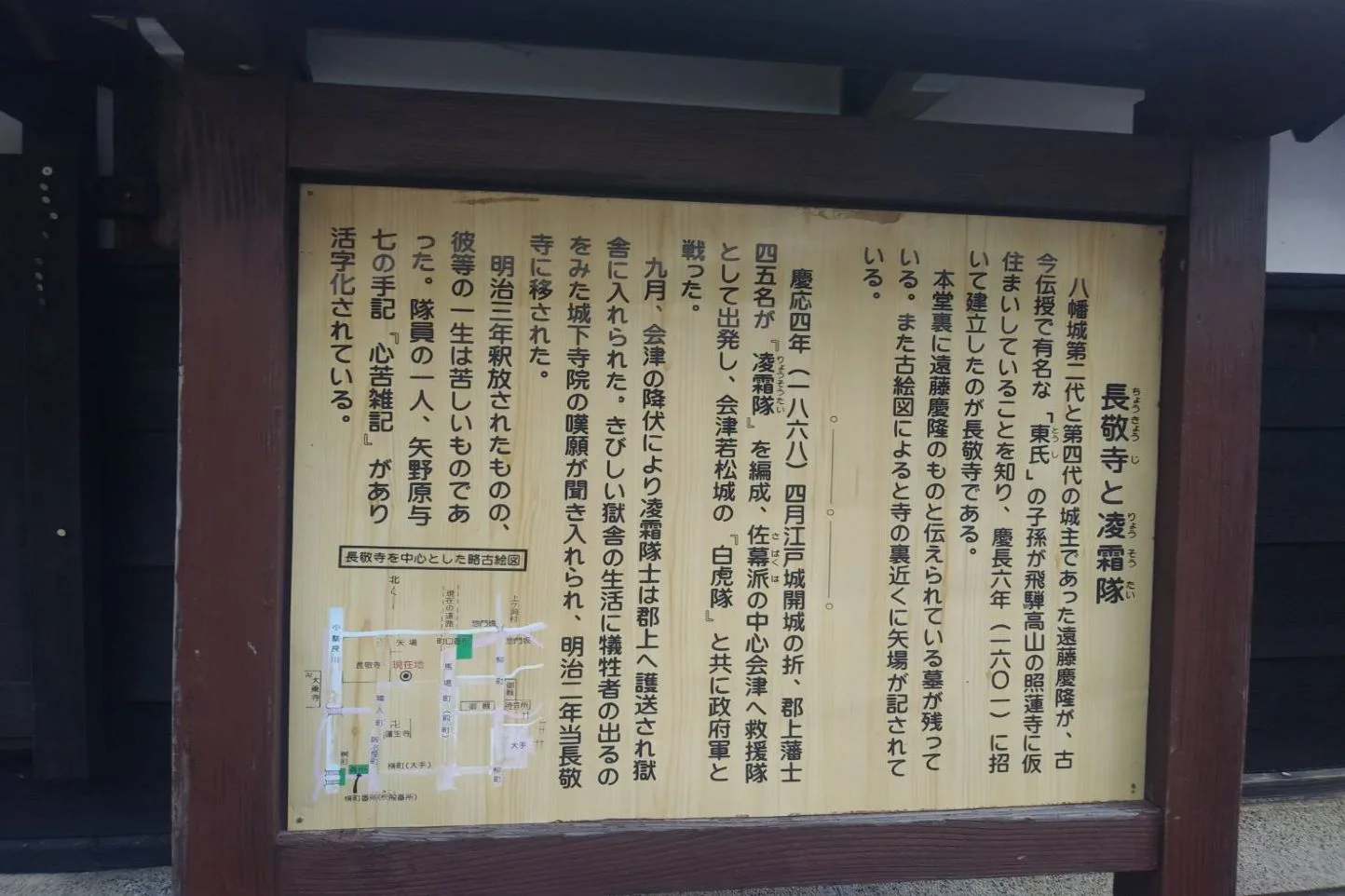 Do not forget to read the signboard written the history of Ryosotai and Chokyoji if you are a history geek!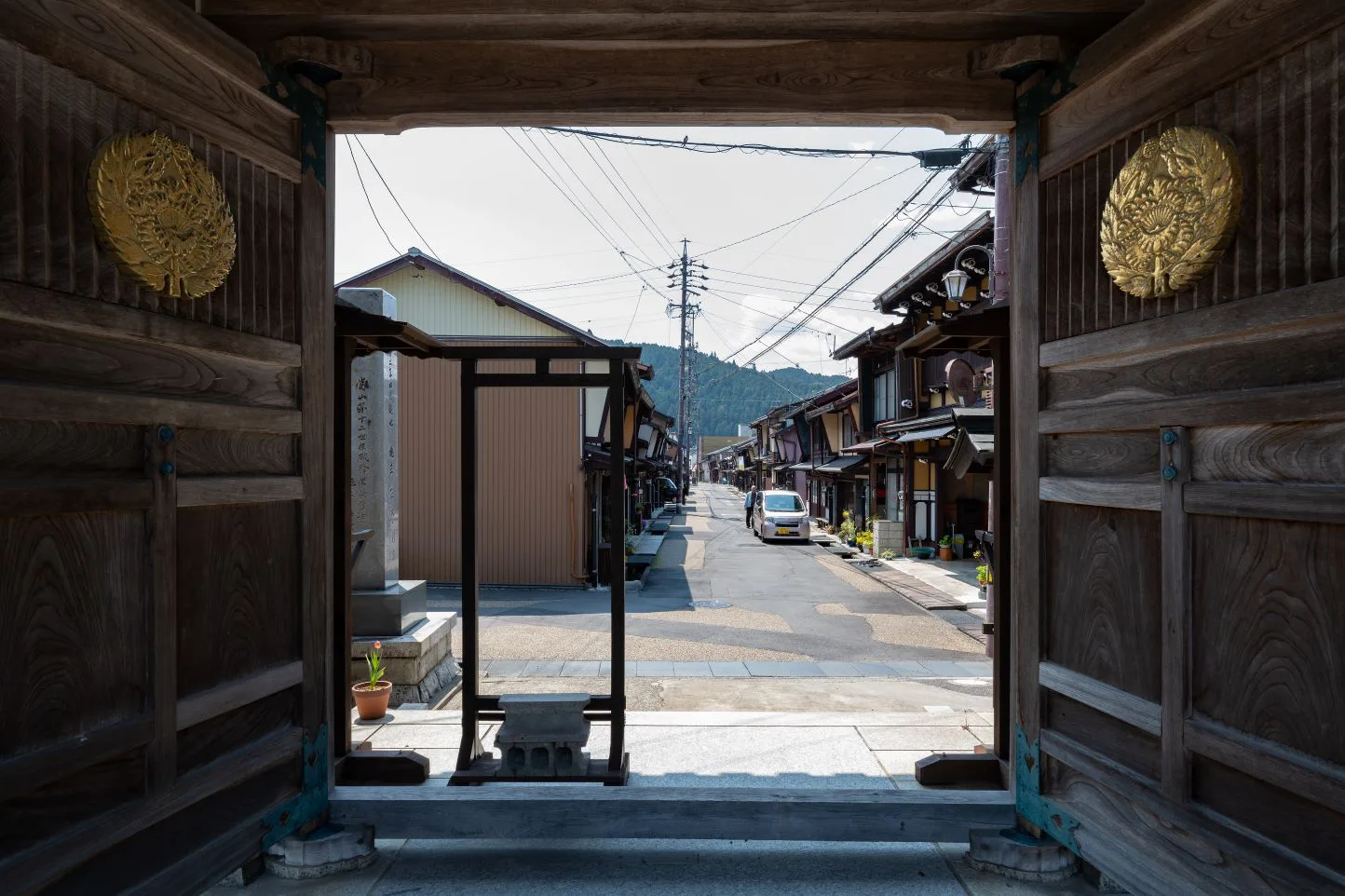 Turn around at the entrance, you will see the beautiful old townscape.