Outdoor Activity during Summer Vacation! Playing in River & "Yana" with Children!
Tag:
/*php var_dump($paged); */ ?>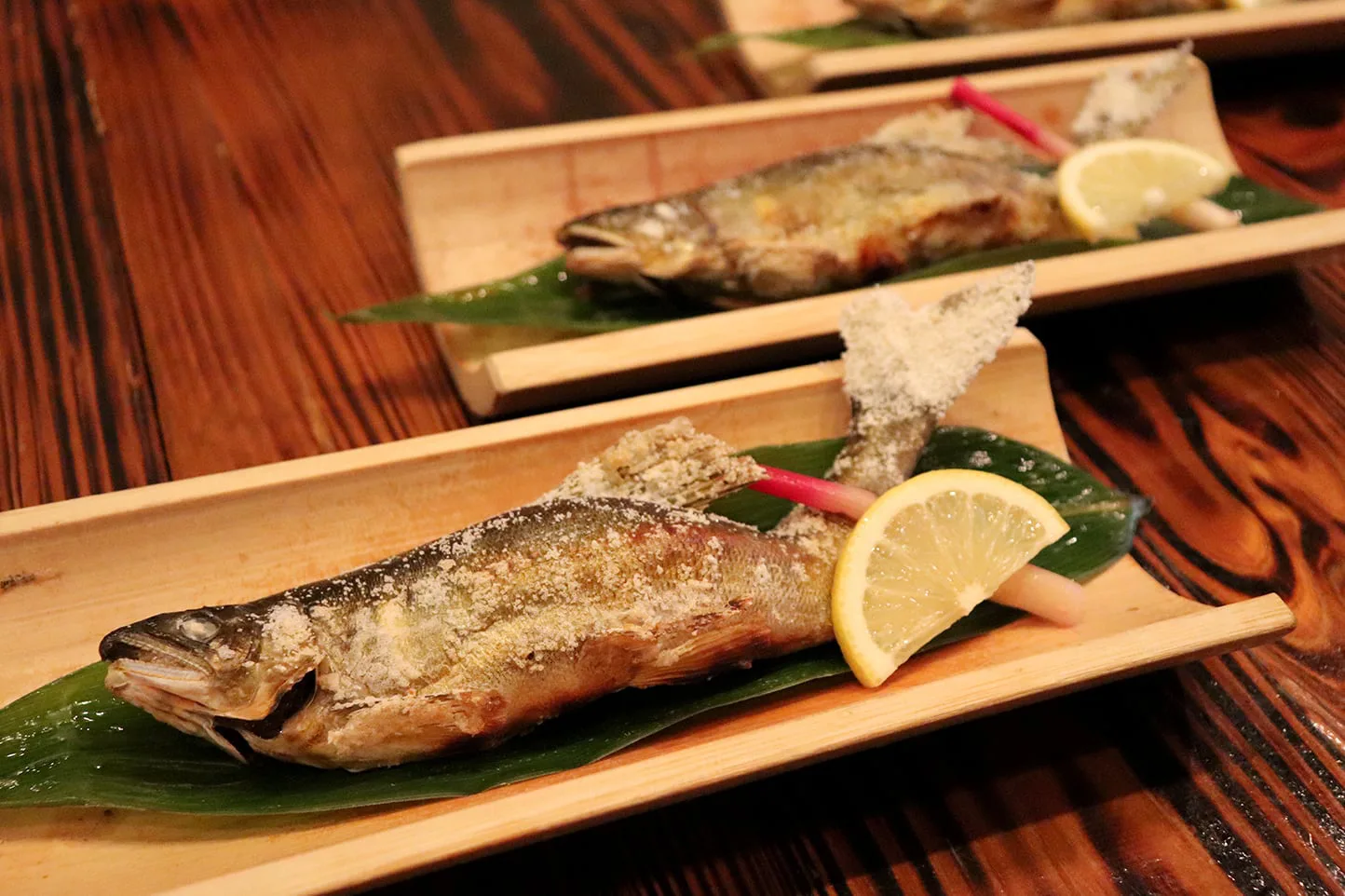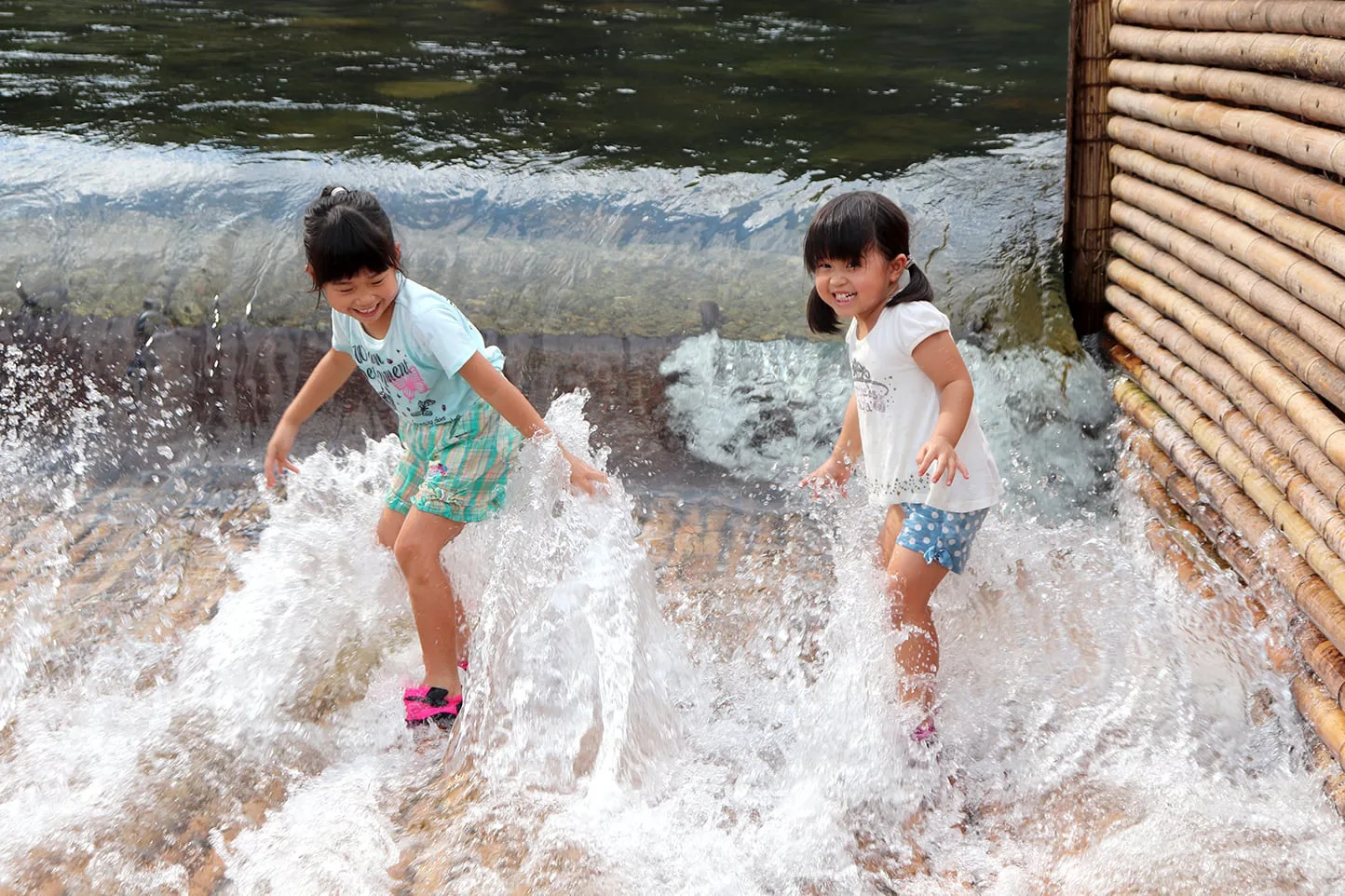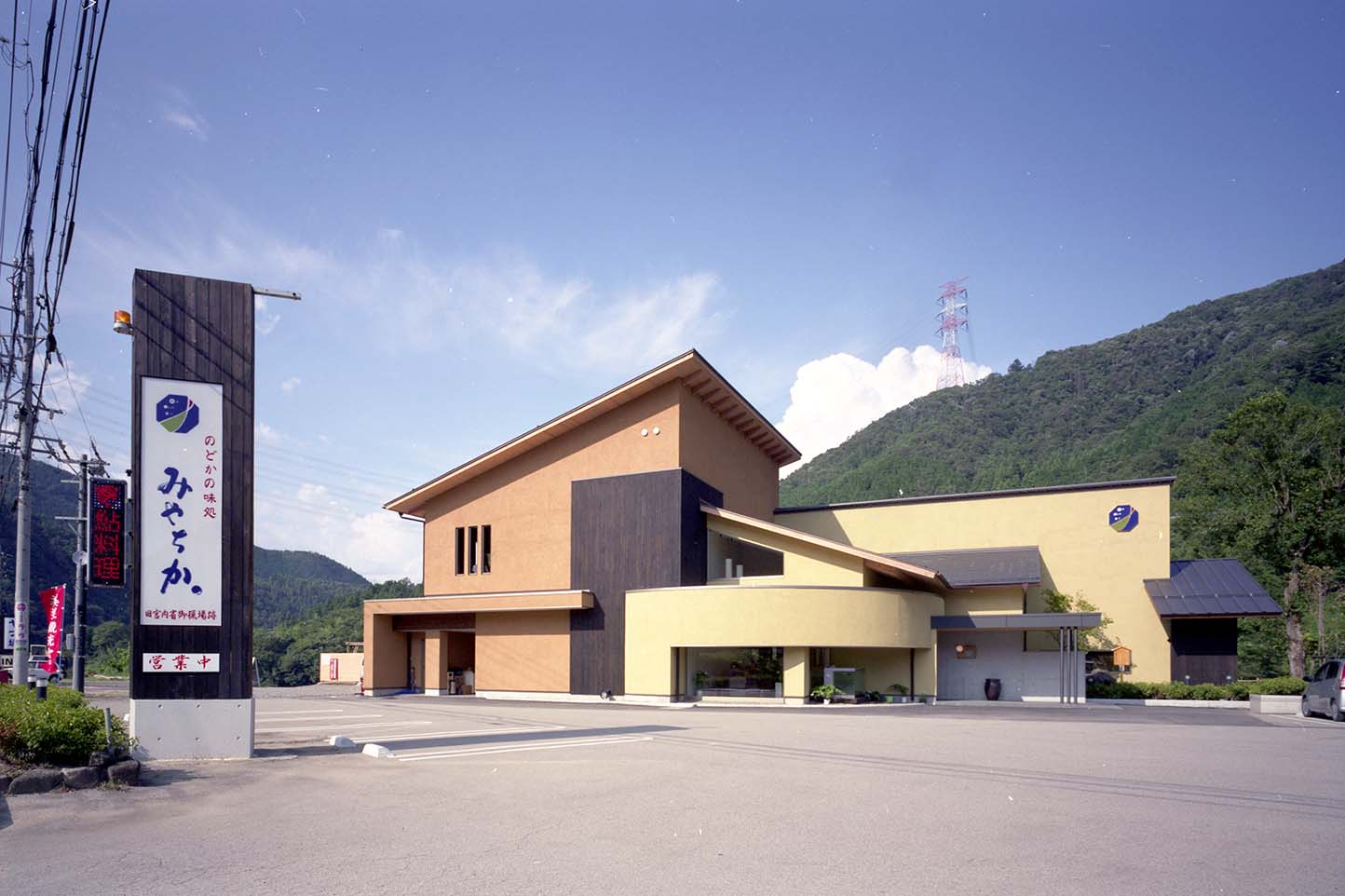 Ayu (Sweetfish) is the fish which represents Gifu-ken. Ayu fishing and Ayu catching are actively practiced in summer. Ayu catching using Yana (Fishing weir) is one of the summer traditions in Gujo. Yana is a large-scaled trap made from bamboo sticks set in the river to catch fish going down the river for egg-laying. We highly recommend places providing natural Gujo Ayu and Yanaba! This time, we are going to visit "Miyachika" which is selected by the former Ministry of the Imperial Household managing food supply to the Imperial family. Ayu here, in the upper stream of one of the most beautiful clear streams in Japan, is particularly delicious! You can try this Ayu fish which was a gift to the emperor during Meiji era (1868 - 1912) to early Showa era (1926 – 1989).
Trying Gujo Ayu from Yanaba!
A summer trip with nature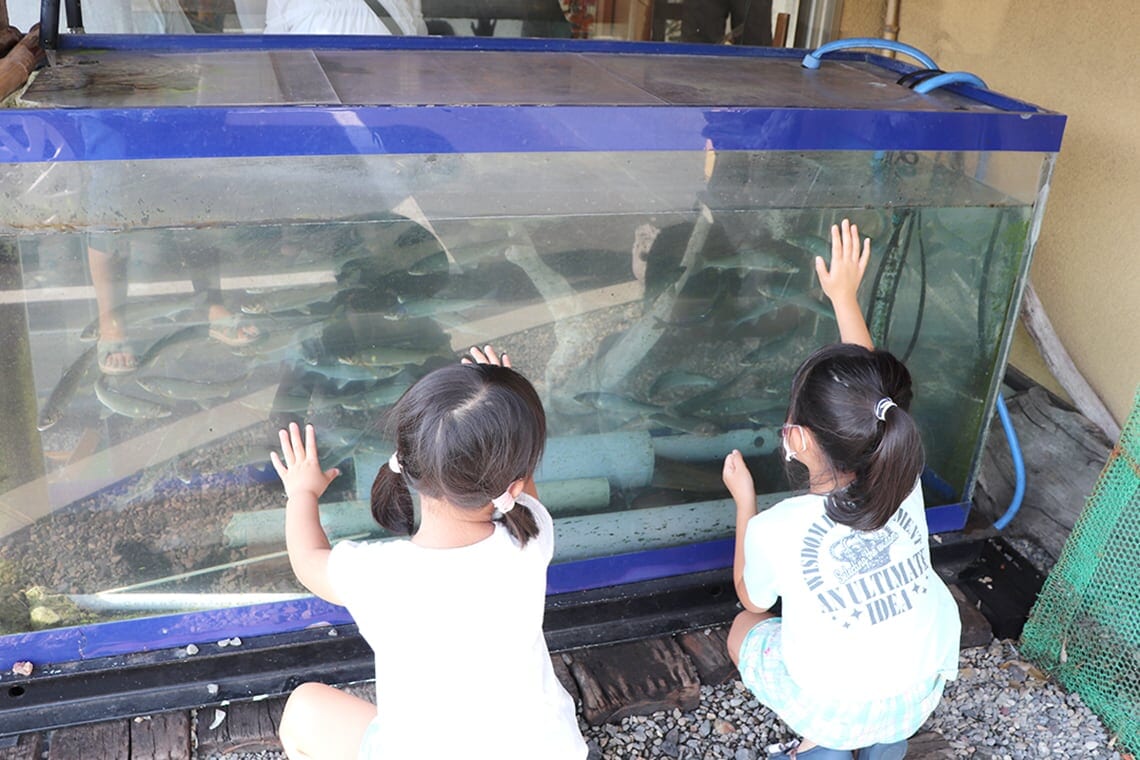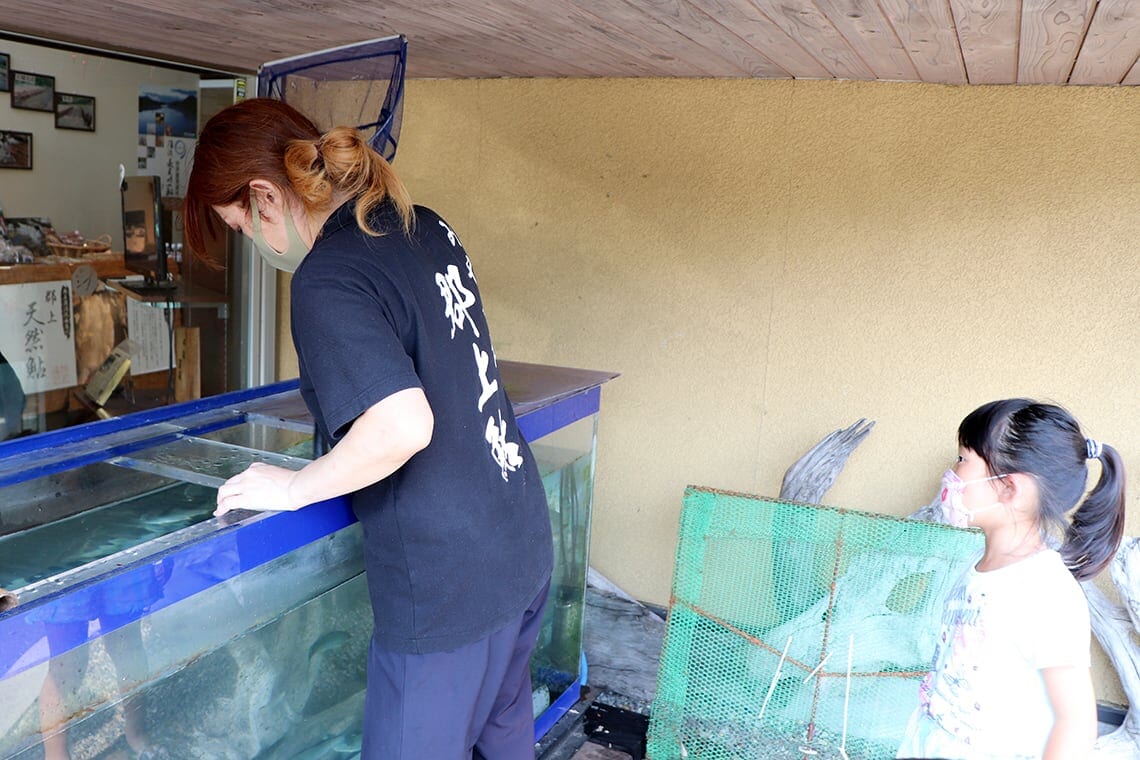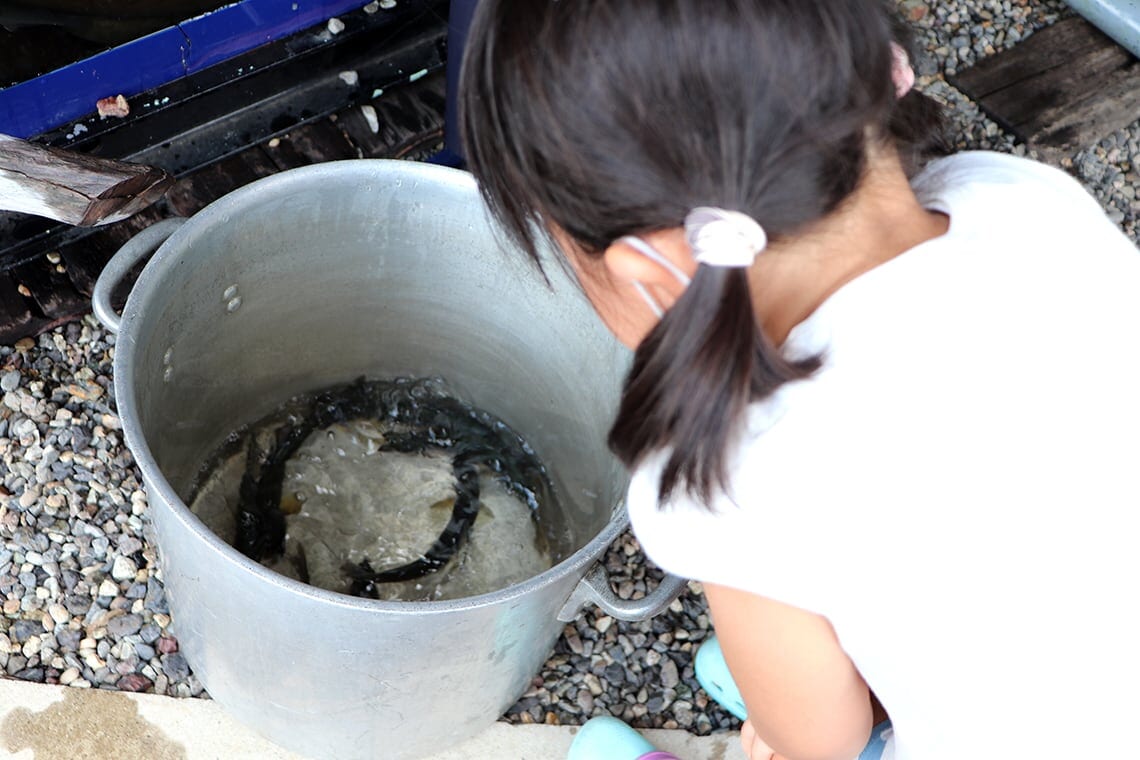 A fish cage is displayed at the entrance. When our kids are looking at Ayu swimming in the tank, a staff comes to us and catches Ayu for us! As Ikizukuri (Sashimi prepared from live fish) in the shop menu needs fresh Ayu, they catch after they received an order. We are all looking forward to our lunch here!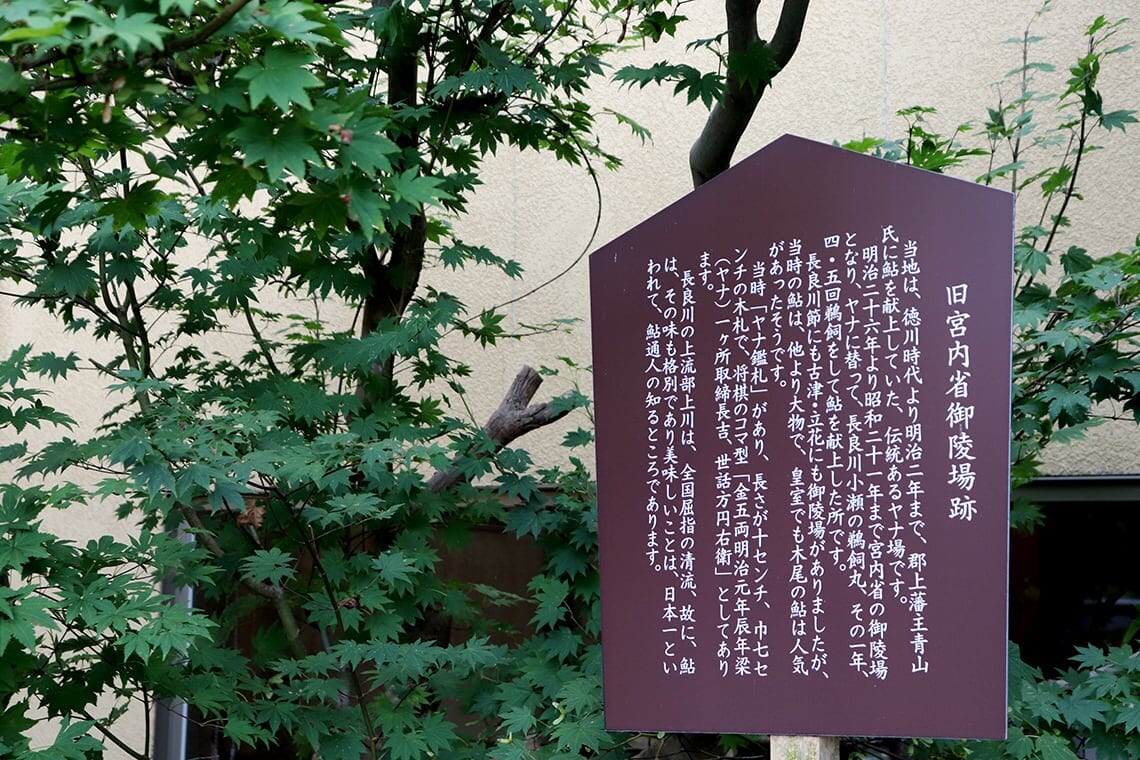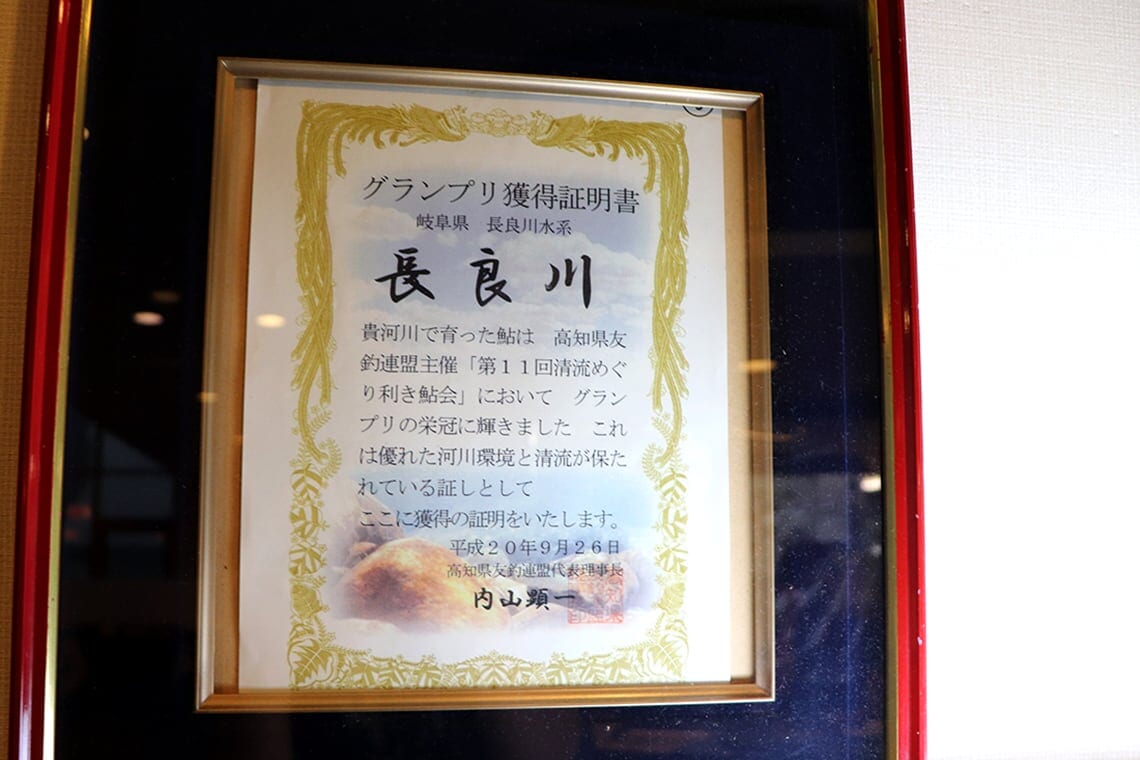 Nagaragawa Ayu was the champion of Seiryu-Meguri Kikiayu-kai (Ayu Tournament) organized by Kochi Ayu Fishing Federation in 2008. "Gujo Ayu" registered as a trademark in 2007 and "Seiryu Nagaragawa Ayu" was certified as Globally Important Agricultural Heritage Systems in 2015. There is announcement about the history and information of Gujo Ayu inside the shop. You can learn about them before tasting them!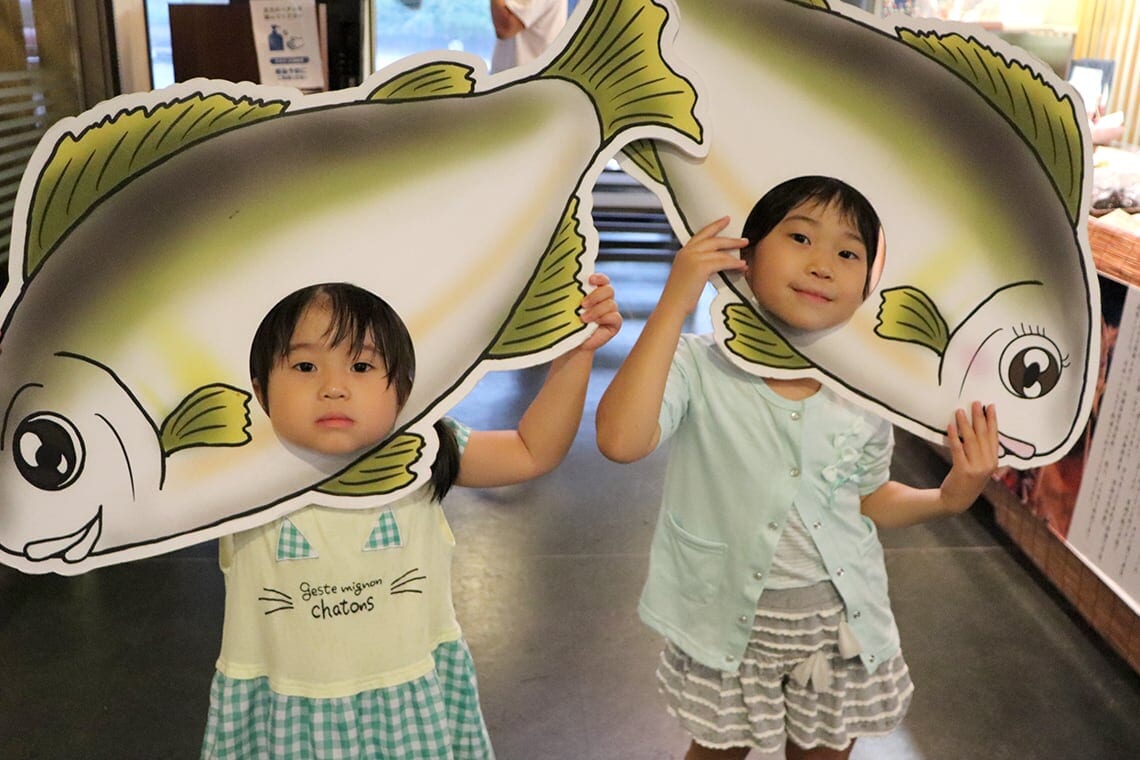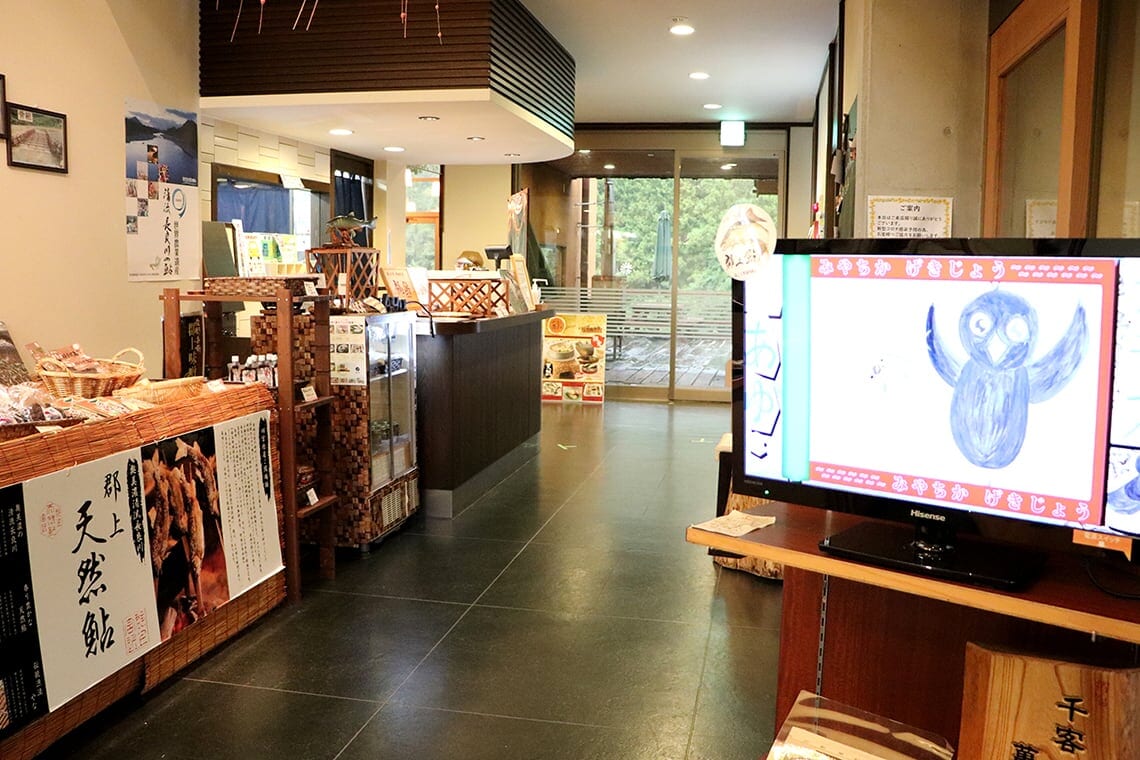 At the waiting room, there is exhibition and video about "Miyachika" which offered Ayu to the feudal lord, Lord Aoyama in Gujo during Edo era (1603 – 1868). You can spend some time reading them while you are waiting. Children can enjoy themselves looking at the fish cage or taking pictures with Ayu shaped caps.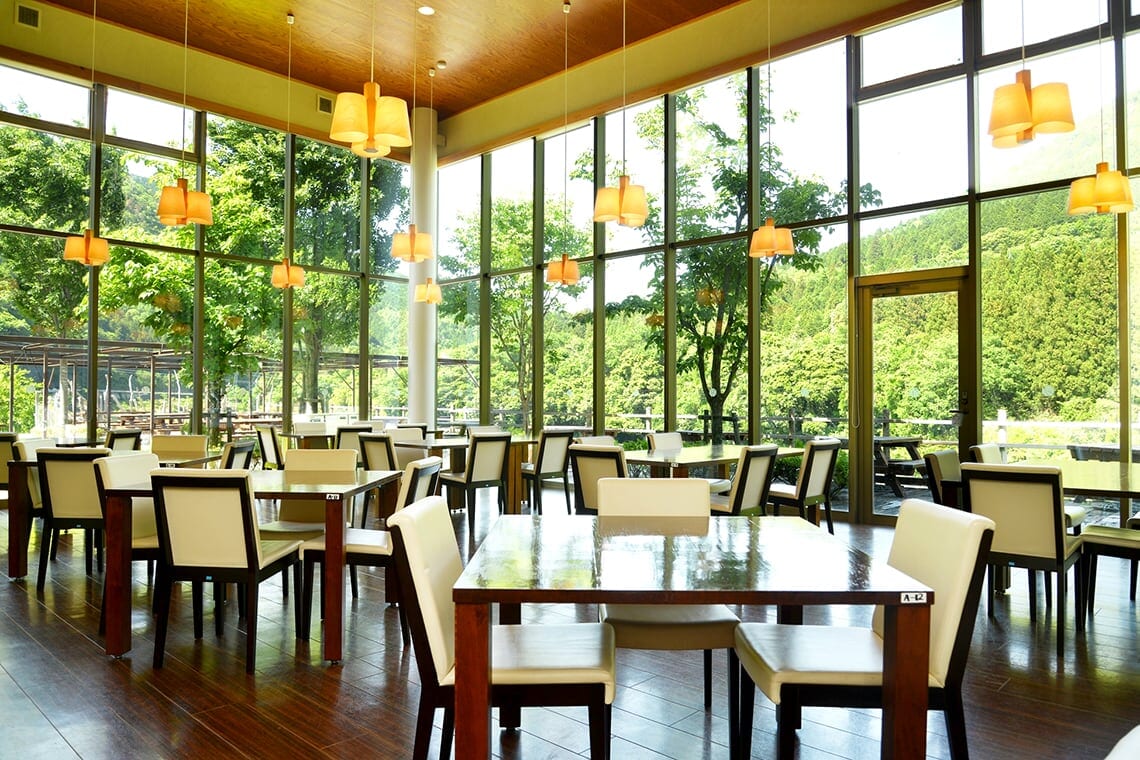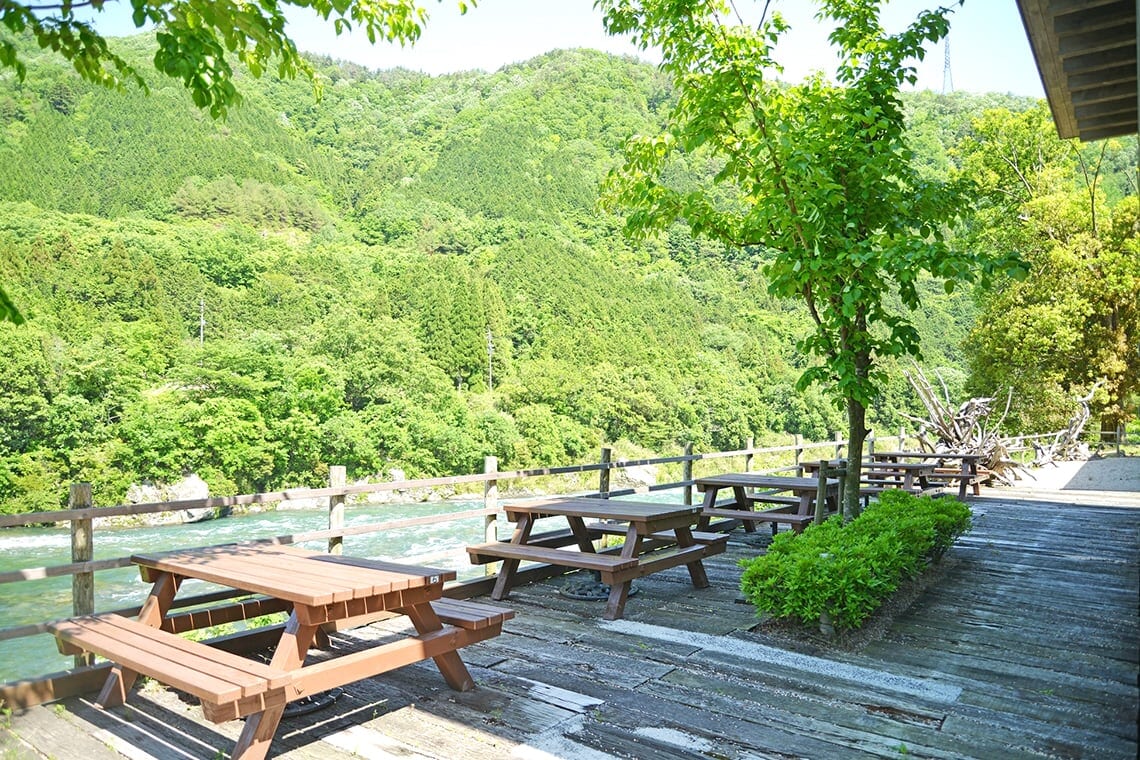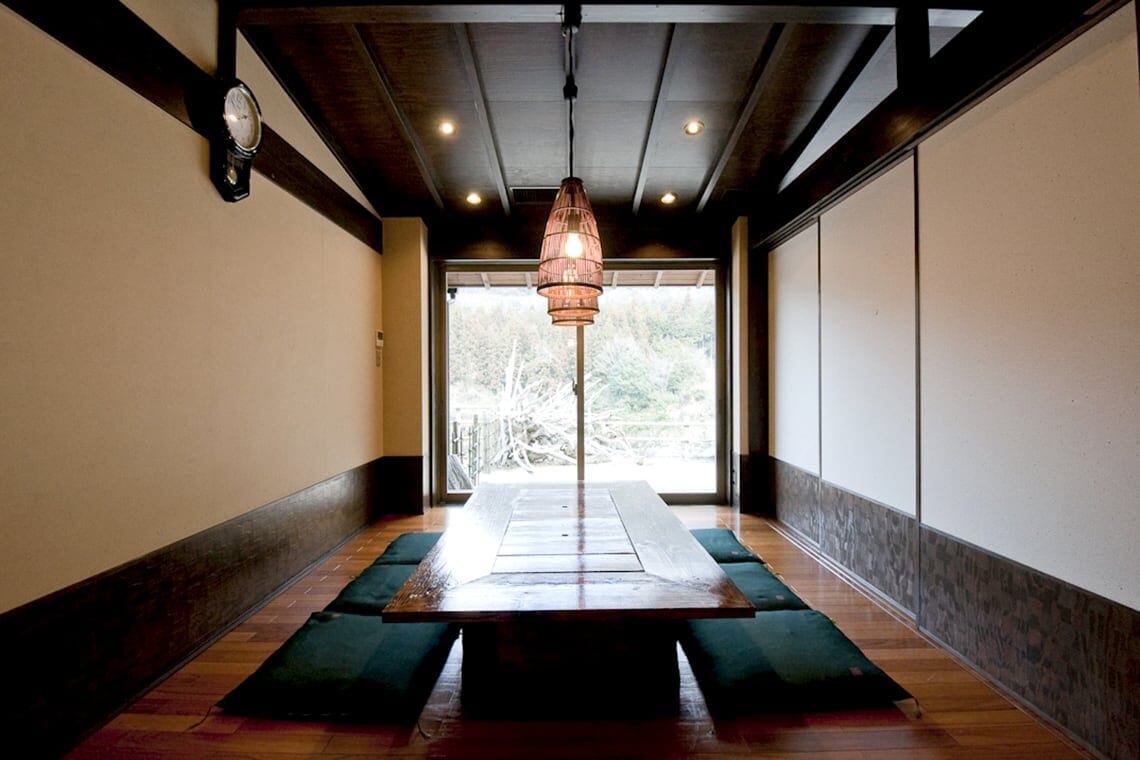 "Miyachika"has table seats and terrace seat both having a panoramic view of Nagaragawa River and mountains of Minami area. Private rooms and banquet hall for 40 people. As we are with kids, we take a private room this time. This restaurant is a barrier-free restaurant, customers with stroller or wheelchair can enter without any problems.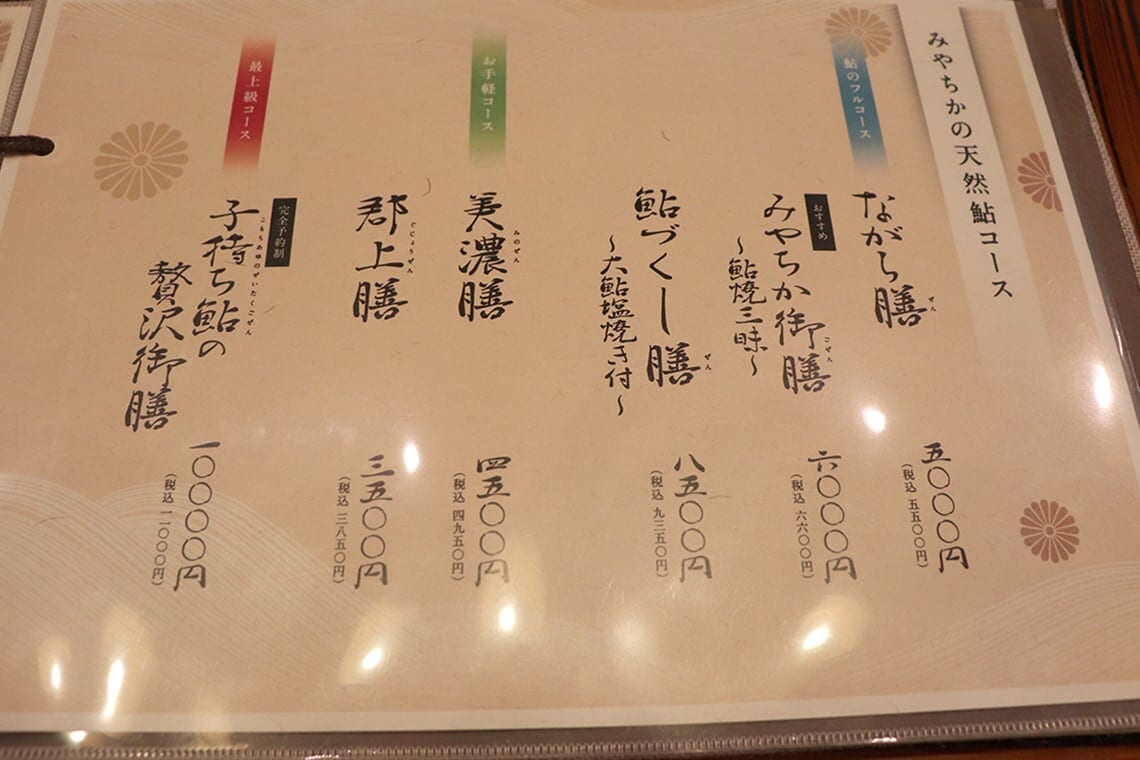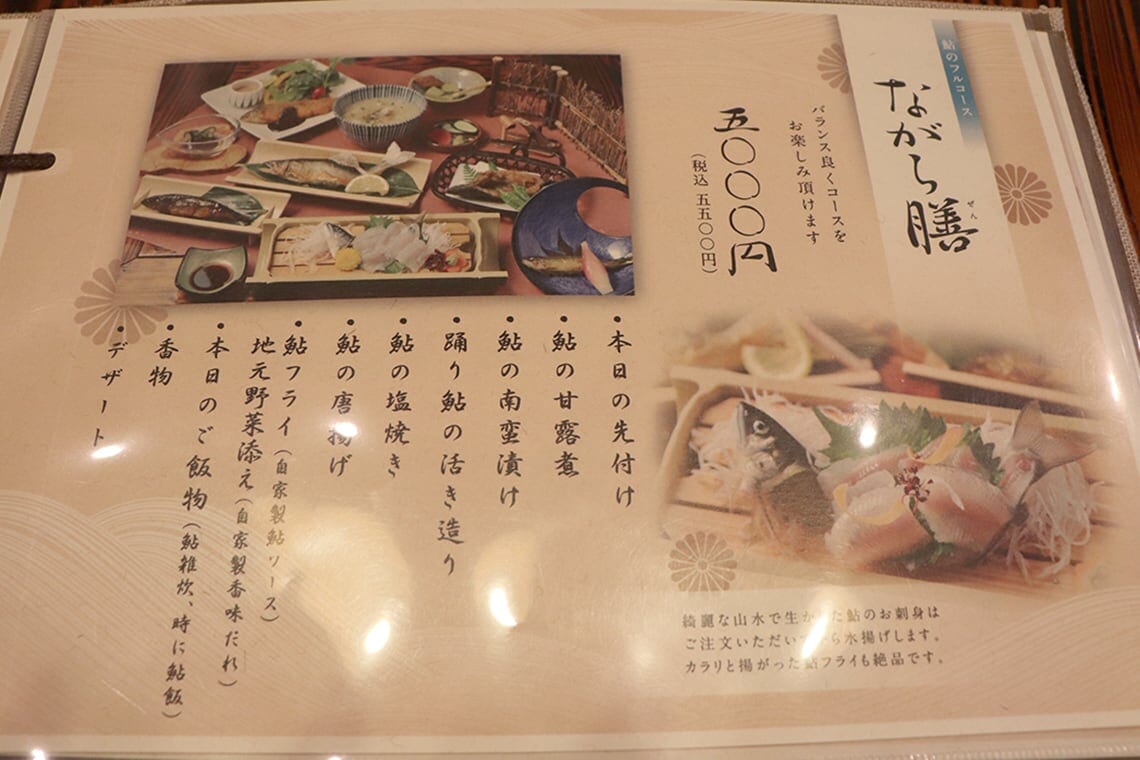 All look so delicious on the menu. As we heard about Ikizukuri from the staff before, we decided to have "Nagara set" (5000JPY). Other courses start from 3500JPY~, and a la carte is available too. The price is reasonable as you are going to taste what the emperor ate!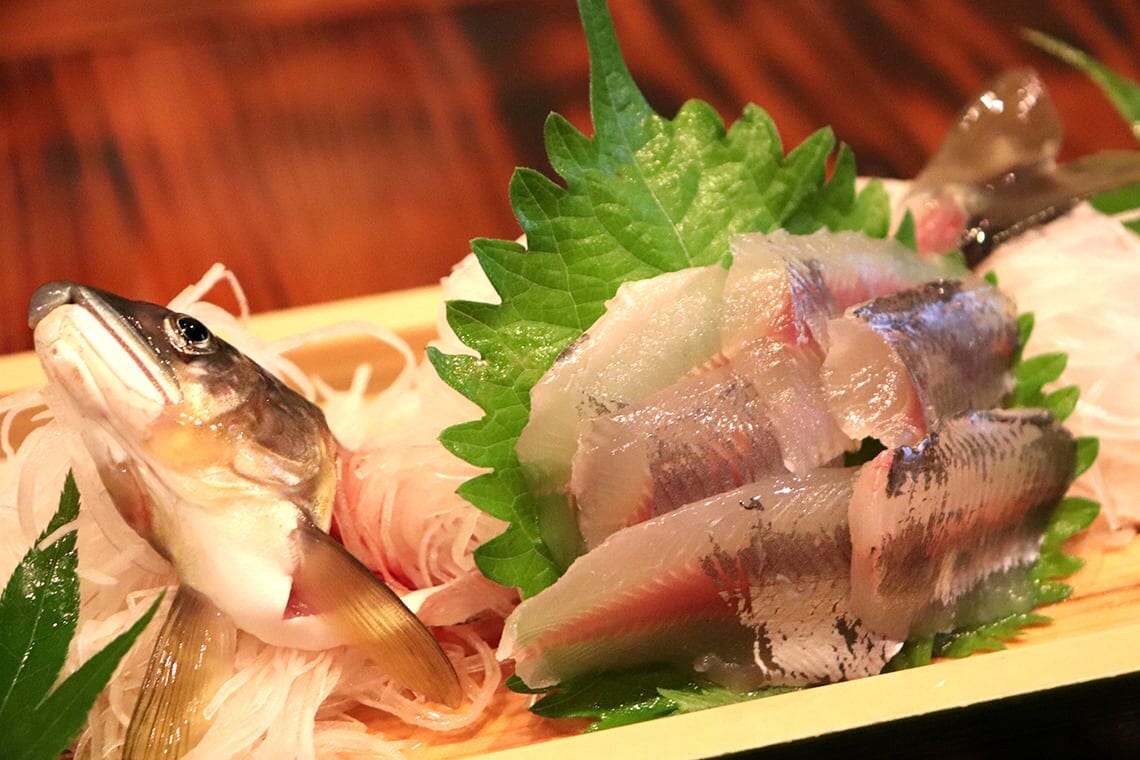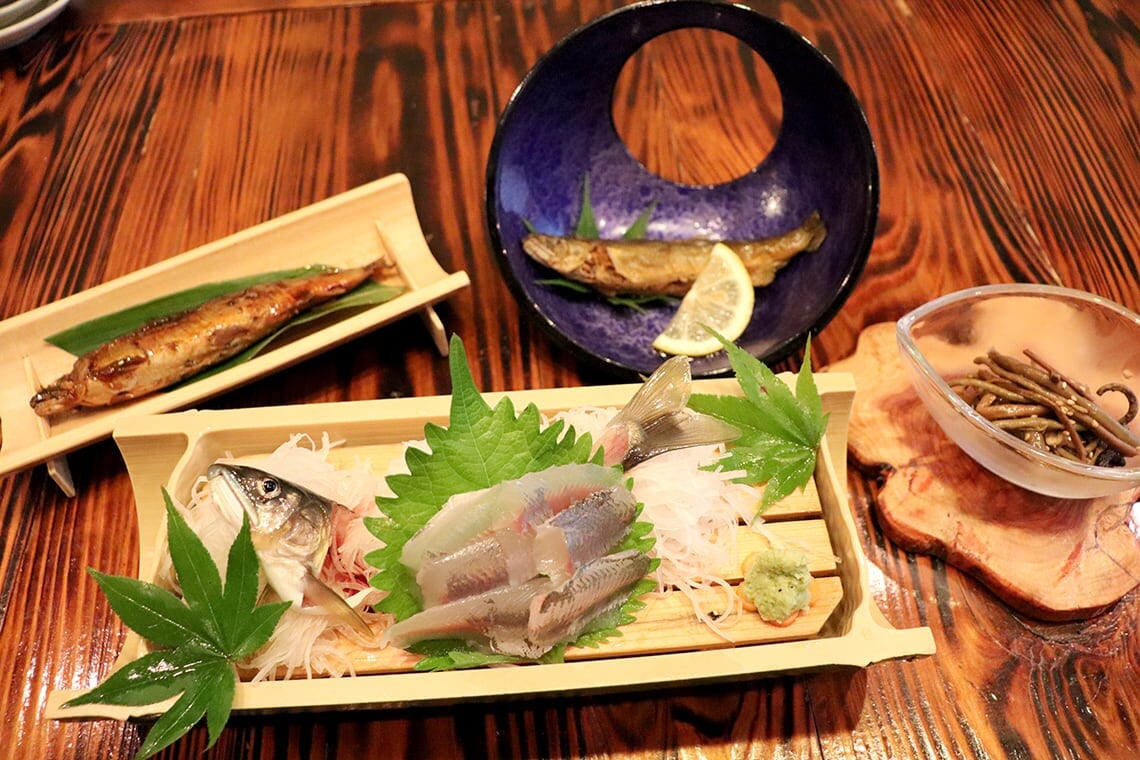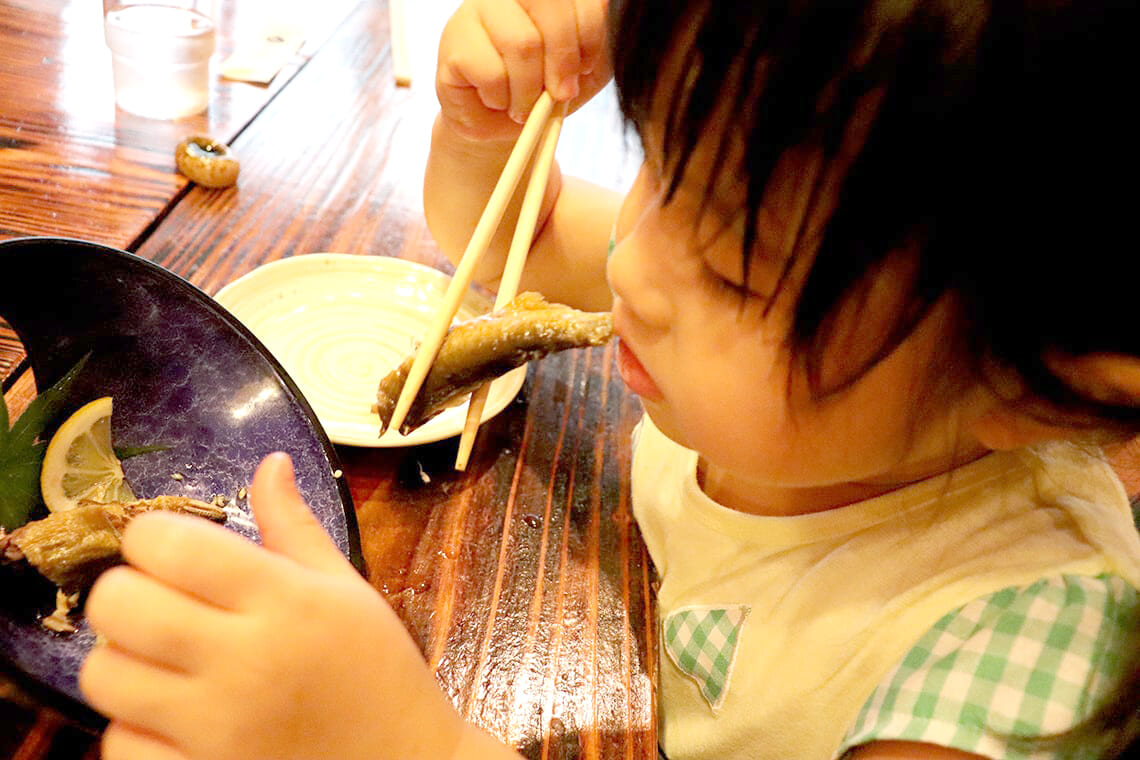 Nagara set includes, appetizer, sweetened boiled fish, deep fried fish in spicy sauce, Ikizukuri, salt grilled fish, deep fried fish, fried fish with vegetable, Ayu porridge (or Ayu rice), pickles and dessert. 6 natural Ayus and more are used in this set. Today's appetizer is osmunda japonica. This coaster is made from sliding a whole piece of driftwood by hands! Sweetened boiled fish using 150 to 180 Ayus and boiling for 7 hours, is so soft that even heads and bones can be eaten! The taste is not too sweet. Ayu fish fried twice and soaked into sour spicy sauce whets my appetite! The mouth of the fish is still moving! My kids are a bit scared. The fish is so fresh, and Sashimi is so tender!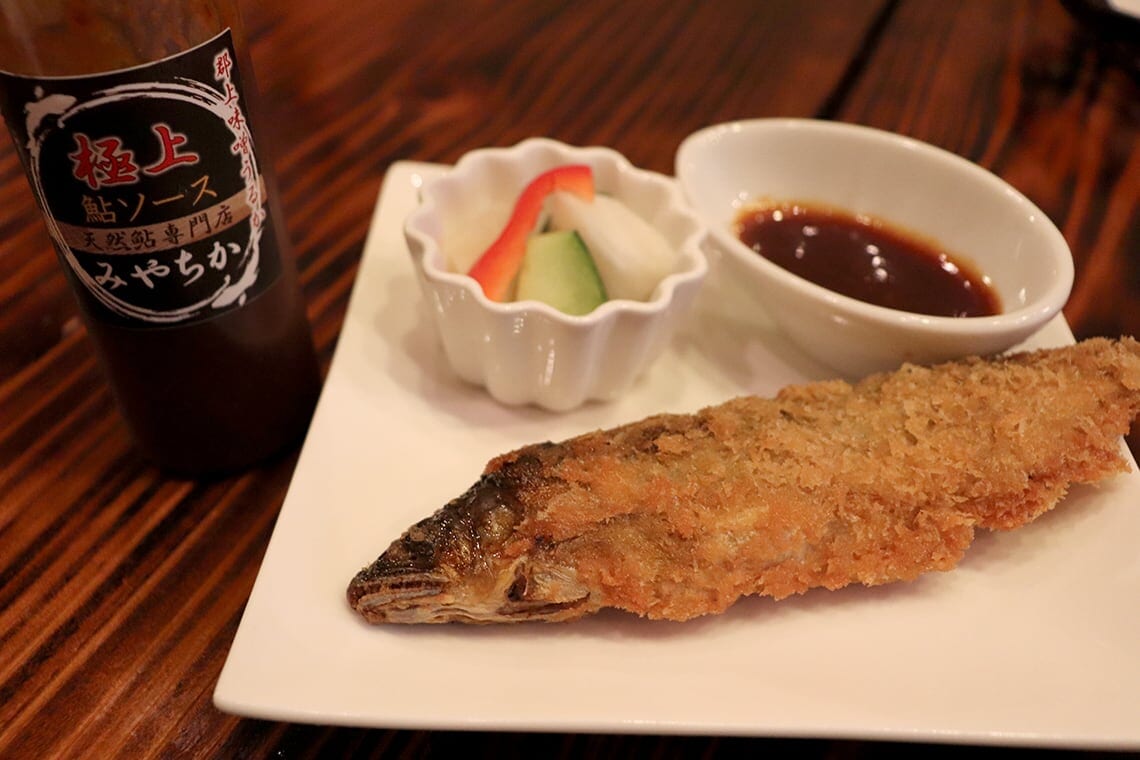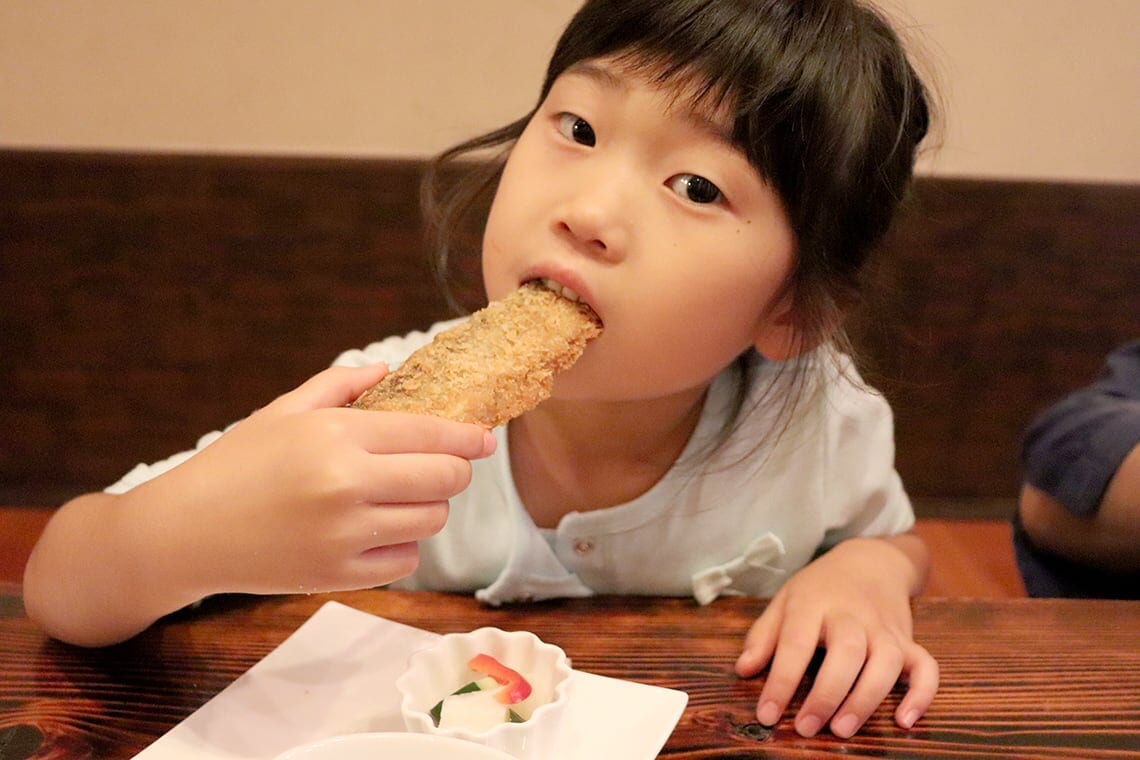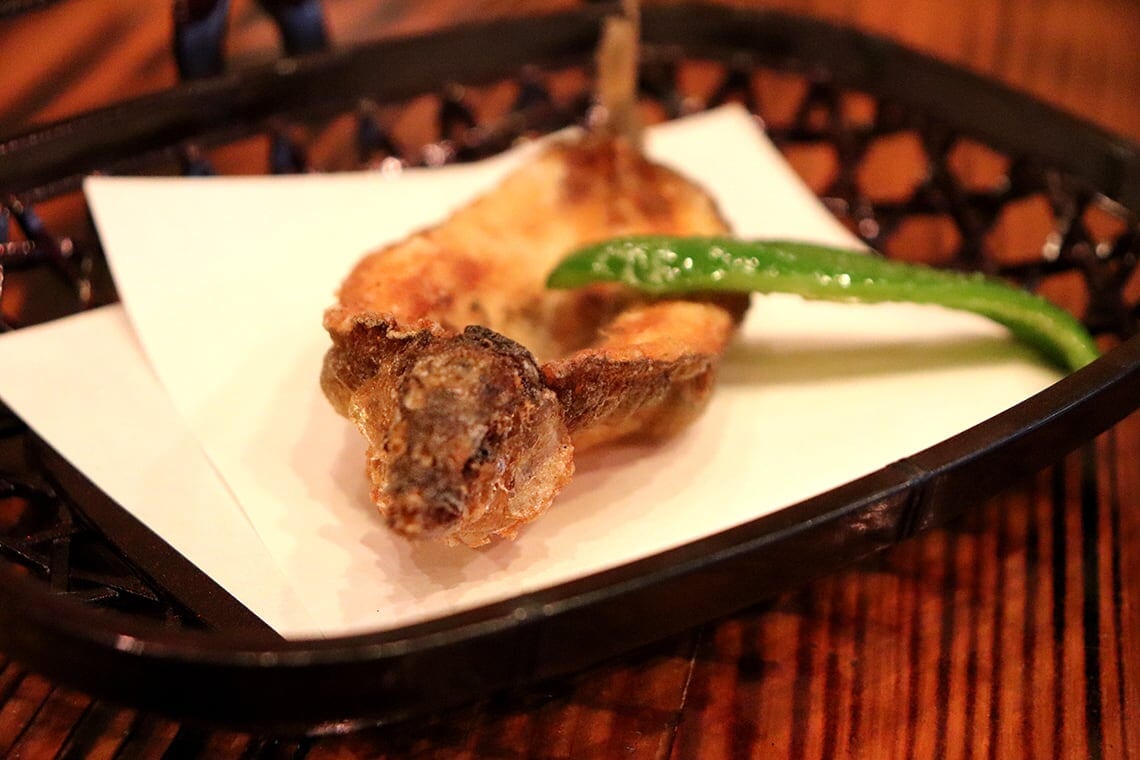 The next plate is two kinds of fried Ayu. Both are cut at the back, so they are easy to eat. As most big bones are removed, so you can eat the whole fish easily. Dipping it with the original sauce in Miyachika is good! This sauce "Gokujo Ayu sauce" is made by mixing the inner parts of natural Ayu with Gujo miso. This combination of Ayu and miso can only be tasted in Gujo! The deep fried Ayu is fried twice making it crispier. Salt and pepper make an acquired taste!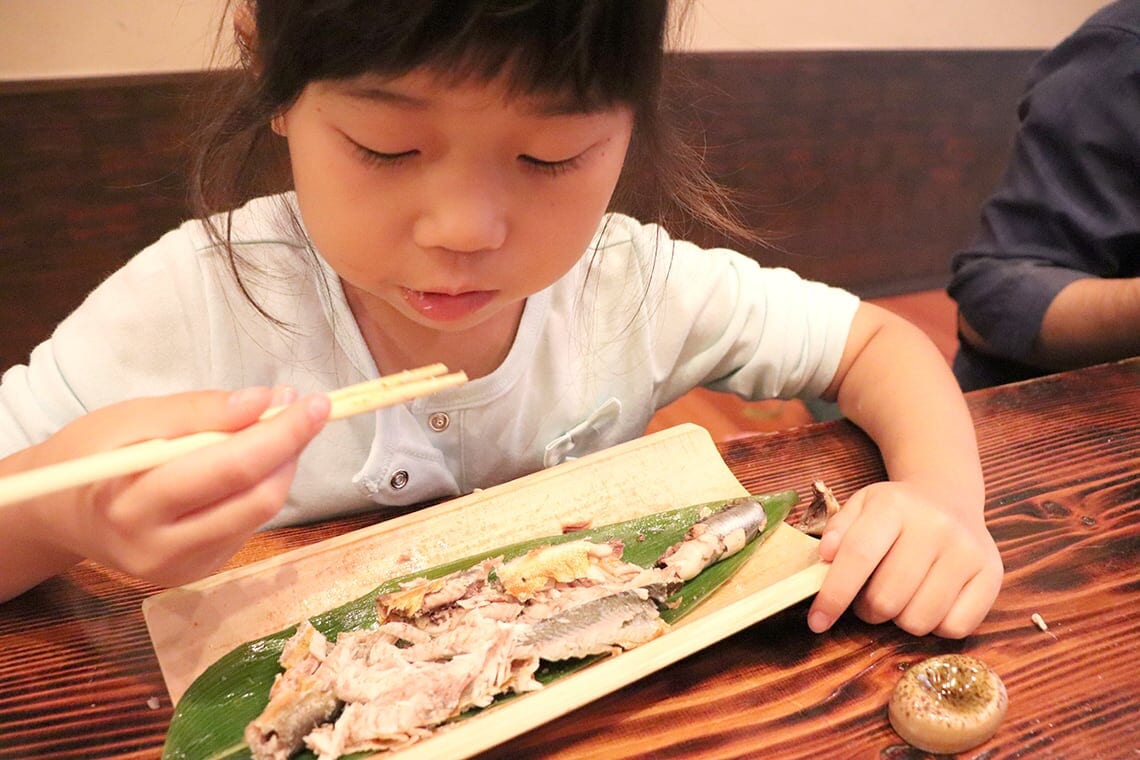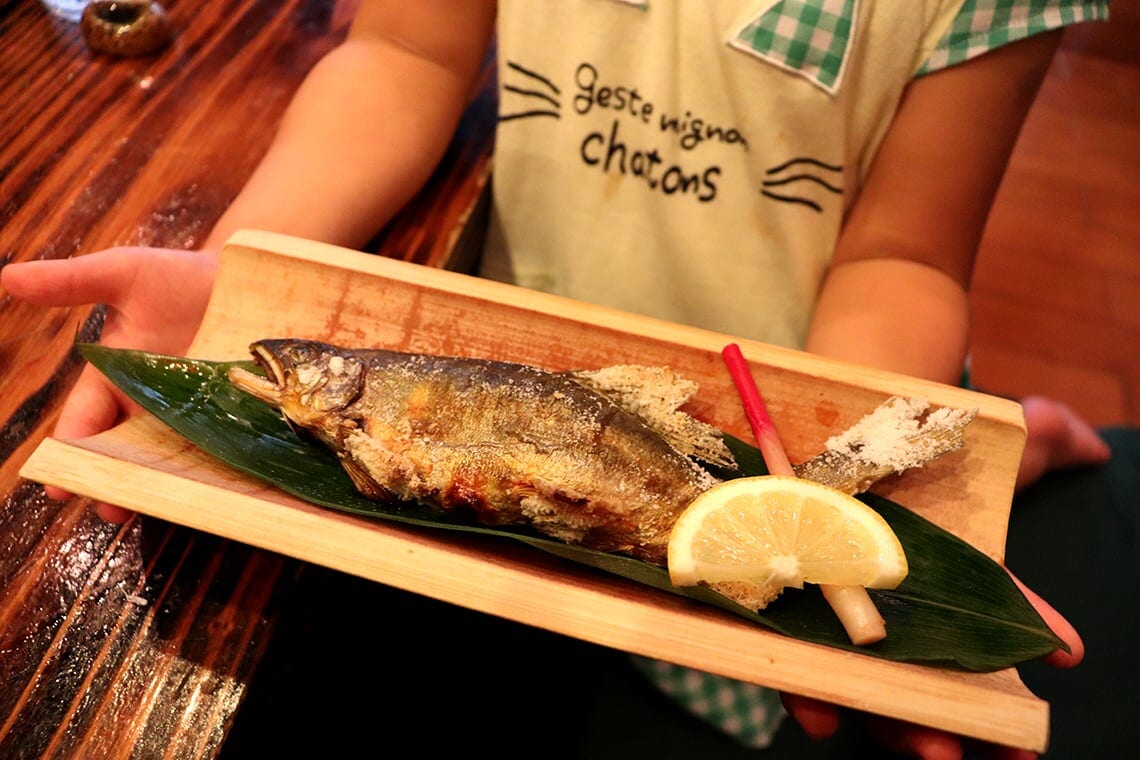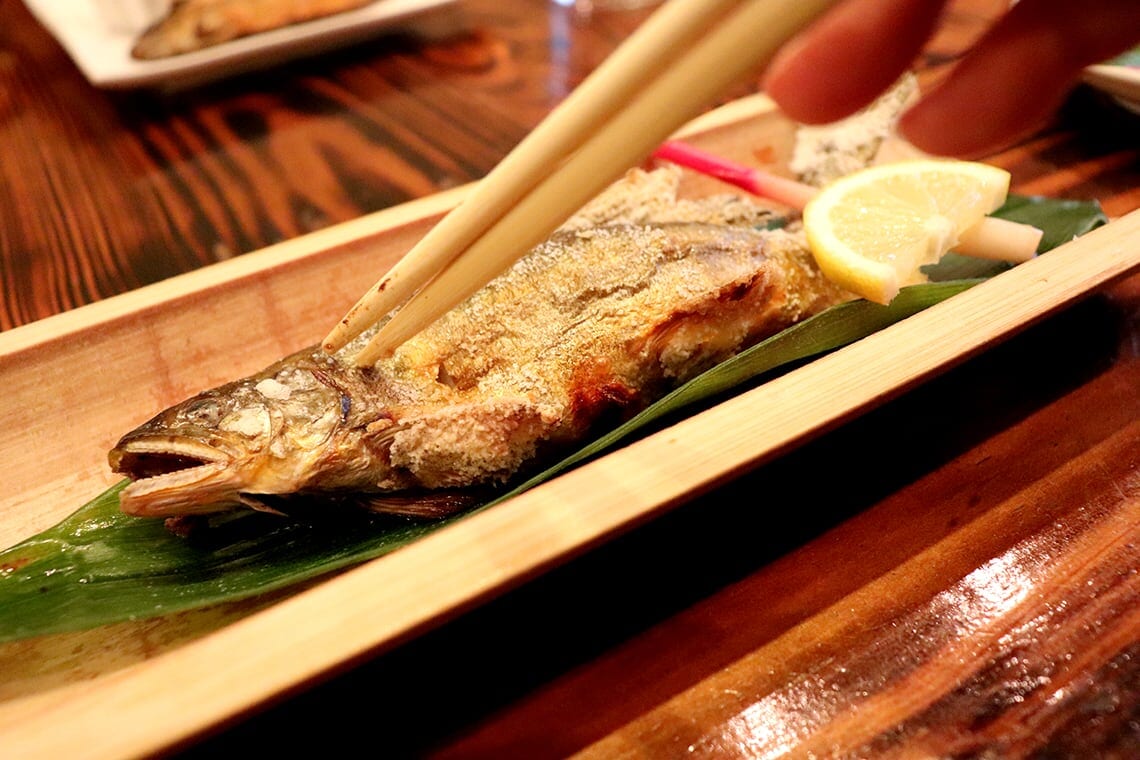 Speaking of Ayu, you cannot miss salt grilled Ayu! The staff says they prepared a big Ayu for us today! This Ayu is big and beautiful! The meat is tender, thick and fresh with all bones can be removed easily. All Ayus here were caught by the fish cage and kept for 72 hours for them to spit out all dirt and algae, so the inner part of the fish is clean. Children can eat those parts without any bitter taste. All procedures taken aim to make the fish in its best condition. My kids said they have the best Ayu ever.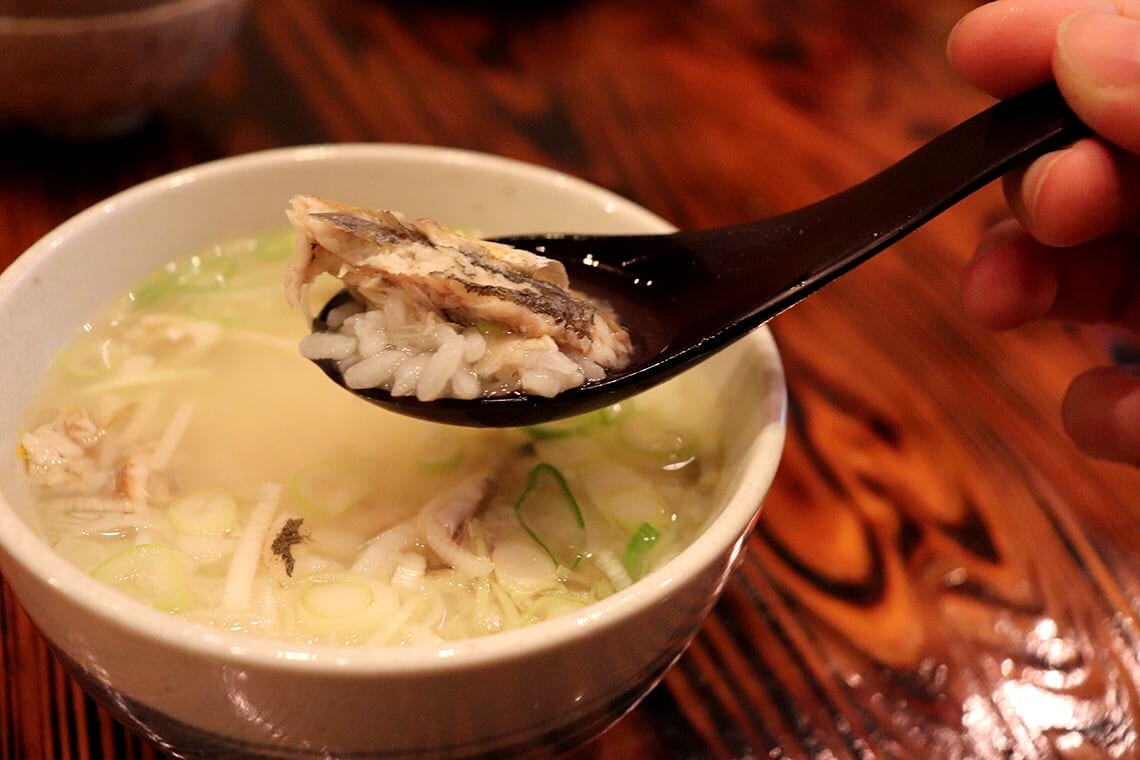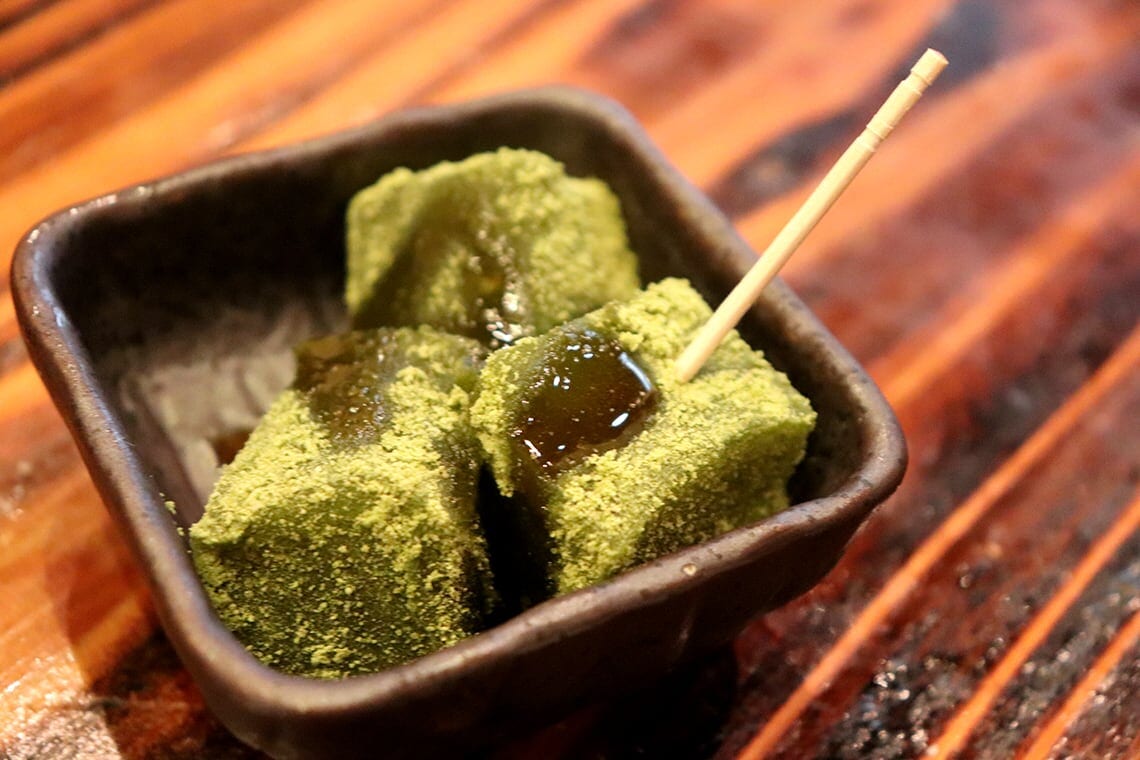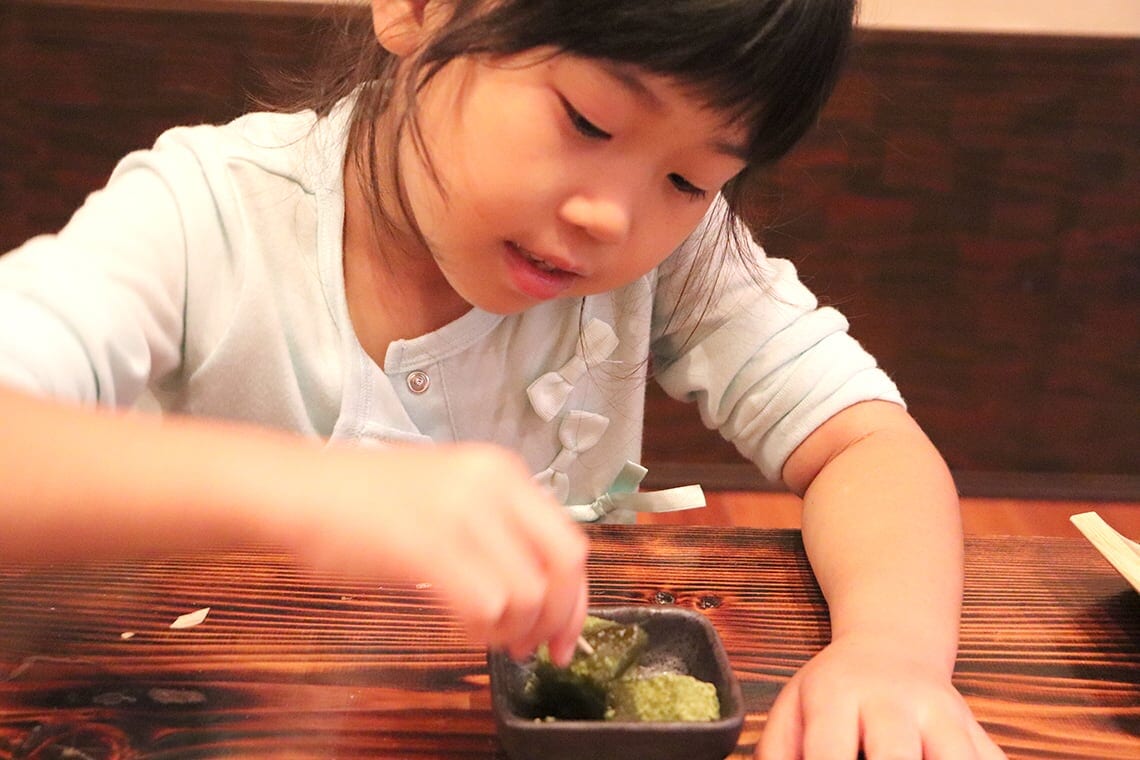 At last, Ayu porridge is made with skipjack's soup stock making a fresh taste. The staff recommends us to put wasabi inside. Although we are full, we can still have the whole bowl of porridge with wasabi! Dessert is a Matcha warabi-mochi (Bracken-starch dumpling with green tea). All dishes are made with whole heart. As staff explains every dish to us so we can enjoy them slowly.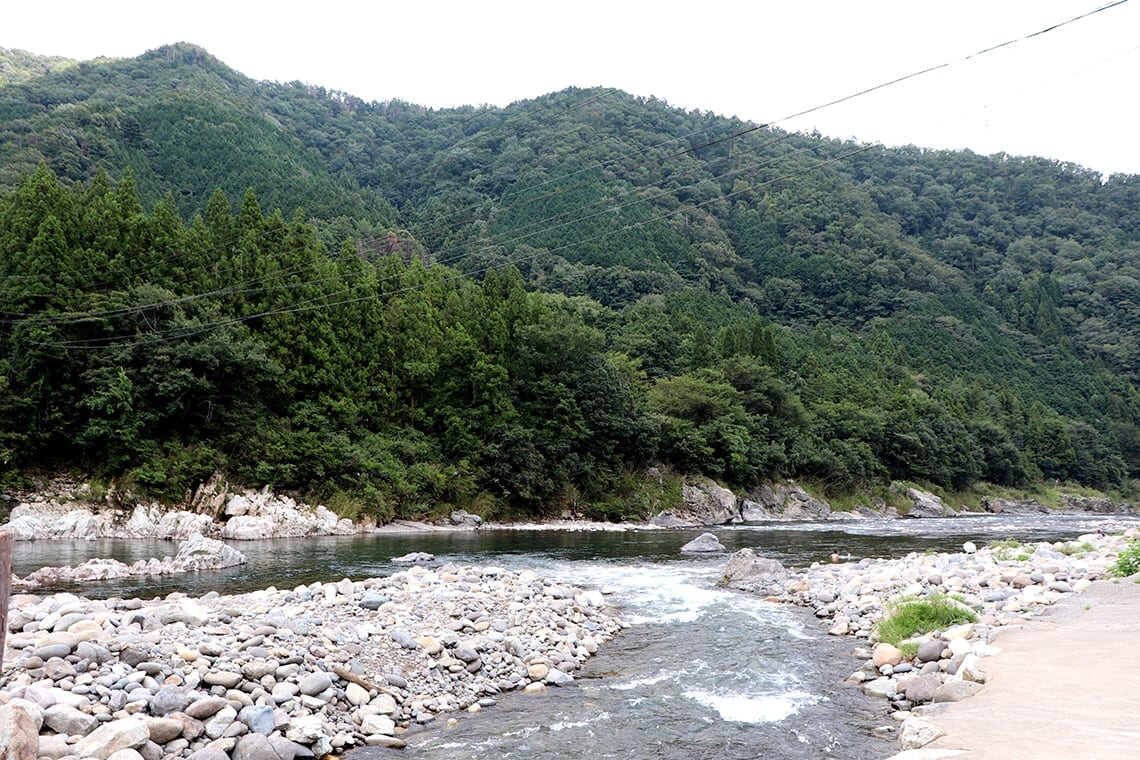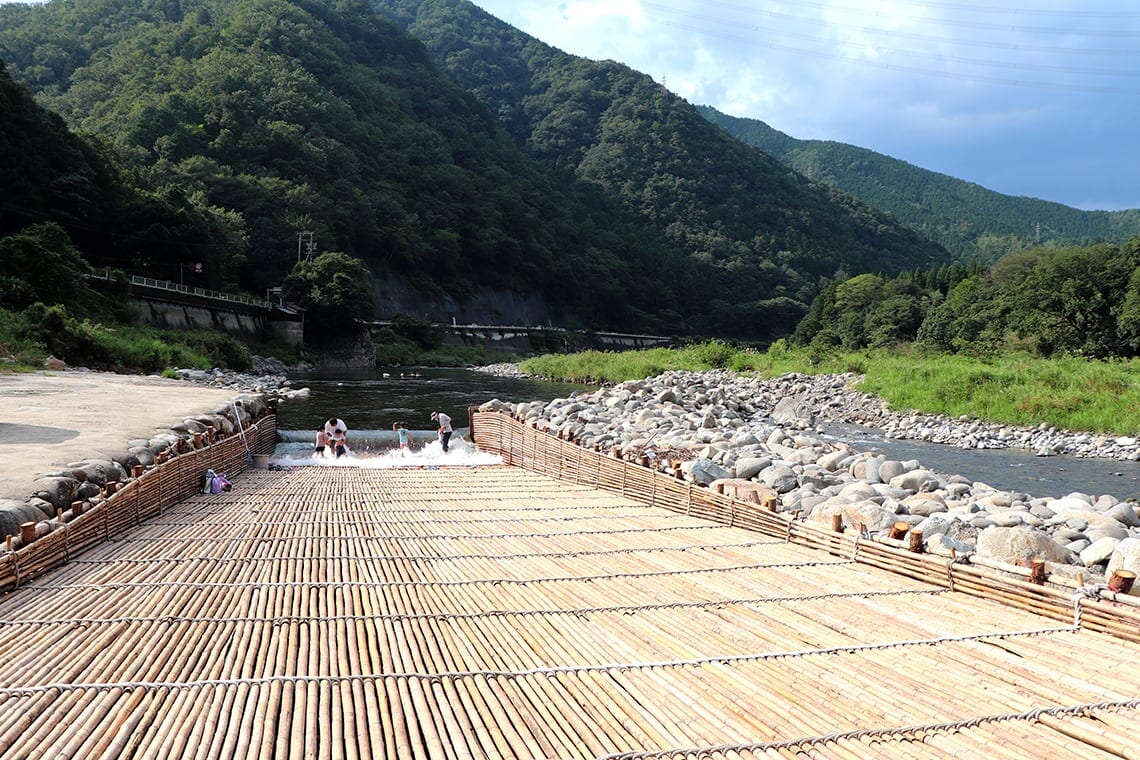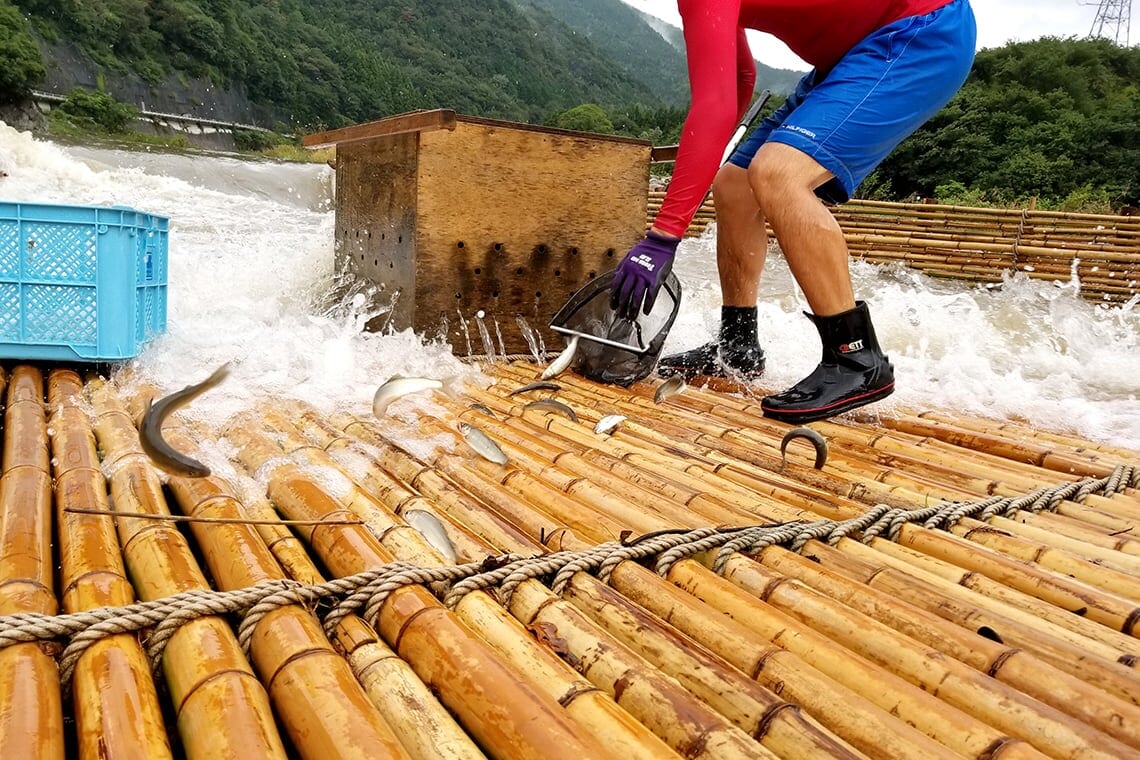 After our meal, the most important part of this trip, play in Yanaba, is waiting for us! Surrounded by nature of Nagaragawa River and mountains, playing in this beautiful water is precious! This Yanaba is one of the biggest one in Japan. The quantity of Ayu can be caught is over 100,000! The location near a big curve makes is good for fishing weir. Ayu used to gather at deep pool, so many of them are caught at this Yana! Ayu fishery starts in October. During the rising of river, Ayu are trapped inside the Yanaba for the whole night. Over ten thousand of Ayu are caught in one night!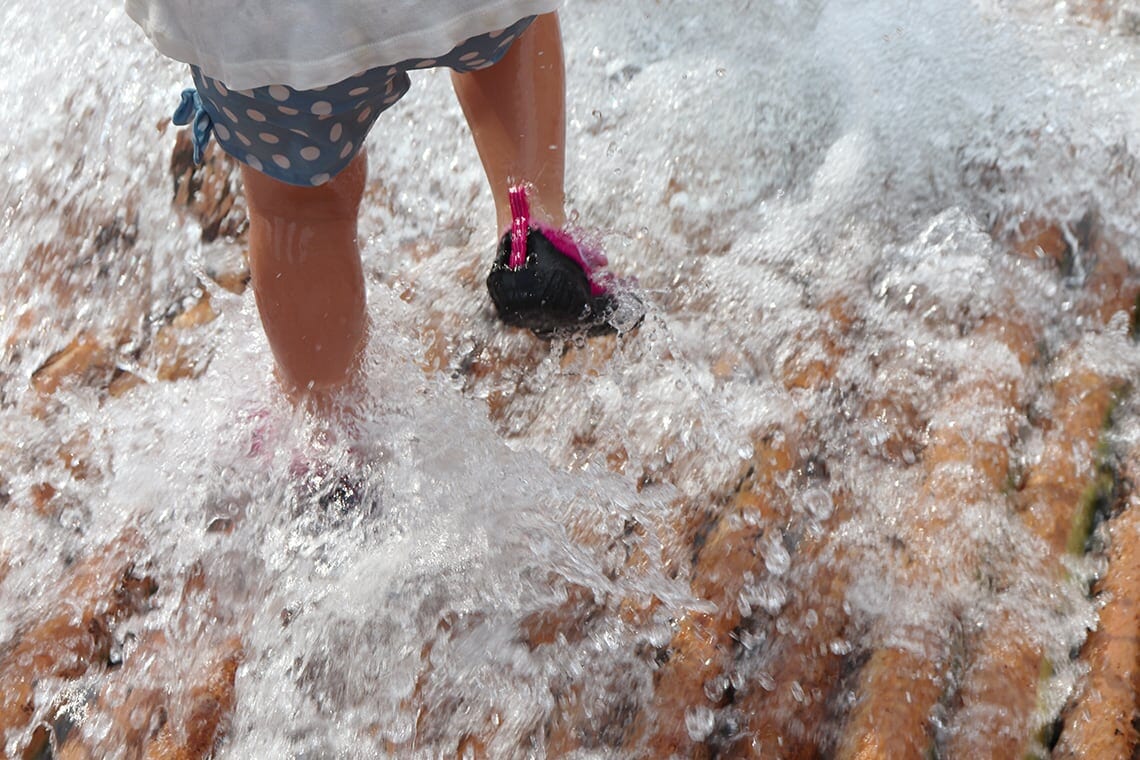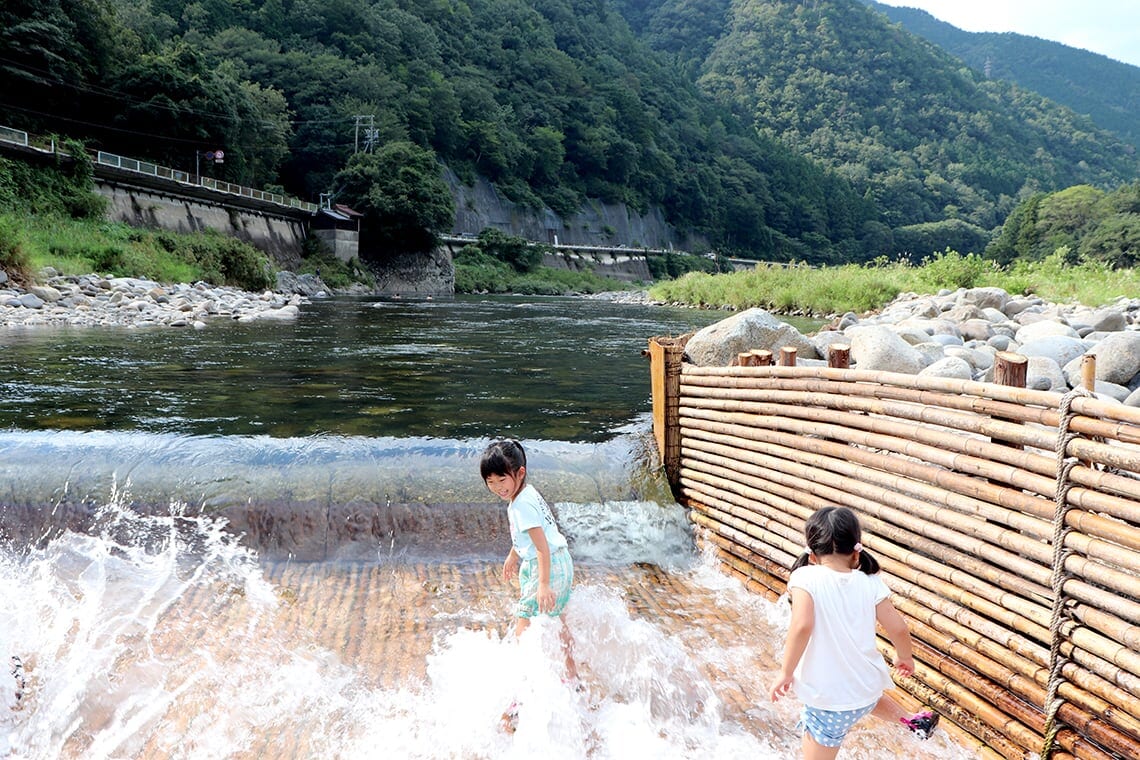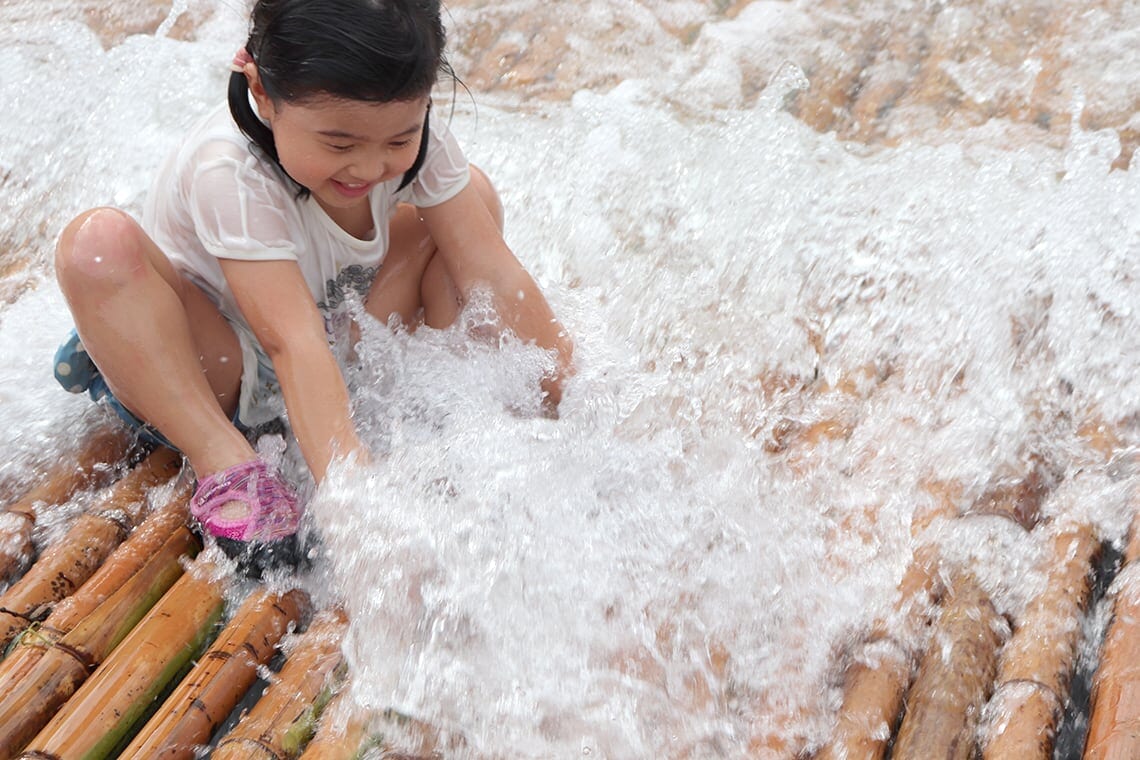 Only customers of Miyachika can play in this Yanaba. As there is no time limited, you can play as much as you want! The stream flow is faster than I thought! Kids enjoy so much!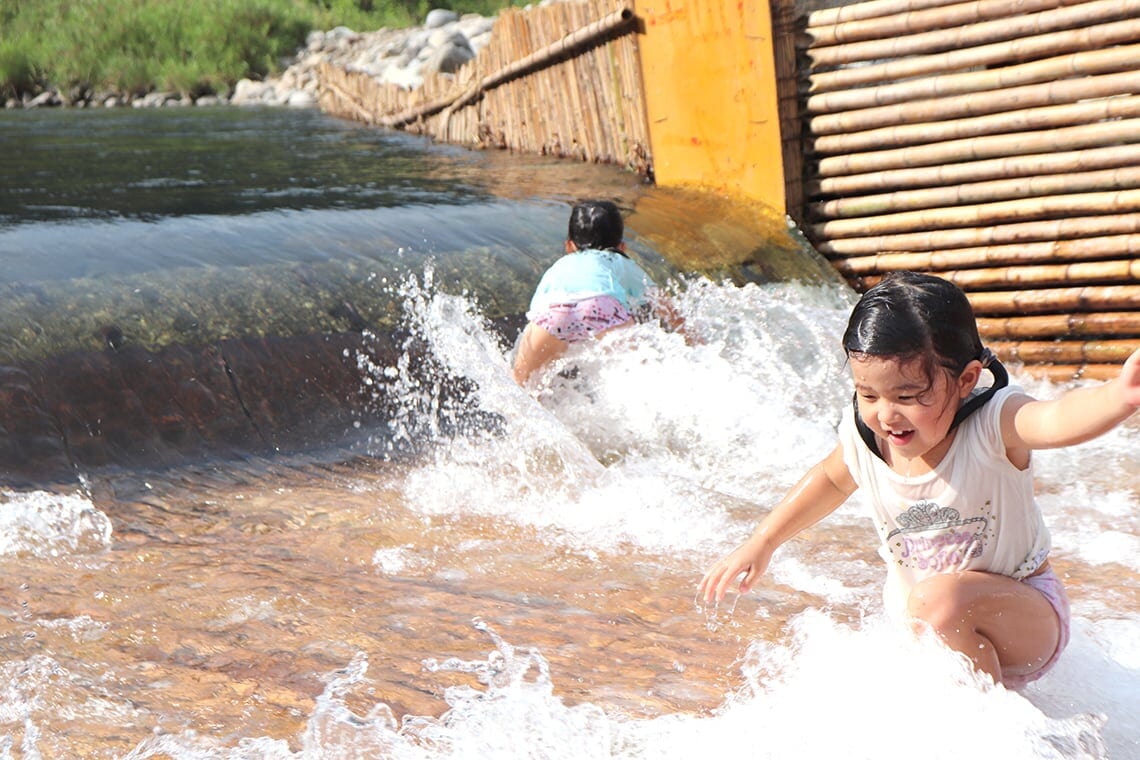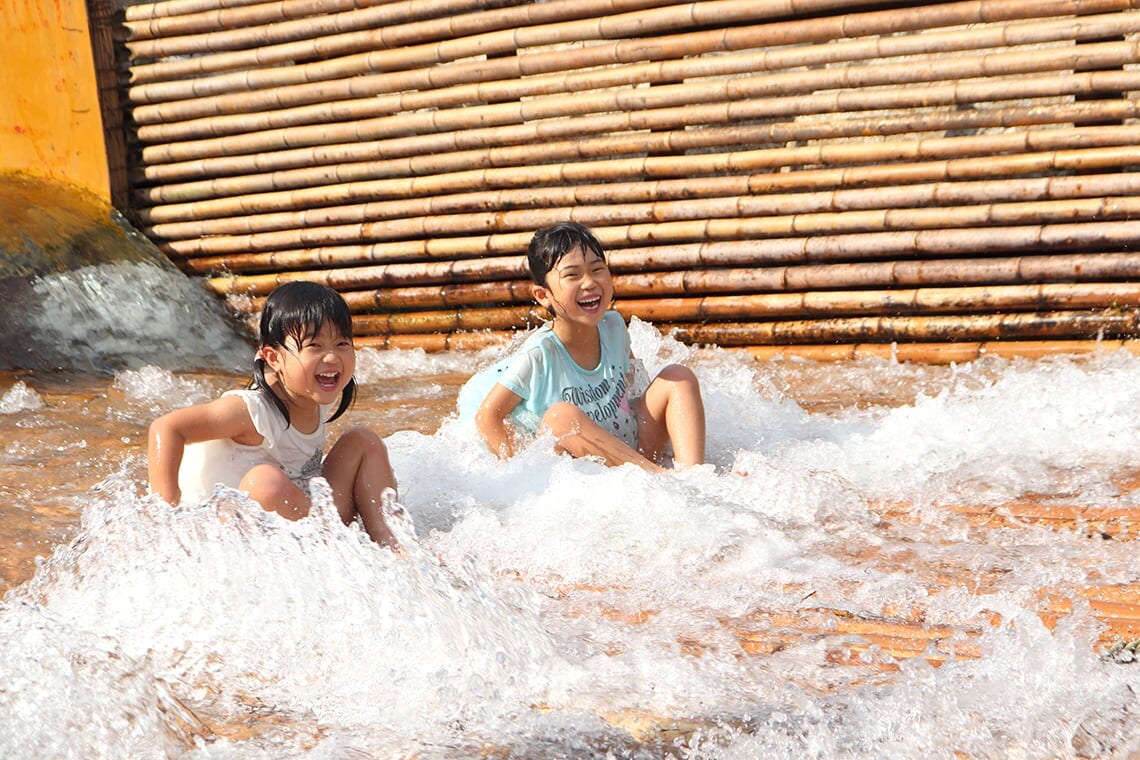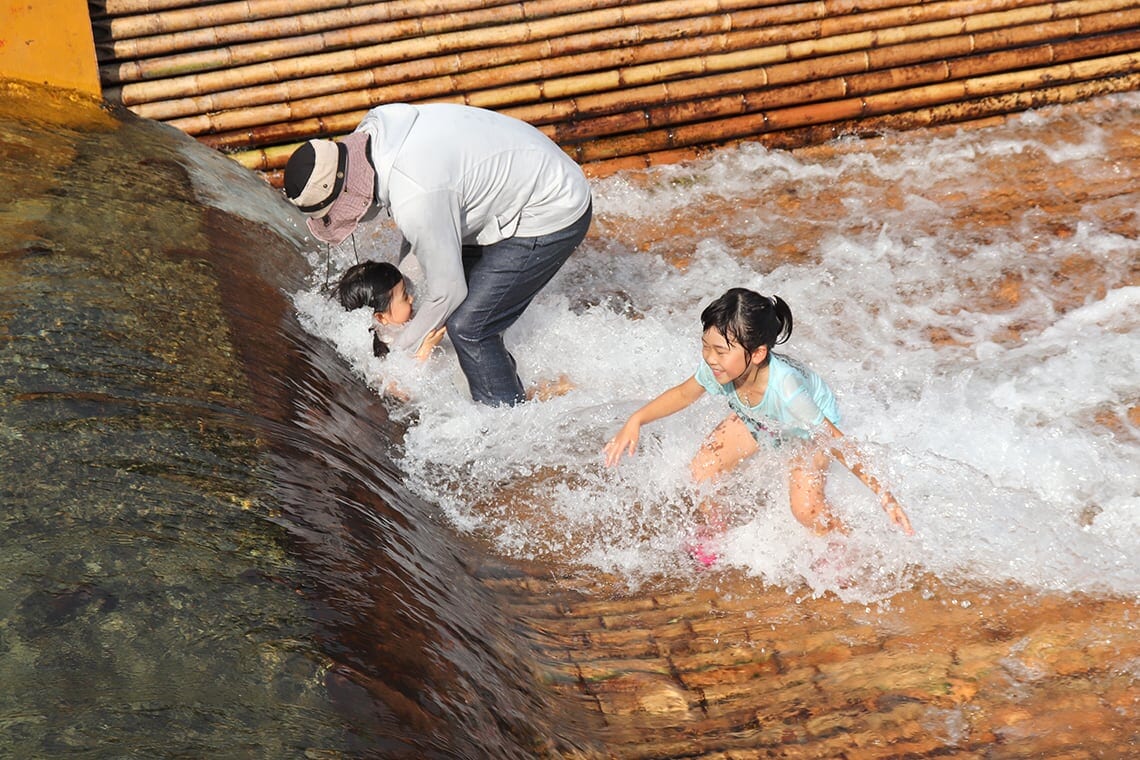 Although we cannot see any Ayu fish, walking inside the water and feeling the water make us so excited! As the stream is very fast, kids can slide down from the top of Yanaba like a slider. It is safe to play inside Yanaba, so kids can play freely. You may get all wet. Please bring your own clothes, towel and water shoes! Maybe swimsuit is good too.
Both parents and kids can enjoy this trip surrounded by nature. Natural Ayu and Yana experience are available from summer to the end of October.Would you like to feel the nature and have a nice time here in Gujo Minami area?
About TABITABI Gujo

TABITABI Gujo editorial
TABITABI Gujo is a general media site for sightseeing in Gujo introducing attractive tourist spots in Gujo with a slogan of "Gujo, a place you want to visit many many times." While knowing more about Gujo, we continue providing information on travel suggestions during each season in different areas, as well as the latest information of Gujo-shi.
Photographs by TABITABI Gujo Editor Team