Half Day Trip at Roadside Station Seiryu-no-sato Shirotori
Tag:
/*php var_dump($paged); */ ?>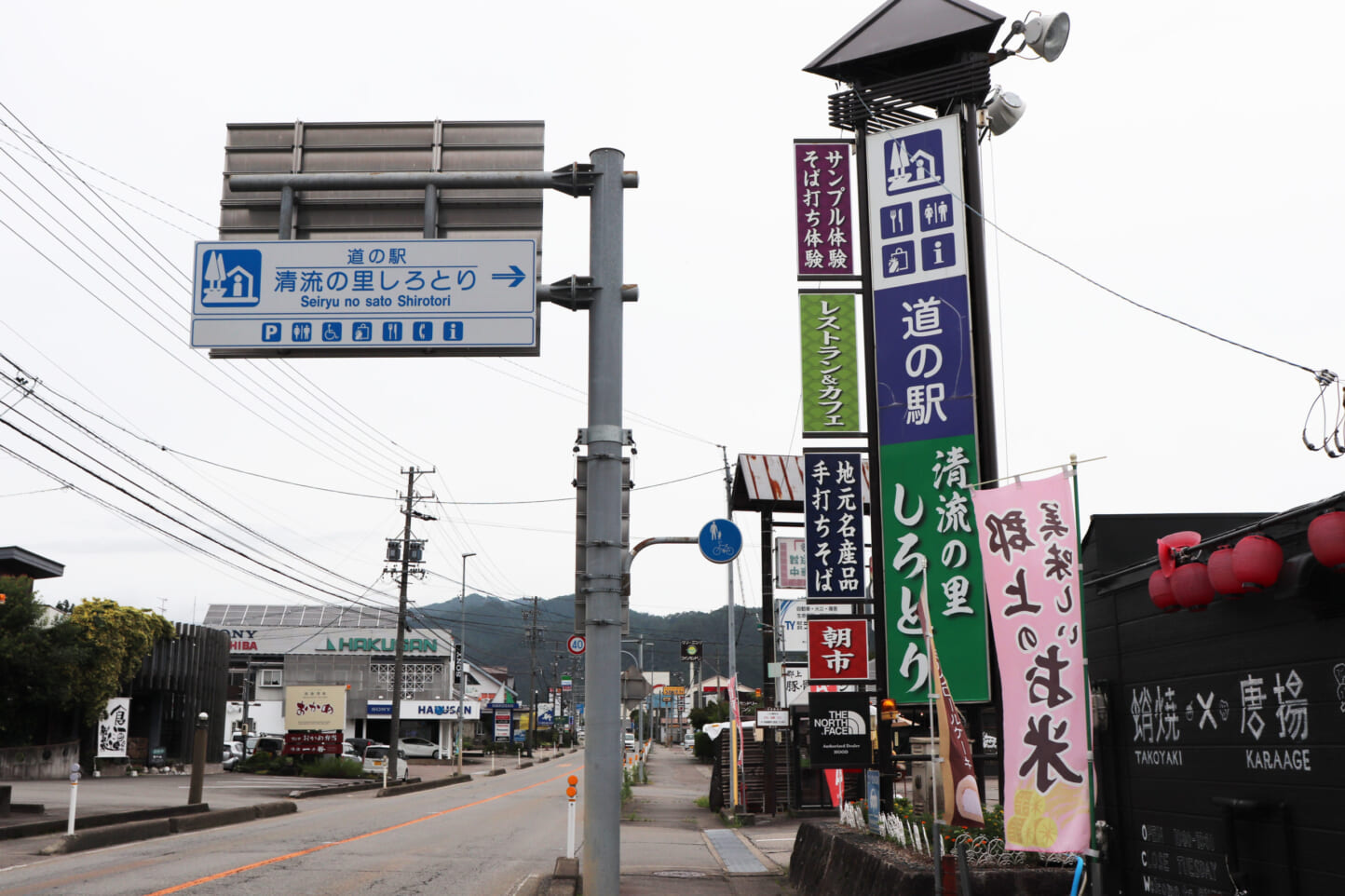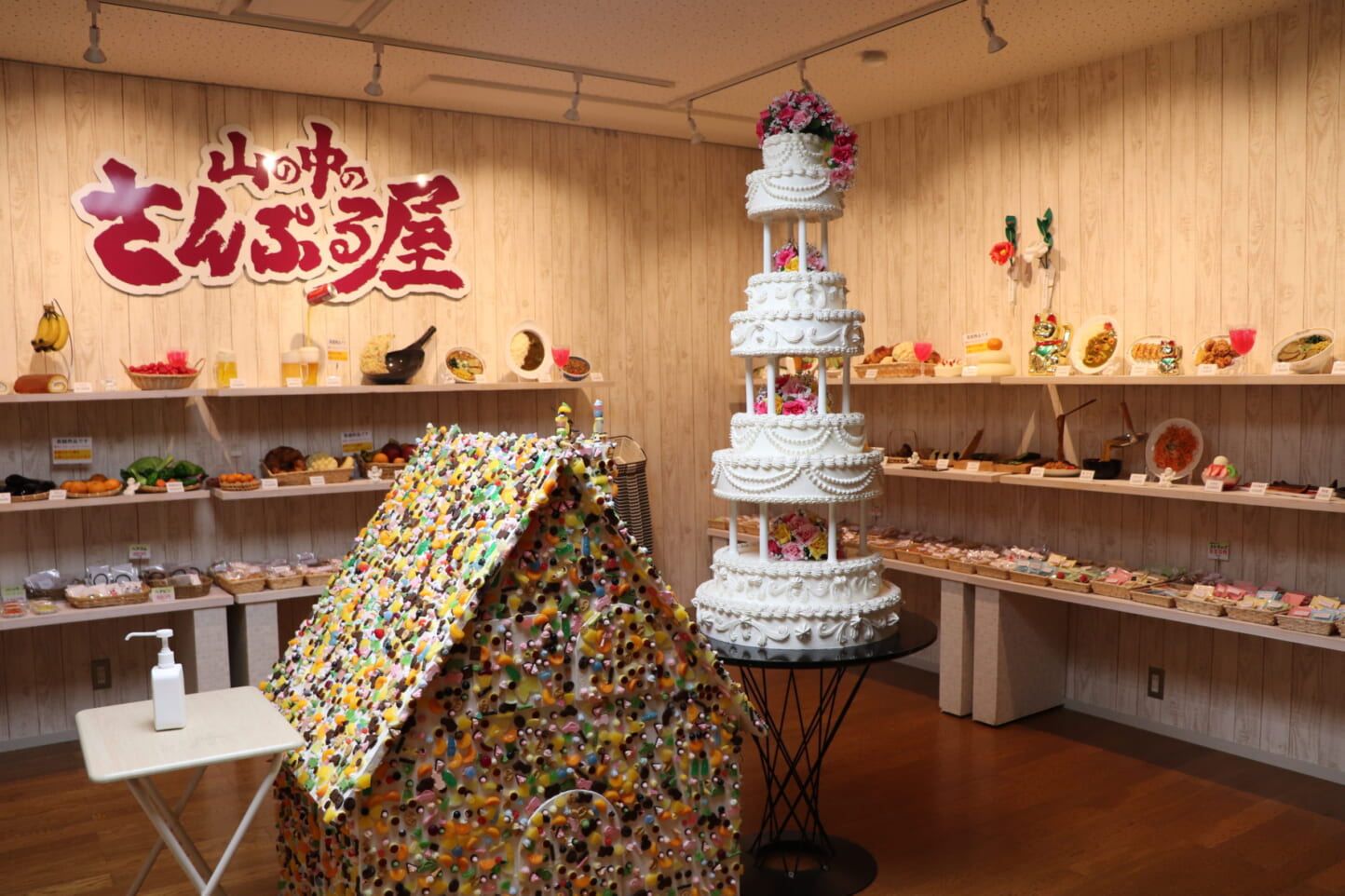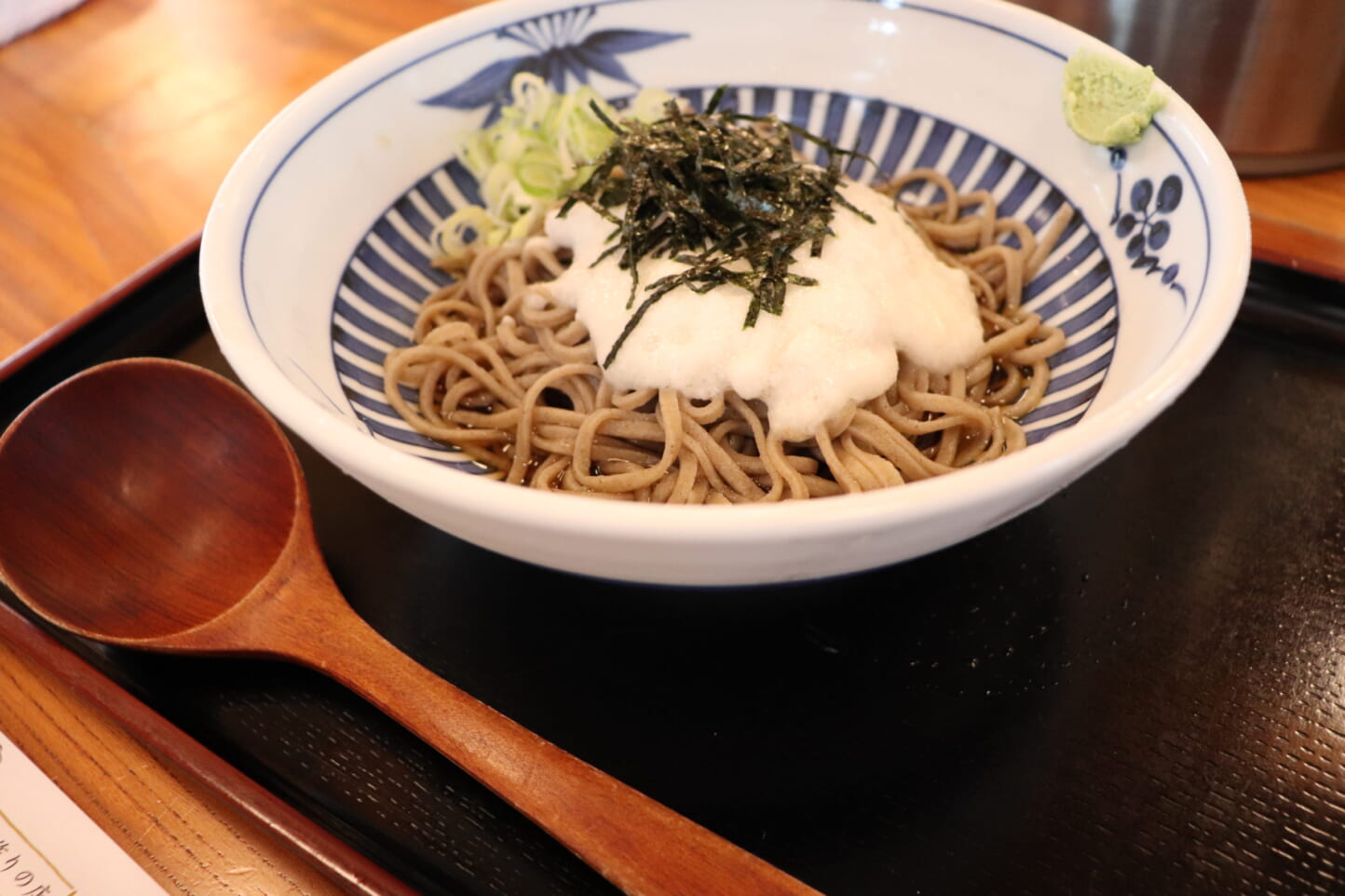 Speaking of Gujo, most people think of making food replica. Do you know you can experience it at Roadside Station Seiryu-no-sato Shirotori? Not only food replica, but there are also so many activities you can join here! We are going introduce food replica making, eating sweets and buying vegetable…all you can try at Shirotori!
The only roadside station
you can experience food replica making!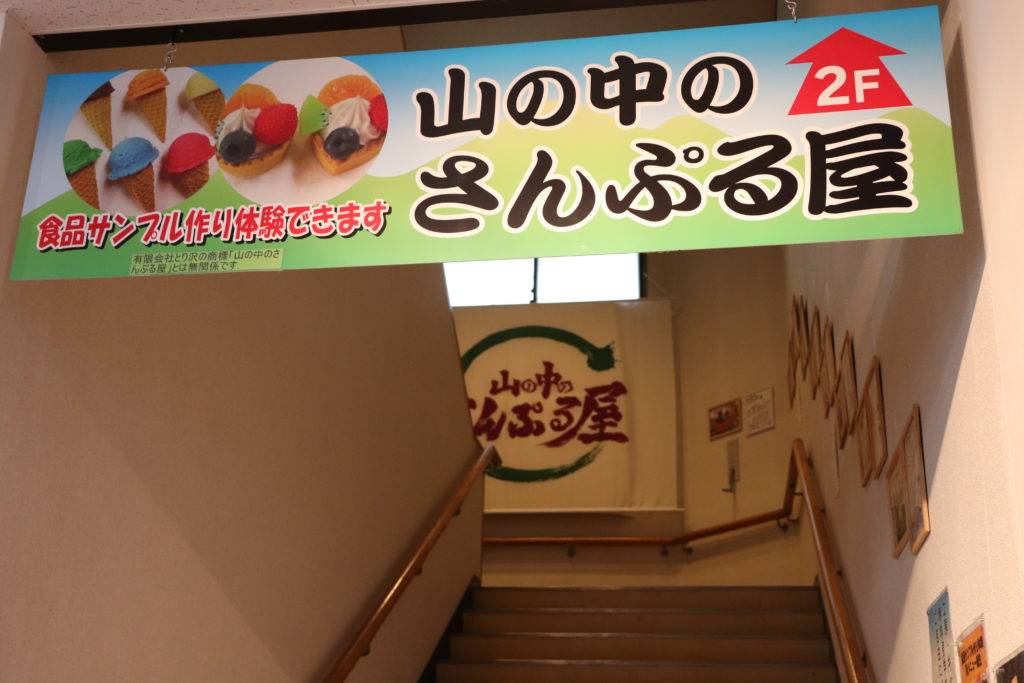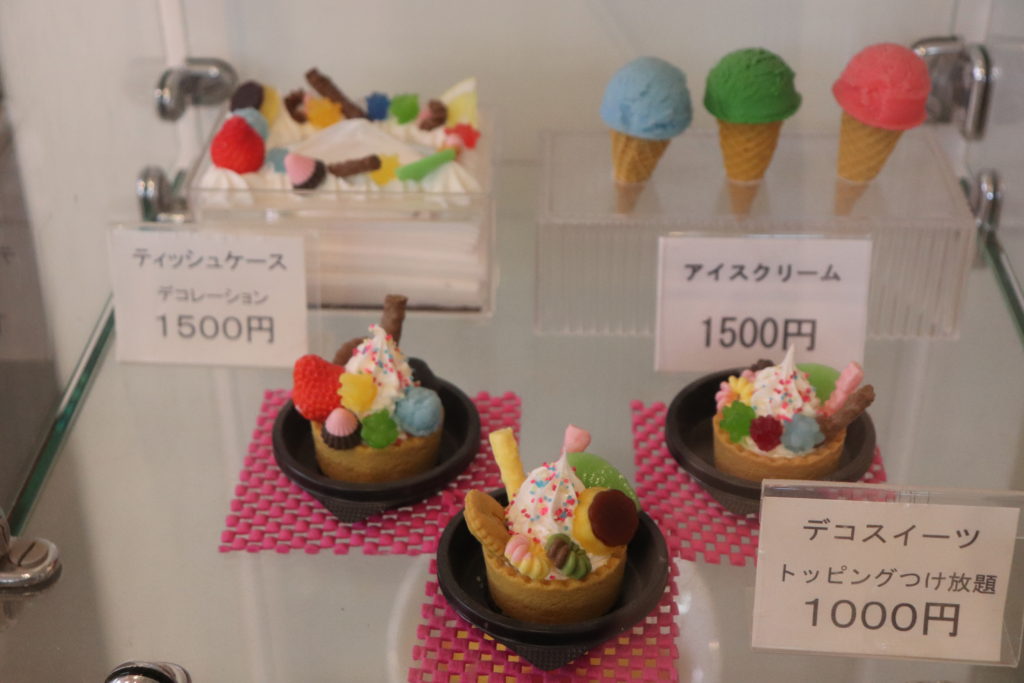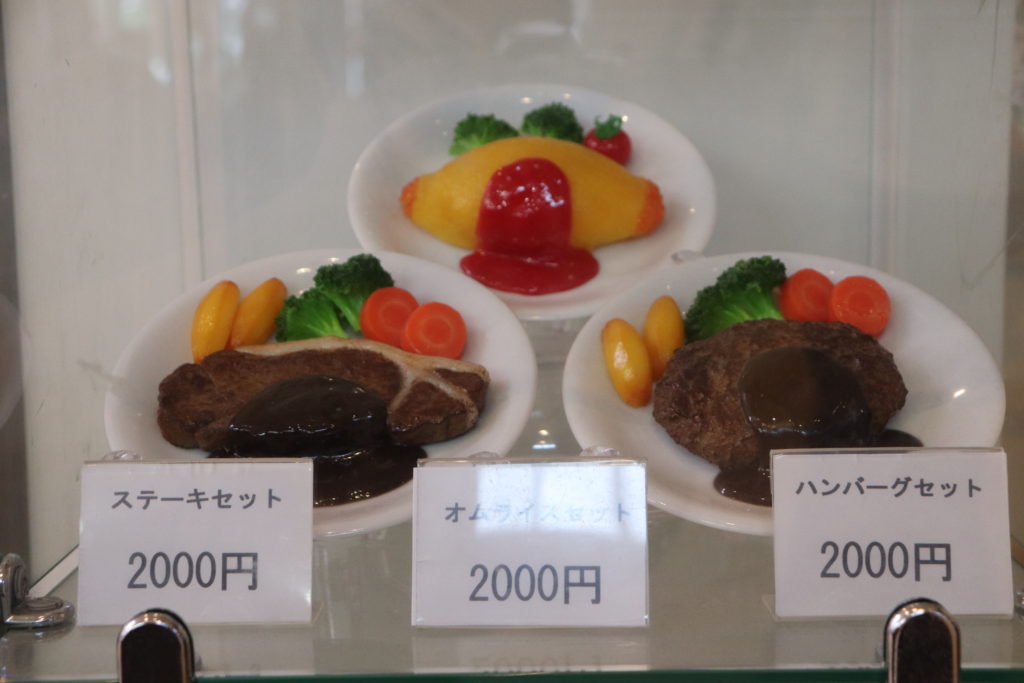 We made a reservation at"Yama-no-naka no Sanpuru-ya".We are so excited we can try making food replica at the roadside station! It is located at the 2nd floor of a souvenir shop. It is my first time going to the 2nd floor of a roadside station! Food replicas of desserts and hamburger steak are displayed at the showcase. I am wondering if I could make the same too.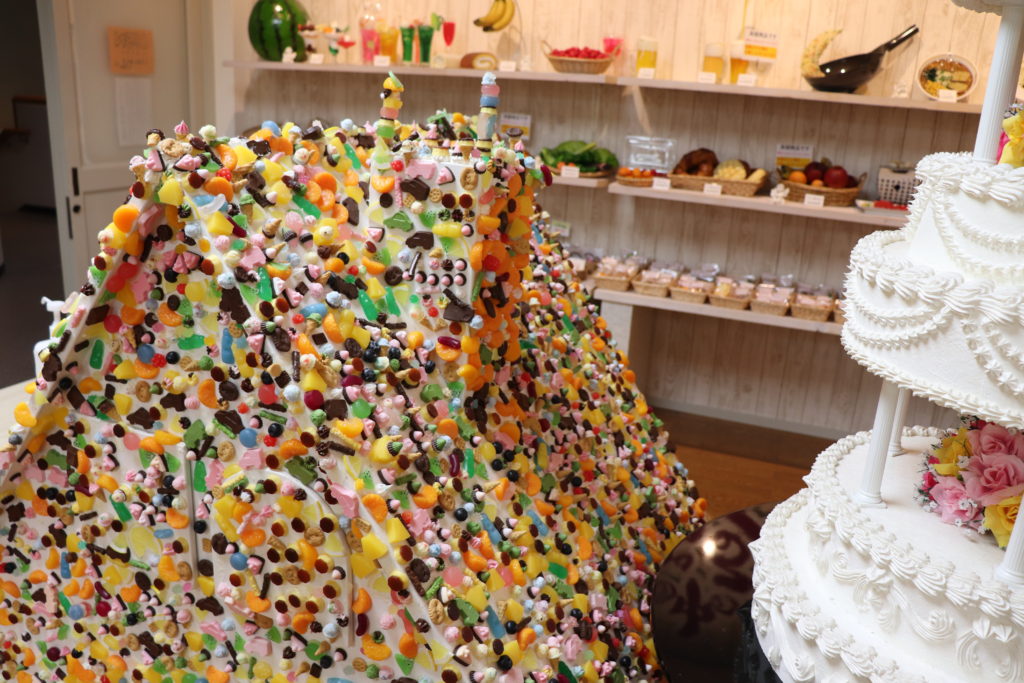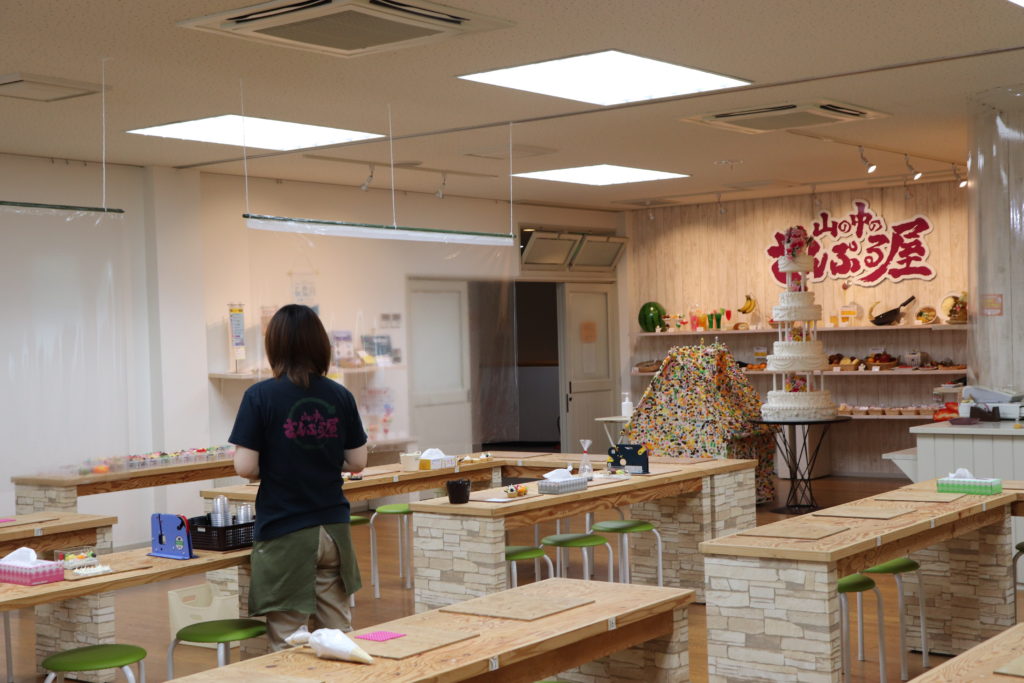 A candy house with lots of food replica welcomes us at the entrance. This candy house was made by all people at the workshop by putting 3 food replicas. Some people tried to make the chimney even taller. It shows the personalities of the visitors. The workshop is large enough for around 50 people, even party of tourists can come together.。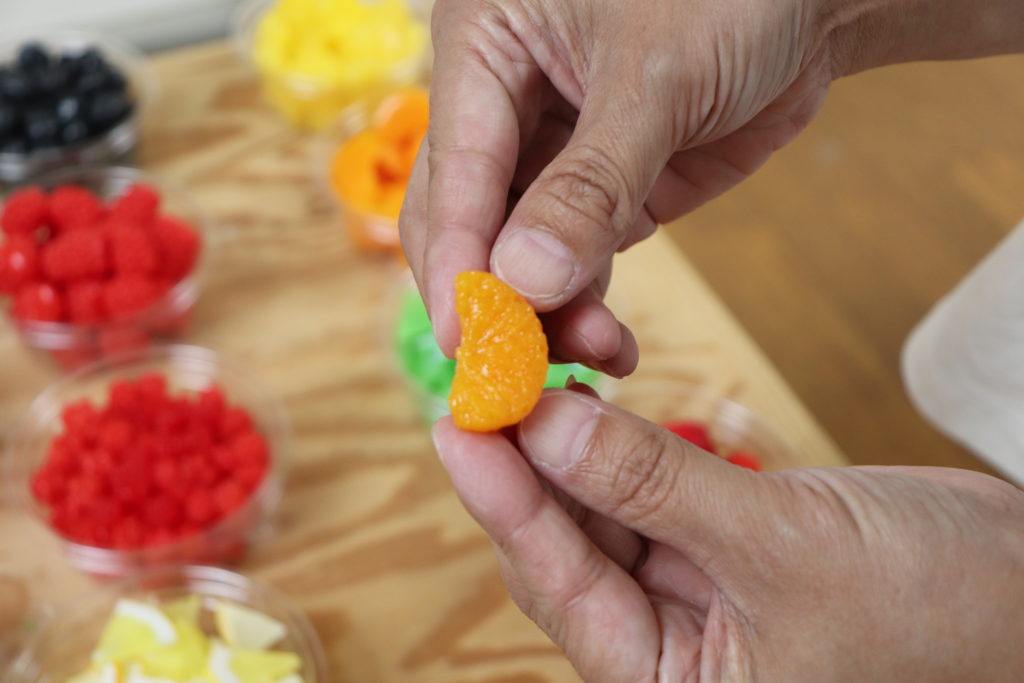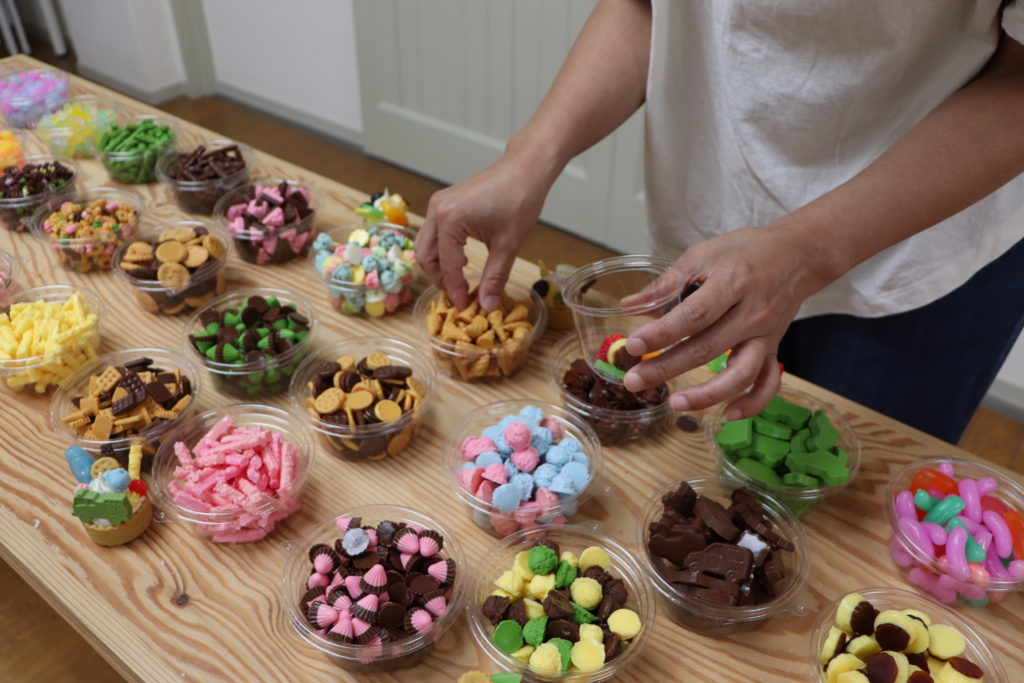 Let us start making! We try to make decorated sweets (Free toppings included, 1000JPY) and Omelet rice (2500JPY)! First, we start with an easier one. Even children can make decorated sweets. You can choose toppings from donuts, cookies, fruits and over 30 different kinds. Mikan (Mandarin orange) and cookies look so delicious! I cannot help smelling them. All of them look attractive. I choose some of them and go back to my seat.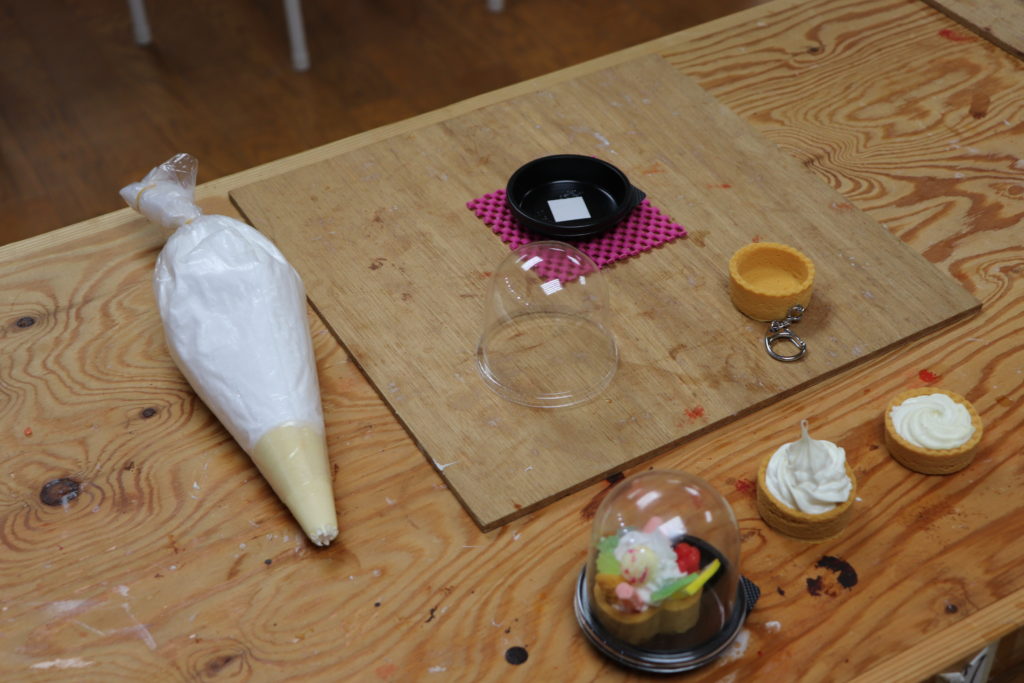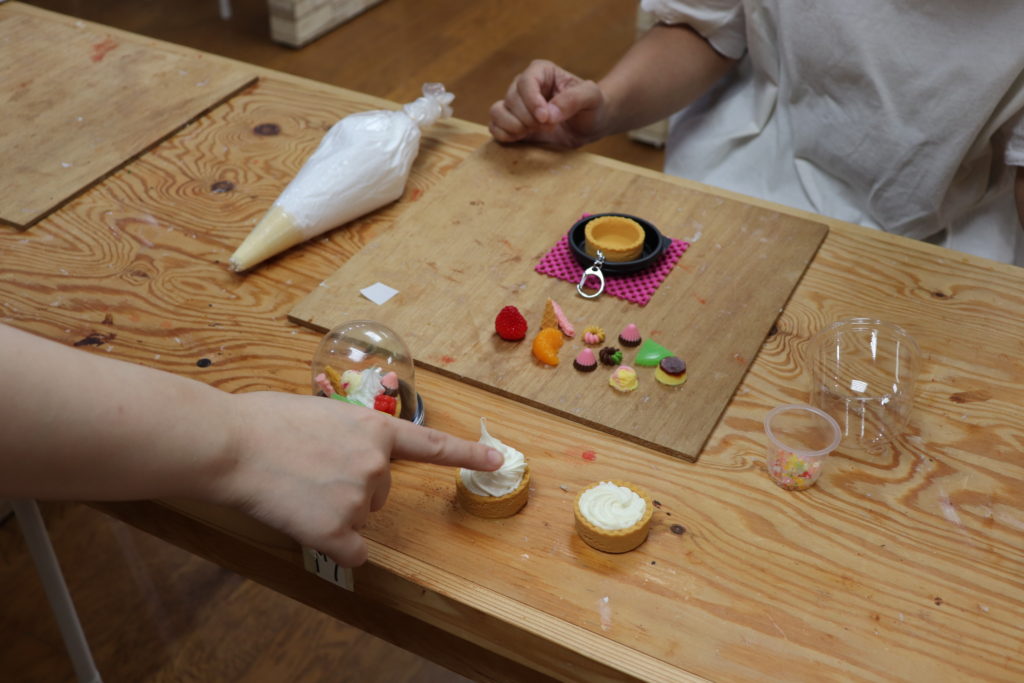 After returning to the table, tutor shows us the finishes fruit tart and shows us how to put cream along the edge of the tart. "Flatting the cream and make a hill of cream at the center." The tutor teaches us carefully.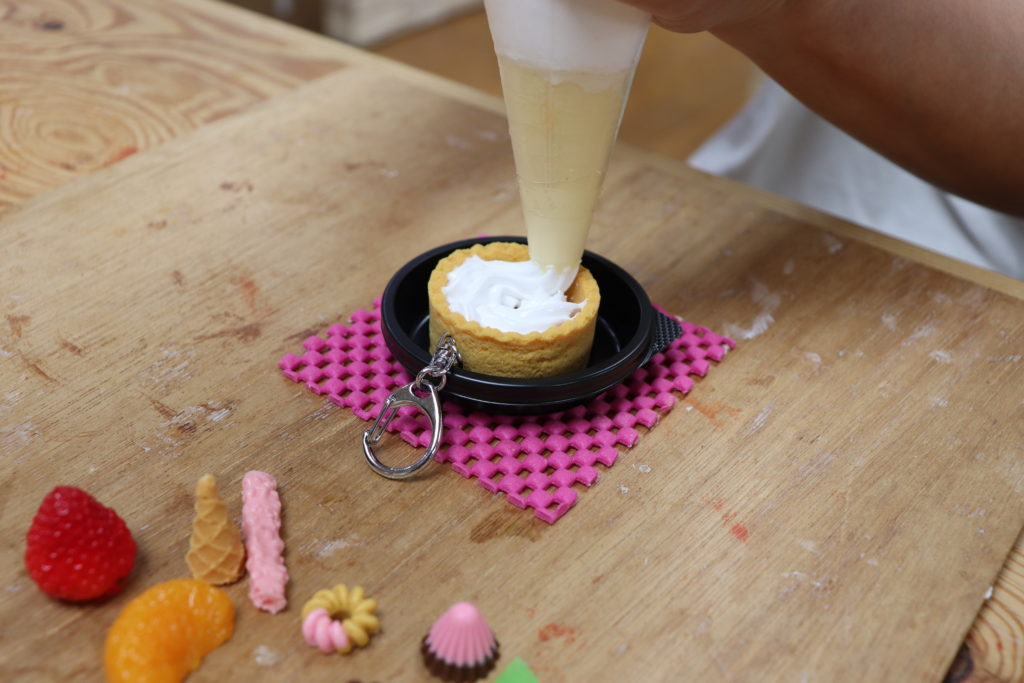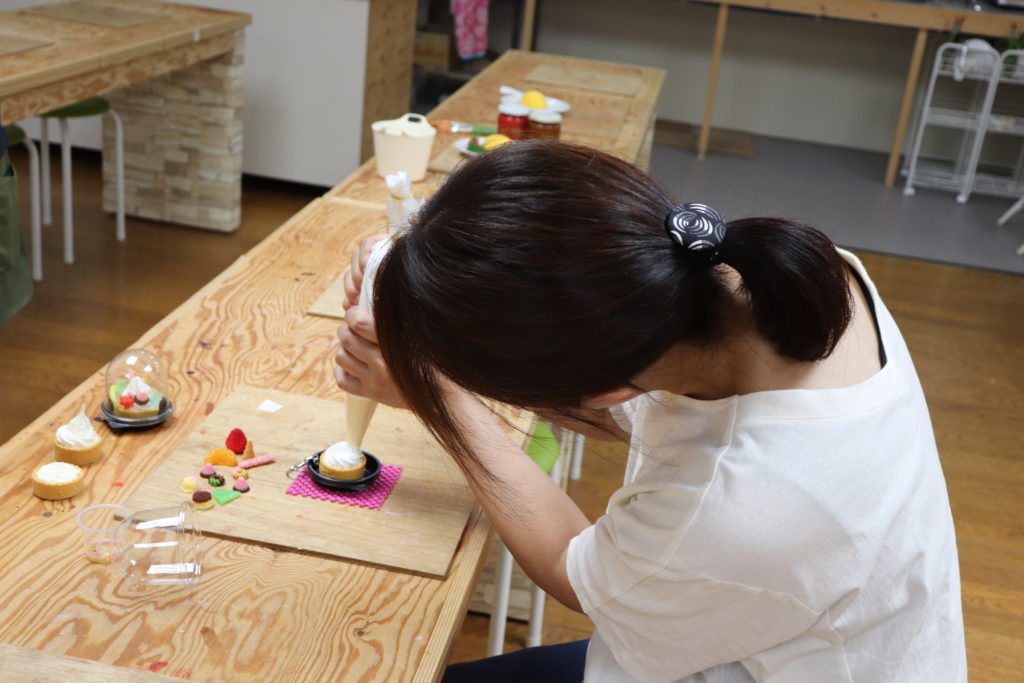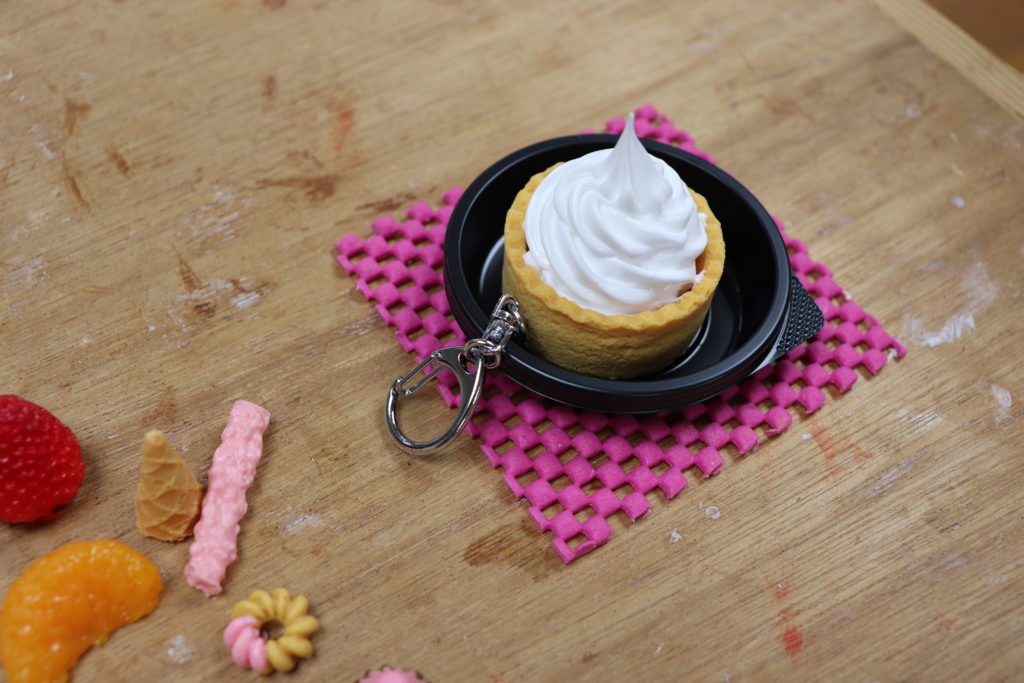 The cream is much harder than I thought! The texture is so different from the real cream. Although we are so concentrated without making any sound, the tutor waits and watches us quietly.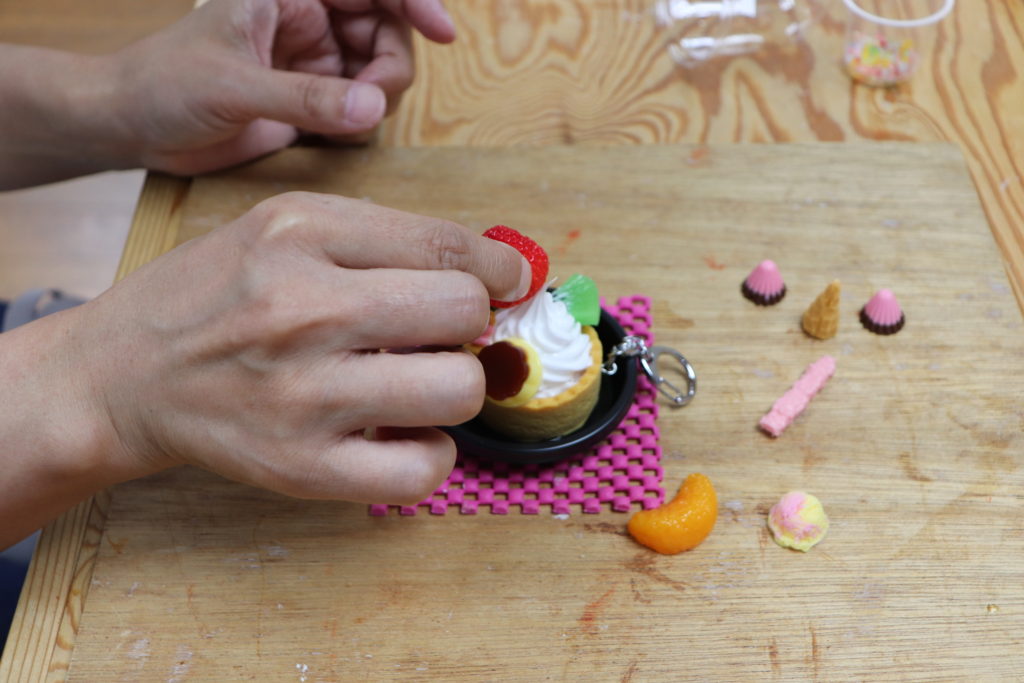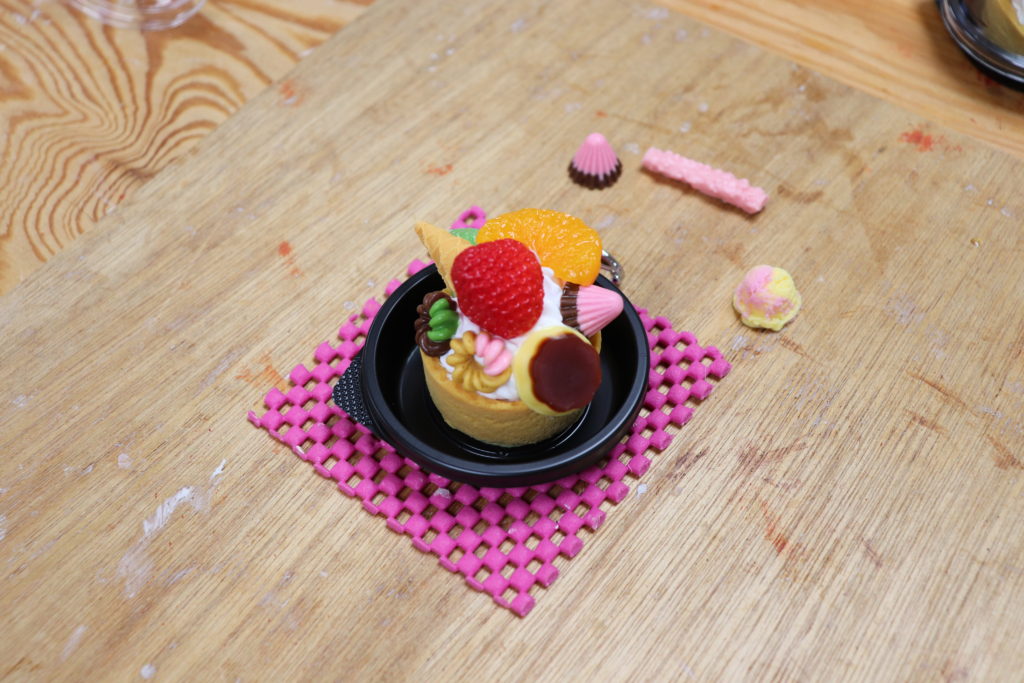 After making a hill of cream, I can start putting the toppings I chose. As the cream will not get harden so soon, I can redo it again if needed. I cannot help saying "It is difficult!" the company's president smiled and said, "It is the easiest one! Decorated sweets were for practicing at first. When we practice how to decorate, it is a waste to use actual size, right? That is why we start to use mini tart for practicing."
After finish decorating, you need to leave it for 5 days to 1 week to solidify. To prevent touching it, I cover it with a plastic bag. You can make a key chain or add magnet with 100JPY. It seems good to stick it on the fridge or bring it every day.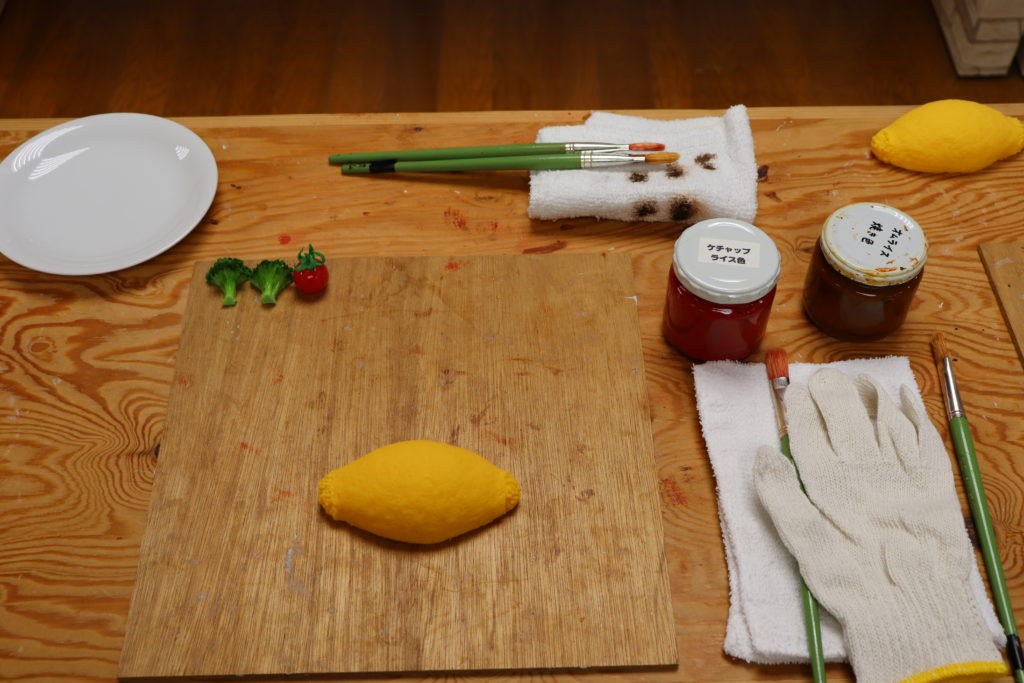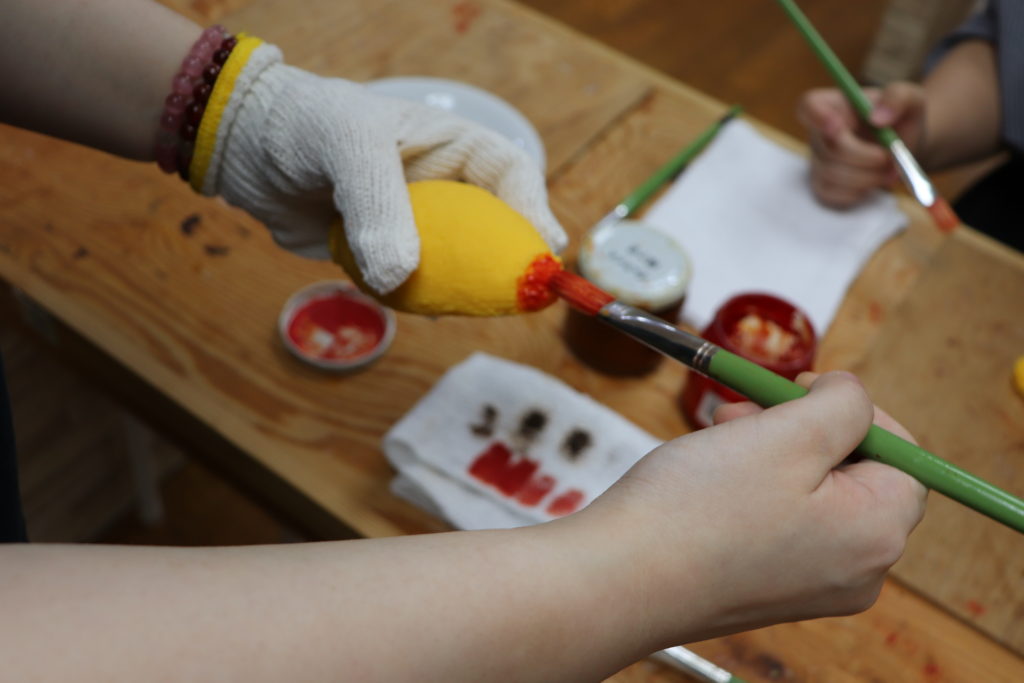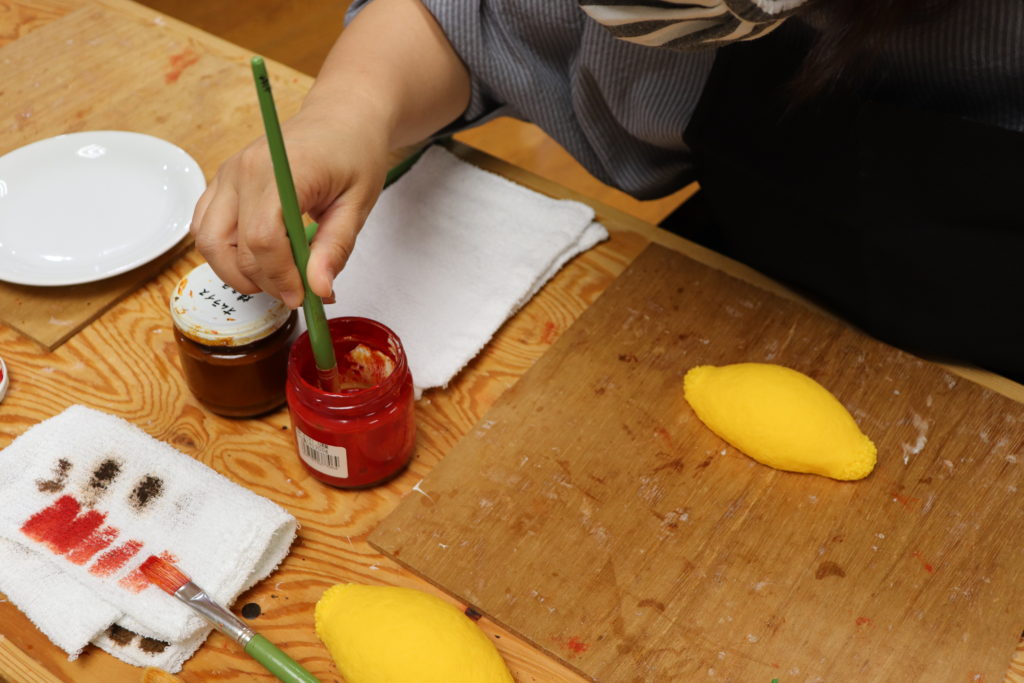 Next, we are going to try to make a more difficult omelet rice! Because we need to paint it, we put on an apron to prevent making our clothes dirty. We put on cotton gloves and start painting the ketchup rice. "Let the brush absorb the paint and touch the cloths to let the paint to blend in. Hold the brush upright and paint on the omelet rice." The tutor does it very easily, but actually it is not! When you paint it, the color will spread. Paint harder and it finally sticks!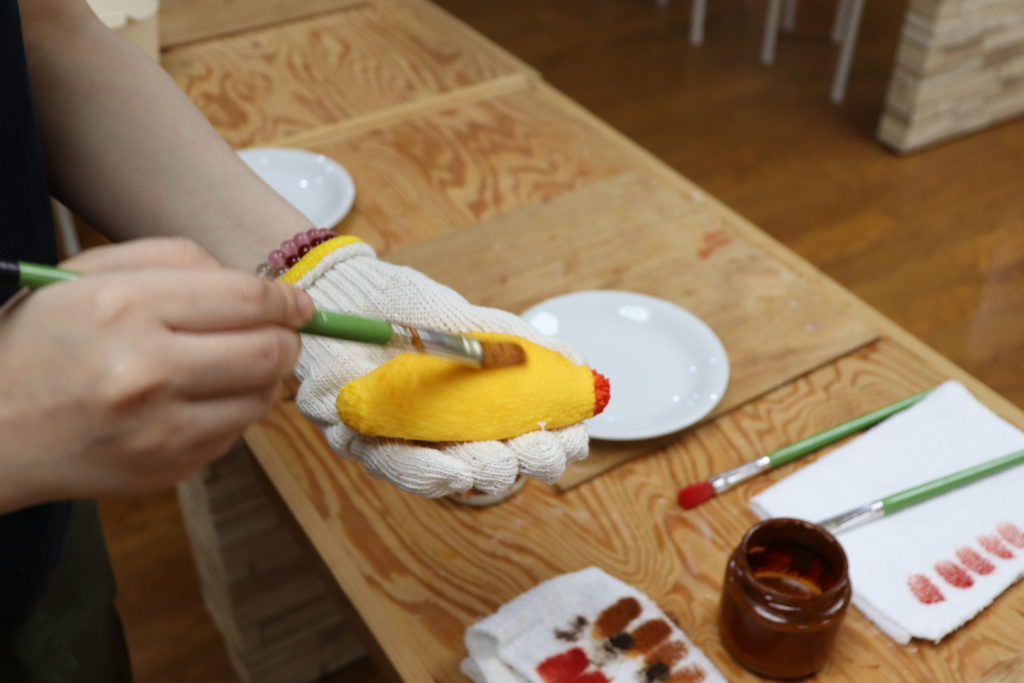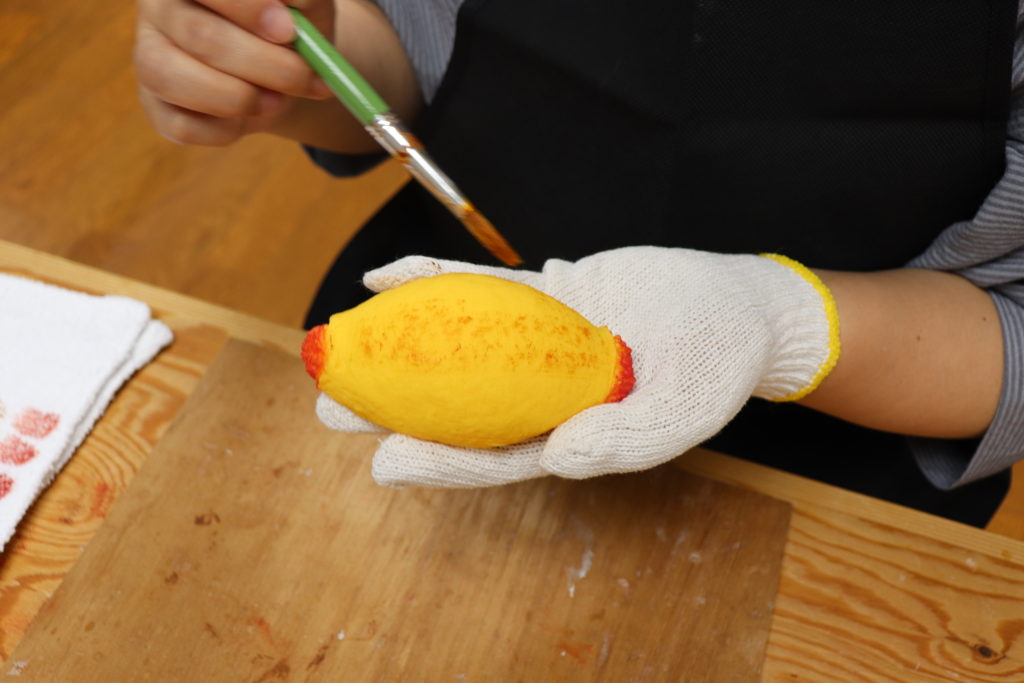 After finishing the ketchup rice, next is painting the omelet egg. "Flatten the brush and touch smoothly." Even I follow all the tutor taught me, "Oh! The omelet got burnt!" he advises me to flatten the brush more and gentler. But the burn on the omelet is so conspicuous, it becomes our homemade omelet rice, not an omelet rice at the restaurant.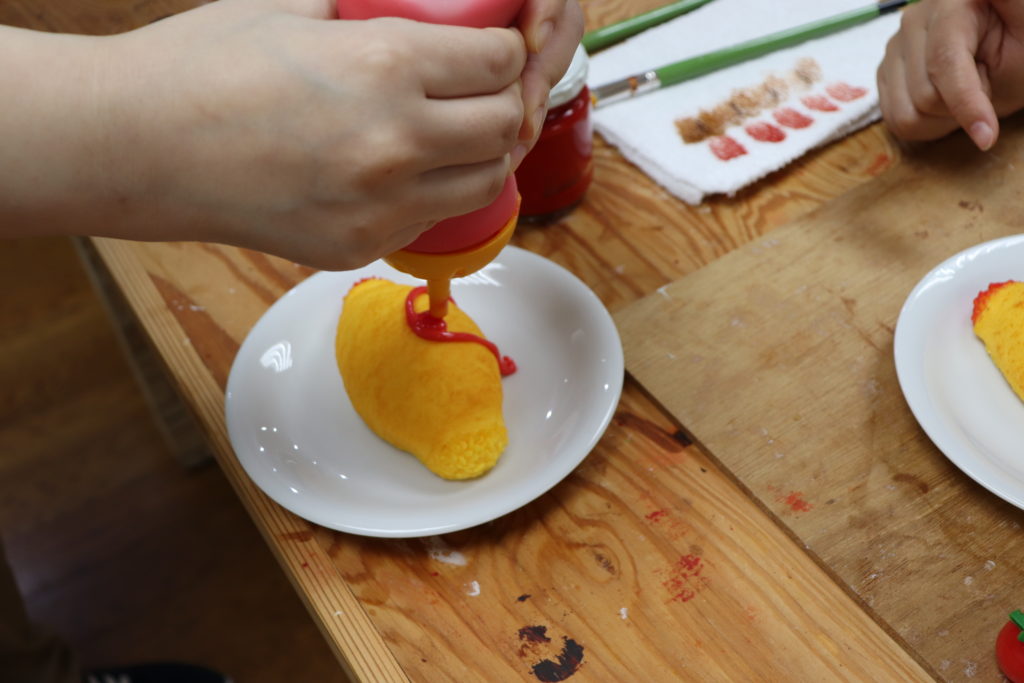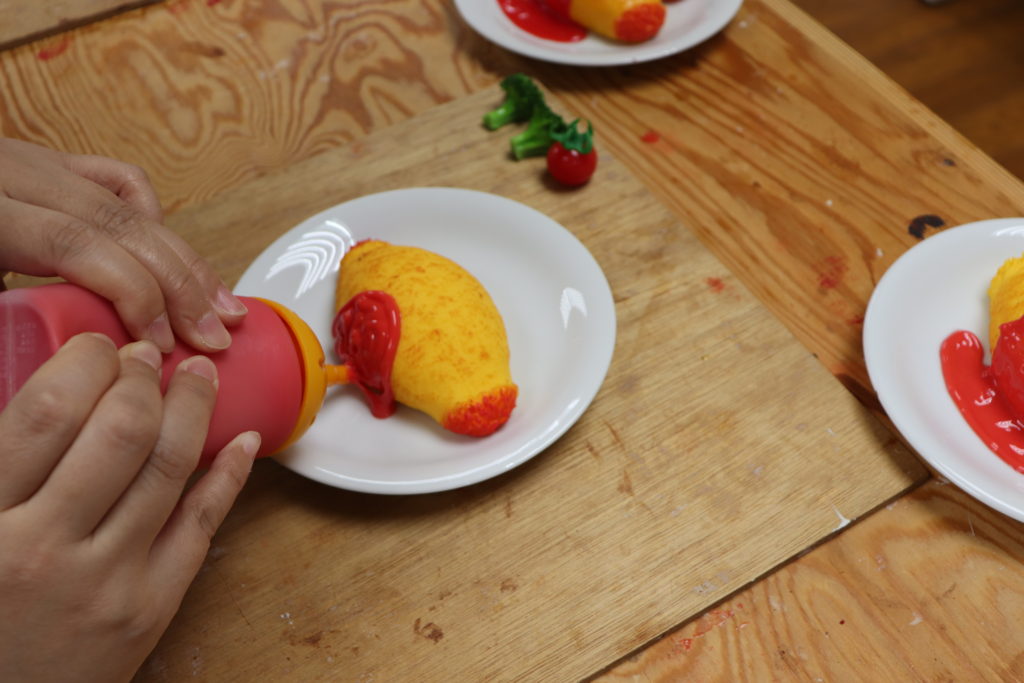 Next is pouring ketchup onto the omelet rice. "First make a frame and fill the inside. Pour slowly and carefully." With the advice from the tutor, my omelet rice is almost done!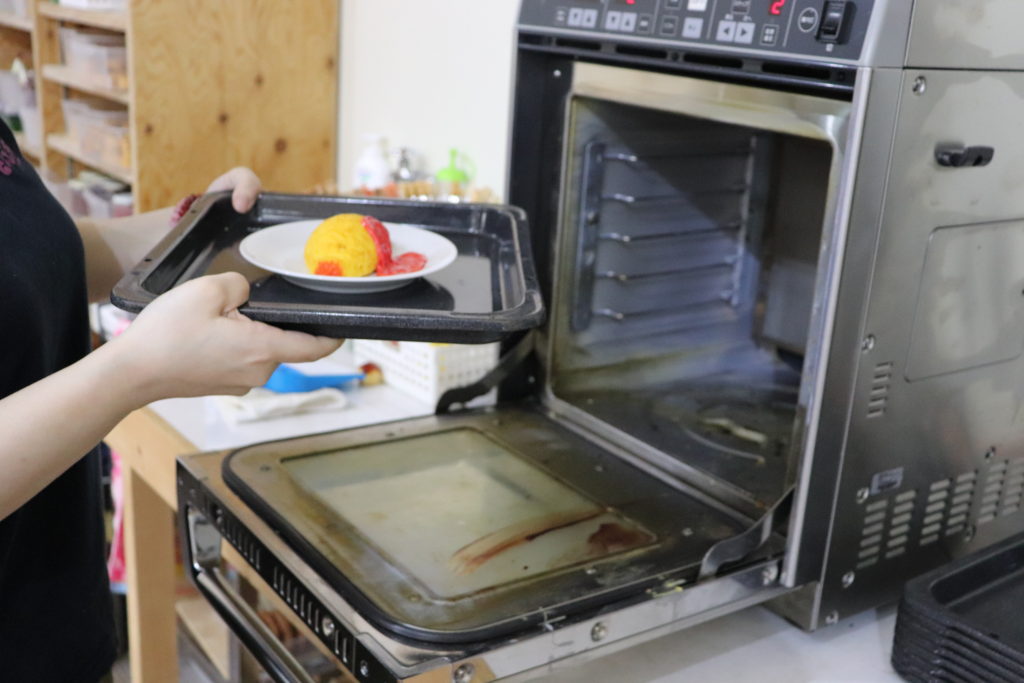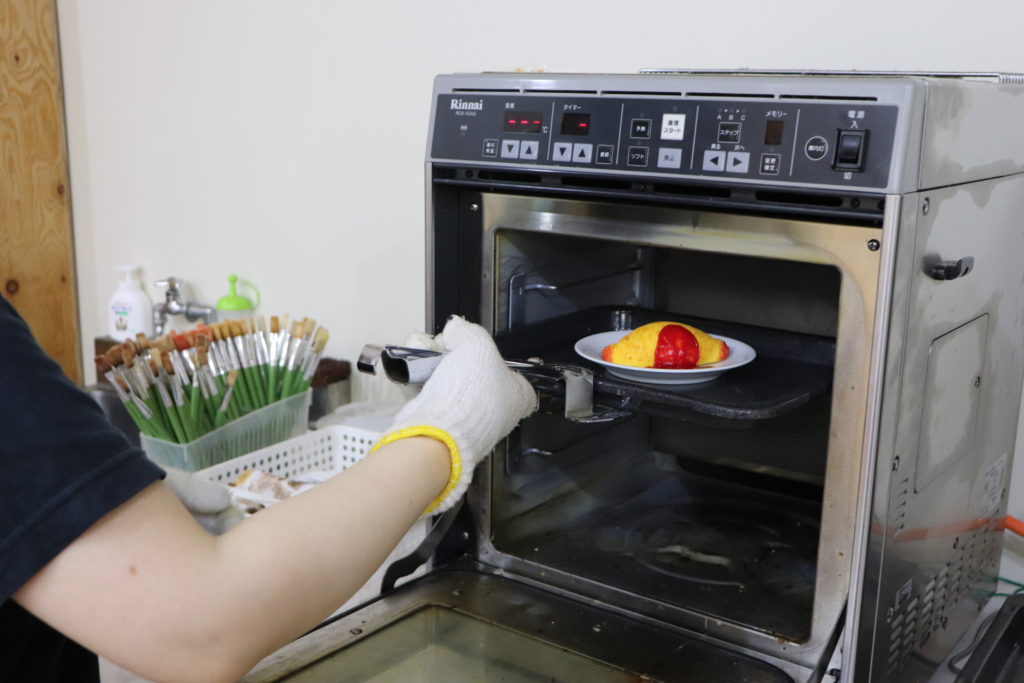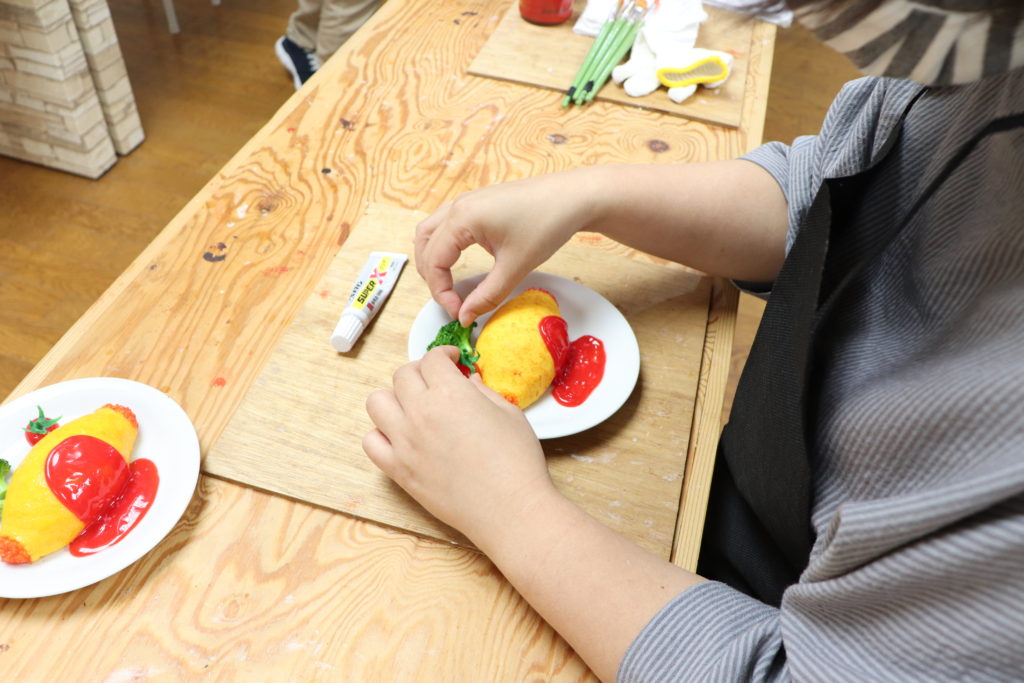 Placing the plate on the tray and putting it into the oven. Resin will solidify under 170 degree bake for 7 minutes. We have a little chat with the president while waiting. "Speaking of making food replica, most people will think of making lettuce or Tempura. Those are made by wax. Actual food replica used at the restaurants are made of vinyl resin from 35 years ago. Vinyl resin is more suitable for display and easier to make. You have already tried it at the workshop, right?" When he is telling us about the food replica industry, my omelet rice is ready!
After putting broccoli and petit tomato, we stick it with glue. "We use real tomato and cover it with vinyl resin." After hearing this, I check my tomato again to confirm. "Of course it is not!" I am fooled! But the tomato is so real that I believed that it is real.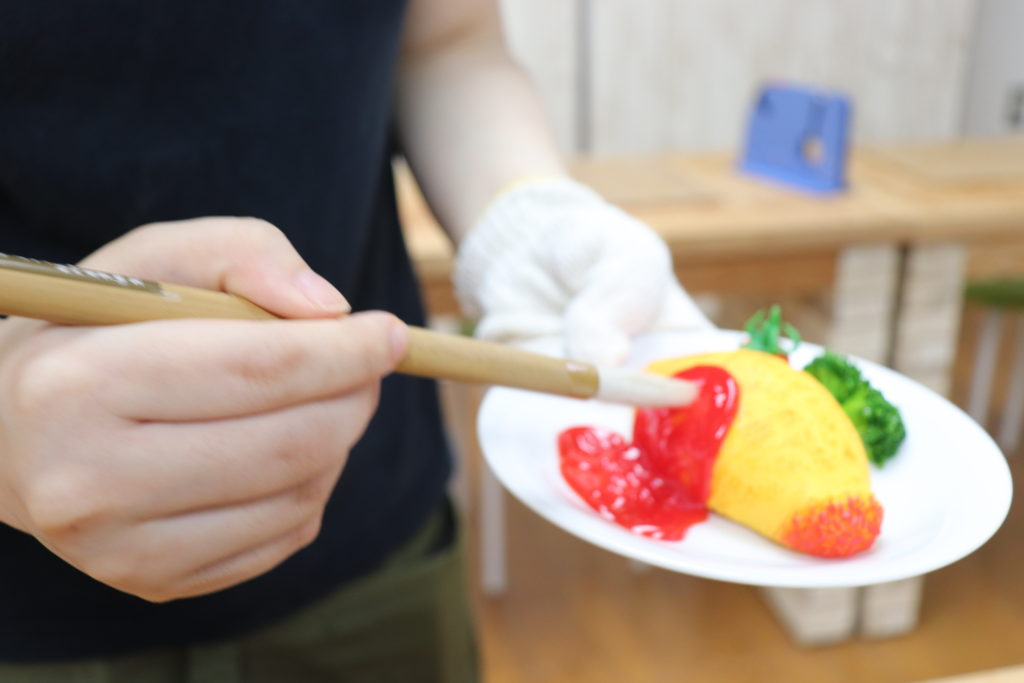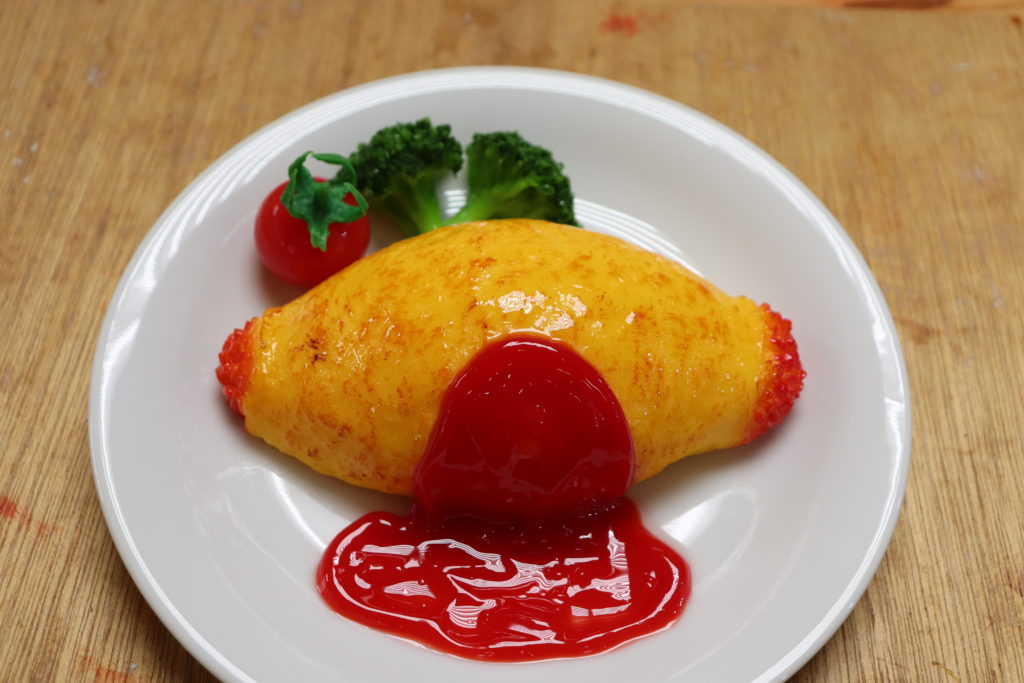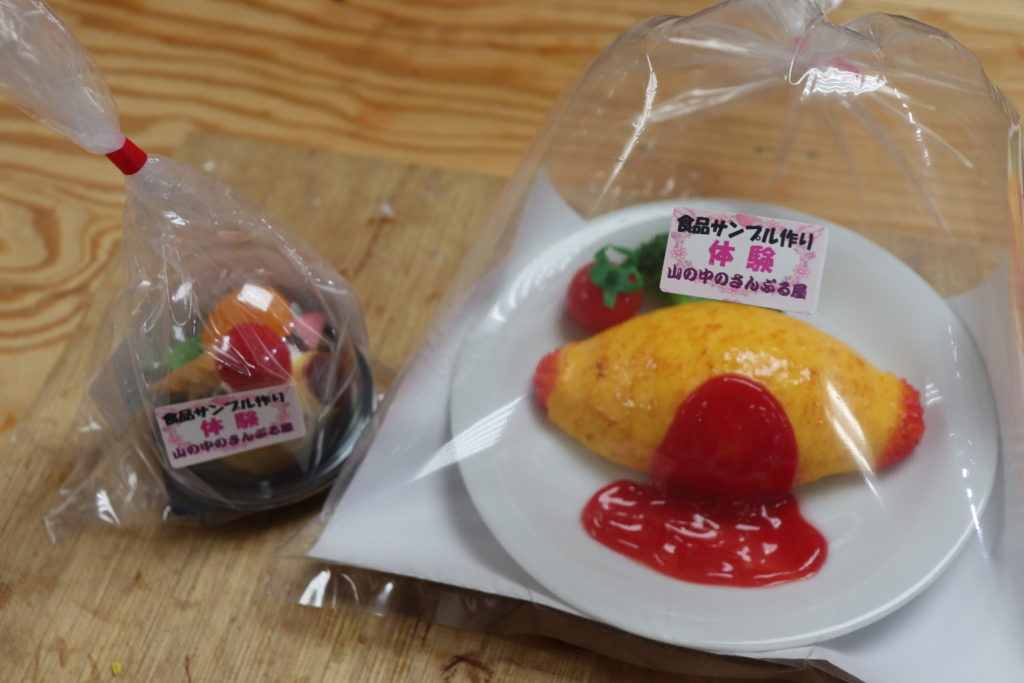 Lastly, apply varnish on top and finish! I made our homemade omelet rice with burns. Please ensure you do not touch it for 1 to 2 days, before it is totally dry. I get it covered with plastic bag filling with air.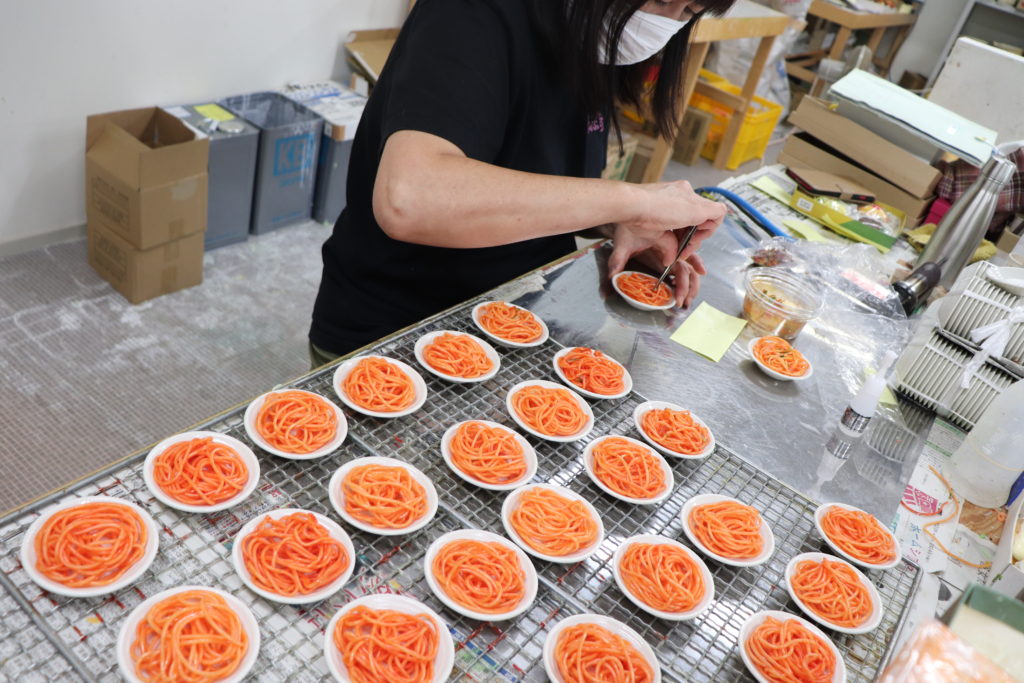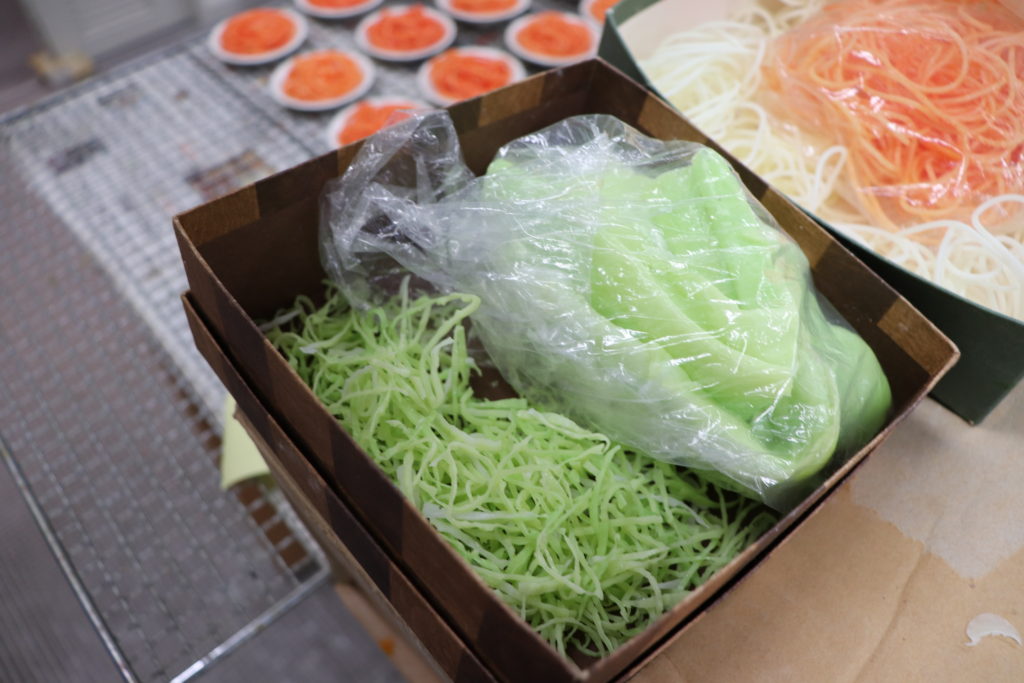 After the food replica workshop, we go to visit the factory. The staff are making Napolitan (Japanese spaghetti with ketchup). Cabbage is made from vinyl resin and cut it into shredded cabbage. Everyone is welcome to visit workshop at any time. If you want a tour guide explaining all food replica making process, please make a reservation in advance.It is very suitable for children's field trip!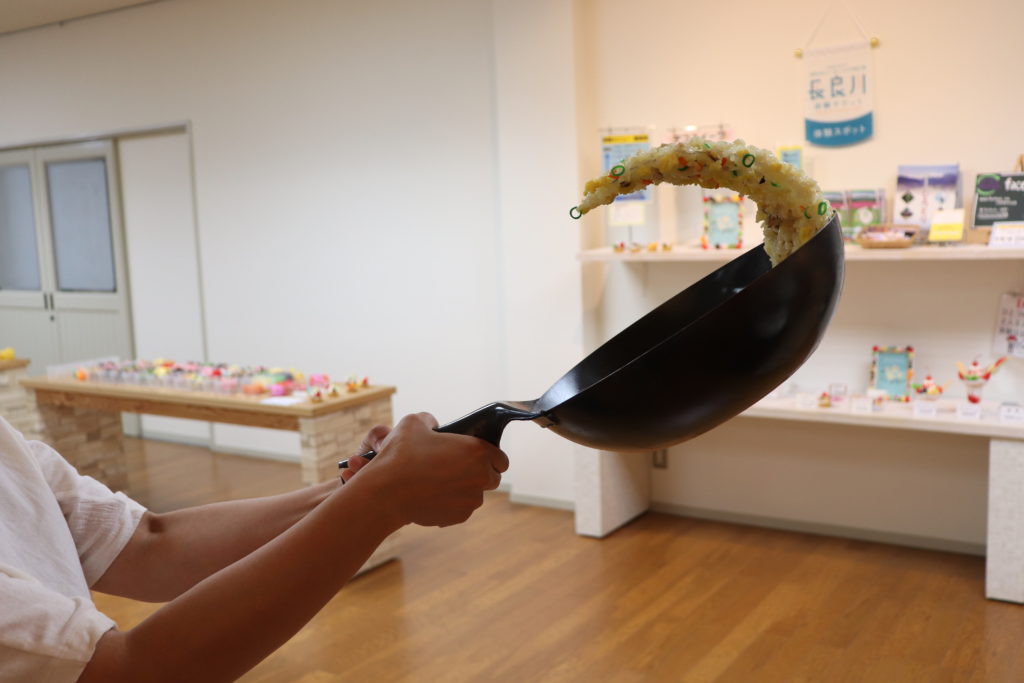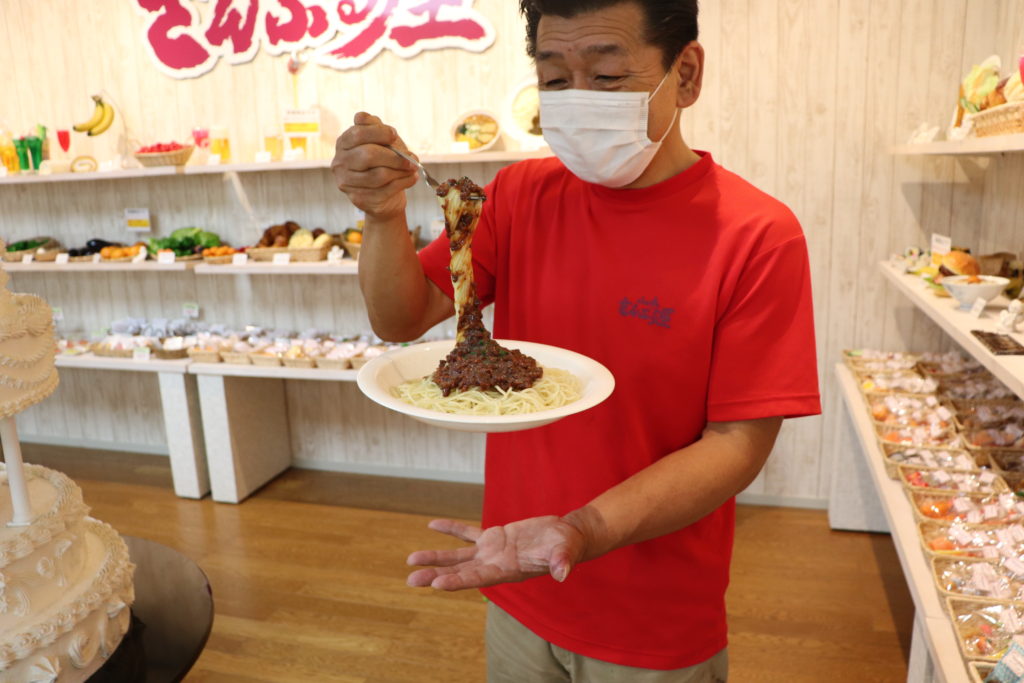 Before we leave, we choose food replica for souvenirs! I am very excited when looking at them. You can take pictures if you want. But be careful, if you break it, you need to pay for it. Some are really expensive!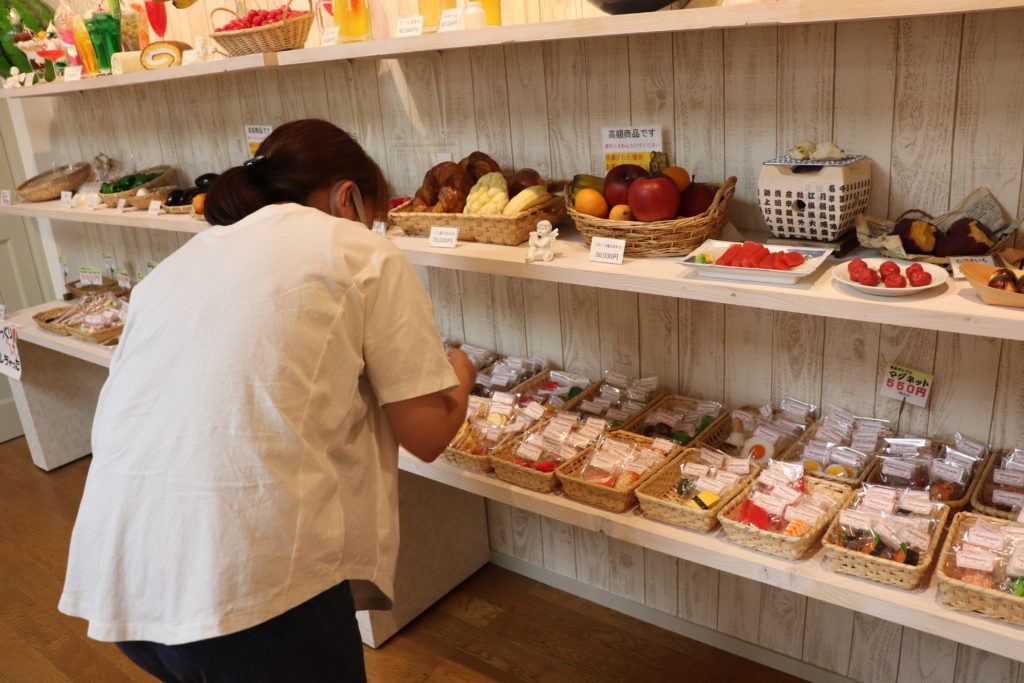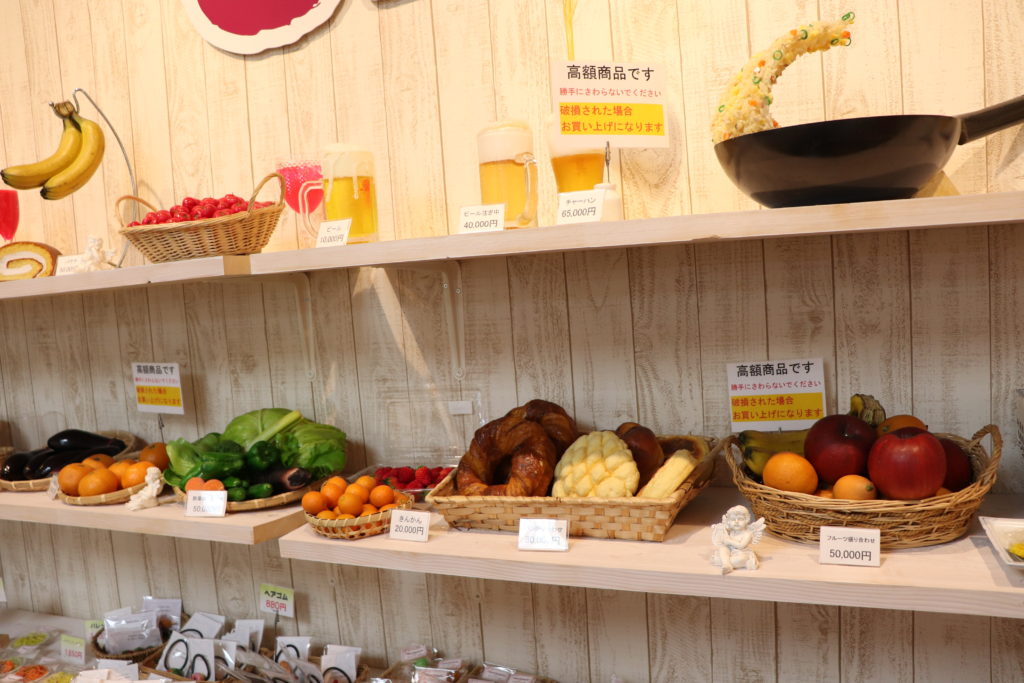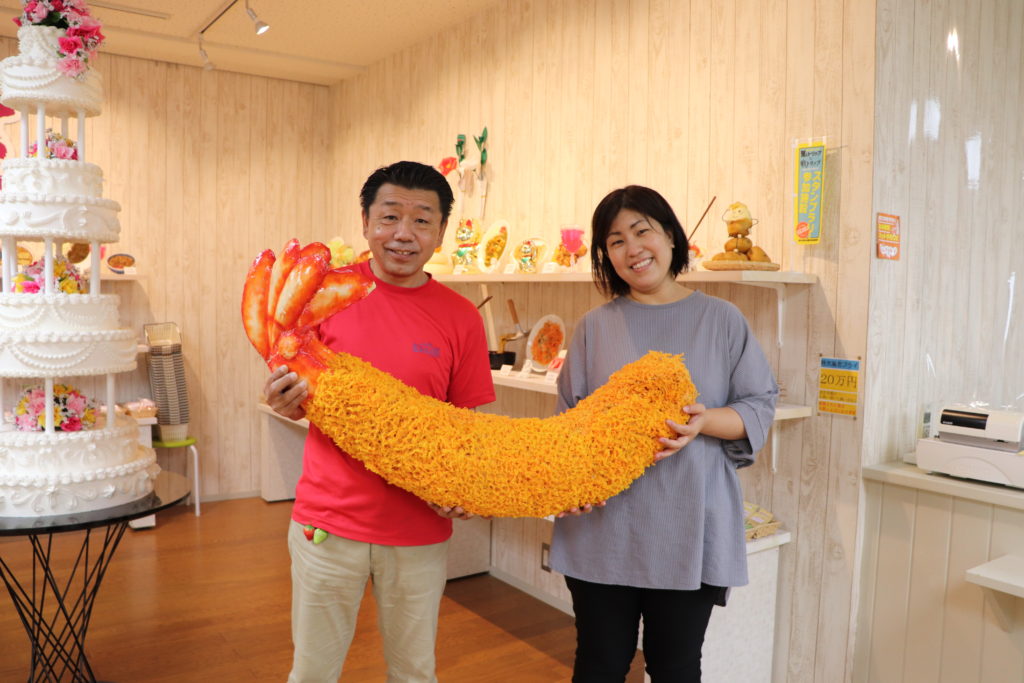 "Mikan, the most significant food replica, is made when I wanted to play a prank on my daughter who was still a kindergarten kid." The president tells us about the birth of food replica. I am so pleased that all food replicas look so real and so detailed! "Not only how it looks real, but all details are so close to the real ones." I am looking forward to what new things will be created in the future. You can find one more surprise made by the president at the stairs. Please come and experience making food replica here!
About TABITABI Gujo

TABITABI Gujo editorial
TABITABI Gujo is a general media site for sightseeing in Gujo introducing attractive tourist spots in Gujo with a slogan of "Gujo, a place you want to visit many many times." While knowing more about Gujo, we continue providing information on travel suggestions during each season in different areas, as well as the latest information of Gujo-shi.
Photographs by TABITABI Gujo Editor Team