Experiencing Life at a Farm-inn,
Trial Migration!
Tag:
/*php var_dump($paged); */ ?>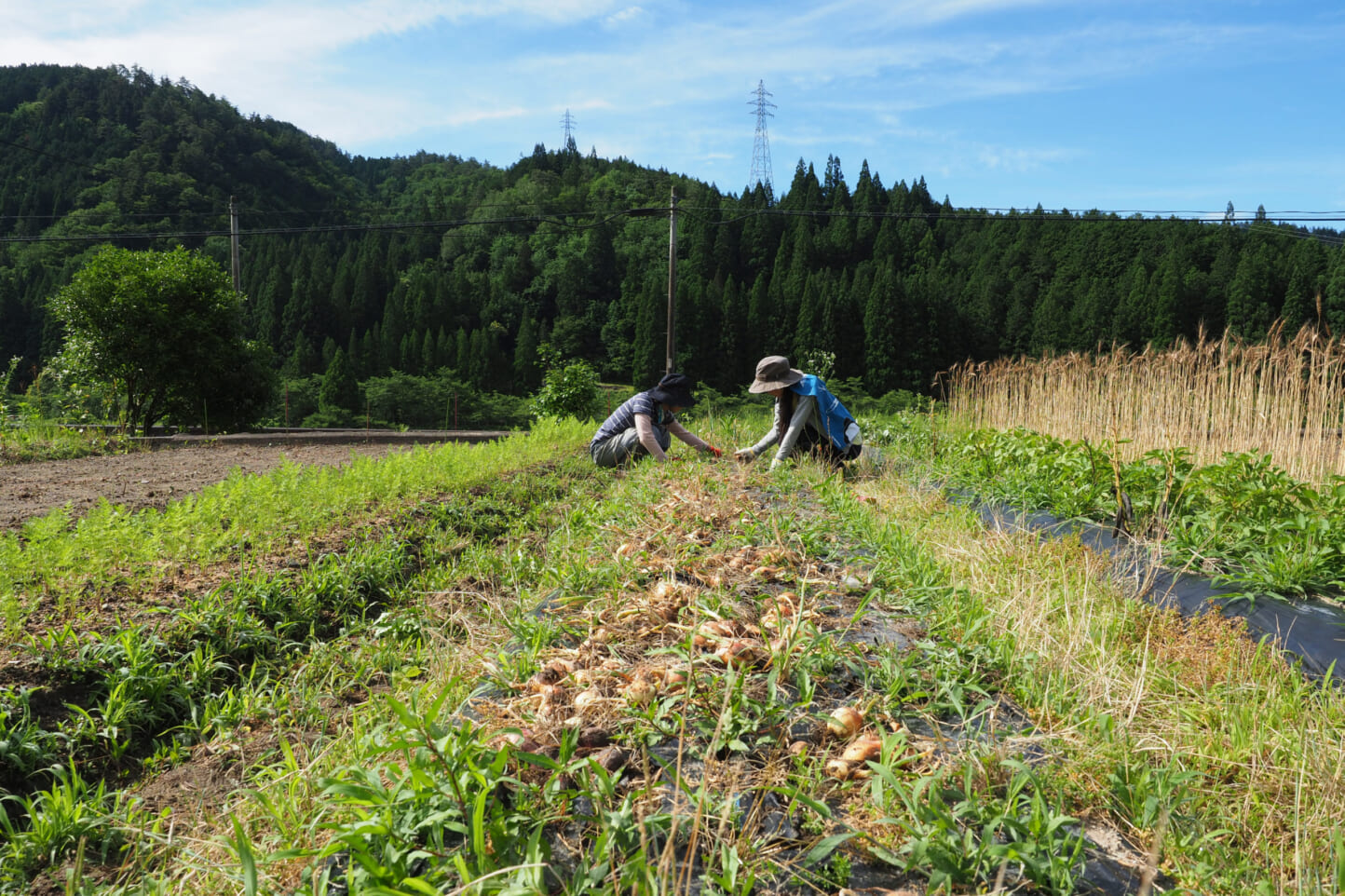 As we all know, Gujo is famous for sightseeing. Other than sightseeing, surrounding by nature and living a simple life is another enjoyable attractive activity! Places for you to experience the life in Gujo is a vacation rental. Farm-inn is where you can stay at a farmhouse for accommodation. We heard that we could experience living with the nature, so we decided to stay at "Kurashino-yado Cocoro" at Gujo Yamato! Please enjoy our report!
Farm-inn at Gujo Yamato "Kurashino-yado Cocoro"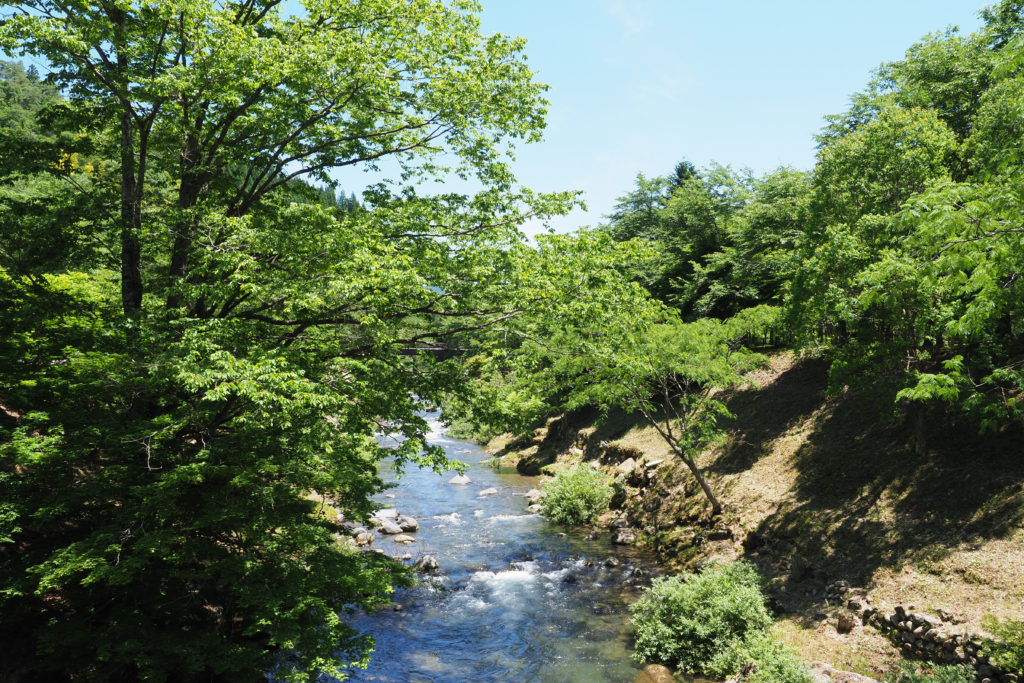 Gujo Yamato is a town from around 20-minute drive from Gujo Hachiman. From Kamakura era (1185 – 1333) to the end of Sengoku era (1467 – 1590), the lord around this area, To Tsuneyori, spread the Kokin Wakashu (Collection of Japanese Poems of Ancient and Modern Times) named Kokindenju. This place was called Kokindenju-no-sato from that time. Toshi-yakataato-teien and Shinowaki-jo other historical spots are still remained in this area.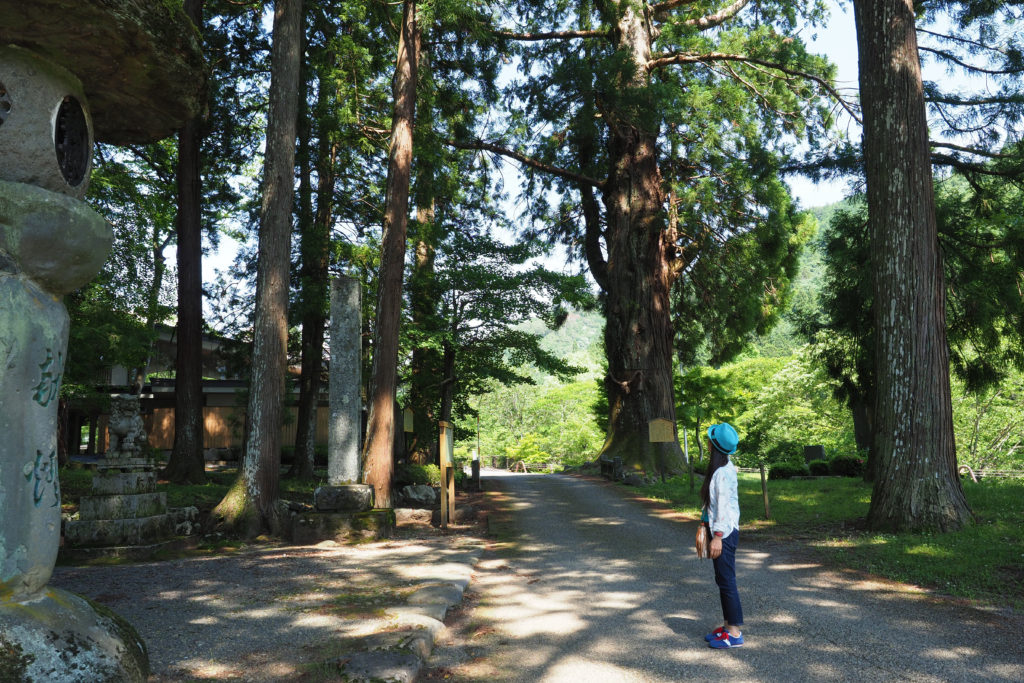 "Kurashino-yado Cocoro" we are going to stay is around 5-minute drive from Gifu Yamato Interchange or from Tokunaga Station, Nagaragawa Railway. The shrine near to the farm-inn, Myoken-jinja Shrine, was To's Bodhi temple. Approach to the shrine is around 250m long with cherry blossom on both sides. It was the racetrack of the Shinowaki-jo Castle.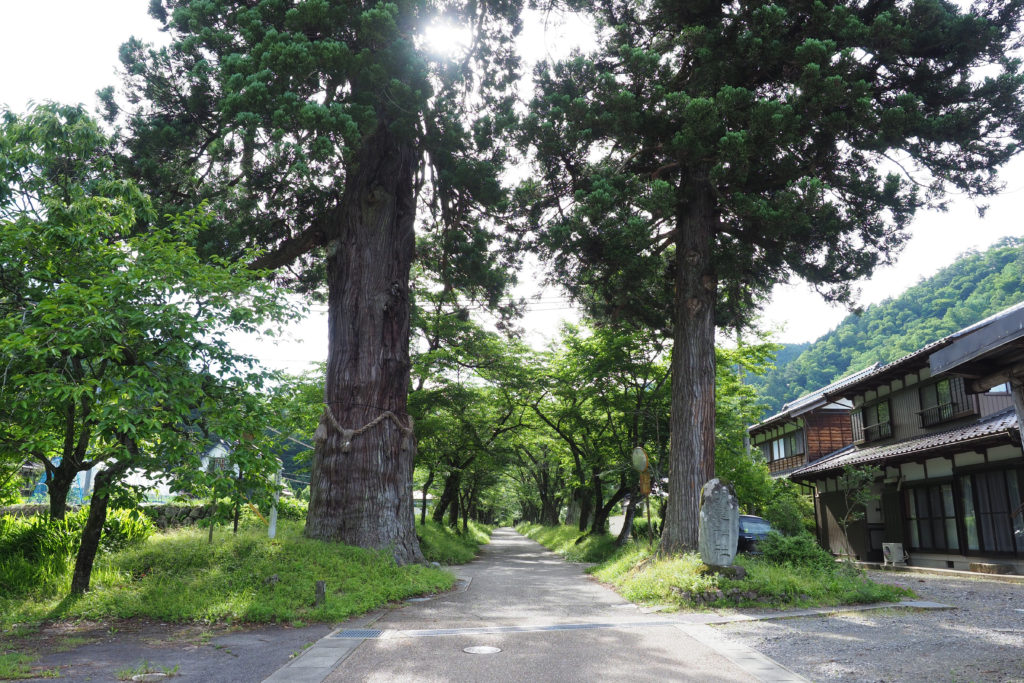 The cedar tree at the entrance of the approach is a 700-year-old cedar. It is called "Kamimukae-sugi" as a mysterious cedar. You can find the farm-inn right next to the cedar.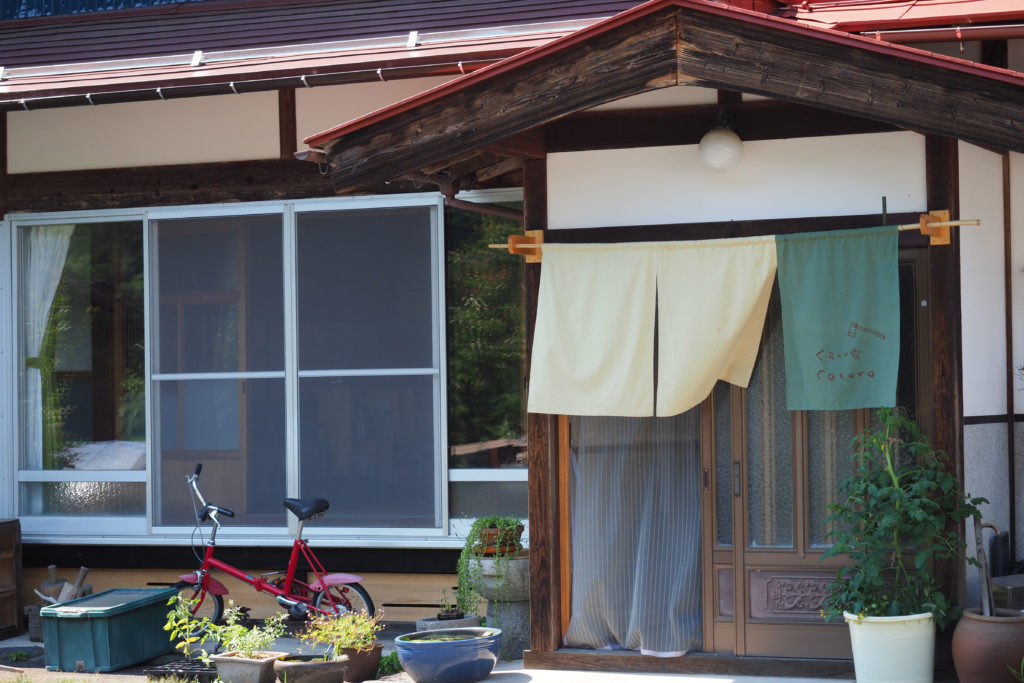 We arrive at the inn at check-in time 14:00. The entrance is covered by a cute short curtain.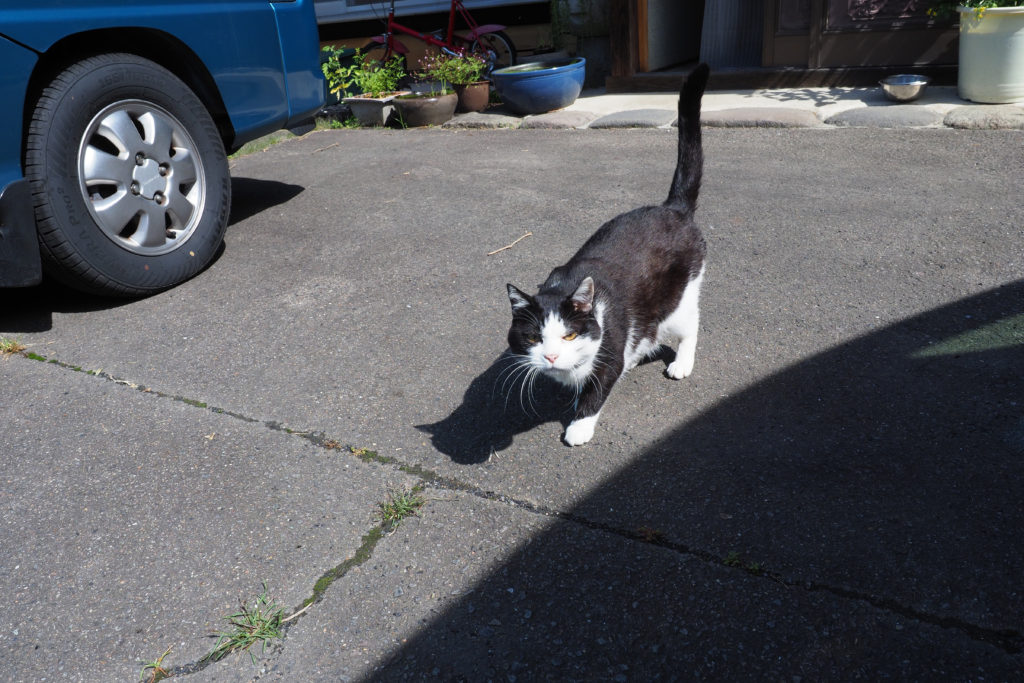 A cat welcomes us at the entrance. There are 4 cats living in this farm-inn. If you are a cataholic, you will really enjoy the stay here!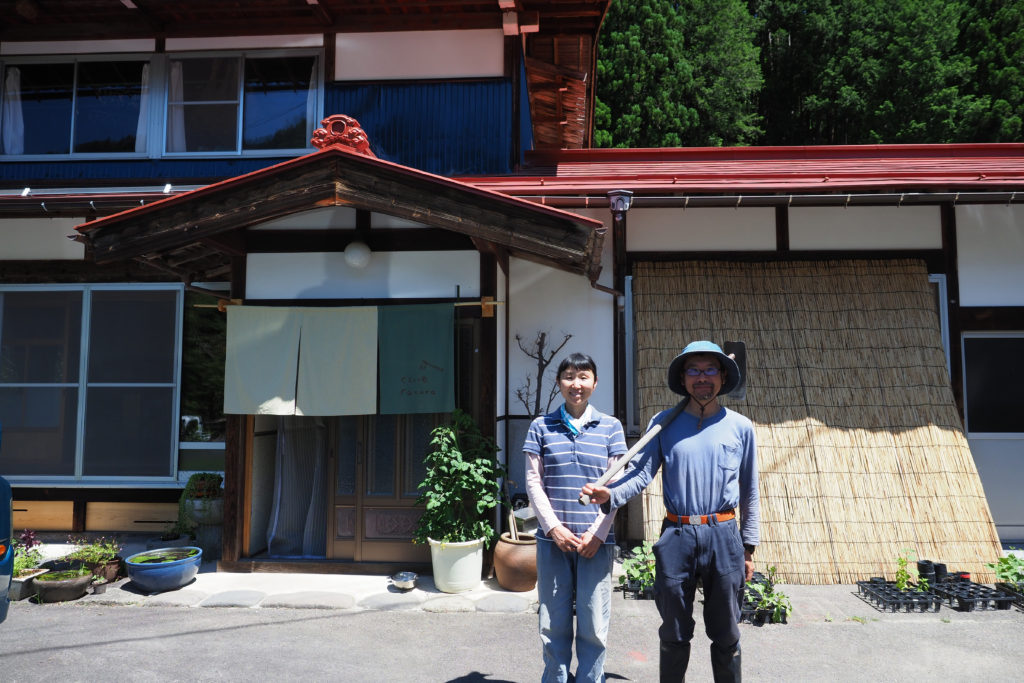 Mr Hiroki and Ms Shiho Tada are husband and wife running this farm-inn. They were professional farmers at Ibigawa-cho and moved to Gujo 2 years ago starting this farm-inn. They did a renovation of Ms Shiho's grandfather's house and started providing accommodation while farming. It is how this farm-in started!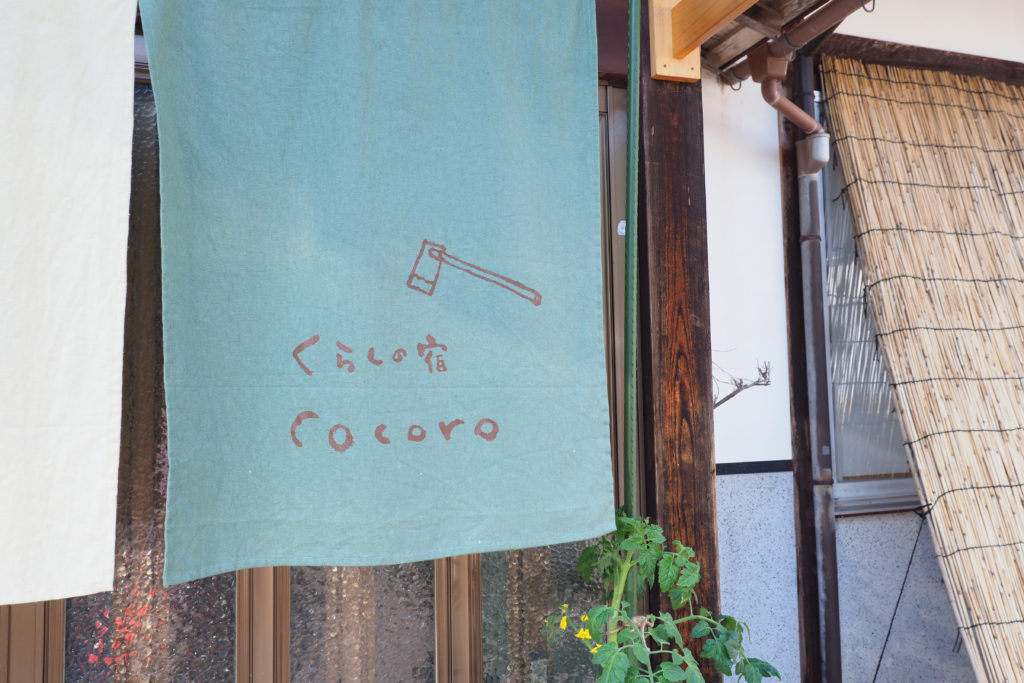 The name "Kurashino-yado" came up with Mr and Mrs Tada at the same time. They want to provide an accommodation experience with "FARM, EAT, LIVE" by farming and living here.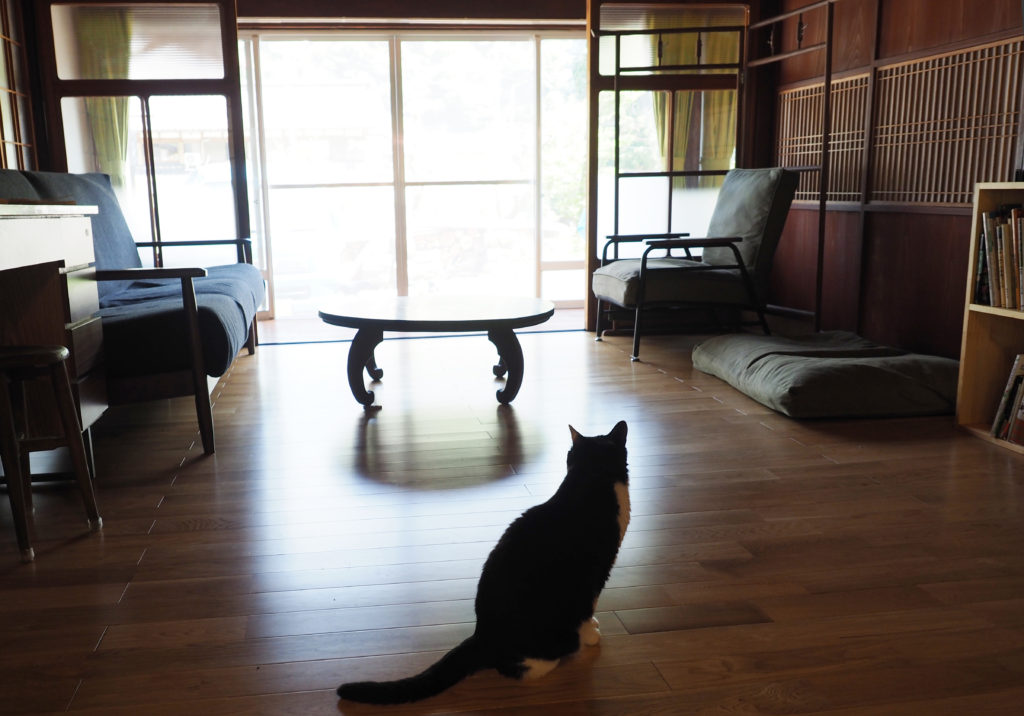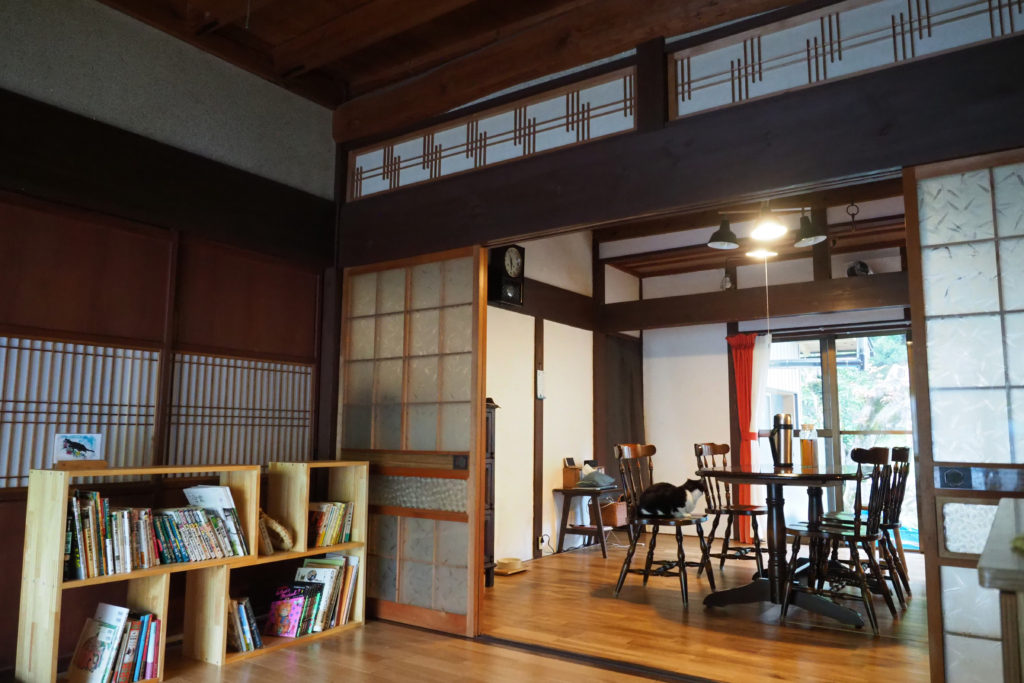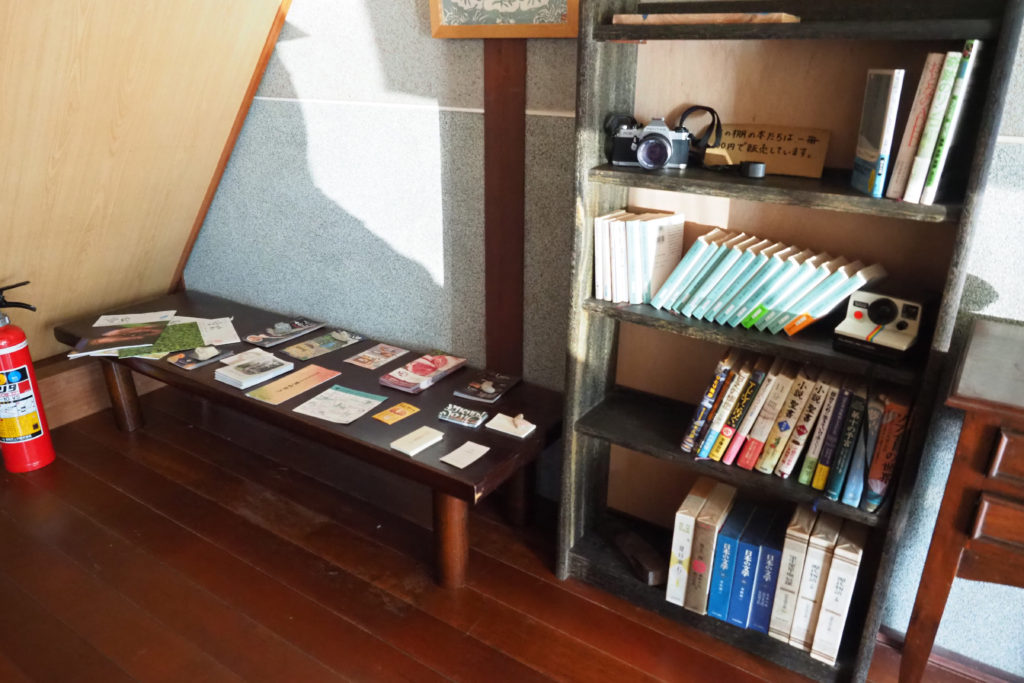 The house is remaining as a Kominka (Traditional Japanese house). They painted the wall, built a kitchen with new tiles and made a shelf. They used their own hands to create their own house, they succeeded to make a nostalgic and warmhearted atmosphere in the farm-inn.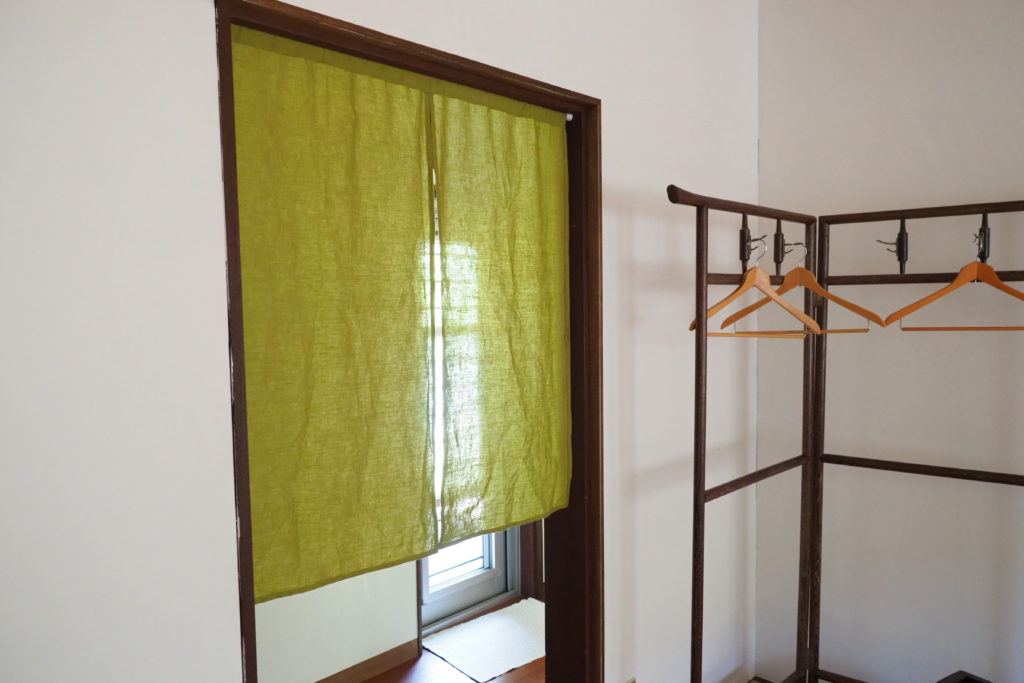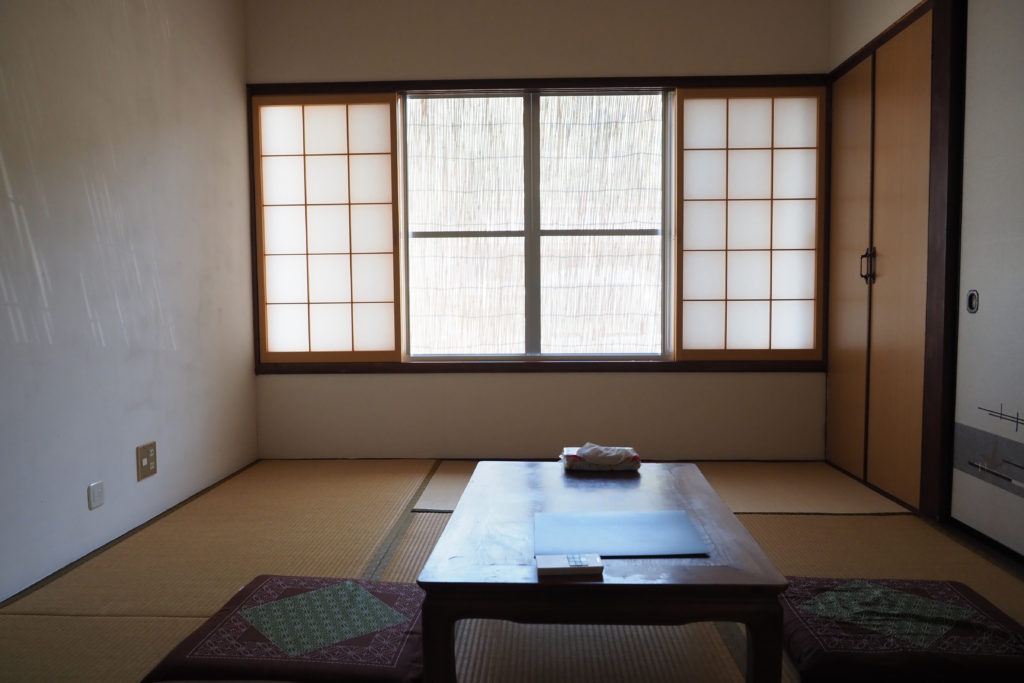 Here is the guest room. Light from the outside shines through the window. Loafing around on the tatami is so relaxing.
Helping at the farm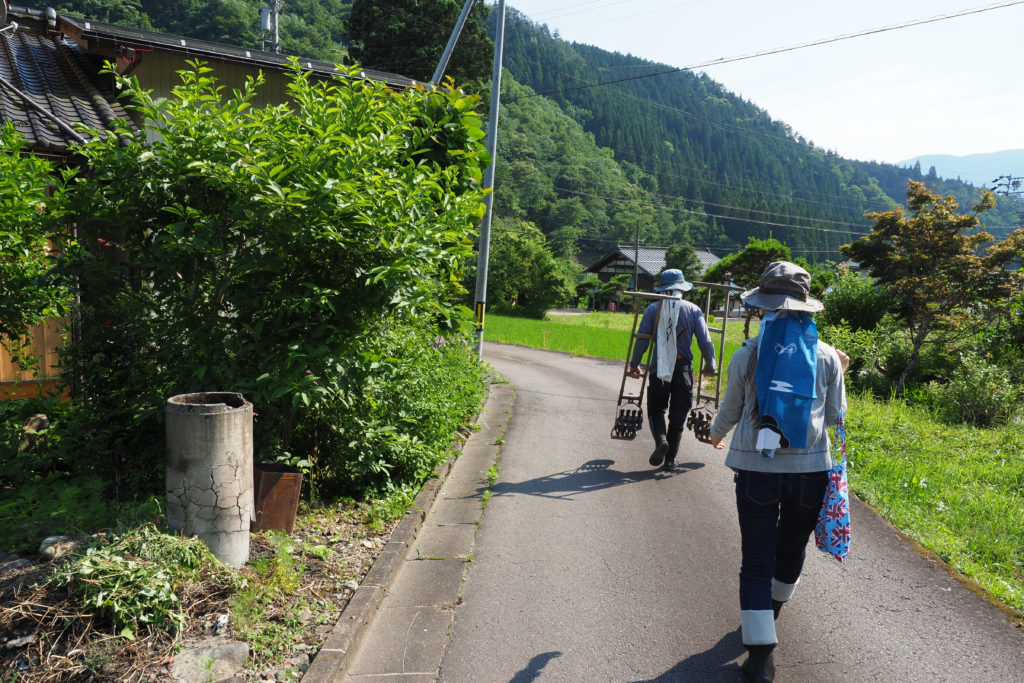 After resting in the guest room for a while, we go outside to help with farm work. I bring long sleeves, full-length pants and put a towel around my neck. I am ready!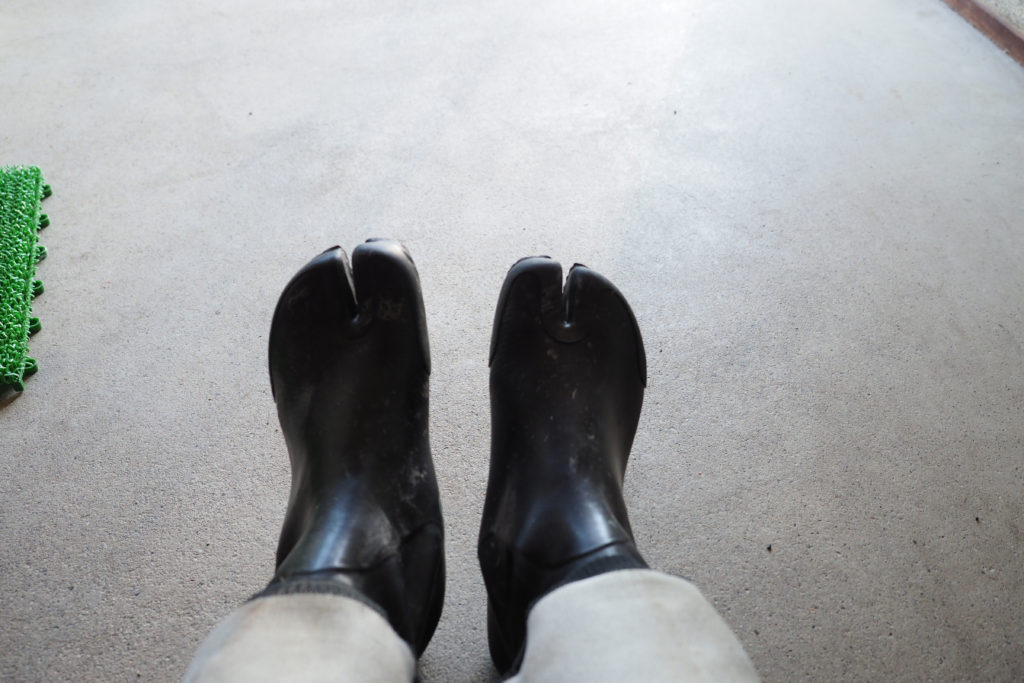 I borrowed these long boots from the farm-inn.
Farm work changes according to season and weather, what you can experience varies from time to time. Today, we need to do weeding.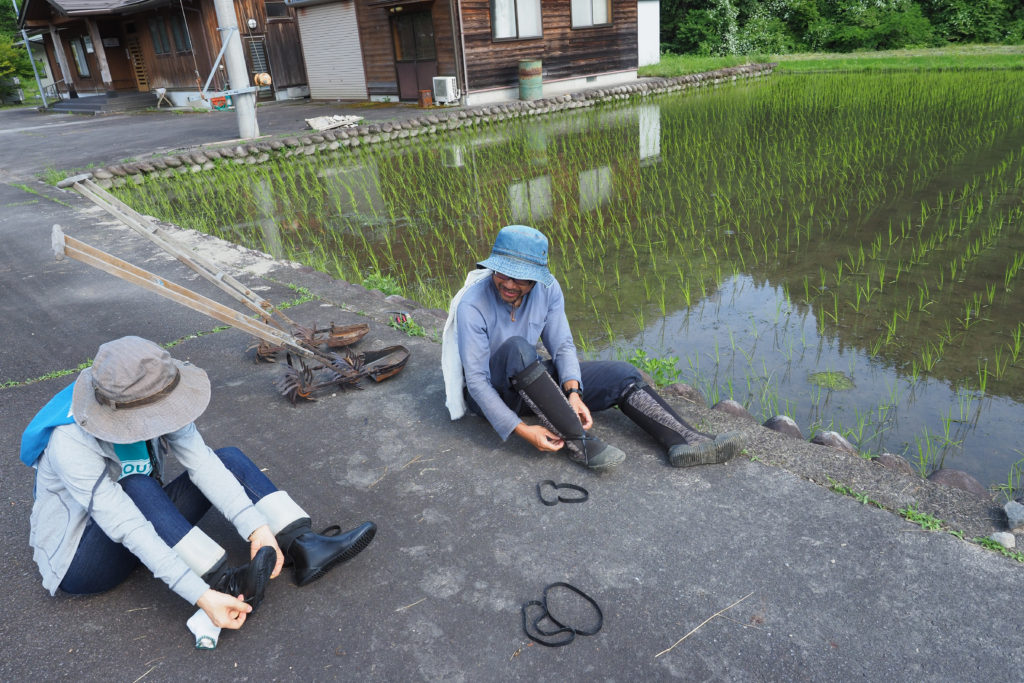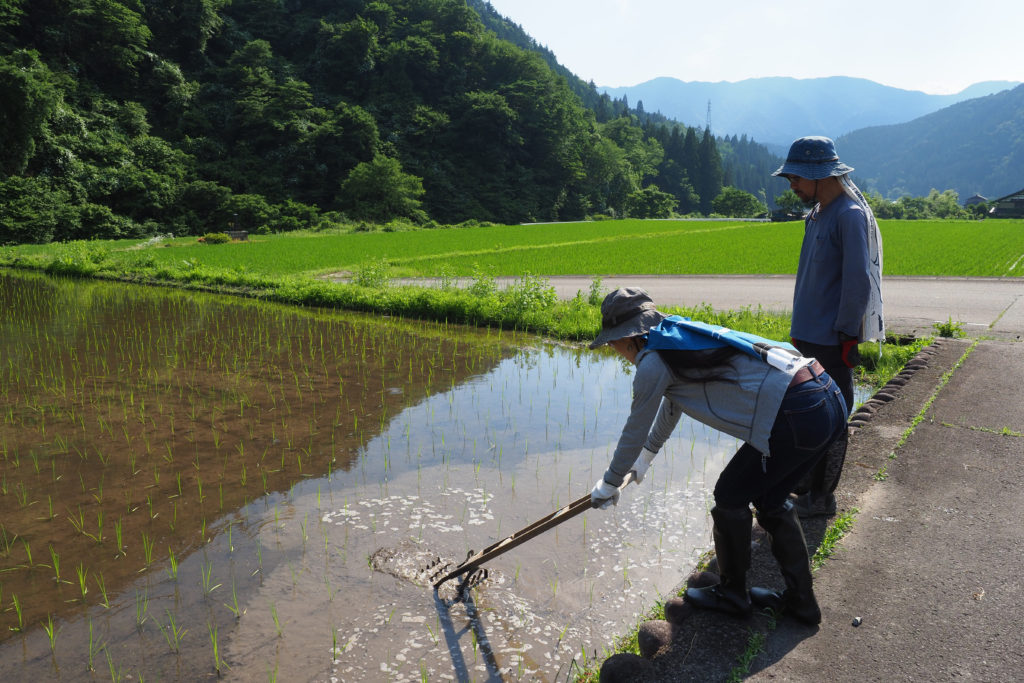 They taught us how to use the weeder. We put the weeder into the paddy field and start to clean up the weed among the paddies. It is harder than I imagined! Cleaning up the field improve the ventilation and fertilization. This process makes non-chemical rice tastier.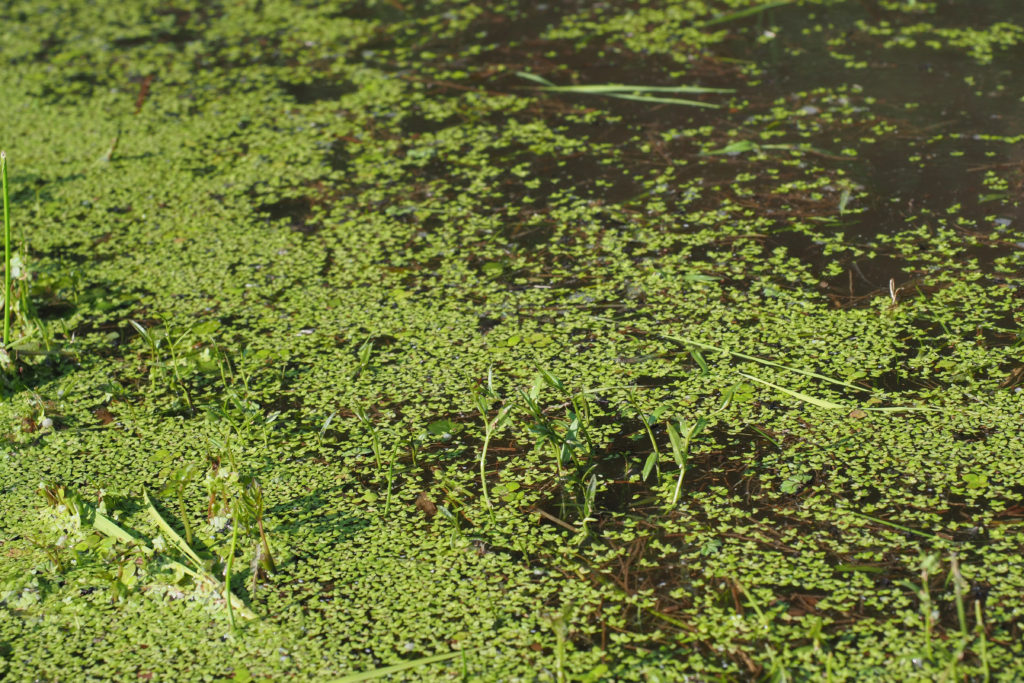 Floating weed grows on pesticide-free field. Those floating on the water is called fringed heartwort (Ricciocarpos natans), an endangered species. This cute moss floating on the water create a beautiful scene! Although the sun is so bright, it is comfortable around the water.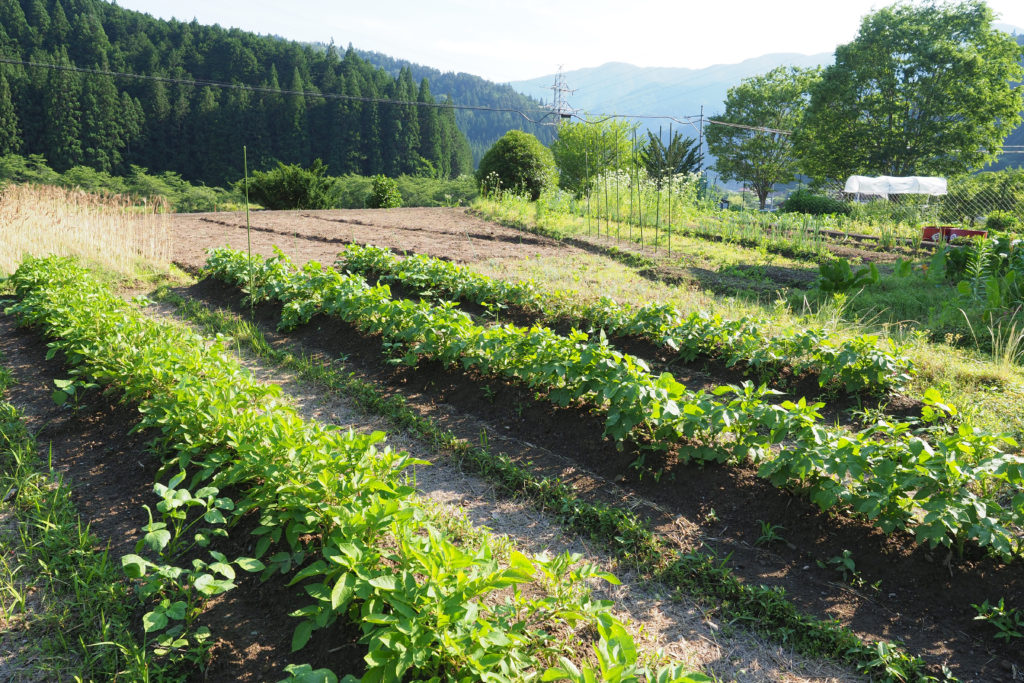 After weeding, we go to the field. Mr Tada owns fields and farms with area of nearly 3000sq meter.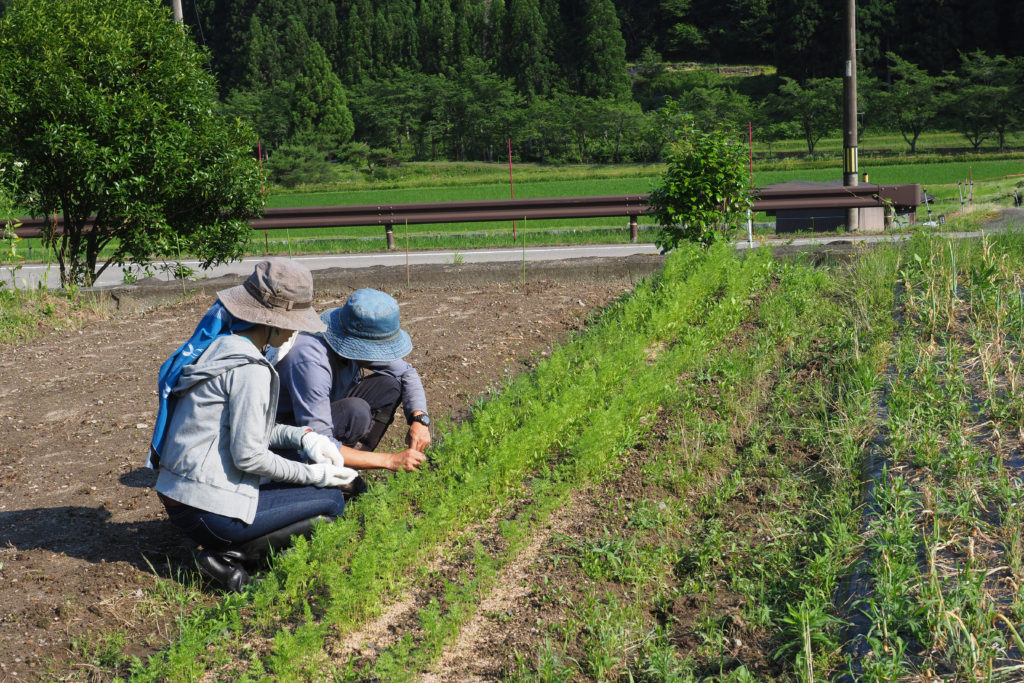 He grows carrots, pumpkins, cucumbers, zucchinis, potatoes, sweet potatoes, soybean……many kinds of crops. Compost used is homemade by Mr Tada.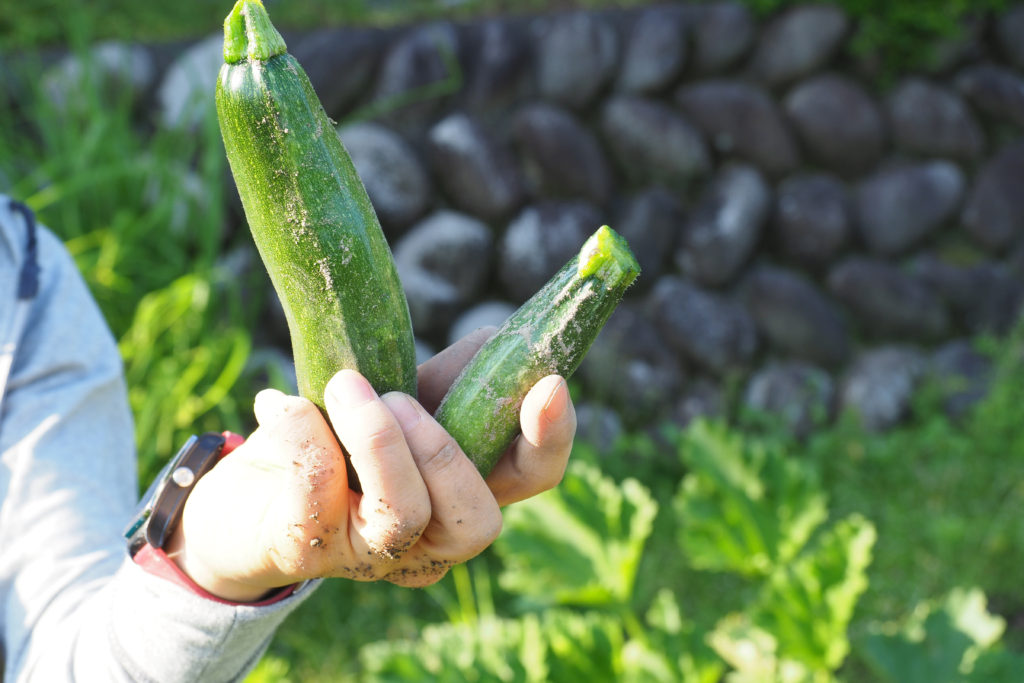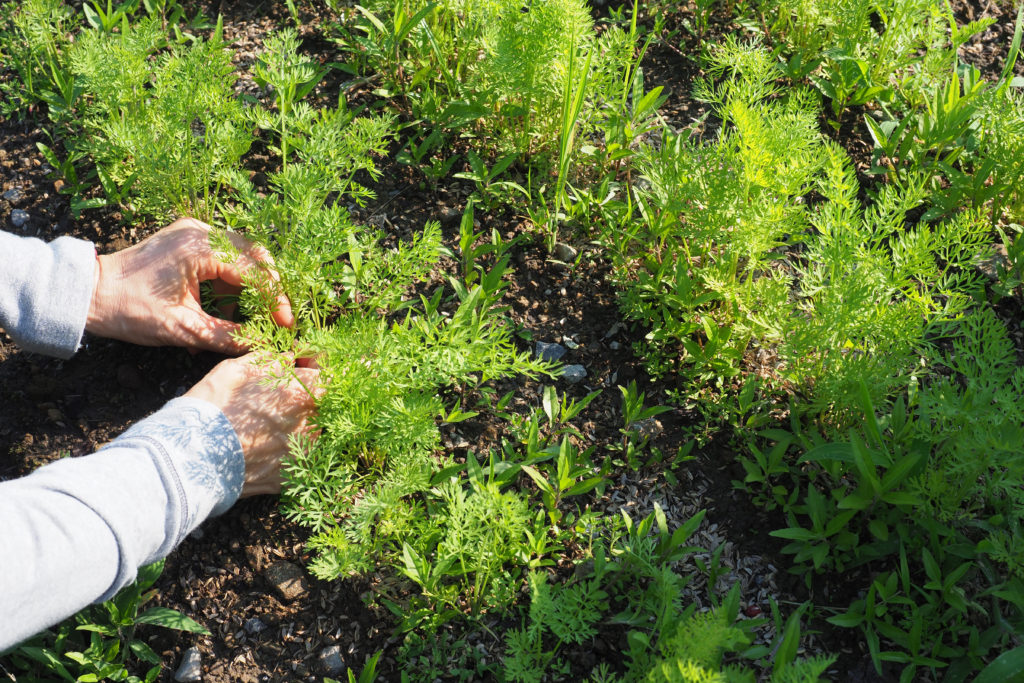 We help picking zucchinis and culling carrots. By thinning out the carrots, the remaining carrots will grow bigger. The smaller one we cut will be our dinner tonight.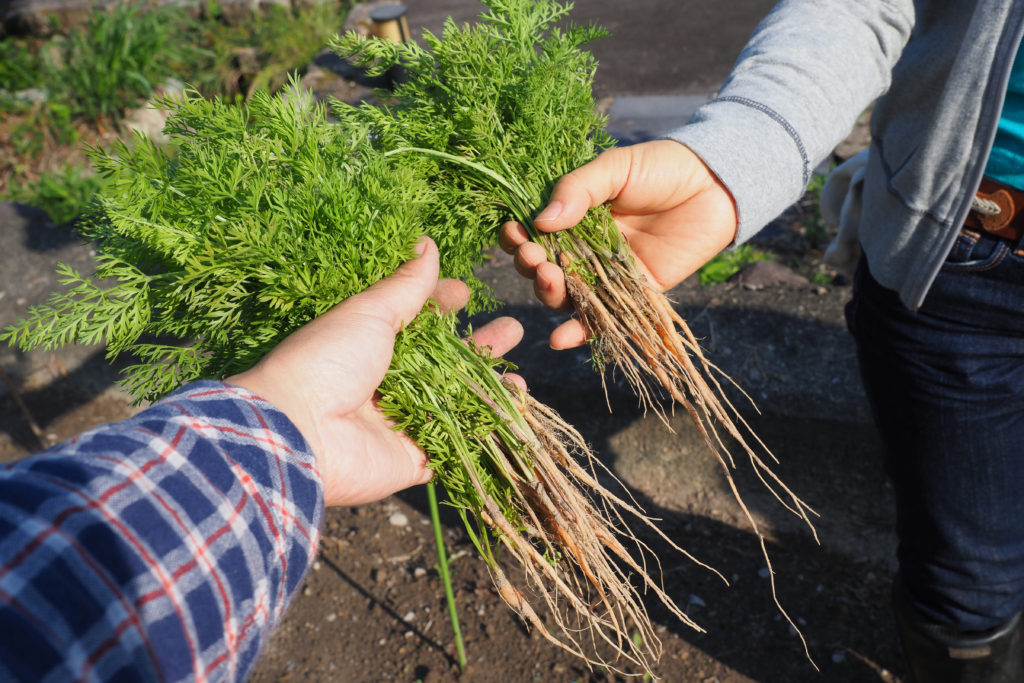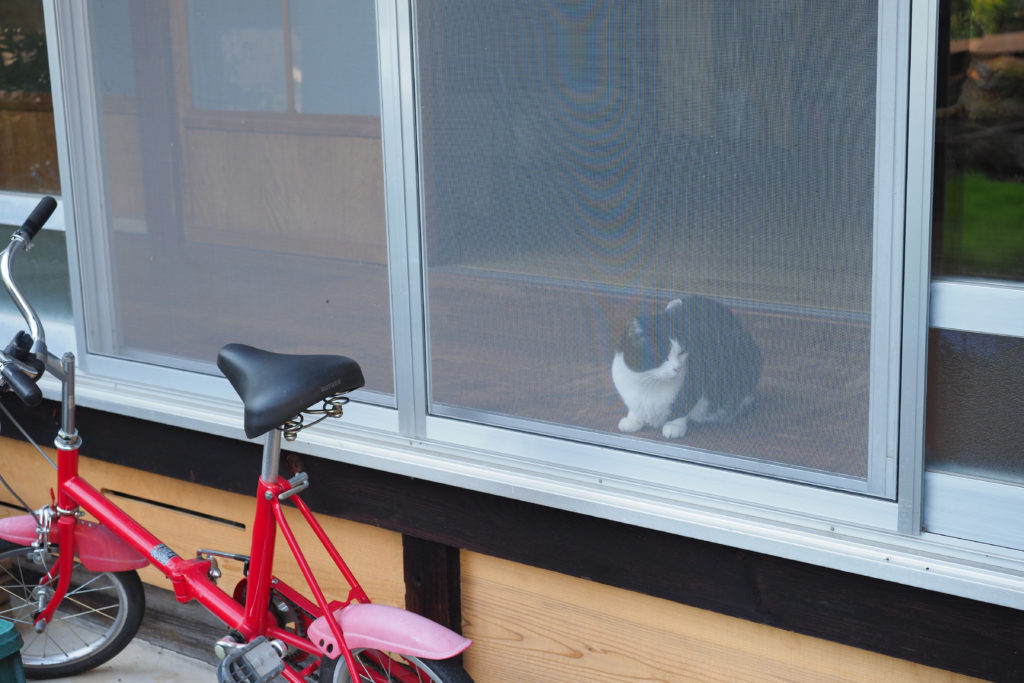 When we finish the farm work, it is already 17:00 in the evening. The cats welcome us at the entrance.
Meal with lots of vegetable! Using stove to cook for my first time!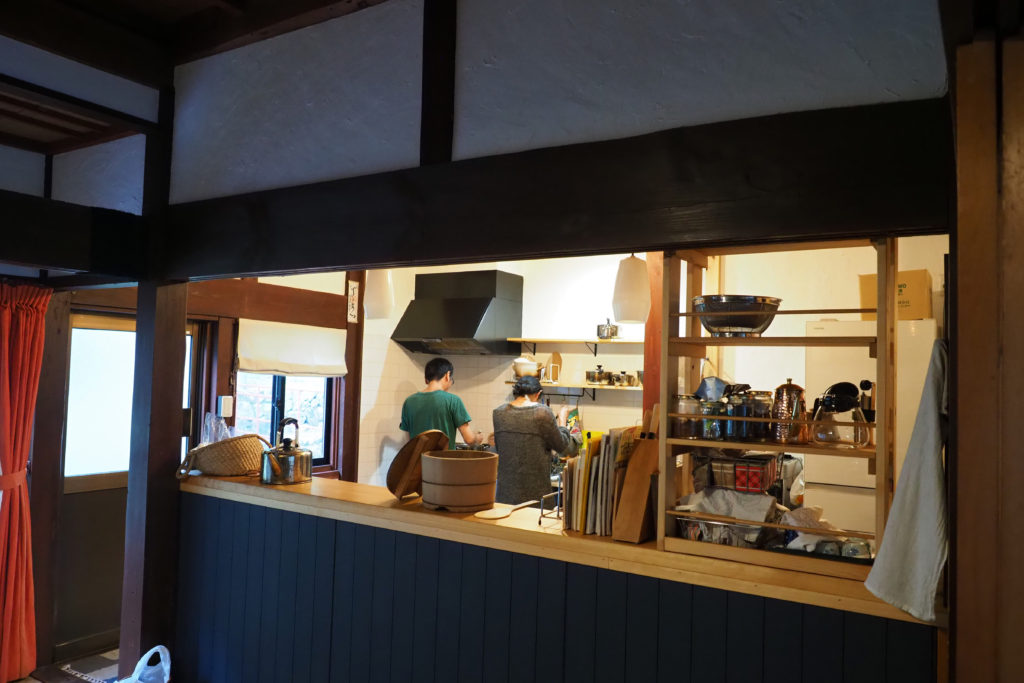 After resting for a while, we go to help cooking dinner using the zucchinis and carrots we picked today.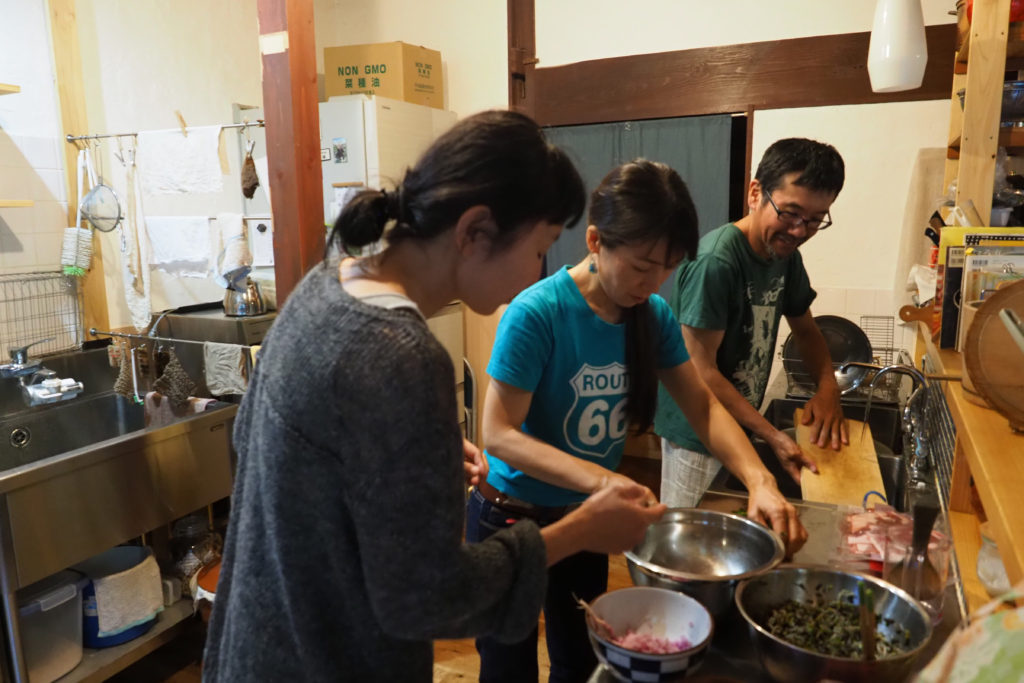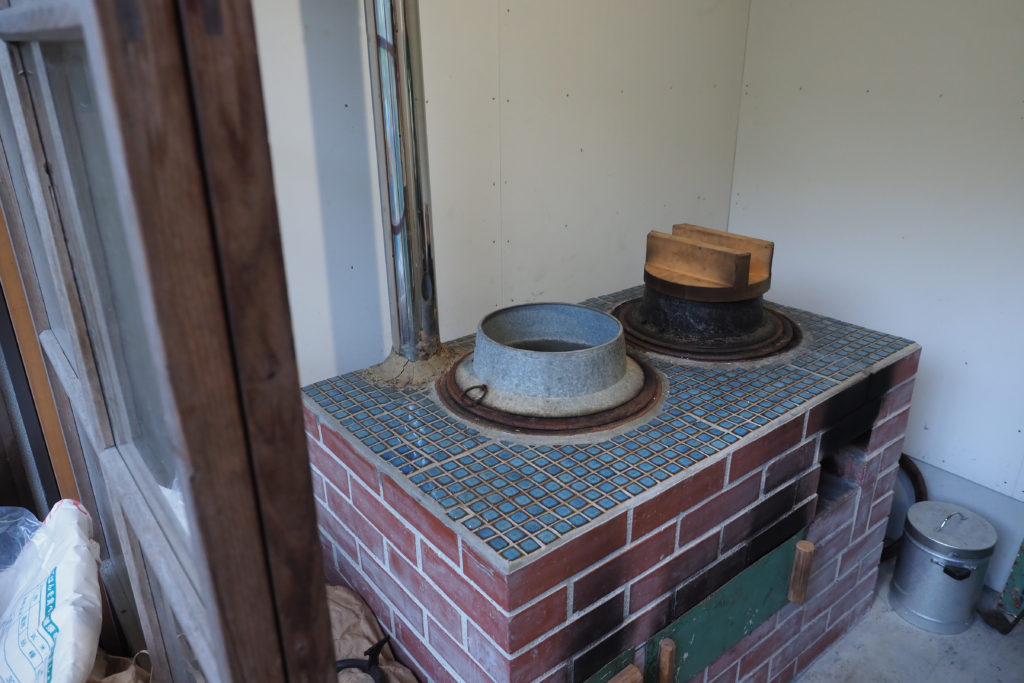 Rice is the main dish of our dinner. We are going to use stove to cook. Everyone stayed here learnt to cook their own rice. Of course, the rice used is grown here. The cooking stove is made by Mr Tada with 190 pieces of bricks. This type of stove was created after the war when firewood was rare. As a few pieces of firewood could create big fire, this stove became popular throughout the country. Nowadays, many people love it and start using it again.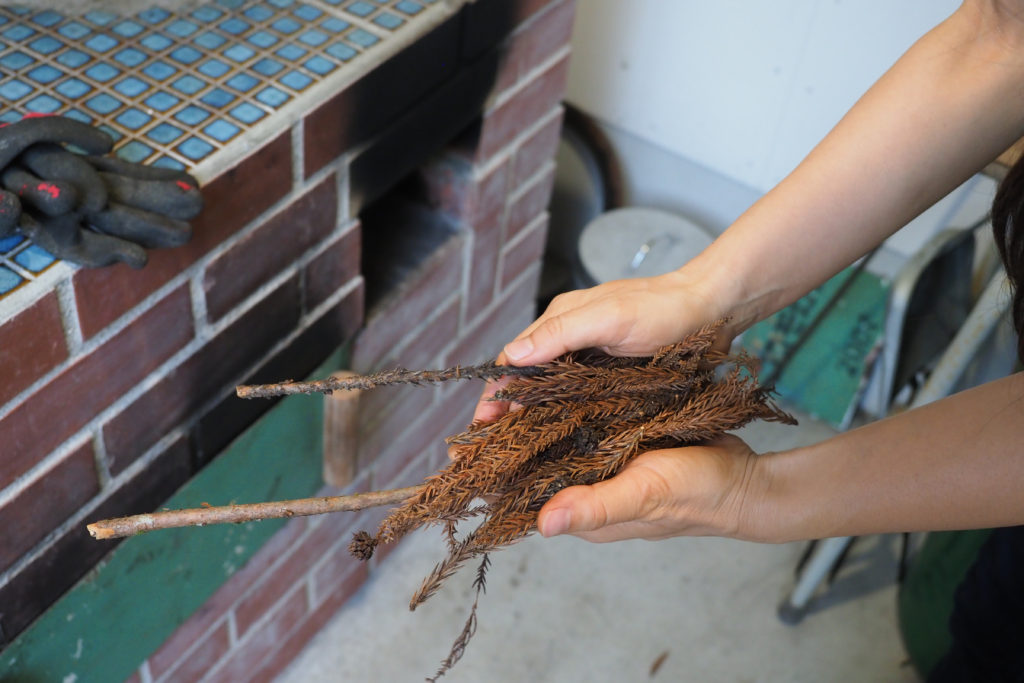 Let us start the fire! Although all people stayed here experienced stove cooking for their first time, they never failed! It is my first time too. I am very nervous!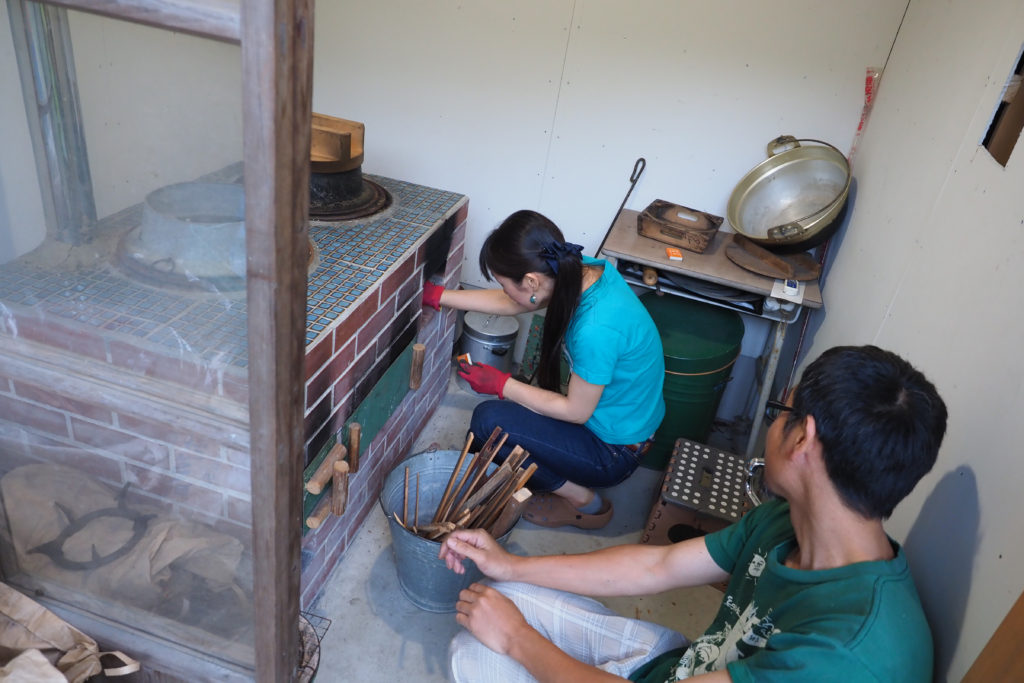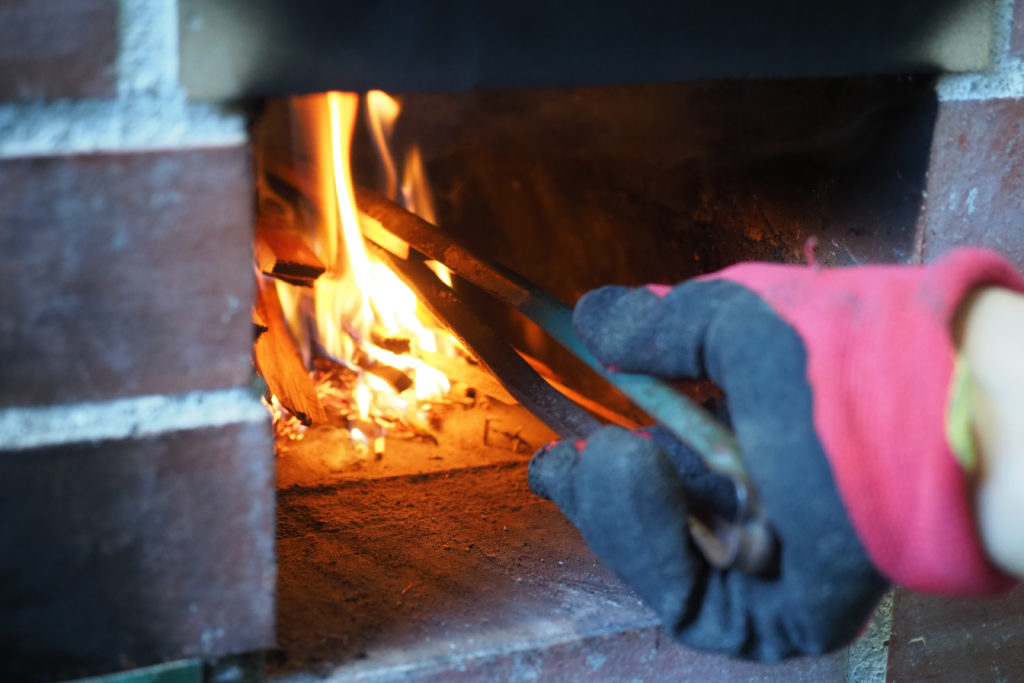 Mrs Tada teaches us when putting firewood into the stove. It burns more easily than I thought!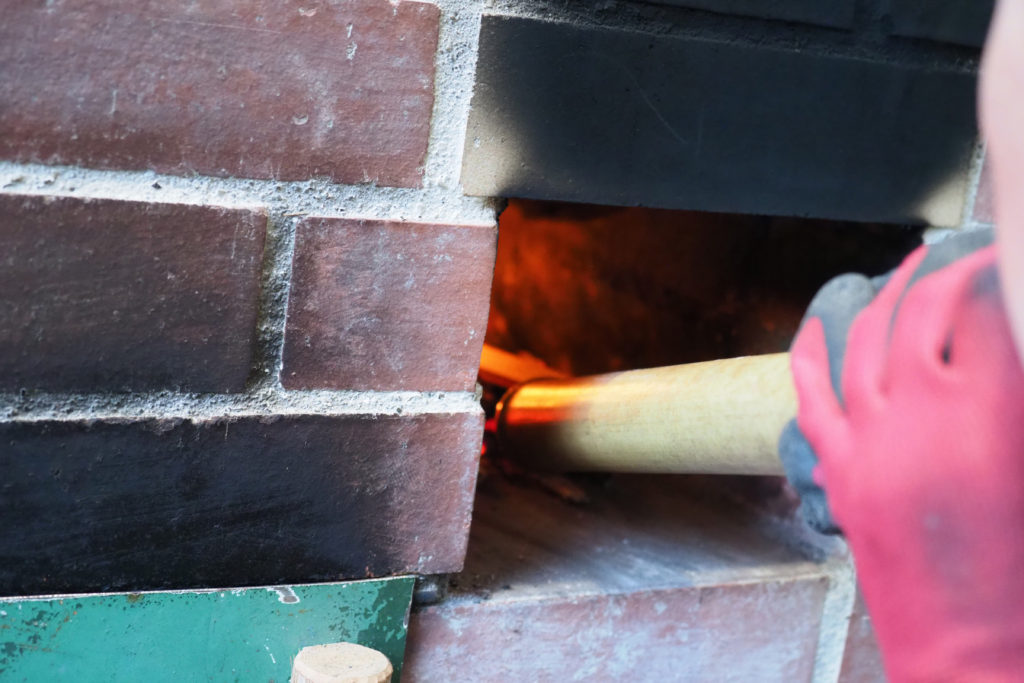 When the fire gets weaker, you need to blow some air with this bamboo tube. After 10 minutes, when steam comes out, it means rice is well cooked! After turning off the fire, steam it for a while.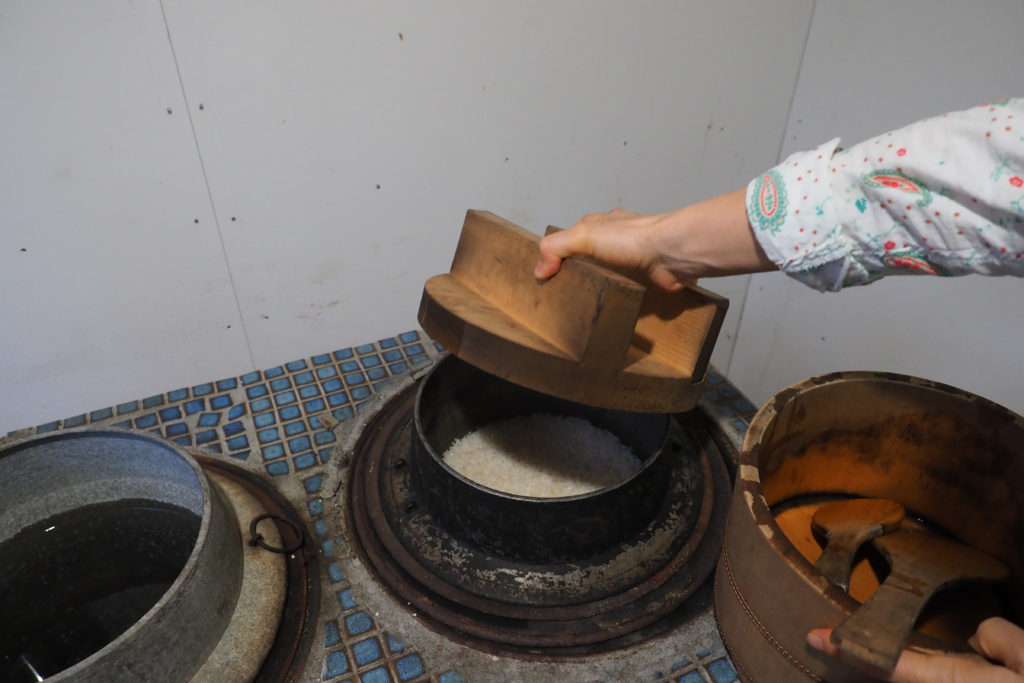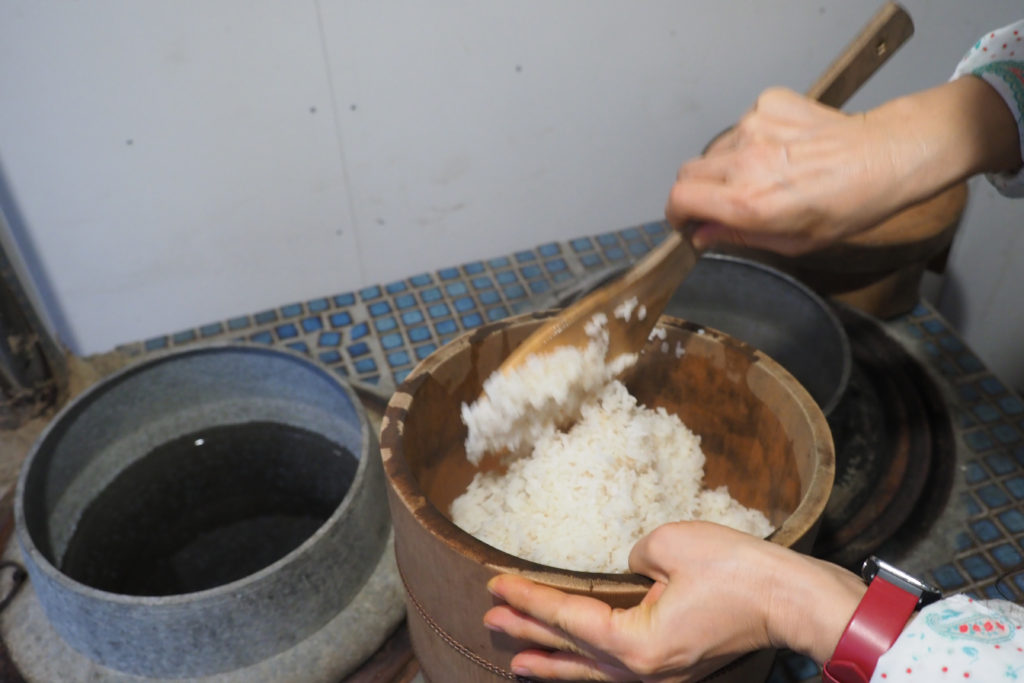 After steaming for 30 minutes, rice is ready! Put it into the Ohitsu (Wooden container for cooked rice) and ready for dinner.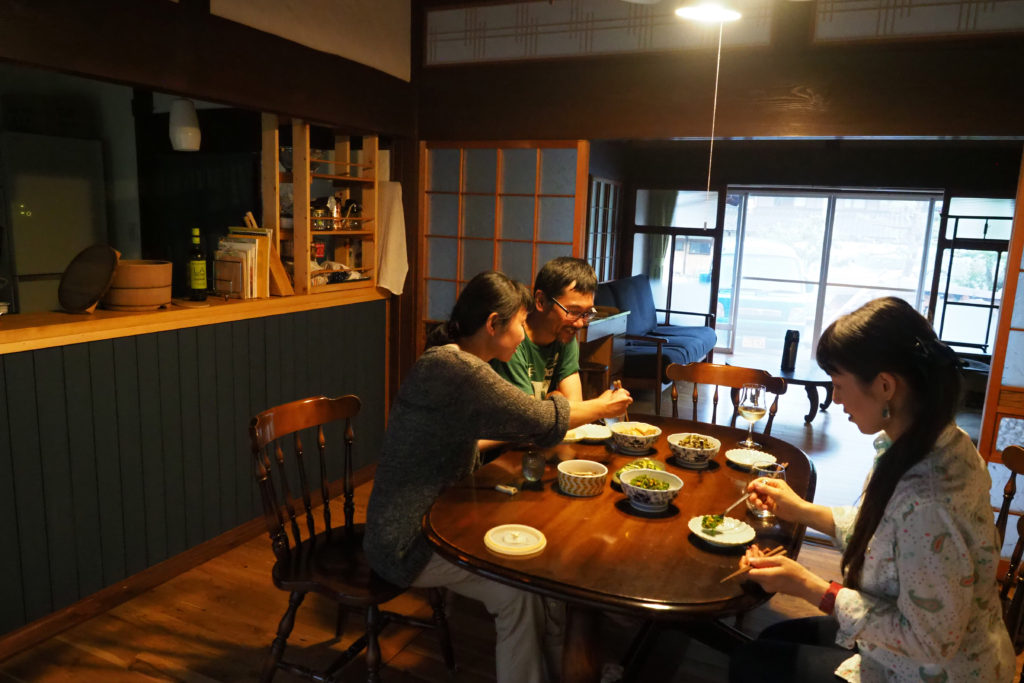 It is 18:30 when we finish preparing dinner. Itadakimasu! means thank you for preparing food. Cut carrots, Wasabi picked at Mt Dainichigatake, fermented zucchini, Fuki (Japanese butterbur stalk) from the back garden, Shiitake mushroom from Gifu-ken, frozen tofu, Niboshi (Dried sardines) in Ponzu vinegar and Miso soup with Komatsuna (Japanese mustard spinach) and fried tofu skin. All healthy food made form vegetables and wild vegetables.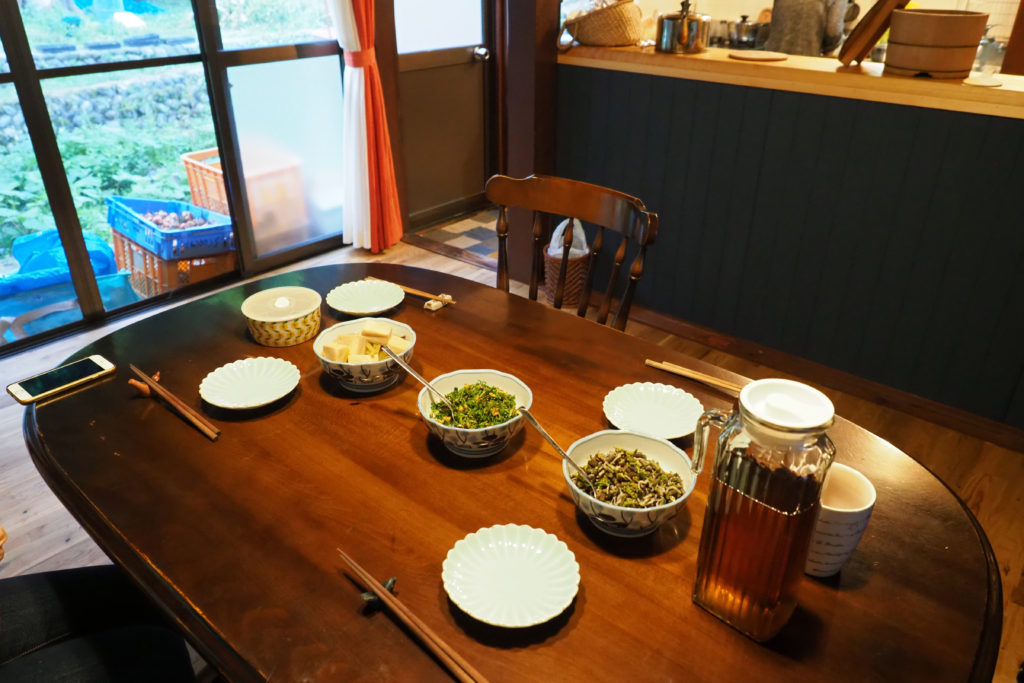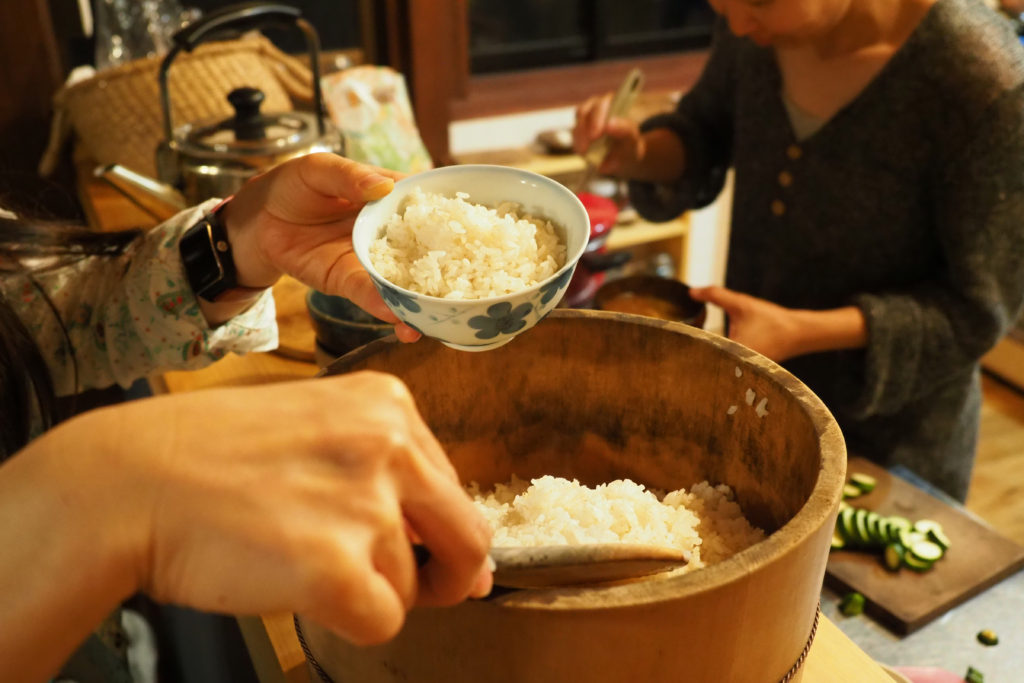 The main dish is the rice we cooked by the stove. Every rice is sweet and tasty. The texture is good too! We think we did it perfectly. At last, we have fried some pork from Kurogawa Gifu-ken. It goes well with the rice.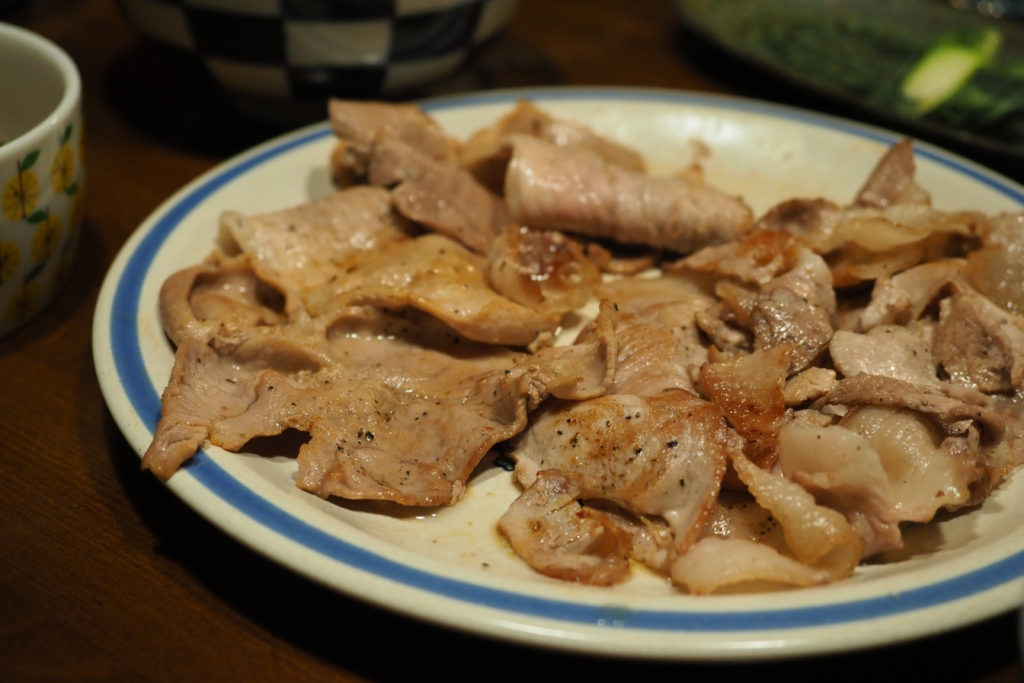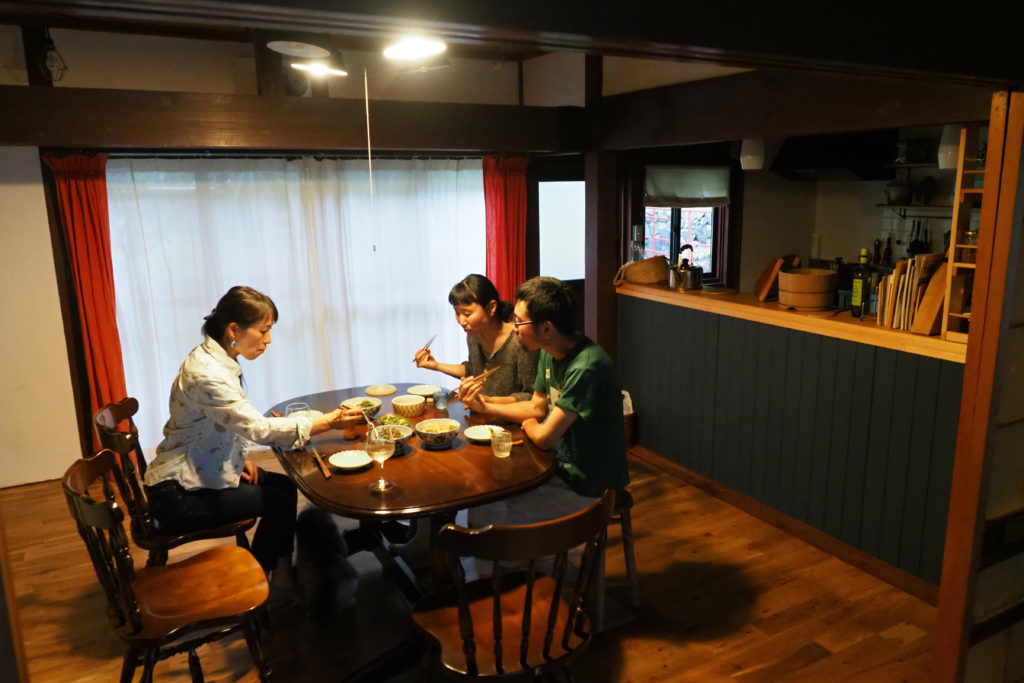 We talk about the life here, agriculture, cats……many things while we are having dinner with Mr and Mrs Tada.
When Mr and Mrs Tada worked as professional farmers in the past, they were too busy doing all works at the farm. Mr Tada wanted to live more slowly and started this farm-inn after moving to Gujo. They enjoy having communication with guests so much. Just like talking with some old friends.
We go for a walk after cleaning up the table at 20:00. Walking through a dark path without any lights with Mr and Mrs Tada, we see lots of lightning bugs flying around! Unfortunately, we are not able to take pictures. Plenty and plenty of lightning bugs flying near the river. Mid-June is the season for lightning bugs. It is an amazing scenery!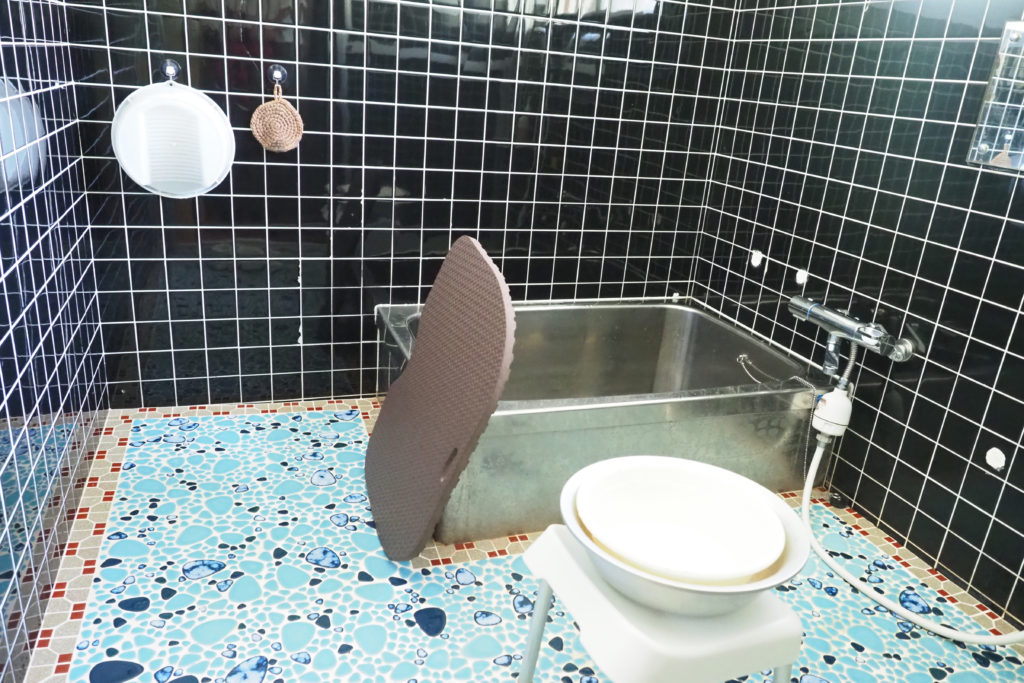 We take a bath at the bathroom with lovely tiles. Time flies. We come to the end of day 1. It is so comfortable that I fall into asleep very quickly.
About TABITABI Gujo

TABITABI Gujo editorial
TABITABI Gujo is a general media site for sightseeing in Gujo introducing attractive tourist spots in Gujo with a slogan of "Gujo, a place you want to visit many many times." While knowing more about Gujo, we continue providing information on travel suggestions during each season in different areas, as well as the latest information of Gujo-shi.
Photographs by TABITABI Gujo Editor Team