A Day at "Seiryu Nagaragawa Ayu Park"
Tag:
/*php var_dump($paged); */ ?>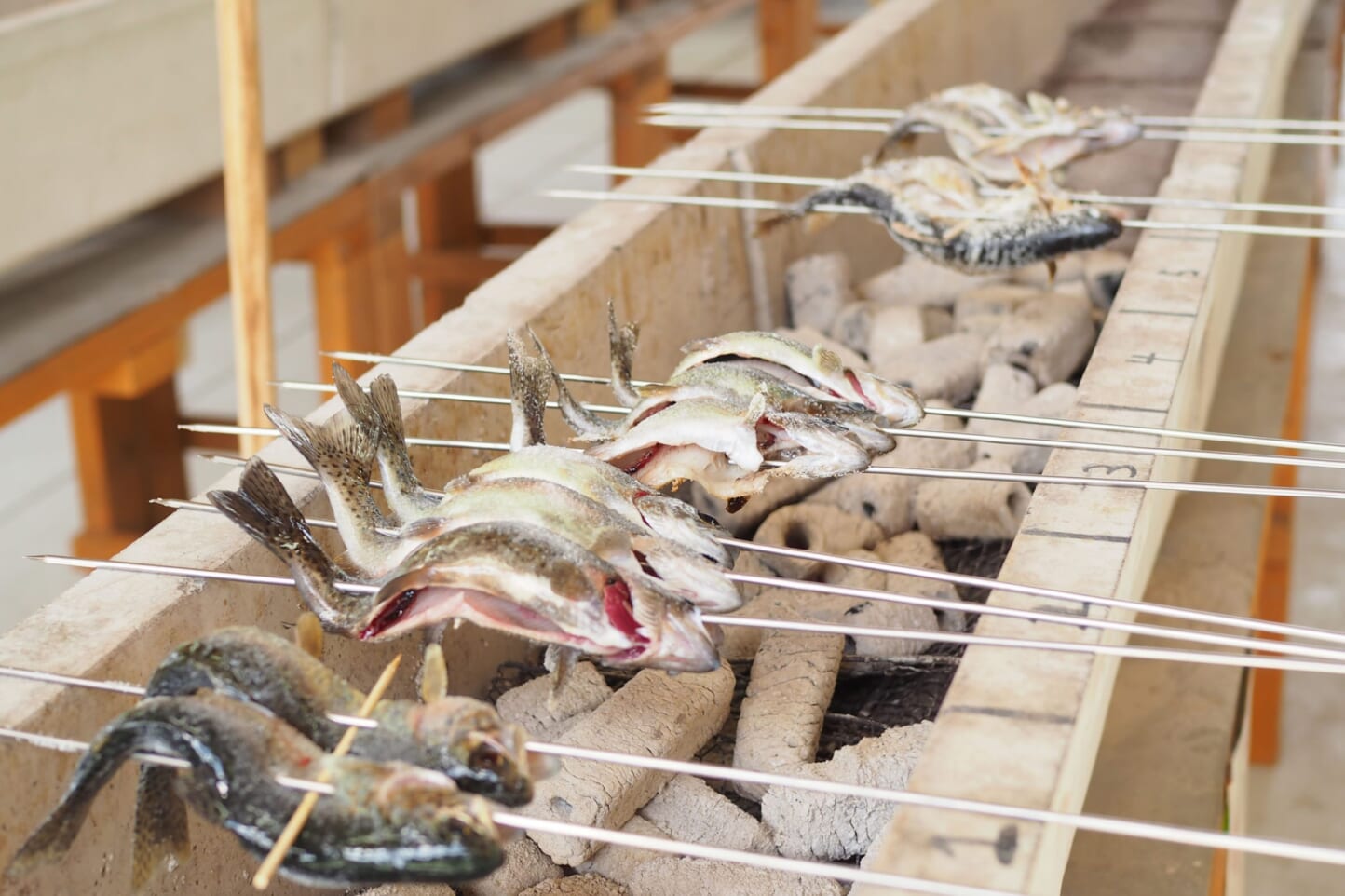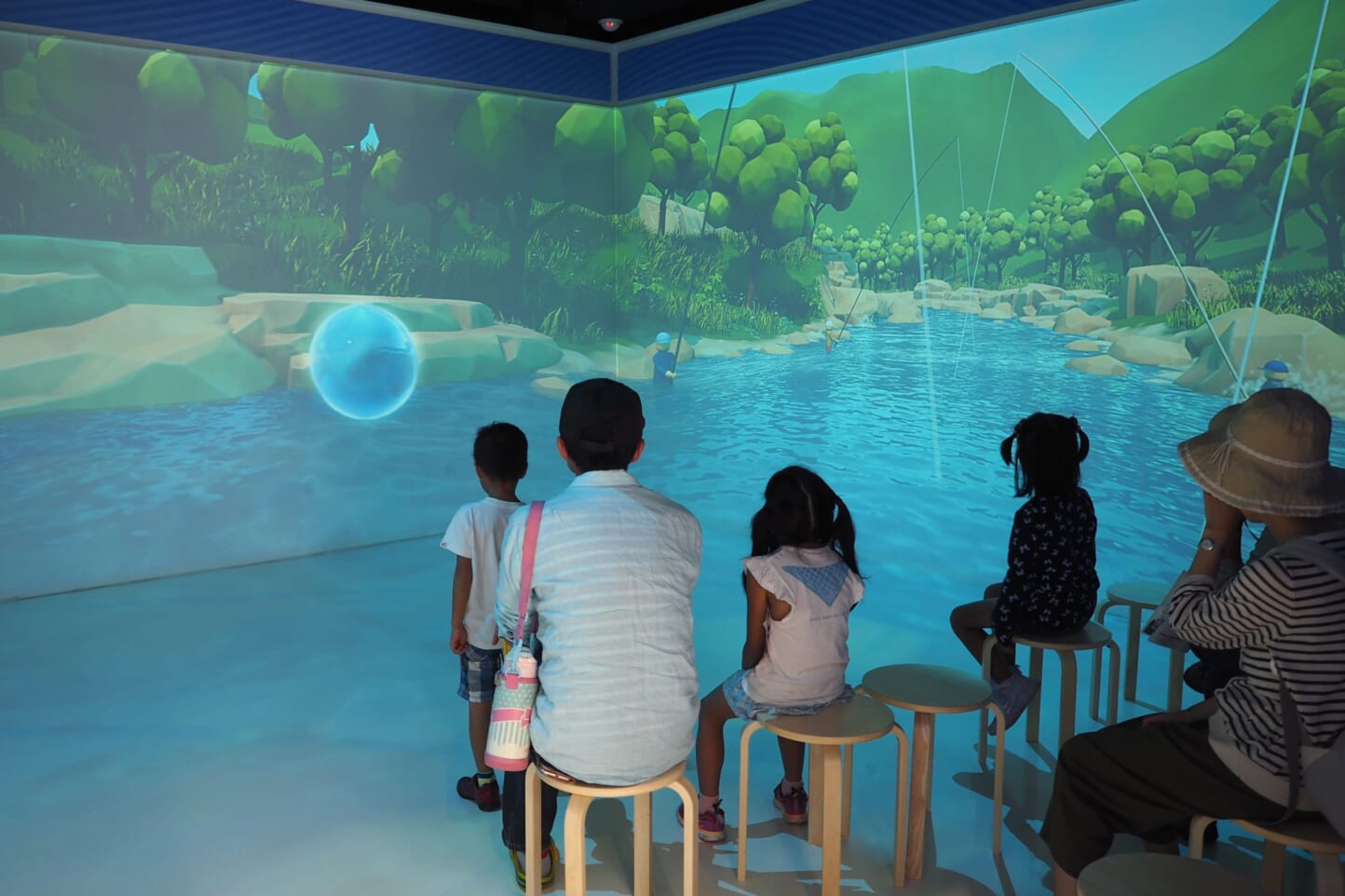 "Seiryu Nagaragawa Ayu Park" is a complex facility providing activities to experience Seiryu Nagaragawa Ayu which is one of Globally Important Agricultural Heritage. Activities include catching Ayu (Sweetfish), fishing Ayu and other fishery experiences. It is very suitable for family to "Learn and experience by interacting with the nature".
The water stream of Nagaragawa River and light breeze are so comfy~!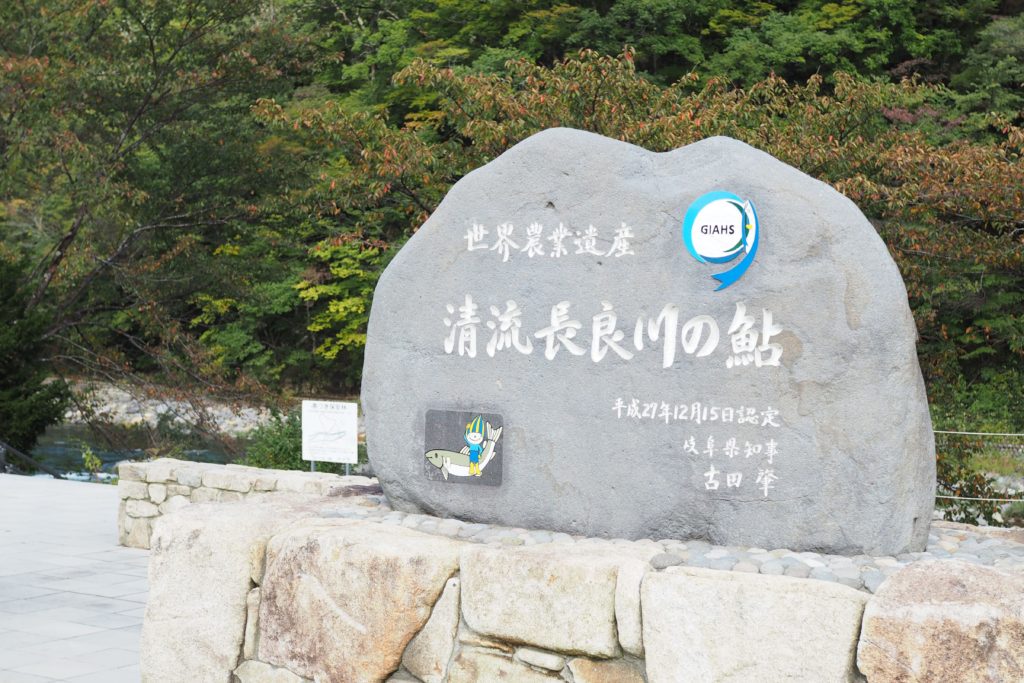 Driving for 10 minutes from Shirotori Interchange, we arrive at Roadside Station Hakusan-bunka-no-sato Nagataki near to the park. The park with area of 13000 sq meter is located next to Seiryu Nagaragawa River. The most recommended activity at the park is of course "Ayu catching". Playing in water is very popular among children.
We are going to catching Ayu released into this artificial stream. "Water is cool, so comfortable!" As there are no sharp rocks, children can enter the water with bare feet. The water is shallow that you can wear short pants, but most children get so wet when they are playing. We recommend you bring clothes to change or wear swimsuits in summer!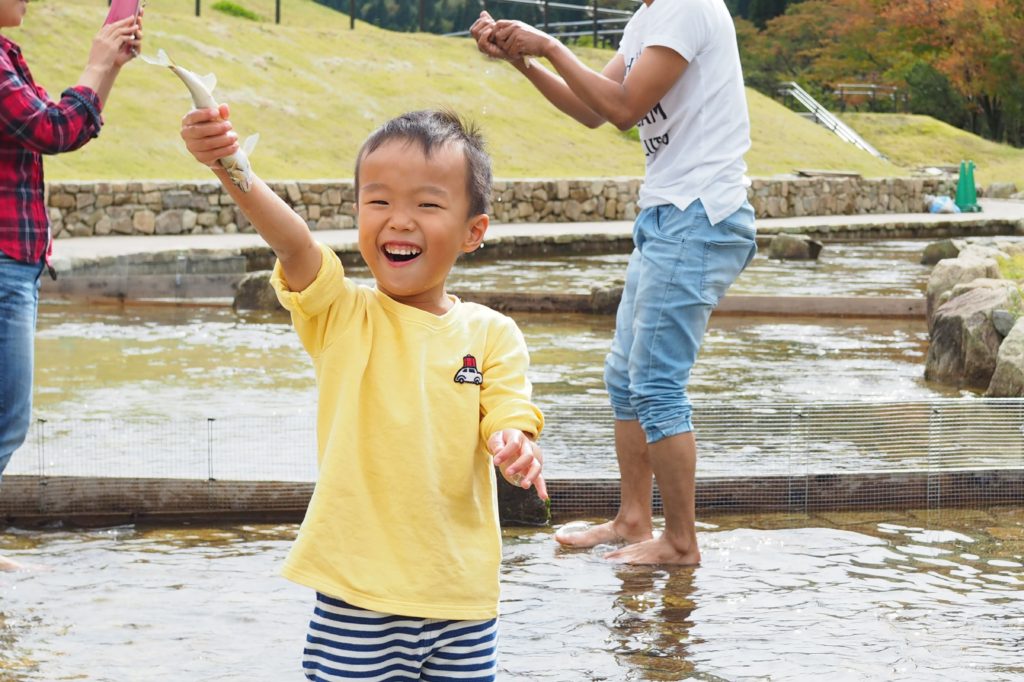 Catching Ayu swimming freely in the stream is very difficult. Catching the head is much easier. Once my 5 years old son knows how to catch it, he catches many of them. "I got it! It is so fun!" However, you must pay for every Ayu you catch for 500JPY each and no releasing. So, please make sure you can pay and eat all of them!
Skewering, grilling and eating the Ayu you caught are all precious experiences.
After catching the Ayu with happy faces, children become very serious in skewering. After putting the Ayu into a wooden model, with the help of a staff, they start skewering the fish! They can learn how precious a life is by killing and eating.
(In order to prevent spreading COVID-19, Ayu will be grilled by staff)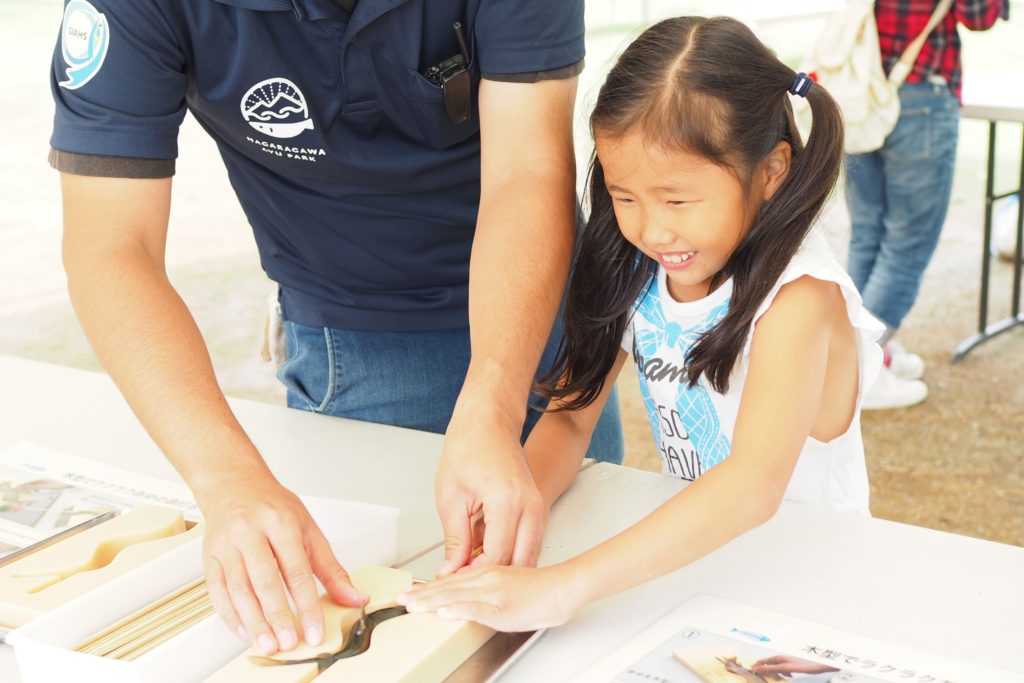 After skewering and washing with water, put some salt onto the fish and start grilling inside a drum can with charcoal inside. After some time, grilled Ayu with good smell is done!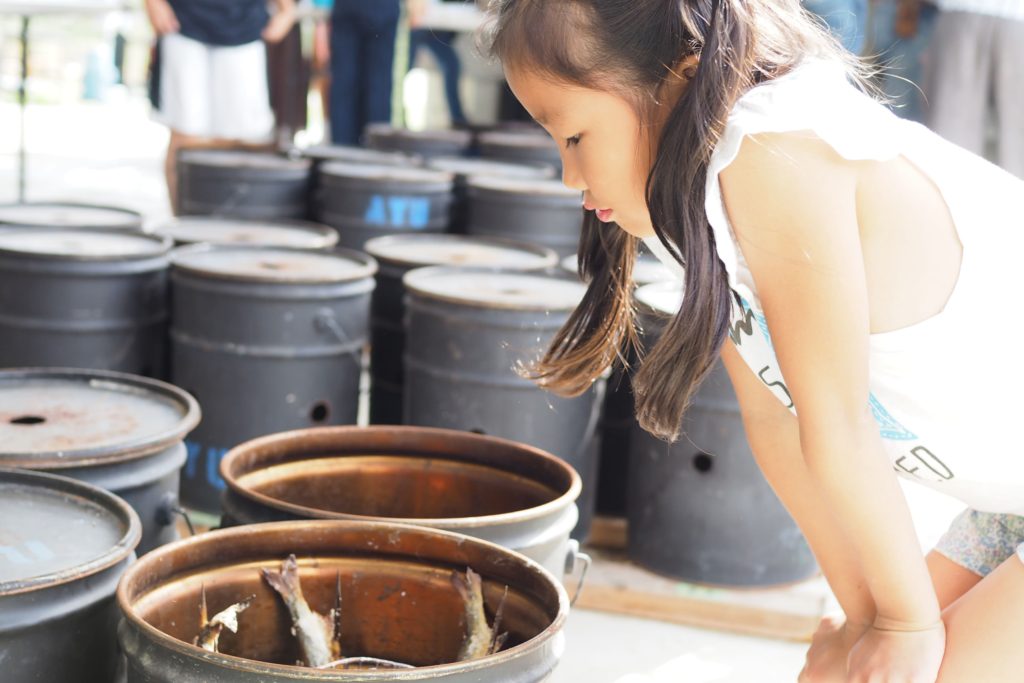 The taste of the Ayu we caught is SALTY! It seems we have put too much salt on it. The inner part of Ayu which grows up by eating seaweed does not have any bitter taste. You can eat the whole fish from head to tail! Although my son does not like inner parts and burnt parts, he tries them for the first time! It seems he does not understand how delicious it is. It is a taste for adults only.
(As part of the COVID-19 measures, staff will cook for customers.)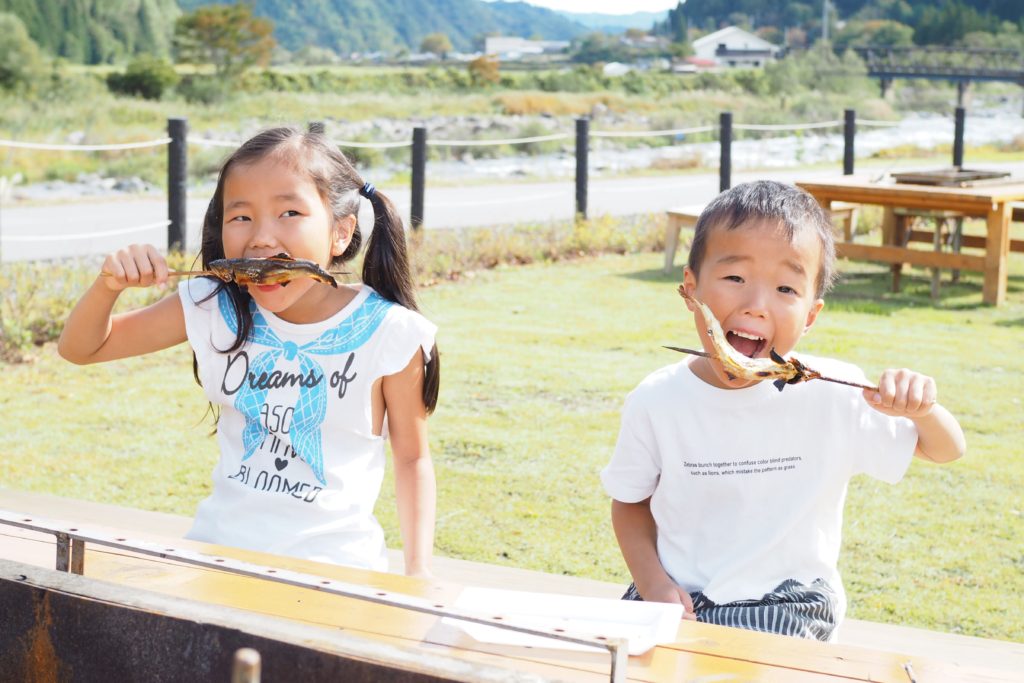 If you are afraid of catching by hands, fishing experience is available too! At Ayu park, you can catch river fish like trout, Japanese char and red spotted masu trout. As fishing Ayu is quite difficult, so they do not provide Ayu fishing here. There is time limitation during peak hours. You can fish without limit when the park is not crowded until all fishing baits run out.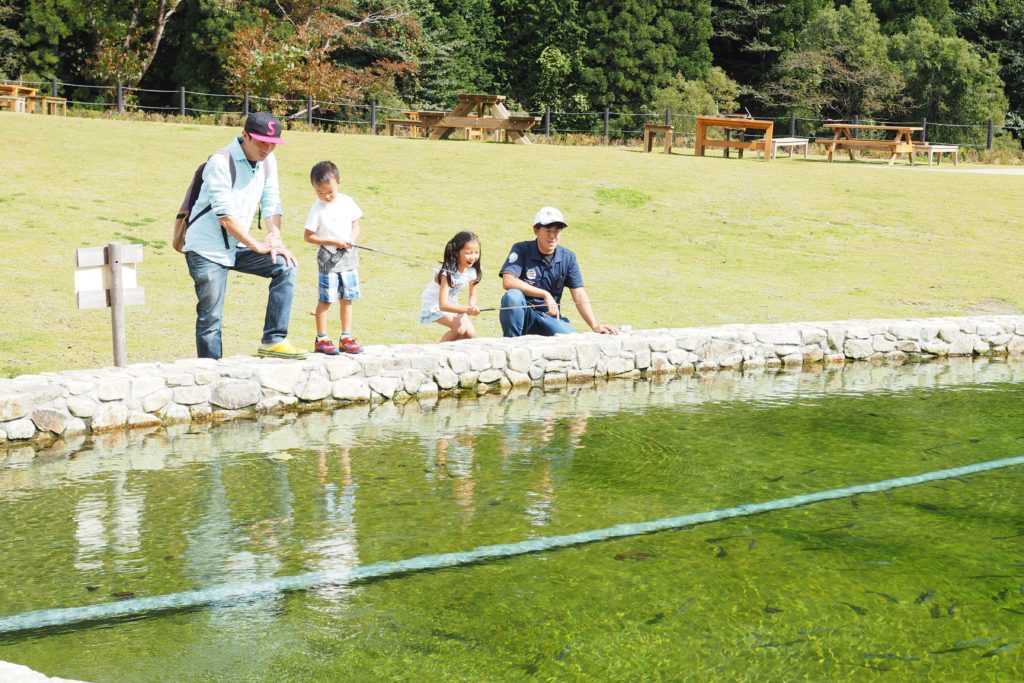 With the help of adult putting baits onto the fishing rod, two children fished 5 fish together! As you cannot release them back just like catching Ayu, please be sure you can buy and eat all of them.
(Same as Ayu, staff will cook all fish for you.)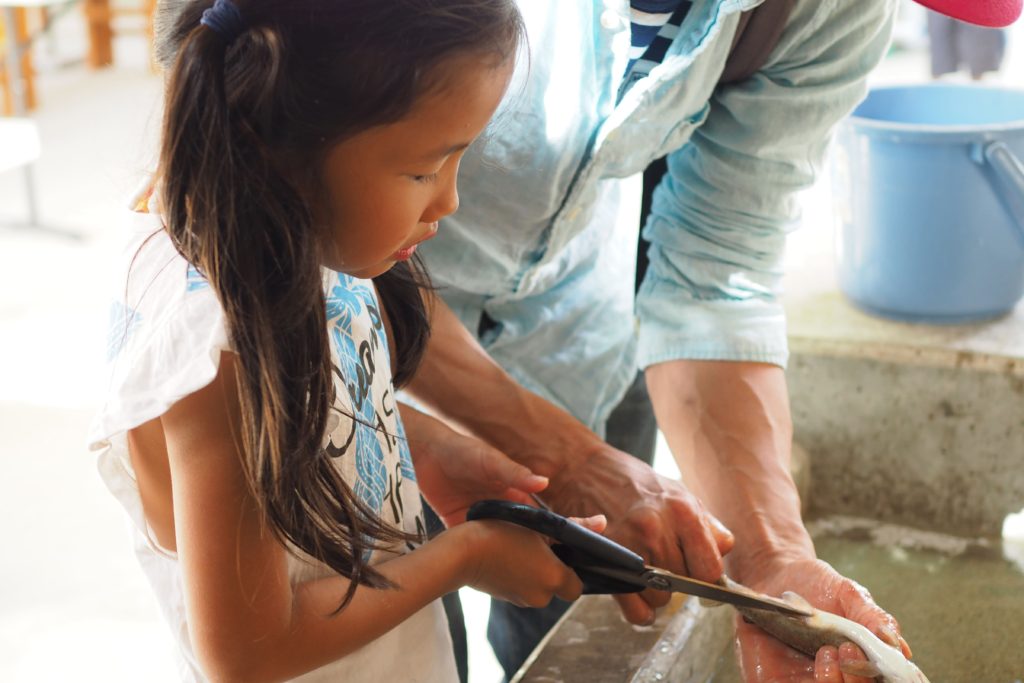 We are going to pretreat and grill them. Unlike Ayu, the inner parts must be removed. We use scissors to cut and remove the inside. Because unlike Ayu, there is no wooden model to keep the fish in shape, it is quite difficult. With the help from the staff, we are able to finish it!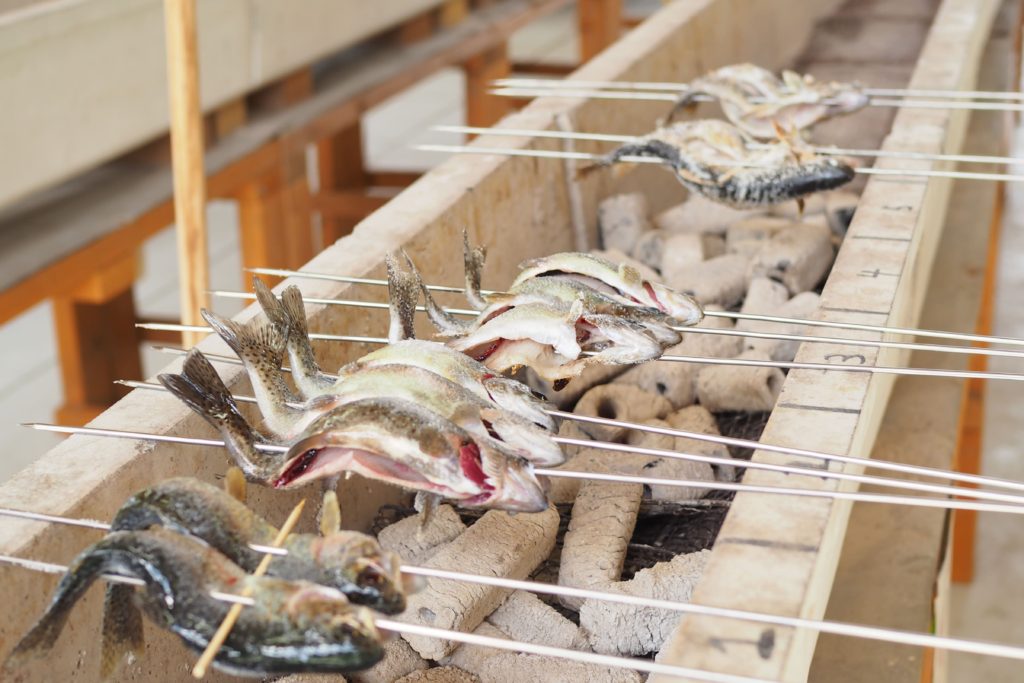 Put some salt onto the fish and start to grill. All procedures are carried out by ourselves. The taste of fish we caught is much better! The amount of salt is perfect. Children like fish with inner parts removed too.
(As part of the COVID-19 measures, staff will do all preparation for customers.)
Information and exhibition of Seiryu Nagaragawa Ayu
At the main facility "Satokawa Ayu House", there are exhibition and information about Seiryu Nagaragawa. A theater shows the ecology of Ayu, the environment, life and culture of Nagaragawa River. You can find a restaurant providing Ayu and other river fish cuisines here too.

(As part of COVID-19 measures, the theater is closed now.)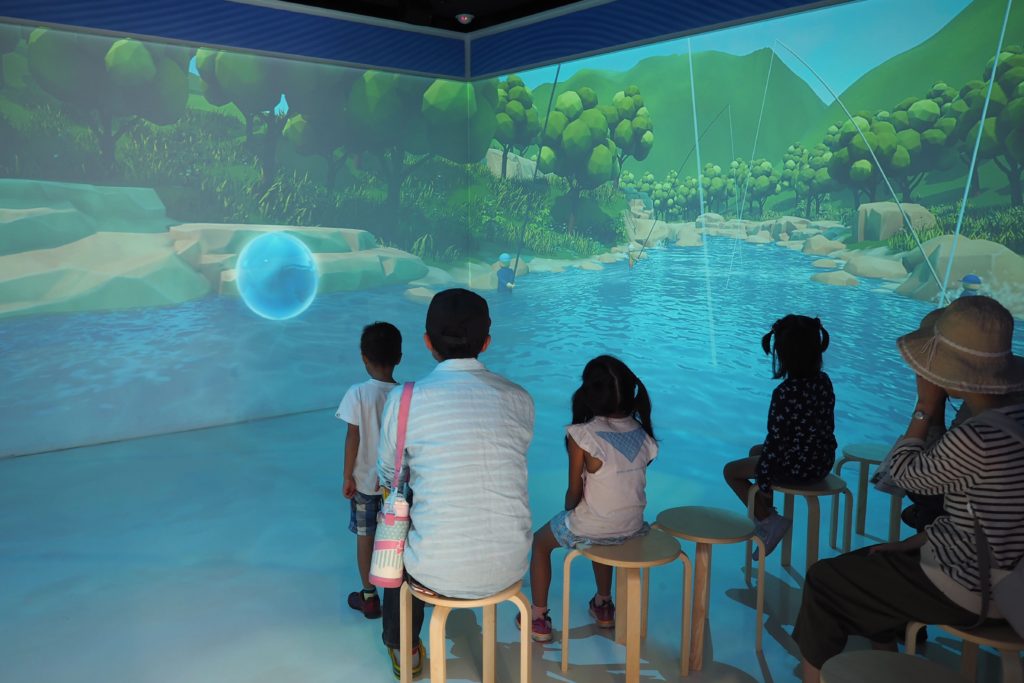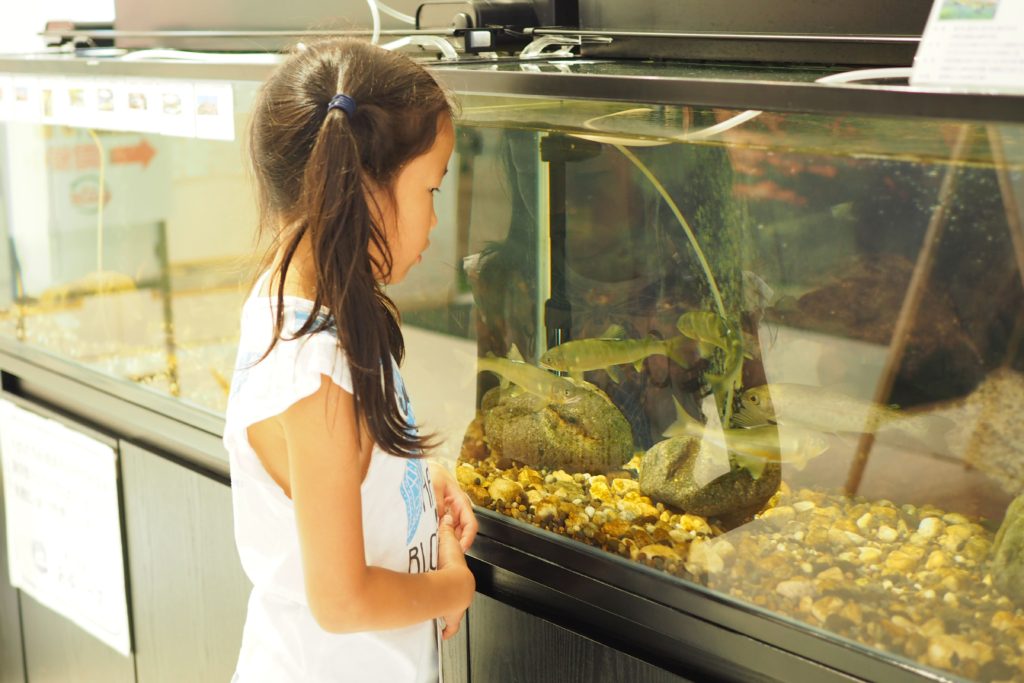 A large opening space with a river and mountain view is so fascinating!
Feeling the music of water streams and the touch of breeze, having barbecue or picnic will be great! Children have so much fun only running around and rolling around on the grass!
(Barbeque is forbidden when the Declaration of State of Emergency is reinforced.)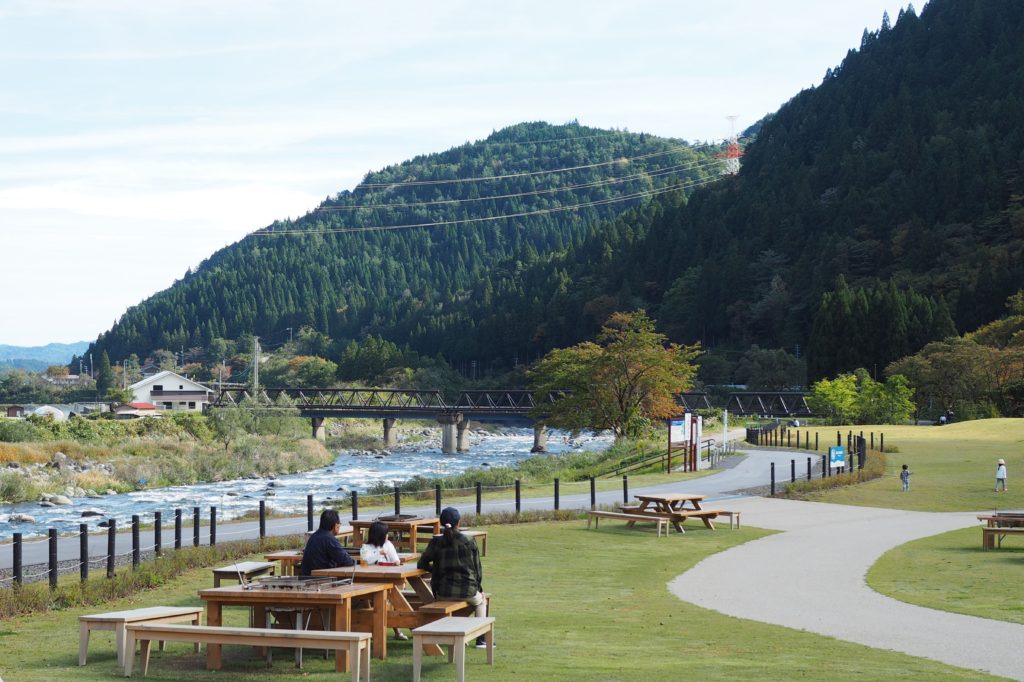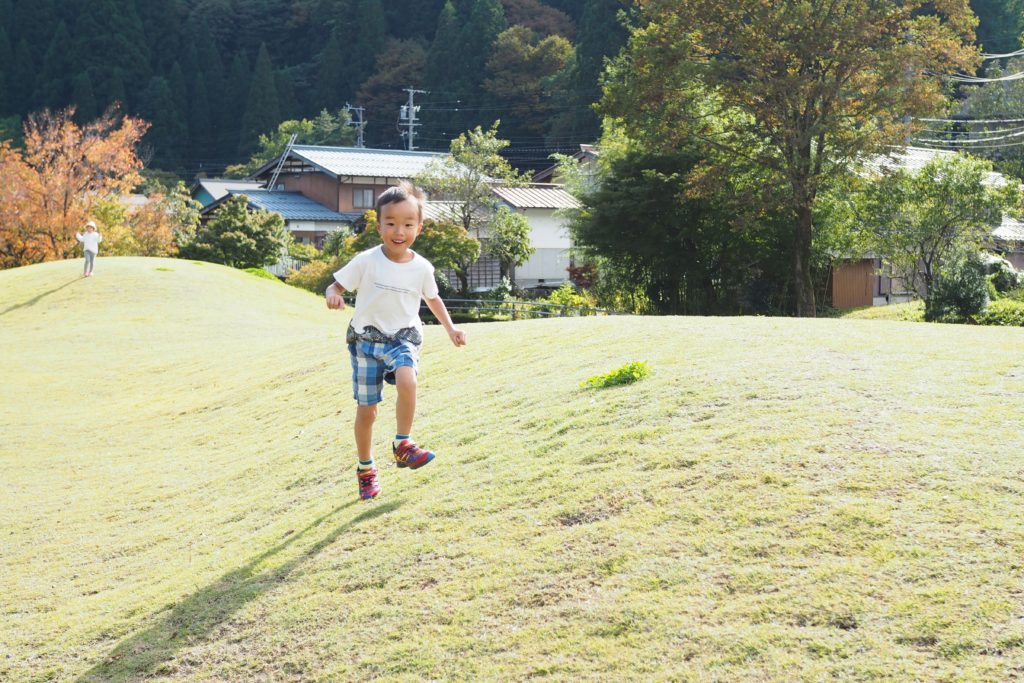 Other than fishery experience, crafting, cooking with camping tools are also available. It is suitable for families to spend their summer vacation here by touching, playing, eating by Nagaragawa River!
Under the water of Nagaragawa River, near to Ayu Park.
About TABITABI Gujo

TABITABI Gujo editorial
TABITABI Gujo is a general media site for sightseeing in Gujo introducing attractive tourist spots in Gujo with a slogan of "Gujo, a place you want to visit many many times." While knowing more about Gujo, we continue providing information on travel suggestions during each season in different areas, as well as the latest information of Gujo-shi.
Photographs by TABITABI Gujo Editor Team