Enjoying Your Stay at Gujo Hachiman,
Luxury Train Ride with "Nagara"
Tag:
/*php var_dump($paged); */ ?>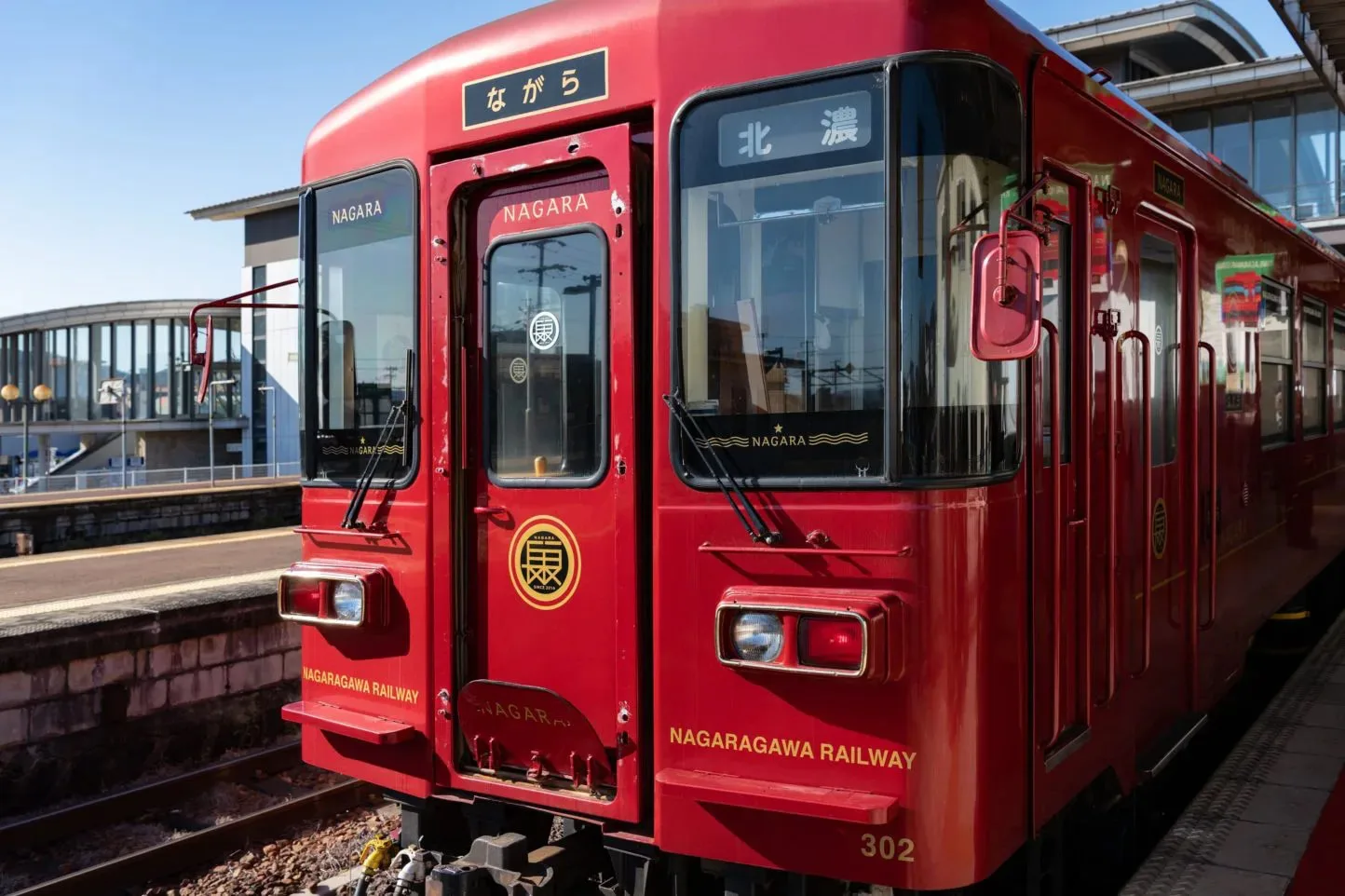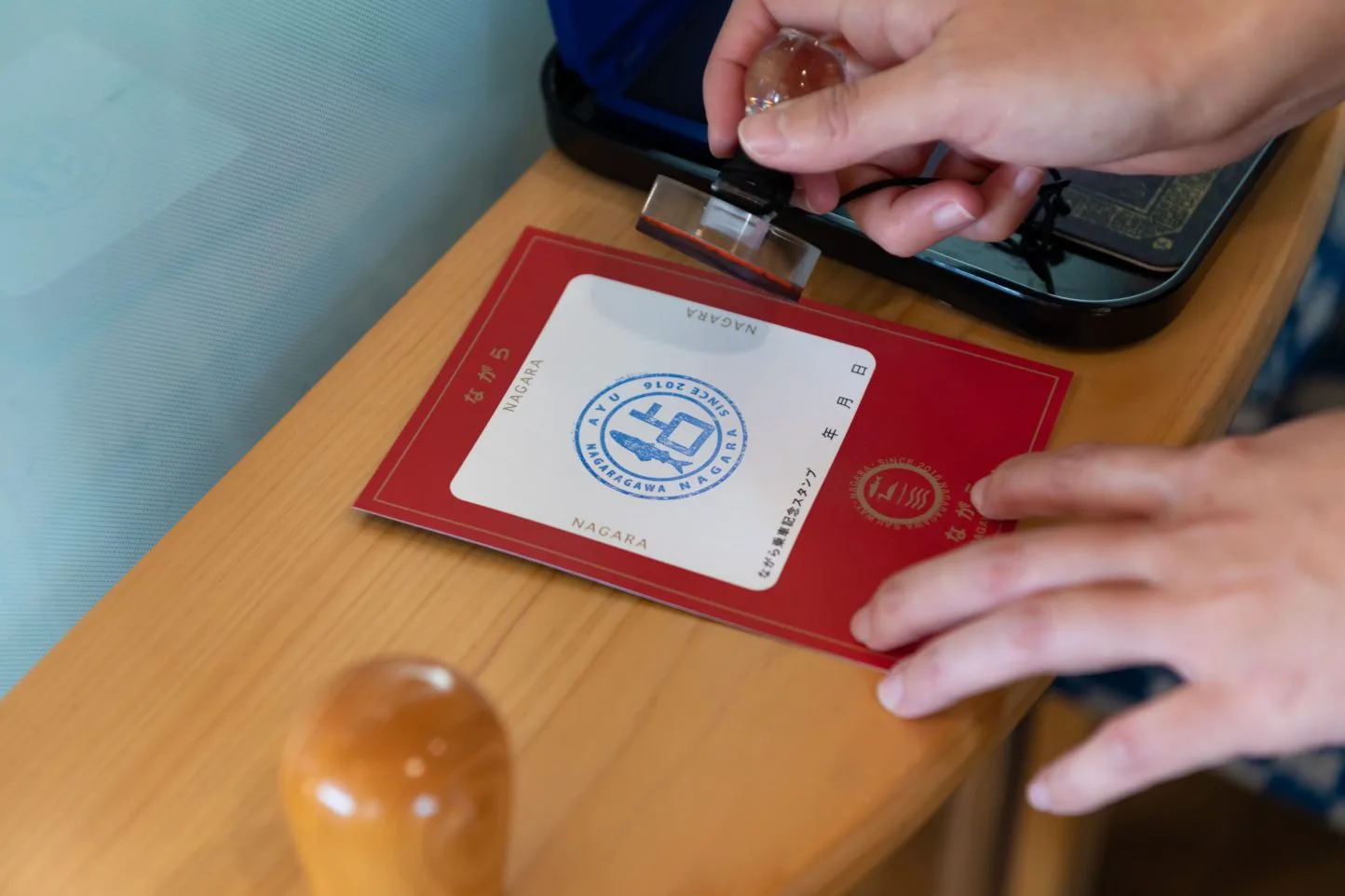 "Nagara" is a train, the first scenic train in Gifu-ken, running from Minokamo-shi to Gujo-shi, Gifu-ken. Nagaragawa Railway Co Ltd, main office located at Seki-shi, Gifu-ken started this train on April 2016. Now, they are operating on every Friday to Sunday and public holidays, including long holidays such as Golden week. The elegant railway carriage in royal red color is designed by Mr Eiji Mitooka, the designer of "Seven Stars", a luxury sleeper train in Kyushu. You can enjoy the scenery from the train windows while travelling. Let me take a ride today!
Getting on this royal red train for a 1 hour 30 minutes railroad journey
Nagara No. 1 Lunch Course!
The refined royal red train "Nagara" is waiting for me at Mino Ohta Station, Minokamo-shi Gifu-ken at 10:15.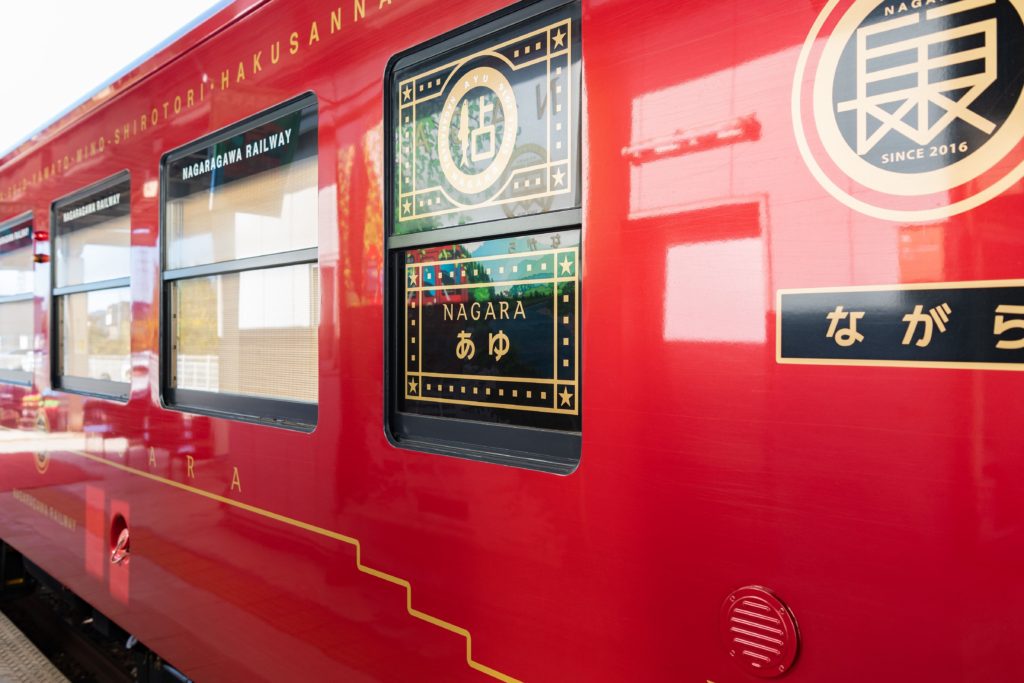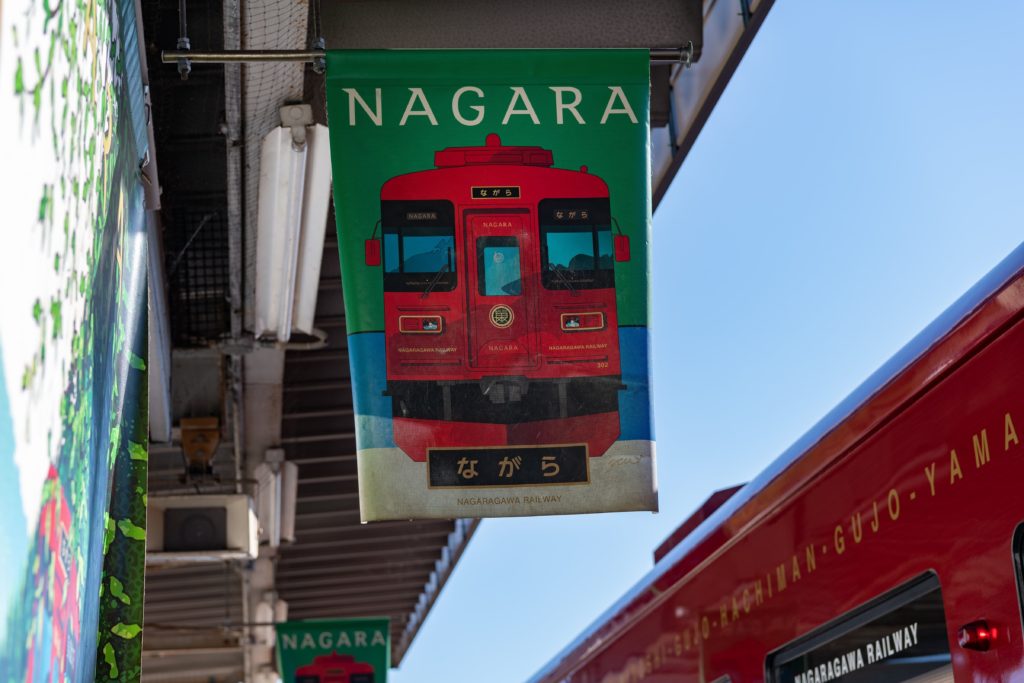 The design of "Nagara" is based on the train "Nagara 301, 302" of Nagaragawa Railway designed by Mr Mitooka.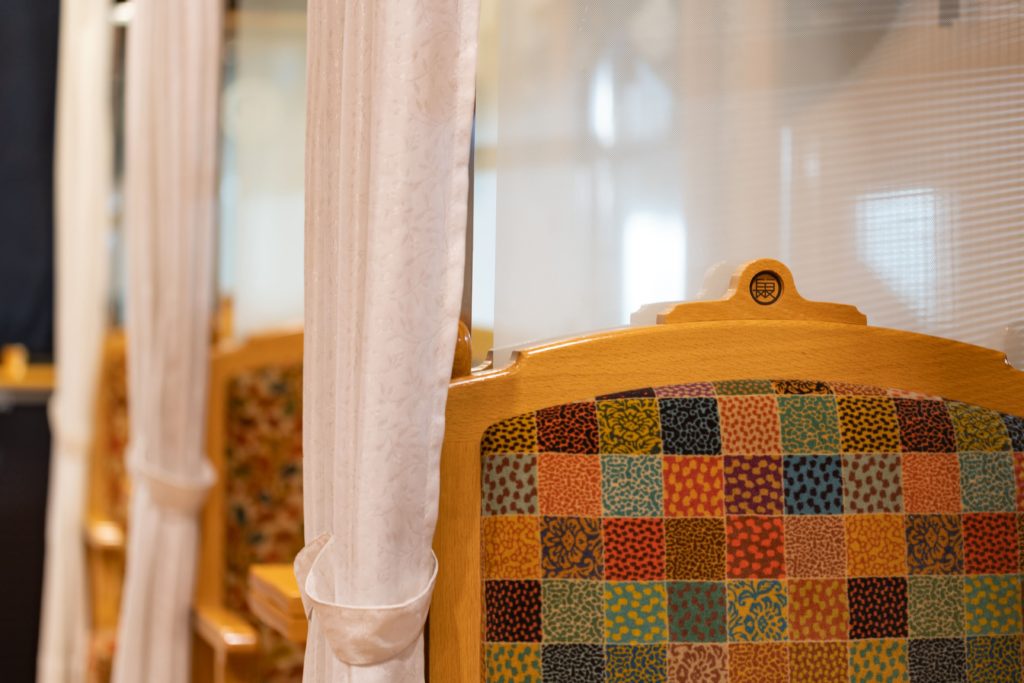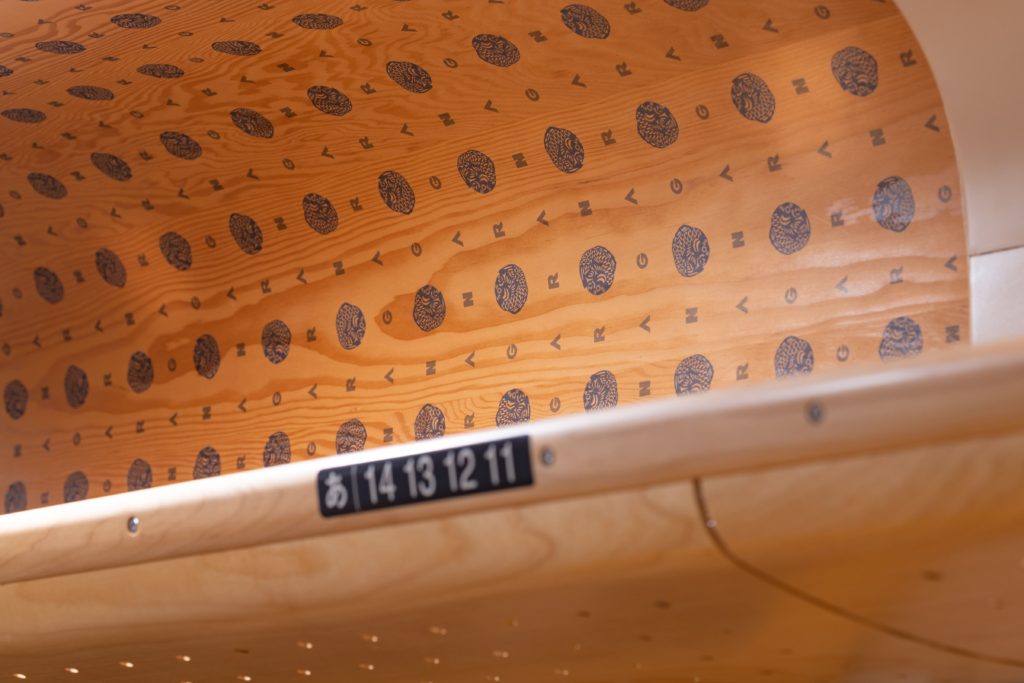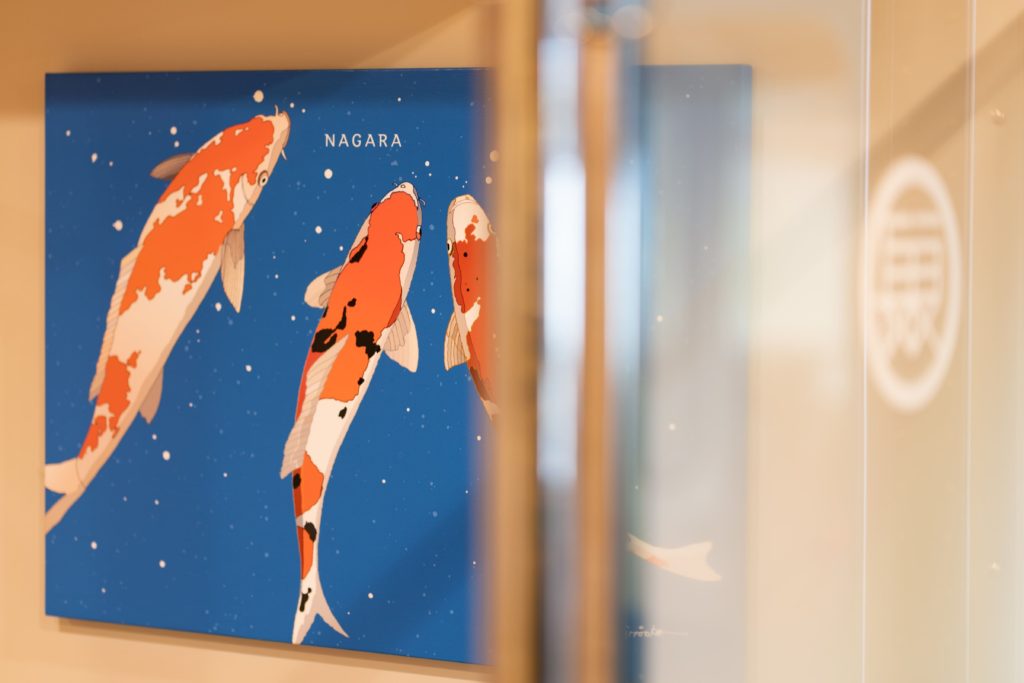 The fabric used for chairs in the train are all in different designs. Wood such as Hinoki (Japanese cypress) from Eastern Mino is used for building this carriage makes it looks bright and favorable with this Japanese modern design. Pictures hung on the wall are all made by Mr Mitooka. like a small museum.
Hospitality on "Nagara"
makes me feel so pleased!
When I get on the train, an usherette guides me to my seat. Welcome gift contains a commemorative card and a bottle of stream water from Nagaragawa River.
The "Imperial Prince Kazunomiya's Casket" of appetizer is placed on the table. When I open the lid, I can see over 10 kinds of food made with heart are there. I am so surprised every mouthful I tried.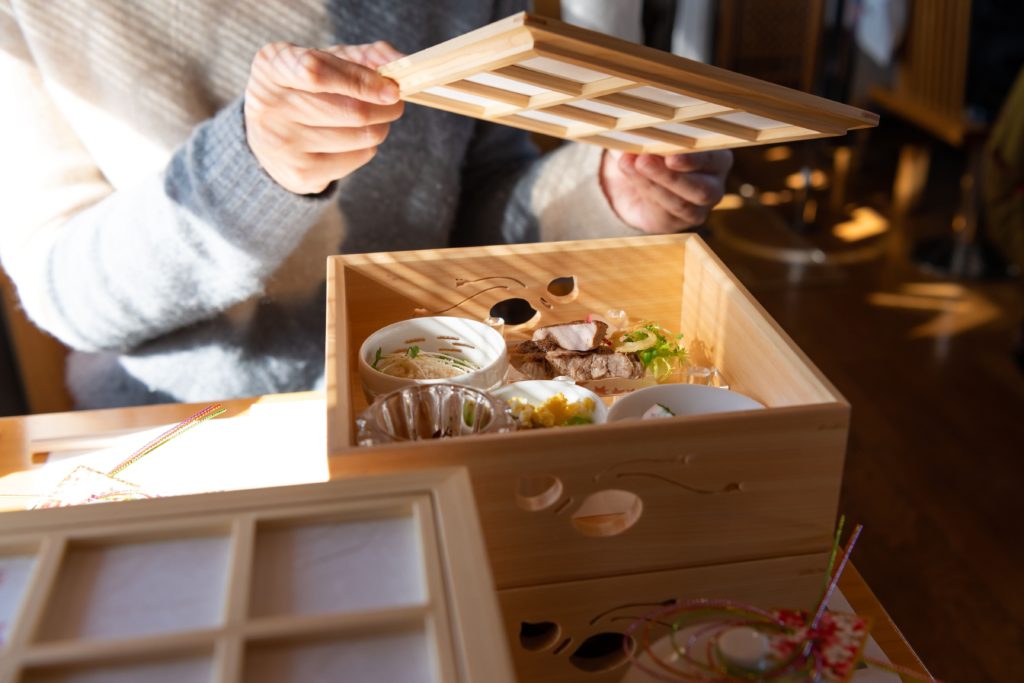 Looking at the cuisines made from local ingredients along Nagaragawa Railway is a wonderful time. Containers chosen are awesome too!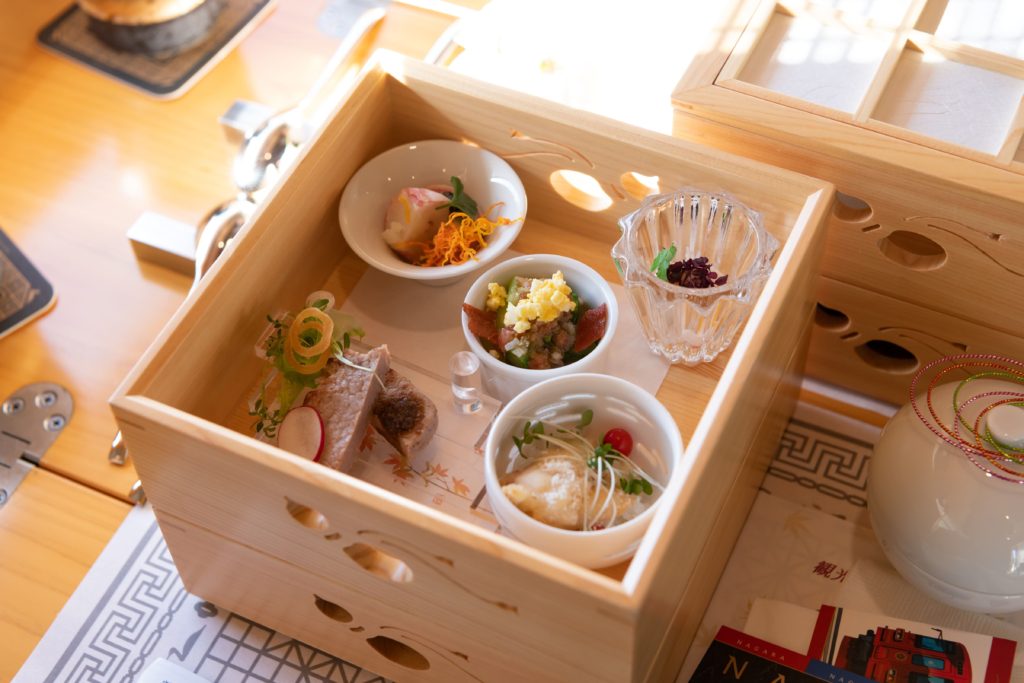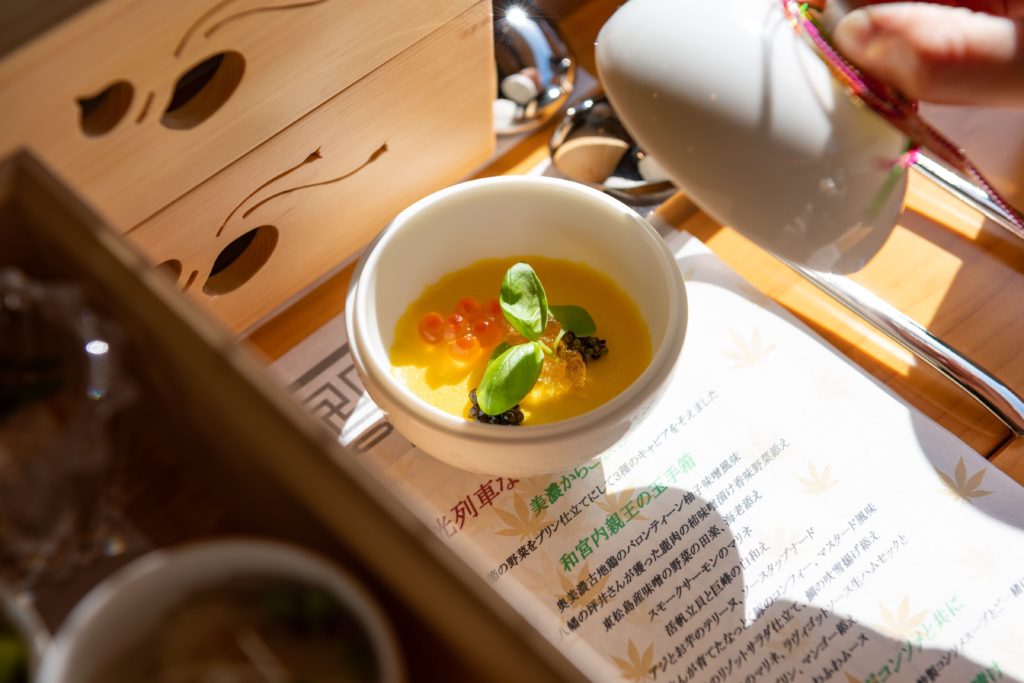 The place mat used is also an original design using Mino washi (Japanese paper). The design is so beautiful that you would want to bring it home.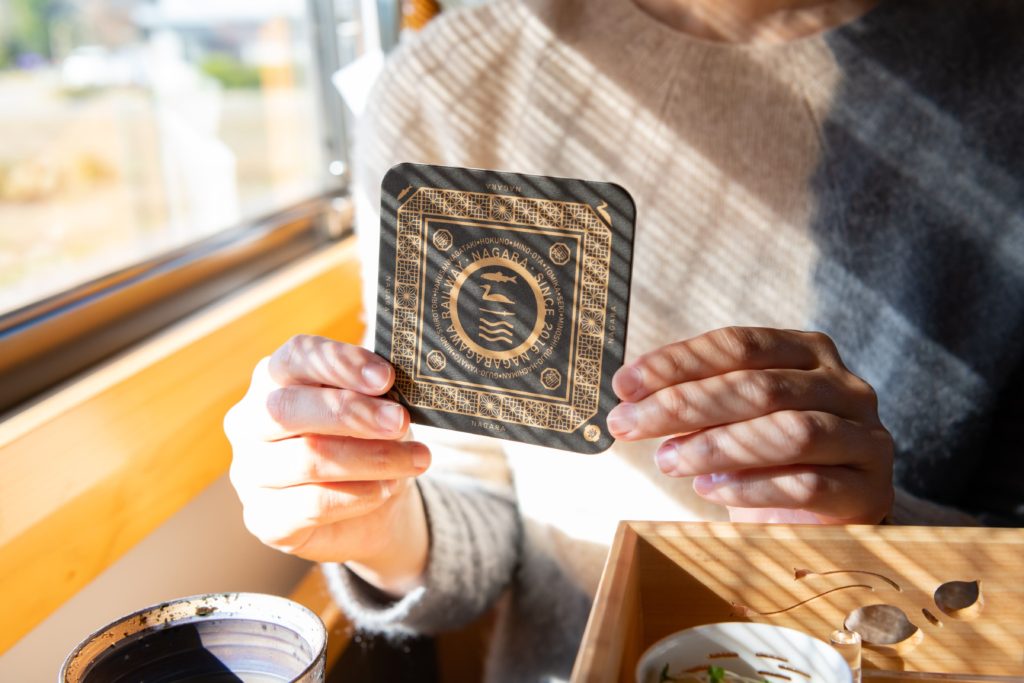 Although the train is not big, there are 3 usherettes on the train. They take good care of all passengers when we are eating and all other times. You can feel the high quality of hospitality on this scenic train.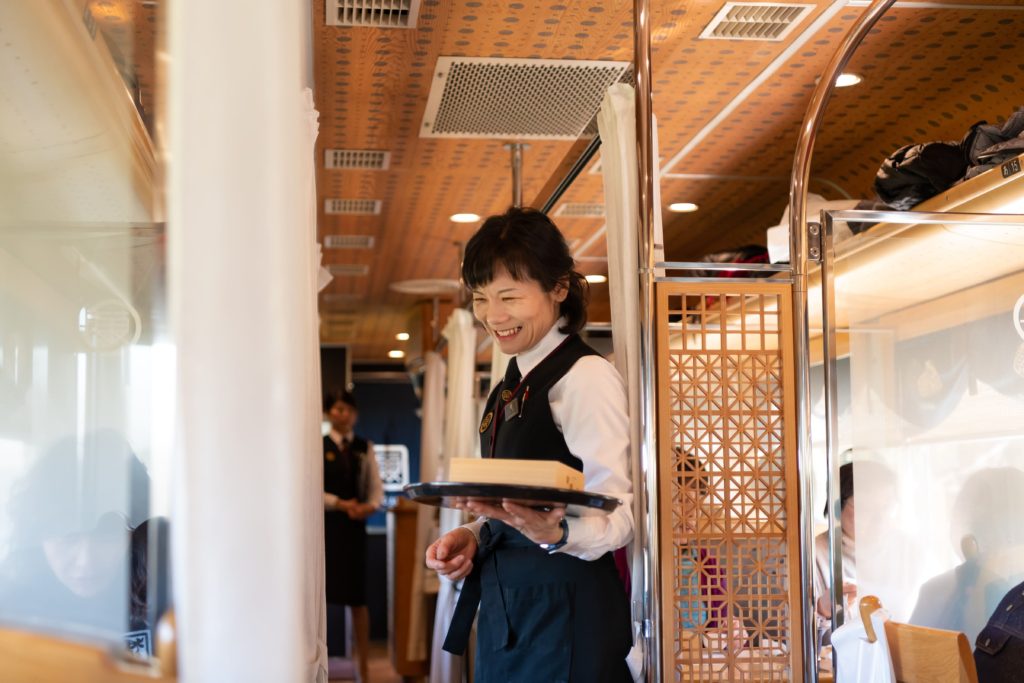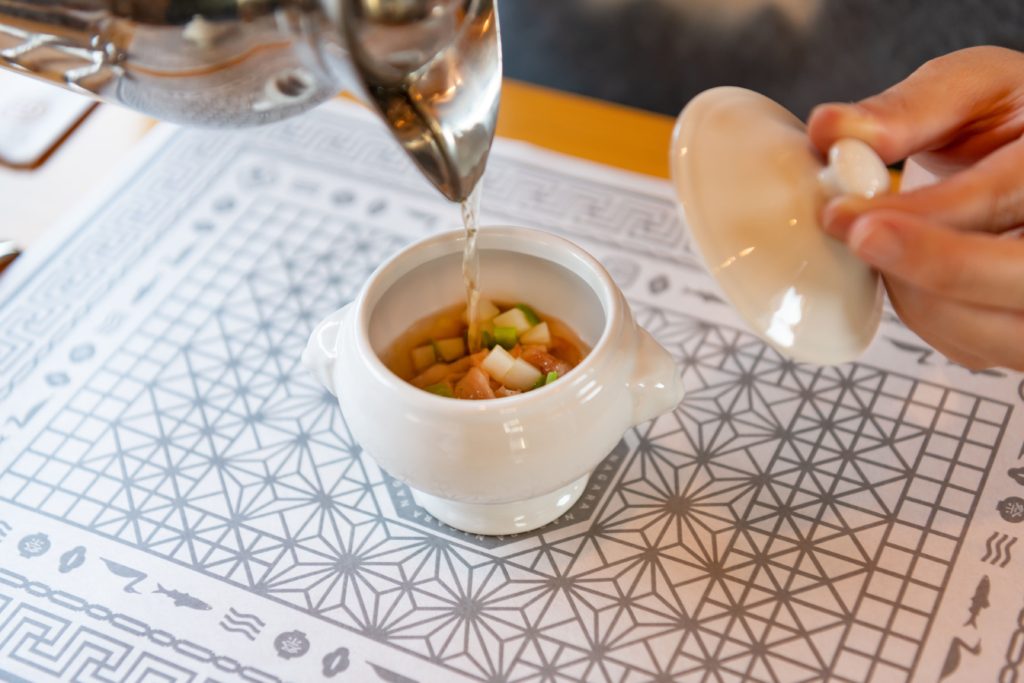 While you are on a train, you can have the same quality of food as in a restaurant. If you are a drinker, you can try wine or sake with extra charge together with your meal.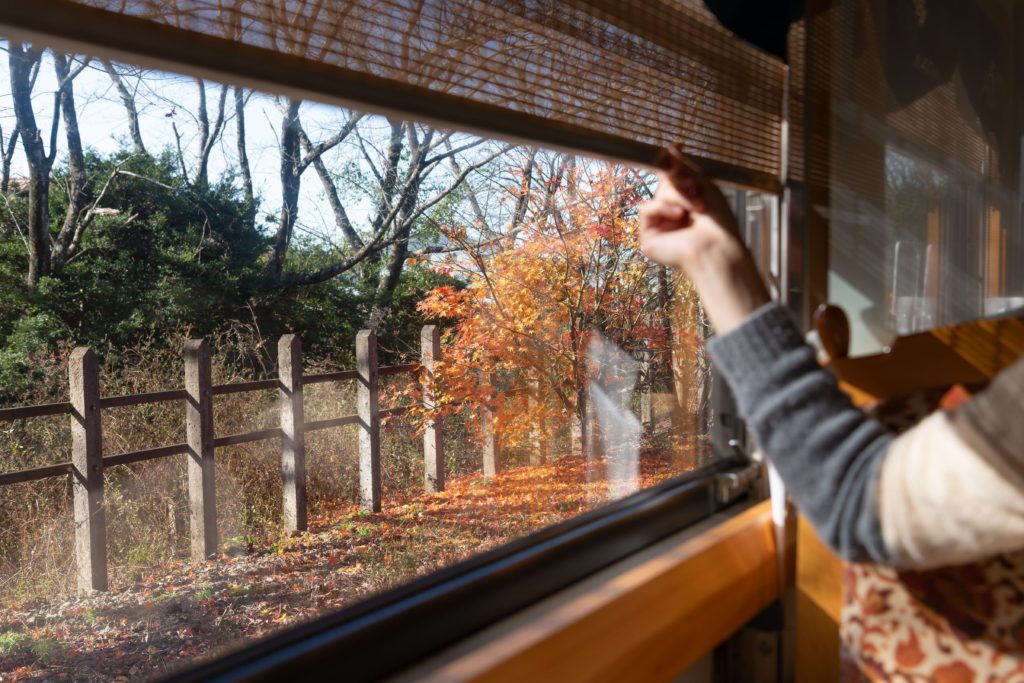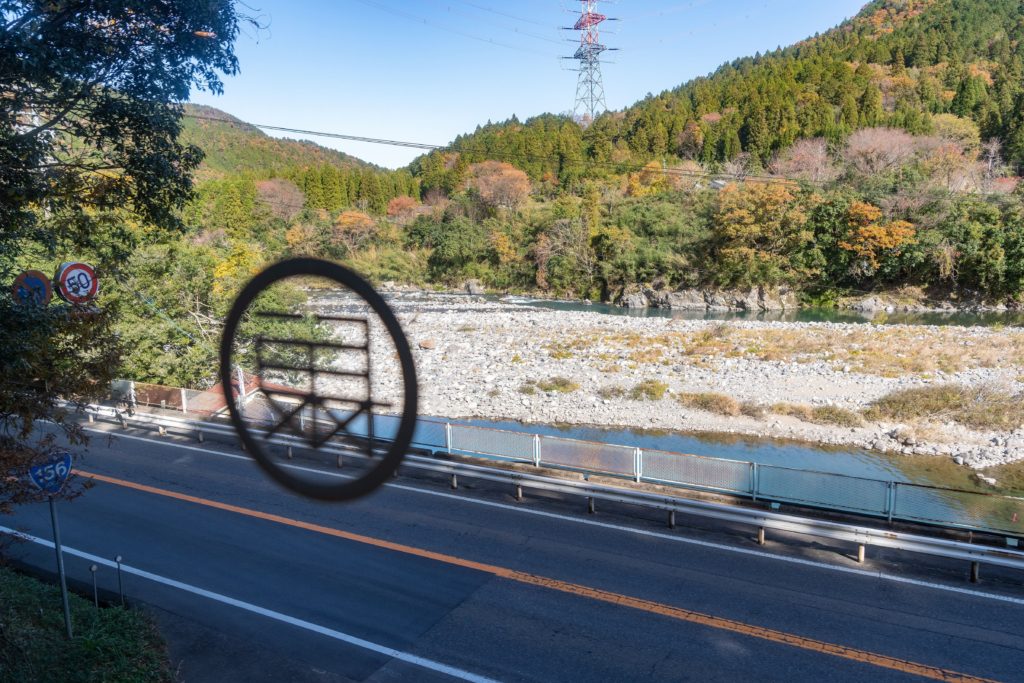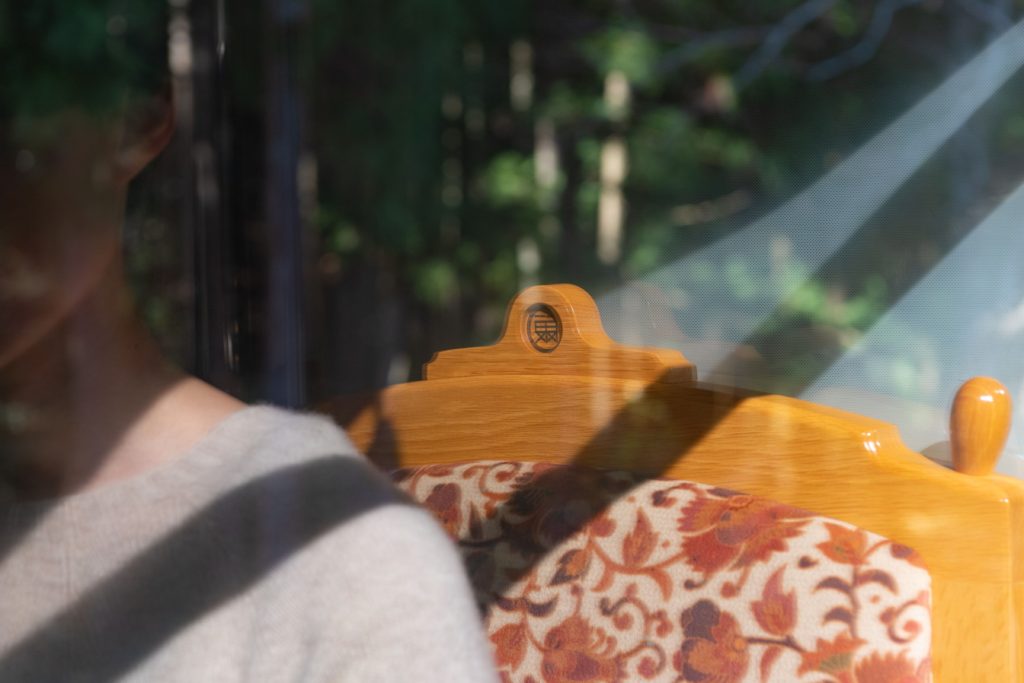 The train is now riding into the autumn scenery. I also enjoy swaying on the train. As the speed is not fast, I can watch the scenery moving slowly. This makes me forget all the troubles and relax. It is very suitable for a leisure trip for all adults.
Enjoy the picturesque scenery of the clear stream Nagaragawa River
After passing Minokamo-shi to Seki-shi, you can see the clear stream, Nagaragawa River closely. The train announcement tells you where to see, so no need to worry about when you are enjoying your meal. When the train arrives at sightseeing spots, it slows down for passengers to see the view outside.
The autumn leaves today is so beautiful together with the clear sky and clean river, I enjoy the train ride so much. The train goes along the river so you can enjoy no matter where you sit.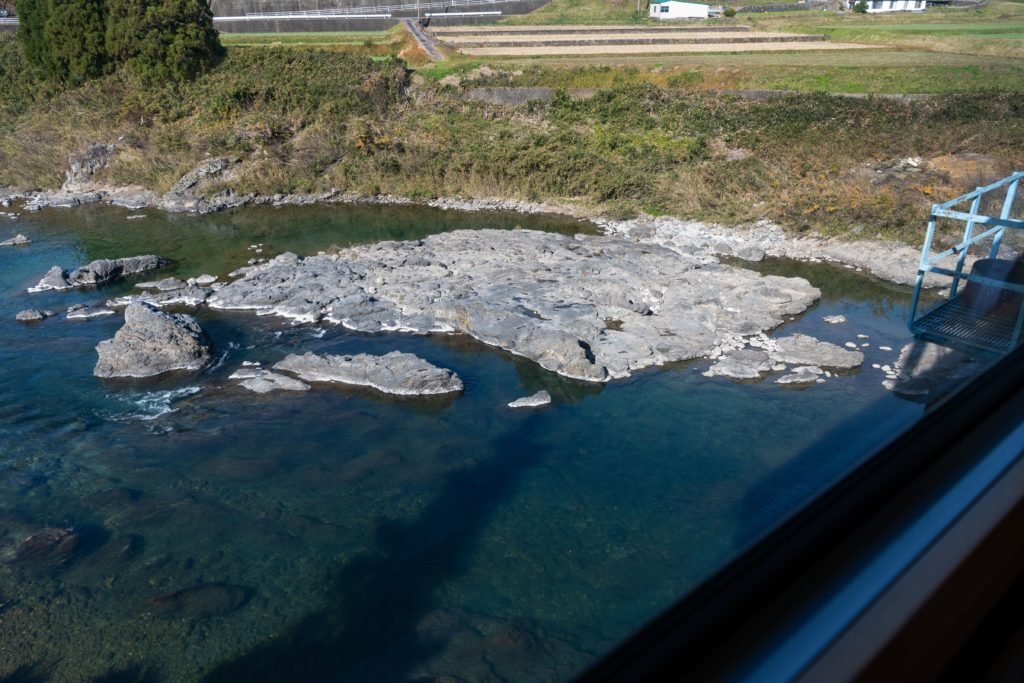 When we arrive at the spot just above Nagaragawa River, the train stops and let us enjoy the view. When I open the window, I can hear the river and feel the breeze. You can see how clear the river is even you are inside the train! Passing every tunnel, the autumn red turns deeper, we are in the last session of the 1 hour and 30 minutes railroad journey.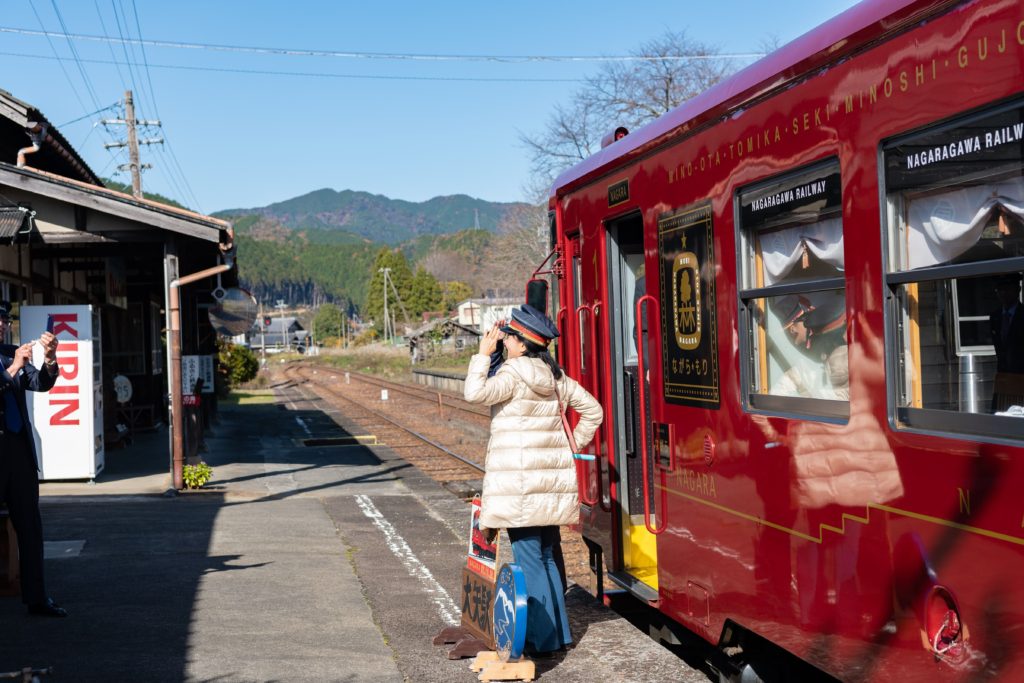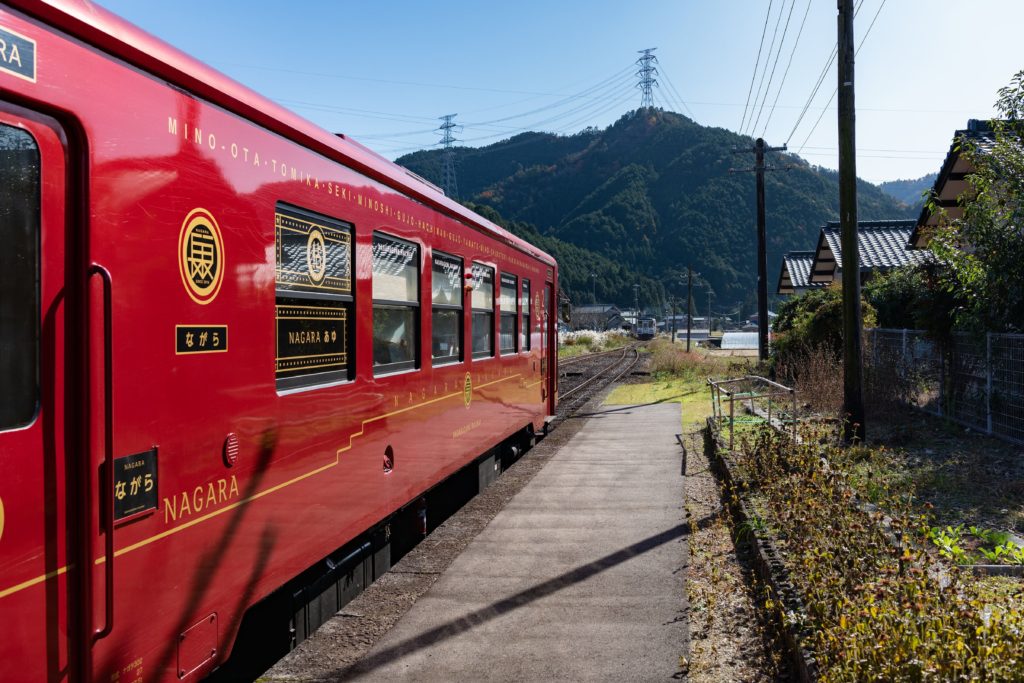 We have a 10-minute break at Ohya Station. You can go to the restroom or take photos. Taking photo with the station staff's hat is popular! This "Nagara" train looks so amazing when you gaze from this small station.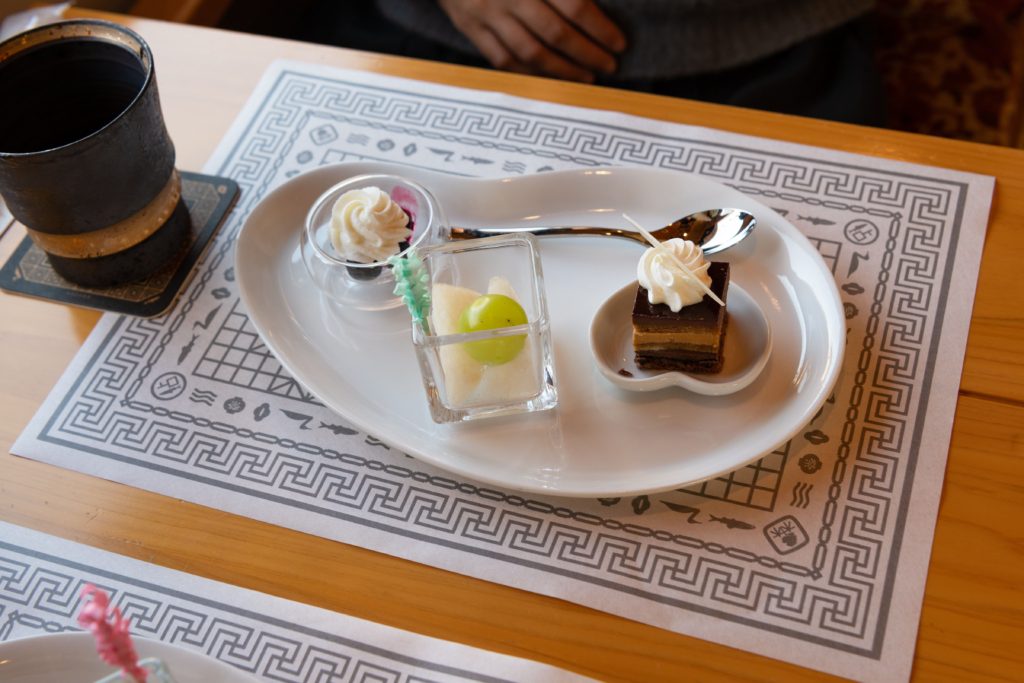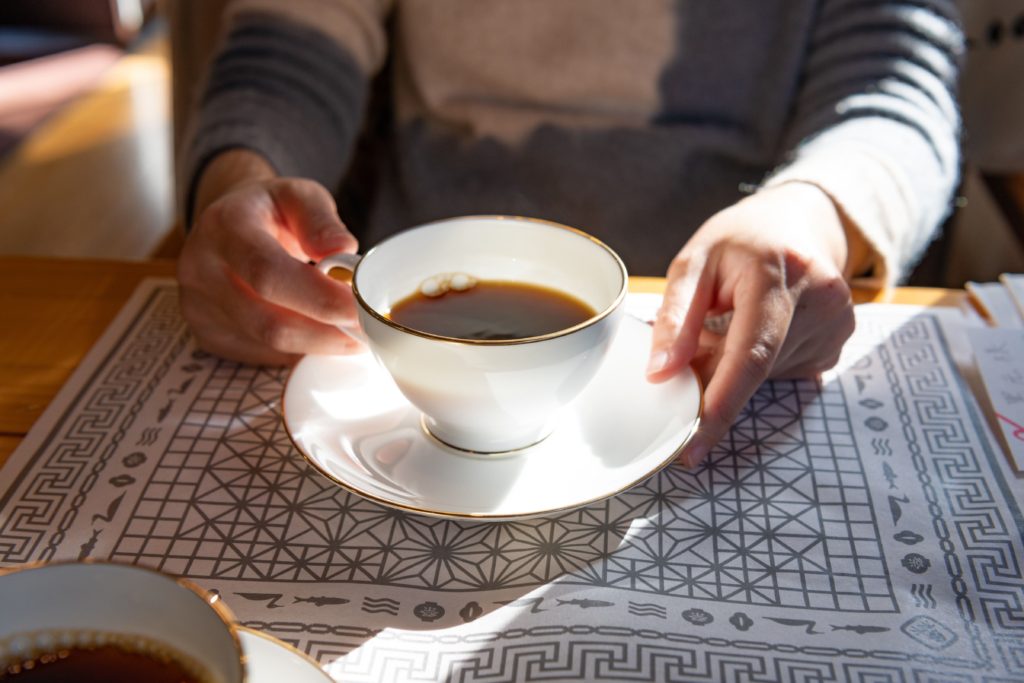 Dessert is a rich Gateau Opera with refreshing fruits. Finally, this enjoyable railroad journey ends with a cup of coffee.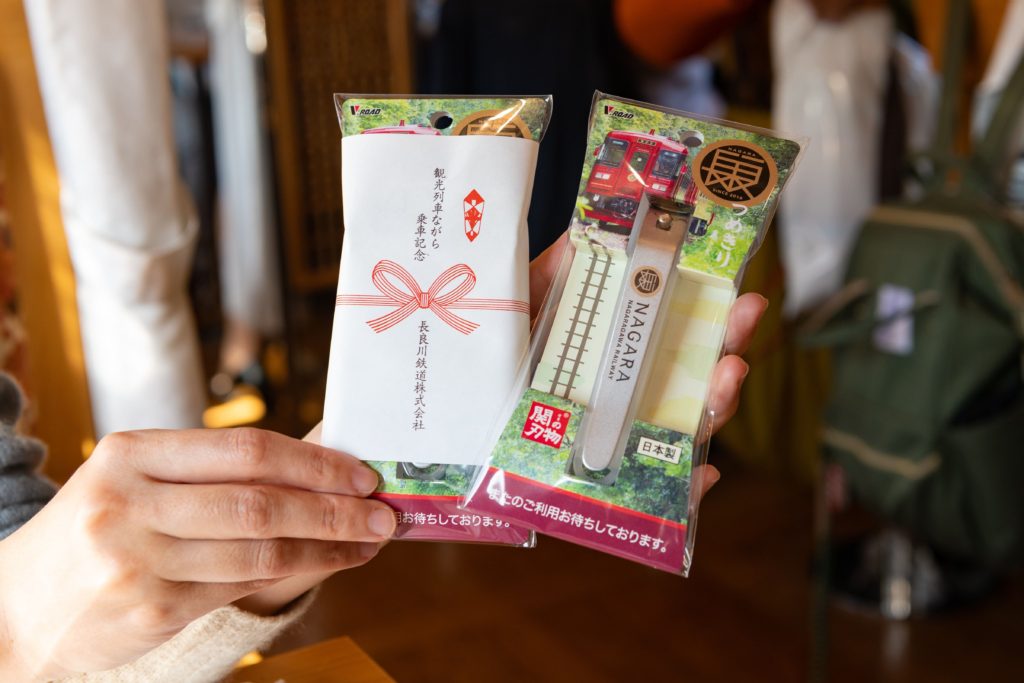 I receive a surprise souvenir of a nail clippers made in Seki-shi which is famous for cutting tools! This souvenir, specialty from places along the railway, changes every week.
Visiting Gujo Hachiman
after this luxury scenic train ride.
Times flies when having fun! When I arrive at Gujo Hachiman Station, I hear the Ohayashi (Japanese festival music) of Gujo Odori Dance Festival. The wooden station is also very charming!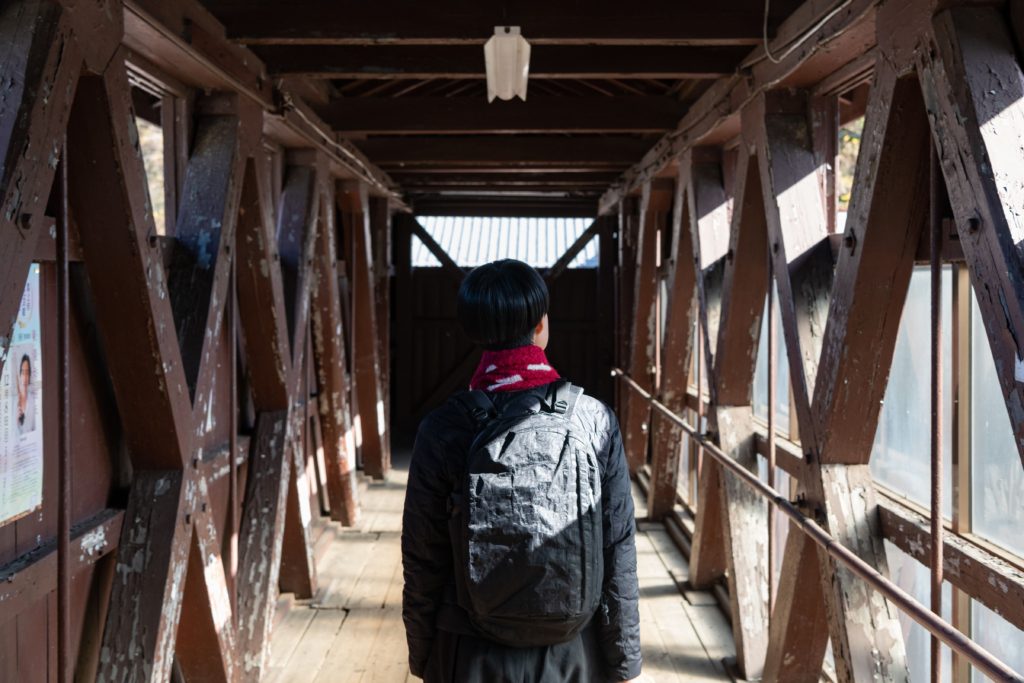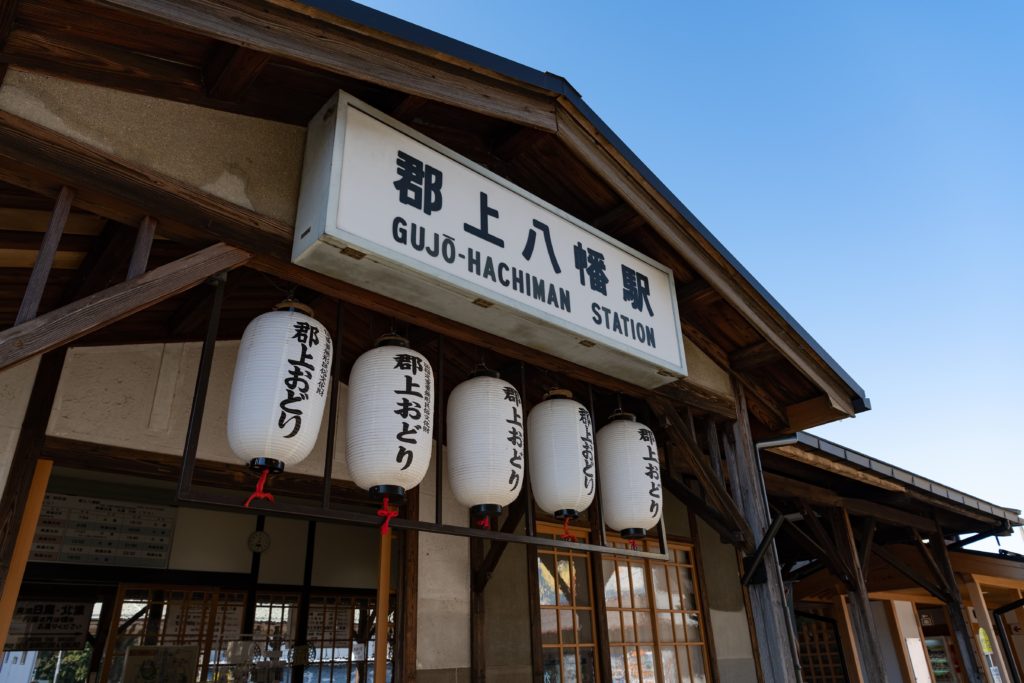 It is in the afternoon when the train arrives so I can still walk around Gujo Hachiman. Buses, taxis and rental bicycle are available for you to get to the center of the town.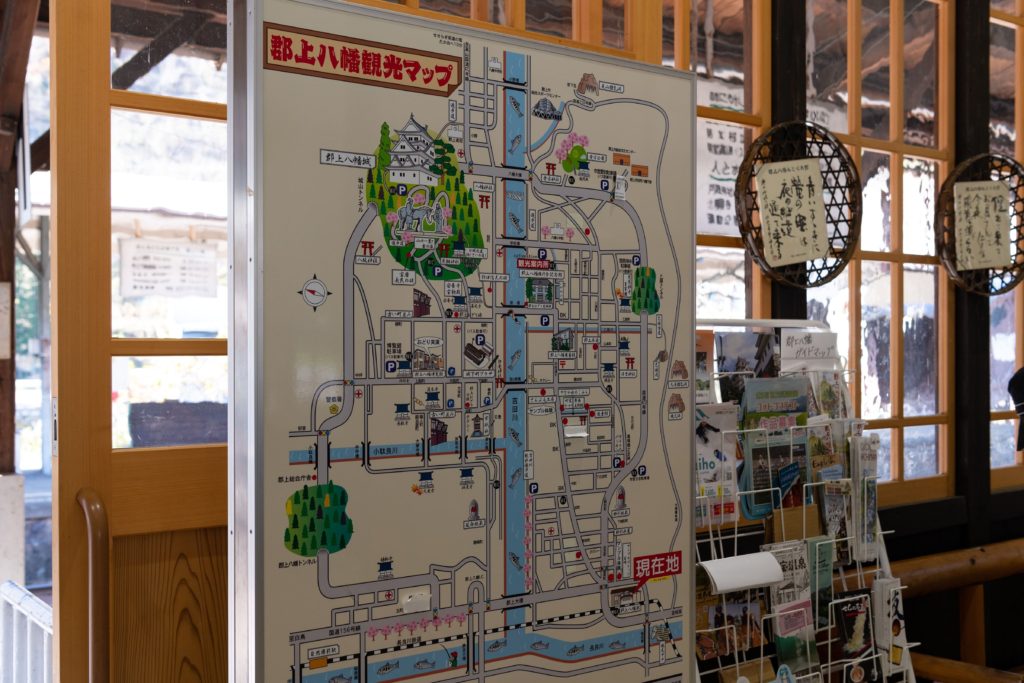 The train "Ayu-go (Sweetfish)" ends at Gujo Hachiman Station but if you join the View Plan with "Mori-go (Forest)", the train will head to the mystery station, "Hokuno Station". If you want to enjoy the local railway fully, I recommend you head to Hokuno Station too!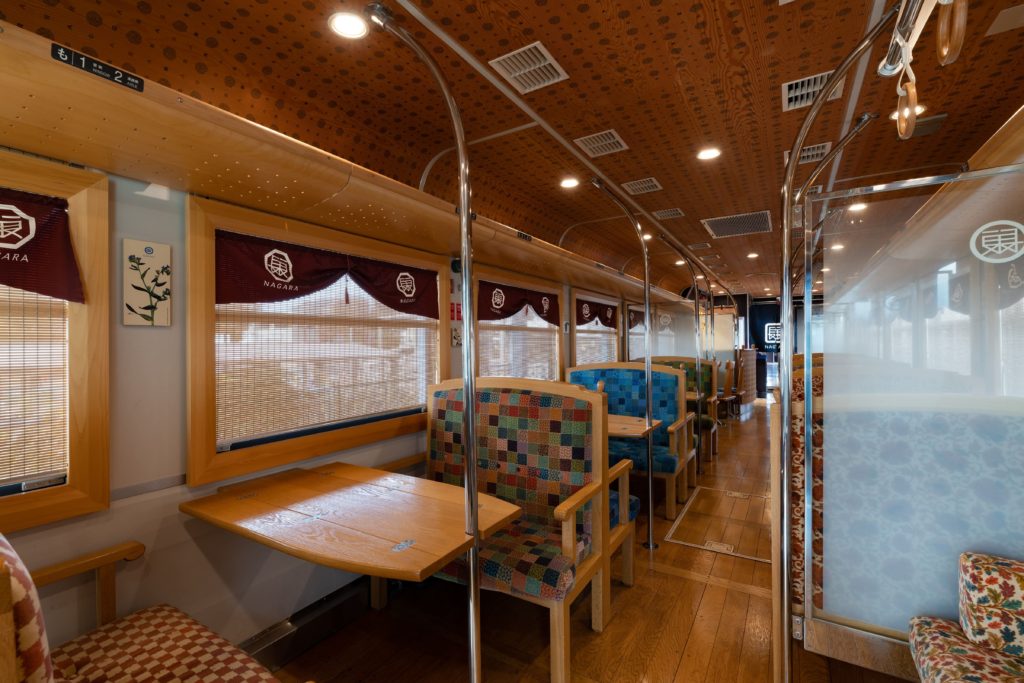 It is my first time getting on a scenic train. I am so satisfied with the service which is really out of my expectation! This lunch plan is suitable for anniversary or girl's vacation. Travelling with parents or foreigners is also very nice as you can visit Gujo Hachiman after the train. Other plans provided by the scenic train "Nagara" includes a dessert plan, a wine and sake plan and scenery plan for train ride only. Find your favorite course and enjoy your trip!
About TABITABI Gujo

TABITABI Gujo editorial
TABITABI Gujo is a general media site for sightseeing in Gujo introducing attractive tourist spots in Gujo with a slogan of "Gujo, a place you want to visit many many times." While knowing more about Gujo, we continue providing information on travel suggestions during each season in different areas, as well as the latest information of Gujo-shi.
Photographs by TABITABI Gujo Editor Team